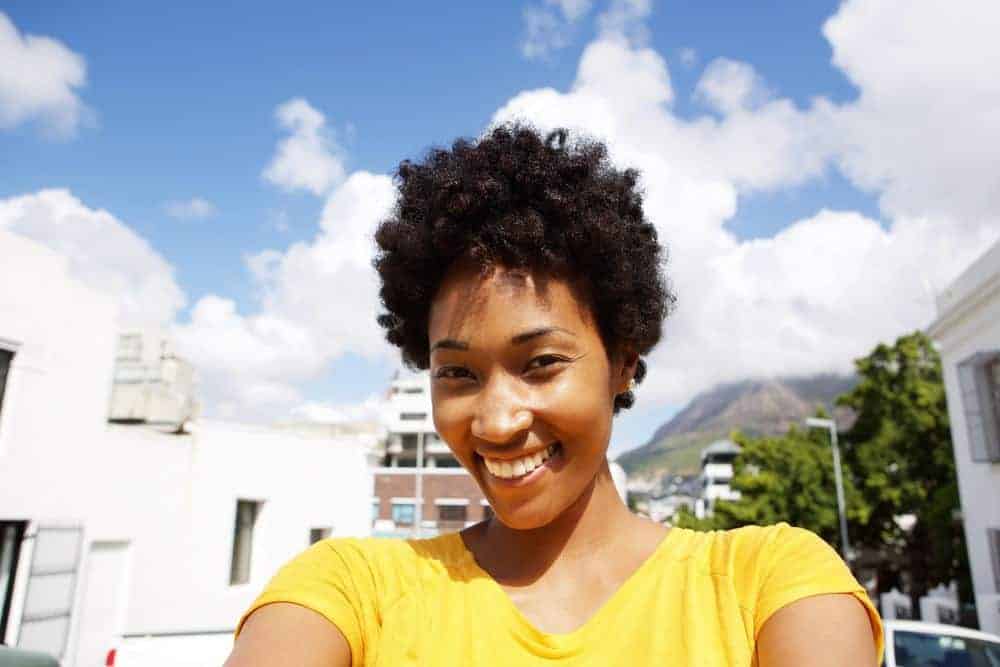 The concept of steaming natural hair has been around for quite some time. The people who own hair steamers generally love them, while those that don't own a hair steamer wonder if they're worth the money.
Are hair steamers worth the overall investment? If so, what are the best hair steamers on the market?
If you're short on time, Curl Centric recommends the
Q-Redew Hand-held Hair Steamer
, which utilizes water to create steam used to moisturize, style, stretch, hydrate and deep condition your natural hair.
The Science Behind Hair Steamers
Unfortunately, there's not much scientific evidence when it comes to hair steamers and their effectiveness.
Actually, even the product manufacturers, companies making hair steamers, haven't published any studies with supporting evidence.
The manufacturers often claim that hair steamers can hydrate, deep condition, detangle, stretch and reshape the hair in just a few minutes.
To the best of my knowledge, there hasn't been any substantive research conducted on this topic since 1934.
The 1934 study included x-ray studies of the structure of hair, wool and related fibers (source). Basically, there aren't any recent studies to corroborate the claims of many companies that are producing hair steamers.
Some Recommendations About Steaming Natural Hair
Generally speaking, you should only steam your hair in increments of 30 minutes or less. We like to use short time periods as one method of mitigating irreversible heat damage.
Steaming your hair is very similar to wetting your hair, since steam can make your hair strands absorb moisture and swell.
Steaming your hair also allows it to stretch a bit longer than it normally would when wet. We recommend that you're very gentle with your hair when using hair steamers.
Your hair should remain elastic assuming that you use gradual force and limit the amount of heat exposure to your hair strands.
Remember to complete the steaming session within 30 minutes. Steaming your hair for more than 30 minutes could lead to disulfide bonds breaking causing permanent hair damage.
Maintaining the Elasticity of Your Hair Strands
Elasticity is defined as your hair's ability to return to its normal shape after it's stretched. Your hair is naturally elastic and it's in your best interests to have it stay that way.
So, what happens when you destroy your hair's elasticity? The result is weakened hair strands within the cortex which can eventually lead to a permanent relaxing effect of the hair strands (i.e., heat damage).
What's the Best Hair Steamer for Natural Hair?
When hair steamers first came out, some argued this was just a trend. However, these devices continue to grow in popularity.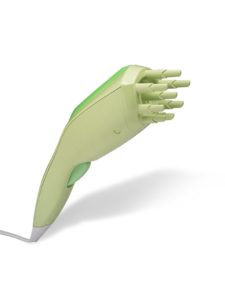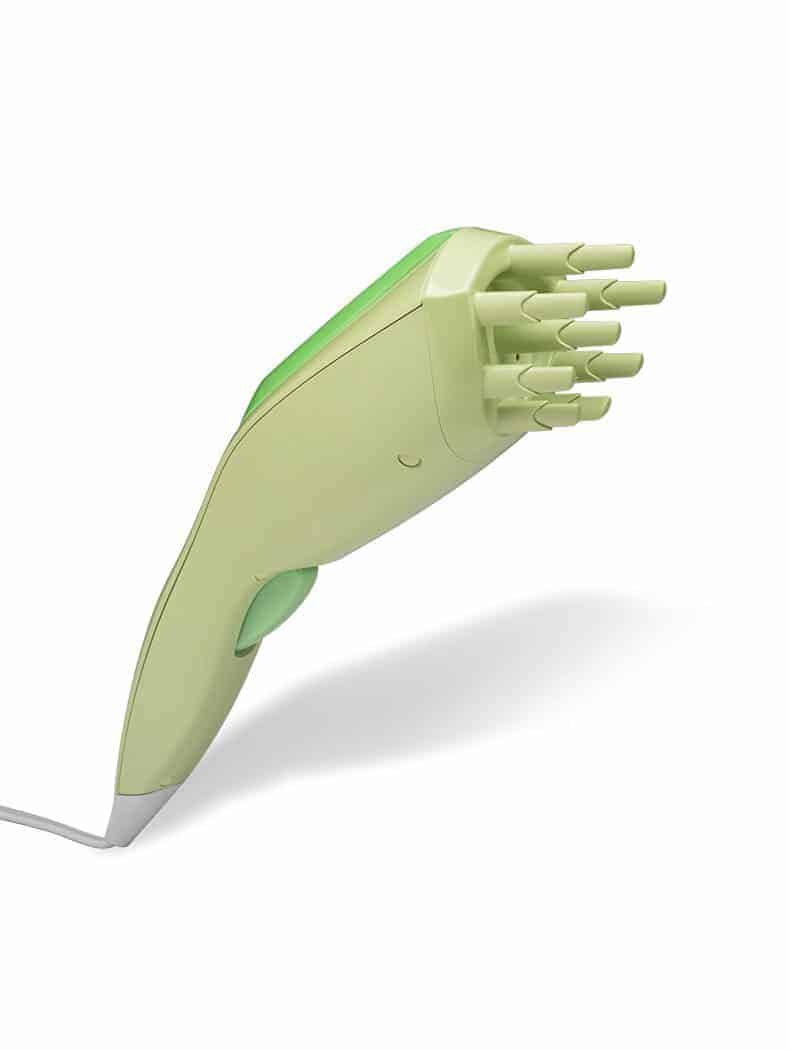 The Q-Redew Handheld Hair Steamer is arguably one of the best hair steamers for natural hair.
It doesn't matter if you have loose curls or kinky coils; women with various hair textures have highly recommended this device.
It works best by putting distilled water in the machine and then allowing the steam to penetrate into your hair strands.
This is a pretty compact hair steamer for natural hair compared to other the steamers on the market.
It's easy to store away when it's not in use and it's convenient to pack for travel. Although, one complaint that we hear about the Q-Redew is the device heats up too quickly.
Heating up quickly can be great for creating the necessary steam, but use this powerful steamer with caution to make sure you don't get the device too close to your scalp or mistakenly have hot water drip directly on you, which can cause discomfort or potentially even burns from the heat.
It's also worth noting that using a handheld device also may be tiring for some, but you can always break up your sessions into 15-30 minute segments.
Kira's Review of the Q-Redew Handheld Hair Steamer
Disclaimer: Kira was provided with a free Q-Redew device and agreed to provide an honest review. After an honest review, which is posted below, we believe that the Q-Redew is one of the best hair steamers on the market.
Using the Q-Redew for the First Time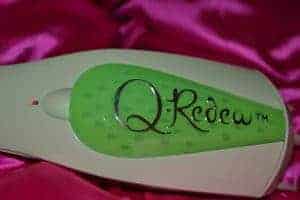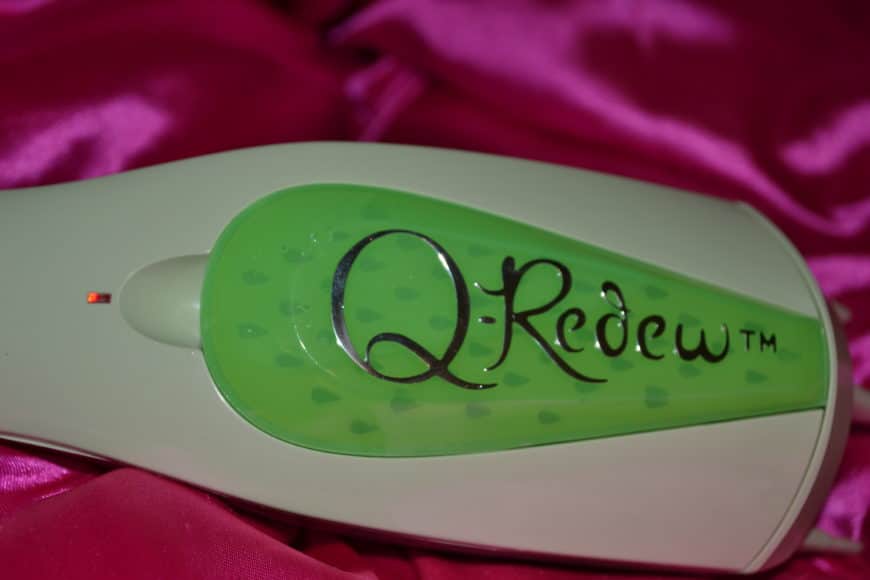 I waited for the perfect time, just before wash day, when my hair was at its thirstiest to experiment with the Q-Redew.
I read the instructions, filled the reservoir with water and plugged the Q-Redew into the power outlet. Setup is that simple.
According to the instructions, after plugging in the unit, you should wait a few minutes to allow the device to warm up.
While the device is warming up, there is a blinking light that indicates that the device is heating up.
When the Q-Redew has warmed up, the blinking indicator turns steady, and the device is ready to use. This takes approximately 10 to 15 seconds.
Once the device was ready to use, I picked it up and pulled the trigger. The sound that it made reminded me of an iron steaming, although it wasn't very loud. When you squeeze the trigger, the steam escapes through two holes – not the extended prongs.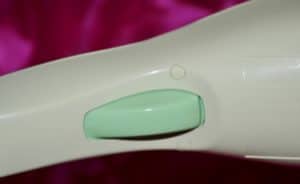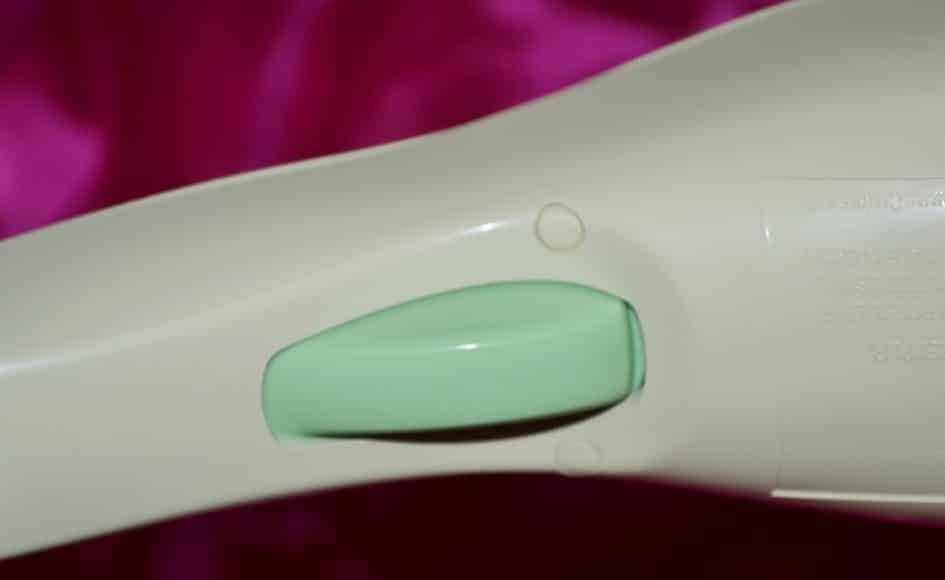 As I continued to get familiar with the device, I turned the Q-Redew towards my hand while the trigger was depressed and the steam was much hotter than expected.
I started looking for temperature controls on the base of the unit to see if I was able to adjust the temperature of the steam. Unfortunately, the unit doesn't include temperature controls. Bummer!
Since the steam was hotter than I anticipated, I hesitated to allow the Q-Redew to have direct contact with my scalp. My thoughts are if a device is noticeably hot for my hand, it's probably too hot for my hair and scalp also.
When I misted my hair for the first time, I spent less than 5 minutes on the front part of my head. I focused on my roots only and didn't steam the rest of my strands.
After this initial attempt, I decided that the Q-Redew works best (for me) on twisted hair vs. loose hair.
Having my hair twisted would give me a better chance to focus on all of my hair vs. small sections at a time.
My Initial Expectations of the Q-Redew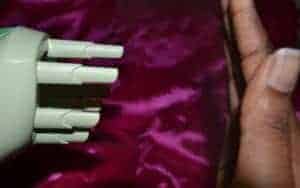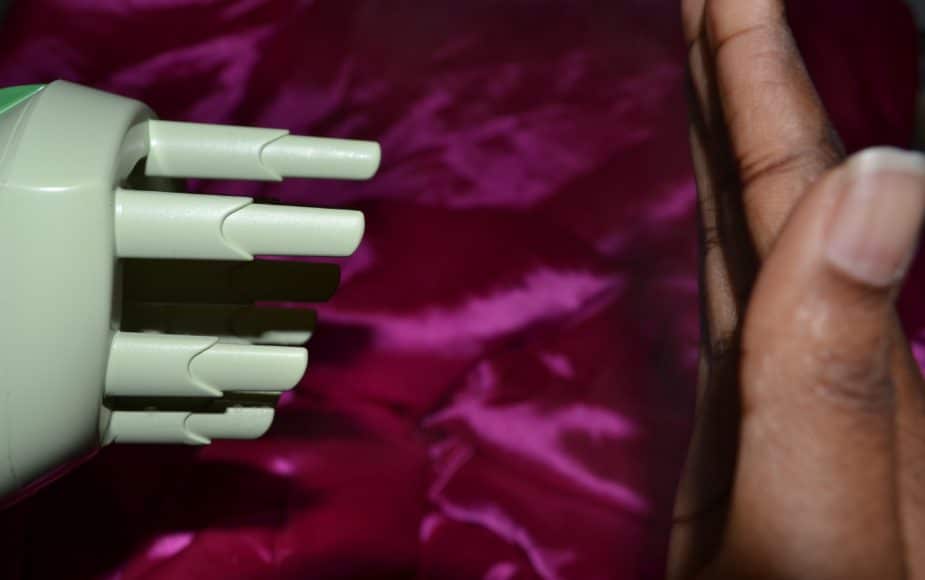 I expected the Q-Redew to be like any other hair steamer – only smaller.
I treated it as such on my loose dry hair, and that made my experience poor in my opinion.
However, after rethinking what would be the best and most effective way to use the device, I went to the FAQ section of the Q-Redew website and reread the number one question.
After reviewing the FAQ section, I started to rethink and adjust how I would integrate the Q-Redew into my natural hair regimen as a hairstyling tool.
After attempting to use it like a steamer, I realized that it would better suit me to remoisten my hair while in twists and to incorporate it into my moisture regimen instead – like the Q-Redew was designed to do.
The next time I use the Q-Redew will be with twisted hair and not when my hair is at its driest point.
According to the Q-Redew FAQ page, the device rejuvenates, enhances and reshapes the hair. It is not a steamer – in the literal sense – as the Deluxe Hair Steamer, Huetiful Hair Steamer or the Salon Sundry Hair Steamer; although, the device can be used in that manner.
In my mind, I want to continue comparing the two, but they have totally different purposes.
I think it is unrealistic to expect the Q-Redew, a hand-held styling device to adequately moisturize my hair middle back length hair in a decent time. That's probably not a fair expectation.
Q-Redew SWOT Analysis
Strengths:
The steam/mist reactivates products on 2nd or 3rd-day hair.
It's similar to giving your hair a facial.
The Q-Redew is lightweight and easily fits in my hand.
The Q-Redew can be used to "plump" two strand twists with the heated mist
Weaknesses:
There is no temperature gauge.
The steam is hot! Do not aim the steam directly at your scalp.
It can take over 15 minutes to use due to the length of my loose hair.
Opportunities:
Consider adding a temperature gauge to control the temperature of the steam. Include a "cool" button to allow for continuous use.
Threats:
The steam that is released is scorching, be careful not to aim it directly at your scalp. If temperature controls aren't included in a future version of the device, I expect other companies (fast-followers) to release an improved model with temperature controls, which might impact the long-term success of the Q-Redew.
Final Thoughts
The Q-Redew is a very useful styling tool that I will continue to use. One use would be using it to add volume to my twists when they need to be "plumped."
I don't generally wear my hair loose; but for those women that do, the Q-Redew might work to bring your hair back to life since it slightly dampens the hair, but does not saturate the hair with water.
If you're interested in learning more about the Q-Redew, check it out here.
The Best Hair Steamers for Natural Hair (Our Favorites)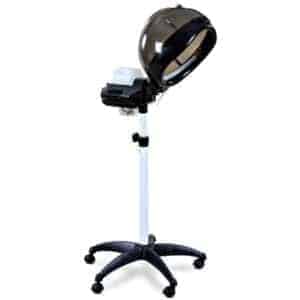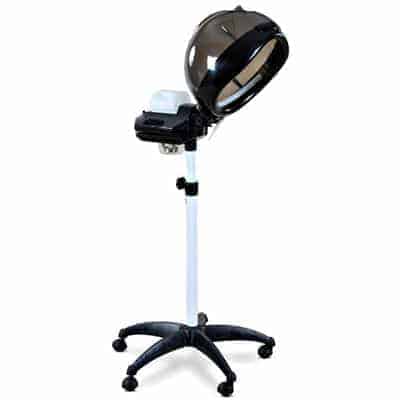 This hair steamer may look intimidating, but it's actually very easy to use.
Skin Act, the steamer's manufacturer, is also known for providing excellent customer support.
As you might have imagined, a high-quality product with good customer support comes with a price, so the Deluxe Hair Steamer by Skin Act is generally a bit more expensive than competing models.
The product is also fairly large, so storing the product can be tricky.
The Deluxe Hair Steamer leaks much less than competing hair steaming appliances. Also, the device includes a vented hood with adjustable steam settings.
There is a timer that goes up to 60 minutes, but we recommend using the product for no longer than 30 minutes to mitigate the possibility of heat damage.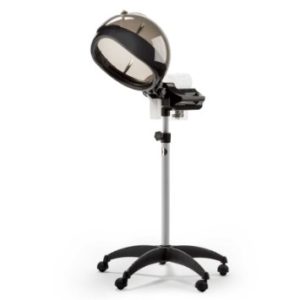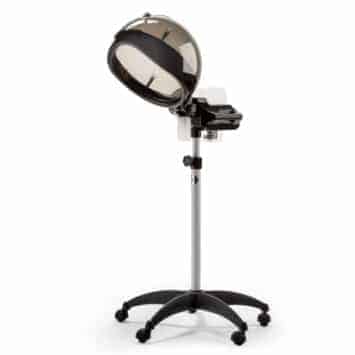 The Salon Sundry Professional Steamer is a high-end product used in some beauty salons.
There is minimal water drip when using the Sundry Professional Steamer and you're not required to use distilled water.
Based on the steamer's design, there was some difficulty understanding exactly how much water to put in the unit, and when adding too much, this can cause minor leakage problems.
We were especially delighted with the professional sized hood.
This means there isn't a need to awkwardly sit under the hood or conduct multiple sessions trying to get full coverage of your hair. This hair steamer brings salon service home to you.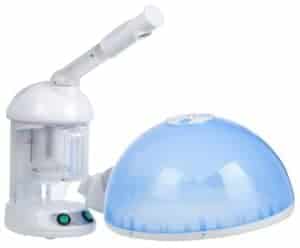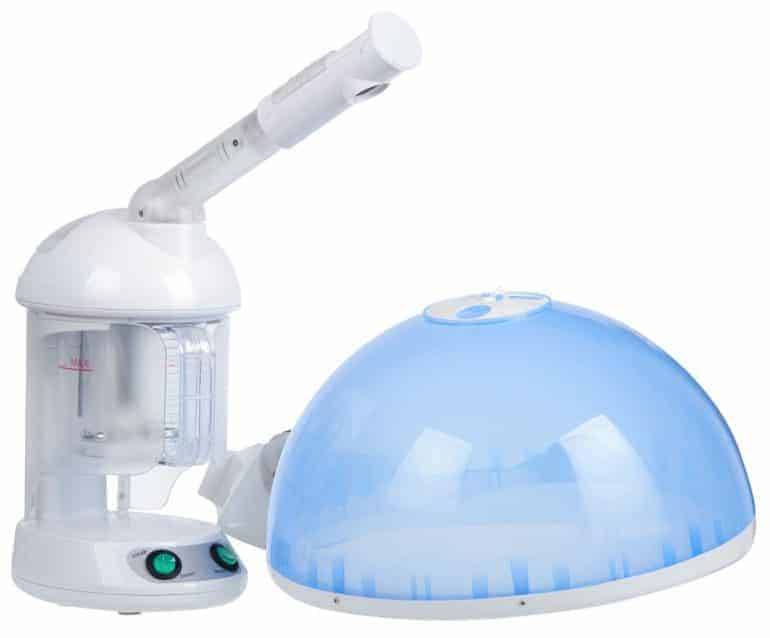 The Secura S-192 Hair and Facial Steamer is more versatile than most basic hair steamers since it can be used for both your hair and face.
This steamer is a tabletop model, which means you will have to place it on a flat surface where you can sit underneath it.
Secura's manufacturer says that this product has a "1-5 UM ultra-fine mist generated by ultrasonic atomizer" which assists your hair in absorbing the steam more quickly.
Note that this statement hasn't been proven with scientific evidence and is likely just good marketing.
The primary complaint about Secura's S-192 is that the dome of the machine has arrived cracked for some people during delivery because the material seemed to be cheap.
Also, a few women complained that hot water dripped onto the back of their necks while using the device, and sometimes the machine would time out so they couldn't benefit from the intended 20-minute session.
If you purchase the Secura S-192 steamer, make sure you purchase it from a reputable seller, like Amazon, Walmart or Target, with a good return policy.
Conclusion
Deciding to use a hair steamer on natural hair requires certain precautions. Also, it's a bit of a luxurious purchase from a price to value perspective.
Steamers definitely aren't necessary, but there are some subtle benefits if you decide to splurge on your hair care regimen.
The Huetiful Hair Steamer is another very popular steaming option.
However, based on social proof and other contributing factors, it's not currently one of our recommended steaming appliances.
We think the best hair steamer for home use is either the Q-Redew Handheld Steamer, Deluxe Steamer by Skin Act or the Salon Sundry Professional Steamer.
If you're a traveler, then we'd recommend the Q-Redew Handheld Steamer. It's also a good personal hair steamer if you're interested in having a lightweight, easily storable option, so it's the steamer that we recommend most often.
For black hair or African American hair, we think any of the steamers included on our list will do the job.
It really just comes down to personal preference, features, and functionality. With all these products, make sure to understand the warranty and return policy prior to making a purchase decision.