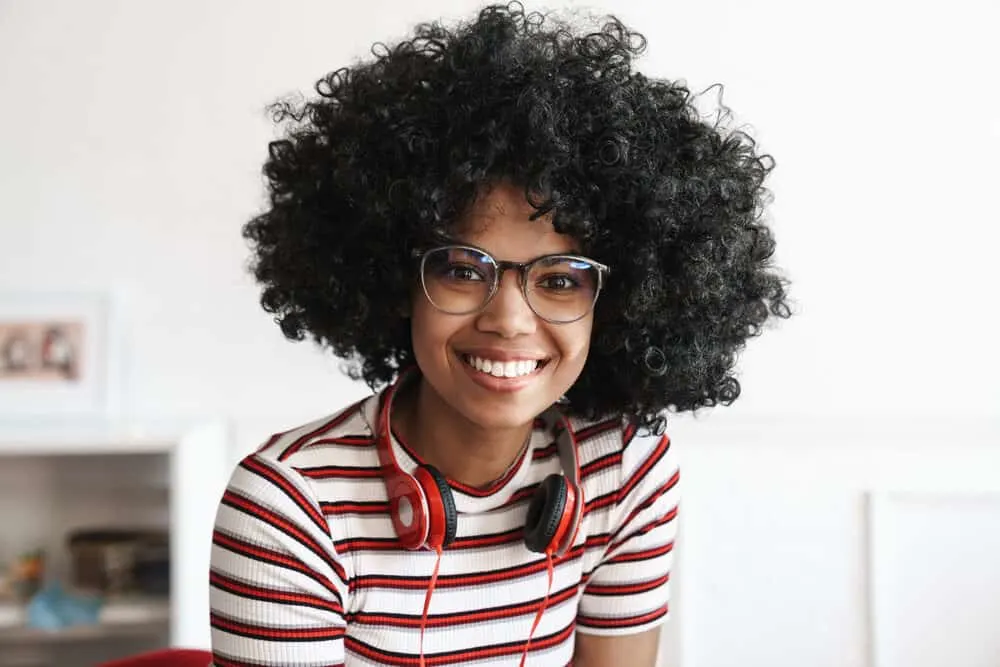 Sometimes your run-of-the-mill handheld blow dryer just doesn't cut it, especially when you need to deep condition your hair, process color or bleach, or dry a roller set. Only a hooded dryer will deliver the results you need in these cases.
When it comes to hooded hair dryers, there are many options out there, and many of them just won't give you the functionality you need. So, to help you find the best product for you or your clients, we've compiled a list of the best-hooded hair dryers for Black hair. Let's get right into it!
The Best Hooded Hair Dryer for Home Use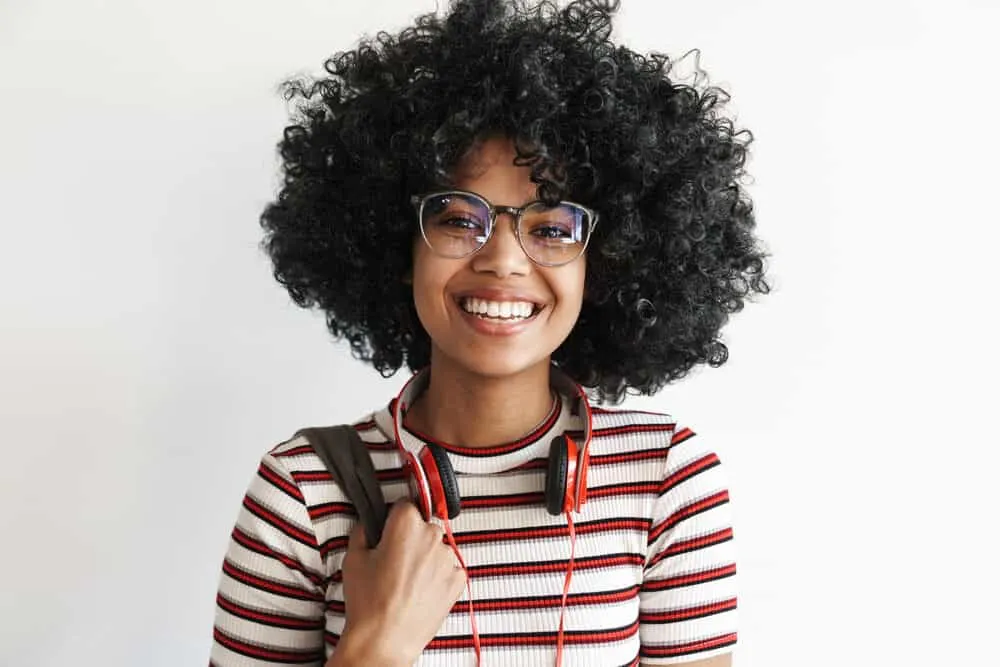 If you're in a hurry, here's the best hooded hair dryer for home use: Belson Gold N Hot Bonnet Dryer. Keep reading to learn more about Belson's dryer and 6 other hooded dryers that we really like.
Below, we've put together a list of the 8 best hooded hair dryers for home use.
1. Belson Gold N Hot Salon Ionic Tourmaline Hair Dryer – Best Overall Hooded Hair Dryer
The Belson Gold N Hot Bonnet hair dryer is a tourmaline hair dryer that gets your hair dry quickly and safely. With 1875 watts of power, you can expect high performance. This bonnet hair dryer has four unique styling settings, which are great for different textures of hair.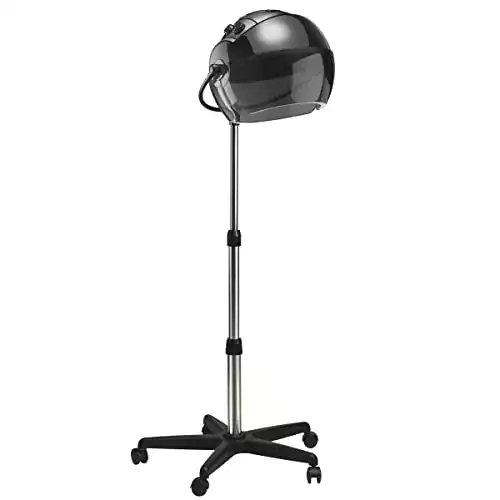 The bonnet, face shield, and height of the hair dryer are all adjustable, which means this professional hooded hair dryer can accommodate multiple hair types, roller sizes, and body heights.
Another great feature of this dryer is that the air intake grille is removable. This makes cleaning very straightforward. The unit is salon grade, meaning it can be used in your home or a hair salon.
Pros and Cons
Having learned about the main features of this Belson hooded hair dryer, let's look at some of its pros and cons:
Pros
This blow dryer can dry any hair type and style, even locs, quickly.
Easy to assemble in a salon or at home.
The dryer has a professional, sleek look that can elevate any salon's aesthetic.
The entire unit is portable.
Great alternative to a handheld blow dryer.
Cons
The dryer runs hot and can burn your head if misused or used too long.
The unit is a bit unsteady and may fall off the stand if moved too quickly.
This dryer is pretty expensive and the price fluctuates.
Customer feedback confirms that this is the best bonnet hair dryer on the market with mostly positive online reviews. Unhappy customers state that the dryer takes up a lot of space and is heavy.
The happiest customers express that they can efficiently dry their own hair in no time with this device. Reviews often mention the direct heat, multiple heat settings,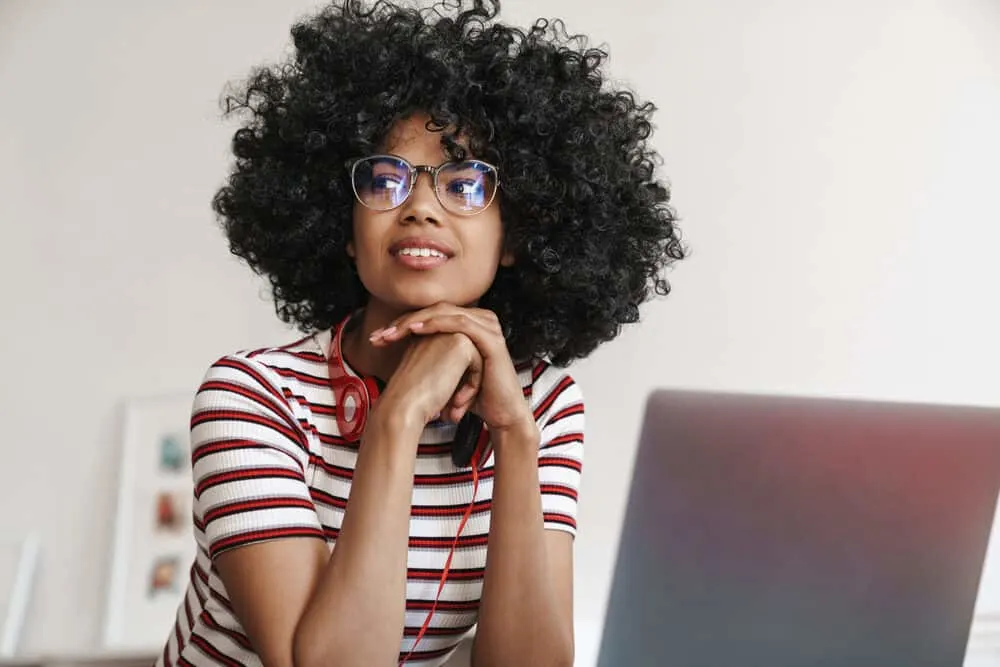 2. Granteva Hooded Dryer Attachment
Granteva is an excellent option for you if you're looking for a hooded dryer to fit a small budget. This is a hooded dryer attachment designed to connect to your existing blow dryer for a fast and easy drying experience. It's hand washable and waterproof.
This attachment is made of a soft, comfortable material and comes with a drawstring that allows you to adjust the hood to fit your head snugly. To use the dryer attachment, all you need to do is hook up the hose to your dryer, put the hood on your head, and then turn on your blow dryer.
One of the best things about this dryer attachment is that it allows you to do your thing while your hair dries. You can catch up on your favorite TV show, read a book, or even get some computer work done.
Portability is the name of the game – this dryer attachment gives you the flexibility to sit on your bed or anywhere else while you dry your hair.
Use it for hot oil treatments, roller sets, and deep conditioning sessions to keep your hair looking and feeling right.
Pros and Cons
Now that you know the basics about the Granteva hooded dryer attachment, let's explore the pros and cons you should be aware of before buying this product.
Pros
The device is made for textured hair.
Its design enables you to use your existing dryer.
It's much more affordable than full-sized hooded dryers.
It allows for strong, even airflow.
Cons
If you don't have a blow dryer, you'll need to buy one before you can use this product.
The happiest customers say that the attachment is easy to use and makes drying their hair a breeze. Unhappy customers stated that the attachment burned them and that the hose frequently disconnects from the blow dryer during use.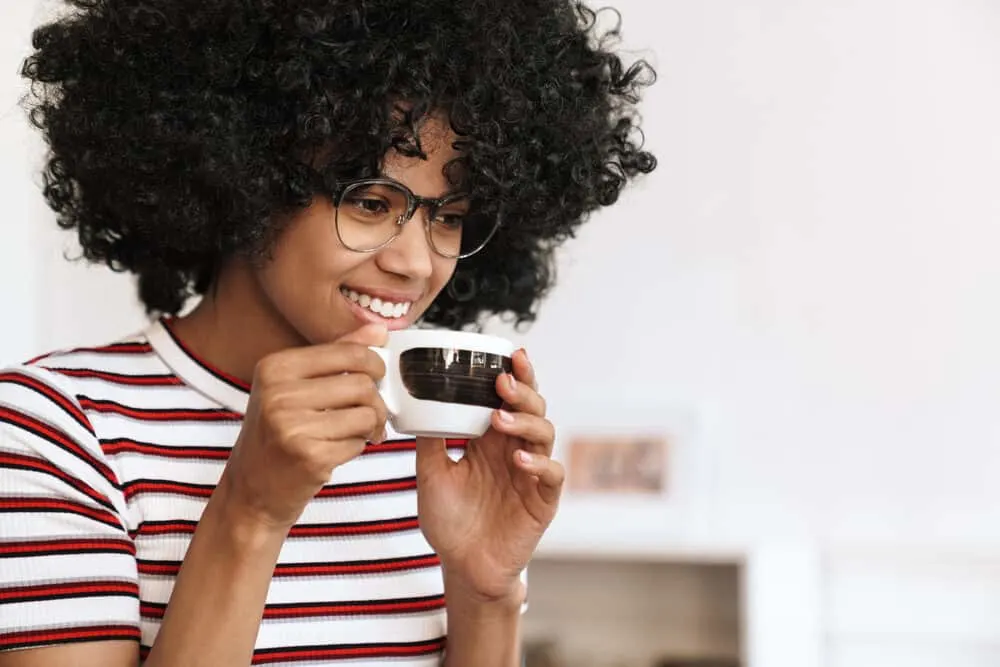 3. Nova Microdermabrasion Professional Adjustable Floor Hair Bonnet Dryer
This Nova Microdermabrasion Hooded Hair Dryer is versatile and can be used for hair coloring, perms, conditioning, hair drying, and treatments on all hair types and textures. It has 1300 watts of power, which is enough power to quickly dry the hair in most cases.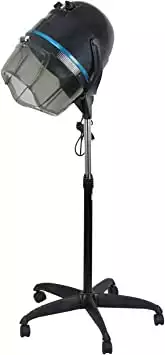 It comes with an adjustable front visor, minimizing the chances of head injuries. You can also adjust the temperature of the heat to ensure that it won't heat damage your curls.
The hair dryer has a sturdy stainless steel heating mechanism that lasts and lasts. Chances are, if you buy this dryer, you won't need to buy another one for years.
The hair dryer is professional-grade and freestanding, meaning it can be used in the home and in the salon, and it is portable enough for no-fuss traveling. The bonnet, hood, and stand are all adjustable to accommodate different hairstyles, roller sizes, and body shapes, and heights.
Pros and Cons
Now that you are familiar with the main characteristics of the Nova Microdermabrasion hooded hair dryer, let's focus on some pros and cons of this particular model:
Pros
The heating element has a multi-bladed fan.
The temperature is adjustable.
The timing function can be set for up to 1 hour.
Speedy drying time, even for thick, textured hair.
Easy to use once set up.
Cons
The unit requires 30-40 minutes of preheating before use, which could be inconvenient if you are in a hurry.
The hood is not detachable, so if your hair is long, you may have to shift the bonnet or your head for the ends of your hair to be treated or dried.
This hooded hair dryer is pricey, so it is an investment.
Satisfied customers stated that the dryer is definitely professional salon-quality and dried their hair in a cinch. Some customers complained that the instructions that came with the dryer were not as comprehensive as they hoped.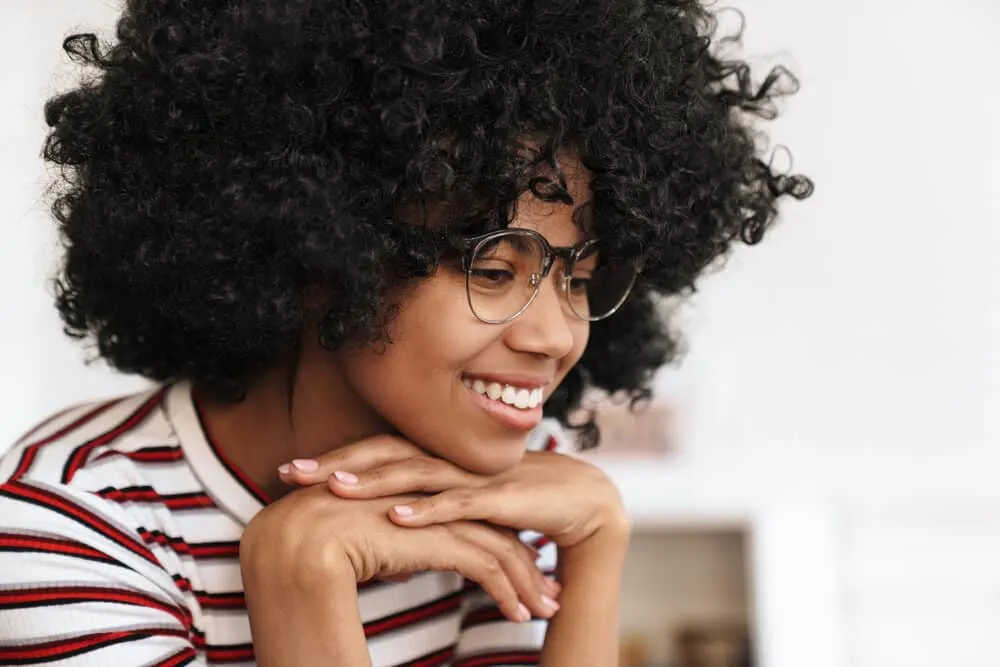 4. Conair Pro Style Bonnet Ionic Hair Dryer – Best Budget Hooded Hair Dryer
If you're looking for a hooded dryer that gives you the power and functionality you need at a modest price, consider the Conair Pro Style Bonnet Ionic Hair Dryer. It's an 1875 watt dryer that has built-in ionic technology that fights frizz. In addition, it's very compact and folds away for easy storage when not in use.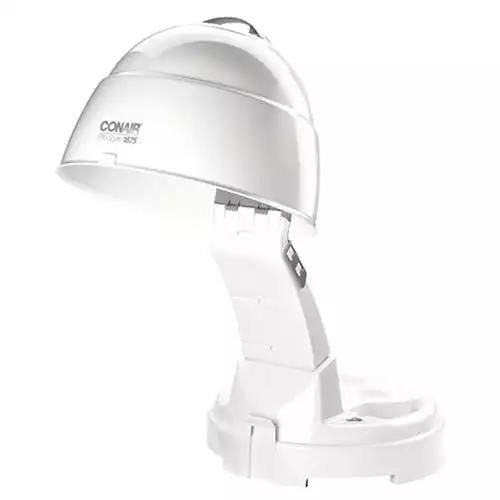 This dryer has 2 heat/speed settings, so you can choose the perfect setting for your hair. If your curls are delicate, you should go with a lower heat setting, whereas if your hair is thicker, you can save some time and use a higher heat setting.
The hood on this dryer is extra-large, making it great for large styles, big hair, and larger heads. So, you don't have to worry whether your head will fit under the hood.
Pros and Cons
Now that you know the main features of this Conair hooded hair dryer, let's look at some pros and cons:
Pros
The height is fully adjustable, so the dryer can accommodate multiple seating arrangements and user heights. However, it is nowhere near as adjustable as a more expensive salon dryer.
This hooded dryer is powerful yet gentle on your hair.
This is a versatile hair dryer, meaning it can be used for a variety of hair treatments.
There are multiple airflow settings, so you can adjust the airflow according to your preferences.
Works on any hairstyle, including locs, as well as any texture of hair.
Cons
The dryer can be noisy, which can be an annoyance to some people.
The dryer must be placed on a flat surface like a table, as it is compact, so your seating choices are somewhat limited.
There are only two heat settings, low and high, similar to a handheld hair dryer.
The most satisfied customers mention that the unit is easy to use, works well, has an extra-large hood, and is a lifesaver in a pinch. On the other hand, the lowest reviews mention that users weren't able to adjust the height of the dryer and that the unit burned their heads.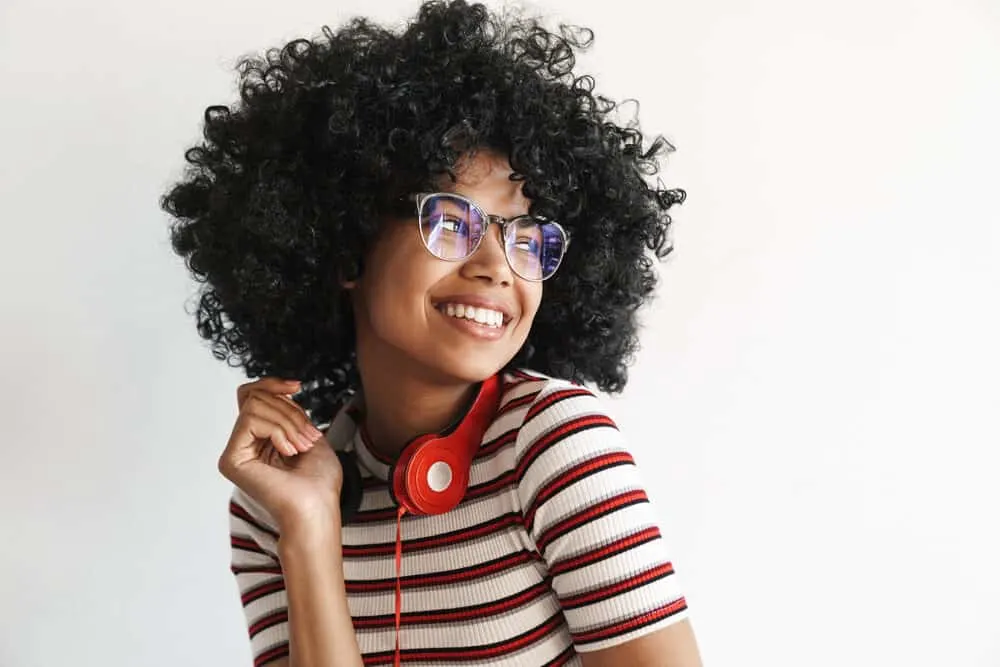 5. BR Beauty Meredith 880W Salon Hair Dryer with Casters
This BR Beauty hooded hair dryer is yet another professional hooded dryer that can be used by beginners and pros alike. It's great for multiple uses, such as hair coloring, deep conditioning, and drying natural hairstyles and locs.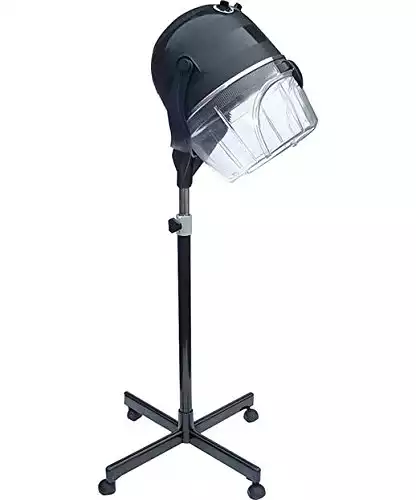 The hair dryer stands alone and is adjustable, meaning it can be used anywhere in your home or salon and can easily adjust to any chair height.
The hood has an inside diameter of 11 inches, therefore it can accommodate different roller sizes, styles, and hair textures.
The dryer has a timer that can be set up to 60 minutes, a temperature control dial, and a fan control with 6 options, all of which give you complete control over your drying time, heat, and speed.
Pros and Cons
Let's examine the pros and cons of this dryer now that you know the basics:
Pros
Quick drying time, even for thick, textured hair.
The dryer has a cool setting, so there is little risk of overheating under the dryer.
Easy setup per customer reviews.
Cons
Top-heavy and can be a bit unstable on the base, so handle and move the dryer with caution.
Assembly directions are vague and unhelpful, but assembly is pretty intuitive despite this.
There are only 121 ratings and reviews for this product.
Lower wattage than other hooded dryers in its class.
The best reviews praise the dryer for its strong airflow and helpful features. The worst reviews, representing a tiny percentage of reviews, state that one or more of the dryer's components didn't work or broke soon after use.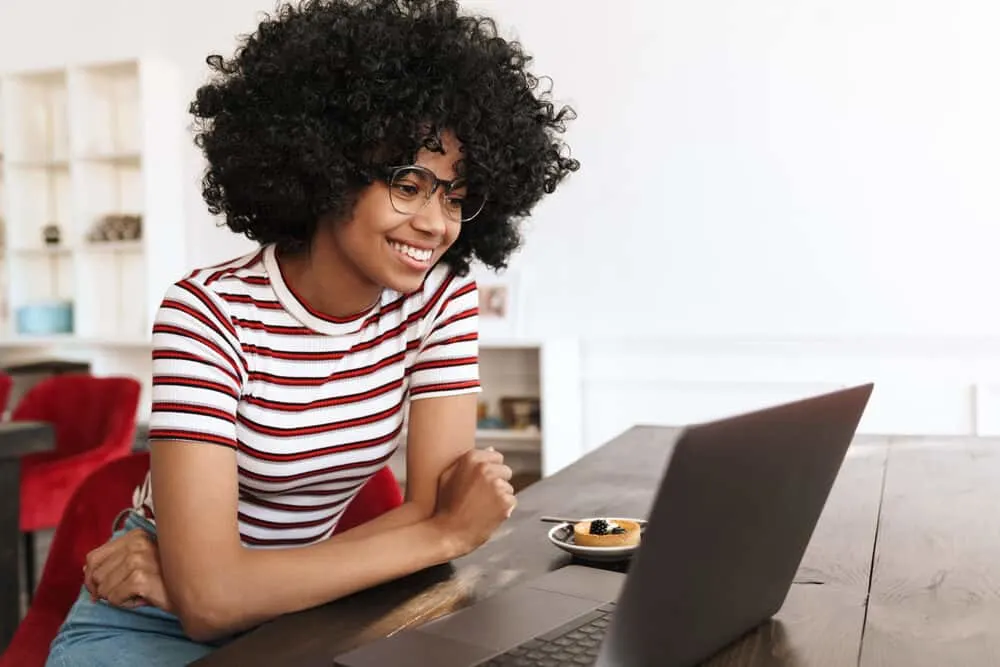 6. Y-NOT Professional Hairdryer – Best Overall Bonnet Dryer Runner-up
This Y-NOT hooded hair dryer is ideal for both salon and home use, as it is professional-grade, with a versatile and adjustable bonnet and a base with adjustable swivel capabilities.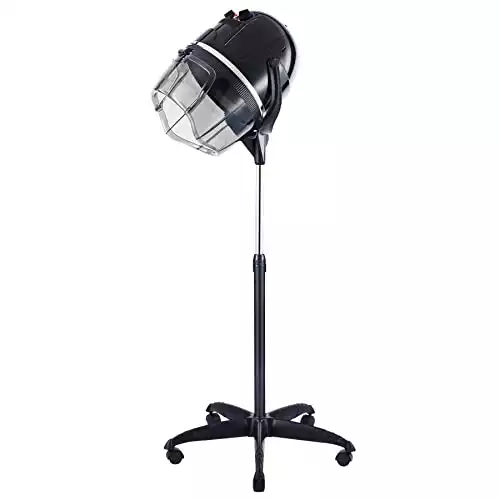 The bonnet fits comfortably over virtually any hairstyle, texture, and roller size – this makes it great for curly girls. The dryer temperature can be adjusted from room temperature to 158 degrees Fahrenheit, and it has a timer from 0 to 60 minutes.
Like other dryers in its class, this hooded dryer features a stainless steel heating mechanism that enables the unit to produce steady and substantial airflow. It runs on 880 watts of power.
This hooded dryer is specially designed to be as quiet as possible. It's so quiet that you can watch TV or read a book as you dry your hair. The hood also swivels so you can find the perfect angle to ensure an effective drying experience.
The dryer is freestanding, so it can be placed anywhere and easily moved around your home or salon.
Pros and Cons
Now that you know the main features of the Y-NOT hooded hair dryer, let's look at some pros and cons:
Pros
Quick drying time on all hair types, including thick textured hair.
Easy to assemble.
Versatile and made for multiple uses, from traditional hair drying to deep conditioning treatments.
Cons
Top heavy, but not unstable.
The timer is noisy when time is up.
The dryer works on an upward airflow, so you'll need to secure your hair upward before use.
The Y-NOT hooded hair dryer has mostly positive reviews online! The worst reviews mention functional issues and broken parts. The best reviews state that the unit makes them feel like they're in the salon, it dries the hair fast, and it's surprisingly quiet.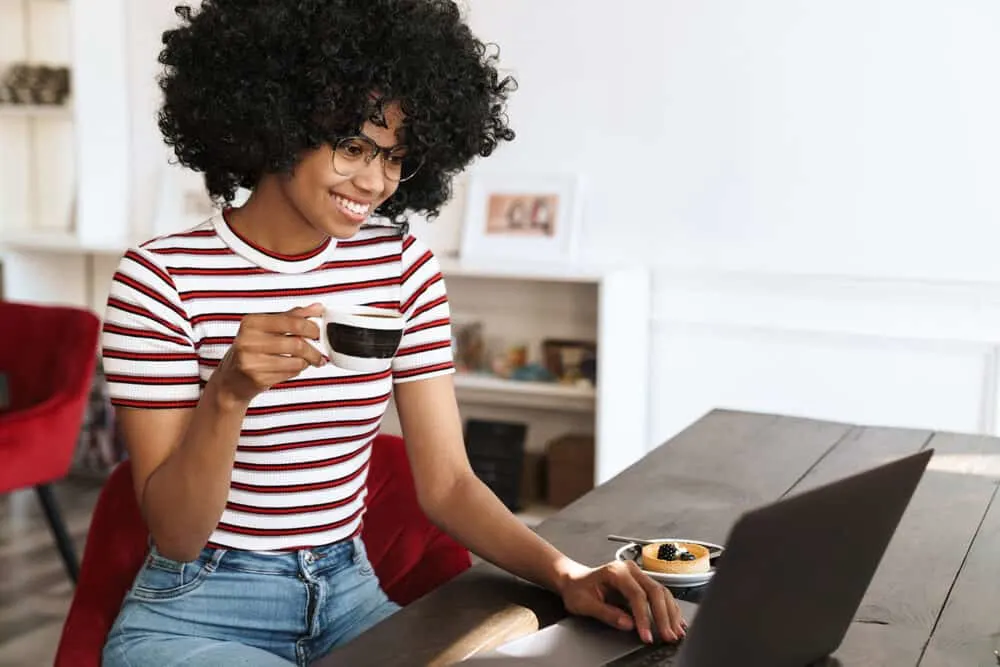 7. Andis 80610 500-watt Ionic Professional Hair Dryer – Best Budget Bonnet Hair Dryer
As a woman with textured hair, you need a hair dryer that'll dry your hair well without frizz and burns. That's precisely what you get with this Andis hair dryer. It dries your hair fast and has ionic technology that reduces frizz throughout the drying process.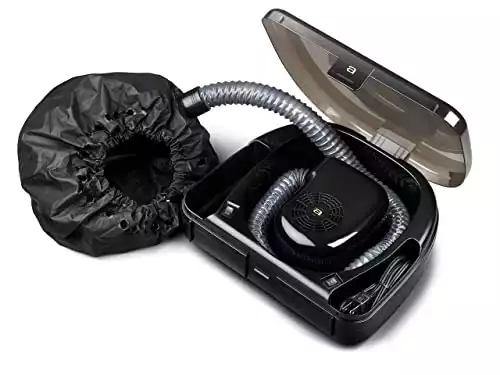 The device is designed with 2-speed settings and 2 heat settings, which allow you to personalize your hair drying/deep conditioning experience. You'll want to keep the heat setting low if your hair is compromised, chemically treated, or fine.
The hair dryer also comes with a super long 40-inch hose, which allows you the freedom to move around a bit while your hair is drying. It also comes with a case to make travel and storage easy.
The dryer can fit a maximum of 1-inch rollers, so if you regularly use larger rollers, a different dryer will be more your speed.
Pros and Cons
Let's get into the pros and cons of this dryer below.
Pros
The device is lightweight and portable.
It is perfect for deep conditioning and hot oil treatments.
It can cut your hair drying time in half.
Cons
The soft hood can only accommodate 1-inch rollers max.
The soft bonnet may be too tight for your head if it is larger than average.
This product has earned mostly good reviews, although some unsatisfied customers stated that the unit stopped working soon after they purchased it. Others noted that the product had been a lifesaver for them. They say that it is durable, functions as advertised, and is easy to store.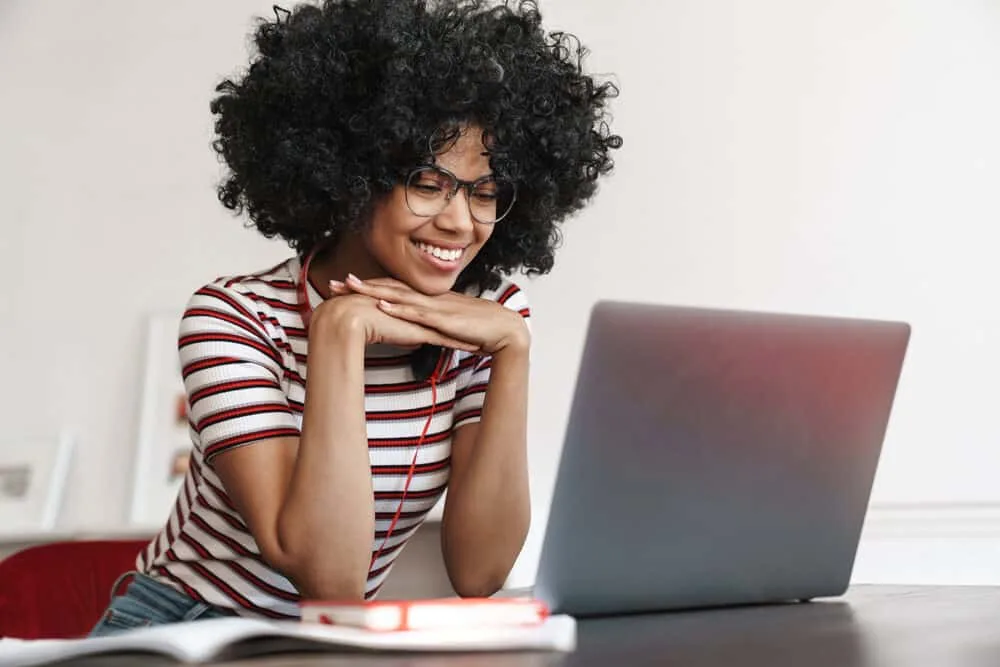 Related Articles
So there you have it, a list of the best high-quality hooded and bonnet dryers for black hair. Hooded hair dryers (and bonnet hair dryers) are a staple in most salon hair styling techniques, but they are also great to have at home.
Each of our picks gives you salon-level treatment in the comfort of your own home. No matter which one you end up choosing, we're sure that you'll be more than happy with your hooded hairdryer. We hope that this article has made your decision a little bit easier.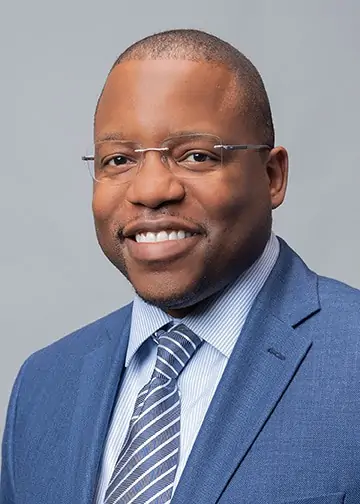 Kenneth Byrd holds a BS in Accounting and Management Information Systems and an MBA from the University of Alabama at Birmingham. With over 15 years of experience, Kenneth has been dedicated to hair care since 2008, when he co-founded Curl Centric® and Natural Hair Box alongside his wife. As a team, they promote healthy hair care practices through their comprehensive platform, Curl Centric. Curl Centric is a website operated by a husband and wife team that encourages healthy hair care. At Curl Centric, we aim to help our readers take control of their hair care journey and make good decisions about products, hairstyles, and maintenance techniques. We also have strict editorial integrity; here's an explanation of our editorial guidelines and how we make money.