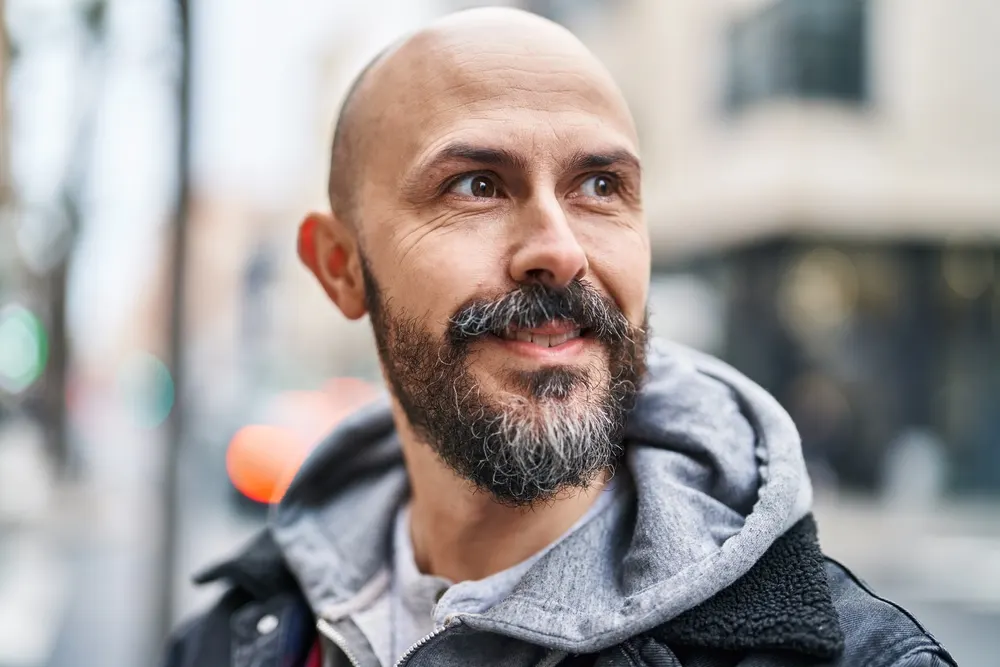 Most men experience hair thinning as they age, which is an established part of the aging process. And if you don't go completely bald, you'll likely develop male-patterned baldness.
This bald-on-top, hair-on-sides pattern can be challenging to style, especially if you're used to working with a full head of hair. But the good news is that plenty of hairstyles work with balding locks–you just have to find them.
That's precisely what we'll help with in this article. We'll break down some of the best hairstyles to try and provide tips on making them work.
Bald on Top Hair on Sides
Embracing a bald head with hair on the sides can be a bold and distinctive style statement, transforming what may initially seem like a challenge into a uniquely personal look. This style can add character, project confidence, and be an elegant way of dealing with changing hair patterns.
In the next section, we will delve into the different styles, grooming tips, and ways to carry off this unique hairstyle with confidence, turning heads wherever you go.
1. Fully Shaved
Head Shave Tutorial | 17 years experience
Shaving your head can be a liberating feeling. And what better time to go bald than when you've lost your hair on top? The clean-shaven look is a classic, and it's easy to see why. It's a striking look that exudes confidence and self-acceptance.
You'll also be able to say goodbye to all that time spent styling your hair in the morning. Keep in mind that you'll still have to shampoo and condition your head regularly to help get rid of any accumulated dirt, oil, product, and sweat.
You should also make an effort to protect your scalp from the sun since you'll no longer have a hair buffer. Make sure you invest in a collection of scarves and hats, or for a more subtle option, apply scalp-friendly sunscreen to your head.
So, have you decided that this is the look for you? Watch this tutorial to learn how to shave your hair like a pro!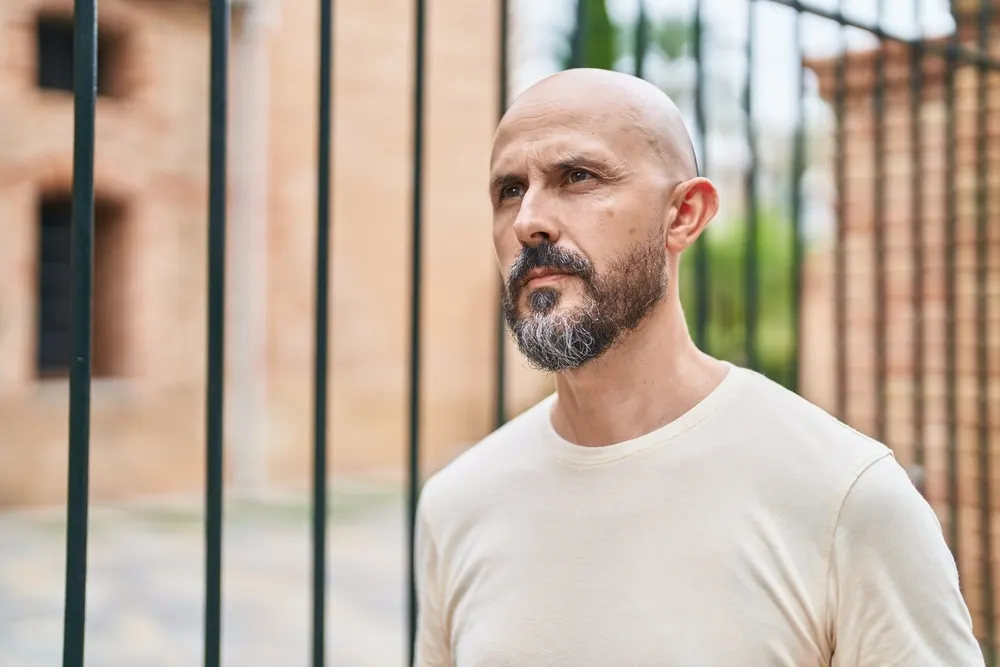 2. Crew Cut
Master Barber Gives Advice on Thinning Hair with Haircut
Is your hair just starting to thin? If so, you might be able to pull off our next look. While a crew cut might not be the first thing, you think of when it comes to balding-friendly cuts. Crew cuts are a military haircut that first rose to popularity with members of the American army.
They feature a longer top paired with a much shorter back and sides. And keep in mind that although the top is longer, the sides are closely cropped. Because of that, you don't need much hair to pull them off.
If your remaining strands are full and long enough, a crew cut might be just what you need to take your hair to the next level. To get a crew cut, cut the top of your hair to a height of half an inch to two inches long.
Then, take the back and sides down to about a quarter of an inch. You can watch this beginner-friendly tutorial to learn more!
3. Subtle Comb-Over
How to Fix a Bald Spot - TheSalonGuy
Few hairstyles are more controversial than a comb-over. They developed a bad reputation in the 70s due to their boldness. The good news is that the traditional comb-over has undergone a modern makeover.
They're more subtle and are widely embraced by men with and without balding locks. The key to getting a decent-looking comb-over is using the proper technique.
If your scalp is peeking through the strands, your comb-over will look too obvious.
But if you successfully manage to block out your skin, your comb-over will help obscure a bald spot. So starting with freshly washed and dried hair, examine your head to find your natural part.
Use your fingers or a comb to accentuate your natural part, and gently move your hair in that direction. Apply a weightless pomade to lock your new style in place.
Then, go back and use a comb to create a crisp, defined part. And that's all there is to it! This video is all you need to keep your comb-over looking sharp rather than cheesy.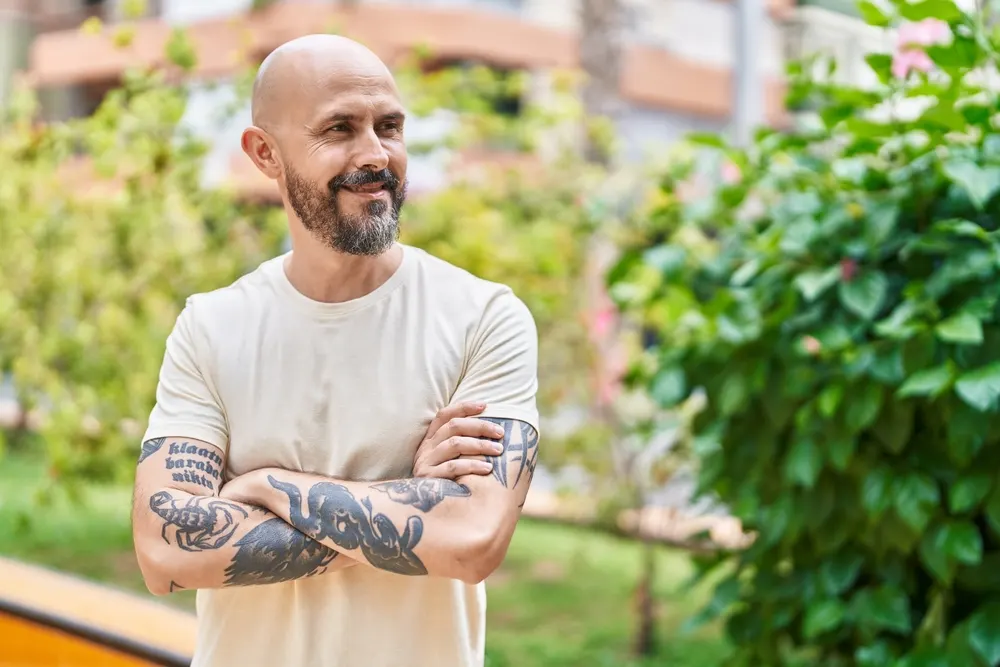 4. Hair System Installation
How to apply and style a hair system| Hair Toupee for men
Going bald doesn't mean that you'll never have hair again; it just means that you'll have to get creative! A hair system is an ingenious way to instantly get the lush, full head of hair of your dreams.
And it's important to mention that modern hair installations are a far cry from the toupees of the past. They're much more natural looking, so you don't have to worry about it looking too obvious.
Some hairpieces even recreate the look of your scalp, so it looks realistic even from up close. To install a hair system, first, prepare your hair system. Check to see that it's cut to size and fits your head well.
Next, you'll have to ensure that the area you plan on covering is entirely hair-free. Once you're confident that it is, wash and dry your scalp. Then, wipe it down with an alcohol-based cleanser.
After the alcohol dries, spread a thin adhesive layer on your exposed scalp. Gently position your hairpiece and press it into your scalp. Press the fabric down for at least a minute to ensure that there are no air bubbles.
The glue should finish curing in about 24 hours, after which you can trim and style your system as though it were your natural hair. Check out this video tutorial to learn everything else you'll need to know about applying and styling a hair system!
5. Mid-Drop Fade
Best Solution For Balding Clients | Mid Drop Fade Haircut Tutorial
Searching for a hairstyle that's low maintenance and easy to style but still looks great? Well, look no further! A mid-drop fade is a classic cut well suited to a balding top. Mid-drop fades go down to the skin around the middle of your head and abruptly blend into your hair when it reaches your crown.
They're short, sleek, and a great way to highlight for remaining strands. As a bonus, going shorter on the sides will make your top look thicker by comparison.
To get a mid-drop fade, create a line around your temples. Then, shave the hair below the line down to the skin. If needed, you can remove some length from your top.
After that, throw a little styling product onto your top and tousle it with your fingers. Want more styling tips and tricks? Watch this video tutorial to learn how to create the perfect mid-drop fade.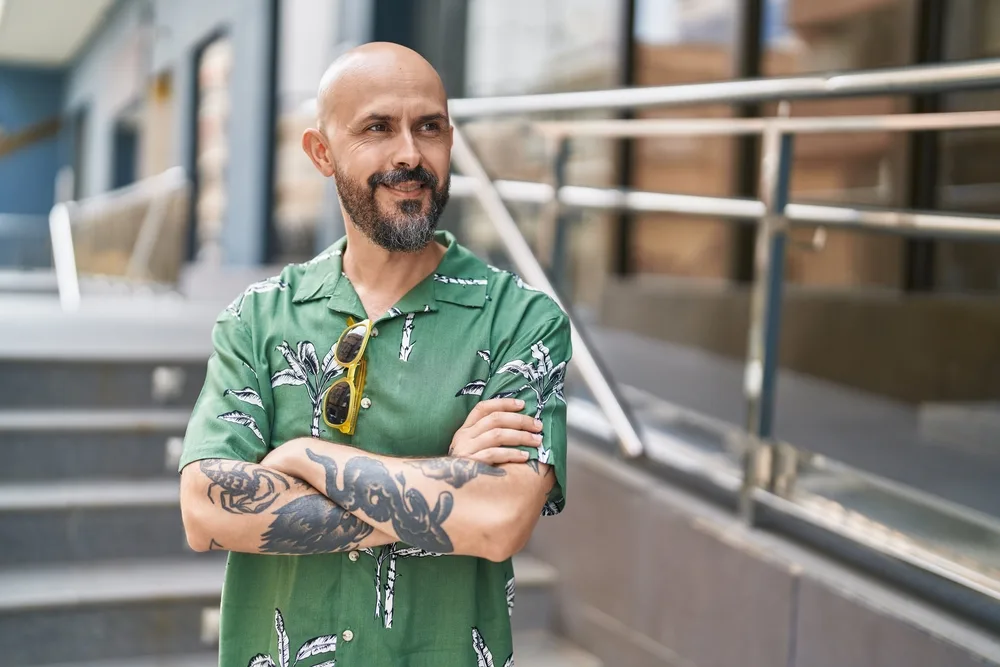 6. Quiff with Fade
The Best Haircut & Products For Thinning Hair On Top To Look Thicker Men
A quiff is another excellent haircut for men who are bald on top but still have hair on their back and sides. It's a versatile cut that you can wear loose and messy or tight and distinguished.
Quiffs are long on top and short on the sides, so they look best when the remaining hair on top is left a little longer.
Just make sure you play up the cut's texture, which will help your hair look more full. To style a quiff with fade, apply a small amount of texturizing spray or pomade to your strands.
You want to stay away from gels and mousses since they can cause your strands to cling together and look even thinner. Instead, you should opt for matte products, like clay-based creams and stylers.
Once you apply your product, comb through your hair to ensure it's evenly distributed. While you comb, try sweeping your hair to either side to see which one looks better. And that's all there is to it! This video will give you a few more tips on how to style your quiff with a fade.
7. Cornrows
Braiding over his bald spot / very short hair / covering his bald spot / men protective style
While many balding men think that their days of braids are long behind them, that doesn't have to be the case. Cornrows are a type of braid that lays flat against your scalp. They can also be an excellent way to cover a bald spot, similar to how comb-overs work.
But since braids are thicker than individual strands, they can cover even more of your skin. In order to pull this look off, you will have to have some hair around the perimeter of your head. That both gives you a place to start and helps ensure that there's enough hair to cover your bald spot.
Another great thing about this hairstyle is that the braids are incredibly long-lasting! As long as you care for your hair carefully and wrap it at night, your cornrows should last for two to five weeks!
Cornrowing over a bald spot can be tricky, especially if you're new to braiding your own hair. But luckily, it is possible.
You just need a user-friendly tutorial (like this one) to show you how.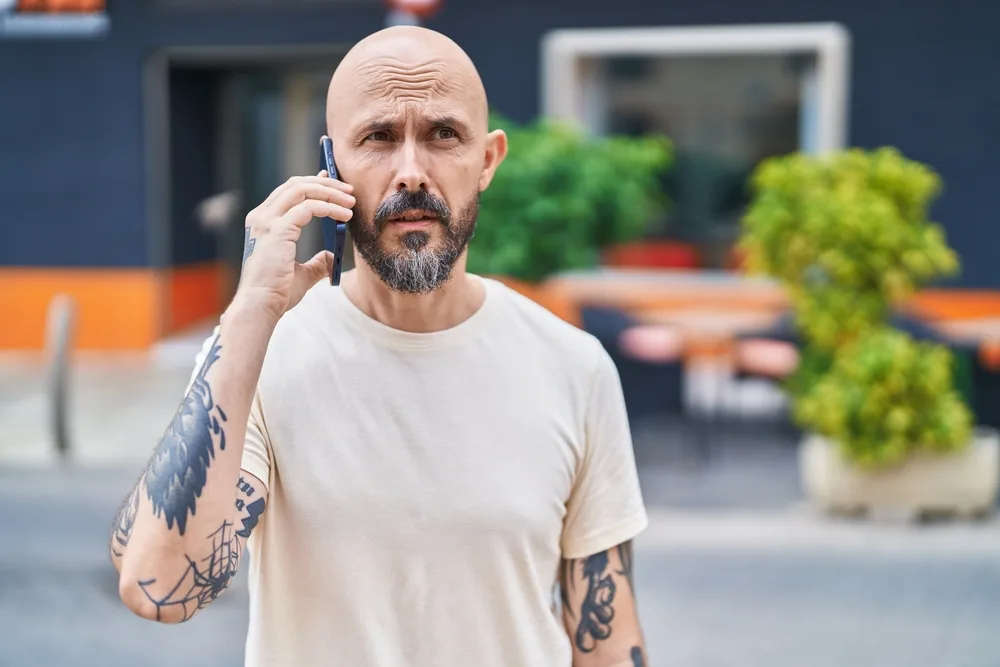 8. Slicked Down
The Haircut To Get When You Don't Want to Shave Your Head
Sometimes, the easiest solution is the best one. A slicked-down hairstyle is a quick and easy way to style balding locks. Like a comb-over, your slicked-down strands will help hide any balding.
It also gives your hair a neat and tidy look, making it an excellent option for professionals. Start your slicked-back hairdo by trimming your hair to your desired length. Remember, the goal of this hairstyle is to lay your hair flat.
So make sure you don't cut your strands too short. Once you finish your trim, work a bit of lightweight wax or pomade into your hair.
Use your palms to slick your hair down in the direction it naturally falls. You can slick your top to either side, depending on what looks best. Still, have questions? This video tutorial will make the styling process simple.
9. High Fade with a Lineup
Perfect HAIRCUT for BALDING Men 2023!
High fades are another haircut that is popular among balding men. This high and tight haircut works best for men with a little length on top, although you won't need much hair to pull it off.
And while high fades look great on their own, they work even better when you pair them with a lineup. A lineup is a haircut that's limited to your natural hairline.
You can use them to straighten your edges or give them an entirely new shape.
Because they artificially recreate your hairline, lineups are great for concealing a receding hairline. To get a lineup, use a pair of clippers to cut along your hairline. You can push it back, if needed, to create a crisp line.
When you finish, go to the hair right above your temple. Start cutting the sides short, and get shorter as you move down your head. Now that you get the idea, you can watch this video demo for more information.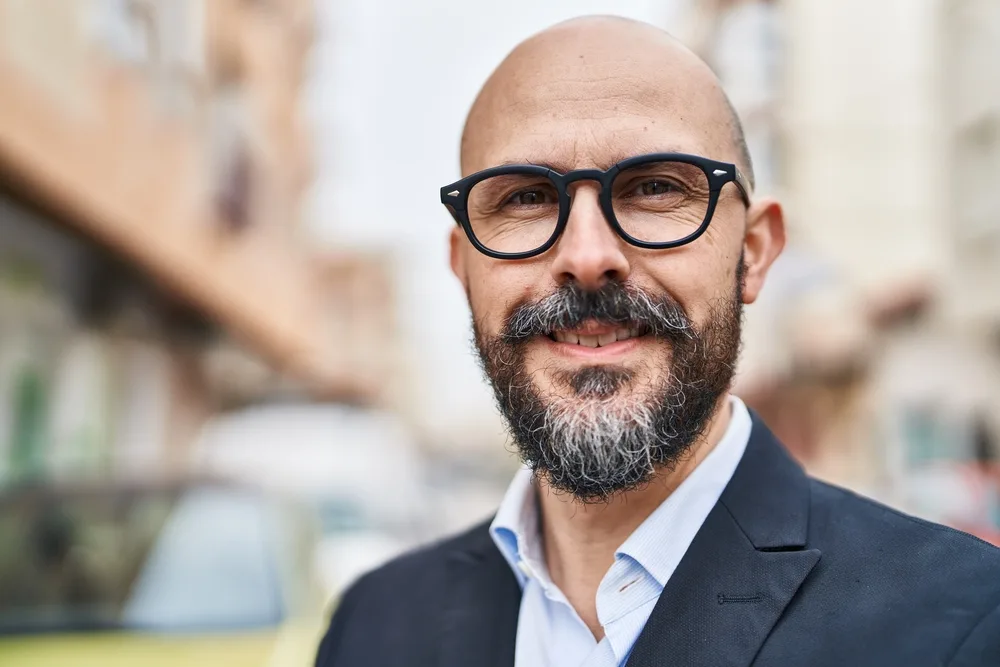 10. Short Cut with Hair Fibers
Going Bald You MUST WATCH!! Hiding Bald Spots | Hair Loss | Self Hair Cut Tutorial
We get it. Not everyone can or wants to wear hairpieces. But did you know there's a more straightforward and affordable solution? Hair fibers are a type of styling product made specifically for people with thin or balding strands.
They contain naturally colored fibers that cling to your scalp and fill in the balding areas. When used correctly, hair fibers look incredibly realistic and can successfully hide a bald spot or two.
The most important thing is to use a spray similar to your natural hair color. Using one that's too far off will leave your hair looking patchy and unnatural.
To use hair fibers, dry and style your hair like usual. Next, shake a small number of hair fibers into the balding areas. Gently pat your head to disperse the fibers and get them to settle.
Take a look at your hair, and apply more fibers if needed. Then, finish things off by lightly brushing or combing your hair into its final style. Want to learn more? Check out this easy-to-follow tutorial.
11. Hard Part with a Fade
How to Cut and Fade Balding Hair
Most men tend to part their hair on the same side every day. If this sounds familiar, you should check out our next look. A hard part is when you or a barber shaves a line onto the side of your hair.
That creates a deep, long-lasting part that looks incredibly crisp and neat. Hard parts are eye-catching and help add a stylish edge to your fade. And while they look great, they also serve a more practical purpose.
Because your part is already set, they can make styling your hair a breeze.
They also make your hair look more polished, making them an excellent option for thin or balding locks. To create a hard part, simply part your hair like usual.
Then, run a pair of clippers against the line to lock it in place. Looking for more information? This video breaks down how to cut a hard part with a fade on balding hair.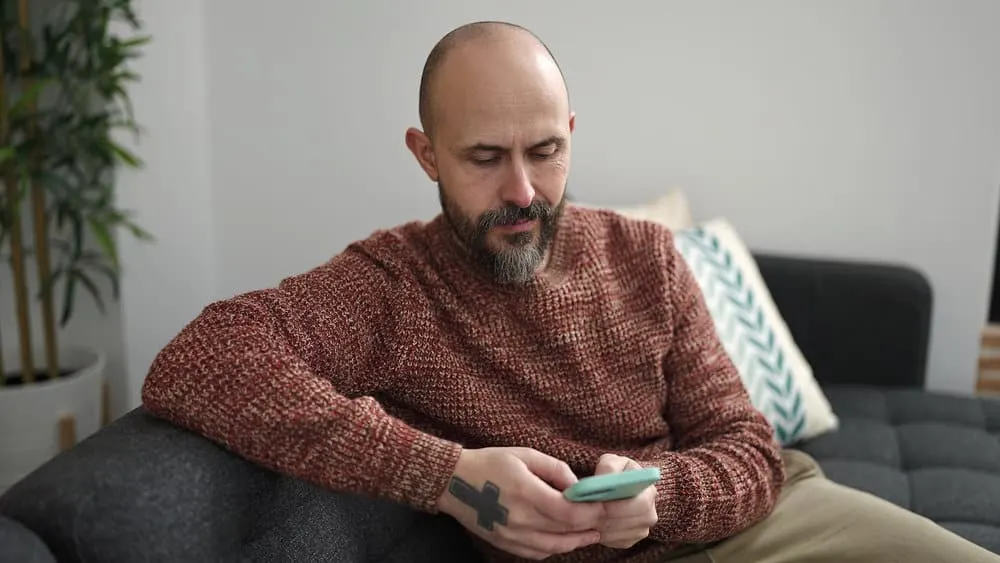 12. Long Dreads
HAIR LOSS, LOCS AND HOW TO STILL ENJOY YOUR LOC JOURNEY
There are two ways to wear your hair when you're bald on top. You can either embrace it or try to hide it. So if you've decided to embrace it, you'll want to take a look at our next hairstyle.
Dreads take years to grow and care for, and not everyone wants to lose all that hard work over a few missing strands. If your dreads are long enough, you can pull them into a high ponytail or topknot. Or, swoop them all to one side like a comb-over.
It's also important to mention that dreadlocks can contribute to hair loss or exacerbate it, so make sure you get your locs retwisted regularly. And when you do, be careful not to twist them too tightly.
You'll also have to be careful with styling.
Avoid pulling them in styles that put too much tension on your locs. Instead, opt for looser hairstyles and switch things up often. Ready for more loc care and styling tips? Check out this video to learn how to style your balding dreads like a pro.
13. Regulation Cut
A Great Haircut for a High Hairline with Thin Hair
A regulation cut is another military-inspired short haircut. It's a closely cropped comb-over with tapered or shaved sides. Regulation cuts are kept much shorter and tighter than other comb-over styles and are usually paired with a hard part.
That makes it exceptionally balding-friendly since the longer your hair is, the more it weighs. So when you lose length, that gives your hair some lift.
The extra volume can make your hair look fuller and help camouflage thinning or fine strands. Regulation cuts are also an excellent option if you have a receding hairline.
They incorporate your hairline into their shape and make it look like the receding portion is a deeper part. Here's a YouTube tutorial that will walk you through everything else you need to know.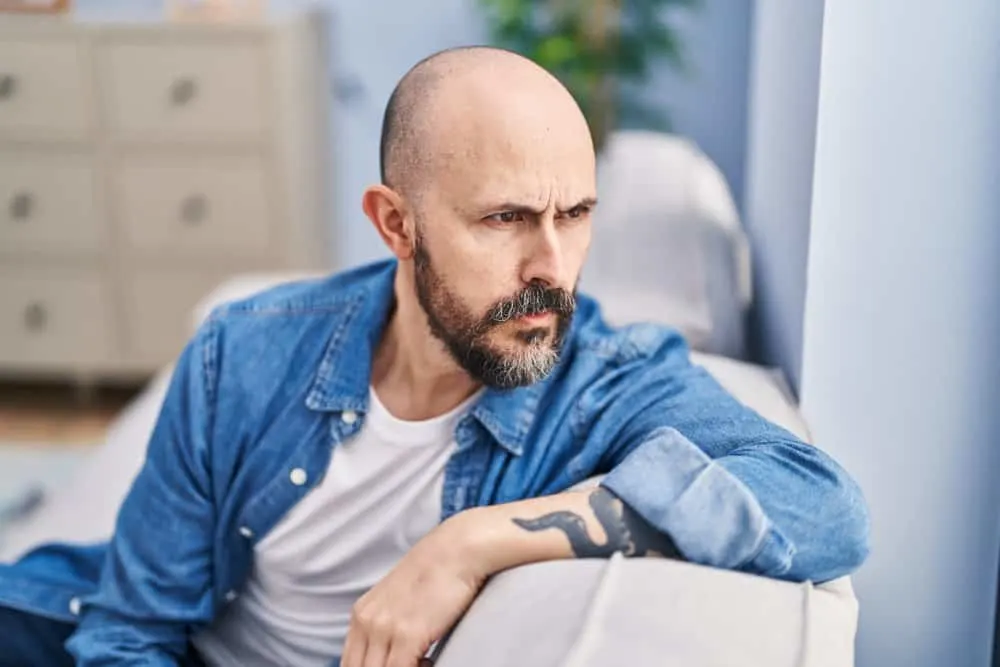 14. Buzz Cut
Best Hair Style for Male Hair Loss | Buzz Cut Tutorial | No Enhancements |
Buzz cuts are probably one of the best-known examples of a short haircut. This no-frills cut is super short. It's cut the same length all the way around your head for a look that's uniform and polished.
And although your hair is kept close to the scalp, the peach fuzz makes a big difference. It prevents your scalp from looking too smooth and shiny.
Want to make your buzz cut look even more striking? Try pairing it with facial hair to add another layer of coolness and help draw attention to your handsome features.
Getting a buzz cut is an extremely straightforward process. Simply use a pair of hair clippers to take the entirety of your head down to a quarter of an inch long.
And remember, you can take length away, but you can't add it. So make sure you cut carefully and always buzz it longer rather than shorter. Check out this video tutorial for more help!
This concludes our list of balding-friendly hairstyles. The truth is that there are plenty of hairstyles you can wear with a balding top. You'll just have to get a little more creative at styling!
Try experimenting with different products, accessories, and techniques to achieve a look that works for you. After all, you won't know what works until you try it. Balding isn't easy, but we hope the looks we've gone over today were just what you were looking for!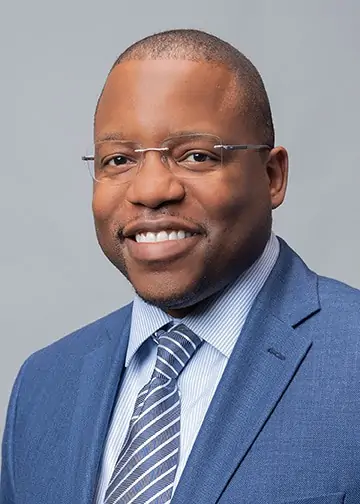 Kenneth Byrd holds a BS in Accounting and Management Information Systems and an MBA from the University of Alabama at Birmingham. With over 15 years of experience, Kenneth has been dedicated to hair care since 2008, when he co-founded Curl Centric® and Natural Hair Box alongside his wife. As a team, they promote healthy hair care practices through their comprehensive platform, Curl Centric. Curl Centric is a website operated by a husband and wife team that encourages healthy hair care. At Curl Centric, we aim to help our readers take control of their hair care journey and make good decisions about products, hairstyles, and maintenance techniques. We also have strict editorial integrity; here's an explanation of our editorial guidelines and how we make money.