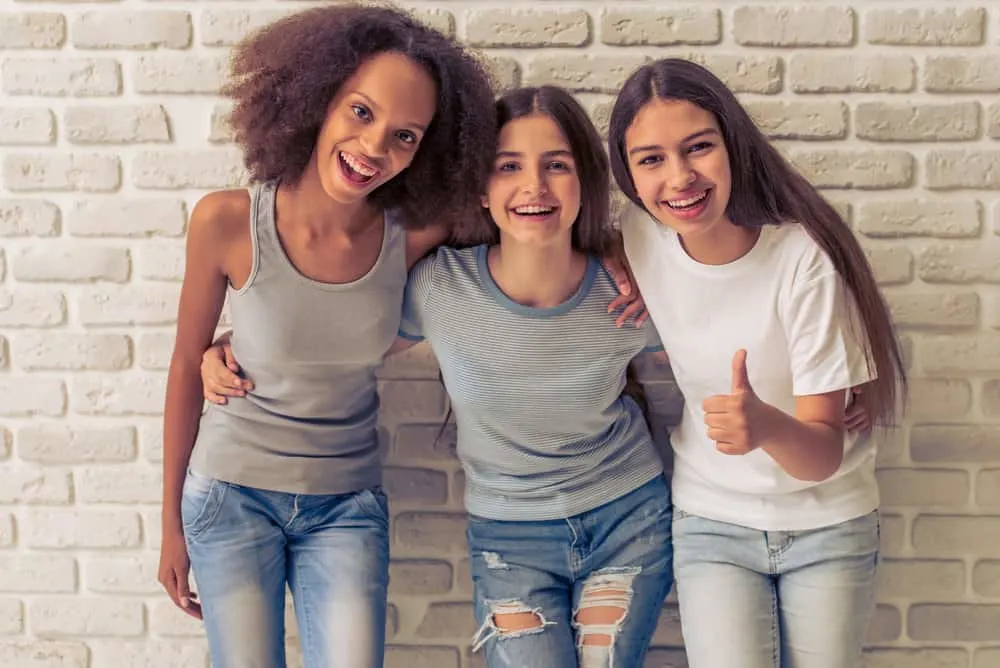 Everyone knows the 80s was a unique time for hair and fashion. The hair was big and bold, and textured hair was all the rage.
So whether you're getting ready for a themed costume party or just looking to take inspiration from a different decade, we've got you covered!
This article will take you through a selection of 80s teenage hairstyles. We'll give you a brief description of each look and all the tools you need to create them. Ready to start? Then read on!
80s Teenager Hairstyles for Black and White Girls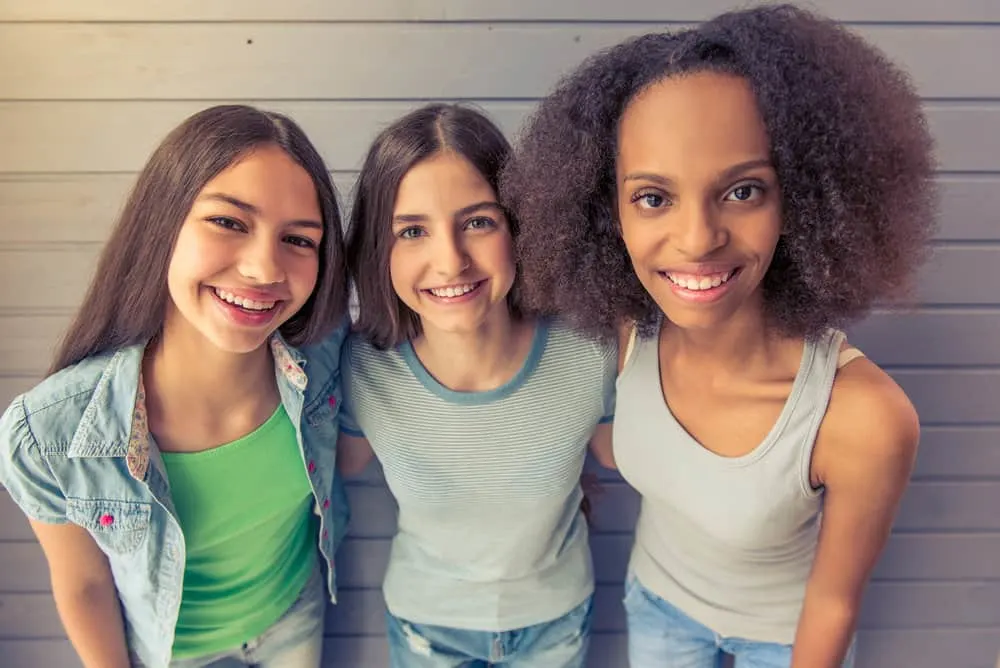 This fun article includes 15 of our favorite 80s hairstyles ranging from a fabulous dance routine hairdo to a feathered hairstyle to a curtain bangs style that's making a comeback. You'll find a style on this list for every hair type and all face shapes.
1. Curly Perm
It's hard to think of a look that's as quintessentially 80s as a curly perm. These big, voluminous curls were everywhere. And we aren't sure if you've heard yet, but perms are back in a big way!
People are rediscovering curly perms and using them to create a textured base for more modern hairstyles. And it's a common misconception that curly perms are only for naturally straight hair.
When done on kinky or already curly hair, you can use perms to impart a softer or tighter curl. They can also make your curls smoother and shinier.
Perms require caustic chemicals, so it's better to leave them to the professionals. But if you do decide to get a curly perm, make sure you watch this video first to learn what to expect during your appointment.
2. Feathered Bob
Looking for a hairstyle that works with shorter locks? A feathered bob was one of the most popular short haircuts in the eighties. And despite being short, they have plenty of volume, fullness, and texture.
The best thing about bobs is that they work for everyone.
They're considered a universally flattering cut, so you can rest assured knowing that you'll always look great. To style your feathered bob, wash your hair like usual. While your hair is still damp, blow dry it with a round brush.
Once your hair is dry, it's time to work on styling!
While curly locks usually have plenty of natural volume, the eighties were all about unnaturally big hair. So try backcombing your roots to make your hair look even fuller.
Then, use the palms of your hands to create a rounded shape. Getting the perfect feathered bob might be challenging at first. Luckily, there are video tutorials–like this one–that will guide you every step of the way.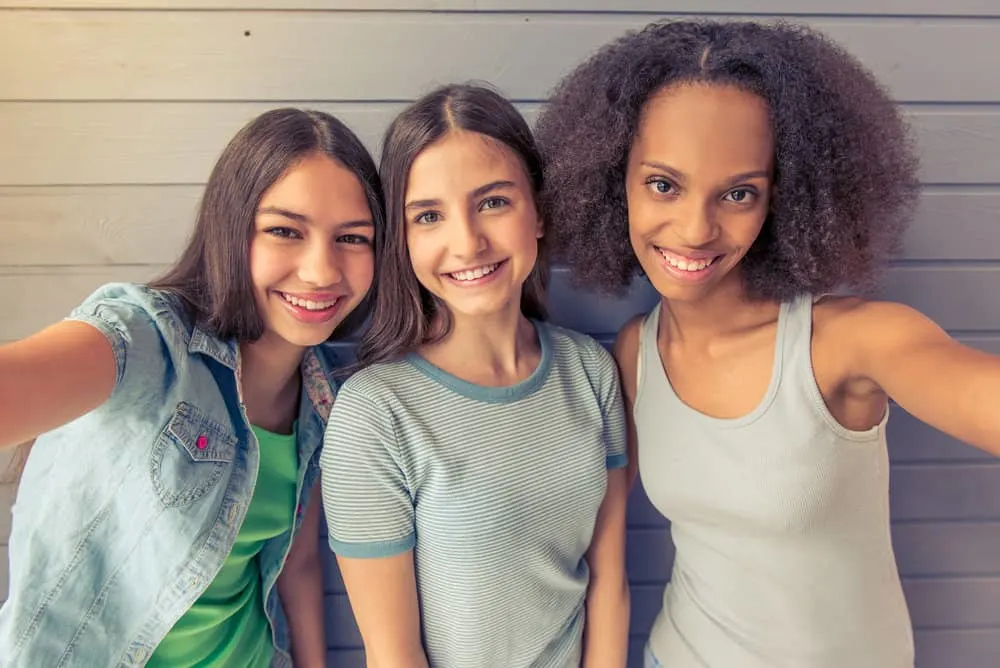 3. Half-Up High Ponytail
Watch an episode of any 80s sitcom, and you'll probably come across our next look. A high ponytail was an 80s staple. A half-up high ponytail, also called a whale spout, is a simple half-up, half-down style.
While this look is similar to a modern half updo, the ponytail is placed much higher on the head. Want to try out this 80s hairstyle for yourself?
To create a half-up high ponytail, part your hair from ear to ear, and gather the top section into a high ponytail. And remember, the higher, the better!
For an even more eighties look, secure your ponytail with a colorful scrunchy rather than a hair tie. You can wear the down portion however you like.
It's an excellent chance to show off your natural texture or switch things up with a flat or curling iron. Decided to give this high ponytail a try? Here's a video tutorial to help you get started.
4. Bun Mohawk
Are you looking for a chicer, more subtle take on 80s fashion? If so, you'll fall in love with this next look. It's a softer, more wearable take on a mohawk that is perfect for burgeoning fashionistas.
A bun mohawk creates the same silhouette as a mohawk.
It has a full, voluminous center with super short sides. But unlike an actual mohawk, you don't have to cut your hair. Instead, you'll fake shaved sides by slicking your hair toward the center of your head.
Next, gather your loose hair into six or more ponytails.
Tuck the ends of each ponytail into its base and secure them with a bobby pin or two. Want more advice? Watch this foolproof tutorial to learn everything you'll need to know about creating a bun mohawk.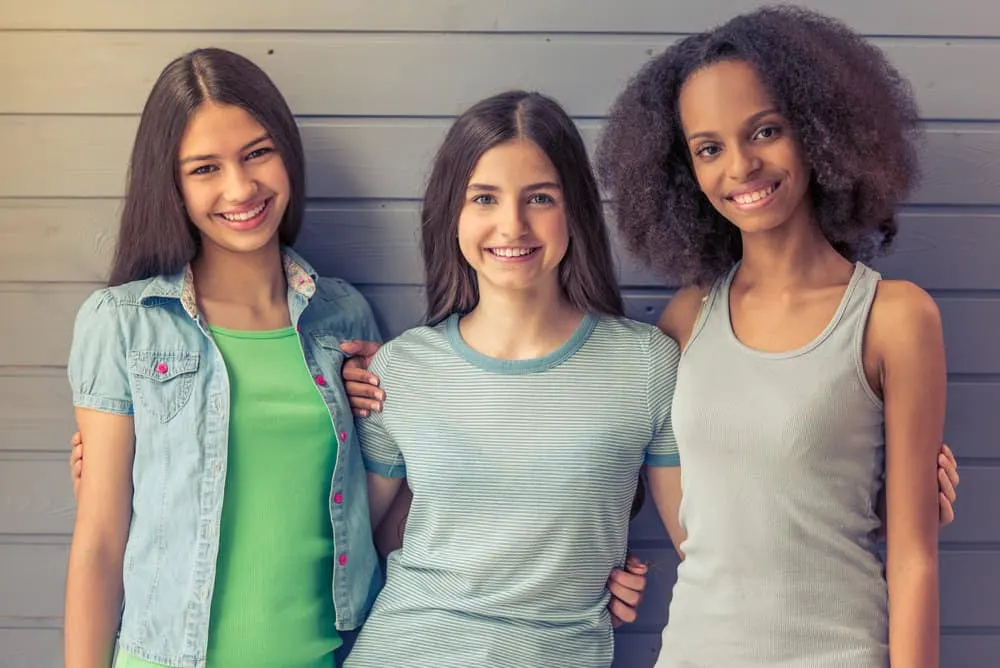 5. Jheri Curls
Although they've become something of a joke in modern times, Jheri curls were everywhere in the 80s. It was a popular style for both men and women who couldn't get enough of the juicy curls.
Traditional Jheri curls were a chemical service that permanently altered the shape and texture of one's hair. The good news is that you can get the look without drowning your hair in chemicals and products.
Next, use your fingers or a curl-defining brush to apply a liberal amount of gel to your hair. Rake gel down the length of each individual curl to encourage length retention and definition.
This look is all about curl definition, so you want to stay away from high-powered airflow. So you can either allow your hair to air dry or use a blow dryer with a diffuser attached to it.
Ready for more tips and tricks? Just take a look at this video demonstration.
6. Voluminous Crimps
So you already know that curls were huge in the 80s. But did you know that crimped hair was just as popular? Crimps are sharp, z-shaped waves.
They can be either tight or loose, depending on how you prefer to wear your hair. The easiest way to create crimps is with a crimping iron. They look similar to flat irons but have wavy, w-shaped plates that impart deep waves to your locks.
Don't have a crimper? Don't worry; you can still give yourself crimps!
Simply clamp a flat iron on a section of hair and bend it back and forth at a sharp angle. Open the flat iron, slide it down a bit, and repeat the process until you're satisfied with the number of crimps.
You can either add a few for a subtle pop in texture or go crazy and wear them all over! Now that you have the basics watch this video to learn how to style your new crimps.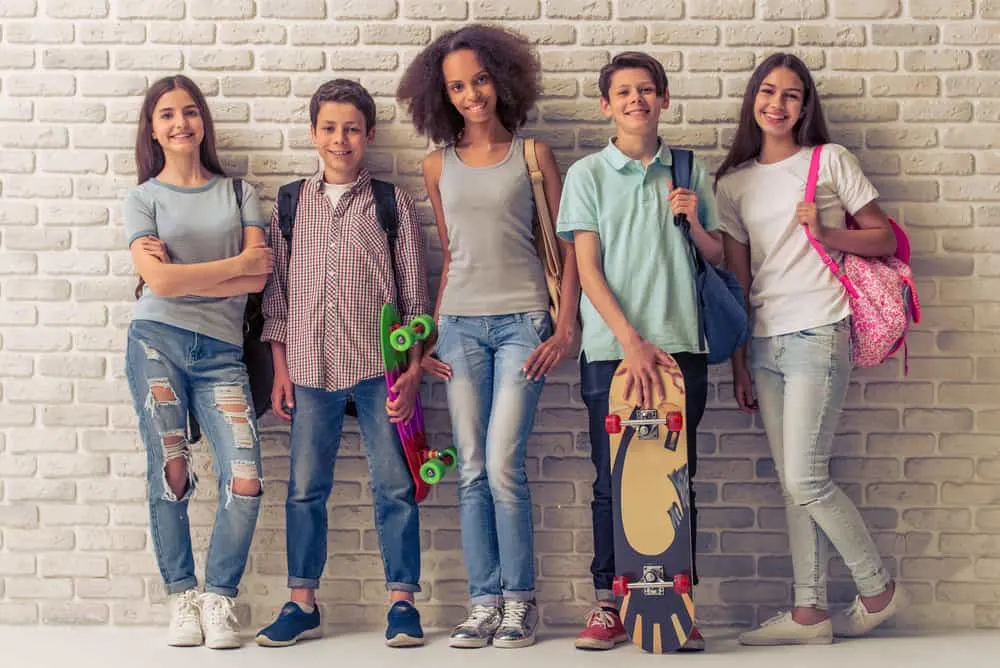 7. Madonna Inspired Head Wrap
Ready to look and feel like a Material Girl? Madonna was huge in the eighties, and her influence on the decade is virtually unmatched. This look is inspired by one of Madonna's signature looks: a side-swept, curly updo.
To get the Madonna-inspired head wrap, work a curl-defining product into damp, freshly washed hair. This look is all about texture, so scrunch your hair as it dries.
You also want to use more gentle hair-drying methods like diffusers or air drying.
Once your hair dries, gather it into a low ponytail and twist it upwards toward the center of your head. Flip the ponytail ends forward, and lock your updo in place with a few bobby pins.
Now that you've finished your updo, slide a head wrap around your curls.
To add an even bigger 80s flair, use one that features a large bow. This hairstyle instantly transports you into the eighties; no time machine is required! Just follow the steps we've included, or look at this simple tutorial!
8. 80s Inspired Side Braid
This 80s-inspired side braid is so cute you'll want to try it out right away. It pairs a super sweet side braid updo with perfectly defined curls. It's chic, adorable, and a more wearable take on a classic eighties style.
To get the look, create neat, horizontal parts on the side of your head and pull the hair up. Wrap a small rubber band around each section to hold it upright.
Keep making your way back until you've completed one-half of your head.
You should have neat, vertical rows lining one side when you finish. Split each ponytail in half and wrap it around the next pony. Secure it with another rubber band, and repeat the process.
After you finish, bring the rest of your hair to the opposite side and add a bunch of big, juicy curls. And while it will probably take you a couple of tries to master this look, you'll be happy that you did. Watch this straightforward tutorial to learn more styling tips.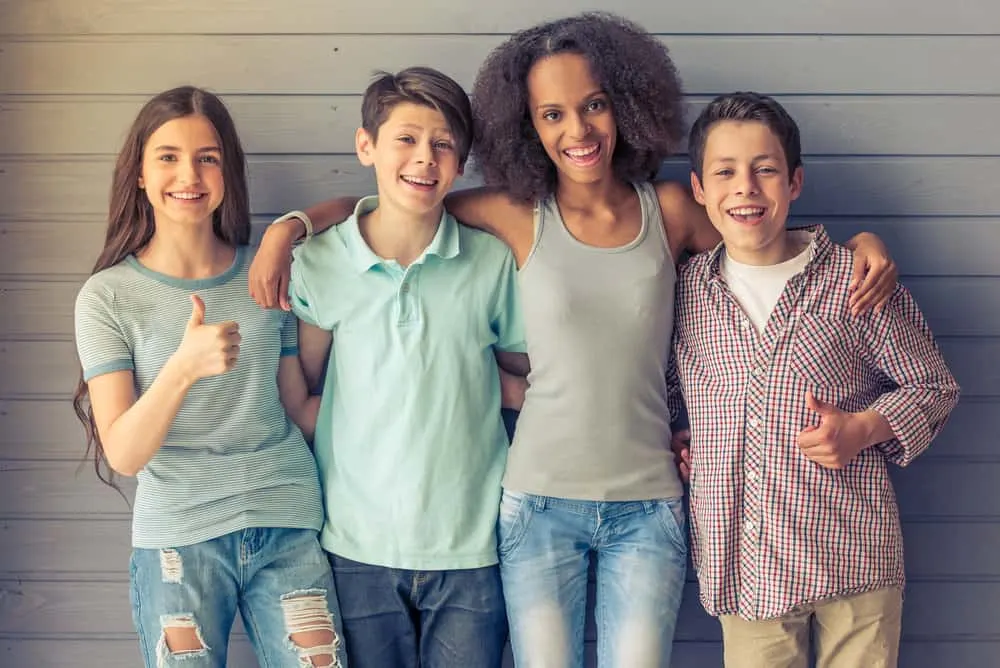 9. Curly Bob
As you've looked at the hairstyles we've gone over today, you probably noticed a pattern. Curls were huge in the eighties. 80s hair is a far cry from the straight, super sleek locks that were trending in earlier decades like the seventies, sixties, and fifties.
So naturally, this adorable look is filled with soft ringlets.
Don't worry if you don't have naturally curly hair. Instead of relying on your natural texture, you can curl your locks with a curling iron or wand.
Just make sure you apply a quality heat protectant beforehand.
That way, you can prevent heat damage and all the breakage that comes with it. Wondering if this is the right style for you? This tutorial contains everything you need to get your curly bob just right.
10. Side-Swept Hair
Our next hairstyle will make you look like you just stepped out of the pages of an eighties fashion magazine. Side-swept hair is big, soft, and perfectly touchable.
It's also super easy to create! First, make a deep side part and comb the smaller half of the section straight back. Bring the larger half-forward, so it gently falls over your face.
Once satisfied with your hair's shape, use a curling iron to curl your hair backward
And remember: no eighties look is complete without a healthy dousing of hairspray! Now that you have your basic look completed, you can stop there.
But we recommend adding a few chunky barrettes to the slicked back side.
That will both keep your hair in place and add another dimension of eighties nostalgia. Have you decided that this throwback is the right style for you? Check out this helpful tutorial to learn more about creating a side-swept hair look.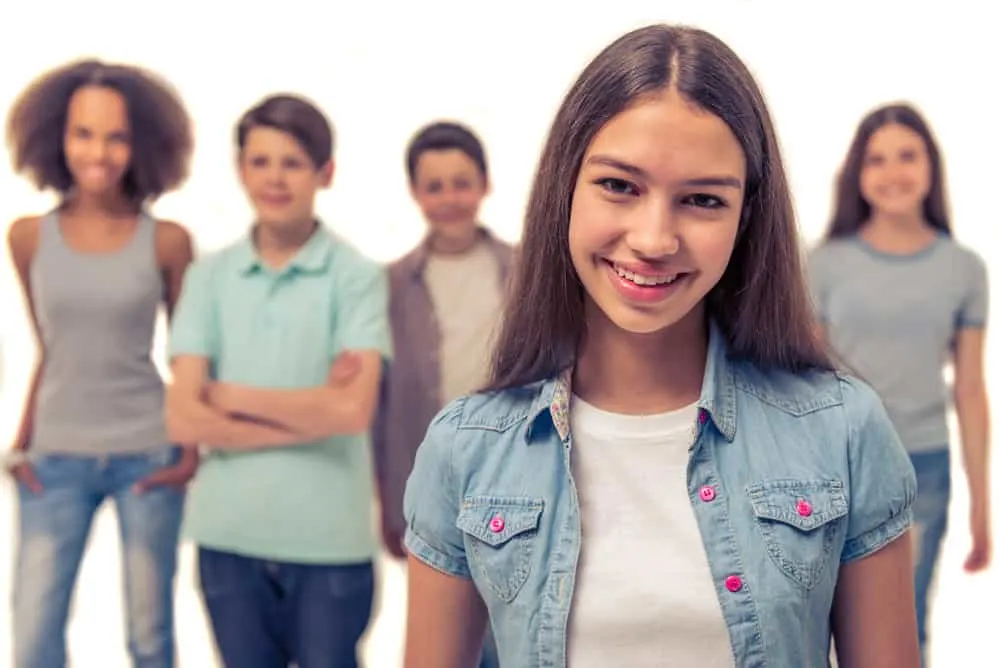 11. Bombshell Curls
It's hard to say bombshell curls are exclusively an 80s look because, truth is, they never went out of fashion. Big, vivacious curls are a great way to reinvigorate your hair and play around with more texture.
To get this look, start with freshly washed and dried hair.
Remember, when it comes to bombshell curls, the bigger, the better. So if you struggle with volume, spritz a little texturizing spray into your roots and wait for your hair to dry.
Separate a thin section of hair and wrap it around the barrel of a small-to-medium-sized curling iron. Wait for eight to ten seconds before carefully sliding the barrel away from your hair.
Keep adding curls until you're satisfied with your hair's volume and density. If the ringlets are too tight, you can soften them by combing through them with a wide tooth comb. For a more in-depth tutorial, you can watch this engaging tutorial.
12. Side High Ponytail
Our next entry is another hairstyle that was wildly popular among teens in the 80s. In fact, you couldn't go anywhere in the 80s without running into a girl with a side high pony.
They have a lot more sass and personality than a regular ponytail and are an easy way to experiment with 80s fashion. And are you ready for the best part?
Creating a side-high ponytail only takes a few minutes!
To start, work a smoothing product into your hair and brush it all to one side. Wrap your hands around the hair, and gather it into a tight, high ponytail.
To make it even more eighties, use a scrunchy instead of a hair tie. In addition to making your look more authentic, scrunchies are much more gentle on your strands!
They're less likely to cause dents or breakage and come in a variety of fun colors and patterns. Still, need help? This easy-to-follow tutorial will walk you through everything you'll need to know.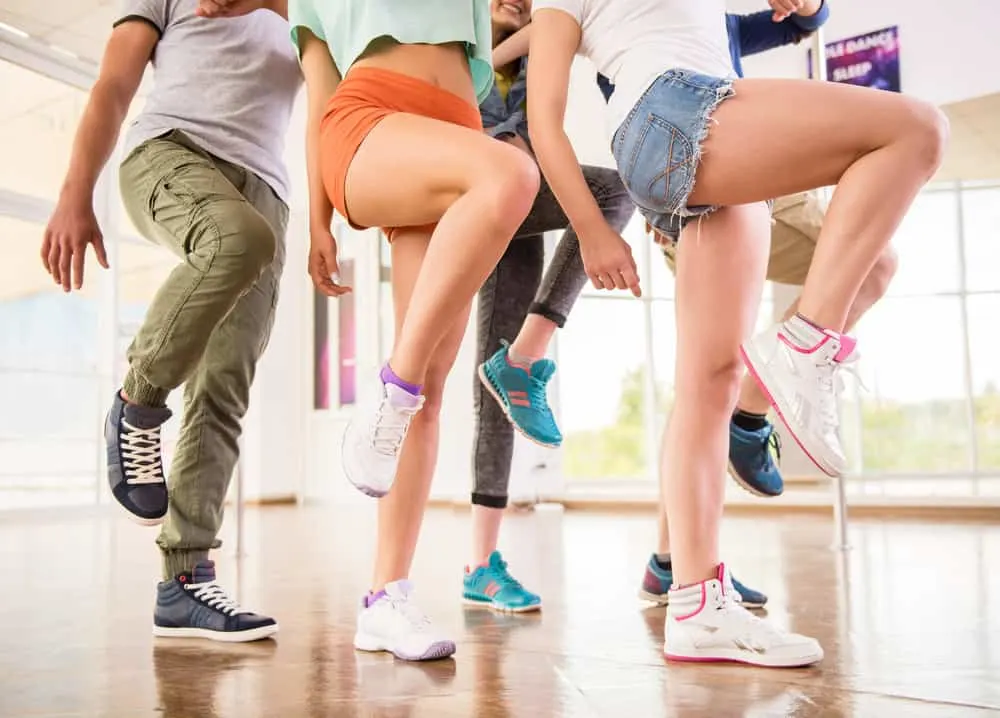 13. 80s Rocker Hair
Hair metal bands were all the rage in the 80s due in part to their head-turning fashion looks. And with a name like hair metal, you know the rockers had to be sporting some amazing locks.
80s rocker hair is big and bold, with a ton of fluffy texture.
The key to getting this look is back combing. Backcombing, or teasing, is a way to make your hair look fuller with just a simple comb.
Curious about how it works?
First, spritz a little holding spray into your roots, and slide the teeth of a fine-tooth comb into your roots. Move the comb down toward your scalp.
Remove the comb, place it an inch or two up from your roots, and repeat the process until your hair is standing straight. Continue backcombing until you're satisfied with your hair's volume.
Then, the only left is to shape your hair and lock the look in place with more hairspray. Not sure if you can pull off this edgy look? Don't worry because this engaging video demo will make it a breeze.
14. Feathered Shag
While a feathered shag is usually thought of as a 70s hairstyle, it actually peaked in popularity during the 1980s. This fun, flirty look is packed with big, backward-facing curls, and it just so happens to be one of the most iconic hairstyles ever to exist!
The easiest way to style a feathered shag is to give yourself a blowout. Are you wondering how it's done? To start, shampoo and condition your hair.
While your hair is still damp, separate a thin section in the back. Wrap the hair around a round brush, and point the blow dryer's nozzle at it.
Wait for five to ten seconds before carefully removing the brush. Carve out another section, and repeat the process until you're left with a head full of fluffy curls.
Then, use your fingers or a wide tooth comb to style as desired. This tutorial should provide all the information you'll need to style your feathered shag like a pro.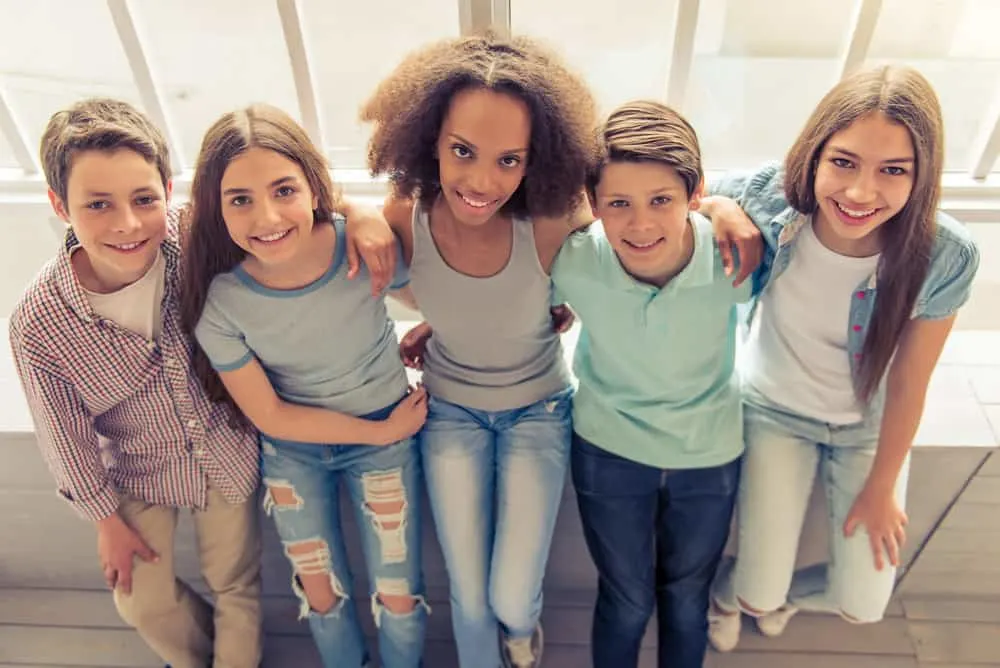 15. Curly Mullet
Mullets are one of the more controversial hairstyles from the 80s, and it's easy to see why. The iconic cut has a jagged, uneven shape. While the front and sides are short and choppy, the back is left significantly longer.
The result is an extremely disjointed cut that's not for the faint of heart. But the good news is that a newer, more wearable version of the mullet is going around these days.
Its chic, edgy shape has helped it skyrocket in popularity. Modern mullets have a softer, more subtle transition in length. They also have layers added to them, which help play up the cut's playfulness.
But if you want authenticity, you'll want a big, bold mullet with plenty of texture and personality. Here's a video that will give you all the info you need to create the perfect 80s mullet.
Thus concludes our list of 80s teenager hairstyles. 80s hairstyles come in all different lengths, shapes, and sizes. That means there's a perfect 80s hairstyle for everyone, regardless of their hair's length or texture.
So have fun experimenting with all the different styles!
And if they're ever too costumey, try making them look subtler for a more modern take. With that, we hope you've found the hairstyles we've covered today totally tubular!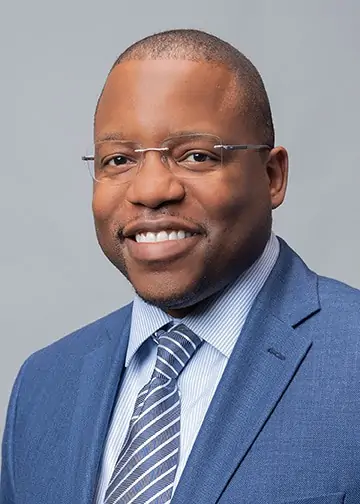 Kenneth Byrd holds a BS in Accounting and Management Information Systems and an MBA from the University of Alabama at Birmingham. With over 15 years of experience, Kenneth has been dedicated to hair care since 2008, when he co-founded Curl Centric® and Natural Hair Box alongside his wife. As a team, they promote healthy hair care practices through their comprehensive platform, Curl Centric. Curl Centric is a website operated by a husband and wife team that encourages healthy hair care. At Curl Centric, we aim to help our readers take control of their hair care journey and make good decisions about products, hairstyles, and maintenance techniques. We also have strict editorial integrity; here's an explanation of our editorial guidelines and how we make money.