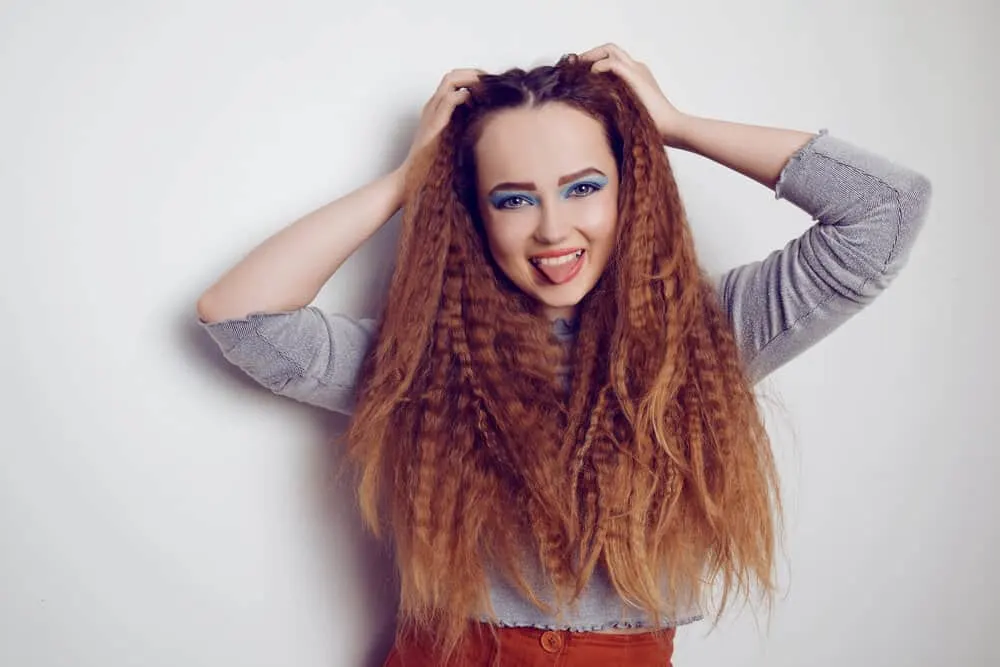 From mullets and Jheri curls to flat-tops and hi-top fades, the 80s are back! And we're happy to say that crimped hair has come along for the ride.
If you're wondering how you can hop on this trend and try out crimped hair for yourself, you've come to the right place!
In this article, we'll break down everything you need to know about how to crimp hair with and without a crimper. We'll explain how to begin crimping and give you a few tips on keeping your hair healthy during the process.
How to Crimp Hair With Crimper: Step-by-Step
Crimped hair is an incredibly chic and versatile look comprised of "Z" shaped zig-zagging waves. It looks great on virtually all hair lengths and textures and gives your hair plenty of fun volume.
Want to know how it's done? Here's a quick rundown on how to crimp your hair.
HOW TO CRIMP YOUR HAIR TUTORIAL
Wash and Dry Your Hair
Crimps look best when done on dry, freshly washed strands. Plus, you never want to use hot styling tools on dirty hair. So, begin your crimping session by shampooing and conditioning your hair.
After you rinse the conditioner from your strands, use a towel to dry the excess moisture from your hair. Apply a heat protectant to your hair and comb it through to ensure it's evenly distributed. Next, air or blow dry your hair until it's completely dry.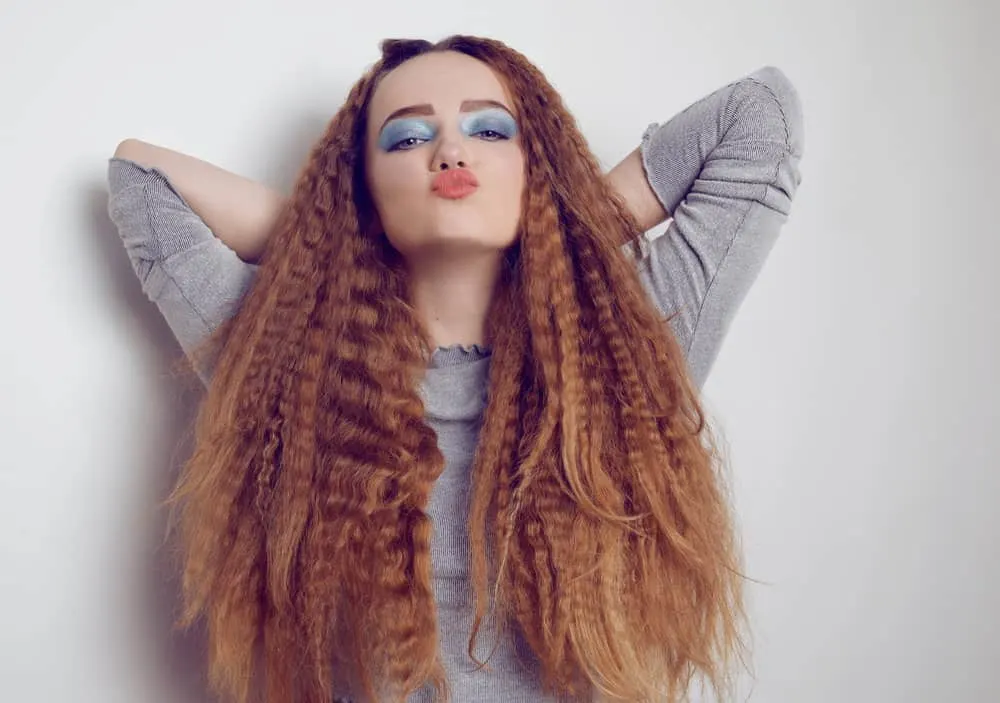 Prepare Your Hair
You want the crimping process to go smoothly, so go back over your hair and make sure there aren't any knots or tangles. Once your hair is detangled, divide it into four equal sections, and secure each of them with a hair tie or clip.
Take down one of the back sections to begin creating your crimps.
Create Your Crimps
The easiest way to get crimps is with a hair crimping tool. Crimping tools, also called crimping irons, look similar to flat irons but have wavy plates rather than smooth ones.
Plug your crimping iron in and set it to a low heat setting for thin or fine hair. Set the iron to medium or high for thick or coarse strands. After your iron heats up, grab a one-inch section of hair.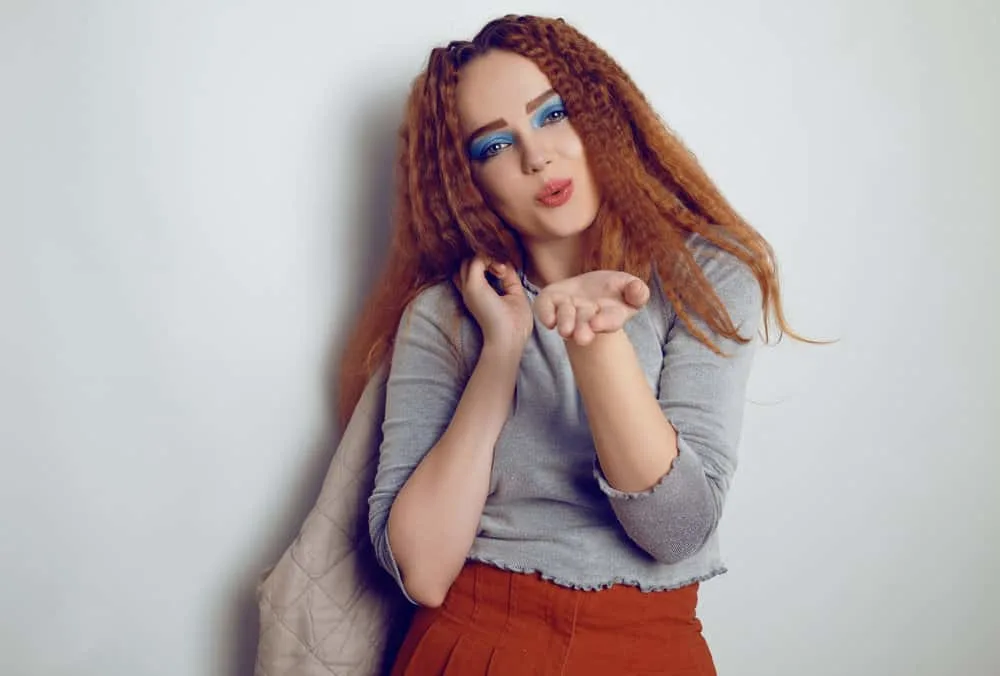 Starting at the root, open the crimping tool and clamp down on the hair. Wait for five to seven seconds before opening the crimper and pulling it away from your hair. Slide the crimping iron down to the end of your crimps, and clamp the iron down again.
Make sure there's a slight overlap, so each round of crimps blends seamlessly with the one that came before. Continue following the same process as you make your way down to your ends (i.e., the bottom half of your hair).
You can add as many or as few crimps as you like.
Crimp all of your hair for a big, voluminous style, or just add a few subtle crimps for a pop of texture. Separate the next one-inch section of hair and continue crimping your hair until you're satisfied with the look.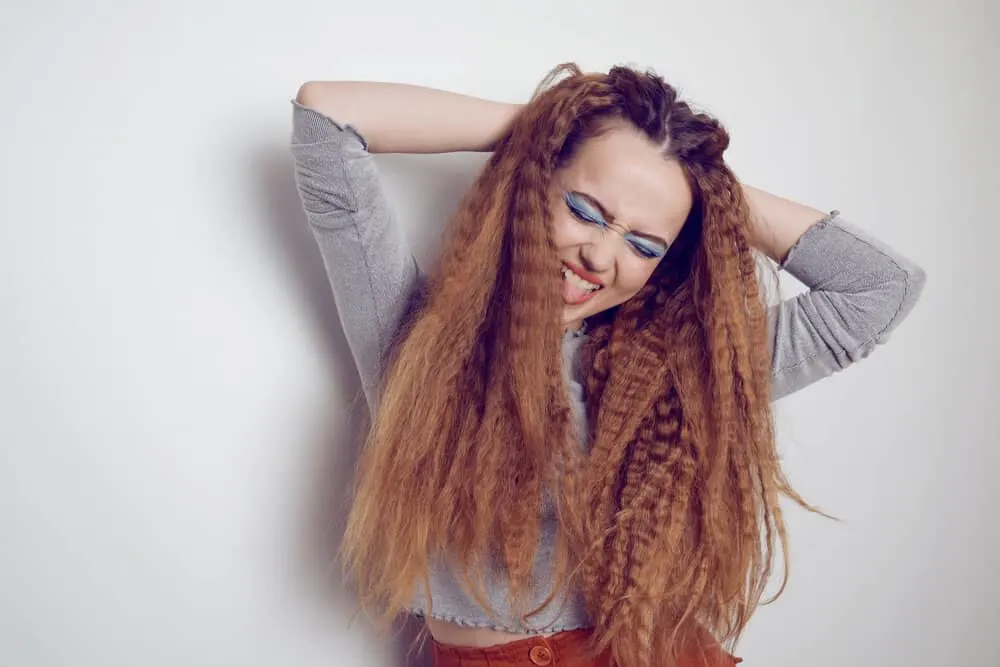 Style Your Hair
Now that your hair is crimped, you can put it into a number of stunning styles. Try wearing it in a half updo, or throw it into a chic bun.
You can also wear your hair as is or loosen your crimps by tousling or brushing through your hair. After you finish styling, lock everything in place with a lightweight holding spray.
Can You Crimp Hair Without a Crimper?
Crimping tools are specifically designed to crimp your hair and give you those characteristic "Z" shaped zig-zags. But unfortunately, not everyone has or wants a crimper. The good news is that there are a few other ways to crimp your hair.
We'll walk you through them below.
Do a Braid Out
Did you know that braid outs can give you heat-free crimps? A braid out is a style that develops when you take out your braids. It has soft, "Z" shaped waves that look similar to what a crimping iron creates.
Want to give it a try?
Apply a curl-enhancing product to damp, freshly washed hair. As you distribute it through your strands, make sure you've thoroughly detangled your hair.
Braid the hair from roots to ends with moderate tension. Then, just let your hair dry. You can either let your hair air dry or speed things up with a blowdryer.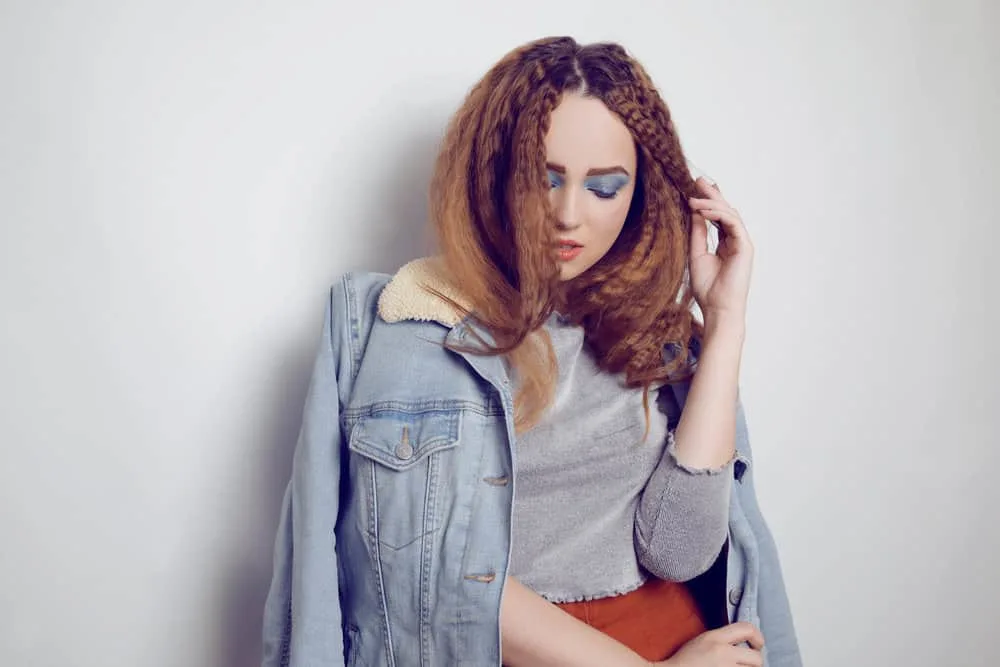 Once your hair is completely dry, you can unravel your braids and style your hair. You can also go over the braids with a flat iron before you take them down. That will help smooth your strands and ensure that your braid-out lasts.
Use a Flat Iron
How to wave your hair with a straightener | crimp hair
We get it. Not everyone wants to collect a bunch of different styling tools. Luckily, you can create crimps with a tool you probably already have!
Flat irons can create adorable waves; you just have to use them a little differently. To start, apply a heat protectant to clean, dry hair. Then, separate a one to two-inch section of hair, and clamp the iron down on your roots.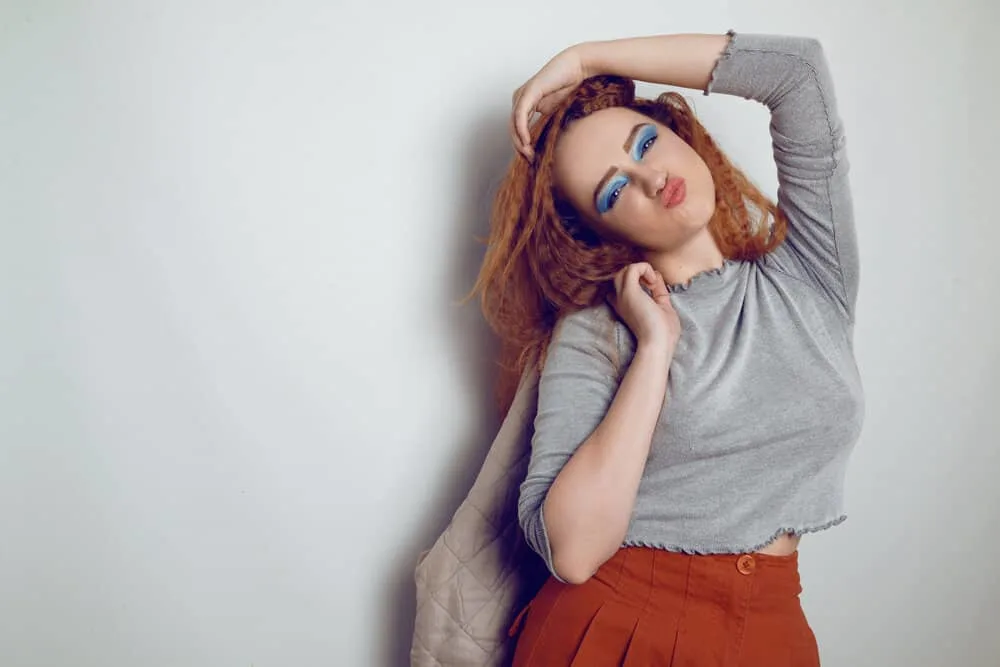 Flick your wrist, so the flat iron turns at a sharp, 90-degree angle. Continue working your way down your hair while flicking your wrist back and forth every inch or so.
Once you finish a section, let it cool without disturbing it. Once you're satisfied with the number of crimps you have, secure your new texture with a bit of hairspray.
Is Crimping Your Hair Damaging?
Although crimped hair looks fantastic, it is by no means a protective style. Any hot tool has the potential to burn or damage your strands, and crimping irons aren't any different.
Fortunately, there are plenty of ways to prevent heat damage and keep your hair safe. And if safety is your primary concern, you can skip the heat altogether and opt for a heatless method of styling your hair.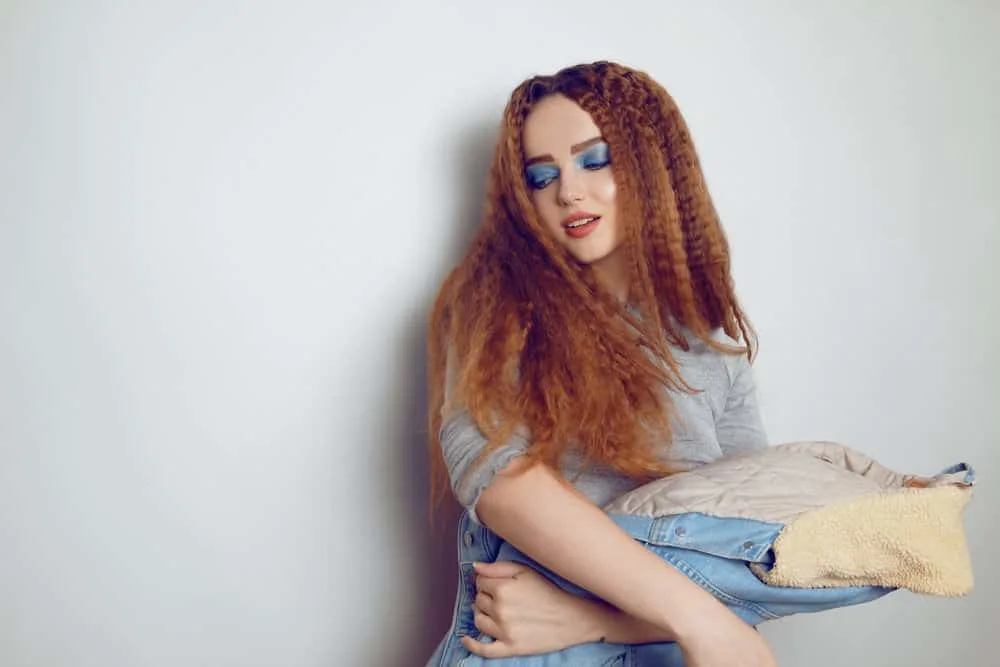 Dos and Don'ts of Crimping Your Hair
We've covered a ton of information so far, so we'd like to simplify things in this section. Here's a list of dos and don'ts when crimping your hair. Keep them in mind to ensure your hair feels great and looks even better.
Do's
Do clean your crimping iron after you use it.
Do use a high-quality hot tool.
Do use multiple crimping tools to create a multi-dimensional look.
Do use a nourishing deep conditioner before and after heat styling.
Do experiment with the size, density, and placement of your crimps.
Do ensure that your hair is 100% dry before using a crimping iron.
Do work with small, easy-to-manage sections.
Do keep your hot tool on the lowest possible heat setting.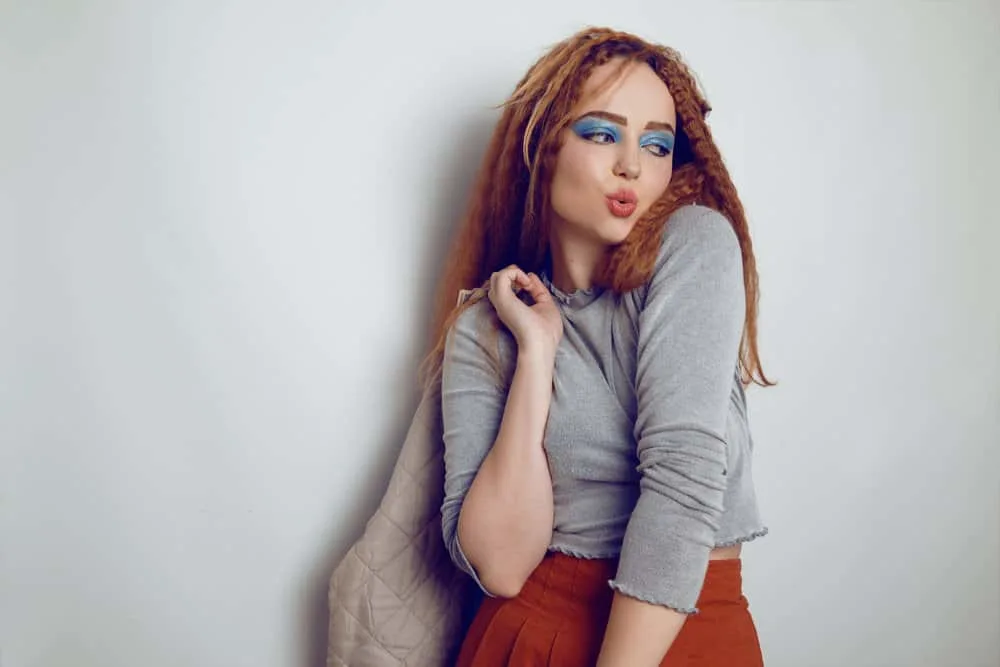 Don'ts
Don't touch, brush, or manipulate your hair until it has had a chance to cool.
Don't forget to apply a heat protectant.
Don't use oil on your hair before applying heat.
Don't brush through your hair after you finish crimping it.
Don't use a crimping tool on dirty hair.
Don't hold your crimping iron in one place for more than ten seconds.
Don't use a crimping iron more than once or twice a week.
Crimped hair has unique, zig-zagging waves that look vastly different from any other hairstyle. And although your 'do will look like it took hours, crimps are surprisingly easy to create.
If you want quick results, grab your crimping iron or flat iron and go to town. If you're not into heat styling, opt for a braid out. We hope that this article has given you the information and tools you need to live your best-crimped life!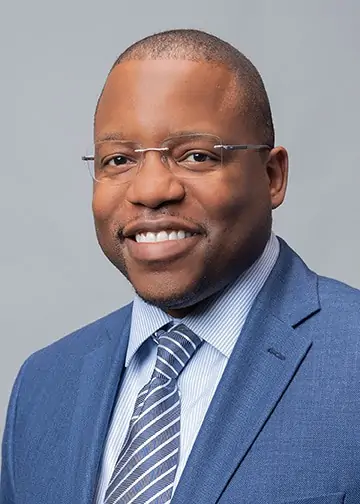 Kenneth Byrd holds a BS in Accounting and Management Information Systems and an MBA from the University of Alabama at Birmingham. With over 15 years of experience, Kenneth has been dedicated to hair care since 2008, when he co-founded Curl Centric® and Natural Hair Box alongside his wife. As a team, they promote healthy hair care practices through their comprehensive platform, Curl Centric. Curl Centric is a website operated by a husband and wife team that encourages healthy hair care. At Curl Centric, we aim to help our readers take control of their hair care journey and make good decisions about products, hairstyles, and maintenance techniques. We also have strict editorial integrity; here's an explanation of our editorial guidelines and how we make money.