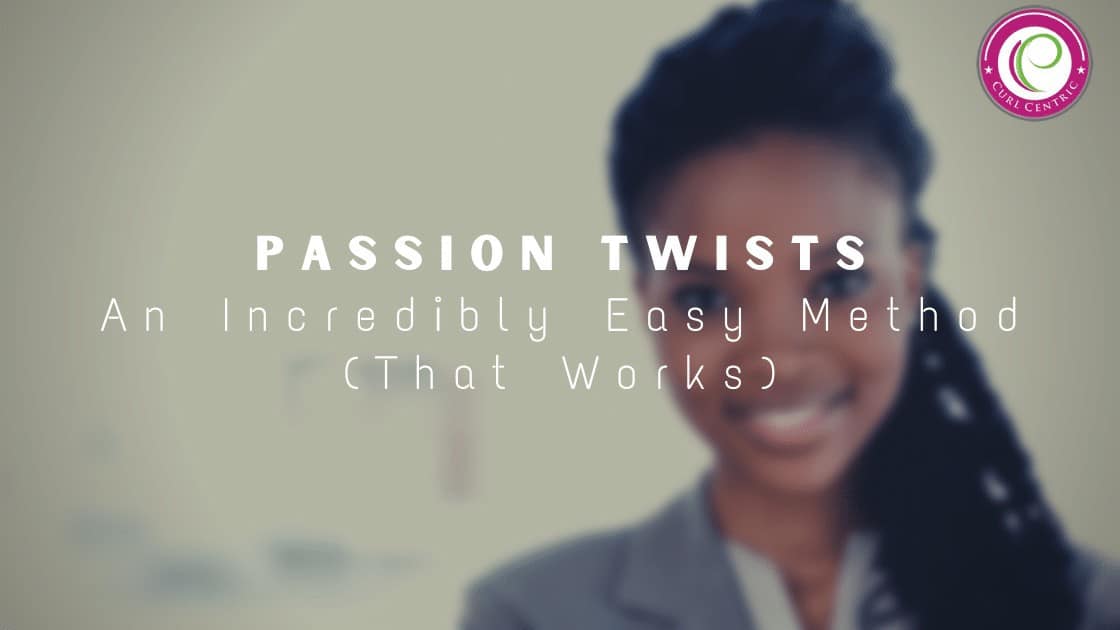 Passion twists began with Kailyn Rogers, also known as the Boho Babe. Kailyn is a gifted hairstylist in the Miami area.
She created the beautiful passion twist style out of the need for something fresh, eye-catching, and long-lasting. Following their introduction in 2018, many celebrities have worn passion twists, like Taraji P. Henson and Keke Palmer.
Top magazines like Elle and Essence have featured the innovative style, further increasing its popularity. Even today, passion twists continue to turn heads because of their unique appearance.
In this article, we will teach you everything you need to know about passion twists.
What are Passion Twists?
If you're new to passion twists, the first question you may have is, "What are they?"
Passion twists are a fusion of two of the most popular protective styles: Senegalese twists and goddess locs. They are a fun protective style that utilizes textured hair extensions to create twists with an adorably messy texture.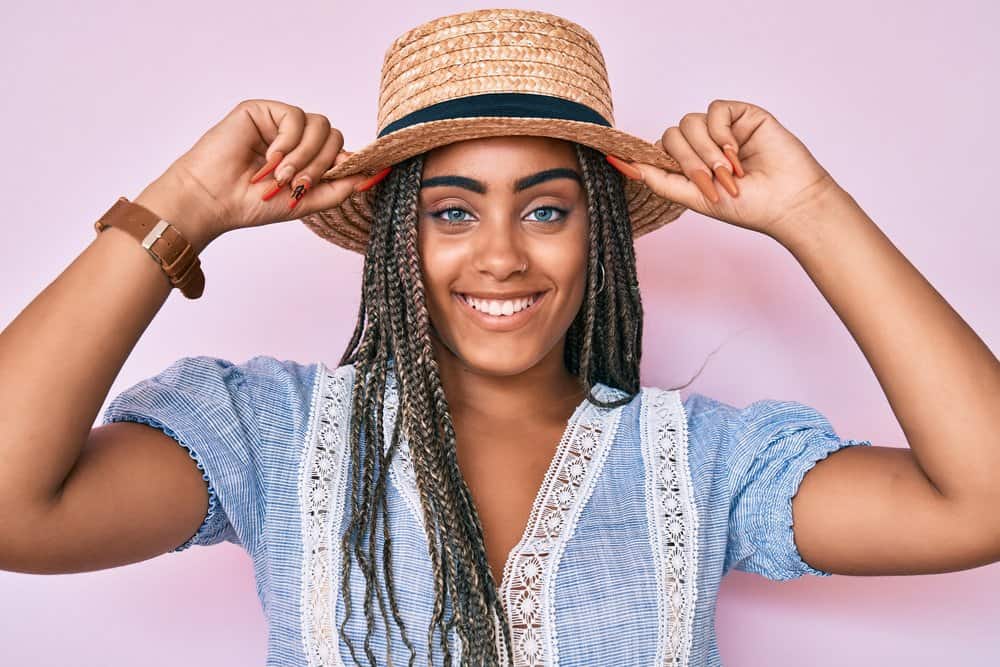 Are Passion Twists the Same as Spring Twists?
Some people refer to passion twists as "spring twists," but these two styles of twists are different. While passion twists may look a bit like spring twists, spring twists have a bouncy quality that passion twists don't. Passion twists are also frizzier than spring twists.
What Kind of Hair Should You Use for Passion Twist?
Passion twists have a unique texture that is mostly attributed to the type of extension hair used. The most popular extension hair used for passion twists is the Water Wave Crochet Braiding Hair by Freetress. The hair is available on amazon using this link.
If you can't find Water Wave crochet braiding hair, you can also use bohemian curl braiding hair (available at this link).
Due to the popularity of the passion twist style, you may find that your local beauty supply store is out of the Freetress Water Wave Hair. If this happens, you can try to find the hair online on Amazon or online beauty retailers.
Alternatives to the Freetress Braiding Hair
We recommend using Freetress hair as the preferred brand for passion twists. However, if you can't seem to get your hands on that brand, you can use synthetic hair; any synthetic water wave or bohemian curl crochet extensions should work well for your passion twists.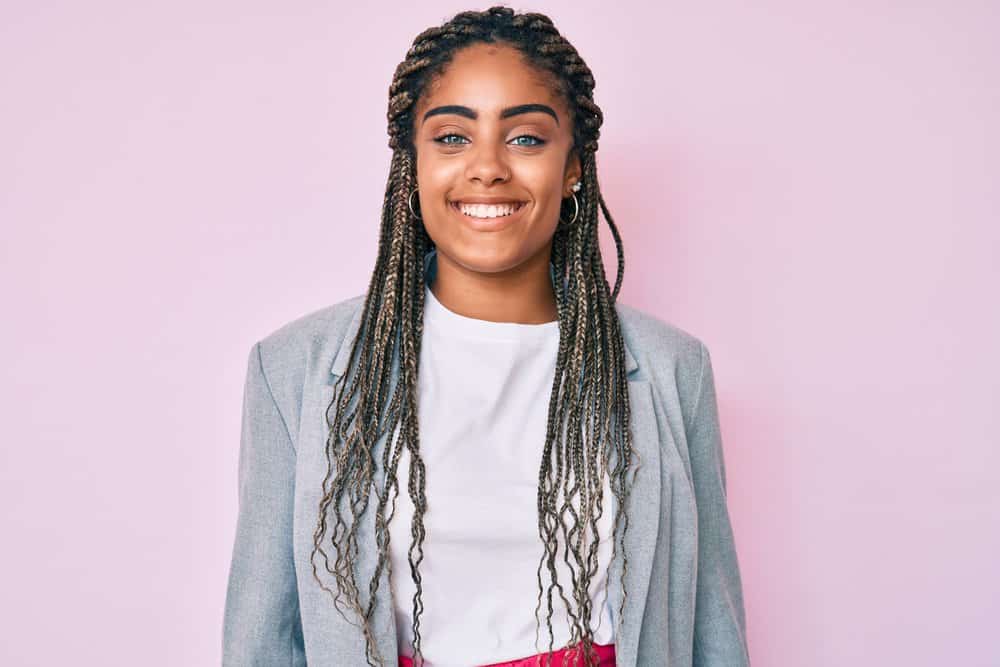 With a quick Google search for "passion twist hair," you can take your pick of hair extensions from other companies.
When shopping for your braiding hair, make sure to read the customer reviews, and look closely at the hair's texture. Only purchase the hair if the curl pattern is similar to the Freetress Hair.
Note: Regardless of the brand name, make sure that you get "crochet braiding hair." Other hair extension types will not work well for passion twists. Due to using crochet braiding hair, you'll often hear people refer to the style as crochet passion twists.
How To Install Passion Twists: Step-by-Step
Passion twists have a very distinctive look and feel. It has a lot to do with the way the hair is prepped and twisted. Although, the process for installing passion twists is easier than you might think, and nearly anyone can do it.
In this section, we'll walk you through a step-by-step installation process. However, if you prefer a visual demonstration of how to do passion twists, watch this Youtube tutorial from Kailyn Rogers, the style's creator.
PASSION TWIST FULL TUTORIAL! 2018 BY THE CREATOR OF PASSION TWIST
Kailyn also has a great Instagram page where she's constantly posting natural hairstyles and showing the many ways that you can wear passion twists.
Prepare Your Hair for Twists
When you initially open your crochet braiding hair package, it will be separated into distinct sections of ultra-defined curls.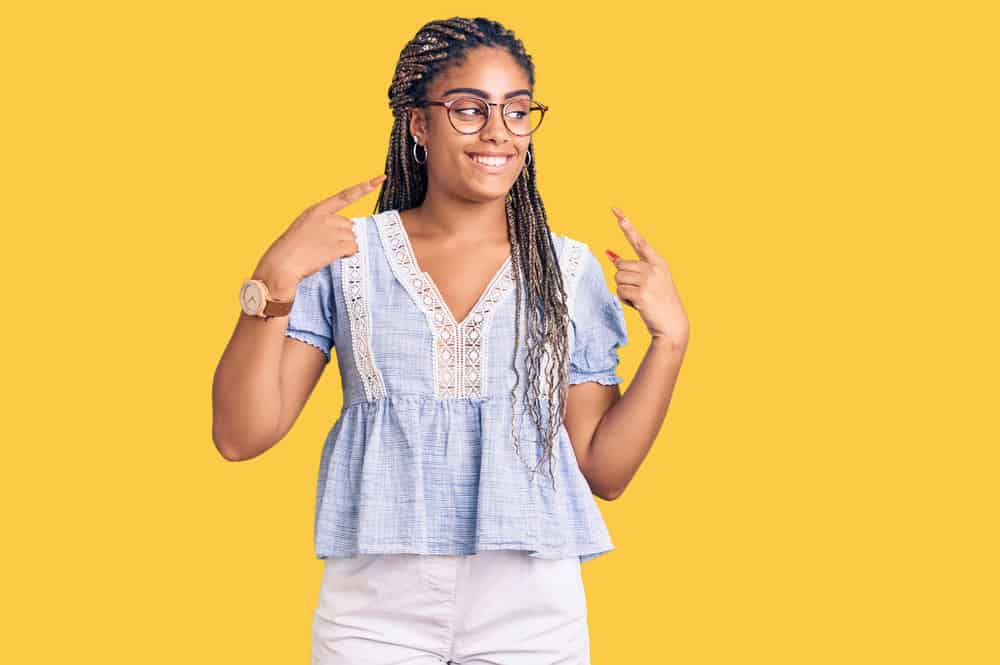 To achieve the distinctive passion twist look, you need to rough the hair up a bit. To do that, take the following steps:
Take out one piece of crochet braiding hair from the packaging.
Grab the braiding hair piece at one end and separate the hair until you reach the half-way point.
Grab the braiding hair piece from the other end and separate the hair until you reach the half-way point.
Place the separated piece of hair on a flat surface.
Repeat the previous steps for the remaining sections of hair.
After completing the above steps, the extensions should appear fluffy and airy. It is now ready to use. It's also important to note that we have included a video tutorial earlier in the article if you're a visual learner.
Prepare Your Natural Hair
Prepping your natural hair is a critical step when installing passion twists. Take the following steps to get your hair ready for installation.
Wash Your Hair
Begin by washing your hair thoroughly with a shampoo of your choice. Sulfate-free shampoos are preferred, as they get your hair clean without totally stripping it of moisture. Getting rid of dirt and buildup prepares your hair to accept the moisture and nourishment in the next step.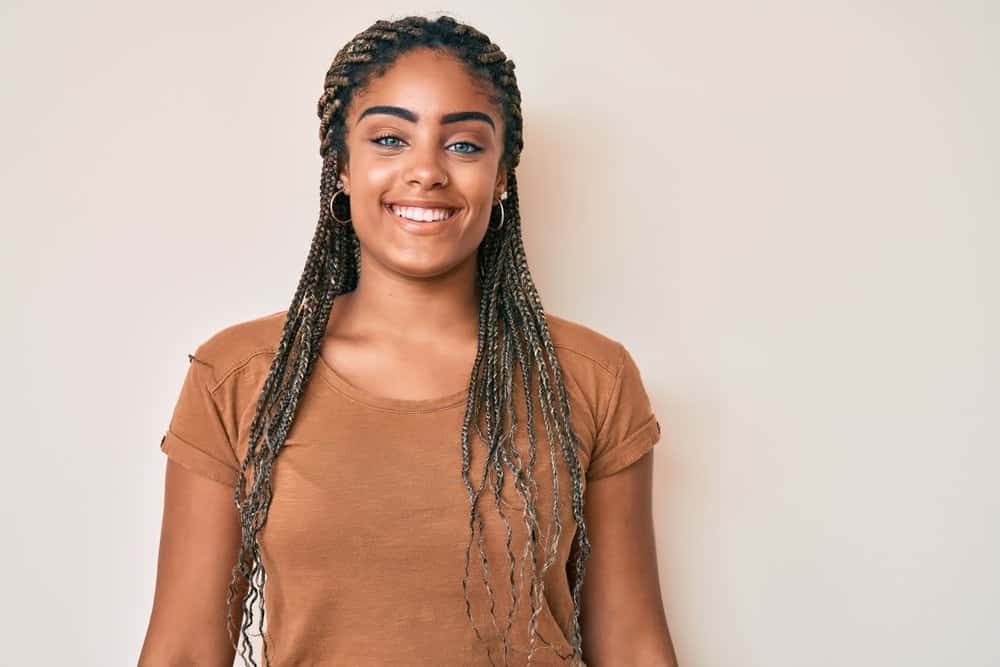 Condition/Deep Condition Your Hair
Apply a conditioner, or deep conditioner, to your hair immediately after washing it to provide heavy-duty moisture to parched strands. If you struggle with chronically dry hair, the conditioning step is crucial. Read this article to learn more about the benefits of deep conditioning.
Moisturize Your Hair
Apply a moisturizer of your choice to your hair. Heavier moisturizers are best for nourishing and protecting your hair while it's in a protective style.
Distribute your moisturizer evenly using your fingers or a comb. If your hair is thick, you may need to separate your hair into four or more sections to get even coverage.
Your natural hair will be tucked away within the passion twists for months, where you can't manually apply much moisture to it. So, you should moisturize it thoroughly before installation.
Dry and Stretch Your Hair
This portion of the natural hair prep process requires you dry and stretch your hair. You can do this in a couple of ways:
Stretch it with braids. Put your hair in four or more braids and either sit under a hooded dryer or allow your hair to air dry.
Install the Passion Twists
Now that your natural hair has been cleaned, conditioned, and moisturized, you are ready to get to the fun part, which is installing your passion twists.
Materials
Before you get started, you should gather the necessary materials:
Freetress Water Wave braiding hair
Oil
Edge control or styling gel
Comb
Styling Mousse
To do passion twists, you need to twist the extension hair in a certain way. If you follow the instructions below, you'll be able to create the perfect twists in no time.
Do the Twists
Part a section of hair. You can part all of your natural hair into sections now, or you can part your hair as you go. The size of the parts should coincide with how large you want the twist to be in the final hairstyle.
Tame the frizz. Put a styling or edge control gel along the borders of one of the sections. The styling or edge control gel will make your parts more defined.
Secure the extensions to your natural hair. Separate the natural hair section in half lengthwise. Twist each half around the extension hair until it is secure and flat to the scalp. Don't twist too tight, as this can cause scalp pain and hair loss.
Get to twisting. Once you have secured the extension hair to the natural hair, twist the hair down. As you twist the hair, you should pull the hair taut (every 2 inches or so). This twisting method will create the messy texture of the passion twist.
Add gel to the ends. When you get to the ends, add some gel to your fingers. Then wrap the hair around your finger to create a coil.
Repeat. Complete the above steps all over your head.
Oil your scalp. Wherever your scalp is exposed, apply oil.
Apply mousse. To set the twists in place, apply mousse all over the twists. Allow your hair to air dry.
Alternative Passion Twist Installation Methods
The instructions above are for traditional passion twists. This section will tell you about three other methods of doing passion twists.
French Braid Crochet Method
To try the french braid crochet method, follow the steps below:
Buy pre-twisted passion twists.
French braid your hair towards the back. 10 to 15 french braids will be sufficient.
Apply oil to your scalp.
Use a latch hook to attach the crochet hair to the french braids.
This technique is easy if you know how to french braid, but you won't be able to wear your hair in an updo without revealing the french braid parts.
Individual Crochet Method
To try the individual crochet method, follow the steps below:
Buy pre-twisted passion twists.
Pre-part your hair into sections and twist or plait them down to the ends.
Apply oil to your scalp.
Use a latch hook (i.e., crochet hook) to attach the crochet hair to the pre-parted sections one section at a time.
Use the latch hook to hide the braid within the passion twist.
Some people prefer this method over others because it's easy to do, and it lends itself well to updos.
Rubber Band Method
If you aren't good at braiding, the rubber band method may work best for you. Read the following steps to find out how to do this method:
After preparing the braiding hair (not pre-twisted hair), pre-part your hair into sections and put a rubber band at the section's base. Make sure it's not too tight.
Apply oil to your scalp.
Wrap the hair around the rubber band and braid the extension hair in with your natural hair.
After braiding the hair about an inch down, two-strand twist the remainder of the hair piece the rest of the way down, pulling the hair taut every 2 inches or so (like in the traditional twist method discussed earlier in the article).
Add some gel to your fingers and wrap the hair around your finger to create a coil.
Generously apply mousse to the hair and allow it to air dry.
How Long Twists Take to Install
Installing your own twists is doable, but it could take you all day to finish the style. For this reason, many prefer to pay for a professional installation.
If you end up going the professional route, it could take up to 8 hours or more to complete. How long the installation takes depends on the following factors:
The size of your head
The size of your twists
The length of your twists
How Long Passion Twists Last?
According to the creator, Kailyn Rogers, you can expect the style to last up to 2 months. However, this is only an estimate. How long the style will last depends on how well the twists were installed, whether you cover your hair up at night, and how much your scalp sweats.
Maintenance
Though passion twists have the potential to last for around two months, many find that their twists don't last nearly that long. This is often because the twists are not well-maintained.
Take the below steps to make sure that your twists last as long as possible:
Apply mousse. To keep unruliness at bay, you can add more mousse to your hair every now and then.
Oil your scalp. Whenever your scalp begins to look dry, reapply oil to your parts. This will also help to keep itchiness at bay.
Wear a silk scarf or bonnet at night. This will protect your hair from lint and unnecessary friction. You can also opt for a silk pillowcase.
How Much Do Passion Twists Cost?
The cost of passion twists varies based on whether you're doing them yourself or not.
If you're doing them yourself, you only need to pay for the crochet braiding hair. The hair could cost anywhere from $3-$10 per pack, depending on where you get it. You'll need 7-9 packs of hair for an entire head. If you want your passion twists to be full, ten or more packs will be necessary.
If you're going to get them done by a professional, you'll need to pay the stylist as well. Based on online prices for passion twists, you could expect to pay around $150-$250 for installation.
Pros and Cons
Every hairstyle has its advantages and disadvantages; passion twists are no exception. Before you take the leap and get passion twists, you should know all there is to know about them.
Pros
Passion twists have many pros, such as:
Carefree aesthetic. The passion twist hairstyle has a beachy vibe that compliments any face shape.
Protective. Passion twists are a protective hairstyle, as they enable you to tuck your natural hair away and leave it unmanipulated. Low manipulation, protective hairstyles give your hair a break and can contribute to healthier hair. Read this article to learn more about protective styling.
Long-lasting. Similar to faux locs, two strand twists, goddess locs, crochet braids, Senegalese twists and other protective styles that use hair extensions, passion twists can last for months at a time.
Cons
Here are some of the cons associated with passion twists:
Traction alopecia risk. If your twists are installed too tightly, you could experience traction alopecia around your hairline.
Cost. Passion twist installation requires extension hair that could cost $50-$100 on top of the installation cost (if you're not installing them on your own).
Weight. Any protective style with extensions adds weight to your hair and can cause adverse effects like headaches, neck pain, and hair loss.
Time. It could take more than 8 hours to install the twists.
Should You Get Passion Twists?
While passion twists are known to be a gentle protective style, there are several things that you should know before getting the style.
Passion twists may be an excellent protective style for you if your hair is in a generally healthy state, and you don't mind extra weight on your head.
If you are currently experiencing traction alopecia or any other hair growth or scalp problems, getting a protective style with extensions is not the best idea. We recommend focusing on hairstyles that use your own hair with proper maintenance.
Also, if you swim often, you may want to pass on passion twists, as they may not hold up well after frequent swim sessions. However, the style is versatile and the boho look can be maintained for a while with proper care.
The Trend Continues
As time progresses, the passion twist trend continues. Ever since Kailyn brought passion twists to the world, women everywhere have been rocking their twists with pride. Once you have your passion twists installed, you're sure to garner attention due to the style's unique look.