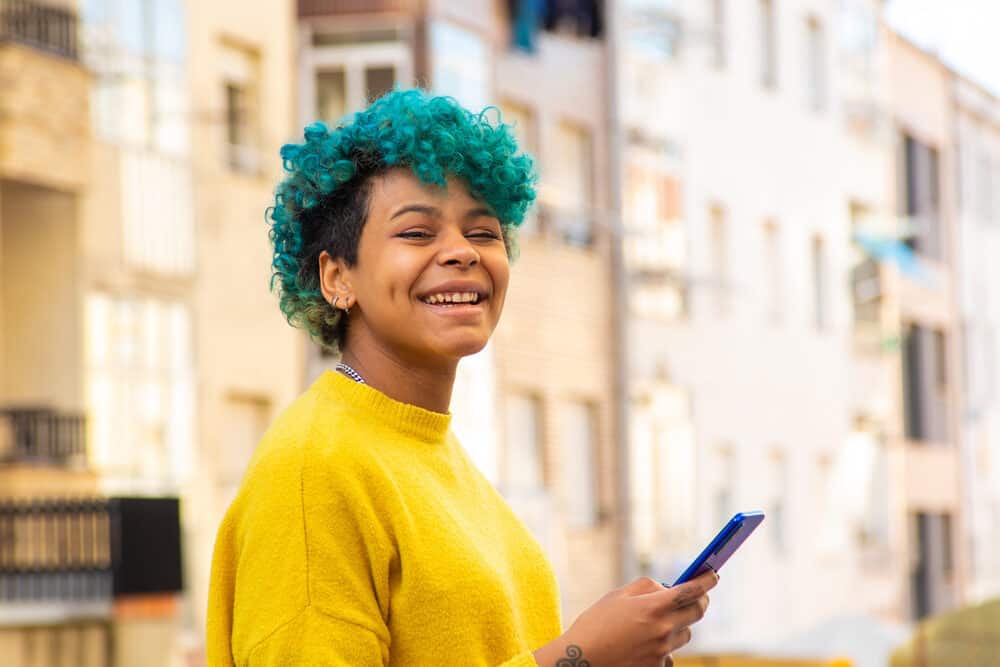 Few hair colors are funkier and edgier than blue. That's probably why you chose the color, to begin with. But when it comes time to remove that stubborn blue hair dye, you're in for a lot of work. That is if you don't use the right color removal method.
How To Remove Blue Hair Dye: 5 Step-by-Step Methods
This article will teach you how to remove blue hair dye with several reliable techniques that you can use at home. Let's get right into it.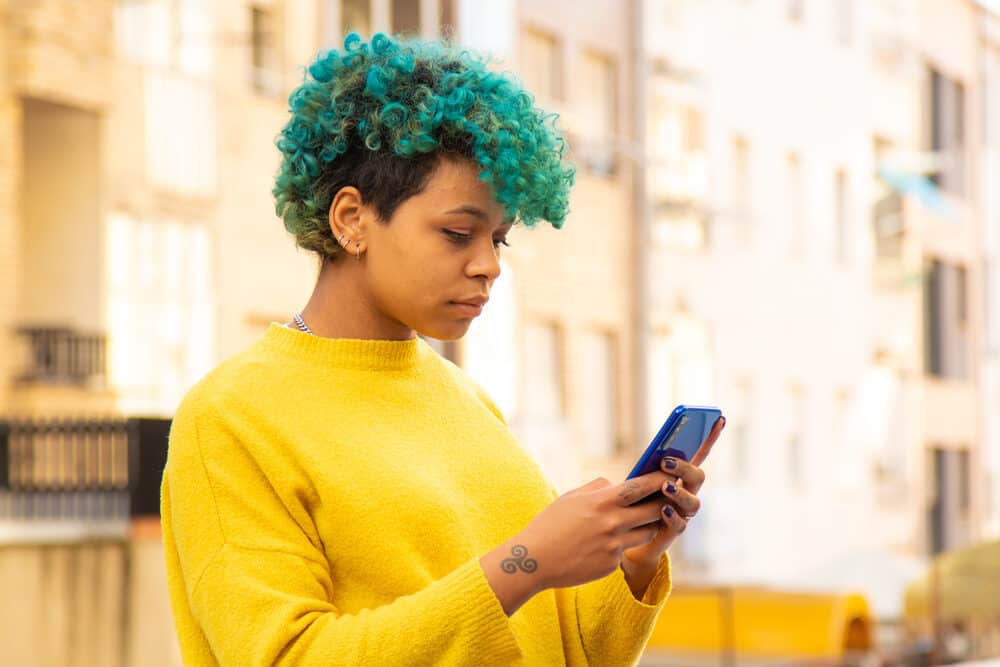 1. Use Vitamin C and Shampoo
Vitamin C has potent clarifying capabilities, which is why it's often used to lighten hair naturally. It's also used to remove even the most vibrant dyes from the hair.
The great thing about this method is that it's not nearly as damaging as bleach, and you can do it right at home. Here's how:
Crush up some vitamin C tablets. You'll need to crush at least 20 to 30 white vitamin c tablets and mix them with a few tablespoons of shampoo.
Dispense the powder and about 2 ounces of sulfate shampoo into a mixing bowl and mix thoroughly until you can't see any more powder.
Dampen your hair by spraying it down with water from a spray bottle or hopping into the shower and wetting it down. The hair shouldn't be dripping wet, but it should be damp.
Apply the vitamin c and shampoo mixture to the hair, focusing on the bluest areas. Saturate your hair thoroughly for the best results. If the blue dye is all over your hair, apply the mixture to all of your hair.
Let the mixture sit for about 15 minutes, and then rinse thoroughly.
Follow up with a deeply moisturizing conditioner. Your hair may feel a bit dry.
You can repeat the vitamin C and shampoo method every couple of days if your hair tolerates it well. Note: An anti-dandruff shampoo usually works well. Also, most ladies tend to prefer using vitamin C gel over vitamin C powder because the powder will often get stuck in your curls.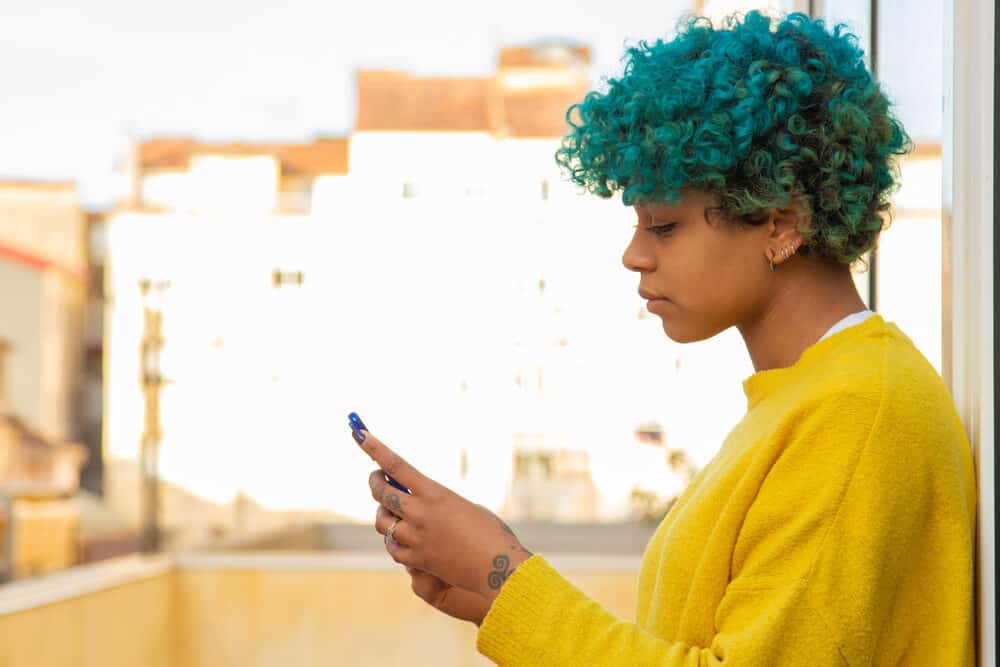 2. Clarifying Shampoo
Clarifying shampoos can also help you remove blue dye from your hair. They are similar to regular shampoos but much stronger.
They not only remove surface dirt, but they go layers deeper to provide a more thorough clean. It takes repeated clarifying shampoo sessions to produce a noticeable color removal effect.
Choose a clarifying shampoo that is not color-safe. Color-safe clarifying shampoos are designed to cleanse your hair without removing significant amounts of color.
You need one that will strip the dye from your strands: one like ACURE Curiously Clarifying Shampoo.
To use a clarifying shampoo, you'll need to do this:
Wet your hair down in the shower.
Apply the shampoo to your hair and lather.
Leave the shampoo in your hair for up to 5 minutes.
Rinse the shampoo from your hair and follow up with a moisturizing conditioner.
Note: There are both sulfate-based and sulfate-free shampoos on the market, and both of them will work well for the purpose of removing blue hair dye. But if you're considering a clarifying shampoo for ongoing use, we recommend a sulfate-free one.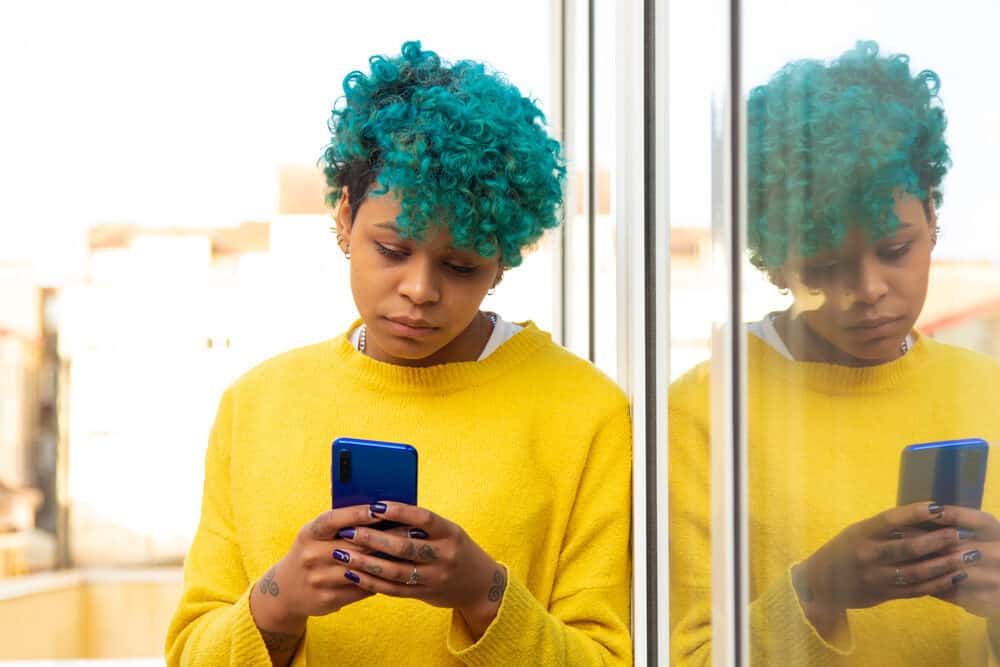 3. Use a Color Remover
Hair dye removers are very effective at removing hair dyes of all colors. These specialized products are formulated to shrink hair dye molecules so you can rinse them out.
To get the best results, you'll need to choose the right color remover for you. Some color removers only fade permanent dyes, while others fade direct or semi-permanent dyes.
Luckily, color oops can remove both dye types within 20 minutes and is both ammonia and bleach-free.
Color removers are known to be relatively gentle to the hair, much more so than bleach or bleach baths. However, they can leave your hair dry, so always use a deep conditioning treatment afterward.
To use a color remover, you'll need to mix up the color removal solution according to the packaging instructions, apply it to your hair, and then shampoo and rinse your hair repeatedly to remove the hair dye pigment.
You can use a color remover twice if it doesn't remove enough color the first time around. Just make sure your hair isn't too dry or showing signs of damage.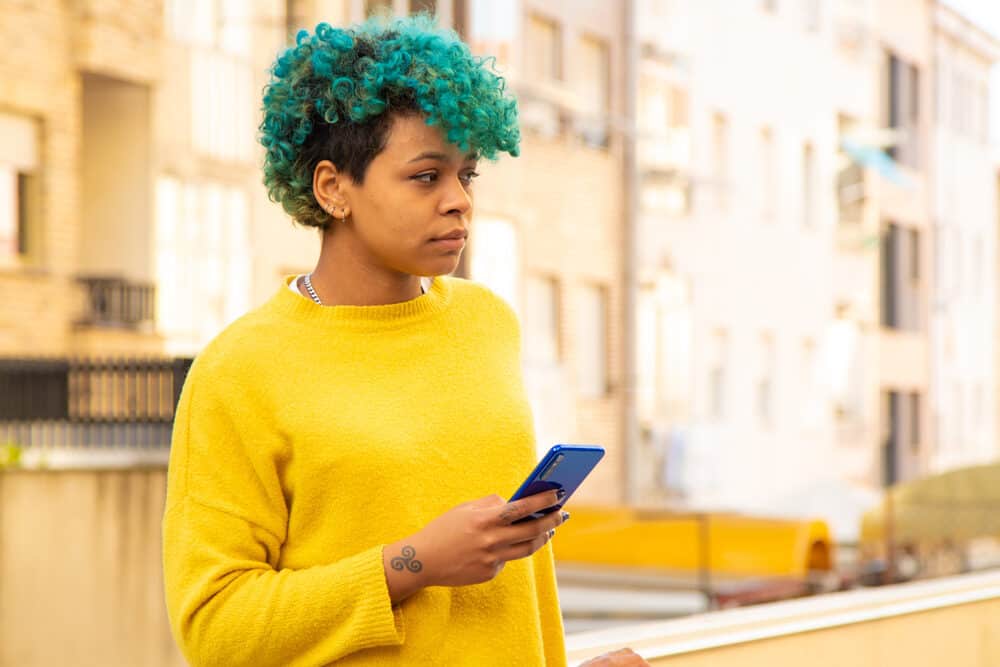 4. Dish Detergent
Dish detergent (or dish soap) is composed of tough surfactants that lift away grease and debris from dishes. But did you know you can use the household staple to lift color from your hair?
We'd like to caution you that regularly applying dish detergent on curls can dry them out completely. But if the dish detergent is used temporarily for the purpose of removing blue dye from your hair, the damage will likely be minimal.
Here's what you need to do to remove the dye with dish detergent.
Wet your hair thoroughly in the sink or shower.
Dispense a generous amount of dish detergent into your hands and apply it to your hair.
Massage the detergent into your strands, focusing on the hair with the unwanted blue tones.
Let the soap sit for up to 3 minutes.
Rinse your hair thoroughly and then follow up with a moisturizing conditioner or deep conditioner. Your hair will likely feel extremely dry afterward.
We do not recommend back-to-back dish detergent wash sessions. Wait at least a couple of days between sessions and give your hair some TLC while you wait.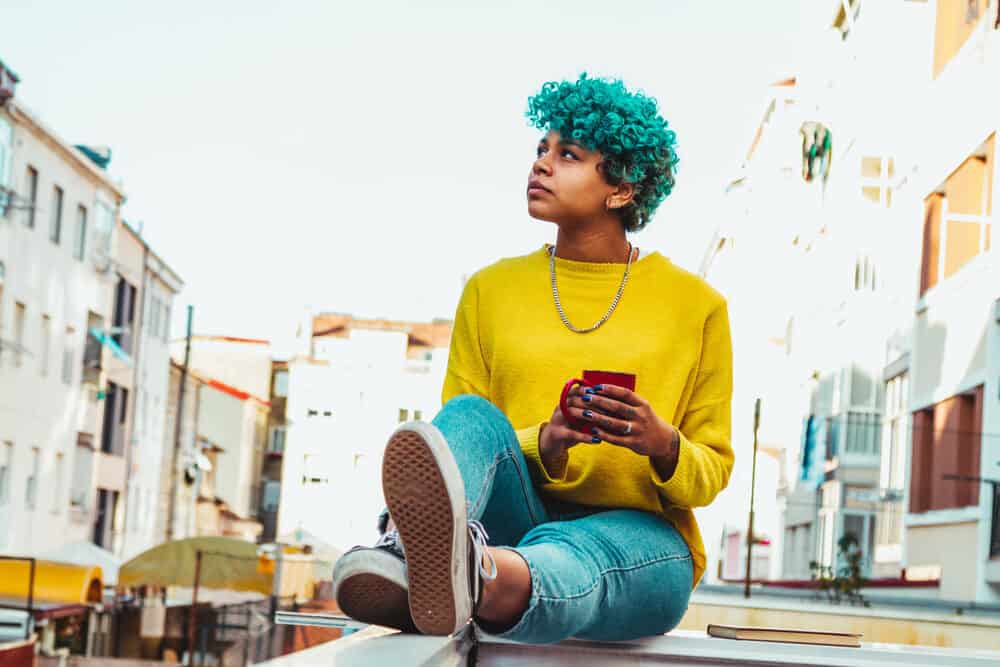 5. Bleach It Out
Perhaps the most reliable way to get rid of bleach hair dye is to bleach it out. However, this is not the first step you should take when trying to get rid of your blue hair.
Bleach is full of chemicals that degrade your hair's cuticle (the outer layer of your hair) and leave you with a slew of other problems.
So, if you can remove the hair dye without using bleach, your hair will be better off. With that being said, if nothing else is working, you can get a fresh, clean slate with bleach.
You don't need a full-strength bleach session to remove the blue dye. A bleach bath is sufficient. A bleach bath is a gentler form of bleaching that is routinely used to remove unwanted pigments from the hair.
Here's how to do a bleach bath:
Gather your ingredients. For a bleach bath, you'll need bleaching powder, 10 volume developer, a sulfate shampoo, gloves, a plastic cap, tinting brush, and a mixing bowl.
Mix up the bleach and the developer. For a bleach bath, you will mix one part bleach with 1 part developer.
Combine the bleach and developer with an equal amount of shampoo and mix thoroughly with your tinting brush.
Apply the bleach bath to damp hair. If your hair is already dry, take a moment to wet it down in the shower and towel dry.
Put on your plastic cap (or shower cap) and allow the bath to process for up to 15 minutes. Don't forget to keep track of the time with a timer.
Rinse the bleach out and follow up with a conditioning session. If your hair is still blue, you can repeat the bleach bath once more. It's not recommended to do a bleach bath more than twice in a row, though.

Be sure to check your hair's health in between bleach baths. If your hair feels dry or damaged, we advise against repeating the bleach bath.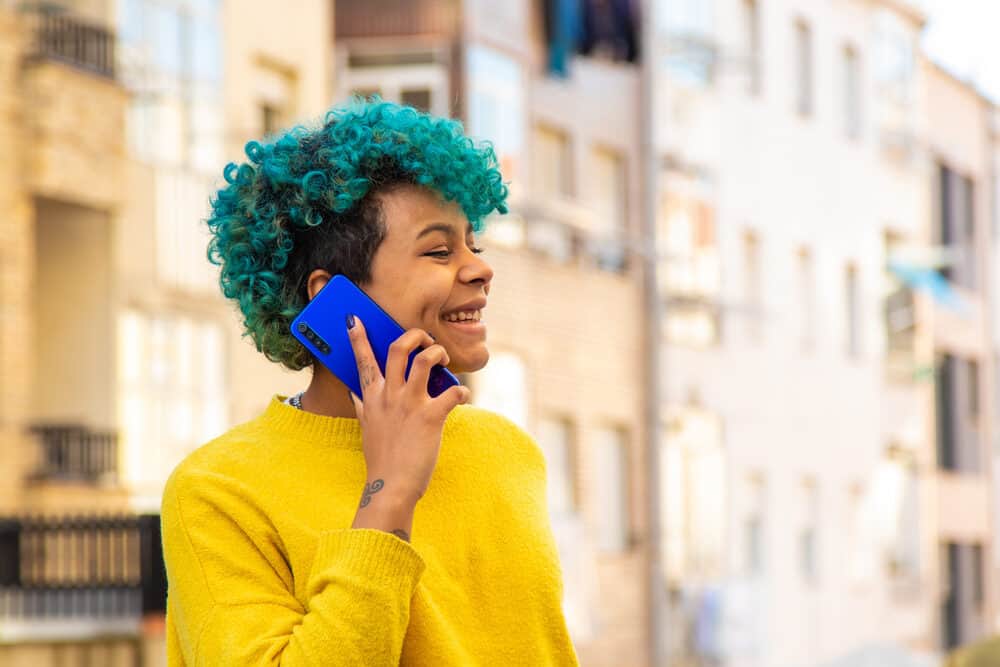 We hope that this article has been helpful to you. One or more of the methods mentioned above will enable you to get rid of that stubborn blue dye and start a new hair color journey! We wish you the best with your hair!