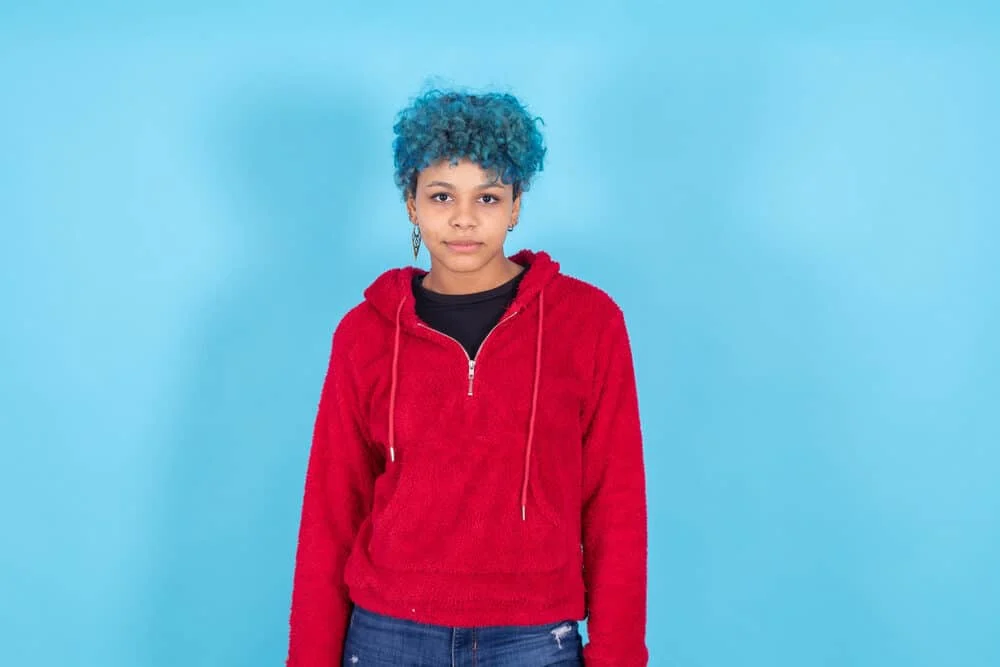 Is blue hair calling your name? You're not alone. Blue hair is getting trendier by the minute, with top celebrities and everyday folks all over donning the iconic hue.
Now, to address the elephant in the room: blue hair is super easy to achieve on light-colored hair – not so much on darker hair. And it gets even harder when you try to go blue without bleach.
Thankfully, bleach isn't necessary to get the blue hair of your dreams, especially if you've got the right techniques and tools at your disposal.
We've got all you need right here in this short guide. Keep reading to find out how to dye dark hair blue without bleaching it!
The Appeal of Blue Hair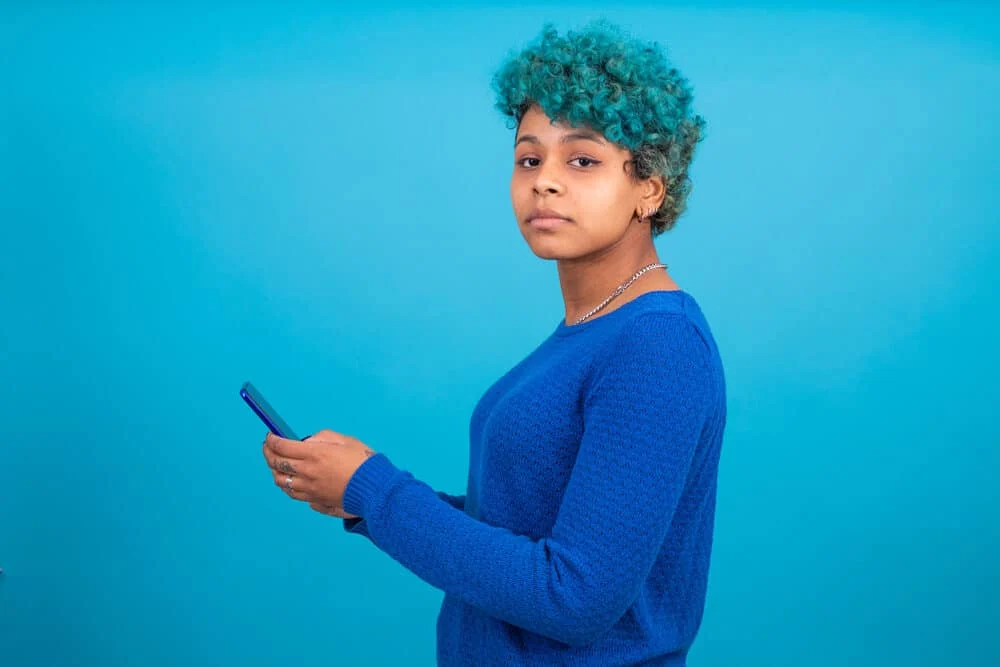 In the past, blue hair was associated with senior citizens, but this is no longer the case. These days, people of all ages and nationalities rock blue hair proudly as an unapologetic form of self-expression. Why?
It practically screams fun, it attracts attention, and anyone can rock it. It also doesn't hurt that blue hair complements just about every complexion and won't wash you out like other hair colors.
Before Dyeing: Choose Your Blue Shade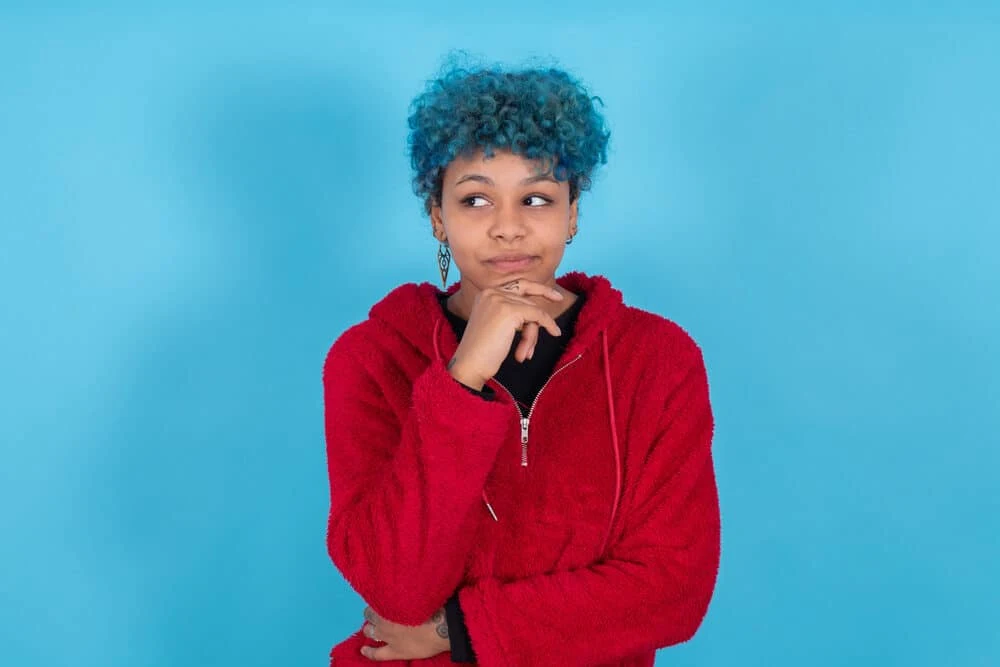 You're probably itching to get some blue dye in your head. But we urge you to slow your roll. It's unwise to grab just any blue dye, apply it to your hair, and expect a perfect result.
You need a dye that can give your dark hair great color payoff and long-lasting results.
Splat Midnight Indigo or Garnier Nutrisse Dark Intense Indigo are great options for black hair. If your natural color is dark brown, Got2b Blue Mercury can give you a stunning metallic blue look without bleach.
Whichever dye you choose, make sure it's formulated for dark hair. You can look at the before and after pictures on the box or check the packaging and look for a statement that says "for dark hair."
Once you've chosen your new blue shade, it's time to get started with the dyeing process.
How to Dye Dark Hair Blue Without Bleaching
Dyeing dark hair blue without bleach is totally doable. And by the end of this session, you'll be a believer.
Most box kits come with everything you need to dye your hair. But if they don't, you'll need:
A blue hair dye box kit or permanent blue hair dye and 20 or 30 volume developer
Vinyl or plastic gloves
Mixing bowl
Plastic butterfly clips
Vaseline
A color application brush
Detangling brush/comb (optional).
Note: Choose a 30-volume developer for lighter blues and a 20-volume developer for darker ones.
Learn More About How Developer
Step 1 – Get Your Hair Ready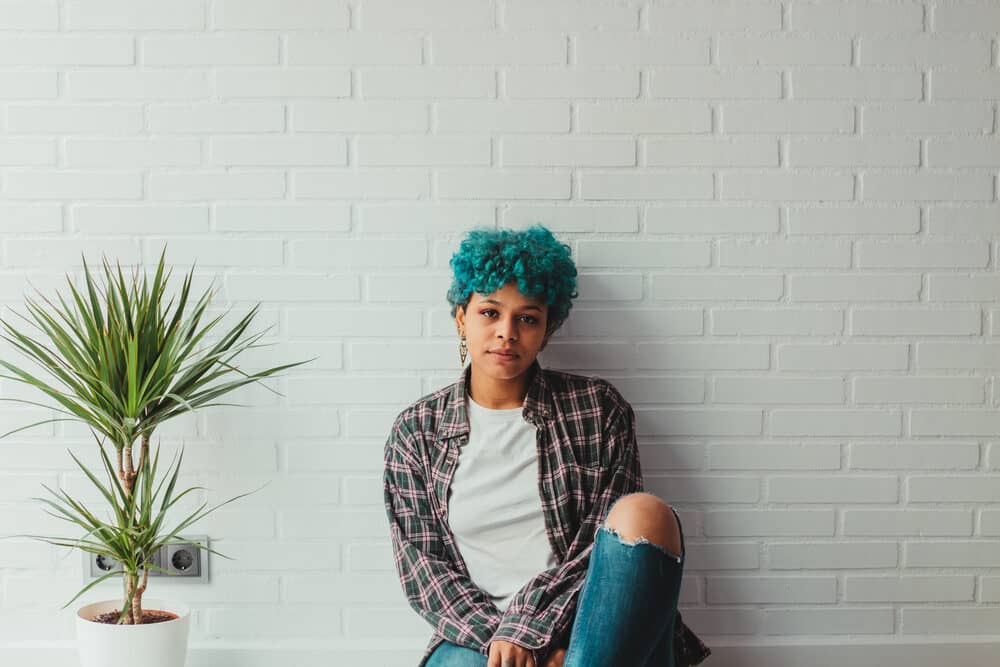 Your hair should be free of buildup and excess oils, so be sure to wash it well before any dyeing process. Remember that it's best for some of the natural hair oils to be present to protect your scalp from the chemicals. After washing, wait about 24-48 hours before dyeing your hair.
Step 2 – Prepare Your Area
Once your hair is adequately prepped, it's time to prep your work area. The bathroom is best since it already has a mirror and a shower or a sink for washing up afterward. Put on old clothing and lay a towel beneath you to catch any dripping dye.
You may also want to apply a thin layer of moisturizing cream or Vaseline around your hairline and on your ears. Doing so will protect your skin from the dye and prevent staining.
Step 3– Mix the Dye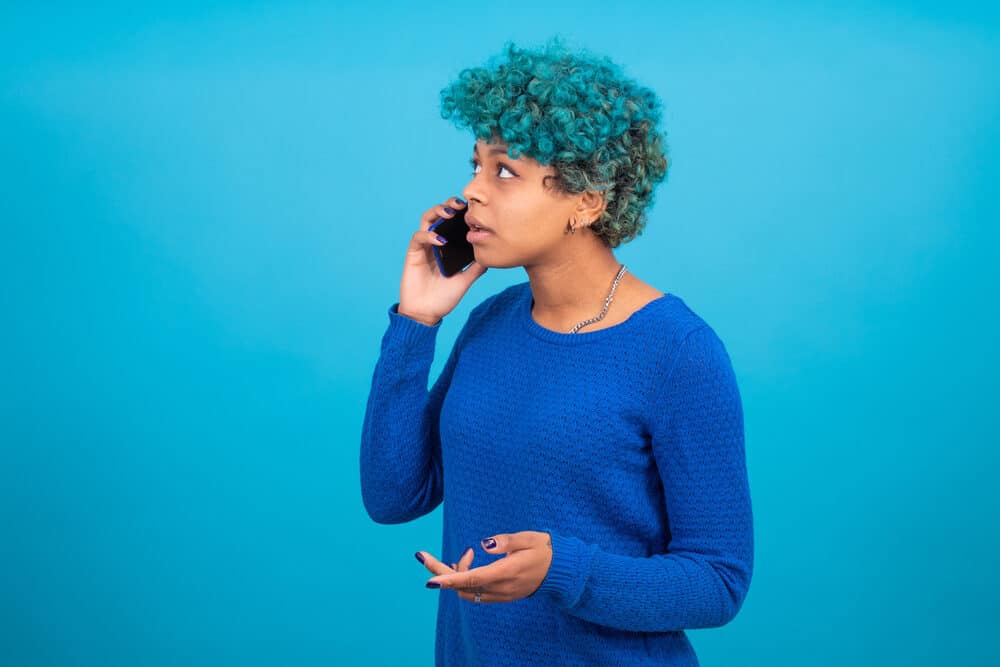 The hair dye you bought should contain everything you need to mix up the dye. If so, all you need to do is follow the mixing instructions on the packaging. Shake or stir the mixture well to ensure the dye and developer are thoroughly combined.
If you opted for professional dye instead of a box dye kit, mix up the dye and developer in your bowl using a 1:1 ratio. Mix thoroughly with your applicator brush.
Step 4– Section Your Hair
Once your dye is ready to go, part your hair into a few sections. Four is a good number in general, but if you have thicker hair, you can create more. Use a plastic butterfly clip to secure each section. These are easy to clamp on and remove as you work through your hair.
Step 5 – Apply the Blue Dye to Your Hair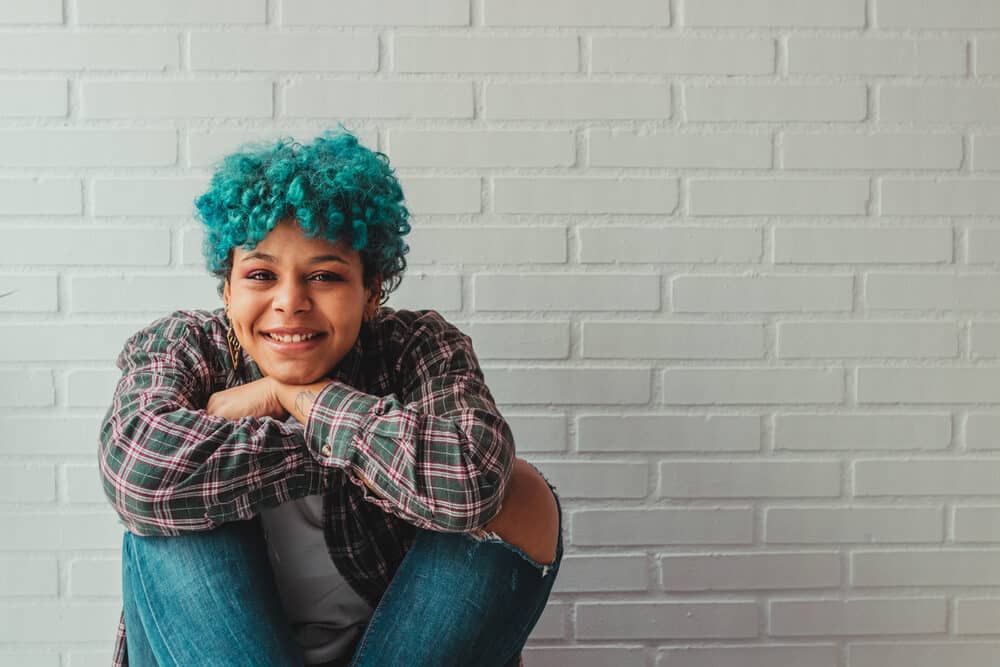 Applying hair dye is relatively straightforward, though you do need to be careful to spread it evenly. Apply the dye to a small chunk of one of the hair sections with your gloved hand or an application brush.
Use a brush, comb, or your fingers to smooth the color and ensure thorough distribution of the product. Repeat this step for each piece in the section. Then move onto a new section and continue applying the dye until all of your hair is covered.
Step 6 – Set a Timer
After you've applied the blue dye to every strand of hair, you need to give it time to absorb into each strand and do its thing. This time can vary, depending on the dye you've purchased, though it's usually about 25 to 45 minutes.
Check the instructions and set a timer on your phone, oven, or alarm clock. Don't leave the dye on for longer than specified to avoid excessive hair damage.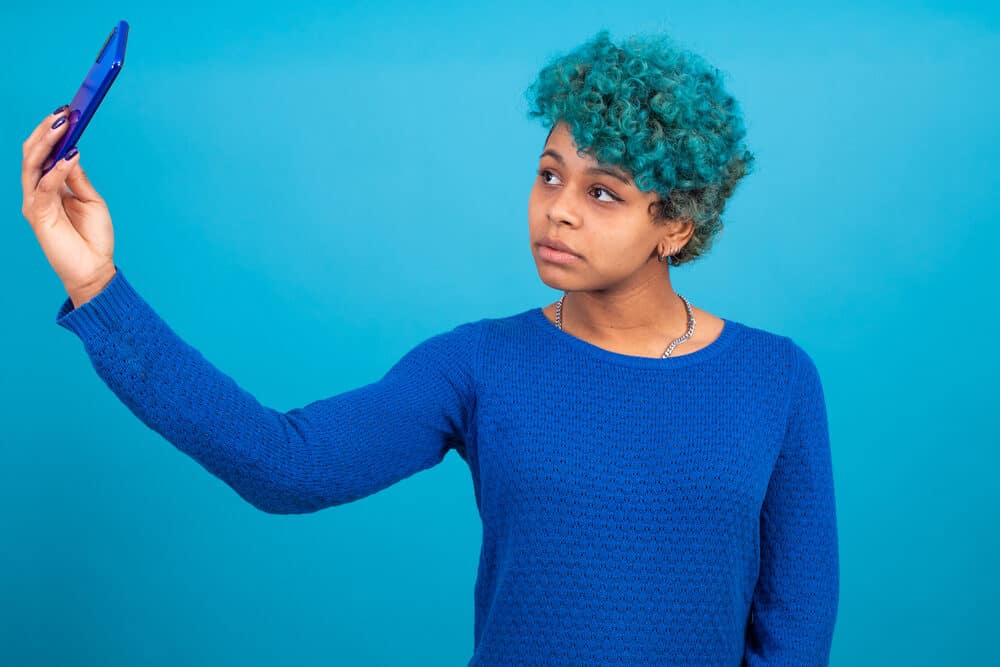 Step 7 – Rinse and condition your hair
Once the dye has done its work, rinse it from your hair with lukewarm water. When the water runs clear, use some conditioner to replenish moisture and mitigate damage. It may be included with box dye. You can also use your regular conditioner if needed.
Note: It's best to use permanent dye on virgin hair. When dyeing pre-lightened hair, the color left behind from past color treatments may alter the finished shade. Also, if your hair is brittle, curly, or otherwise prone to damage, it'll need some TLC after the dyeing process. Applying a good leave-in conditioner or hair mask after the treatment can strengthen your hair and prevent breakage.
Dos and Don'ts of Dyeing Hair Blue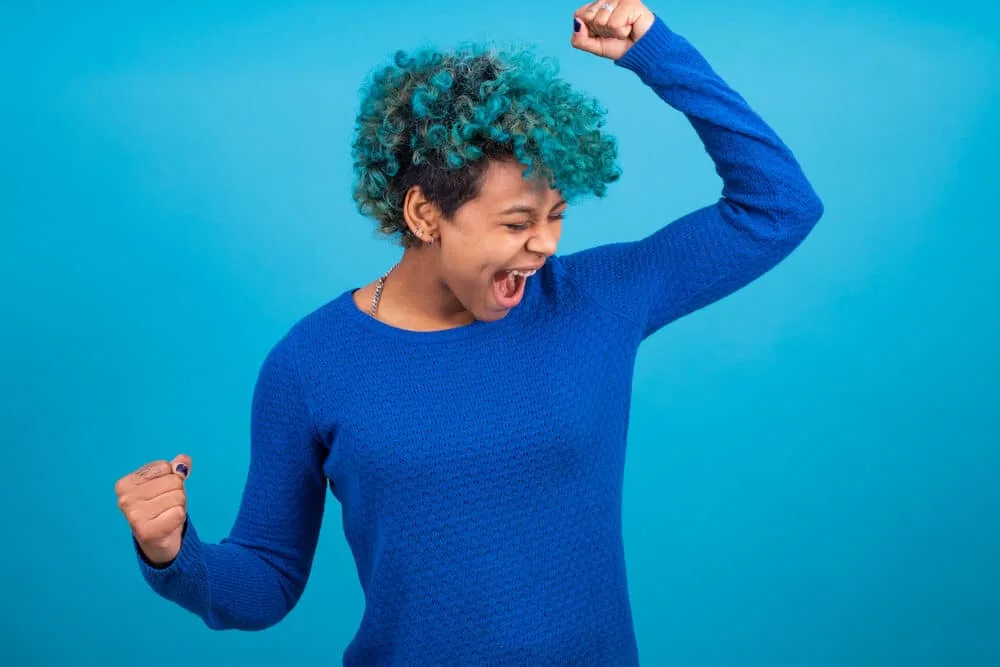 When dyeing your dark hair blue without bleaching, there are a few things to remember.
Do choose your dye carefully. Not every blue color will show up on dark hair. Check the instructions on the hair dye to be sure it is designed for your natural shade.
Don't go too light. A nice pastel blue may be pretty, but it won't be visible on dark hair.
Don't choose cheap dye, either. Though they may be budget-friendly, they won't always contain quality ingredients.
Do limit heat styling after dyeing your hair blue, or any color for that matter. Heat fades color, so blow dryers, straighteners, curlers, or even hot water should be avoided.
Don't shampoo your hair until at least 48 hours after coloring. This gives the color time to be fully set.
Pros and Cons of Dyeing Dark Hair Blue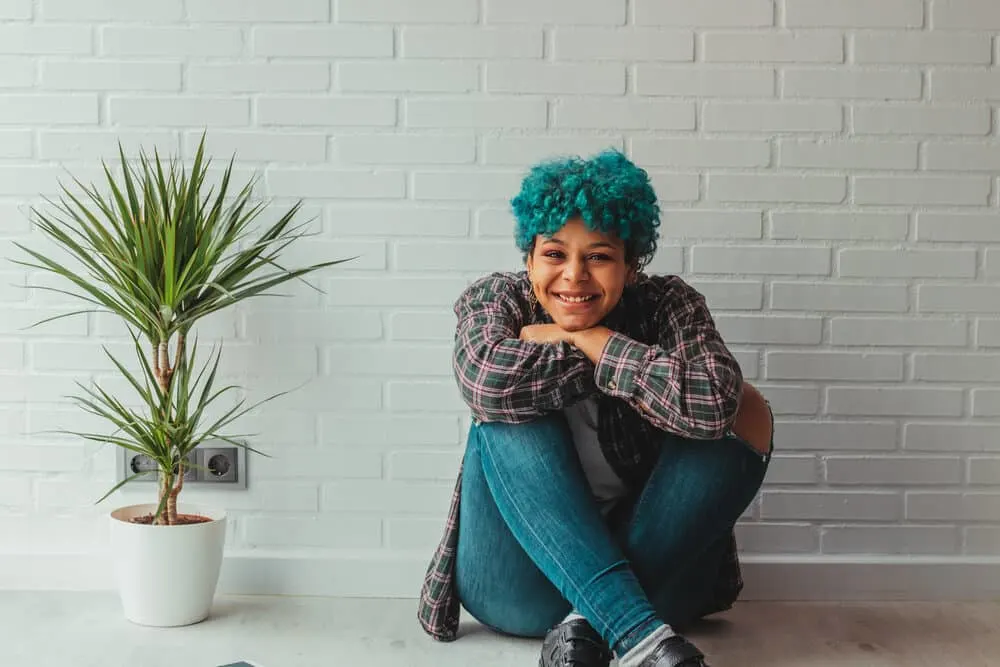 Here are some pros and cons that everyone should know about blue hair dyes:
Pros
Anyone can rock blue hair, given the countless blue shade options available.
Blue hair is an overt statement of sass, which complements edgy personalities.
Dark blue hair is much more wearable than many other fashion hair colors.
Cons
It isn't easy to achieve every blue shade available without bleaching. Your options are somewhat limited when going bleachless. The lighter the blue, the lighter your hair needs to be before you begin.
Dyeing your dark hair blue without bleach may seem like an impossible task. But we hope that this article has convinced you that it is, indeed, possible. Use the tips and instructions in this article to finally achieve the blue hair you've been yearning for!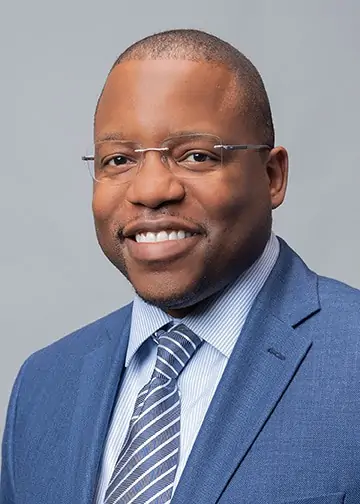 Kenneth Byrd holds a BS in Accounting and Management Information Systems and an MBA from the University of Alabama at Birmingham. With over 15 years of experience, Kenneth has been dedicated to hair care since 2008, when he co-founded Curl Centric® and Natural Hair Box alongside his wife. As a team, they promote healthy hair care practices through their comprehensive platform, Curl Centric. Curl Centric is a website operated by a husband and wife team that encourages healthy hair care. At Curl Centric, we aim to help our readers take control of their hair care journey and make good decisions about products, hairstyles, and maintenance techniques. We also have strict editorial integrity; here's an explanation of our editorial guidelines and how we make money.