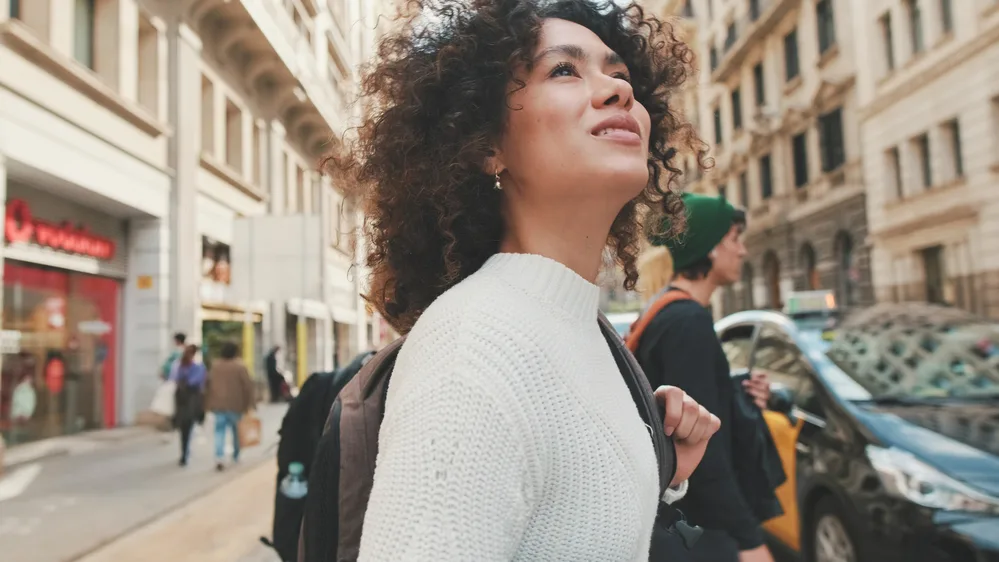 Leave-in conditioners are an integral part of any curly hair care regimen. They give you a quick dose of moisture to promote hair health, reduce frizz, and even aid in detangling.
But with so many leave-ins on the market, how are you supposed to choose the right one for you? We aim to help in this article. Keep reading to learn about the best leave-in conditioners for curly hair.
Best Leave-in Conditioner for Curly Hair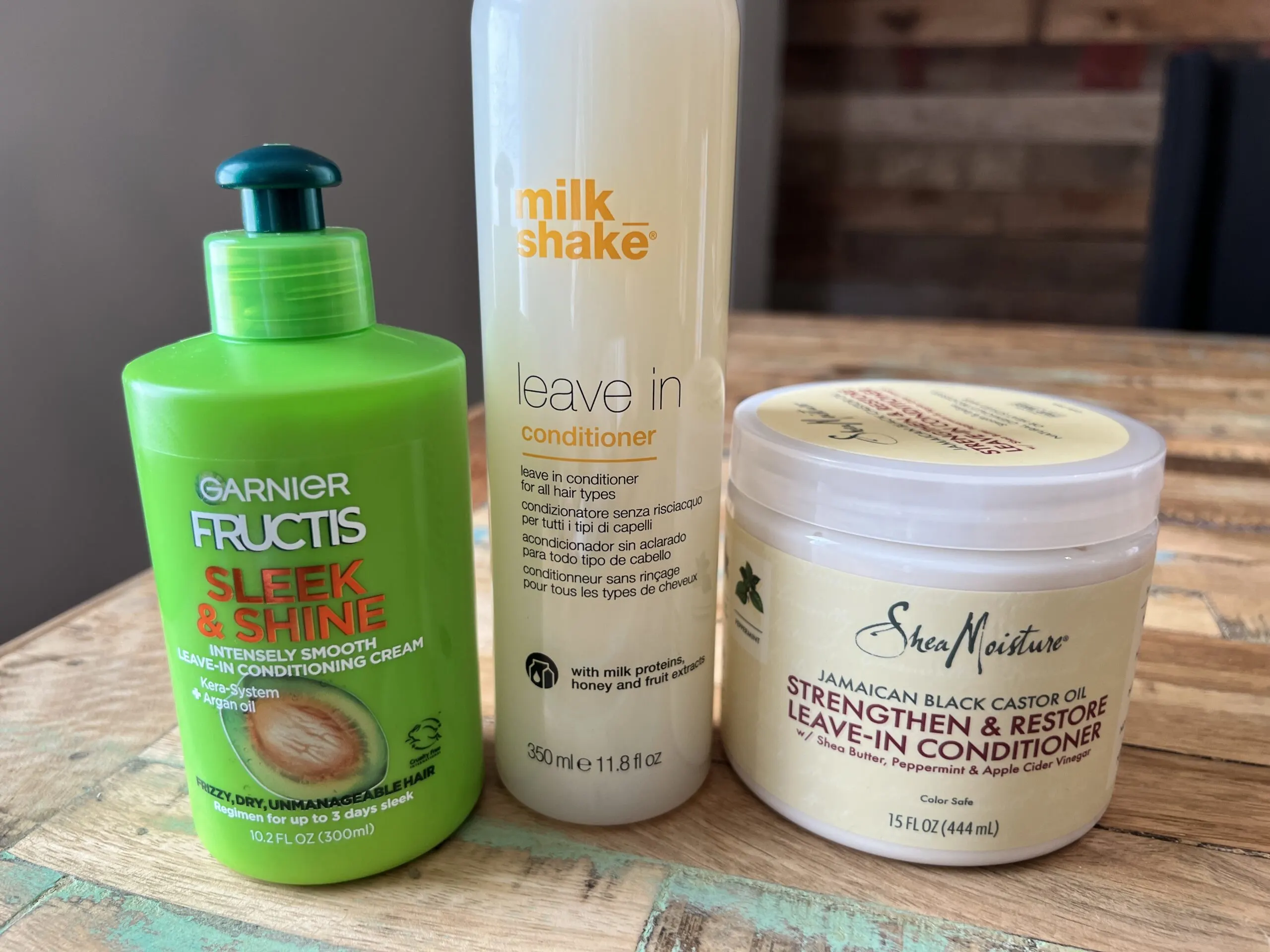 If you're short on time or just want some quick suggestions for your curly hair routine. The best leave-in conditioner for curly hair is Shea Moisture Jamaican Black Castor Oil Strengthen & Restore Leave-in Conditioner. Plus, here's a rundown of our favorite leave-in products that work wonders in defining those beautiful curls.
These are the go-to products for ladies rocking their natural curls. Stick around, and I'll fill you in on our personal experiences with each of these products and how to incorporate them into your styling routine.
1. Shea Moisture Jamaican Black Castor Oil Strengthen & Restore Leave-in Conditioner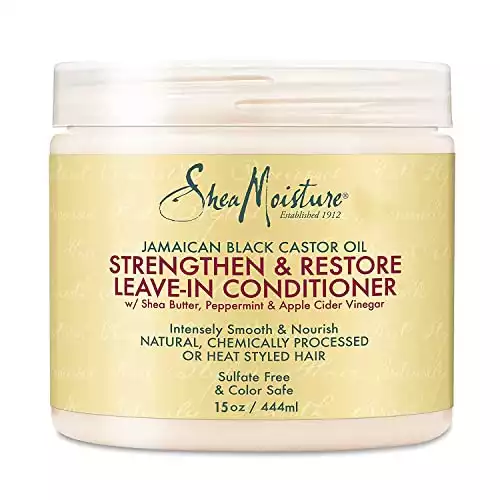 If you're looking for a cream leave-in conditioner that can nourish your hair like a deep conditioner can, then you should definitely consider Shea Moisture Strengthen & Restore Leave-in Conditioner.
It's an intensely hydrating and repairing leave-in for those who need a little help in the damage department. The leave-in is free of sulfates and safe for use on color-treated hair.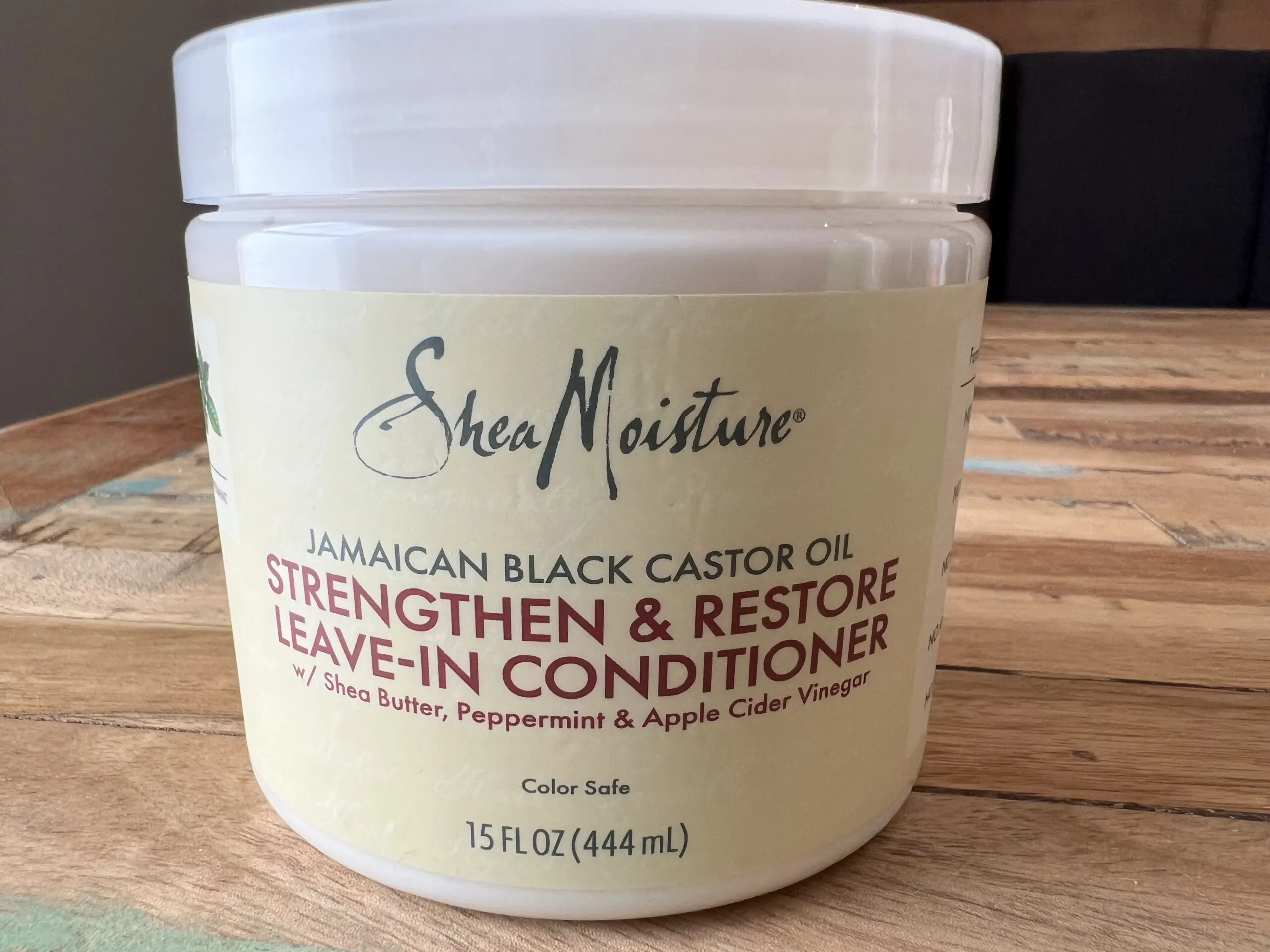 Overview
This cream leave-in strengthens and rejuvenates the hair in a huge way. If you've been a little overzealous with your flat iron, hair color treatments, or have just been neglecting your hair, this leave-in can bring your hair back into healthy territory.
It has a hair-loving formula that delivers nourishment to both your hair and scalp to remedy your hair problems and help you reach your hair growth goals. It also aids in detangling, reducing breakage, and saving you precious time in your hair care regimen.
Key Ingredients
The ingredients in this leave-in are ultra-nourishing and protective, including shea butter, peppermint, and Jamaican black castor oil. Here's a little bit about each of these ingredients:
Shea butter – Shea butter is an emollient that penetrates the hair and provides very deep moisture for both the hair and scalp. It wards off dryness and promotes strength.
Peppermint – Peppermint works on the scalp, stimulating hair growth from the source. It also gives off a tingly sensation that's calming and invigorating after a long day.
Jamaican black castor oil – Jamaican black castor oil is an omega-containing oil that promotes healthy hair growth. It's also a sealant that can be used to seal in existing moisture after conditioning the hair.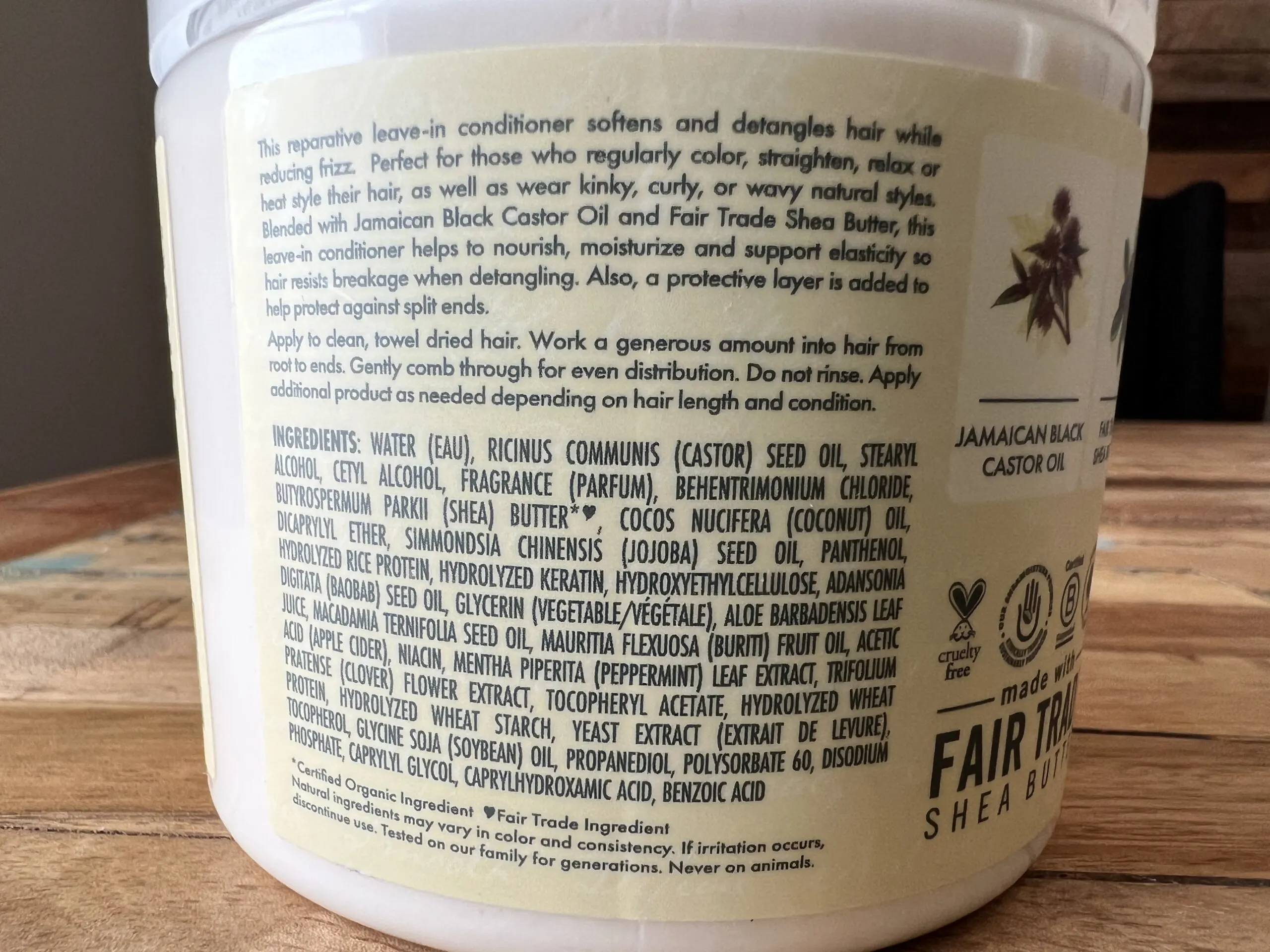 How to Use It
To use this leave-in, you'll apply it to clean, damp, towel-dried hair. If you have very curly or thick hair, you should separate your hair into several sections prior to applying the product.
After you're done applying it, comb it through with either your fingers or a wide-tooth comb. You don't need to rinse this product out. Instead, move forward with the rest of your hair care and styling routine.
Pros and Cons
This leave-in has literally everything most curlies need to promote hair health. However, there are a few things that you should know before adding this leave-in to your regimen. Let's get into the pros and cons of this leave-in.
Pros
The leave-in is very much hydrating and can tackle even severe dryness.
The product can be used to define curls.
The slipperiness of the product helps your fingers or wide-tooth comb glide through your hair easier.
It is formulated specifically for hair that's dry, damaged, chemically treated, or otherwise compromised.
Cons
Those with fine hair may find that this leave-in weighs down their curls.
The smell may be off-putting to some.
Our Review
On Curl Centric, Shea Moisture Strengthen & Restore Leave-in Conditioner has an amazing rating of 4.8 out of 5 stars. We highly recommend the product because it increases our hair's hydration levels, it smells great, and helps with curl definition.
Using a little of the product also goes a long way.
On the other end of the spectrum, during our research, we learned that some ladies say that the product made their hair fall out or gave them split ends. Of course, your chances of dealing with these issues after using this product are slim. Most people use the product and experience amazing results.
Should You Try It?
If you're not quite sure whether to take the jump and try Shea Moisture Strengthen & Restore Leave-in, this will help. This leave-in is ideal for those with coarse, curly, or damaged hair.
If you have fine hair, you may find that it makes your hair too greasy or limp. Also, if your hair is in need of some TLC for dryness, brittleness, weakness, or anything else along those lines, this product may quickly become your favorite.
2. milk_shake Leave-In Conditioner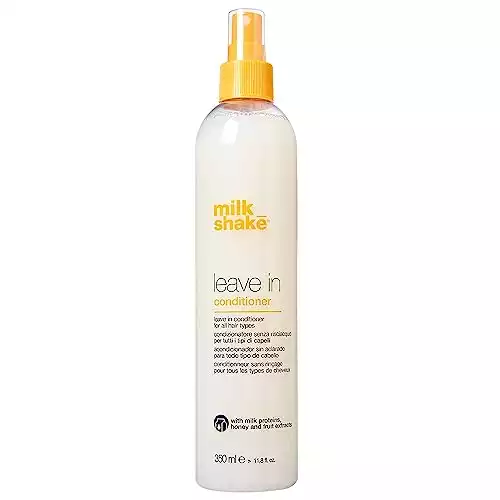 Sometimes a cream leave-in can be too much for finer or thinner hair types. And other times, you just want a leave-in; you can spritz a few times and be done with it.
If these thoughts resonate with you, then milk_shake Leave-In Conditioner may just be the perfect fit for you. It's a spray leave-in and detangler for natural hair. It gives your hair a quick dose of moisture and removes tangles and knots without all the fuss.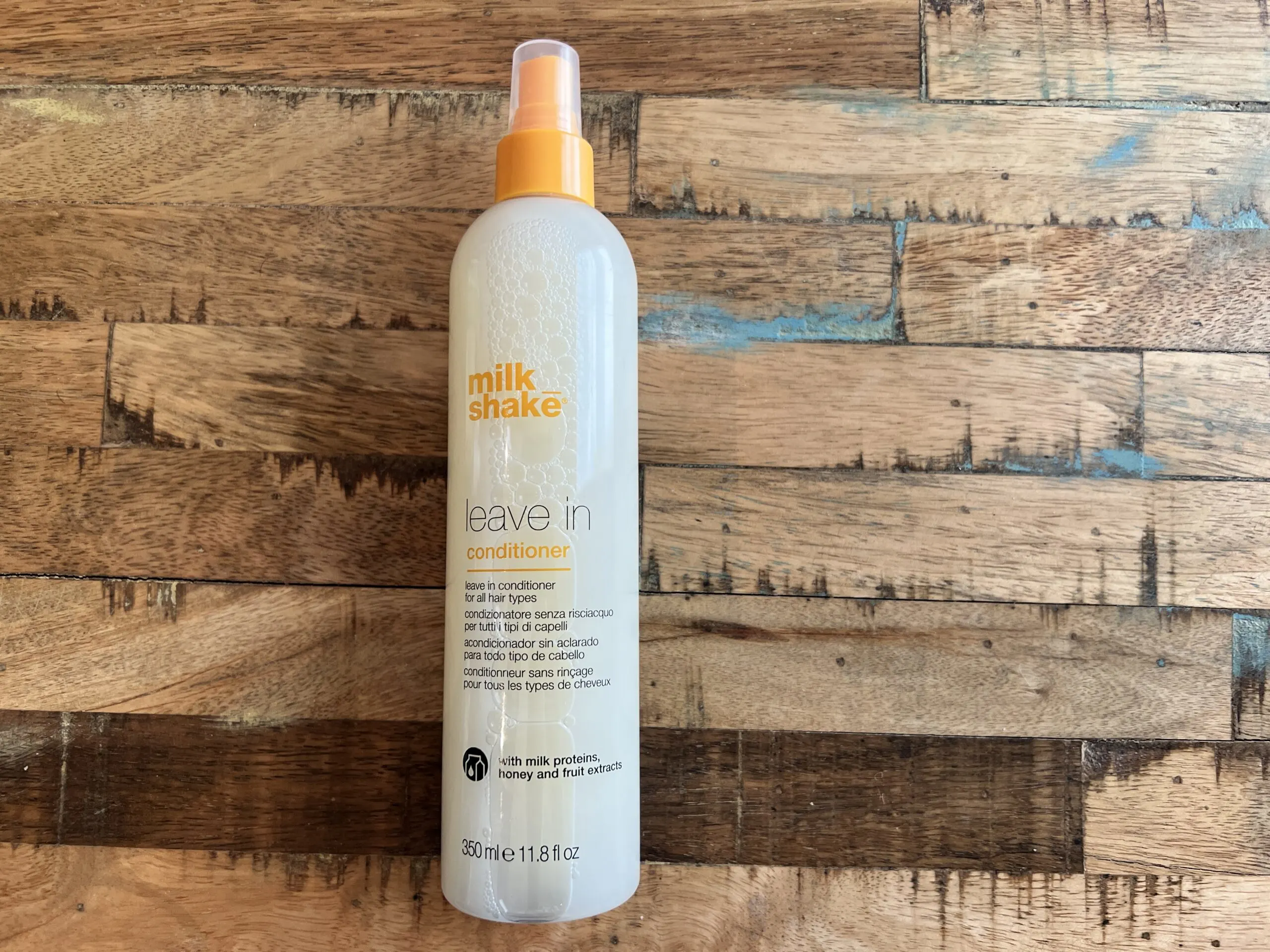 Overview
To begin, milk_shake Leave-In Conditioner is a lightweight and hydrating spray leave-in conditioner formulated specifically for damaged hair.
It conditions the hair, smooths the hair cuticle for less frizz, and even rebuilds your hair structure to make it stronger. What's more is it has a delightful vanilla scent that leaves an impression everywhere you go.
Key Ingredients
The ingredients in this leave-in are not ones that you'll find in the average leave-in. It's got blueberry, strawberry, and papaya extracts. They all coat your strands and make them sleeker and easier to comb through.
In addition to that, the leave-in contains milk proteins that fill in gaps in the hair's structure, reinforcing the hair's form and increasing its strength. This is especially important for those who have weak, brittle hair that may be breaking off.
Vitamin E is another component of the formula.
It helps to protect the hair from the outside environment and the damage it can bring – UV rays, for example. And one of the best things about the formula is that it doesn't contain a high concentration of heavy ingredients that could weigh your hair down or give you flat roots.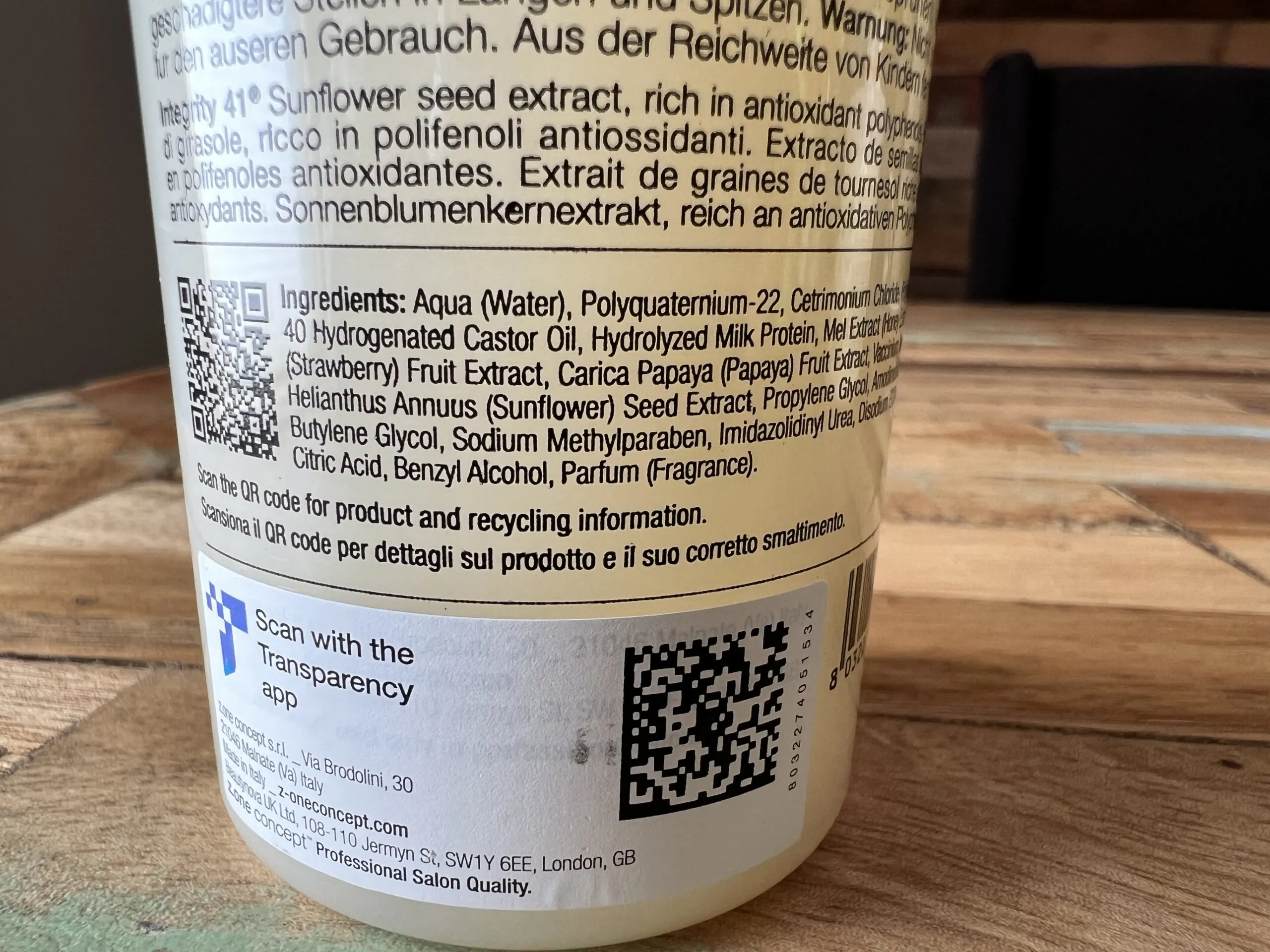 How to Use It
Reaping the benefits of this leave-in conditioner is easy. To use this leave-in, you'll simply spritz it onto your hair. You can then smooth it through your hair with your hands or comb through it with a wide-tooth comb.
Once you do that, you're ready to proceed with the rest of your hair styling routine.
Though you can use this leave-in whenever you want to top up on moisture, you should use it on clean, damp hair. It'll ensure that your hair is ready to receive all the goodness in the product.
Pros and Cons
milk_shake Leave-in Conditioner is just like every other product in that it has both benefits and drawbacks. Keep reading for the pros and cons of this leave-in conditioner.
Pros
The leave-in conditioner gives your hair instant hydration that lasts all day.
Your hair will feel softer after applying the leave-in. It may also remain softer over time.
The leave-in is protective to the hair, guarding it against outside influences like UV rays.
You can use the product to detangle your hair, given that it adds slip to your strands.
It has a smell that most people find pleasant.
Cons
For some, the leave-in may be considered too expensive for the amount of product you get.
It may be too lightweight for coarser hair types or those who deal with severe hair damage.
Our Review
milk_shake Leave-In Conditioner Spray earned an excellent rating of 4.7 out of 5 stars on Curl Centric. The product keeps our hair feeling and looking great for the whole day; it's easy to use and really makes a difference in our hair.
But not everyone is happy with the product. During our research, we found that some people stated that the leave-in doesn't give them the hydration their hair needs to reach its full potential. Though, it's important to keep in mind that these negative reviews are an extreme minority.
Should You Try It?
The choice to try this leave-in will depend largely on the type of hair you have and the problems you're looking to solve with a leave-in. For those who have fine or thin hair, this leave-in could end up being your holy grail.
It is lightweight enough to give your hair mega hydration while maintaining what volume you already have. But if you have super thick or coarse hair, you may feel like the leave-in is lacking a bit in hydration.
You may also find that it doesn't help too much with detangling. Those with these hair types may need a much more heavy-duty cream leave-in conditioner.
3. Garnier Fructis Sleek & Shine Leave-in Conditioning Cream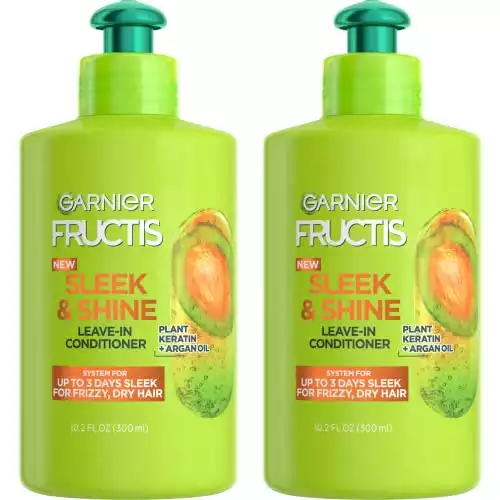 Chances are you've heard of Garnier Fructis and seen or used at least one of their products. But if you haven't tried their Sleek & Shine Leave-in Conditioning Cream, you may be missing out!
This is a hydrating cream that's designed to give you sleeker, better-moisturized hair in seconds. We'll give you the rundown in the following sections.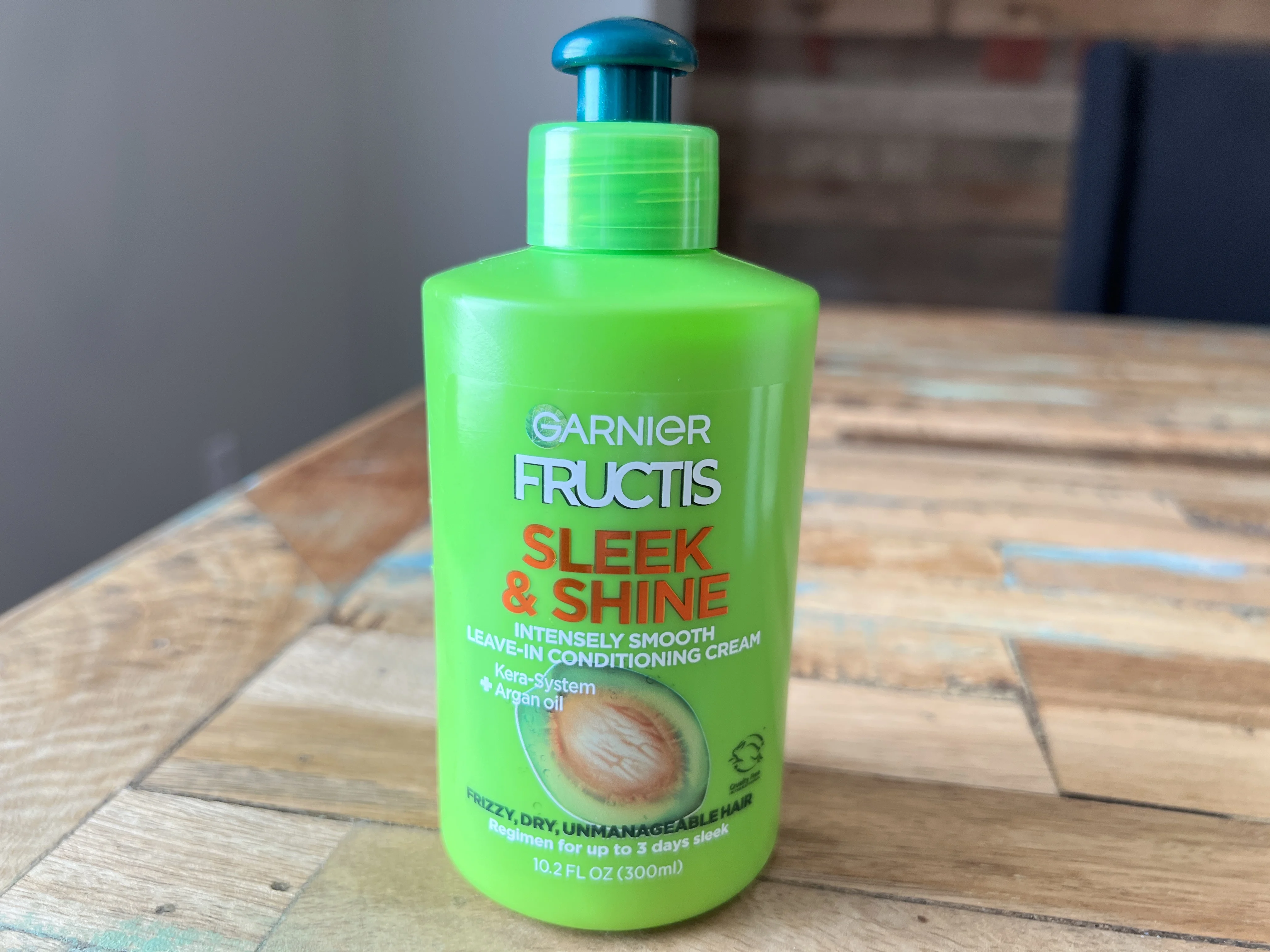 Overview
This leave-in by Garnier Fructis harnesses the power of keratin and argan oil to smooth your cuticles and make your hair a lot shinier. Although the product is mostly known for these functions, it can also help you regain control of chronic hair dryness, thanks to argan oil.
The effects of this leave-in will last up to 3 days, according to the manufacturer. And that applies even in 97% humidity.
Key Ingredients
Moving onto the ingredients in the leave-in – the most prominent ingredients include protein, argan oil, and cetearyl alcohol. Here's a quick rundown of each of these ingredients:
Protein – Protein strengthens the hair by filling in holes along the hair shaft and reinforcing the structure of the strands. As an aside, you can credit proteins with smoothing the hair and enhancing its shine. A smoother surface is more reflective than a rough surface, and the leave-in makes your hair smoother.
Argan oil – Argan oil is an excellent hair hydrator; it penetrates the hair to give it deep moisture that lasts. This oil is often used in products that remedy chronic hair dryness.
Cetearyl alcohol – Cetearyl alcohol is a fatty alcohol that coats and lubricates the hair shaft to impart moisture to the strands. As a result, the hair is softer, looks sleeker, and becomes better moisturized.
*There are many other fantastic ingredients in this product, but these are a few of the main ones.
There are also a few ingredients that you won't find in this product, and they include:
Parabens
Phthalates
DMDM Hydantoin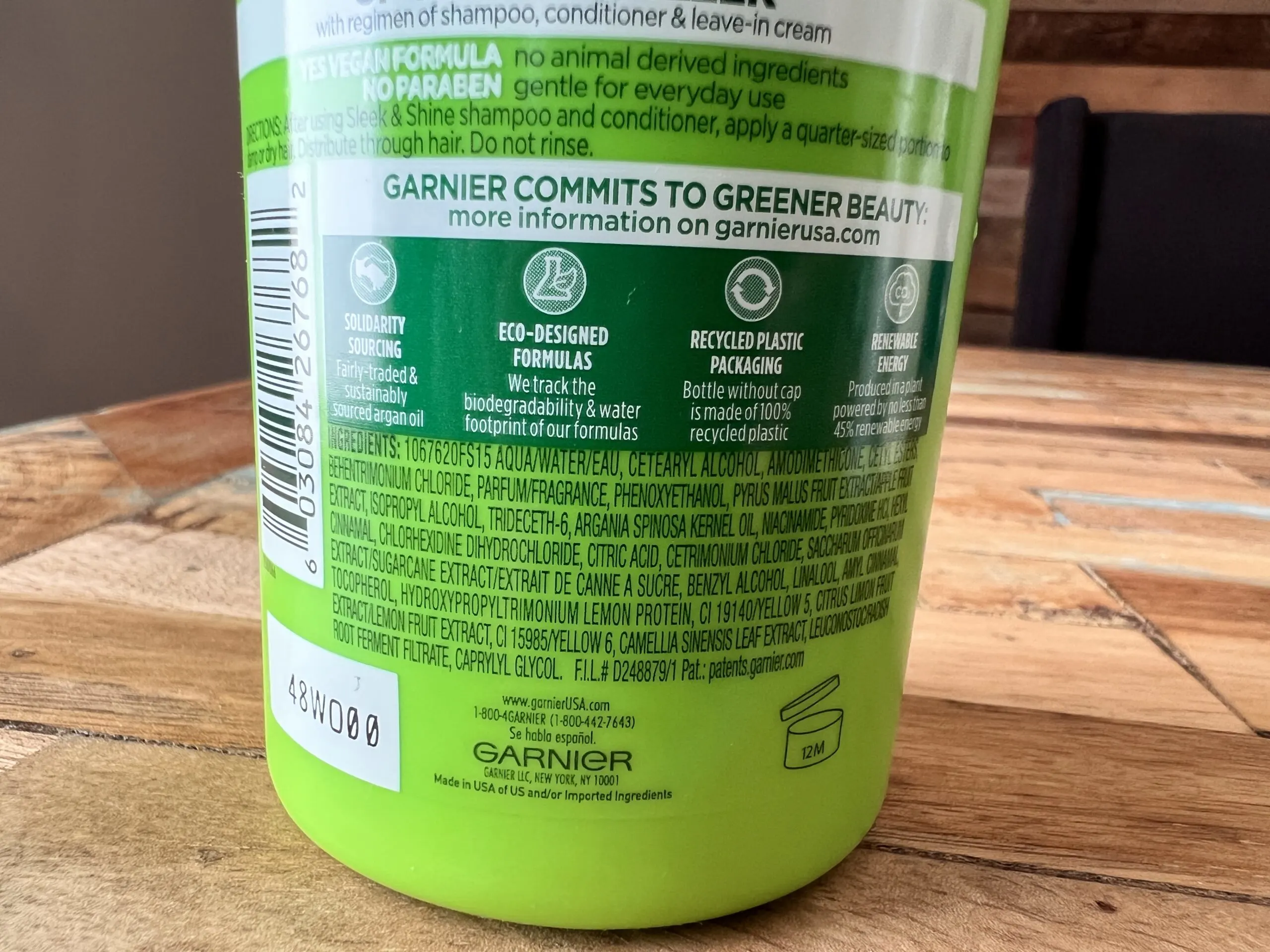 How to Use It
To use Garnier Sleek & Shine Leave-in Conditioning Cream, you'll apply a quarter-sized portion of it to your hair. The best way to get even distribution is to dispense the leave-in into your hands, rub them together, and then smooth the product through your hair.
For thick or tight curls, you may need to use a little more leave-in than recommended. Once your hair is coated in the leave-in, you can move on to the rest of your styling routine.
Note: Your hair should be cleansed and conditioned prior to use. If it isn't, your hair won't absorb all of the nutrients this leave-in contains.
Pros and Cons
The benefits of Garnier Sleek & Shine Leave-in Conditioning Cream are numerous. But there are some not-so-great things you should be aware of before giving the product a try. Let's get into the pros and cons in this section:
Pros
The formula gives you sleeker, shinier hair.
Those who deal with dry hair may find that their hair feels moisturized and supple after using this product.
The product helps to block out frizz for up to 3 days, which is much more than you can expect from most leave-in conditioners.
The formula doesn't include parabens, DMDM hydantoin, or phthalates.
It was created by a company that has been dominating the hair care industry for more than a century – Garnier Fructis.
Cons
Some won't like that there are silicones in this leave-in.
The level of hydration you'll get from this leave-in may not compare to other leave-ins specifically targeted to increase your hair's moisture levels.
Our Review
This leave-in earned a rating of 4.6 out of 5 stars on Curl Centric. Therefore, it's safe to say that we are in love with this leave-in conditioner. The leave-in did exactly what the manufacturer claims – it made our hair sleeker, shinier, and more manageable.
Garnier Fructis Sleek & Shine Leave-in Conditioning Cream made our hair soft and easier to detangle due to its slippery nature.
But it's not all happiness based on our research.
There are some people who weren't very happy with the product. A very few dissatisfied customers mentioned issues like dryness and worsened tangles after using the leave-in. Others say that their hair didn't feel conditioned.
We didn't experience any of these issues but remember that these negative reviews encompass less than 5% of the total reviews. On the whole, people were in love with the leave-in.
Should You Try It?
Now it's time to help you decide whether you should try this product. The answer will depend on a couple of different factors, including your preferences when it comes to product ingredients and the specific hair issues you're dealing with.
If you want a silicone and fragrance-free leave-in, you'll want to go with a different product. It contains both of these.
Other than that, consider your hair type. Does your hair look dull or rough? Then, this leave-in could certainly be of help to you in your hair regimen.
How to Choose the Right Leave-in For Your Hair
By this point, you might be tempted to try all of the leave-ins. Alternatively, you could be having trouble choosing either of them. Here are a few questions to ask yourself to arrive at the right decision:
Do you have serious hair damage? If your hair damage is serious, you should prioritize hair repair leave-ins. The first two picks (Shea Moisture Jamaican Black Castor Oil Strengthen & Restore Leave-in Conditioner and milk_shake Leave-In Conditioner) are likely better than the third one at repairing the hair.
Do you have dull hair? If your hair is on the dull side, all of the leave-ins could help bring some shine back to it. But the best pick for dull hair is, without a doubt, the Garnier Fructis Sleek & Shine Leave-in Conditioner.
What is your hair type like? All of the leave-ins in this article are for curls. But cream leave-ins tend to be much better for coarse and thick hair than spray leave-ins. So, if you're on the fence between a cream and spray leave-in, thinking about your hair type can help you decide.
So, there you have it – 3 of the best leave-ins for curly hair. We hope that one of the leave-ins on our list works wonders for your hair. Good luck!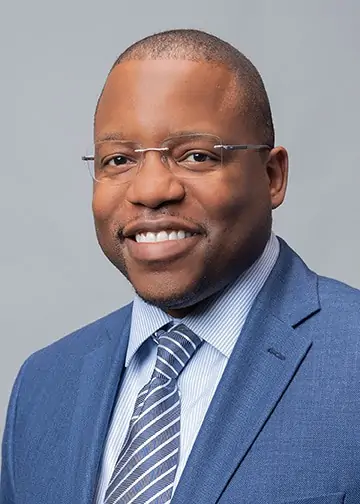 Kenneth Byrd holds a BS in Accounting and Management Information Systems and an MBA from the University of Alabama at Birmingham. With over 15 years of experience, Kenneth has been dedicated to hair care since 2008, when he co-founded Curl Centric® and Natural Hair Box alongside his wife. As a team, they promote healthy hair care practices through their comprehensive platform, Curl Centric. Curl Centric is a website operated by a husband and wife team that encourages healthy hair care. At Curl Centric, we aim to help our readers take control of their hair care journey and make good decisions about products, hairstyles, and maintenance techniques. We also have strict editorial integrity; here's an explanation of our editorial guidelines and how we make money.