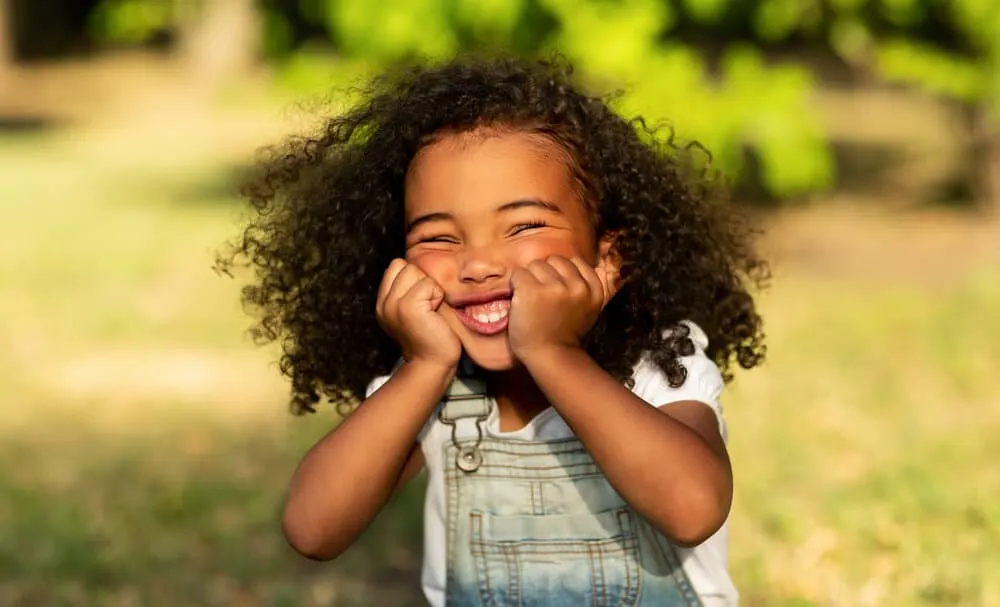 As anyone with a toddler knows, getting ready can be a challenge. They like to wiggle and squirm, and good luck getting them to hold their head at the right angle while you get their parts just right.
If you've come in search of new, toddler-friendly hairstyles, we've got fantastic news! In this article, we'll share some of the best beaded hairstyles for toddlers.
We'll explain what makes them so great and give you all the tools you need to create them. Sound good? Then let's get started!
16 Cute Braided Bead Hairstyles for Toddlers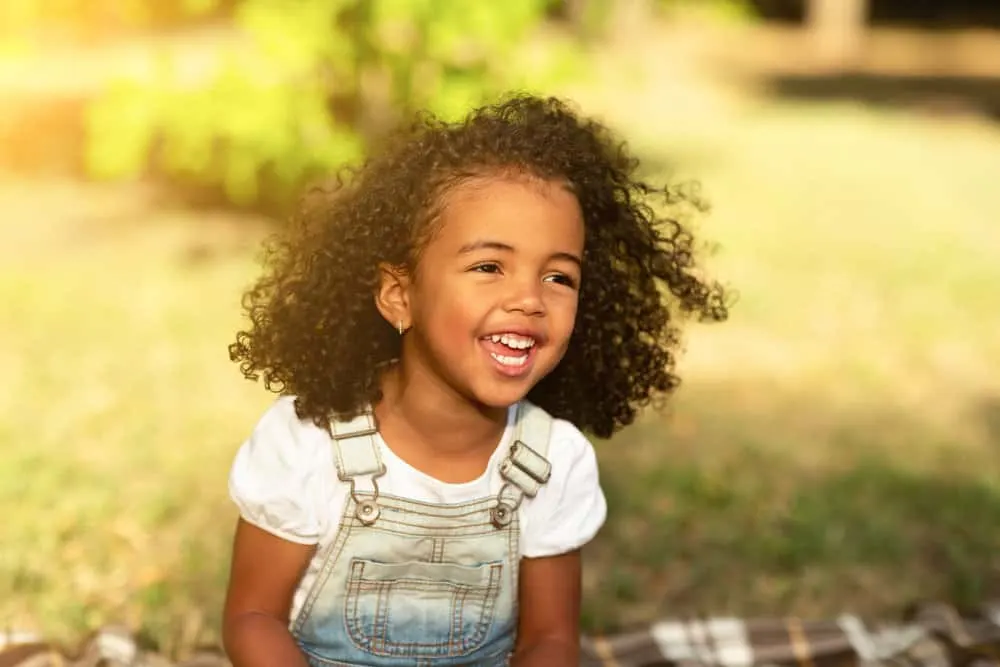 We absolutely love kids' braids. This list includes some of our favorite kids' braided hairstyles with beads, including curvy cornrow braids, skinny braids, beaded braided pigtails, kids' lemonade braids, and other beads hairstyles. These beaded kids' braids can be worn to everyday events, like school, or dressed up for special occasions, like weddings and church.
1. Knotless Box Braids with Beads
At first glance, knotless braids are nearly indistinguishable from their more widely known relative, box braids. But upon closer inspection, you'll notice that knotless braids lack that characteristic knot at the base.
That's because instead of adding all the braiding hair at once, you slowly incorporate it into the braid. That creates a much smoother transition between the natural and added hair.
It's important to note that this benefit isn't purely cosmetic. By spreading the braiding hair over a larger surface area, knotless braids reduce the tension on your little one's hair and scalp.
That makes knotless braids much more gentle than box braids and helps the style last longer. With proper care, they can even last for a couple of months! Want to find out more? Check out this helpful tutorial!
2. Ket Braids
A lot of people haven't heard of Ket braids before, but they're always happy when they do. Ket braids are a half-up, half-down braided style that ensures your little one's hair always looks polished.
While the top half of your toddler's hair is braided into a high bun or ponytail, the bottom half is left to hang loose. One of the best things about Ket braids is that they make your daily styling routine as easy as one, two, and three!
Simply mist their hair with water and smooth a hydrating hair cream into their hair and scalp. You can stop there or follow the cream up with a thin layer of oil.
That will help lock in moisture and impart a healthy sheen to the braids.
Ket braids last for an average of two to three weeks on kids, meaning you'll have weeks of easy styling. Decided to give them a try? Here's a video that helps break down the steps a little further.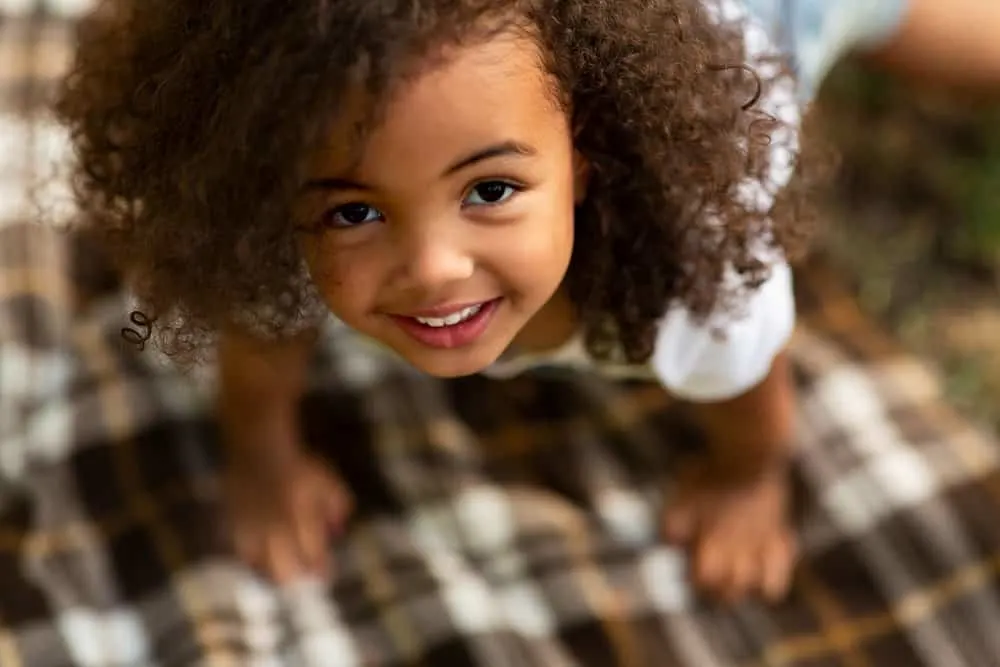 3. Box Braid Bob with Beads
A box braid bob with beads is a cute and charming look that's perfect for little girls. While box braids can easily look too mature, this look keeps them short and sweet.
In addition to making them age-appropriate, that prevents the braids from weighing your little one down. To create box braids, cut your braiding hair to the correct length.
Create a small, box-shaped section and add the braiding hair to its base.
Braid their natural hair and the extensions straight down and add beads to its end. After you finish, create the next section and repeat the process.
The thing that makes box braids unique is the organized, box-shaped parting pattern, so make sure that you keep your parts nice and neat. Would you prefer to learn by watching? Then watch this informative tutorial!
4. Beaded Crown Braid
For a long time, a girl's hair has been considered her crowning glory. This next look takes that concept to a whole new level. A beaded crown braid transforms your toddler's hair into a literal crown by braiding it around their hair in a circle.
Because a crown braid sits directly against your toddler's scalp, the braids can endure a lot of wear and tear. In fact, they should last for at least a few days if you care for them properly.
Make sure to wrap their hair with a silk scarf or bonnet before they head off to sleep.
Getting your beaded crown braid just right can be challenging at first, so here's a beginner-friendly tutorial to walk you through all the steps.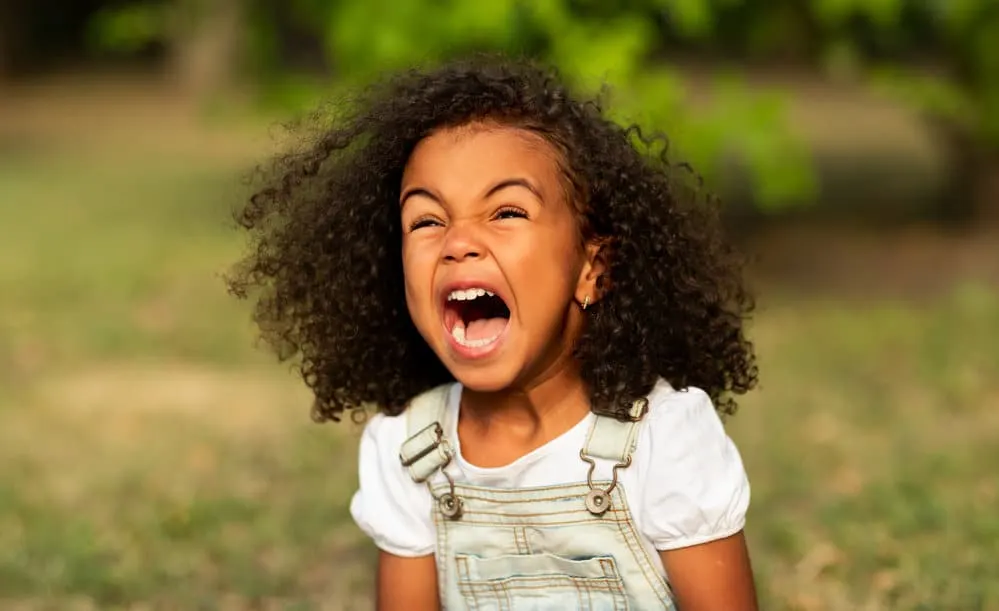 5. Two-Strand Twists with Beads
A lot of the looks we've featured today have braids. That's because braids create a stable base that you can easily customize with beads. But we get it; not everyone is an expert braider.
So if you're looking for a braidless, toddler-friendly beaded hairstyle, you'll love our next entry. Instead of braids, this look features gorgeous twists! Twists are more accessible and faster to install than braids, but they look just as good.
You can simply part your little one's hair in your preferred parting pattern.
Then, just twist each section from top to bottom and add a few beads to the ends. This look literally couldn't be any easier to pull off! If you want to find out more, watch this helpful tutorial.
6. Floating Beads
Do you have a little magic lover on your hands? Then you'll want to try out this next look. This floating bead hairstyle is downright magical due to the way it makes it look like there are beads literally suspended in their hair.
Don't be fooled by how stylish this look is; it's nearly effortless to achieve!
To start, part and cornrow their hair like usual. But as you're braiding, slide beads onto the cornrows. You can add a ton of beads for a fun maximalist aesthetic.
Or, you can keep it simple and sweet by adding just a few beaded accents. Once you see how adorable this style looks in person, you'll want to try it for yourself. Here's a video demonstration to help you do just that!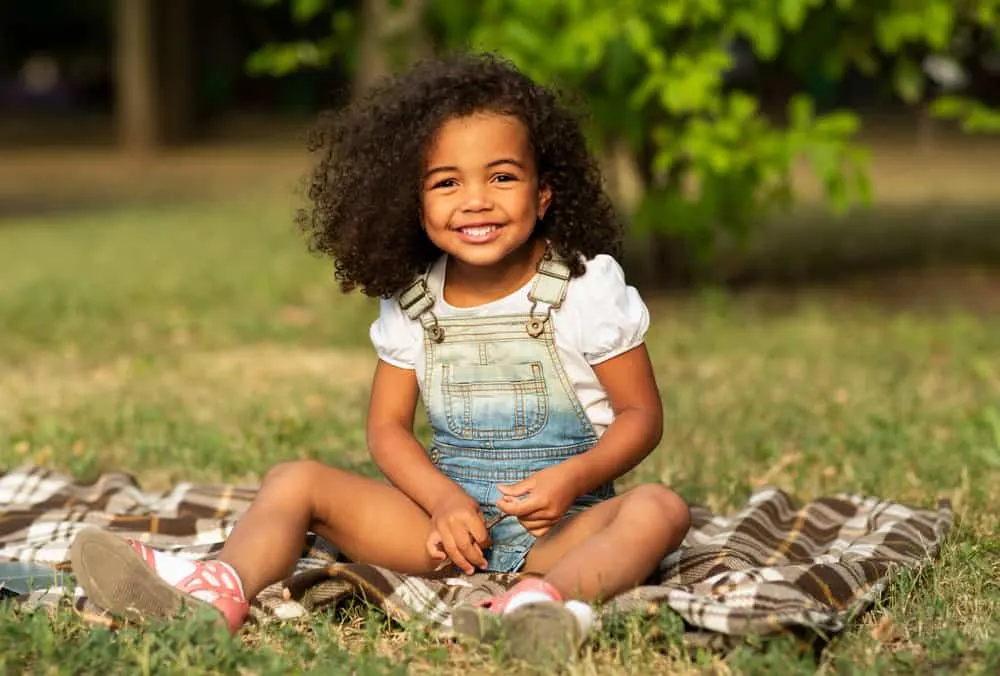 7. Zig-Zag Cornrows with Beads
Ready to meet your toddler's new favorite hairstyle? Look no further because our next entry has everything that kids love. Ponytail? Check! Fun shapes? Check? Adorable twists? Double check!
You'll love it because it's a surprisingly simple style to pull off! All you have to do is part their hair straight down the middle in a zig-zag pattern.
Separate a thin section of hair at the start of one half and cornrow it in the opposite direction. Gather each half into a ponytail and break it up into four or more pieces. Divide each quarter in half and twist it from root to end.
Once you reach the twists' end, add a few decorative beads to create a fun pop of color and texture. You can watch this simple tutorial showing how to recreate this sensational style!
8. Beaded Stitch Braids
Our next hairstyle looks so good you'll wonder why you didn't try it sooner! They're called stitch braids because of the rows of neat, horizontal parts interwoven through the braids.
Stitch braids are an easy way to enhance normal cornrows and give them a much more charming appeal. They're also relatively easy to pull off! Simply part your toddler's hair like you would for regular cornrows.
Start the braid like usual, but partway through, use either your fingers or a comb to create a horizontal part. Continue braiding over the part before repeating the process.
You can add as many or as few stitches as you like, but try to keep the space between them even. That will create a much more cohesive look. Do you need help picturing the steps? You can watch this video to learn more.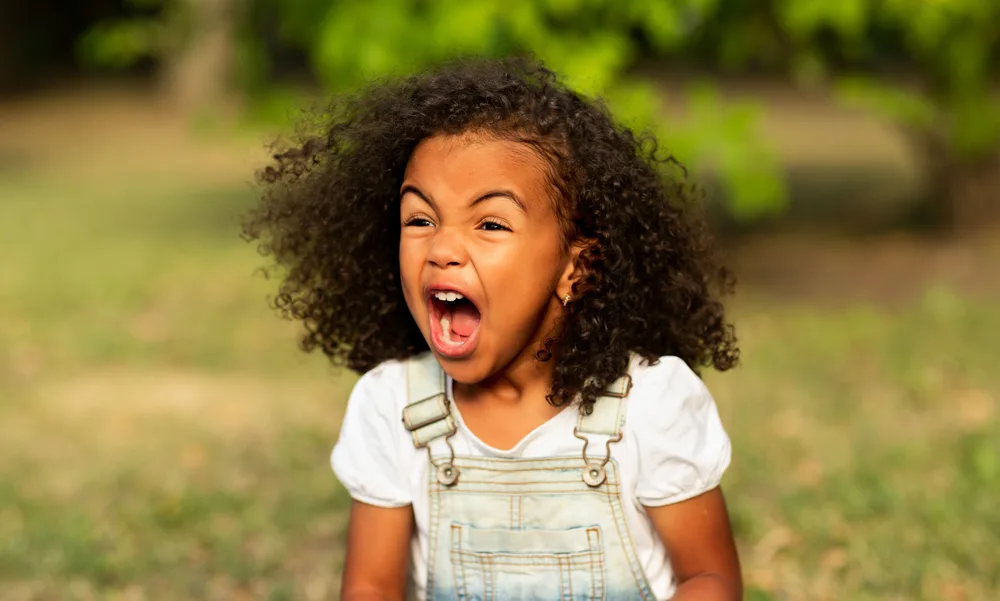 9. Three-Layer Braids with Beads
Do you know what's better than one layer of gorgeous braids? How about two or three layers? As the name suggests, three-layer braids are created by braiding three distinct layers of cornrows.
That gives the braids more volume and creates a much more dynamic look.
To complete this style, divide your toddler's hair into an upper, middle, and lower section. Then braid each layer in cornrows until you reach the end of the section.
Finish the braids by braiding them, so they hang straight down.
Once you finish working through all the sections, you can add a selection of beads to each braid. The beads will give the look a more youthful vibe and help accentuate all your hard work. Here's a video teaching you everything you'll need to know.
10. Beaded Feed-in Braids with Knotless Braids
Are you stuck trying to decide between cornrows and knotless braids? Well, with this darling look, you won't have to! It's a two-in-one style and features two great-looking sets of braids in one.
The top portion of your toddler's hair is braided in neat, even cornrows. You can add extensions to the cornrows to help lengthen this look's lifespan and make them look more uniform.
Then the back of their hair is parted in sections and braided straight down.
Like cornrows, braiding hair can be added to the knotless braids to increase their length and fullness and get the braids to lay down.
While most knotless braids are done with box-shaped parts, sharp triangular sections elevate this look into a work of art. Not sure if you can pull off knotless braids? Here's a tutorial that will turn you into a braiding pro.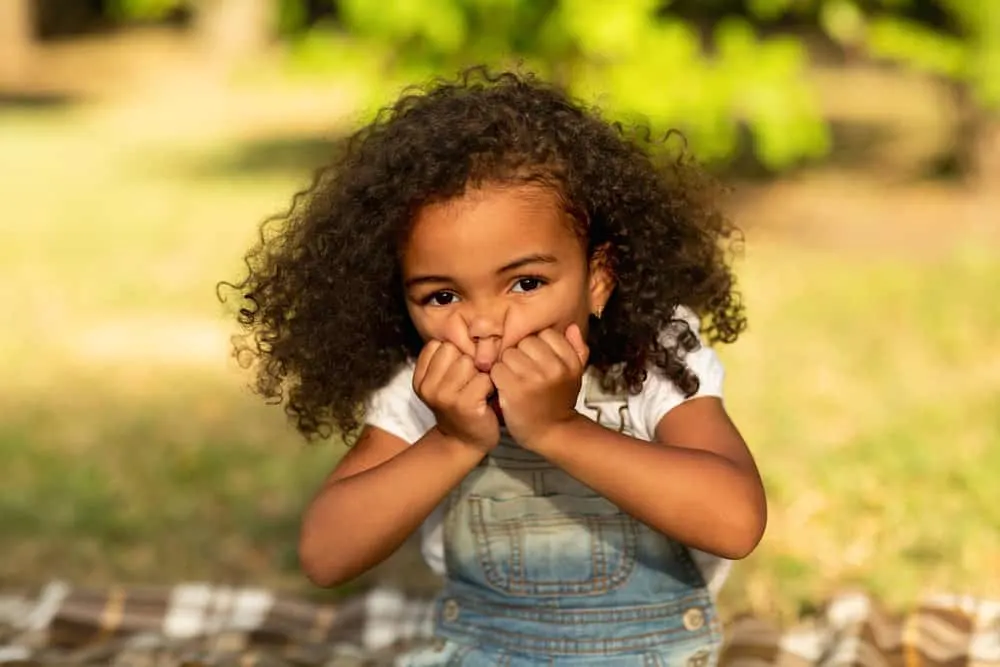 11. Beaded Box Braids
There's a reason why box braids are one of the most popular hairstyles around. They look great, are easy to install, and last for ages! Want to make them more kid-friendly?
While box braids usually have hair added to them, they'll look just as good on your little one's natural hair. Skipping the extensions will keep the braids at a more practical weight and length and make installation a breeze!
Part your toddler's hair into neat, box-shaped sections and braid each one from root to tip and add a few beads to the end. And that's it!
Beaded box braids last a few weeks with extensions and a week or two without them. Just make sure you wrap them with a bonnet or silk scarf overnight. Watch this video for more information on this adorable beaded look.
12. Crisscross Knotless Braids
Get ready to meet your toddler's new favorite hairdo. These adorable crisscross knotless braids will make them the coolest on the playground.
Adding a few crisscrossed braids helps upgrade these otherwise simple braids and creates a much more exciting look. To get the look, part your toddler's hair in a grid-like pattern.
Starting with the back of her hair, braid each section straight down to create a knotless braid. Next, wrap a small rubber band to the base of each upper section.
Lay one section down on top of the other to create a crisscross, and secure it with another rubber band. There will be some hair left over when you reach the end of your crisscross.
Add a bit of braiding hair to the section and braid it to form the last few knotless braids. And don't worry if you don't have a lot of experience doing braided styles.
Even though these crisscross knotless braids look complicated, it's a straightforward process. This tutorial will teach you everything you'll need to know.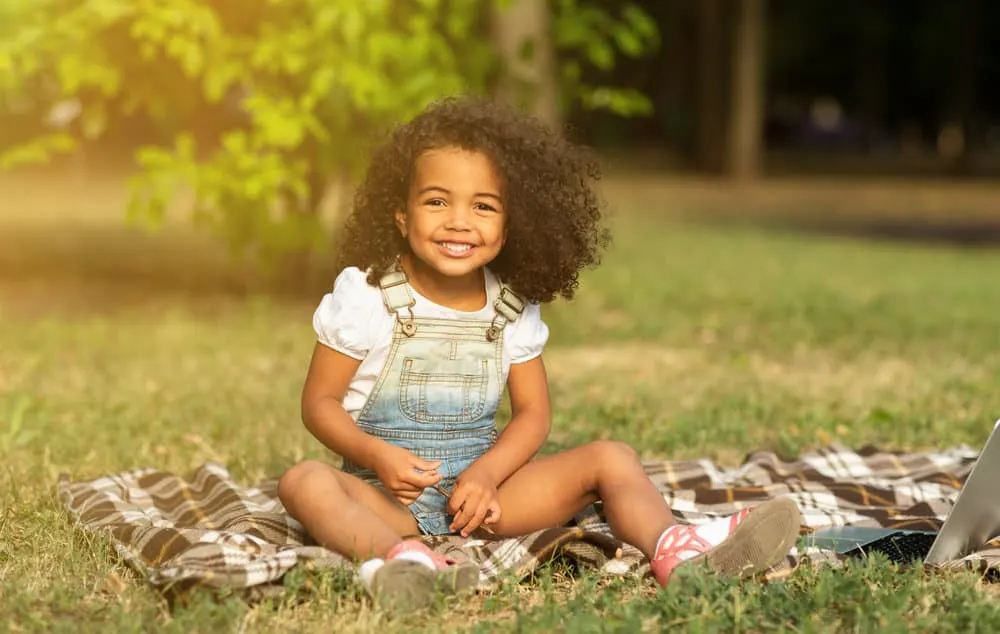 13. Ghana Braid Ponytail with Beads
Ghana braids are similar to cornrows in that they're braided flat against the scalp. However, Ghana braids exclusively go straight back and almost always have braiding hair added to them.
As a result, Ghana braids are much thicker and fuller than regular cornrows.
The braiding process starts similar to what you'd use to make cornrows. Simply part your toddler's hair to create vertical rows. Starting with the beginning of the section, gently braid the hair back.
As you make your way down the braid, start adding small pieces of braiding hair.
While you don't want to overload your little one's hair, adding extensions comes with some benefits. It'll take some of the stress off their natural hair and help the style last longer.
It's also a crucial part of getting the trademark Ghana braid shape. Are you still having a hard time picturing the steps? This tutorial goes into a little more depth.
14. Bantu Knots with Beads
This next look is an excellent choice for kids with an active lifestyle. Bantu knots are tiny, spiral-shaped buns that originated among the Zulu people.
And while Bantu knots are an excellent style on their own, they look even better when you dress them up. By adding a few accent cornrows to your child's hair, you can incorporate beads into this fashionable look.
Want to learn the best part?
This style technically gives you two completely different looks in one! When you take down your toddler's Bantu knots, they'll be left with beautiful, soft curls.
They can wear their hair down, or you can throw it into a charming half updo or ponytail. Learn how to create this beautiful style at home with this video tutorial!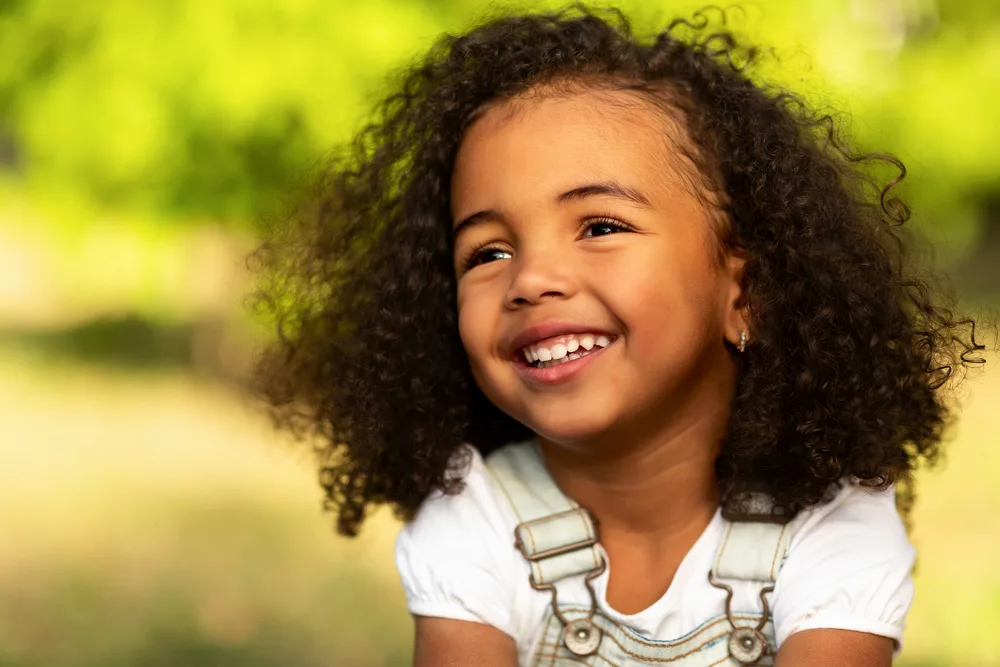 15. Triple Braided Ponytails with Beads
There's a reason why ponytails are the go-to style for millions of women and children around the world. They're fast, easy to create, and look fantastic! But what happens when you and your little one get tired of wearing the same ponytail day after day?
If you're looking for a way to add more oomph to her basic ponytail, this next look is for you! Rest assured, if you're a beginner–a triple-braided ponytail with beads is one of the simplest hairstyles to learn.
You'll begin by parting your toddler's hair from ear to ear and pulling the top half into a ponytail. Then, split the back section in half to form a right and left section and wrap a hair tie around both.
Break each ponytail into smaller portions, and braid each one from root to end. After you finish your braids, go back and add a few colorful beads to their ends. You can take a look at this short tutorial for more styling tips and tricks.
16. Beaded Side Braids
Beaded side braids are not only cute, but they're also a protective style! Like other cornrows, you'll be able to get multiple days of wear out of this lovable look.
And since you aren't combing, brushing, and styling your little one's hair on a daily basis, it'll be able to grow long and strong.
We'll walk you through how to get these beaded side braids now.
To start, part a horizontal row in the back of your child's hair and cornrow it from one side to the other. Move to the next section and repeat the process until you run out of hair.
When you finish your cornrows, thread a few small beads to the end of each braid. And that's all there is to it! Do you wish you had a little more information? Here's a video demo to help you get started!
Picking out hairstyles for your toddler day after day can be challenging. Fortunately, you can look all around for inspiration if you ever feel stuck in a rut.
That's because adult hairstyles can easily adapt to a toddler's needs.
Just be careful not to pull their hair too tightly and avoid potentially harmful products and accessories. Or you can play it safe and stick with the looks we've covered in this article. Either way, we wish you the best of luck with your little ones' hair!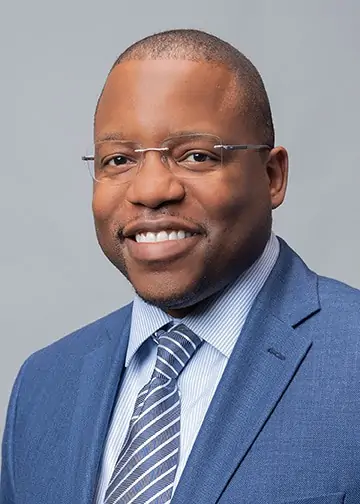 Kenneth Byrd holds a BS in Accounting and Management Information Systems and an MBA from the University of Alabama at Birmingham. With over 15 years of experience, Kenneth has been dedicated to hair care since 2008, when he co-founded Curl Centric® and Natural Hair Box alongside his wife. As a team, they promote healthy hair care practices through their comprehensive platform, Curl Centric. Curl Centric is a website operated by a husband and wife team that encourages healthy hair care. At Curl Centric, we aim to help our readers take control of their hair care journey and make good decisions about products, hairstyles, and maintenance techniques. We also have strict editorial integrity; here's an explanation of our editorial guidelines and how we make money.