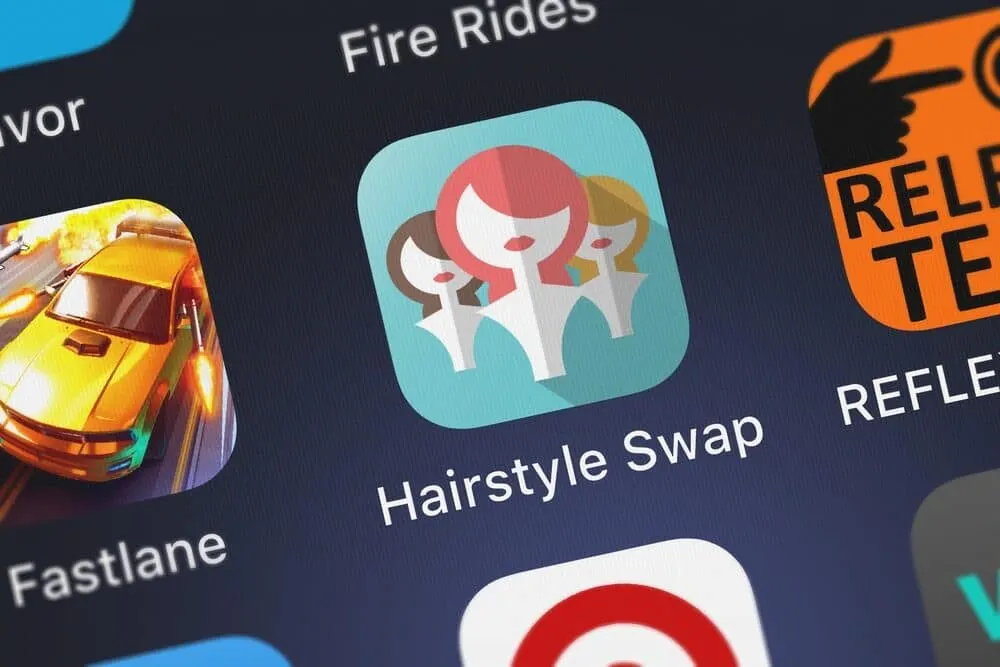 Not every hairstyle works for every face shape – it's no wonder it's challenging to decide which hairstyle fits your face. So, what do you do?
You could search for hairstyles on Google Images, browse hundreds of photos on Instagram, or scope out hairstyles in person. But all of these methods have one thing in common – they're a lot of work.
How To Check Which Hairstyle Suits My Face Online
You can use various apps and websites to quickly and easily determine which hairstyles fit your face best. In this article, we'll explore a few of the most popular ones.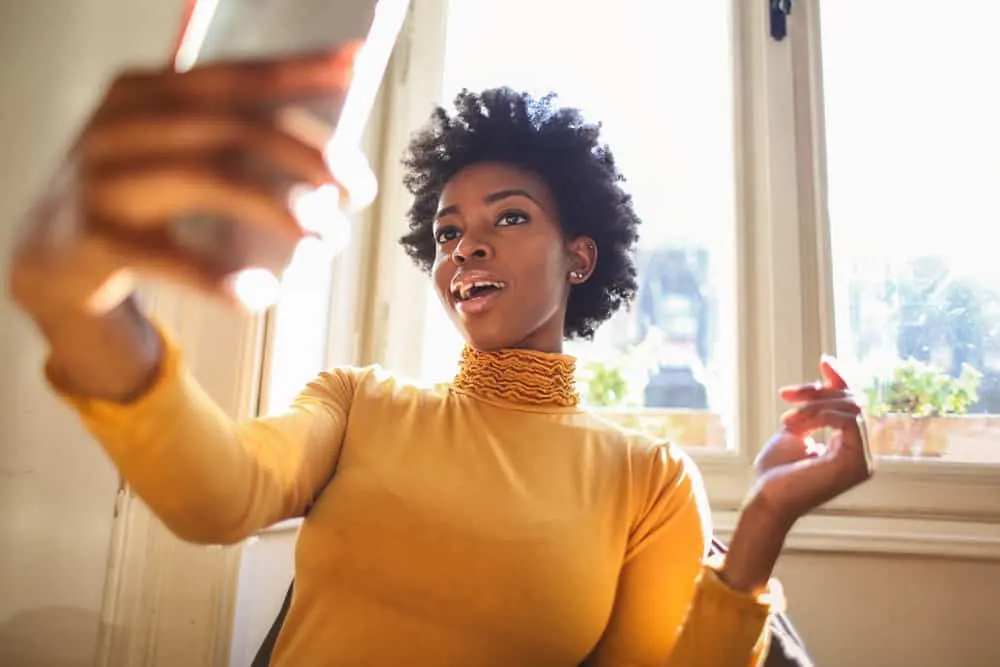 Hairstyle Try-on Apps
Hairstyle try-on apps are a convenient and straightforward way to see how specific hairstyles will look on you. Using photoshop or other innovative technology, they overlay pictures of hairstyles on photos to give you an idea of whether a style fits you.
You'll find hairstyle try-on apps on both IOS and Android. In the following sections, we will review several hairstyle apps that you can try out today.
Hairstyle Try-on
The Hairstyle Try-on app allows you to give yourself a virtual makeover. Housed within the app are tons of hairstyles, haircuts, and hair colors to choose from.
It's a great tool if you want to see how a particular hairstyle will look on you or if you want to give your stylist an idea of the style that you want. The app is available for free on both IOS and Android – you get the option to pay for upgrades within the app.
How it Works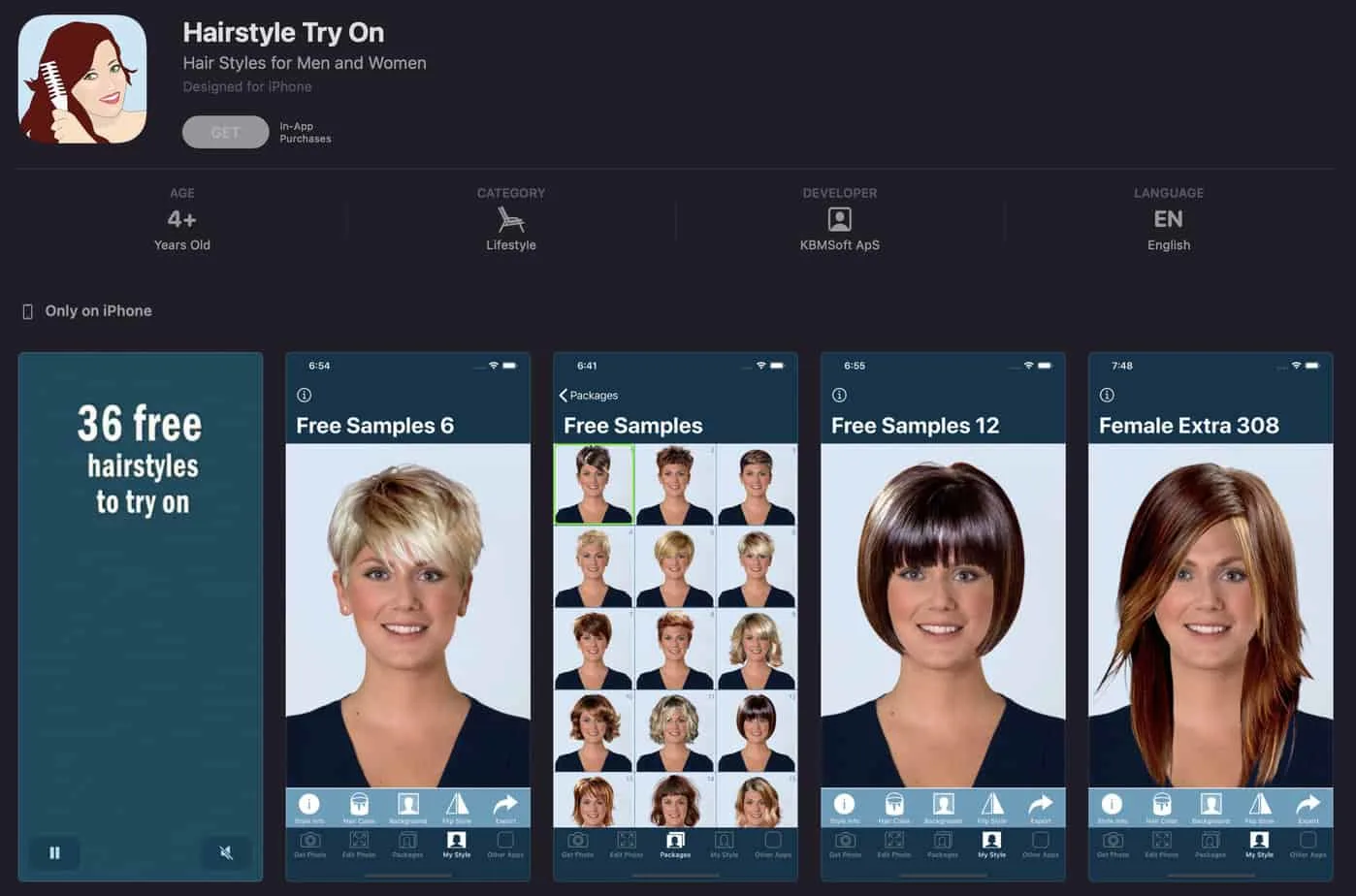 The free version of the app has 15 different hairstyles for women and 15 hairstyles for men. But for an extra dollar or two, you get to purchase more packages that give you additional hairstyles, including formal updos, edgy cuts, fun colors, and more.
You'll start by taking a photo of yourself, selecting a model, or choosing an existing image. If you'd like to select a model who looks most like you, you've got some options, including two White women, a Black woman, and an Asian woman.
We recommend that you take a picture of yourself since the models don't have diverse skin tones.
Once you take a picture of yourself, you get the chance to edit the photo to make sure that only your face is registered by the app and not any random objects. Once you edit your image, you're ready to try out some hairstyles.
After you've edited your photo or chosen your model, it's time to select your package. When you click on it, you'll see dozens of pictures of yourself with all sorts of hairstyles.
You can then change the hair color of specific hairstyles, change the background, or flip the style so that the part is on the other side. With all of these possibilities, you'll have a ton of fun while selecting the perfect style for you.
Pros and Cons of Hairstyle Try-On
This app has earned a 4.0 out of 5 rating on the iOS app store and a 2.5 out of 5 on the Android App Store. Many people love the app, but there are some significant issues that you should know about.
Let's take a look at both the pros and cons of the app, so you can decide whether it's worth trying:
Pros
The app is easy to use, requiring just a few taps to select and try hairstyles out on yourself.
You get 30 free hairstyles when you download the app, so there's no risk in trying it out.
It is a completely ad-free experience.
Cons
While the hairstyles are good for giving you an idea of what you like, they tend to look unnatural.
On the free version, most hairstyles look dated. However, there are modern hairstyles to explore if you're willing to pay.
Hairstyles for Your Face Shape App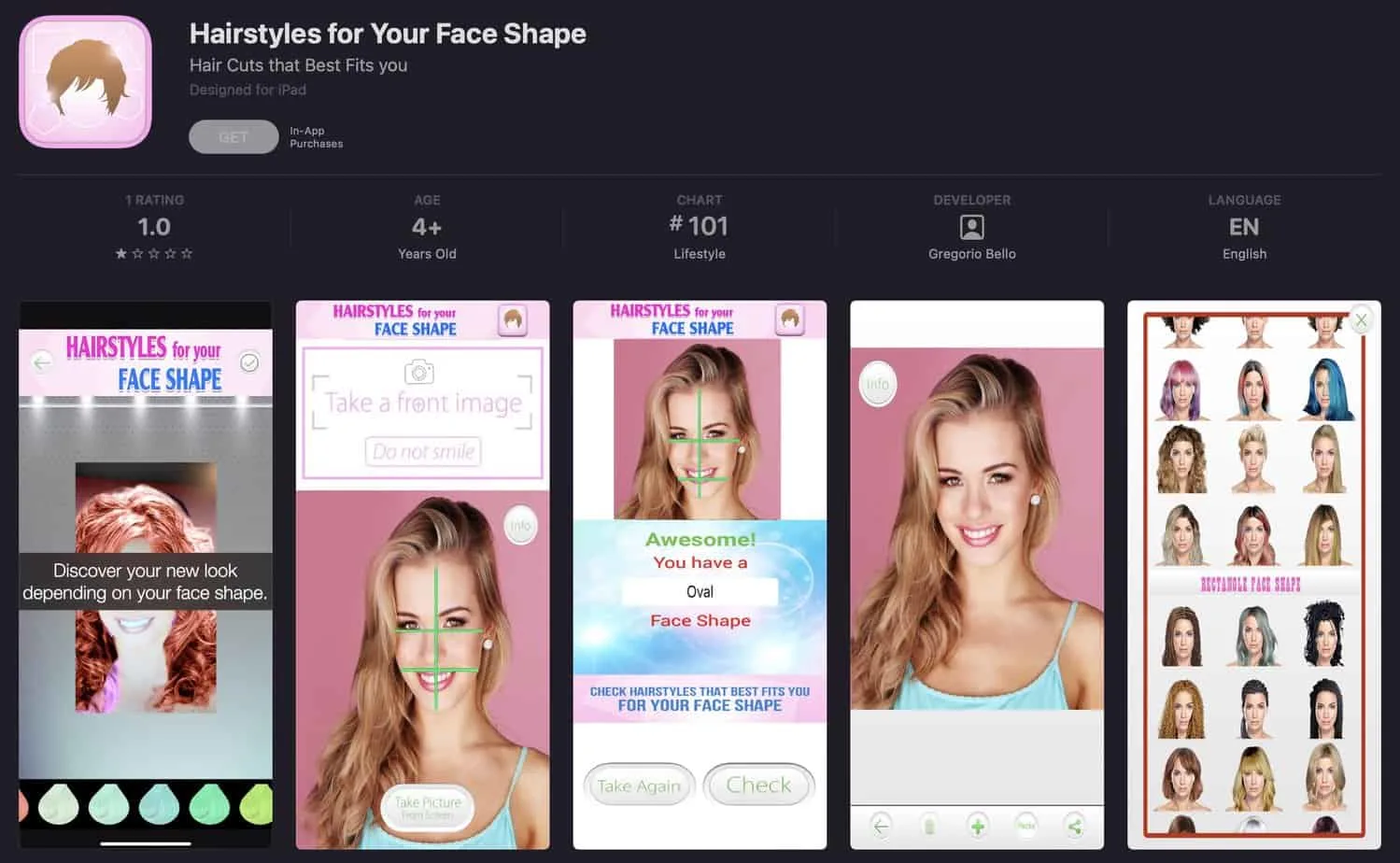 This app not only allows you to try out various hairstyles but also educates you on face shapes. It has an informational section called Find Your Face Shape.
It outlines seven different face shapes, including rectangle, oblong, square, round, triangle, heart, and oval.
Each of the face shapes has a brief description that helps you to find your face shape. Additionally, there is a tutorial video that gives tips on how to take a good picture so that the app works as efficiently as possible.
The app is free and comes with more than 20 free hairstyles to try on.
But if you don't mind spending a few dollars, you can purchase hairstyles tailored to specific face shapes, remove ads, or remove the watermark on images.
You can download it on iOS.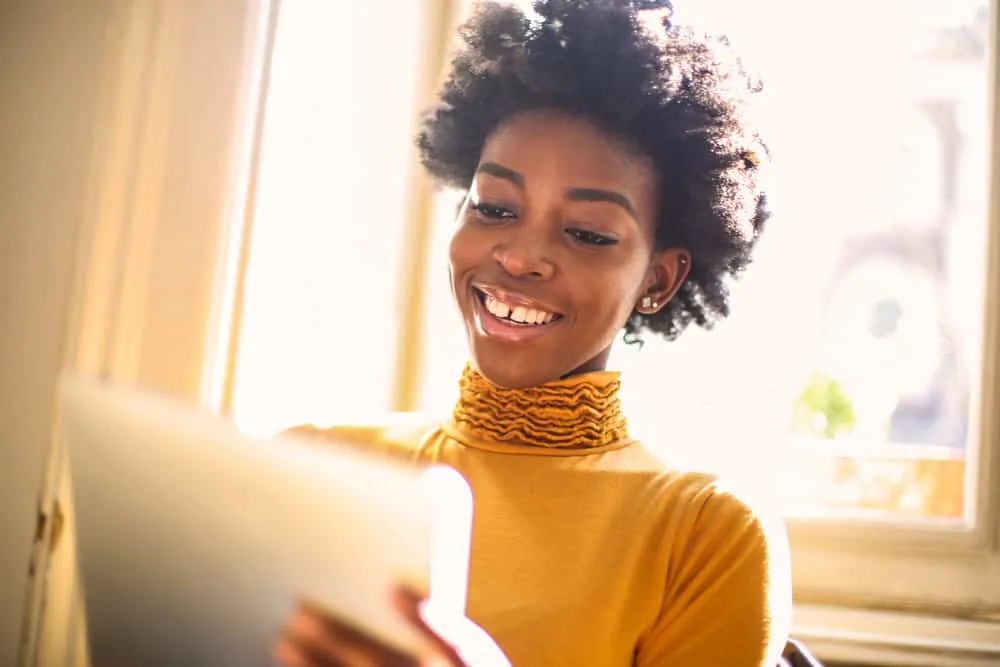 How it works
Upon opening the app, you have one option: to take a picture of your face.
There are no models available for the app. After taking the picture, you'll see a confirmation picture and some text describing your face shape.
When you press "continue," you get to choose cool hair colors and hairstyles. When you're done playing with a specific hairstyle, you get the option to share your photo.
Pros and Cons of Hairstyles For Your Face Shape app
Like the previous app, the Hairstyles For Your Face app has its fair share of pros and cons. We'll look at each of them in the section below.
Pros
The app has several free and trendy hairstyles instead of dated hairstyles that no one wears anymore.
The app educates you on face shapes and even tells you what your face shape is.
Not only do you get to try numerous hairstyles, but you're given the option to change the styles' color as well.
The app is very straightforward to use.
The app is free with in-app purchases.
Cons
It comes with ads that you have to pay to remove.
Models are not available to try on hairstyles. Even if you're not in good lighting or are not presentable, you need to take a picture of yourself to use the app.
The face shape software is not consistent. If you take multiple pictures of your face, you may be told that you have two different face shapes.
Hairstyle Makeover App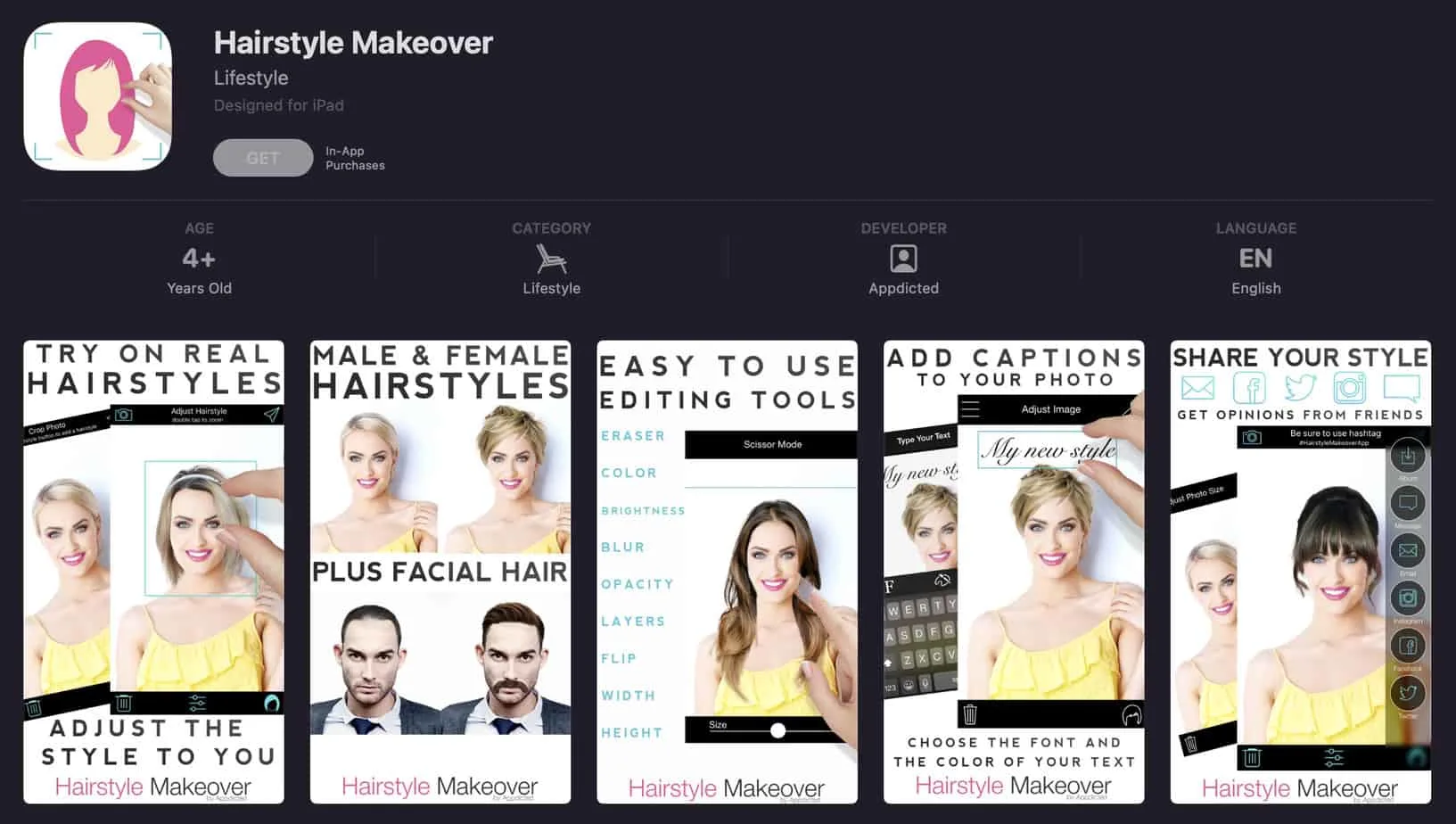 The Hairstyle Makeover app is another hairstyle try-on app that lets you test drive new styles in a couple of minutes. It's got an extensive repertoire of trendy virtual hairstyles and a couple of models you can choose from.
Like many other makeover apps, you can choose to take a picture of yourself or choose a photo from your photo album. The app is free to download and comes with a few dozen hairstyles to choose from.
It offers in-app purchases so you can gain access to more hairstyles. The app has earned a rating of 3.7 out of 5 on the apple app store with more than 50 reviews. Download it here for IOS.
In addition, this app is different from other ones because you can edit each hairstyle so that it fits correctly on your head (redo the size, change the color, crop, etc.).
Once you've found a hairstyle you love, you can share it via social media apps, send it in a message, or save it to your camera roll and take it with you to your hair appointment.
Pros and Cons of Hairstyle Makeover App
The Hairstyle Makeover app is one of the better try-on apps out there, but it comes with its own pros and cons. Let's dive into them below.
Pros
The app is free to download and comes with several hairstyles classified into categories (long, short, men, women, fun, etc.). It's got a relatively good starter hairstyle collection.
You get to edit the hairstyles so that they fit the size of your head.
You can choose a model to try on the hairstyles if you'd rather not take a photo of yourself.
You can save and share your photos.
Cons
There are only two models to choose from: a Caucasian man and a Caucasian woman. If someone of color wanted to select a model, they wouldn't be able to find a model that looks like them.
Some of the styles are not relevant to today's hair trends.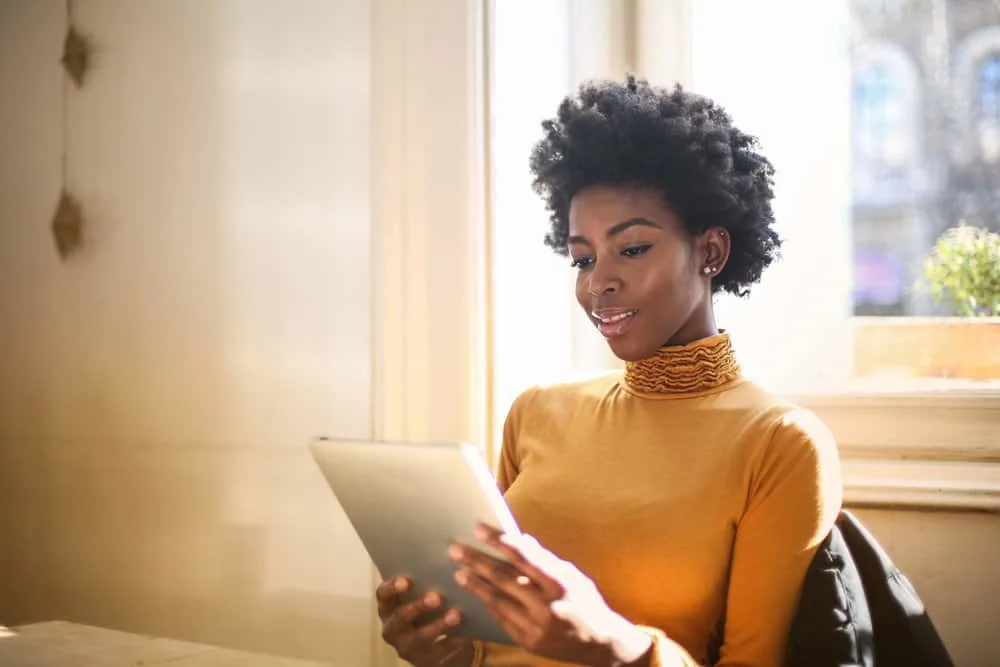 Virtual Hairstylers on Websites
You don't have to download an app to experiment with new hairstyles. Several websites exist that allow you to try out some new hairdos on your phone's internet browser, your desktop, or your laptop. We'll share some good ones below.
TheHairstyler.com Face Shape Quiz and Virtual Hairstyler
Find Your Perfect Hairstyle!
Thehairstyler.com is a website aimed at helping you find your ideal style.
There is not only an extensive database of hairstyles for you to explore but also a face shape quiz and virtual hairstyler to assist you in choosing the perfect hairstyle for your face shape.
The face shape quiz takes just 30 seconds of your time and consists of 4 multiple-choice questions that target your face shape. There are also picture references to help you choose the correct answers to each of the questions.
When you click "Find my face shape," you'll see your result.
The results will tell you what face shape you have and provide you with a ton of information about that specific face shape, including hairstyles you should try, hairstyles you should avoid, additional characteristics of your particular face shape, and a picture of a celebrity who has your face shape.
After you finish the face shape quiz, move on to the Virtual Hairstyler, which allows you to try thousands of hairstyles worn by celebrities.
You can use the information and recommendations from the face shape quiz to choose the right hairstyles to try out in the virtual hairstyler. What stands out about the virtual hairstyler is that you can choose from over 2,000 celebrity hairstyles.
All you need to do is take a picture of yourself or upload a photo from your device (make sure that your face is in focus, there's good lighting, and that your hair is pulled to the back).
Once you take your picture, click on celebrity photos to see the hairstyle on you.
Note: To access the virtual hairstyler, you'll need an account.
Pros and Cons of the Face Shape Quiz
The face shape quiz has some benefits and drawbacks that you need to know about. We'll outline them below:
Pros
The quiz is short and sweet without a ton of choices.
The results provided are in-depth and include hairstyle recommendations.
There are helpful tips above the quiz questions that enable you to better answer the questions.
Cons
The quiz relies on your perception of your face, so it is not designed to give you super-accurate results. The questions are a bit objective, so the answers could lead you to the wrong face shape.
Pros and Cons of the Virtual Hairstyler
The virtual hairstyler is a huge help for anyone who wants to browse and try out hairstyles. But it's got its benefits and drawbacks.
Pros
You can use the virtual hairstyler to try out trendy styles worn by celebrities.
The hairstyle pictures look realistic.
The styler is 100% free and gives you access to thousands of hairstyles to try on.
Cons
When you take a picture of yourself through the website, the image may show up grainy depending on how close you are to the camera.
When viewing hairstyles, it can take up to a minute for a single hairstyle to load. It sort of defeats the purpose of having so many hairstyles to try out.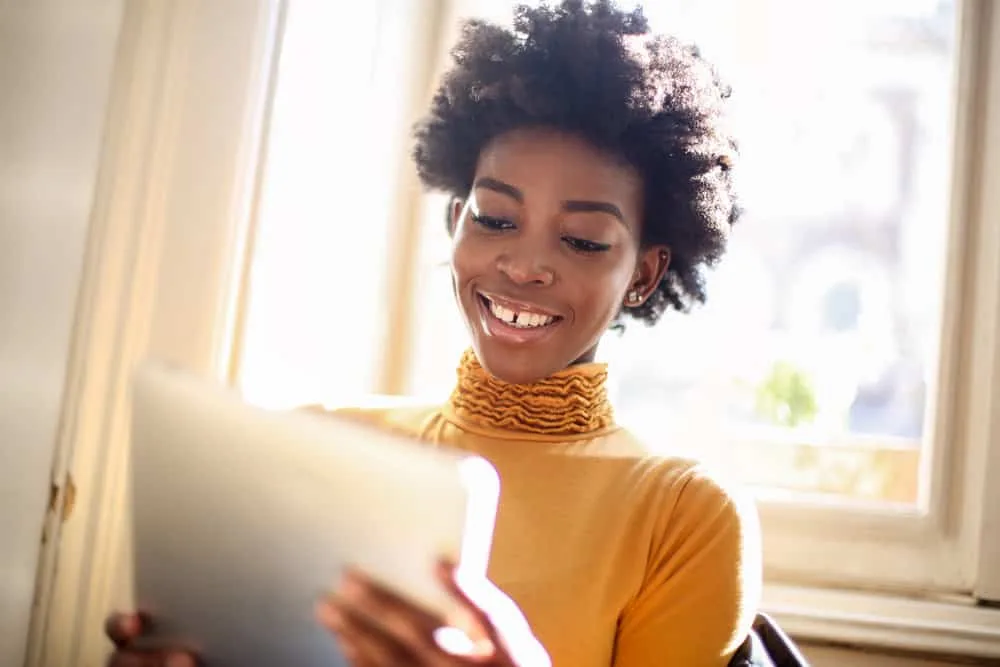 STYLECASTER Virtual Makeover
Trying out new hairstyles is a cinch with STYLECASTER's makeover tool. It's a virtual makeover booth complete with a vast selection of celeb hairstyles, cool accessories, and makeup options.
Upload a photo or take a picture of yourself to get started, select "Hair" from the dropdown menu, and then choose one of many popular celebrity hairstyles to see how they'll look on you. It's just that easy.
This website stands out due to its accuracy.
After uploading a picture of yourself, you get to adjust the points around the shape of your face so that styles appear in the right spot. Also, you can adjust the width, length, size, and location of the hairstyle.
So, you'll be able to get a good idea of which hairstyle best suits you.
Pros
The hairstyles look relatively natural.
There are multiple models with dark skin, so people of color have a few options to choose from.
You get to try out different makeup looks and accessories in addition to the hairstyle. That way, you can decide whether a particular hairstyle will mesh with your makeup and outfits.
The tool allows you to change the color of all of the hairstyles.
Cons
It could take quite a bit of photo manipulation to get a hairstyle to lay right, which can be time-consuming.
The hairstyles look a bit washed out and blurry sometimes.
Marie Claire Virtual Makeover by Modiface
L'Oreal's augmented reality acquisition helps with online brand experience | Marketing Media Money
The Marie Claire Virtual Makeover tool by Modiface is the perfect tool for anyone who's itching to change up their look. It lets you try on hairstyles and makeup for a total transformation.
The interface is super simple – just upload your photo or choose a model and get to try out some hairstyles.
Choose the "Hair" tab to view the hairstyle options and choose the ones you want to try. If you're not feeling the color, change that up too (you've got over 50 colors to choose from).
Pros
The hairstyles look very natural, especially when compared to similar tools.
The tool is entirely free – no purchases required and no pop-up ads.
There are hundreds of new, trendy hairstyle options to choose from, all worn by celebrities.
You can change the size and shape of hairstyles according to your face size and shape.
Cons
The tool is on the slower side, taking upwards of a minute or more to load your chosen hairstyle.
The tool glitches from time to time.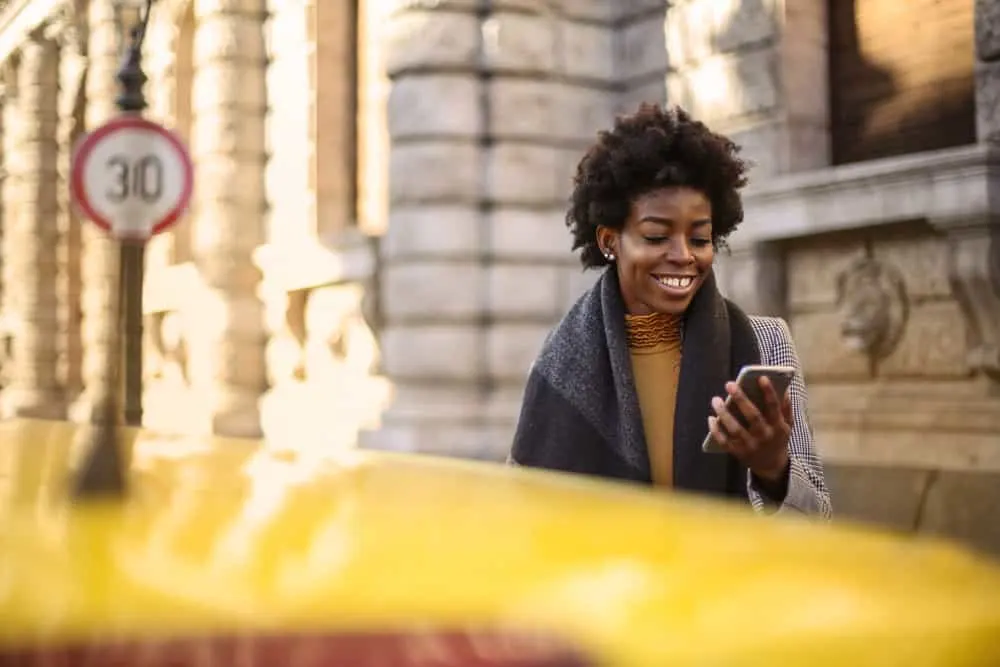 Tips for Hair Makeover Apps and Tools
Here are some general tips that can help you get realistic results on hairstyle try-on apps and tools:
If you'll be taking a photo of yourself, take it in bright natural light and pull your natural hair back so that your face is in focus.
Take the time to edit the hairstyles (when the functionality is available) to get a realistic idea of how the hairstyles will look on you.
Whenever you choose a model, make sure that the model has the same skin tone, skin undertones, and face shape as you. That way, you'll know that if the hairstyle or color looks good on them, it'll likely look good on you too.
When your current hairstyle feels a little "blah," the tools and apps above really come in handy. With the featured apps, you can experiment with styles for fun and share them with friends and family or find your next signature hairstyle and run with it.
We hope that one or more of these hairstyle try-on tools or apps becomes your go-to style companion!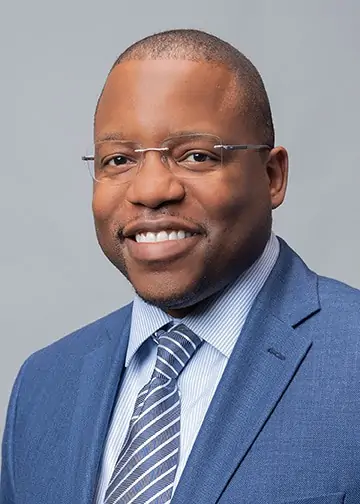 Kenneth Byrd holds a BS in Accounting and Management Information Systems and an MBA from the University of Alabama at Birmingham. With over 15 years of experience, Kenneth has been dedicated to hair care since 2008, when he co-founded Curl Centric® and Natural Hair Box alongside his wife. As a team, they promote healthy hair care practices through their comprehensive platform, Curl Centric. Curl Centric is a website operated by a husband and wife team that encourages healthy hair care. At Curl Centric, we aim to help our readers take control of their hair care journey and make good decisions about products, hairstyles, and maintenance techniques. We also have strict editorial integrity; here's an explanation of our editorial guidelines and how we make money.