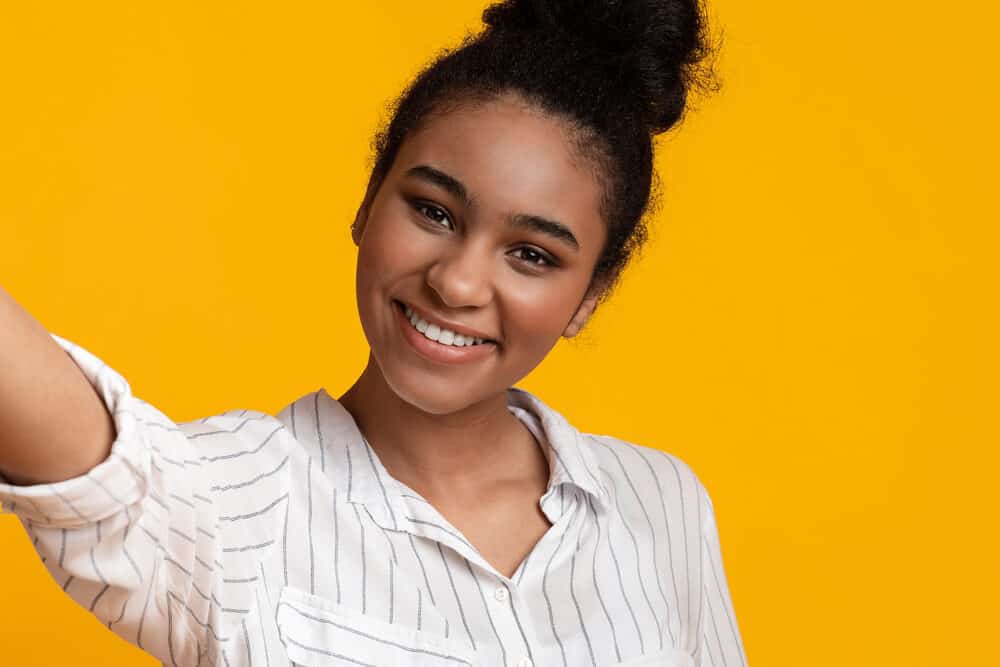 Bleaching has a profound effect on your hair, often leaving it in a compromised state. If you've done any research on hair bleaching in the past, you may already know that bleach can strip keratin from the hair.
So, logically you'd think that a keratin treatment can bring your hair back to life. But is that really the case?
There are varying viewpoints on this topic, and we'll explore each of them to help you decide whether you should try a keratin treatment on bleached hair.
What Is a Keratin Treatment for Hair?
The term "keratin treatment" can be used to refer to two different hair treatments. The first is a Brazilian Blowout, which you would get at your local salon. The other is a product or system that you'd use at home to strengthen, repair, straighten, or smooth your hair. We will take a deeper look into both of these in the below sections: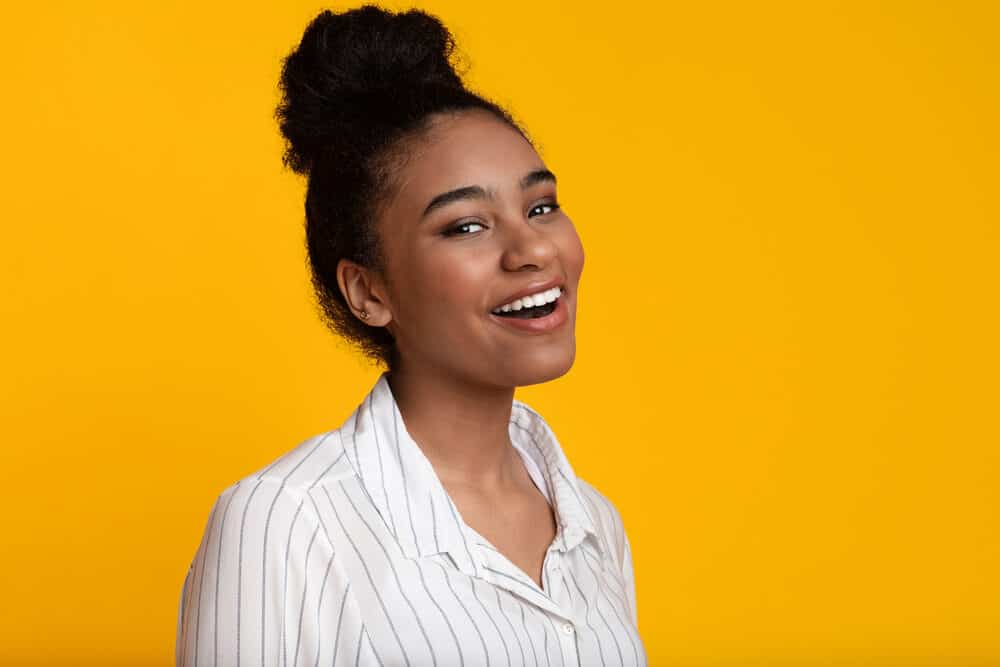 Brazilian Blowout
A Brazilian blowout is a keratin-based treatment that gives you shinier, silkier, straighter hair. Many who get a Brazilian Blowout are surprised by the results that they achieve in one session.
Even the curliest hair can be transformed into sleek, straight tresses following this hair treatment. The main issue with it is that it often requires you to use questionable ingredients (formaldehyde, parabens, etc.), and more often than not, your hair will have to be straightened or blow-dried at obscenely high temperatures.
Note: Hairstyles that require the use of heated styling tools often lead to damaged hair. Heat damaged hair isn't repairable since the high temperatures can permanently change your hair's structure.
Once your hair structure changes, your thick, bouncy curls won't return. Like styles that use traditional flat ironing techniques with high temperatures, heat damage is a common result of Brazilian Blowouts.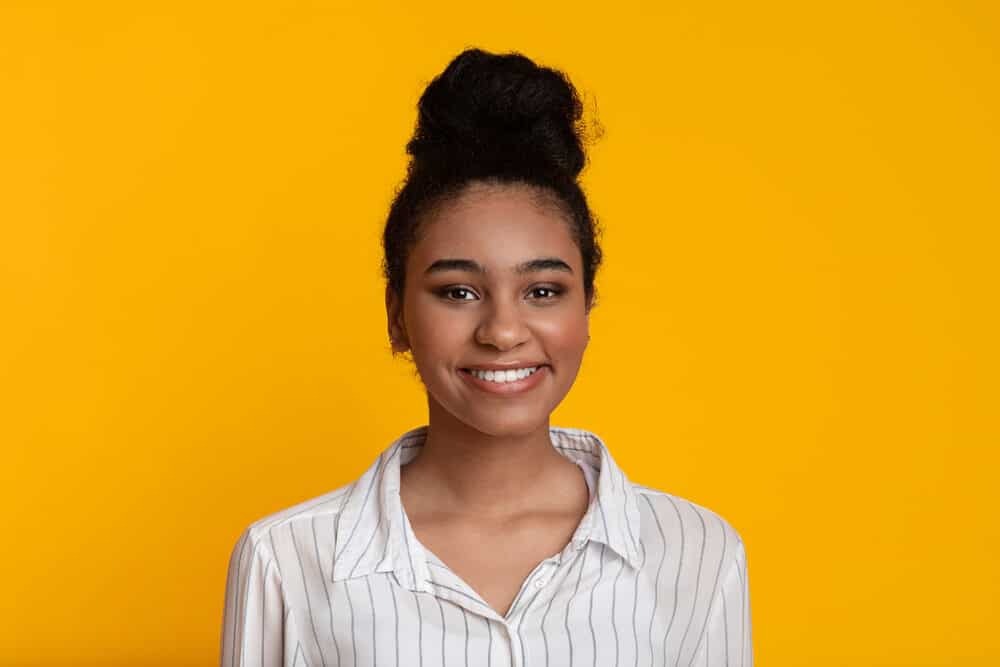 At-Home Keratin Hair Treatments
With an at-home keratin treatment, you don't have to worry about someone else putting excessive heat or questionable products on your hair. However, you will have to do it yourself.
At-home keratin treatments are not all that they're cracked up to be. Often, the formula includes formaldehyde (just like with the Brazilian Blowout), which is a known carcinogen.
Yet, it's important to know that not all at-home keratin treatments are made with the worst ingredients in the world. However, most of them require heat activation, which is not the best thing for anyone's hair.
Home keratin treatments don't last nearly as long as in-salon treatments. So, if you usually get professional keratin treatments, you will likely notice a difference in your hair when using an at-home treatment.
Can You Get a Keratin Treatment on Bleached Hair?
You can get a keratin treatment on bleached hair. However, when you combine a keratin treatment with bleached hair, there could be negative consequences, especially if you choose the wrong keratin treatment.
If you decide to go and get a Brazilian Blowout after bleaching your hair, you will likely come out with less hair and more split ends. If you opt for an at-home keratin treatment, the results could go either way, and that depends on which keratin treatment you purchase.
Brazilian Blowout or At-home Keratin Treatment?
You may already have an idea of what keratin treatment we'd recommend, but we'd like to be clear. We recommend that you avoid a Brazilian Blowout like the plague if you are experiencing damage or breakage after a round or more of hair bleaching.
That's because dousing your hair in chemicals and heat will do it no good, particularly if it's already damaged. On the other hand, if you decide to go for a topical keratin treatment, you've got to be very selective.
Qualities of a Good Keratin Treatment
No keratin treatment is perfect, but if you think that what your hair needs is more keratin, you have some options that won't leave you with a hair setback. But you have to make sure that your keratin treatment has the following qualities: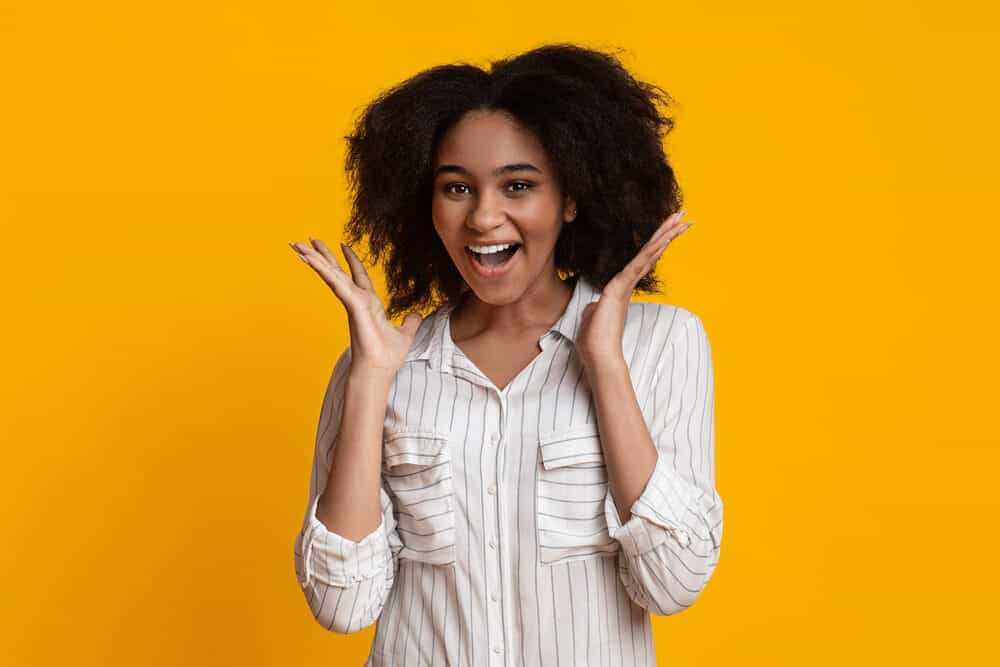 No Heat Application Requirement
After getting your hair bleached, heat is the last thing that your hair needs. Unfortunately, lots of keratin treatments require you to use heat. For the best results, you should opt for a keratin treatment that doesn't require you to flat iron or heat style your hair.
No Formaldehyde
Formaldehyde is one of those ingredients that you want to stay far away from. Keratin treatments are known for releasing formaldehyde when you apply heat to your hair immediately after using the treatment. There are a few problems with formaldehyde that we'd like to dive into here.
According to the Environmental Protection Agency, formaldehyde has been shown to cause cancer in a study involving rats. Also, in a study involving human participants who work with formaldehyde regularly, a link was found between cancer and formaldehyde.
So, formaldehyde is not an ingredient that you want in any of your hair products. In the short term, formaldehyde can cause nausea, breathing difficulties, coughing, and irritation to the skin and eyes.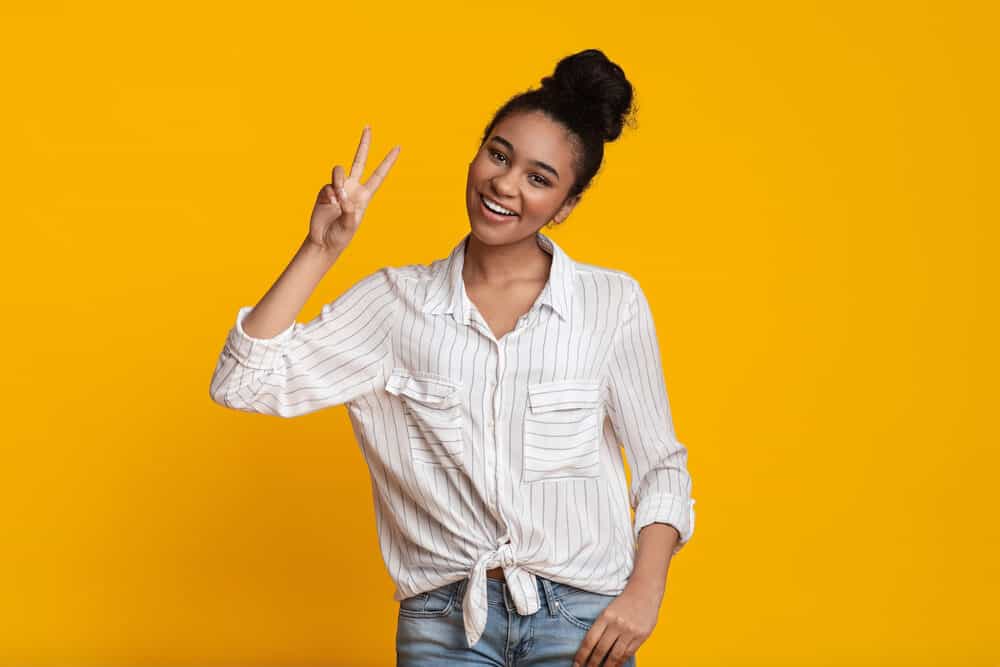 Therefore, you want to ensure that your keratin treatment has no traces of formaldehyde or its derivatives. Formaldehyde may be called methanal, formalin, formic aldehyde, methyl aldehyde, methylene oxide, or methylene glycol.
If you see any of these ingredients on the product label, we advise you put the product back on the shelf. A good keratin treatment will not have formaldehyde or any of its derivatives in the formula.
Moisturizers
Bleached hair needs proteins, but it also needs moisture to thrive. That's why you need a keratin treatment that also has moisturizers in the form of oils, emollients, creams, and more. An unbalanced keratin treatment with too much keratin can have a negative effect on your hair, creating stiffness and breakage.
Good Keratin Treatments for Bleached Hair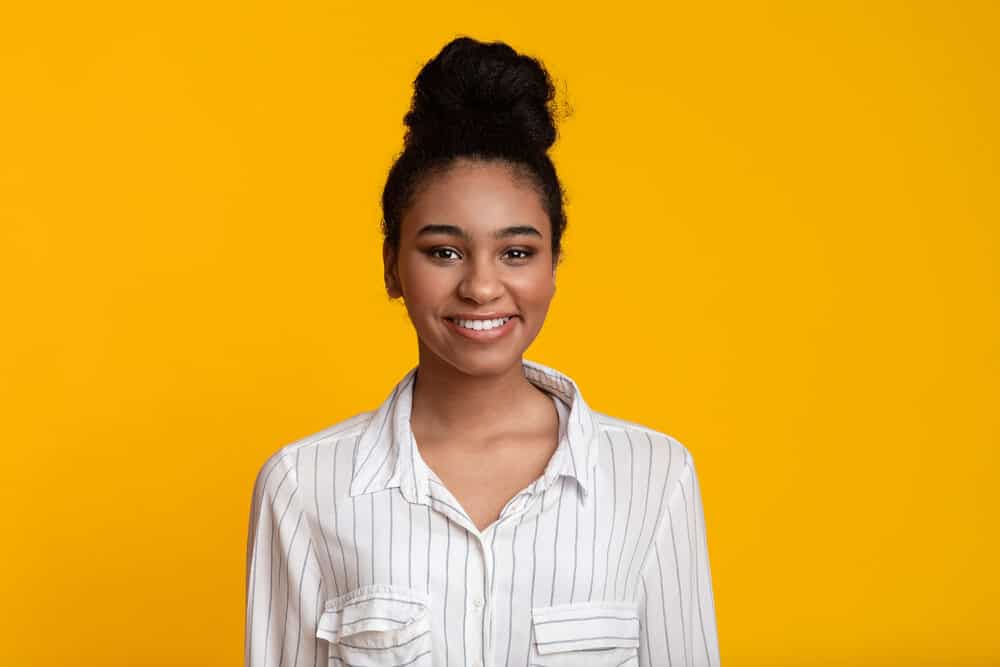 Now that you know what to look for in a keratin treatment, we'd like to share with you a few great keratin treatments for bleached hair.
K18 Leave-In Molecular Repair Hair Mask
This keratin treatment is unlike many. It has conditioners and proteins that help to restore your hair to its former glory. It's a leave-in treatment "conditioner" that takes just 4 minutes to work.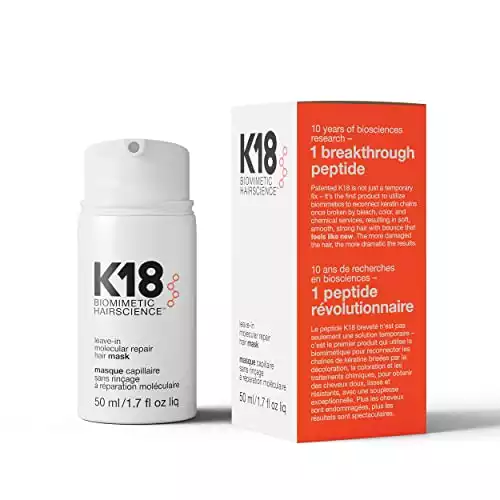 To use it, apply it to clean towel-dried hair and do not rinse it out. The keratin in the product helps to rebuild broken keratin bonds in the hair shaft.
It can be used if your hair is damaged from excessive heat styling, bleaching, or coloring your hair. And, of course, it's formaldehyde-free. No heat is required.
Olaplex Number 6 Bond Smoother
Olaplex is a well-known keratin treatment that has gained viral status for its reparative power. Like other keratin treatments, this treatment repairs the keratin bonds in your hair, revealing smoother, healthier strands in just a short time.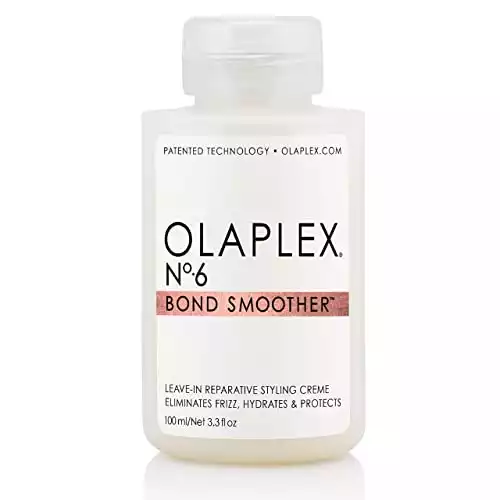 The product is free of formaldehyde, sulfates, parabens, phosphates, and many other ingredients you don't want in your hair.
All you need to do is apply it to your hair from mid-lengths to ends and style your hair as desired. There's no heat required for this keratin treatment, and it's safe for all hair types.
Infusium Leave-in Treatment
This treatment by Infusium is a protein-based leave-in treatment that leaves your hair smoother, more moisturized, and more manageable.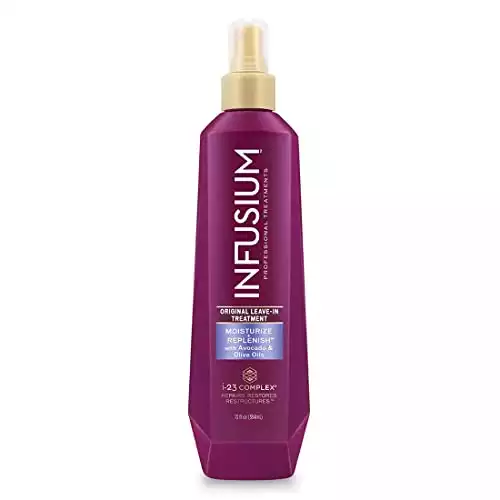 Not only does it have protein to rebuild your hair shaft, but it also has avocado oil and olive oil (among other ingredients) to keep your hair moisturized. To use the treatment, spray it onto your wet or dry hair and then style as usual.
Conclusion
Keratin can be beneficial to the hair when delivered in a gentle manner – without heat or damaging ingredients. We encourage you to give one of the keratin treatments above a try, as they are much safer than many of the ones you'll find in the salon or elsewhere.
We hope that this article has answered all of your questions and wish you the best as you take measures to rejuvenate your bleached hair.