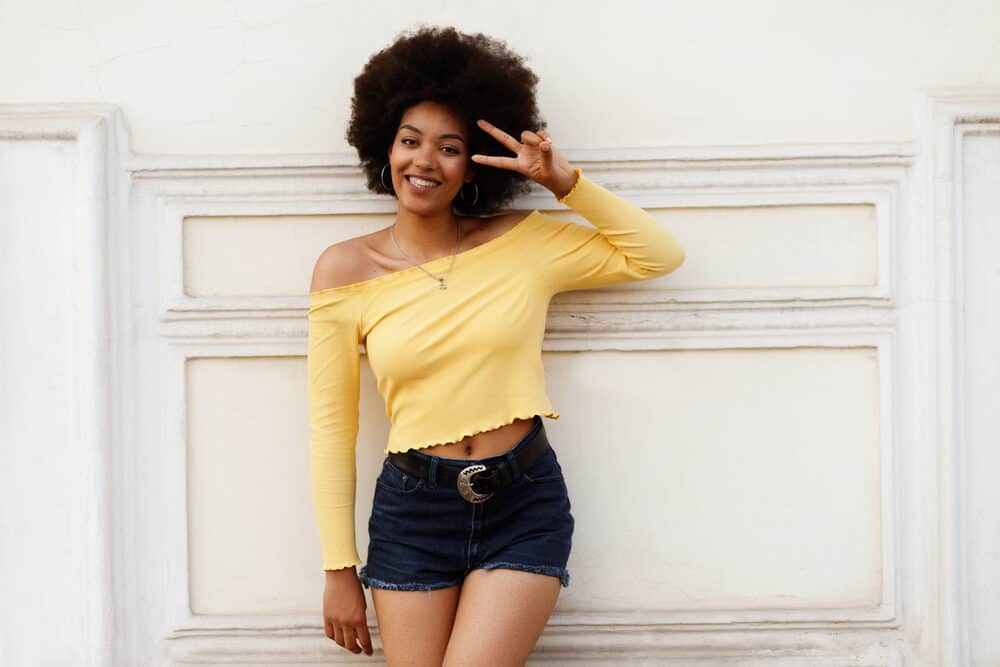 Every now and again, we get the urge to do something fun and new with our black hair, prompting us to reach for the bleach. Unfortunately, curls, coils, and kinks are naturally dry and prone to damage even when bleach isn't part of the picture.
So, if you plan to bleach your hair, you need to first get some in-depth guidance so you can avoid chemical damage and breakage.
After you read this article, you'll feel confident throughout the bleaching process, as you'll have the information and tools you need to achieve your desired result.
Bleaching Black Hair vs. Dyeing Black Hair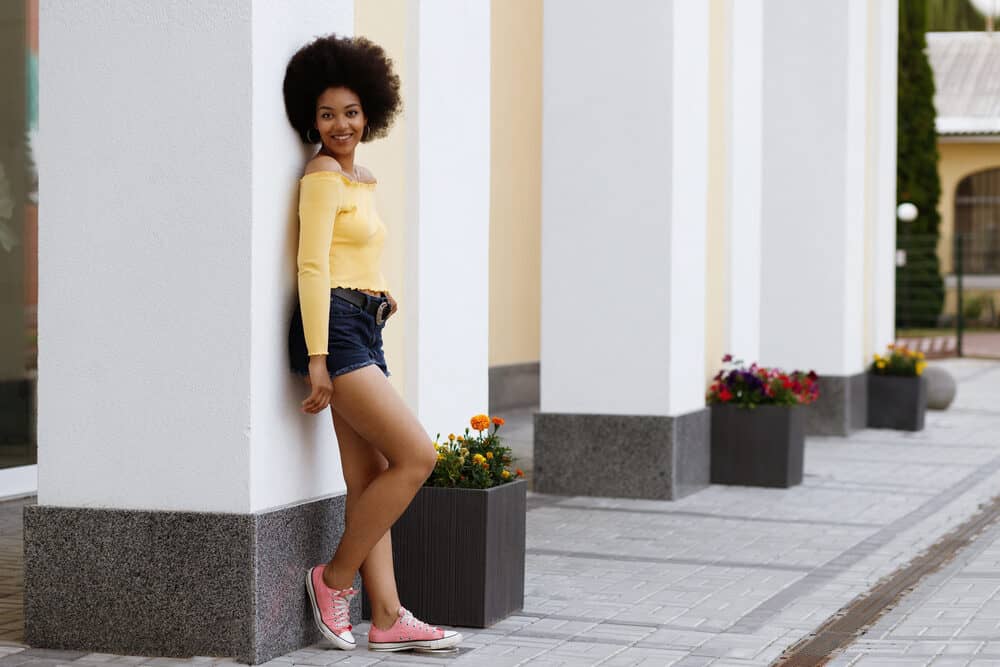 You've stumbled upon this article for one of two reasons: either you (1) have naturally dark hair, and you want to lighten it up, or (2) you want to lighten dark hair that's been previously dyed black.
Since the latter scenario involves pre-colored hair, we will give you separate instructions for how to bleach your hair in both scenarios.
Before Bleaching Dark Hair
First, we'll fill you in on some steps you need to take before bleaching naturally dark hair. Read the following sections carefully so you can avoid hair catastrophes and get your desired color result.
Determine the Health of Your Hair
There are cases when you shouldn't let bleach come anywhere near your hair. So, before you apply any chemicals to your strands, look at your hair and determine if it's in the right condition for a bleaching session.
Here are some things to look out for:
Split ends – If your hair has visible split ends, that's a sure sign of damage. In this case, it'd be wise to put off your bleaching session until after you've gotten the bad ends trimmed and you've given your hair some TLC. We recommend using a deep conditioning treatment and wearing protective styles for a while to mitigate breakage.
Breakage – Hair that's already breaking off will only get worse after you apply bleach to it. If you're experiencing breakage, we recommend that you figure out the source and revisit the idea of bleaching after your hair is in a healthier state. We recommend using a deep conditioning mask designed to reduce breakage and avoiding harsh chemicals and heat styling tools.
Extreme Dryness – Hair that seems to be perpetually dry will not do well after chemical processing. Think about your hair regimen and determine whether your hair feels dry on a regular basis. If it does, it's not the end of the world – curly hair is predisposed to dryness. But if the dryness is severe, we advise against bleaching it.
The above issues can all be corrected with natural remedies and hair regimen changes. But if you need professional guidance, seek out a hairstylist in your area who has experience working with naturally curly hair.
Curly hair reacts differently than straight hair, and a professional will be able to pinpoint how best to treat your curls. If you've determined that your hair is healthy enough for you to proceed with the bleaching process, continue to the next step!
Gather Your Supplies
Before you get started, make sure that you have the right supplies. Check out the list below.
Alligator Clips
Toner (optional)
Petroleum Jelly
How to Choose a Bleach for Your Hair
The bleach that you choose matters, as they are not all created equal. You need a professional bleach that's formulated to effectively lift the dark pigments from your hair.
Compared to other bleaches, Clairol Professionals BW2 Lightener is on the stronger end of the spectrum. It's known to be the best bleach for dark hair. It can lift your hair several levels in one session, reducing the number of times you'll need to bleach it.
Still, using a strong bleach on your hair can be extremely damaging to it, making it so important to prep your hair before bleaching it and care for your hair properly after processing.
Read this article to learn how to care for bleached hair after color processing.
How to Choose a Developer for Your Hair
You have several choices when it comes to developer: 10, 20, 30, or 40 volume. The lower the number, the lower the strength, and the slower your hair color will change.
As a general rule of thumb, a 20 volume developer will be sufficient for most natural hair. But if you know a little about bleaching hair and you feel confident, you can use a 30 volume developer.
If you're going really light, you may be tempted to go for a 40 volume developer, but we advise against using this level of a developer at home.
Some professional hair colorists won't use 40 volume developers with bleach. 40 volume developer and bleach are known to be a potentially dangerous chemical combination that can leave you with snapped off strands and a damaged scalp.
Prepare Your Hair for Processing
Perhaps the best way to preserve your hair's health before bleaching it is to do some prep. In this section, we'll tell you all you need to know about prepping your hair for the bleaching process.
Step Up Your Moisture Routine
In the weeks leading up to your bleaching session, step up your moisture routine. Life gets busy sometimes, causing us to slack off when it comes to keeping our hair moisturized.
But, before you bleach your hair, you should be careful to give your hair all the moisture it needs and a little bit extra.
If you haven't been deep conditioning your hair regularly, start doing a weekly deep conditioning session. It will nourish and hydrate your hair before the bleaching process occurs.
In addition, before you style your hair in the weeks prior to bleaching, layer up the moisture with oils, creams, and a leave-in conditioner. This will help to keep your hair moisturized in between wash days and deep conditioning sessions.
When you take the time to keep your hair moisturized, it'll be in much better shape when you're ready to bleach it.
Pro tip: Be careful not to over-moisturize your hair. If your hair is already well-moisturized, there is no need to step up your moisturizing routine. If you pile on the moisture unnecessarily, you could get moisture overload.
Shampoo Your Hair
A couple of days before bleaching, shampoo your hair to get rid of any buildup and debris. It's imperative to wash your hair approximately 2 to 3 days in advance so that your scalp's oils will have a chance to build up and make the bleaching session less painful.
If you wash your hair the night before bleaching, your scalp may feel raw and irritated during and after the chemical process.
Avoid Heat Styling
To further promote hair health, avoid heat styling for as long as you can before bleaching your hair. This will minimize your hair's level of heat damage, which can be exacerbated by bleaching powder.
How to Bleach Black Hair: Step-by-Step Instructions Lighten Dark Hair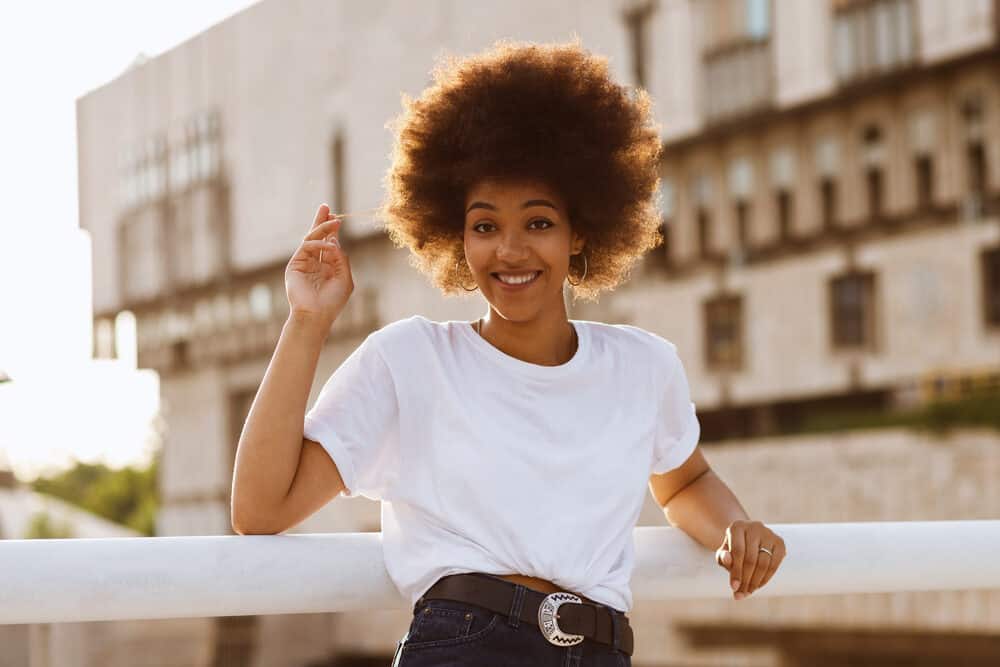 Now that you've taken all of the preparatory steps, you're ready to get to bleaching! This section will give you step-by-step instructions on how to bleach dark hair safely and effectively.
Apply petroleum jelly/Vaseline all around your hairline, nape of your neck, and ears. Doing so will protect your skin from the bleach. Make sure that you avoid getting Vaseline on your hair.
Put on an old shirt and plastic gloves.
Part your hair into several sections and twist or clip them so that they'll remain separate – 4 to 6 sections should work well. Doing this will keep you from getting overwhelmed when it's time to apply the bleach.
Mix up your bleach: Mix the bleach powder with your creme developer. The bleach packaging will indicate how much bleach powder and developer you should mix together. But a rule of thumb is to mix 1 part powder with 1 part developer until it has the consistency of pancake batter. You can add more bleach or developer to make the bleach mixture thicker or thinner based on your preferences.
Do a test: Now that your bleach mixture is ready to go, apply it to a small test strip at the bottom of your hair and start a timer. Check it every now and again to see when you get your desired level of lightness. Stop your timer when your hair is light enough. This process is sometimes referred to as a strand test or patch test.
Apply the bleach all over. Now that you know how long you need to leave the mixture in to get your desired result, it's time to start applying bleach to the rest of your hair.
Set your timer for the same amount of time you left the bleach on the test stand.
Release one of the sections and begin applying the bleach to the mid-lengths and ends of your hair (start about a half-inch away from your scalp). Ensure that the hair is completely coated.
Apply the bleach to the rest of the sections, avoiding your roots. Clip sections out of the way after you've applied the bleach. If you have very short hair, don't worry about trying to use alligator clips.
Go back and apply the bleach to your roots using your tinting brush.
Take a minute to see if you've missed any spots.
Leave the bleach in your hair until your timer goes off.
Rinse and Shampoo
Once the bleach is done processing, take the following steps:
Rinse the bleach out of your hair with cool to lukewarm water.
Shampoo your hair immediately with a neutralizing shampoo. If you're not sure whether you got all of the bleach out with the first shampoo, shampoo it a second time.
Examine Your Hair
After rinsing the bleach out, your hair might look any shade of yellow or orange. If that's the case, use a purple shampoo or toner to cancel out those yellow or orange tones.
Toner will need to be mixed with the developer to work (follow the directions on the packaging). Purple shampoo can be applied without a developer and may give you the results you want.
Bleaching Hair Again if Necessary
Depending on the color result you're looking to achieve, you may need to bleach your hair again. For red and light brown color changes, your hair doesn't need to be extremely light. But if you're going blonde, gray, or pastel, one bleaching session may not be enough.
If you need to bleach again, you should wait at least a day. This will allow your hair some time to recover from your first bleaching session.
If you can wait longer than a day, that's even better. Some may bleach their hair three times or more to achieve the perfect shade, but it's not recommended to overprocess your hair.
Check the condition of your hair between bleaching sessions to reduce the risk of frying your hair to oblivion. Let your hair rest between sessions to mitigate damage.
Rehydrate Your Hair After Bleaching
Bleaching strips your hair of moisture, protein, and other nutrients it needs to thrive. So, after bleaching it, it's essential to replenish the moisture with a super hydrating hair mask. In situations where your hair is severely compromised, you may also need a protein treatment. Follow the directions on the packaging to reap the benefits of these treatments.
Bleaching Dyed Black Hair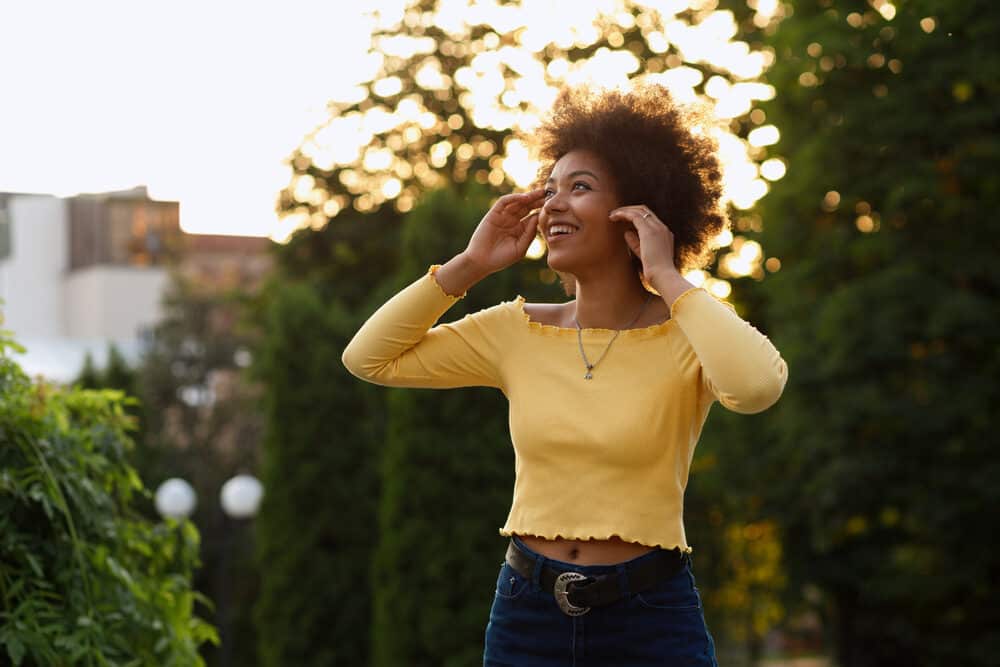 When bleaching hair that's been dyed black, you will follow the same steps that are outlined above, but there's one additional step you should take. You need to remove the black dye before you start the bleaching process.
How to Remove Black Dye From Hair
Black dye can be extremely difficult to remove from the hair, but it can be done with the right method and hair products. Let's look at a few of them below:
Hair dye remover – This is one of the quickest and easiest ways to remove black dye from your hair. Most hair dye removers are formulated to lift the dye molecules from your hair without seriously damaging it – some are surprisingly gentle. Color Oops and One N' Only Color Fix are two of the best color remover brands.
Clarifying shampoo – If you don't like the idea of applying chemicals to your hair to remove the black dye, you can try using a clarifying shampoo. This type of shampoo can strip your hair and remove color molecules in the process. It is one of the gentler hair dye removal methods, but you may have to wash your hair many times to get as much dye out as possible.
Bleach wash – A bleach wash is a mixture of shampoo and bleach. To make a bleach bath, you'll need to mix the bleach powder with a 20 volume developer in a mixing bowl and then add a balancing shampoo. The amount of shampoo you add should be equal to the amount of developer you added. Apply it to your hair, lather it up, and leave it in for 15-20 minutes.
Straight bleach application – In some cases, none of the above methods will get rid of the black dye in your hair. In that case, you can use bleach to fade the black dye. This is generally not recommended as a first step – it should only be used as a last resort.
Once you've removed the majority of the black hair dye, you're ready to proceed with the bleaching process (as outlined above). If you still don't feel comfortable bleaching your hair at home, we recommend that you consult a professional who has experience bleaching curly hair.
Conclusion: How to Bleach Dark Hair at Home
In this article, we've outlined the steps to take when bleaching really dark hair. However, it is important for you to keep in mind that there are some risks involved with using hair bleach.
Everyone's hair is different, so you should do your research before proceeding and make sure you have all of the necessary supplies so as not to damage or weaken your hair cuticles any further than they may already be damaged.
If you follow the instructions carefully and avoid heat styling after processing, then the chances are good that your lighter hair color will look great!
However, if you find yourself needing more help along the way or struggling with a different color process altogether, we recommend hiring a professional colorist or hairstylist to change your natural color.
If you're hoping to achieve dark brown hair, this is certainly doable at home. However, if you want a platinum blonde or white hair color, it's best to hire a professional.
Now you have all of the information and guidance you need to bleach hair at home. We hope that your bleaching experience gives you a color result you'll love!