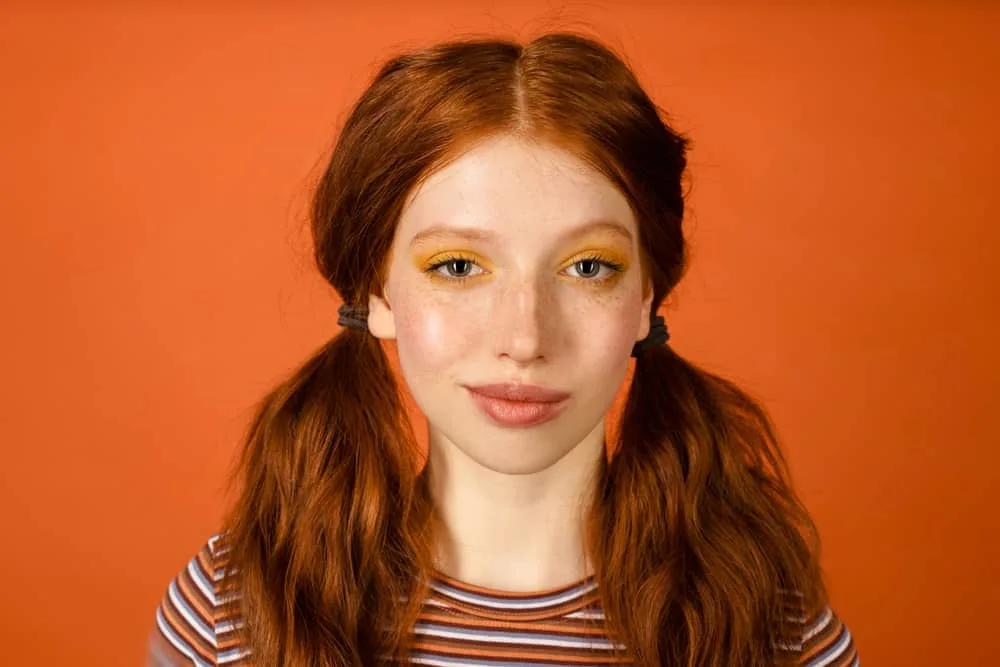 At-home hair color escapades are full of surprises, and more often than not, the results don't match your expectations.
Whether your hair dyeing session left you with brassy orange streaks or you're just looking for a change, we've got you covered. In this article, we will teach you how to fix orange hair with box dye.
You'll learn everything you need to update your tangerine tresses within minutes.
What Color Cancels Out Orange Hair?
Hair dye works according to the principle of color theory, where opposite colors cancel each other out. According to color theory, here's the shade of dye you should use to cancel out orange.
For orange locks, use a dye with true blue pigments (or blue shampoo).
If your hair has more of a yellowish-orange tint (or yellow tones), use a dye with purple tones (or purple shampoo).
If your hair is reddish-orange, color correct with a blue-green dye.
Whenever you want to cancel out the orange in your hair, you should choose a dye with a blue base. And don't worry about ending up with bright blue locks!
Per dye theory, shades with a blue base are referred to as ashy or cool. They contain just enough blue pigment to tone down brassiness.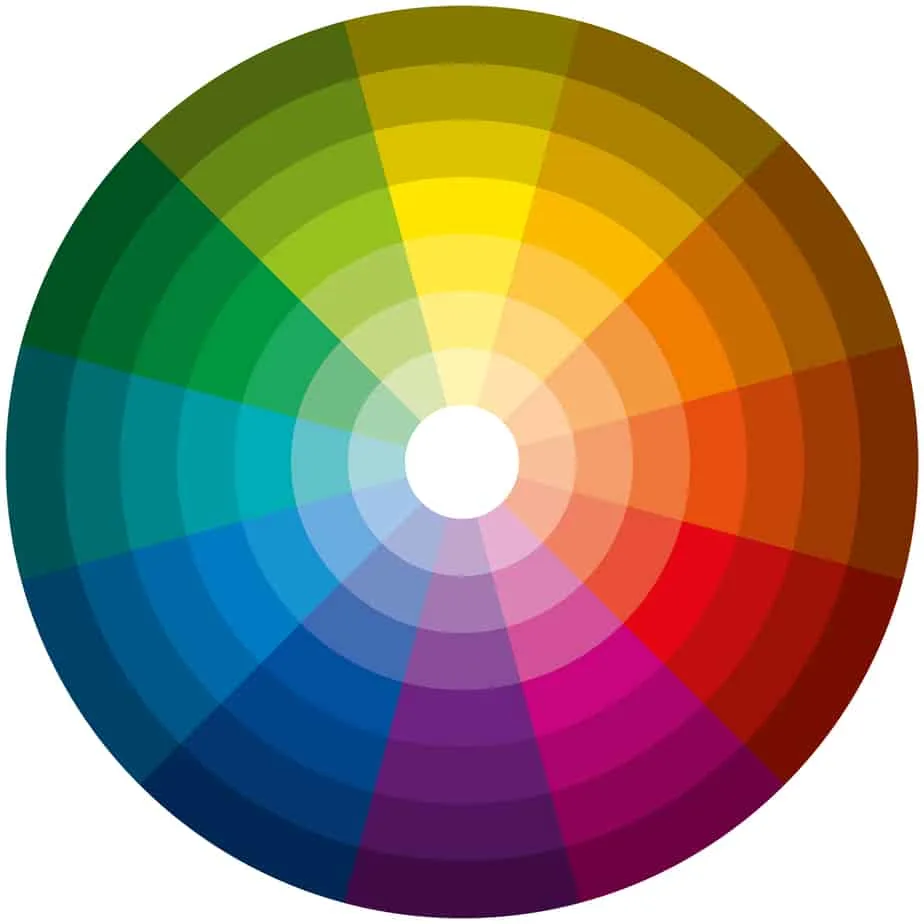 What You Need To Know Before Fixing Orange Hair With Box Dye
Depending on which shade of dye you choose, you can lighten, darken or maintain your color level. When it comes to fixing orange hair, choosing the right hair dye color is a critical step.
Use the numbers on your box of dye to figure out the overtones of the color. Ashy shades are identified by the number 1.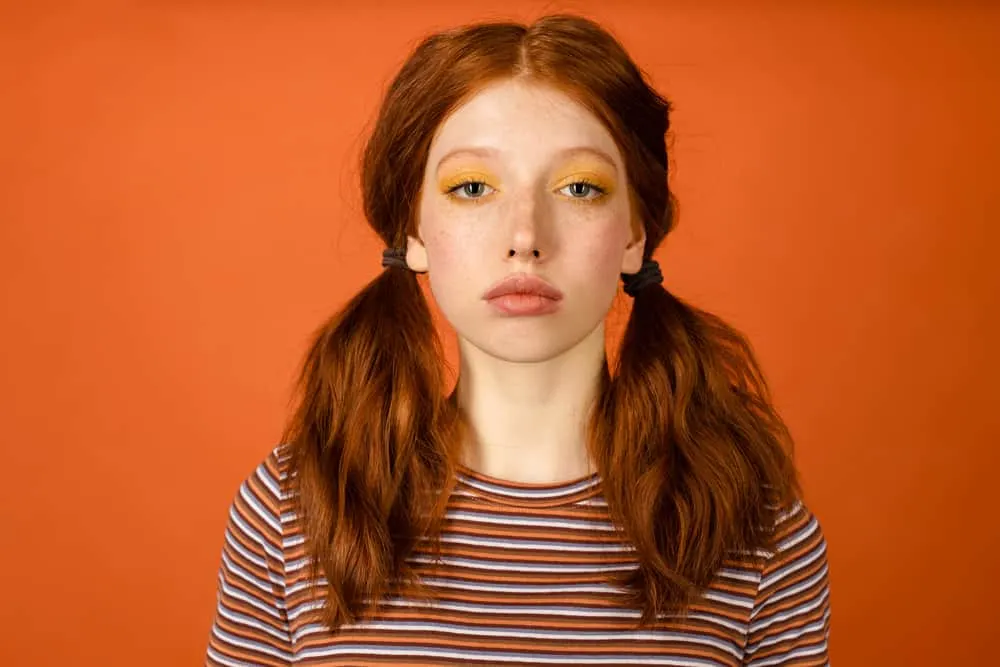 Which Colors of Dye Will Fix Orange Hair?
You might be surprised to find out how many different options you have for coloring orange hair! Here are some of the best choices available for this purpose.
Red
An orange base can help your red dye appear more vibrant and fiery. If you want to move away from your orange undertones, choose a red with a blue or purple base. The purple and blues will cancel out the orange and give the red a neutral tone.
Black
Black dye is dark enough to cover nearly any color. Just be careful! Black dye is notoriously hard to remove, so if you plan on going lighter in the near future, you'll need some heavy-duty lightening treatments.
These can cause significant damage to your hair, so avoid black dye if you don't plan on keeping it for a while.
Brown
Any shade of brown that is at the same level or darker than your current color will cover the orange in your locks. If you want to fully neutralize the orange tones, choose a shade of brown that's labeled as ashy or cool.
Blue
As we mentioned before, blue cancels out orange. Applying a blue dye to your hair will neutralize the orange pigments and potentially leave you with a natural-looking brown.
Just pick your shade of blue carefully. If you choose the wrong hue, your color may look muddy or bluer than you intended. Putting a heavily pigmented blue dye over subtly orange hair will likely result in super blue hair.
Blonde
Putting ash or cool blonde dye on orange strands can give you a cool, light brown result. If you want to cancel out the orange in your hair without darkening it drastically, an ashy blonde is your best bet.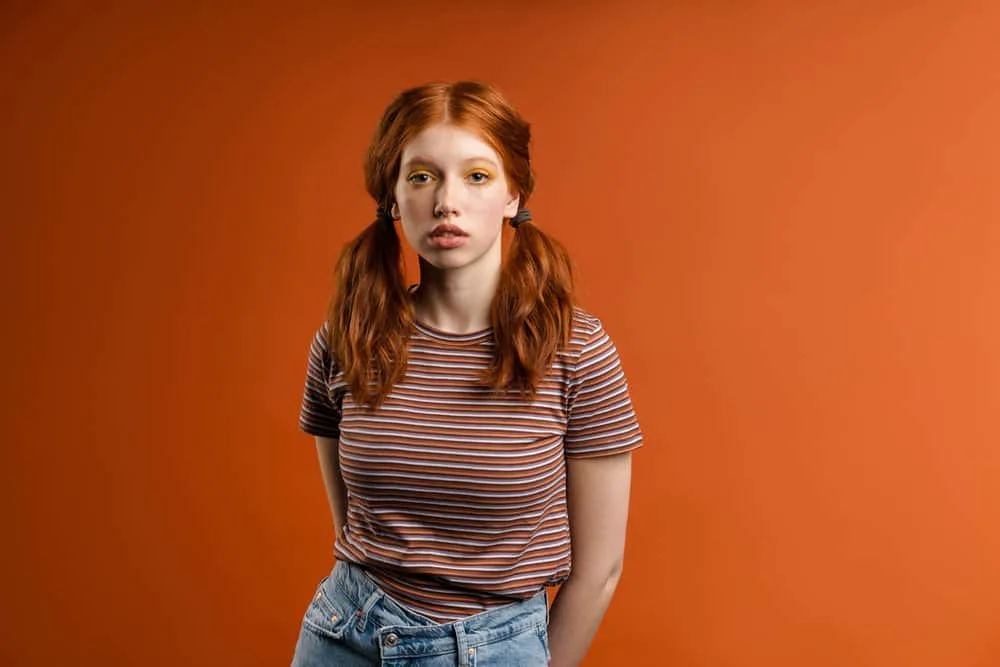 How To Fix Orange Hair With Hair Dye: Step by Step
Now that you know which shade to select, it's time to learn how to fix orange hair with hair dye. You'll be a hair coloring pro by the end of this section.
How To Fix Orange Hair With Permanent Box Dye
Permanent box hair dyes are ideal for fully covering unwanted orange hues. They include cuticle lifting ingredients that can penetrate your strands and deposit their color inside.
This means long-lasting color in just a few steps. Here's how to use it!
Gather Your Materials
Depending on the specific box dye you purchase, any number of the above materials may already be included. Read the box to ensure you're not making any double-purchases.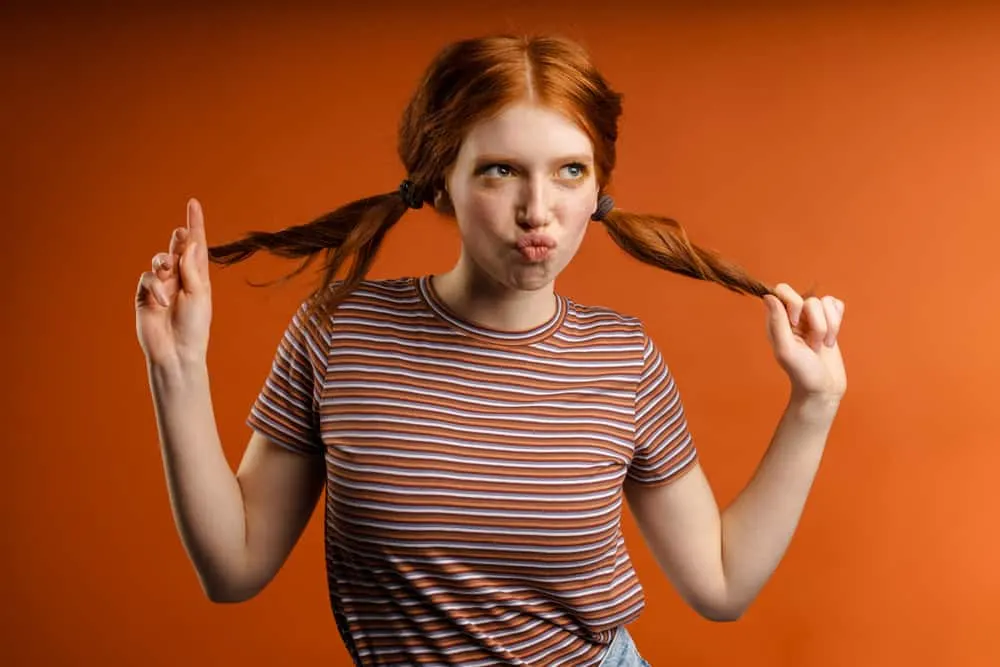 Follow These Steps for Permanent Box Hair Dye
Choose your preferred shade of permanent box dye.
Put on a pair of gloves and an old T-shirt you don't mind getting stained.
Spread a thin layer of petroleum jelly to the tops of your ears and around your hairline.
Combine the hair dye and developer according to the instructions on the box dye packaging. They'll tell you to mix the two in a 1:1 or 1:2 ratio.
Mix well by shaking the bottle of combined ingredients.
Separate your hair into four or more sections, and secure each with a hair clip.
Begin applying the dye to your hair. Work in small sections and start by applying the dye an inch down from your roots.
Once you're halfway finished with the application, go back and apply dye to your roots.
Put on a shower or processing cap and wait for 30-45 minutes.
Rinse your hair thoroughly with cool water.
Apply a color-safe conditioner to your hair, and let it sit for at least 5 minutes.
Rinse out the conditioner.
Air or blow-dry your hair to see your final color result!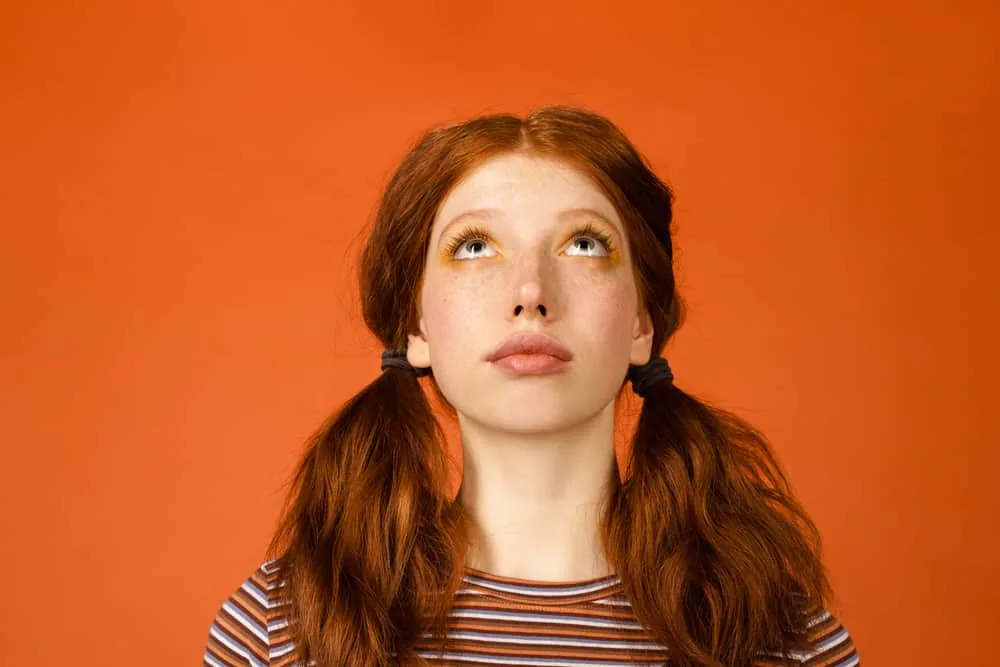 How To Fix Orange Hair With Demi-Permanent Box Dye
Demi-permanent box dyes are more gentle on your strands than permanent dyes. Unlike the 20 Vol developer used with permanent dyes, demi-permanent dyes use a 6 Vol developer. Using a weaker developer will save your strands while ensuring an even, bleed-resistant result.
Grab Your Supplies
Gloves
Hair clips
Petroleum jelly
Processing cap
Application brush
Nonmetal mixing bowl
6 Vol developer
Your box dye may include any of the above supplies. Check the box to see what's included and then purchase the rest separately.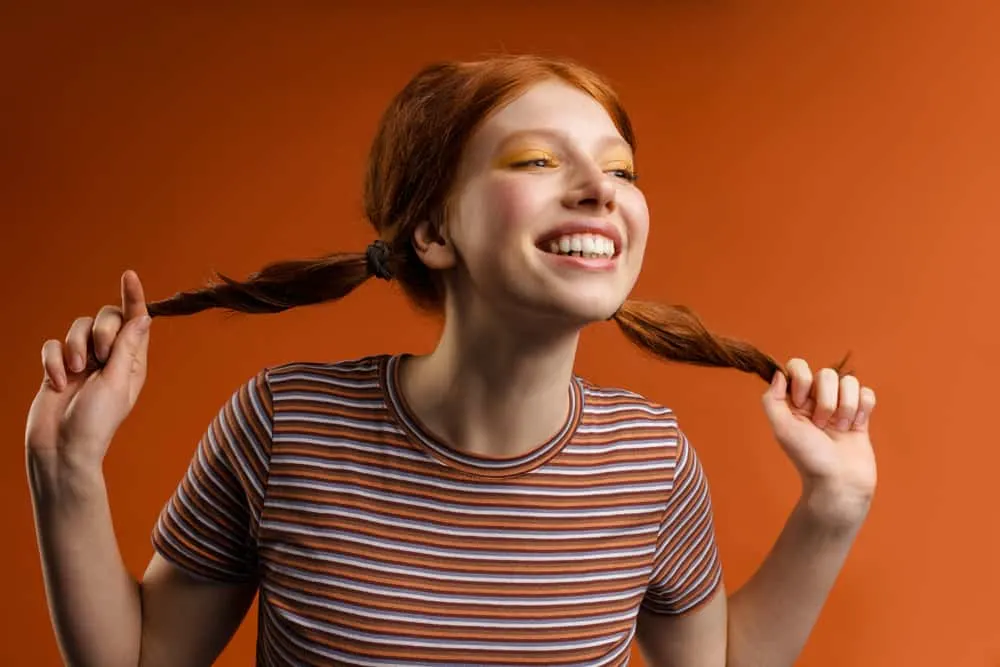 Follow These Steps for Demi-Permanent Box Dye
Choose a demi-permanent hair dye in your desired shade.
Put a thin layer of petroleum jelly around your hairline and the tips of your ears.
Put on your gloves and old clothes in case any dye splatters.
Mix up your dye according to the packaging instructions. You'll likely be instructed to add the hair dye liquid to the developer bottle.
Mix the two together by shaking up the bottle.
Divide your hair into four or more sections and secure them.
Working from root to tip, apply the dye to your hair. Work in small sections, and make sure each section is fully saturated.
Gently massage the color into your strands.
Cover your hair with a processing cap and wait for 10-40 minutes, depending on how vibrant you want your color to be. The longer you leave it on, the deeper your color will be. Avoid leaving it on for any longer, as the developer may slightly damage your strands.
Remove the cap, and wash the dye out of your hair with a color-safe shampoo.
Rinse your hair with cool water until it runs clear.
Apply a color-safe conditioner, and let it sit for at least 5 minutes.
Rinse again with cool water.
Dry your hair and style as normal to see your final color.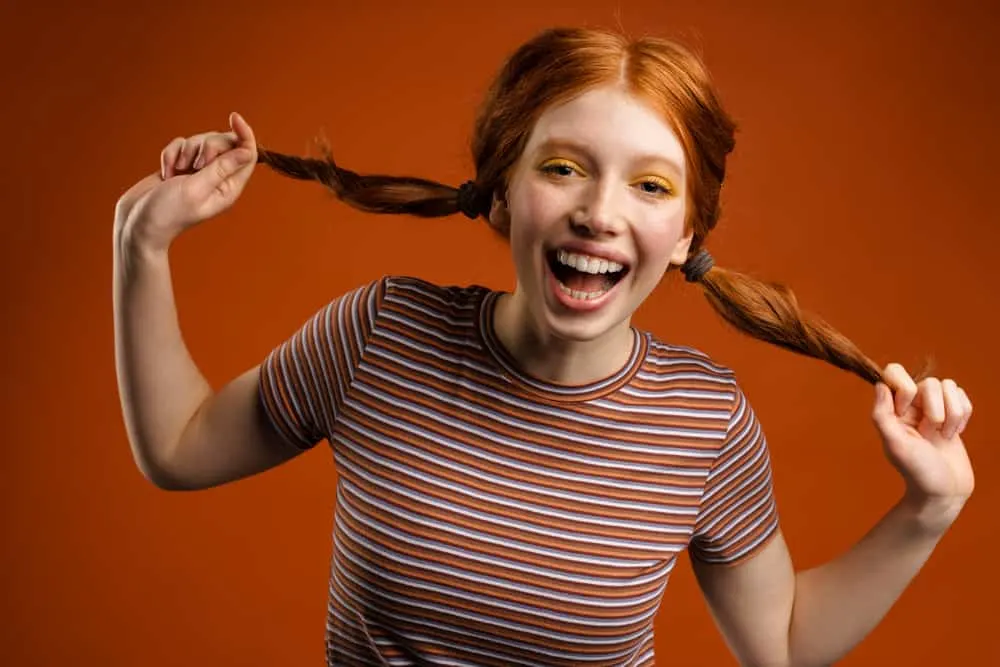 How To Fix Orange Hair With Semi-Permanent Box Dye
Semi-permanent dyes are extremely gentle on your hair and act more like a conditioner than a chemical processing treatment. They are also easy to use! Just follow the guidelines below.
Gather Your Supplies
Gloves
Processing cap
Petroleum jelly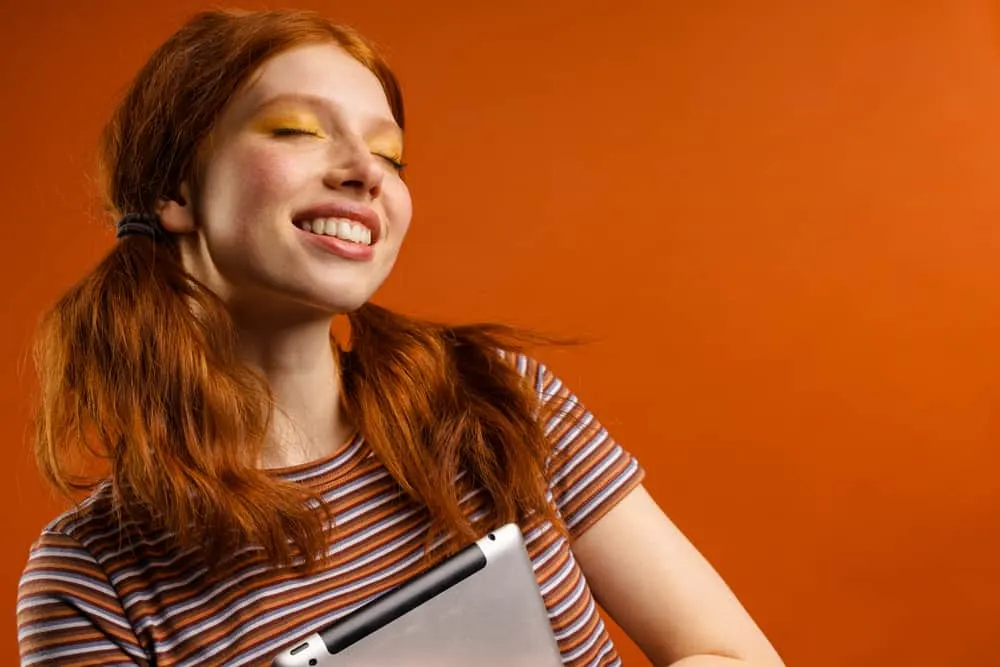 Follow These Steps for Semi-Permanent Box Dye
Unbox your semi-permanent dye components and put on your gloves.
Tuck an old towel into the neck of your shirt, or wear old clothes you don't mind getting dye on.
Apply a thin layer of petroleum jelly around the perimeter of your hairline.
Begin the dye application. Work in small sections, and apply the dye liberally to any hair you want to be colored.
Once your hair is fully saturated, massage the dye in to make sure the color is evenly spread.
Cover your head with a shower cap or processing cap.
Let the dye sit for at least 15-30 minutes. The longer you leave the dye on, the stronger your color will be. If you only want to neutralize the orange, leave it on for just 15 minutes.
Rinse your hair with cool water until the water runs clear.
Dry your hair and style like normal.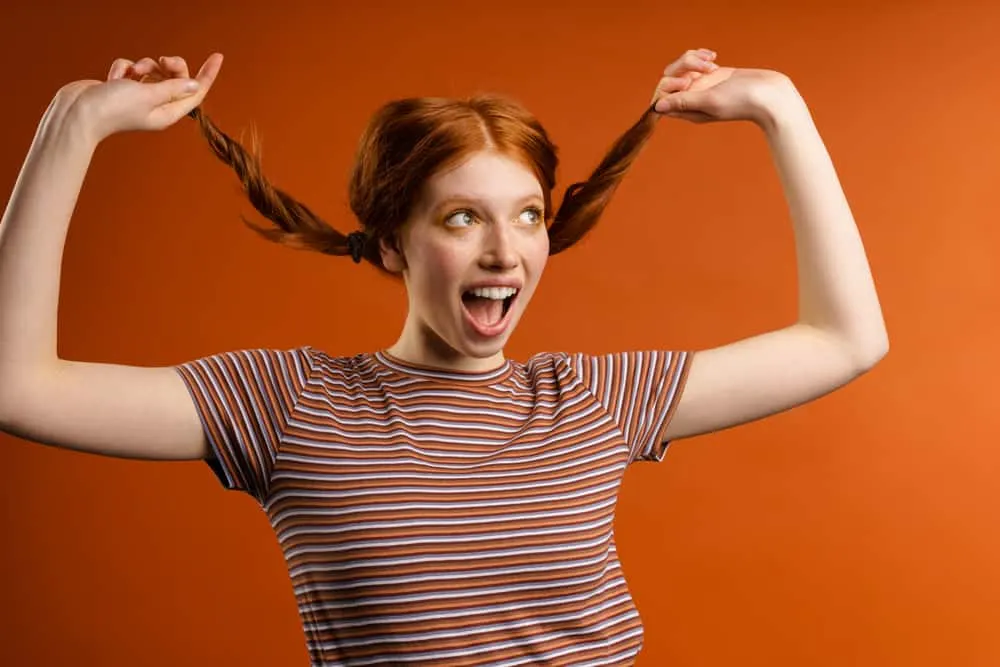 Pros and Cons of Fixing Orange Hair With Box Dye
In the interest of full disclosure, we'd like to provide you with some of the pros and cons of fixing orange hair with box dye:
Pros
Dramatic color change – Box dye is an effective way to cover unwanted orange hues and switch up your color. They can provide dramatic color payoff in just a matter of minutes!
You have plenty of color options – There are hundreds, if not thousands, of different shades of hair dye available. Furthermore, many colors can be mixed with other colors from the same line. When it comes to dyeing your hair at home, the color possibilities are endless!
You can do it yourself – A dye kit will provide you with everything you need to get rid of orange hair. They'll provide you with detailed instructions to walk you through every step of the process, so everything goes as smoothly as possible.
Long-lasting color – Box dyes give you the longest-lasting color you can get outside of the salon. Permanent dyes can give you several months of vibrant color compared to weeks with a demi or semi-permanent dye.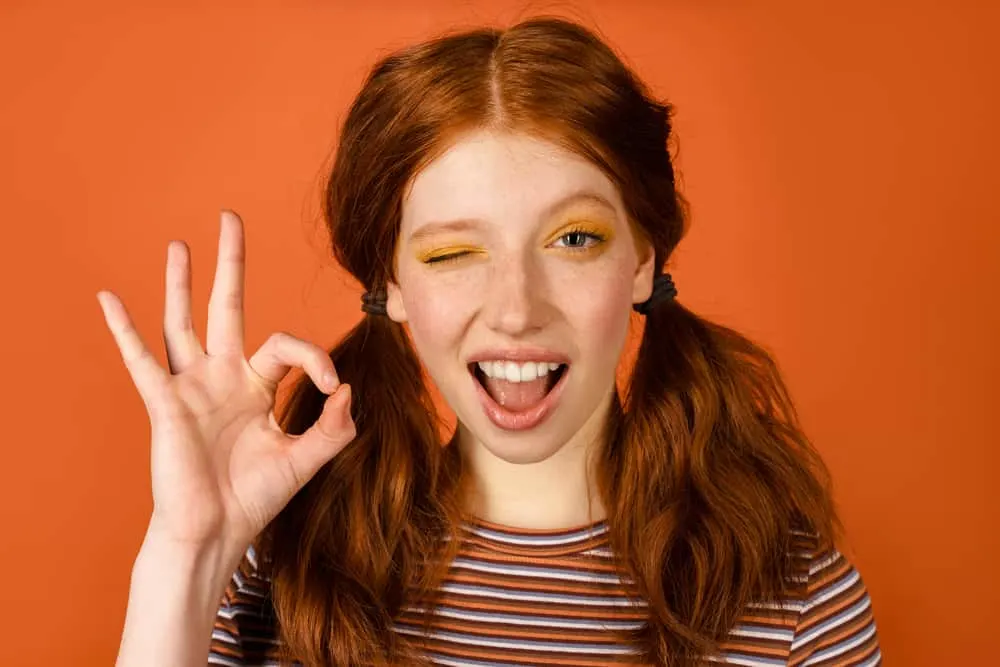 Cons
The dye can damage your hair – Depending on which dye you use, you may end up damaging your hair. Permanent dyes use harsh ingredients like peroxide and ammonia, which increase dryness and breakage. This is a concern, especially for curly hair (which tends to be prone to dryness). In that case, opt for gentle semi and demi-permanent dyes instead.
Inconsistent results – Box dye is known for its inconsistent color results. Your color might not come out in the desired shade, and sometimes it won't take at all. Additionally, some dyes are ineffective on hair that's been previously colored.
Box dye can get messy – Hair dye can stain your skin and any surfaces they come in contact with. While most of them can be removed from surfaces with a little elbow grease, you might be left with some permanent stains.
Box dye won't drastically lighten your hair – If you want to dramatically lighten your hair, you'll have to use bleach instead of box dye. Semi and demi-permanent dyes can only deposit color – not lift it. While permanent dyes can lift your hair up to 4 levels, going above that isn't recommended.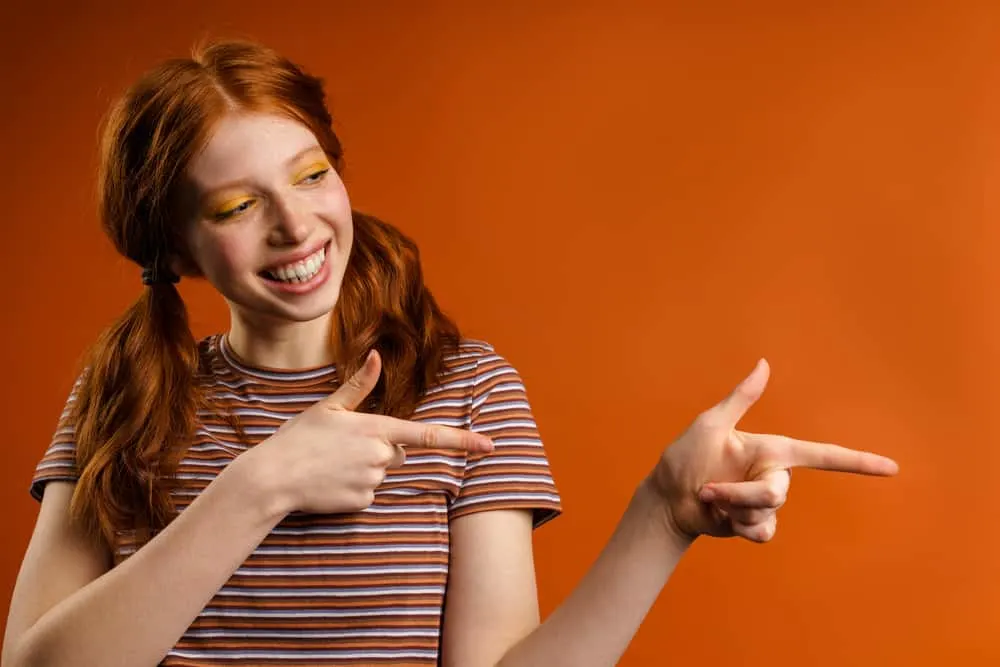 Do's and Don'ts of Fixing Orange Hair With Box Dye
When using box dye to fix orange locks, you should keep a few things in mind. Here are some dos and don'ts to keep in mind throughout the dyeing process.
Dos
Do follow the box dye instructions to the T.
Do choose an ashy or blue-based shade of dye to cancel out the orange in your locks.
Do buy two or more boxes of dye if your hair is longer than shoulder length.
Do go to a salon for professional color if you're able to.
Don'ts
Don't use dyes that are labeled as warm. They will only highlight the orange in your hair.
Don't choose your color based solely on the picture on the box of dye.
Don't mix permanent, semi-permanent, and demi-permanent dyes.
Don't use permanent dye on extremely damaged hair.
Don't mix and match different brands of hair dye.
Don't use hot water to rinse your hair.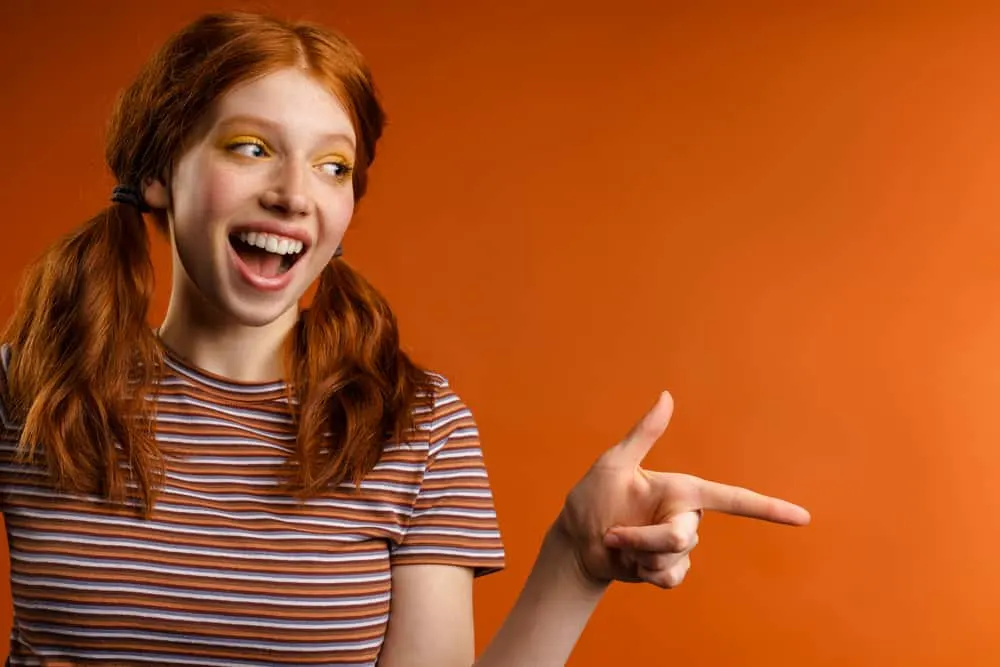 How To Care For Your Hair Post Color
By using the proper techniques, you can extend the life and vibrancy of your color. Here are some of the best tips for caring for your post-color hair.
Don't Overwash Your Hair
While washing your hair regularly keeps it healthy, you should avoid washing it more than necessary. Overwashing can cause your hair color to fade much faster than it would have otherwise.
You should also avoid washing your hair for the first 72 hours after coloring it.
Instead of applying shampoo to the lengths of your hair, just focus on your roots. As you rinse out the shampoo, it'll travel down and clean your mid-lengths and ends.
If your hair ever needs to be refreshed, you can use a dry shampoo to absorb excess oils, dirt, and bad odors in between washes.
Avoid Heat Styling
High heat from a flat iron or blow-dryer causes damage that increases your hair's porosity. High porosity strands have lifted cuticles that have difficulty holding onto dye molecules.
If you want to avoid damage, always use a heat protectant before using any hot tools on your fragile strands. Use as low a heat setting as possible to protect your strands from unnecessary damage.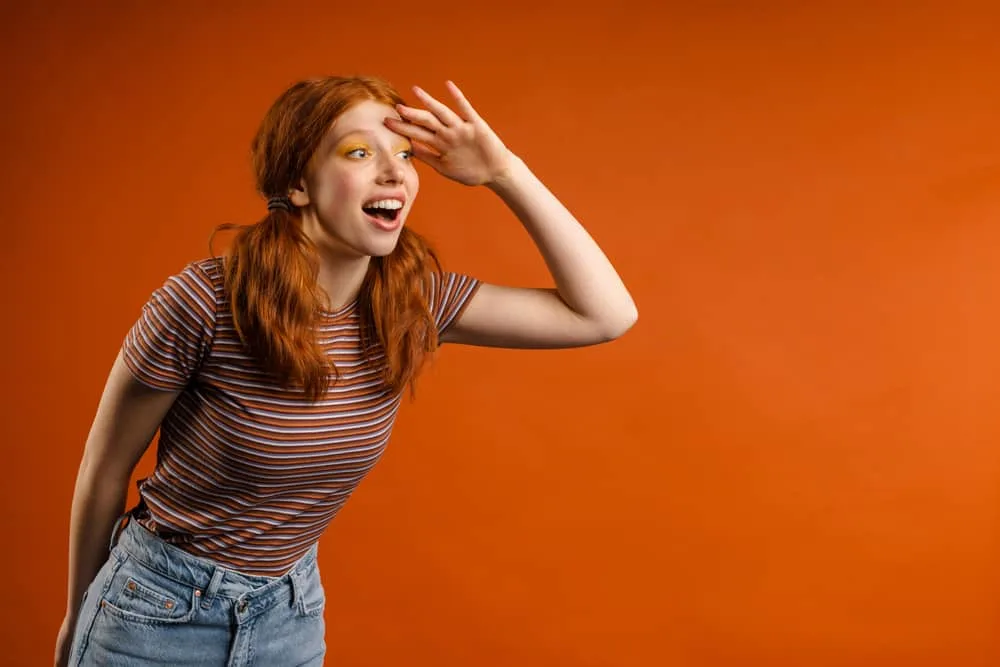 Use Deep Conditioning Treatments
Chemically processed hair is more prone to dryness due to its higher porosity. Therefore, it is unable to hold onto color as well as healthy hair. Use regular deep conditioning treatments to keep your strands healthy and your color in place.
Use Color-Safe Hair Products
You should use hair products designed for color-treated hair whenever possible. Shampoos with harsh cleaning agents strip the dye from your locks and cause significant fading.
Color-safe formulas leave out harsh ingredients like alcohols and sulfates. Instead, they contain gentle cleansers that get rid of oils and dirt instead of color.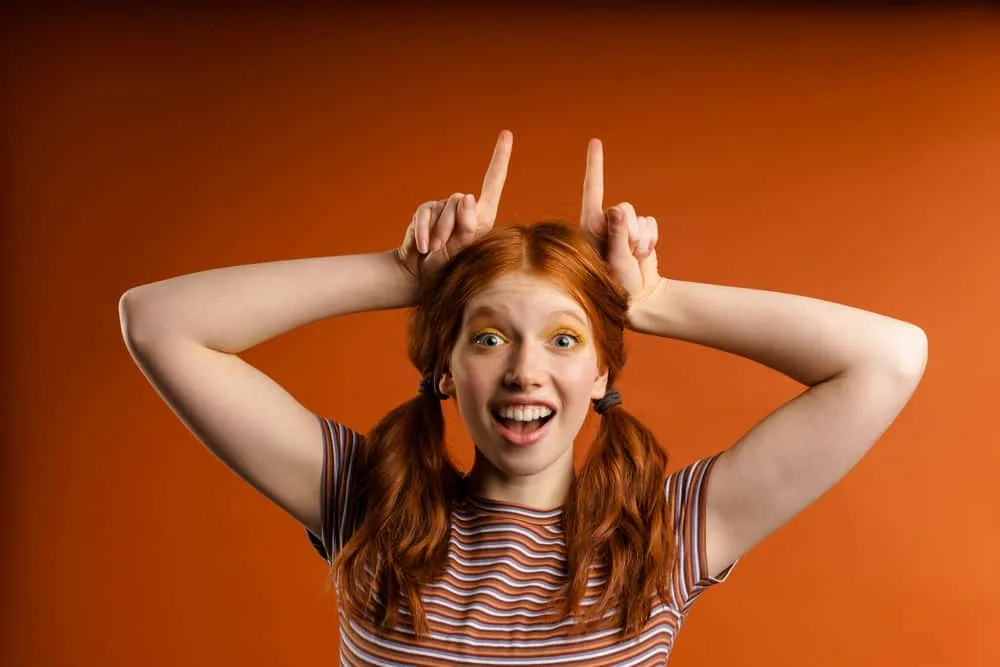 Best Box Dyes for Fixing Orange Hair
Now that you know what to expect when fixing orange hair, let's get into what you should use. Below you'll read about some of the best box dye shades for neutralizing any unwanted oranges.
Naturtint 10A Light Ash Blonde
Naturtint is a vegan, cruelty-free line committed to providing a clean alternative to commercial hair dyes. This plant-based permanent dye doesn't contain harmful ingredients like petroleum derivatives, silicones, artificial fragrances, and heavy metals.
Instead, it's enriched with plant extracts and seed oils to nourish and hydrate your locks. The kit even comes with a unique quinoa hair mask that helps repair your strands right after coloring.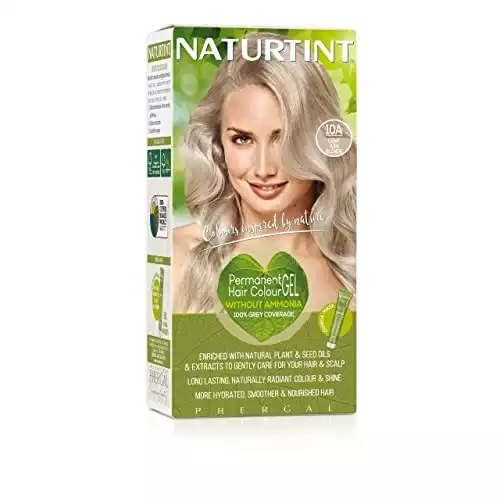 Revlon Colorsilk Natural Blue Black
This easy-to-use dye kit comes with everything you'll need to get flawless color. Its non-drip 3-D Color Gel Technology gives you rich, natural-looking color that lasts.
Strengthening keratin and silk amino acids rebuild and repair your strands from the inside out. The ammonia-free formula is gentle on your hair and provides 100% gray coverage.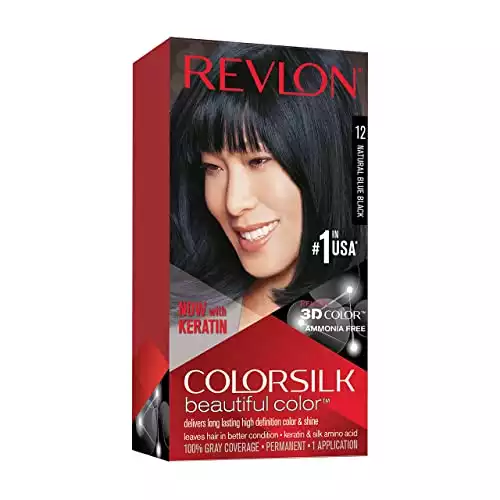 Clairol Natural Instincts 6A Light Cool Brown
This demi-permanent dye is perfect for any hair type due to its gentle, plant-powered formula. It is full of nourishing ingredients like coconut and aloe.
It has a convenient non-drip formula that doesn't contain any ammonia or added parabens. The line comes in 38 natural-looking shades that gently blend away grays for an even color that lasts for up to 28 shampoos!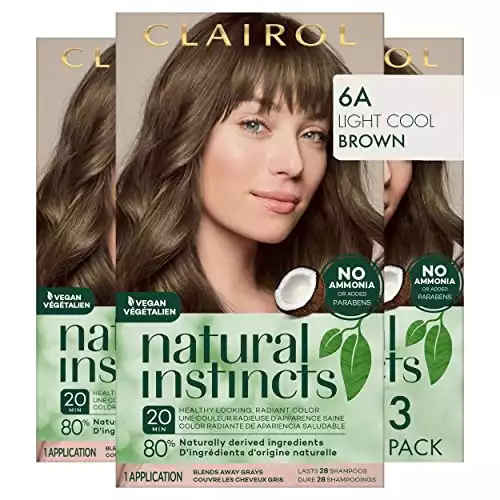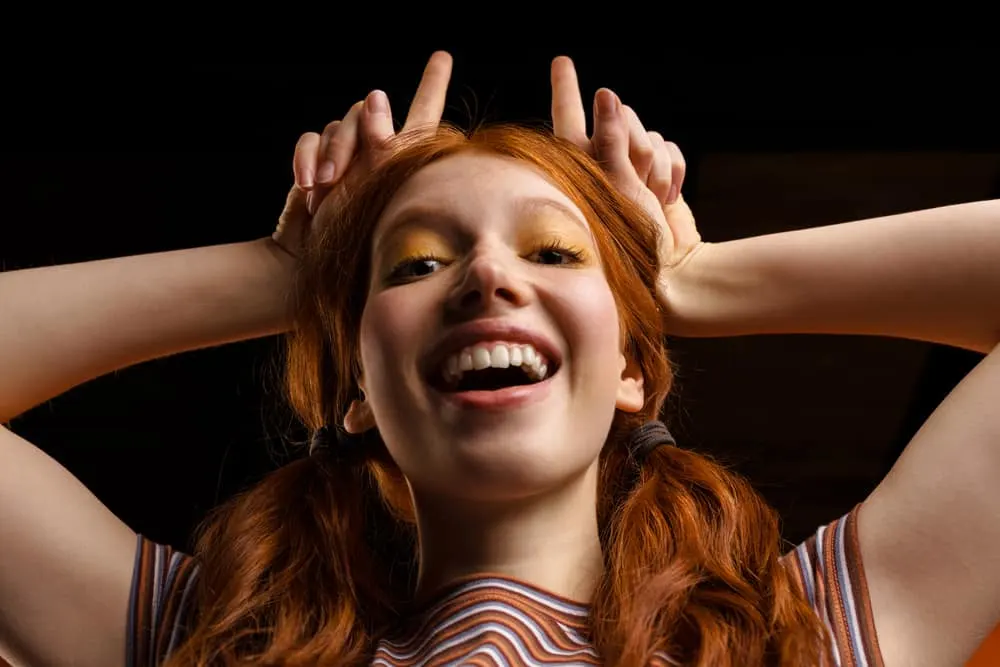 Garnier Hair Color Nutrisse 51 Medium Ash Brown
Garnier Nutrisse permanent dye delivers bold, lasting color with 100% gray coverage. This moisturizing creme dye contains nourishing ingredients like grapeseed, shea, olive, and avocado oils that help keep your strands in tip-top shape.
The convenient kit includes everything needed, including a post-color conditioning treatment and a fruit oil ampoule that you add directly to the dye mix.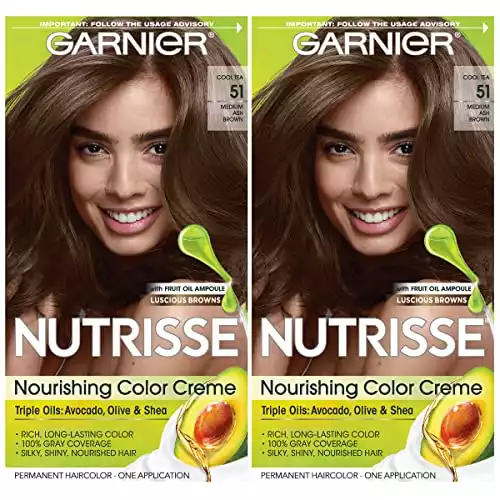 Wella Color Charm 7A Medium Ash Blonde
This ammonia-free dye gives you deep, fade-resistant color. Its rich, creamy formula is perfect for covering stubborn grays. It leaves your hair feeling silky soft, even after coloring. All of the colors in this line are mixible, so you can create custom shades with ease.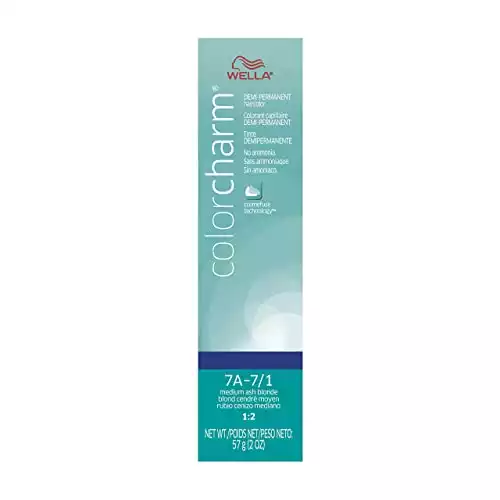 PRAVANA ChromaSilk Vivids in Blue
This richly pigmented semi-permanent hair color gives you longer-lasting color than other semi-permanent dyes. The keratin and silk amino acids in its gentle formula strengthen your locks and help drive color deep into your hair.
It can also be mixed with a conditioner to lighten its color before application. If you want to use the color as is, it's ready to apply straight out of the tube!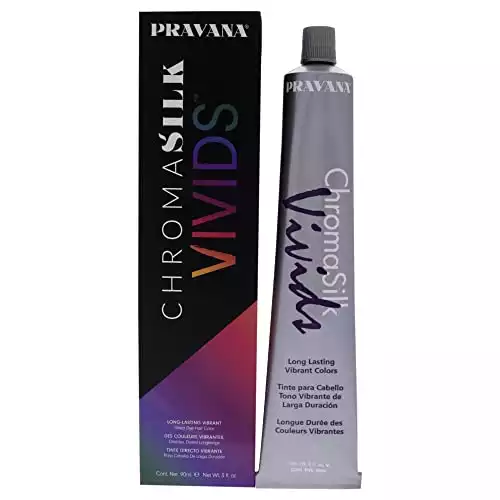 We hope this article has shown you how to remove undesired orange hues from your tresses with box dye. Just remember, color processing can be rough on your strands.
Only color your hair if it is strong enough to handle it, and be sure to follow up with plenty of TLC in the form of deep conditioning treatments and heat-free styling. Good luck!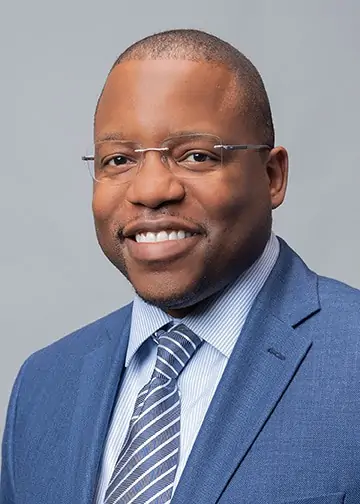 Kenneth Byrd, with a BS in Accounting and Management Information Systems and an MBA from the University of Alabama at Birmingham, has over 15 years of experience and is a recognized authority in hair care. Co-founder of Curl Centric® and Natural Hair Box, Kenneth has dedicated himself to promoting ethical and scientifically-backed hair care practices. Rigorous editorial guidelines, industry recognitions, and features in numerous media outlets evidence his expertise. Kenneth's commitment to transparency, quality, and empowerment has positioned him as a trusted voice in the field, empowering readers to confidently embrace their natural beauty.