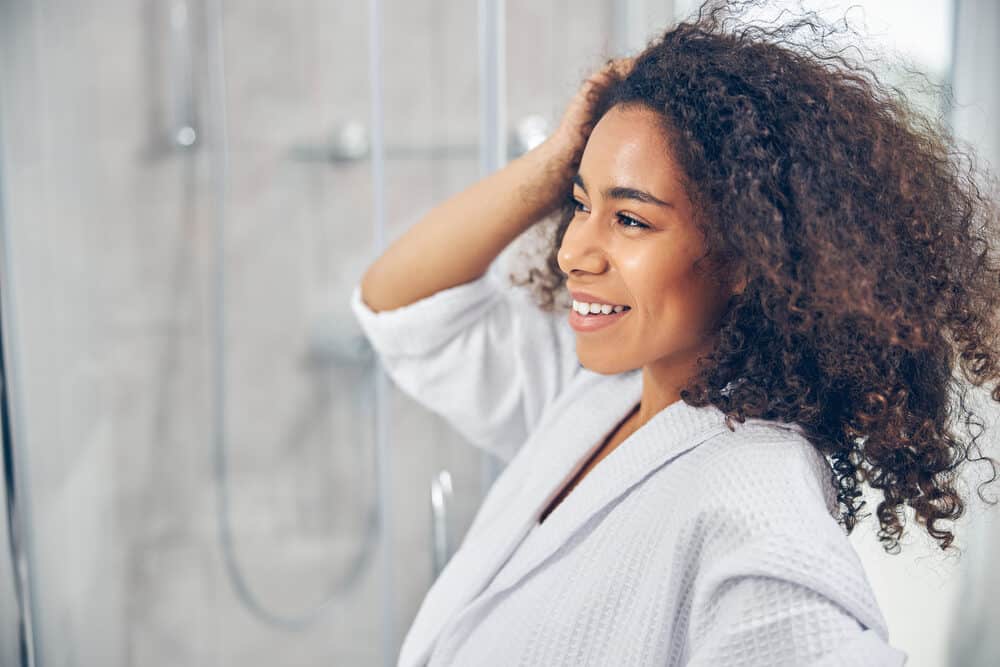 Your natural hair is like precious silk, prone to damage and in need of gentle handling. The safest way to dry your hair is to air dry, but with the right towel and technique, you can towel dry your hair without damaging it.
In this article, we'll tell you exactly how to towel-dry your hair the gentle way.
Does Drying Your Hair With a Towel Damage It?
Drying your hair with a regular towel often leads to hair damage. The roughness and dryness of a cotton or terry cloth towel can agitate your hair and lead to weakened strands that are more likely to break or fray. Instead of using a regular towel to dry your hair, we recommend air drying your hair or using a microfiber hair towel to mitigate potential hair damage.
The Wrong Way to Towel-Dry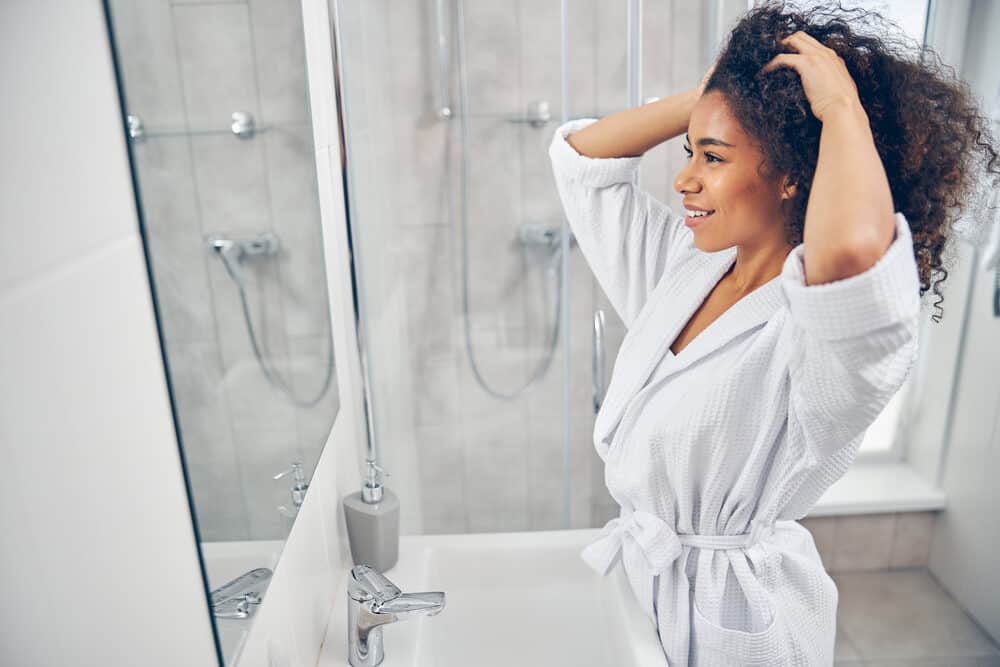 Many people grab the nearest towel and go to town rubbing their wet hair vigorously. This is the worst way to towel dry your hair. Yet, it's perhaps the most widely practiced drying method.
In the following sections, we'll break down the reasons why this is the wrong way to towel-dry your hair. Afterward, we'll let you in on the right way to towel dry your natural hair.
Cotton Towel
Being that the towel is what comes in contact with your wet hair, the material of your towel makes a big difference in the long-term condition of your hair.
There are tons of towels on the market, and most of them are made of rough cotton, which sucks the moisture from your hair.
Rough Rubbing
Your hair has an outer cuticle that's sensitive to rough handling. If you rub your hair vigorously with virtually any towel, it can raise your cuticles and cause damage to your hair shaft.
If you've been improperly towel drying your hair for an extended amount of time, you could experience a lack of shine and luster, visible brittleness and split ends, and even breakage around the perimeter of your head.
How To Dry Your Hair With a Towel Without Damaging It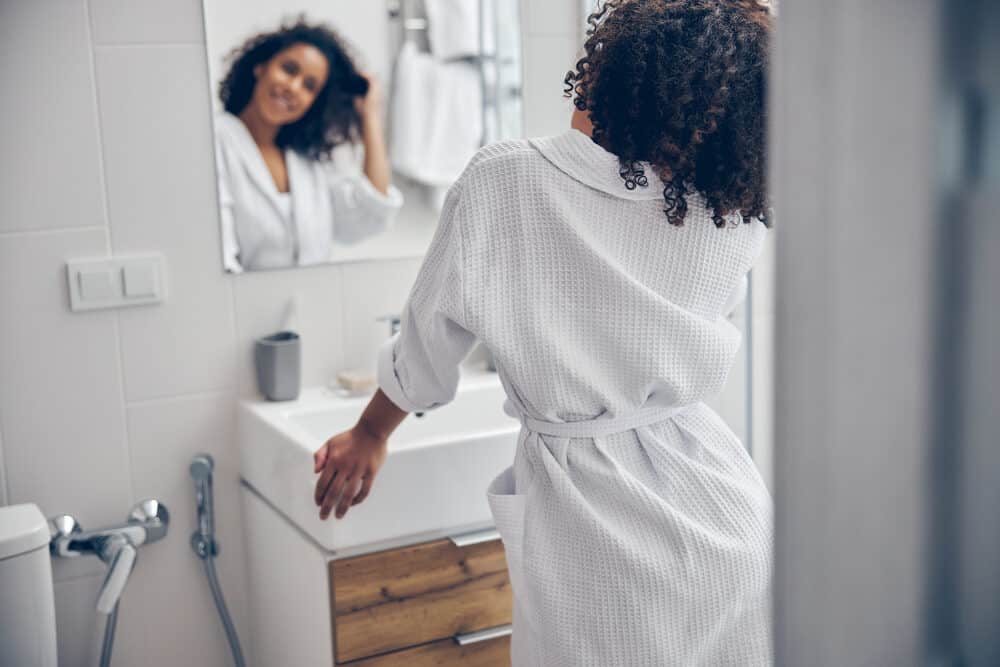 Sometimes, there's just not enough time in the day to air-dry your hair, and that's okay! Towel-drying your hair correctly can save you time while supporting your hair's health.
Now that you understand the wrong way to towel-dry your hair, we'd like to share with you the best way to towel-dry it.
Use a Soft Absorbent Towel
Cotton or terry-cloth towels are not soft to the touch, so they're not gentle enough for your hair. Instead, use a microfiber towel or t-shirt towel – they're not only baby soft but also super absorbent and will leave your hair frizz-free and static-free.
Here are a few of the top hair towels on the market:
Turbie Twist Microfiber Hair Towel – This is the leading microfiber hair towel for thick, curly, and long hair. The towel is made of 87% polyester and 13% microfiber and is remarkably lightweight. It's soft to the touch and super absorbent for a quick drying experience. Not only that, but it's designed to be wrapped into a turban so you can do other things while your hair dries. You get two towels in this set (one size fits all adults and children).
Pocova Ultra-Fine Microfiber Hair Drying Towel – This is an oversized microfiber towel that's perfect for anyone who has lots of hair. It's 43 x 23 inches, which is long enough to comfortably wrap your hair turban-style. It's made of 20% carbon fiber, 64% polyester, and 16% microfiber, which combine to create one of the lightest, softest towels you've ever used.
Tee-Owel Lilac T-Shirt Hair Towel – This is a high-end hair towel made of 95% organic cotton and 5% spandex. It's soft, smooth, luxurious, and absorbent – perfect for anyone with curly hair. After switching to this towel, curly-haired customers state that their hair is less frizzy and more hydrated.
As you can see, ideally you should use microfiber towels (instead of a regular towel) and gently blot your hair strands. You can't go wrong with any of these hair towels. Next, we'll cover how to use them.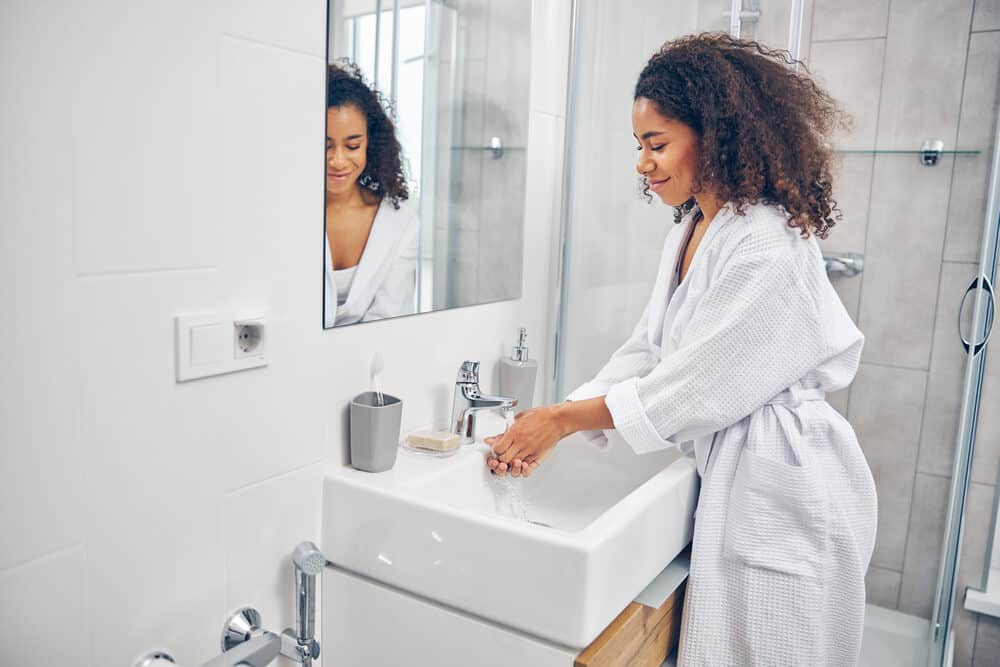 Dry Your Hair Gently
Drying your hair gently is just as important as choosing a soft towel. Here are a few ways to use a microfiber or t-shirt towel to dry your hair without damaging it.
Squeeze the Moisture Out
The first way to use a hair towel is to squeeze the excess moisture out of small sections of your hair. You'll want to use this drying method whenever you want to speed up the towel-drying process without disturbing your roots.
Right when you get out of the shower, grab your microfiber towel, wrap it around small sections of your hair and then squeeze repeatedly. Be sure not to use much force as you squeeze, and never squeeze too close to your roots.
This drying method should not be painful, so if you feel any tugging or discomfort at your scalp, you're squeezing too hard.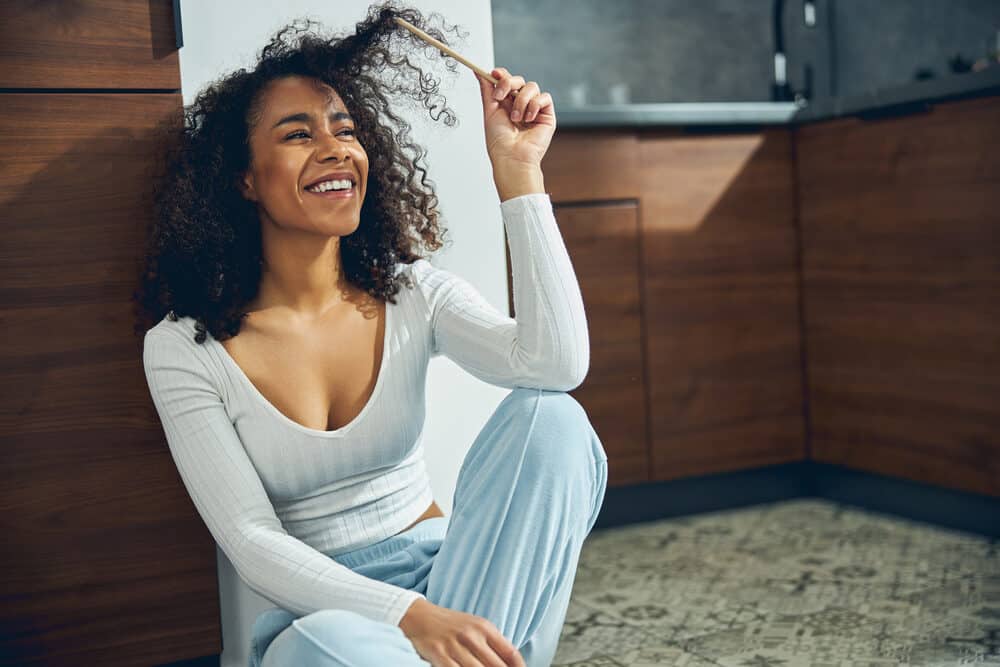 Wrap Your Hair Turban-Style
You can also gather all of your hair into the towel and wrap it into a turban. This is great for people who want to dry their hair on the go. Follow the below instructions to wrap your hair turban-style:
Wash, condition, and detangle your hair before wrapping it up.
Bend forward so that all of your hair falls downward.
Position your towel. The crown of your head should be in the middle of the towel, and the bottom edge of the towel should rest at the nape of your neck. The towel should be centered, with excess fabric hanging down on both sides of your head.
Wrap the towel around your hair. Do it just tight enough so that your hair won't fall out of the towel – don't do it too tightly, or you can break your hair.
Twist the end of the towel and then tuck it at the nape of your neck.
Scrunch and Go
Sometimes you just want to get the excess water out of your hair before air-drying. In that case, all you need to do is grab your towel and use it to scrunch your hair upwards.
Do so in sections to ensure that you can remove all of the excess water that you can. Once you've scrunched all of your hair, you can proceed with the rest of your hair care routine.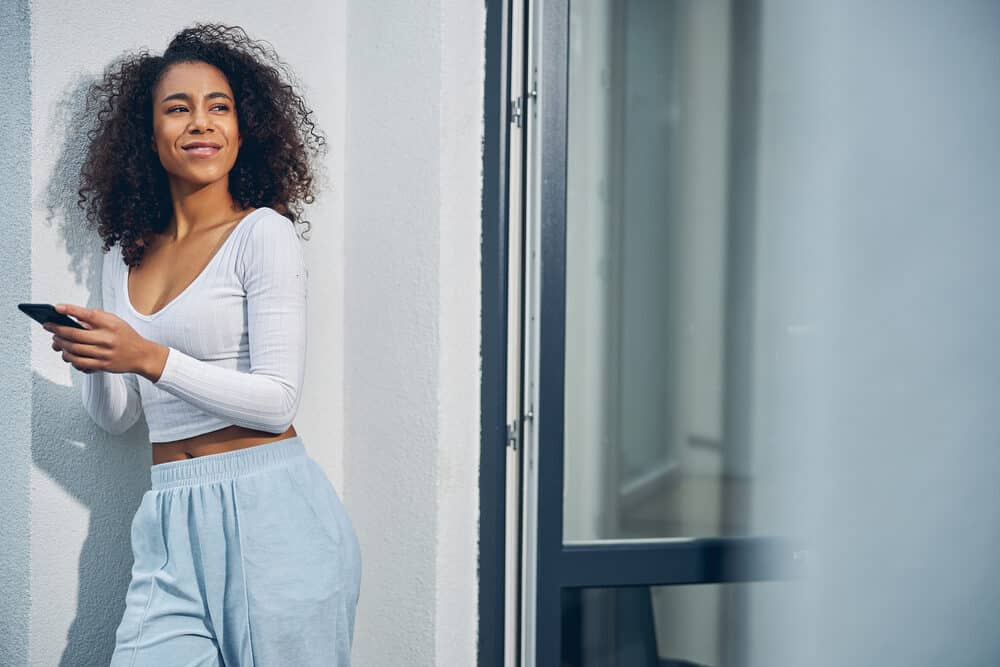 Plop Your Hair
Hair plopping is a wildly popular way to get your best wash n' go. Here are the steps you need to follow to plop your hair:
Wash and condition (or deep condition) your hair. Use your conditioner to aid in detangling your hair.
Once you get out of the shower, apply all of the products you usually use to moisturize and define your curls. Use your finger to distribute the products through the hair. If you need to coil any curls to make your style more uniform, do that as well.
Lay your microfiber or t-shirt towel on a flat surface, like a bed or couch.
While your curls are hanging down, lower your head into the towel.
Place the bottom of the towel at the nape of your neck, twist the front of the towel, and then tuck it at the nape of your neck.
Tips When Towel Drying Your Hair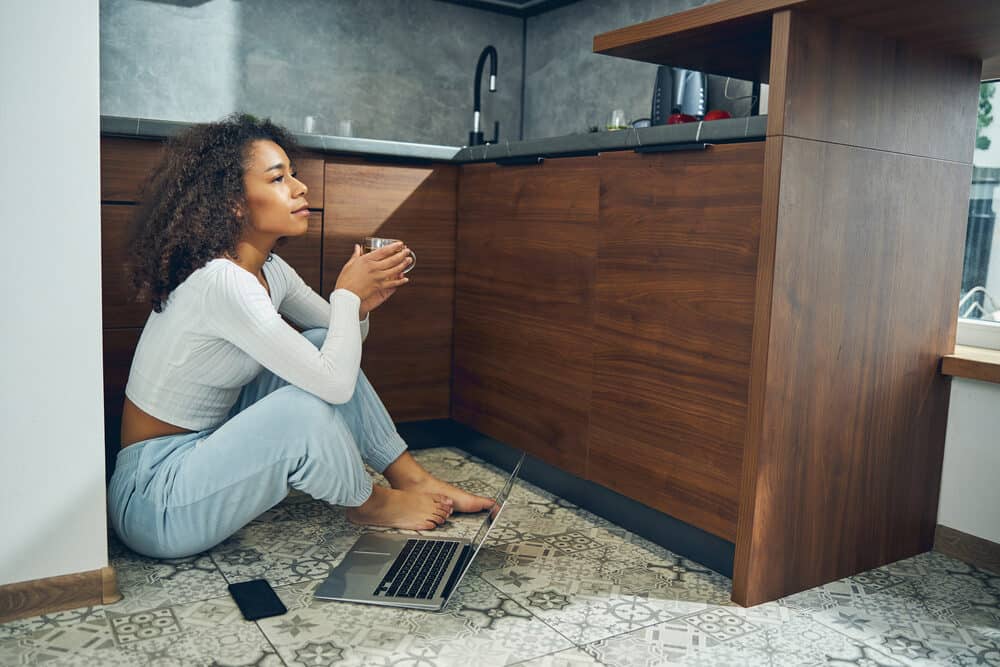 Towel drying your hair can go wrong in several ways. To prevent towel-drying issues, take a look at the below tips:
Stay far away from heavy towels or bath towels. Even if you opt for a microfiber towel, be sure that it's lightweight and is not made with any fabric types that are rough to the touch.
Don't use salon towels. Some recommend that you use salon towels, but many salons use regular bath towels. Just because a salon uses a certain towel does not mean that towel will be good for your curls. Make your own choice – choose a light microfiber or t-shirt towel.
Never rub your hair with any towel, regardless of how soft it feels to you. Your hair doesn't need the extra friction.
Don't wrap your hair too tight. If you do this, you can rip out your edges or cause mechanical damage to your strands.
Conclusion
The safest way to dry your hair is by air drying, but if you're in a rush and need something quick, there are steps you can take to make towel-drying less damaging.
First off, use the right kind of towel – not cotton or terry cloth towels (or other absorbent material) like most people do because they're rough on your wet hair.
Instead, use microfiber towels and t-shirt type towels that will leave your hair frizz-free and static-free without any tangles or knots.
Also, if you're in a hurry, you can blow dry your hair, but we don't recommend blow-drying your hair dry unless it's necessary. We prefer to limit the amount of heat applied to your hair when possible.
With the tips in this article, you're well-equipped to towel-dry your hair without damage. We wish you the best as you seek out ways to keep your hair beautiful and damage-free!