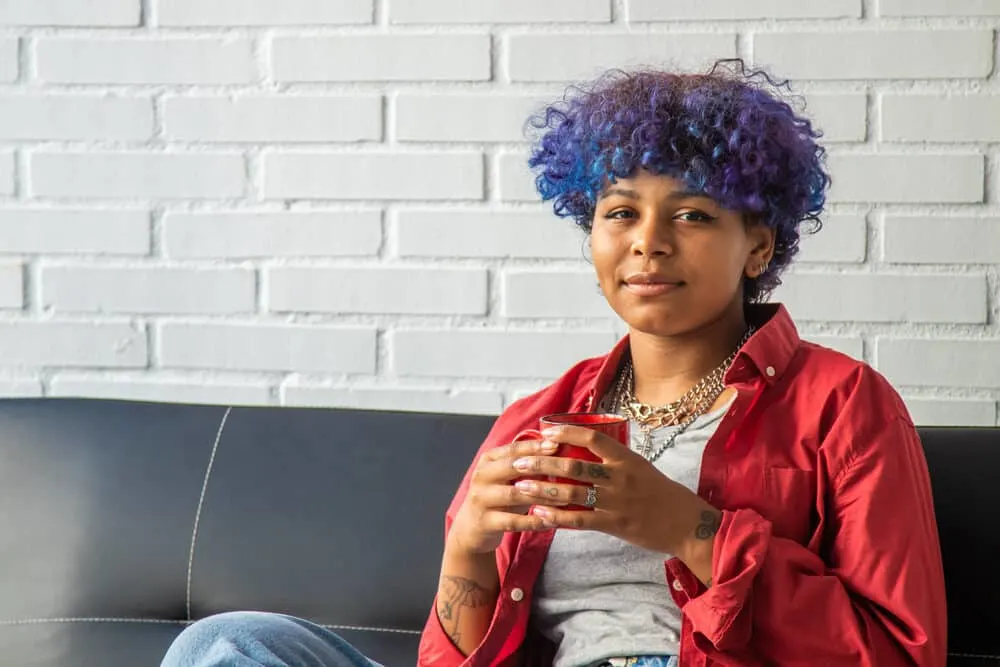 While dark hair is beautiful, every now and again, we get the urge to change it up. One of the trendiest hair colors as of yet is purple, and there's no wonder why. Purple hair not only takes your look to the next level, but it practically screams fun.
This article will give you detailed instructions on how to dye dark hair purple with and without bleach so that you can achieve vibrant and healthy purple hair.
It is important to note that the information in this article is targeted towards people that are wearing their natural hair color (or currently have natural undyed hair).
If you already have color in your hair, we recommend consulting a professional stylist (or hair colorist) to achieve your desired look.
How to Dye Dark Hair Purple with Bleach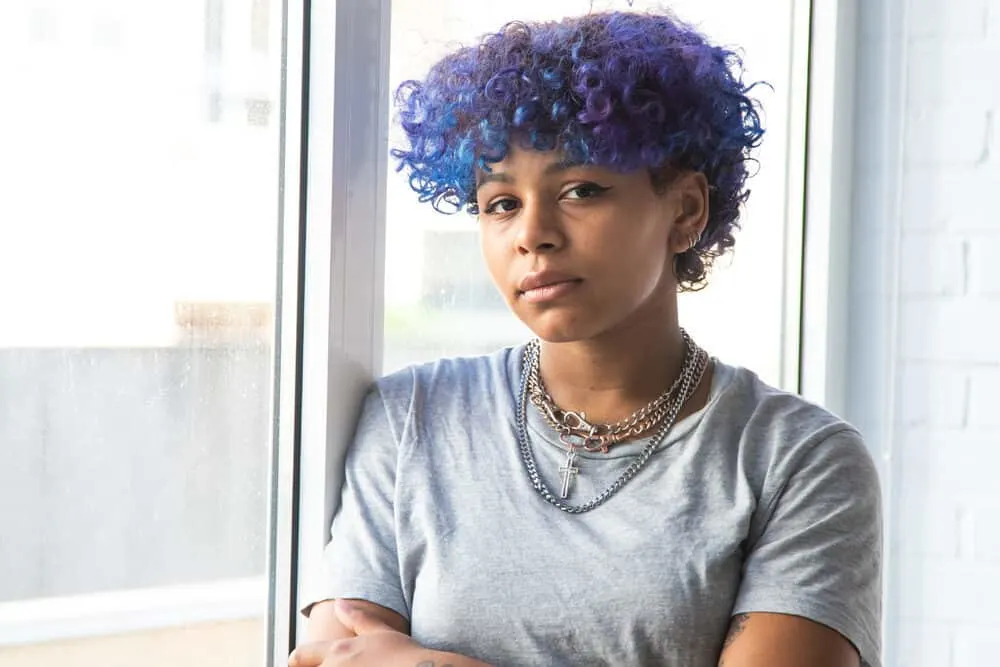 The quickest and most effective way to transition from very dark hair (e.g., dark brown hair or black hair) to a vibrant purple color is to lighten your hair with bleach before applying color. Keep reading to learn how to dye your hair purple with bleach.
Gather Your Supplies
It is crucial to ensure that you have all the necessary supplies to properly care for your hair before, during, and after the hair dyeing process. If you don't, you could end up with a different look than you were hoping for, or in the worst-case scenario, you could fry your hair beyond recognition.
You will need:
How To Dye Hair with Bleach and Developer
BLEACHING & DYING MY HAIR PURPLE (DIY "MASTERCLASS")
Follow these steps to dye your hair purple using bleach and semi-permanent dye. It is important to note that while the purple hair color is semi-permanent, the bleach will permanently lighten your dark hair.
Before you start, make sure that your hair is dry, clean, and well-moisturized. It's best to wash your hair a couple of days before bleaching so that your hair will be free of buildup but not too clean.
Also, be sure to complete this hair dyeing process in a well-ventilated area to avoid inhaling harmful chemicals.
Begin by putting on your gloves so that you don't damage or stain your skin.
Mix the bleach powder with vol 20/30 developer according to the instructions on the bleach packaging.
Apply the mixture to your hair in sections using the applicator brush. Twist the sections as you complete them.
*Tip: Apply the bleach to your mid-lengths and ends first, and then apply the bleach to your roots. Avoid getting bleach on your scalp, as this can cause chemical burns.
Allow the bleach to sit on your hair for about 30 minutes or less, depending on how vibrant you want the color to be.
Rinse out the developer/bleach mixture. Wash your hair with neutralizing shampoo and then a moisturizing shampoo.
Mix your semi-permanent purple dye and a little bit of conditioner. The conditioner will make the dye easier to distribute throughout your hair.
Divide your hair into sections and secure them with hair ties or alligator clips.
Apply coconut oil to your hairline along your forehead, ears, and the back of your neck to avoid staining.
Apply the dye and conditioner mixture to each section of hair until it's completely coated.
Put on a shower cap and allow the dye to sit in your hair for 30 minutes to an hour.
Rinse your hair thoroughly, but do not shampoo immediately after you rinse out the color. This will cause your color to fade more quickly.
If your hair looks or feels damaged after coloring, you should consider a protein treatment. There are differing viewpoints regarding when you should do the treatment, but a general guideline is to wait at least a week after using the purple hair dye.
Dyeing Your Hair Purple with Box Dye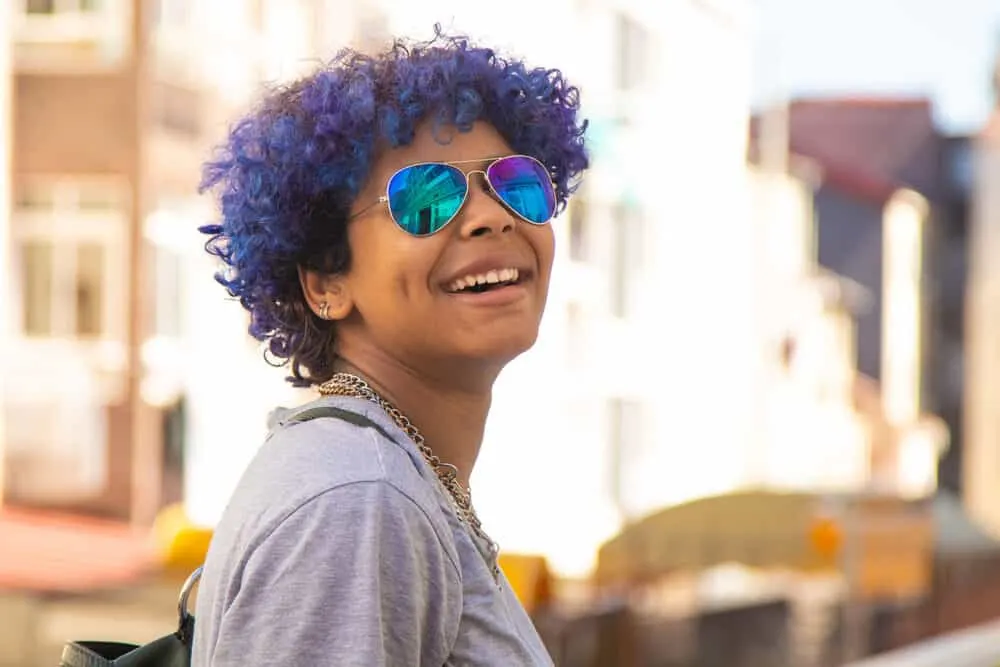 If the thought of using bleach on your hair makes you cringe, maybe box dye will be a better fit for you. The good thing about box dye is that it gives you everything you need for a dye job in one box.
Although, it's important to understand that just because a box dye doesn't use powder bleach in the formula, that does not mean that it won't damage your hair.
Some of the ingredients in box dye can be just as damaging as bleach. You need one that's packed with nourishing high-quality ingredients. So, if you plan on going the box dye route, try one of the following options for the best results:
When using box dye, it's crucial to follow the included instructions to the letter. This gives you the best chance of achieving the color you want.
We really like the Garnier brand of hair dyes, many people that Manic Panic makes the best purple hair dye. Another popular option is Purple Rain by Arctic Fox.
How to Dye Dark Hair Purple Without Bleach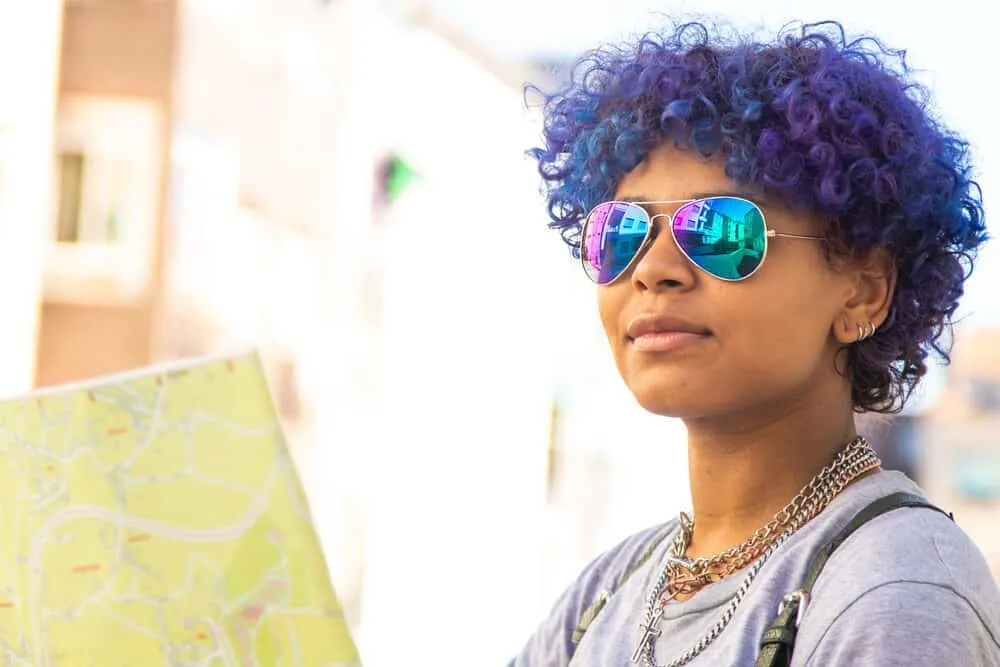 If you aren't quite ready to take the leap and use bleach or box dye, we understand. Using harsh chemicals in your hair is a big deal, and a lot can go wrong, especially if you're new to using semi-permanent hair dyes.
Luckily, you can still create hints of purple in your dark hair by following the steps below.
Gather Your Supplies
Disposable Rubber or Latex Gloves
Applicator brush
Alligator Clips
Coconut Oil
Semi-Permanent Dye
Shower cap (or Plastic Bag)
How To Dye Hair Without Bleach
How I colored my brown hair PURPLE without bleach
Once you've gathered the necessary supplies, follow the steps below to dye your hair using only semi-permanent hair color.
Begin by putting on your gloves so that you damage your skin or stain your hands.
Divide your clean, dry hair into several sections and secure them with hair ties or alligator clips.
Apply coconut oil to your hairline along your forehead and the back of your neck to prevent staining.
Apply the semi-permanent dye to each section of your hair. Part your hair into even smaller sections if you have thick hair, as this will make it easier to distribute the color evenly.
After applying the color, put on a plastic shower cap and allow the dye to sit in your hair for 30 minutes to 1 hour.
Rinse your hair thoroughly, but do not shampoo immediately after dyeing, as this can break down the hair and cause the color to fade more quickly.
Other Non-Bleach Alternatives
You can try purple hair for a week or two with temporary hair color. This hair color type will rinse out after a few washes. Here are a few options to consider:
Hair wax – Apply the wax to sections of hair with your fingers and then twist them. Once dry, unravel the twists and enjoy your new color!
Coloring Conditioner – This coloring conditioner is extremely easy to use. Just apply it all over your hair, let it sit for 10-15 minutes, and then rinse it out. You can repeat the color process as often as you'd like to keep the color fresh.
Hair chalk or Hair Color Spray – These methods are, by far, the quickest way to get purple hair, but they can also be drying. So, be sure to pair it with moisturizing products to avoid dryness and damage.
Using Box Dye vs. Professional Dye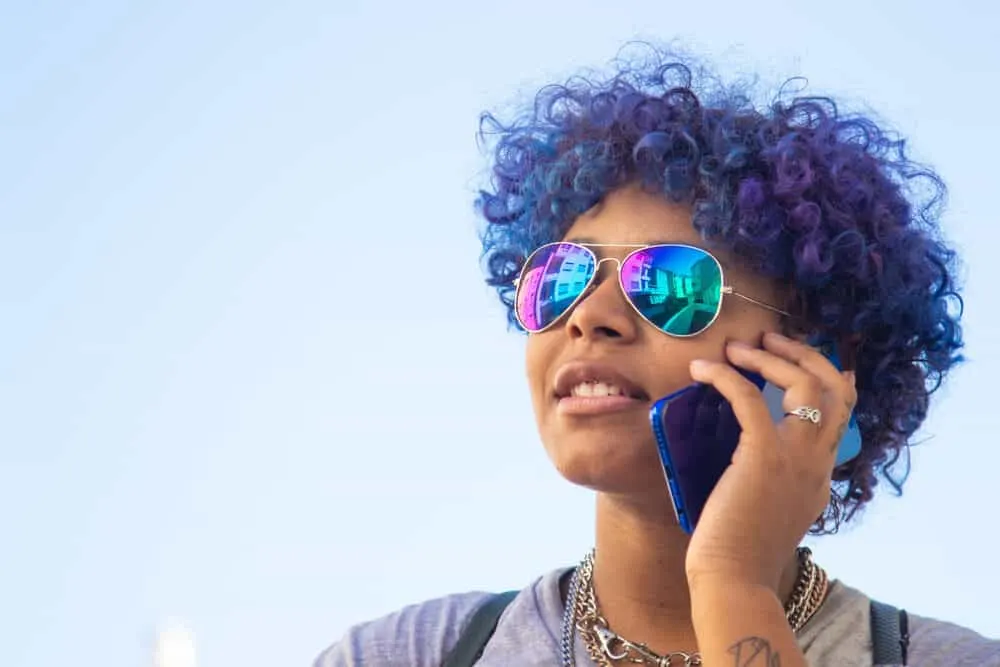 Not all hair dyes are created equal, so it's essential to know what to expect from box dye vs. professional dye.
The most affordable method is going to be dyeing your hair at home with box dye. Alternatively, you can use professional hair color brands to dye your hair at home.
If you are new to dyeing your hair at home, it may be a good idea to start with a drugstore box dye. However, if you want to achieve a higher quality look at home, you can try out professional brands from your local beauty supply store.
If used correctly, these brands may give you a more even color result. They may also contain fewer harmful chemicals that can lead to hair damage.
Whether you're using professional dye or drugstore box dye, it is essential to note that these dyes are pre-formulated to be used on any hair type and may produce varied results depending on your hair color and texture.
This is why many women prefer to visit a professional stylist, who will custom mix the hair color to suit your hair.
If you are new to dyeing your hair and do not feel comfortable doing it at home, it may be a good idea to visit a hair salon to have your hair professionally colored. They may even be able to give you some tips on how to maintain your color at home, as well as the color-safe products they'd recommend for your hair.
Can I Dye My Hair Purple Over Black?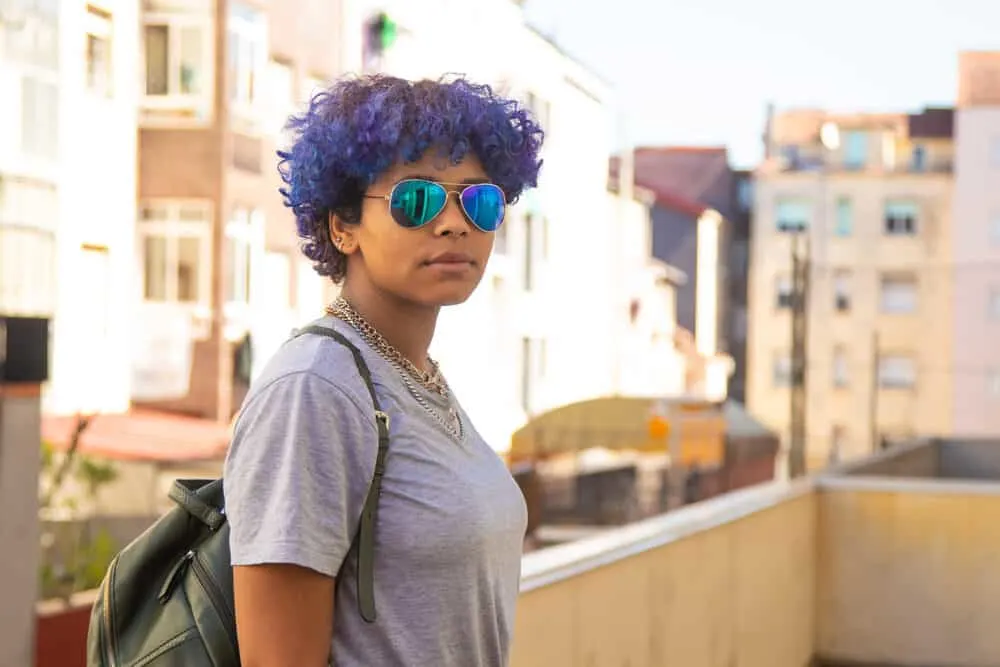 It is possible to dye your dark hair purple. However, if you choose not to bleach your hair before applying color, you should expect very subtle hints of purple rather than a super vibrant hair color.
If you are looking to transition from dark hair to a shade of purple, you should consider bleaching your hair first.
Maintaining Colored Hair
Vibrant hair colors, especially red and dark purple, are known to fade very quickly. While semi-permanent color will eventually fade, here are some tips to keep your color vibrant:
Use an after-color sealer once you've rinsed the dye out. This will help to lock in the color.
Use sulfate-free shampoos and conditioners. Sulfates can strip your hair of color and cause your color to fade more quickly. You'll also want to avoid using a clarifying shampoo.
Try color-safe shampoos and conditioners. They are formulated with ingredients that preserve hair color. This is an excellent option for anyone who wants their color to last.
Wash your hair in cold water whenever possible. Hot or even warm water will open your hair's cuticle and cause the color to run out of your hair in the shower.
When using heat styling tools, such as blow dryers and straighteners, be sure to use heat protectant spray on your hair first. This will preserve your color and prevent damage and breakage.
Pros and Cons of Dyeing Dark Hair Purple
Adding a bold color to your hair is a big move. In case you're still feeling uncertain about dyeing your dark hair purple, read this list of pros and cons below to decide whether this hairstyle change is right for you.
Pros:
Adding color to your hair is a great way to express your personal style and have fun with your hair!
Semi-permanent dyes don't last as long as permanent hair dyes, so you won't have to live with them for very long if you don't like the final result.
Depending on the shade and dyeing method used, purple can be a subtle color that is only noticeable in the light. This is a fun yet subtle way to add interest to your hair. For example, if you have dark brown hair, the dye will be less noticeable than someone with lighter hair (e.g., blonde hair).
Cons:
Dyeing your hair at home is a little bit risky and may not be suitable for beginners. Although, it is a less expensive option if saving money factors into the preferred option.
Hair bleach and dye contain chemicals that can cause damage to your hair. If your main hair goal is to maintain healthy, moisturized, and damage-free hair, dyeing your hair may not be a good choice for your hair right now.
Unfortunately, vibrant hair colors are still not accepted by some employers and in some formal situations. Be sure to consider your daily settings and lifestyle to ensure that you won't run into any problems when wearing a vibrant color in your hair.
Dos and Don'ts
To avoid damage from the bleaching process and ensure that your hair color turns out as desired, be sure to review this list of hair-dyeing "dos and don'ts" before you start.
Do:
Moisturize your hair before, during, and after the coloring process. Coloring products can be very drying and damaging, so it is vital to maintain a balance of moisture and protein throughout the entire process. Bleached hair can also be very fragile, leading to split ends and breakage.
Take your time to achieve the best possible results.
Research the best products and techniques for your specific hair type (e.g., curly hair). Manic Panic dye is one of the most popular over-the-counter brands and may be worth considering if you opt for a do-it-yourself solution.
Reach for hair care products designed for colored hair to maintain healthy hair and make your color last longer.
Don't:
Don't get distracted when in the process of dyeing your hair. It is essential to monitor your hair carefully throughout the entire process, especially when you have chemicals in your hair, to avoid damage and an undesirable purple haze.
Don't dye your hair if you don't feel comfortable. If you don't feel ready or knowledgeable enough to successfully dye your hair at home, it is a good idea to do some more research or visit a professional hairstylist to avoid a hair color disaster.
Some people experience an allergic reaction from using hair dye. If this is a concern, avoid using the dye altogether or consult your dermatologist to determine if the process is safe for you to try.
Now you know the best methods to get gorgeous dark purple hair at home. It is important to remember to have fun with it and experiment with different purple shades and other fun colors.
The important thing is not to get discouraged if your color doesn't turn out how you want the first time. Semi-permanent hair dye can be tricky use, so continue to research and try new techniques until you get the hang of dyeing your own hair.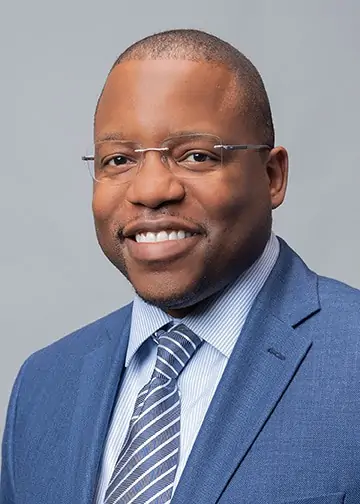 Kenneth Byrd holds a BS in Accounting and Management Information Systems and an MBA from the University of Alabama at Birmingham. With over 15 years of experience, Kenneth has been dedicated to hair care since 2008, when he co-founded Curl Centric® and Natural Hair Box alongside his wife. As a team, they promote healthy hair care practices through their comprehensive platform, Curl Centric. Curl Centric is a website operated by a husband and wife team that encourages healthy hair care. At Curl Centric, we aim to help our readers take control of their hair care journey and make good decisions about products, hairstyles, and maintenance techniques. We also have strict editorial integrity; here's an explanation of our editorial guidelines and how we make money.