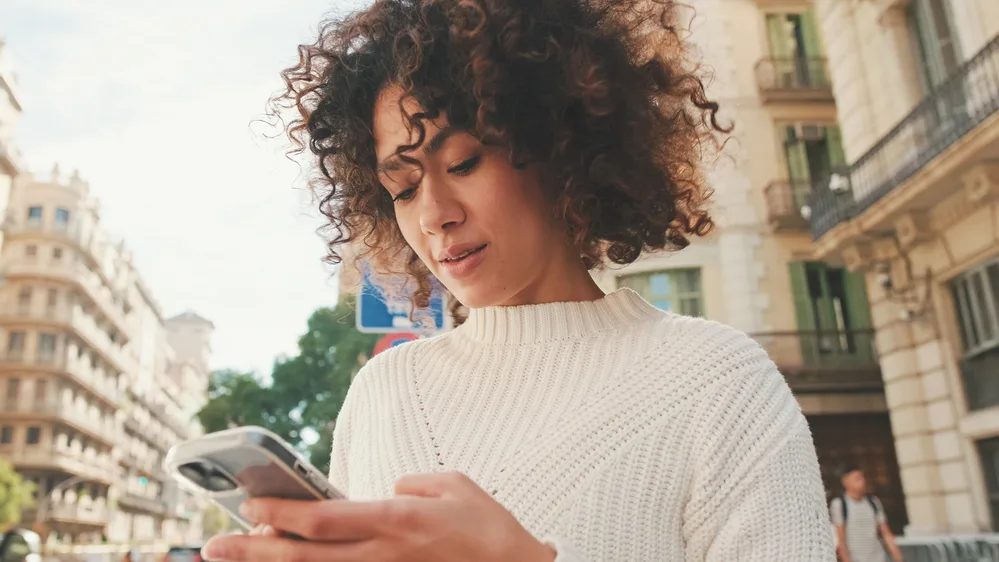 One of the best ways to ensure that your natural hair journey progresses as smoothly as possible is to use the best curly hair products.
But if you're new to caring for your natural hair and are still in the discovery stage, it can be hard to determine which products are up to snuff. We can help you select the best products for your natural curl pattern. In this article, we will share the top 4 curly hair products you'll find anywhere.
Best Curly Hair Products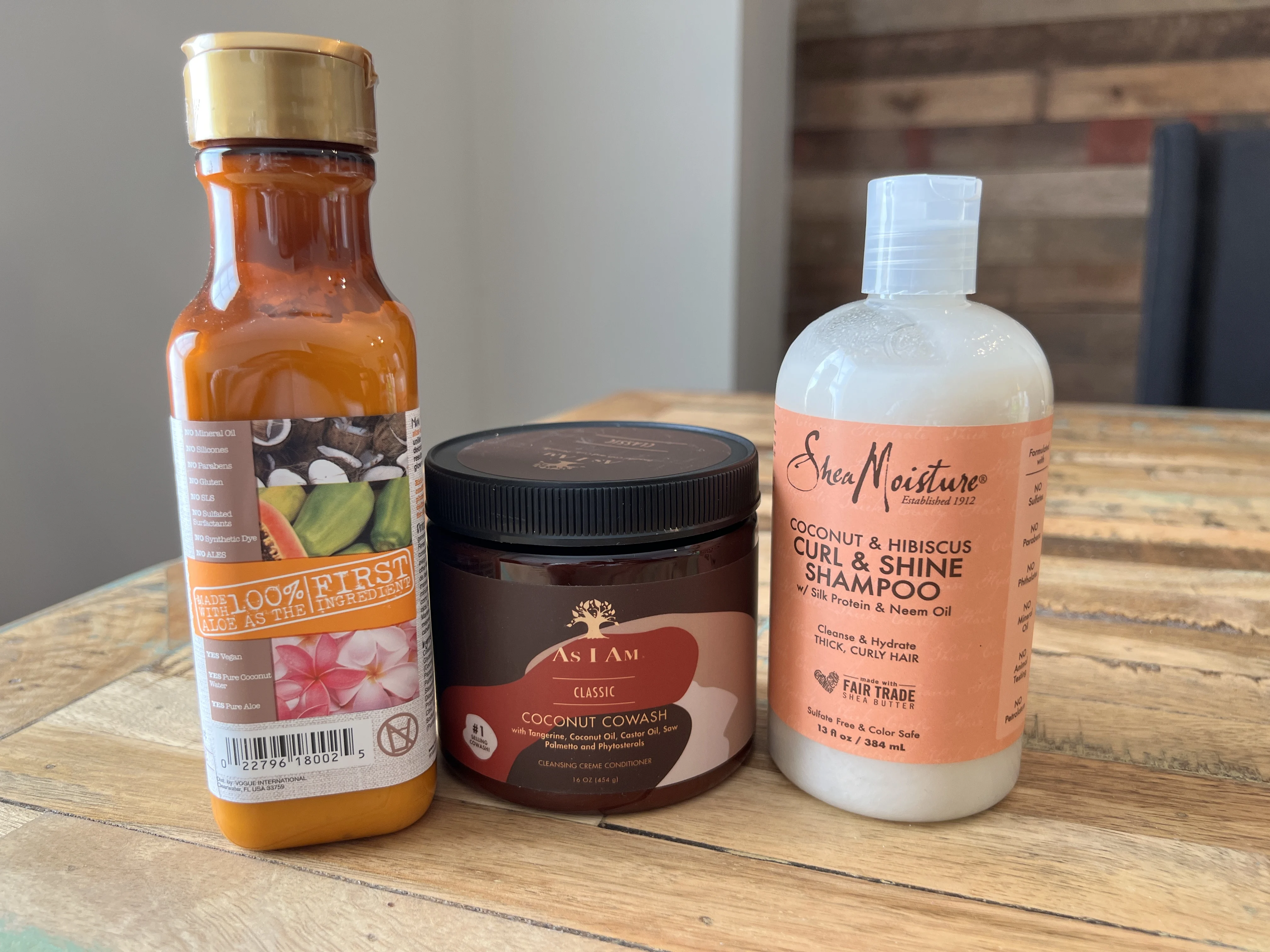 Before we dive into the details of the best curly hair products on the market, if you're in a hurry or simply want a few recommended products for your curly hair routine, here's a list of our favorite curl defining products:
These are some of our favorite products for ladies with natural curls. Keep reading to learn more about our experience with each one of these products and learn how to include them within your styling routine.
1. SheaMoisture Curl and Shine Shampoo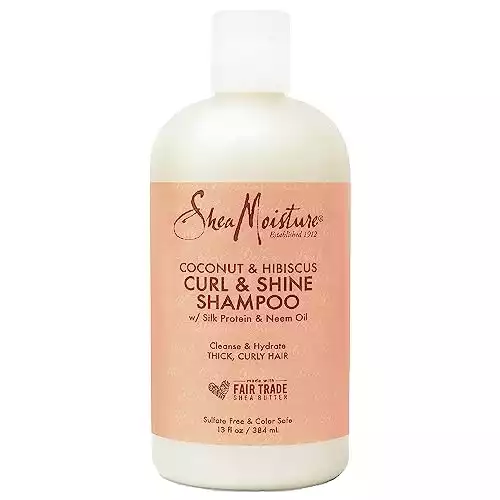 Curly hair routines require normal shampoo sessions, but not every shampoo will work for curly hair. For textured hair, you need a shampoo that can get your hair clean without making it dry crunchy, and brittle.
That's where SheaMoisture Curl and Shine Shampoo comes in. It's a mega-popular shampoo widely used by those in the natural hair community. And it's not a formality; it's really a great shampoo all around.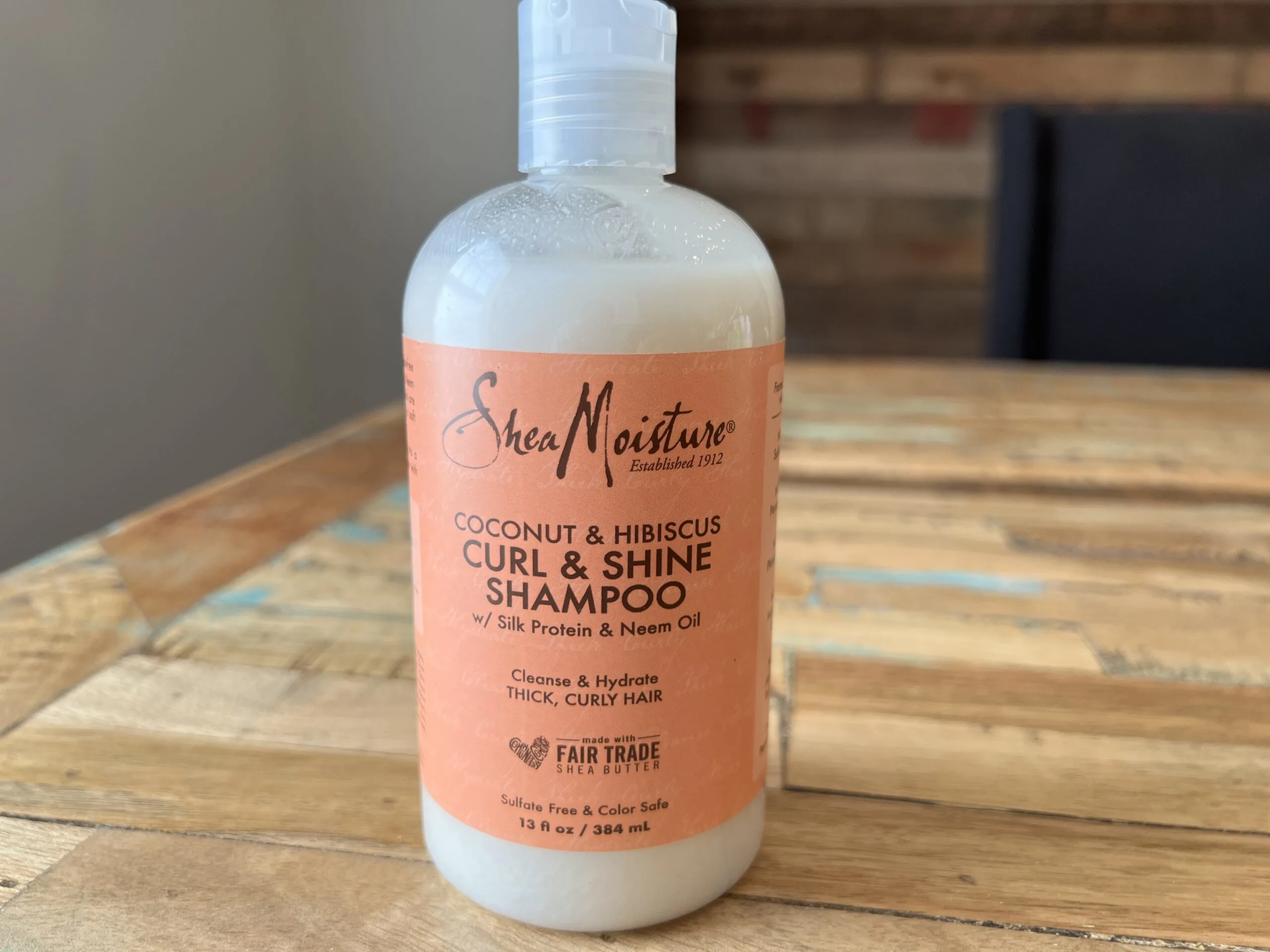 Overview
SheaMoisture Curl and Shine Shampoo is a sulfate-free shampoo with lots of nourishing goodies your hair will love (which we'll get into in the next section). But it's not formulated in a way that'll leave your hair feeling coated post-wash.
It gently cleanses while keeping the health of your hair intact. The shampoo is formulated for anyone with curly hair, but even if you have fine hair, it may work for you too!
Key Ingredients
We were not kidding when we mentioned that SheaMoisture Curl and Shine Shampoo has a ton of great ingredients for your hair. Some of the main ingredients in the product's formulation are coconut oil, neem oil, and silk protein.
Coconut oil is an excellent hair hydrator and protector for manes that might be suffering from dryness or breakage. The neem oil helps to smooth your hair cuticles and reduce flyaways, and leaves your hair with a luminous shine. The silk protein fills in gaps along the hair shaft, resulting in smoother hair and a sleeker overall look.
The main cleanser in this shampoo is decyl glucoside. It's a mild cleanser that can lift away any dirt, oils, or debris from your hair without stripping it like sulfates can.
After washing your hair with the shampoo, you'll notice that it's not squeaky clean but that it is soft, bouncy, hydrated, and ready for the rest of your hair routine.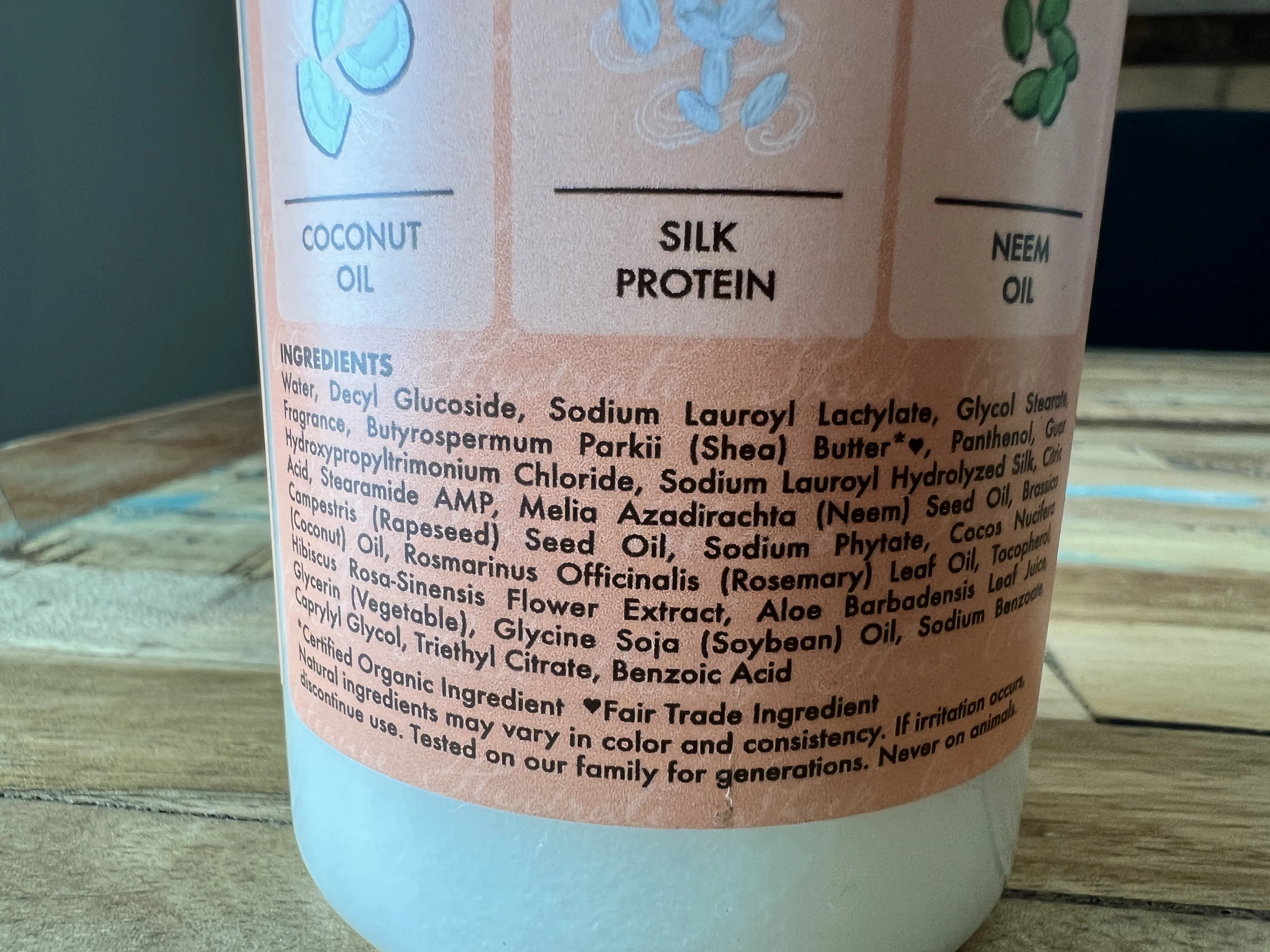 How to Use It
To use the shampoo, you'll first wet your hair down in the shower, dispense some of the product into your hands, and apply it to your wet hair starting with the roots.
Use the pads of your fingers to massage your scalp and create a lather. Then, pull the shampoo down the length of your hair, rinse and repeat as needed.
the ENTIRE Shea Moisture Curl and shine range on type 4 Natural Hair| Natural Nadine
Pros and Cons
Even the best shampoos have both pros and cons, as no hair product is perfect. Keep reading to learn about the good and bad of SheaMoisture Curl and Shine Shampoo.
Pros
It is free of parabens, silicones, sulfates, and phthalates. You also won't find mineral oil or petrolatum in it.
SheaMoisture doesn't test its products on animals.
The shampoo has a great lather, similar to what you'd expect with a sulfate shampoo. Some like that familiarity.
Your hair won't feel dry or crunchy after washing with the shampoo.
SheaMoisture is a long-time reliable hair care brand trusted by those in the natural hair community.
Cons
Those who are used to using sulfate shampoos may find that their hair doesn't feel as clean as they'd like with SheaMoisture Curl and Shine Shampoo.
Our Review
SheaMoisture Curl and Shine Shampoo earned a 4.5 out of 5-star rating on Curl Centric. So on the whole, customers really like it. As indicated by our tests, our curls were better hydrated, shinier, bouncier, and free of debris after using the shampoo. Our research shows that the most critical reviews state that their hair felt coated or insufficiently cleansed.
2. As I Am Coconut Co-Wash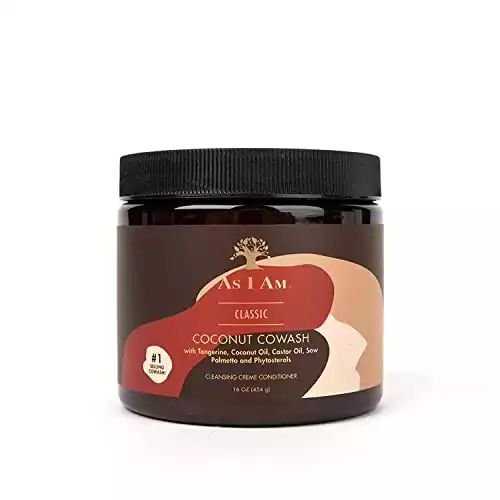 As a curly-haired person, you'll need a cleanser on hand to give your hair a pick-me-up on its driest days. That's why it's important to have a co-wash in your hair stash, and As I Am Coconut Co-Wash is one of the best out there.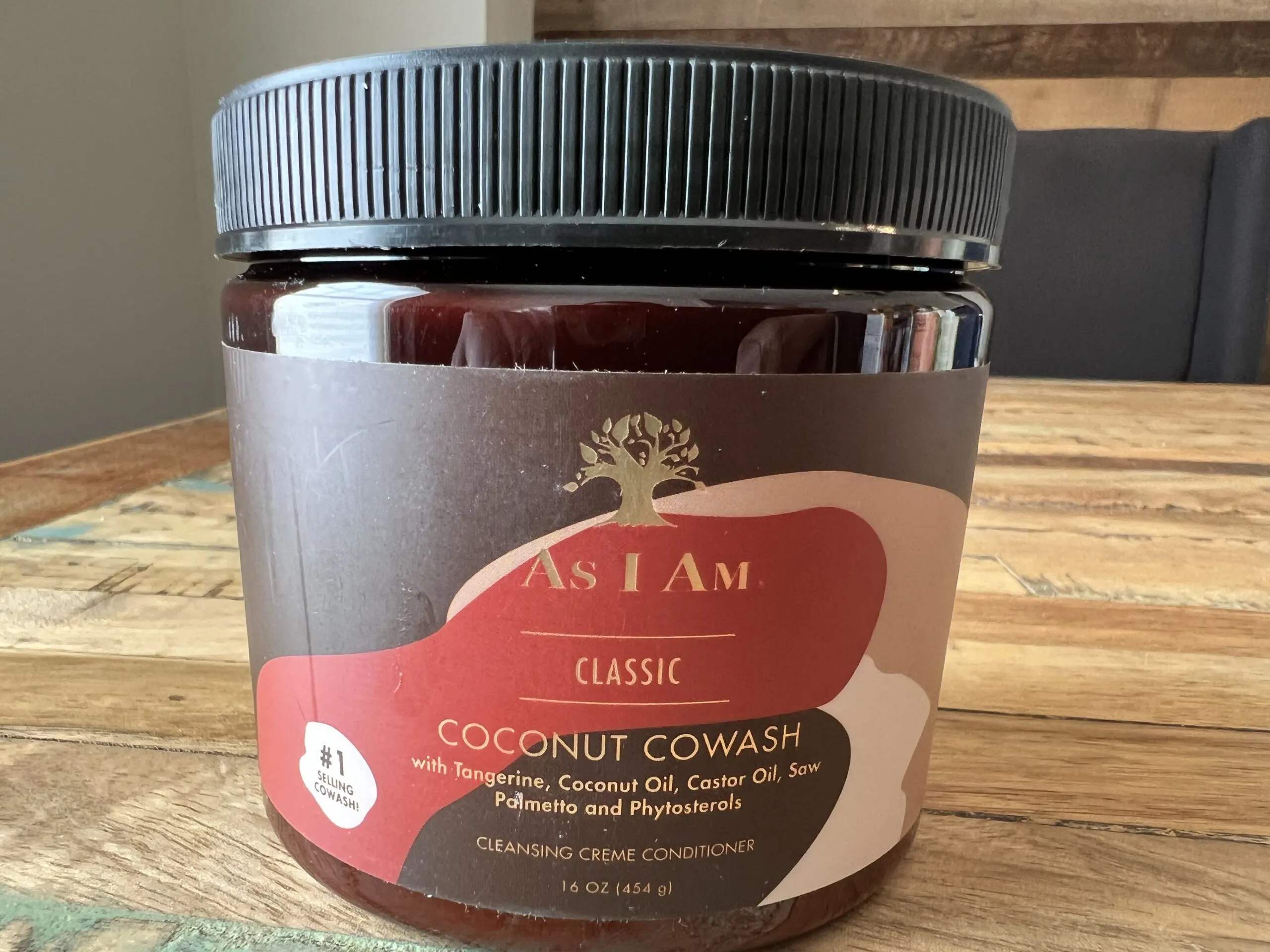 Overview
As I Am, Coconut Co-Wash is a cleansing conditioner formulated for natural or color-treated hair. It provides a gentle cleanse that also nourishes your hair. It's a no-suds cream that removes any hair product, residue, oils, and debris.
Not only will your hair feel softer and more hydrated after washing with this product, but it'll also enable you to detangle your hair without using a separate detangling product.
Key Ingredients
When it comes to As I Am Coconut Co-Wash, the magic is in the ingredients.
In addition to the gentle cleansers in the formulation, some of the main ingredients that make this co-wash great include castor oil, coconut oil, and more to envelop your hair in moisture and protect it from moisture loss. Additionally, this cleansing conditioner contains fatty alcohols and fruit extracts that support hair and scalp health.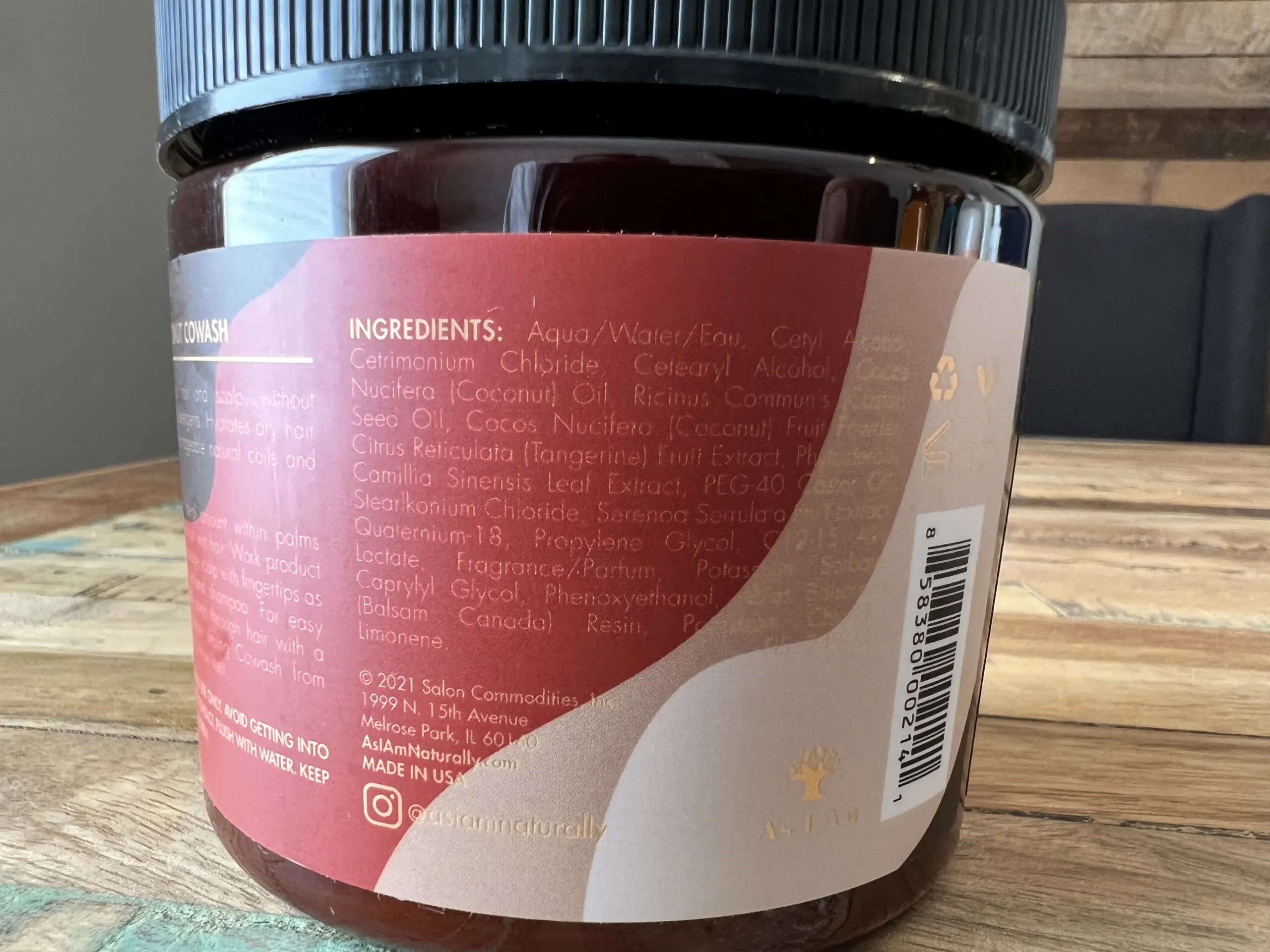 How to Use It
To get the best results with your As I Am Coconut Co-Wash, wet your hair down in the shower, emulsify a bit of it between your palms, and apply it to your hair. Focus the product on the roots, and then scrub with the pads of your fingers.
While the product is sitting in your hair, use a wide-tooth comb to detangle it. Once you're done cleansing and detangling your hair, rinse the co-wash out. Don't leave any of the co-wash behind.
After using the co-wash, follow up with a conditioner. Although the co-wash is extremely nutrient-dense and healthy for the hair, you'll still need lasting moisture and protection from the conditioner.
AS I AM COCONUT COWASH REVIEW + DEMO ON 3C/4A NATURAL HAIR *#1 Best Selling*
Pros and Cons
As I Am Coconut Co-Wash is an amazing product, but no product is 100% perfect. Below, we will go through the pros and cons to help you decide whether it's the right product for you.
Pros
It has a ton of slip, making it easy to detangle.
It cleanses your hair effectively without stripping it of its natural oils.
The formula is also great for the scalp, providing the hair follicles with what they need to remain healthy and grow healthy hair.
Rinses from the hair easily.
Cons
Those who aren't used to using a cleansing conditioner may feel like their hair is not clean after using As I Am Coconut Co-Wash.
There are no suds, which can make it seem like the cleansing conditioner isn't doing its job.
Our Review
As I Am, Coconut Co-Wash has earned an impressive review of 4.6 out of five stars on Curl Centric. Our team discovered through using this product that our hair and scalp felt more moisturized and adequately cleansed after rinsing the cleansing conditioner from our hair.
On the other end of the spectrum, there were very few negative reviews online during our research. But they do state the co-wash made their hair feel dry, weighed down, or caused a dry scalp. Of course, these reviews are limited in number and should be taken with a grain of salt.
3. Maui Moisture Curl Quench + Coconut Oil Conditioner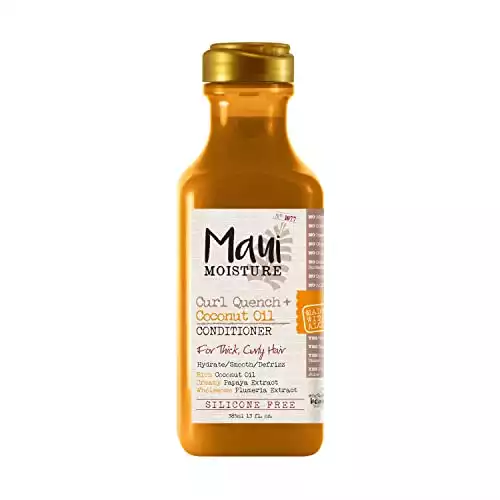 Maui Moisture, not to be confused with Shea Moisture, makes some really great hair products for curly hair. One of the best is their Curl Quench + Coconut Oil Conditioner. It's sure to become your holy grail.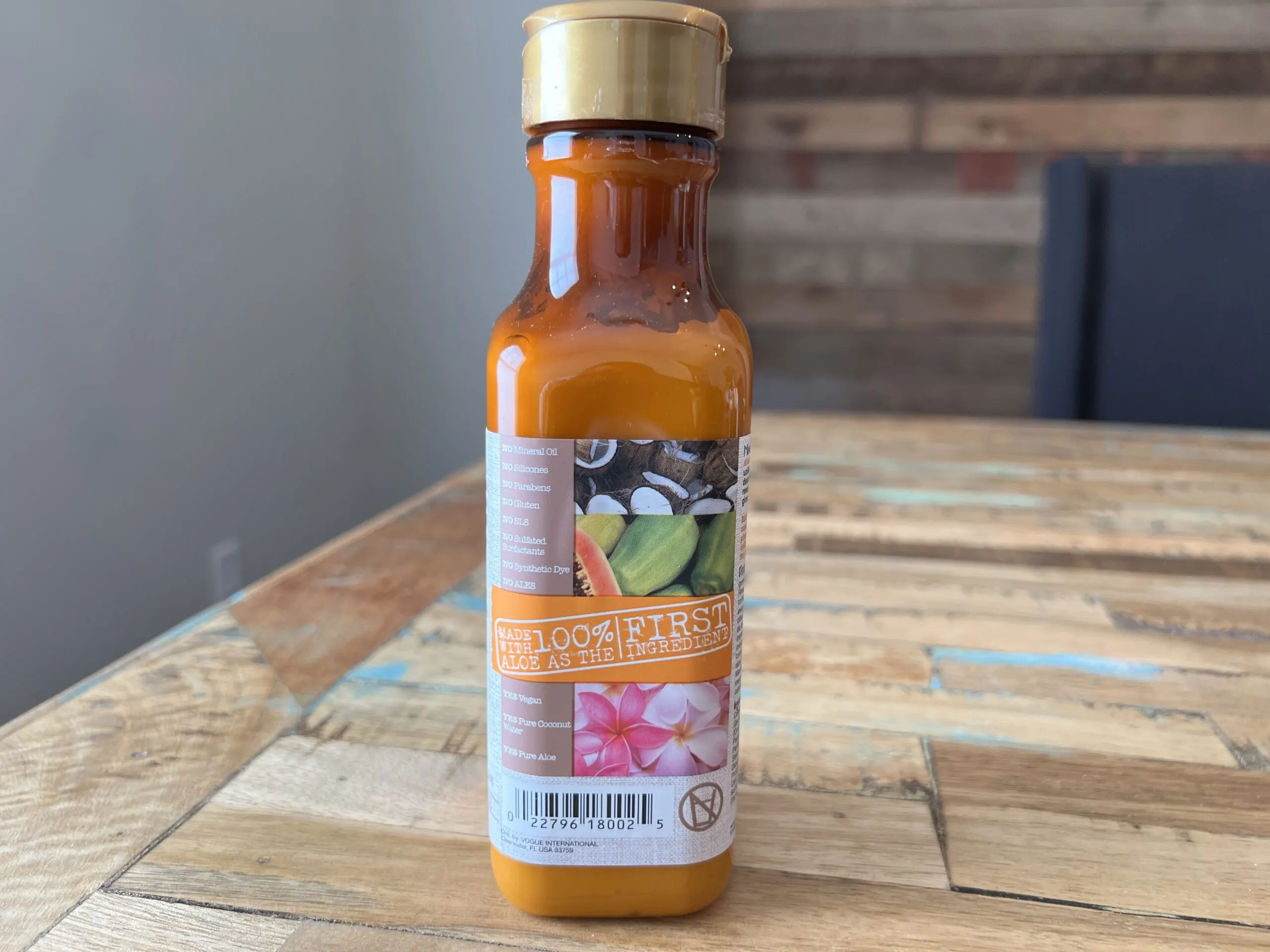 Overview
Maui Moisture Curl Quench + Coconut Oil Conditioner is a hyper-moisturizing, nourishing conditioner formulated for thick curly hair that is prone to dryness and quick moisture loss. Within as little as one conditioning session, you'll notice that your hair is smoother, better hydrated, and less frizzy.
Key Ingredients
Maui Moisture Curl Quench +Coconut Oil Conditioner is packed with hair-loving ingredients that bring out the best in your hair. A few of the main ingredients in the formula are coconut oil, papaya extract, and plumeria extract.
These ingredients work together to make your hair softer and more manageable than it was prior to your conditioning session.
The coconut oil penetrates the hair shaft to inject moisture deep within, while the papaya and plumeria extracts regulate sebum on the scalp and protect the hair from the external environment. These are just a few of the great ingredients in this conditioner.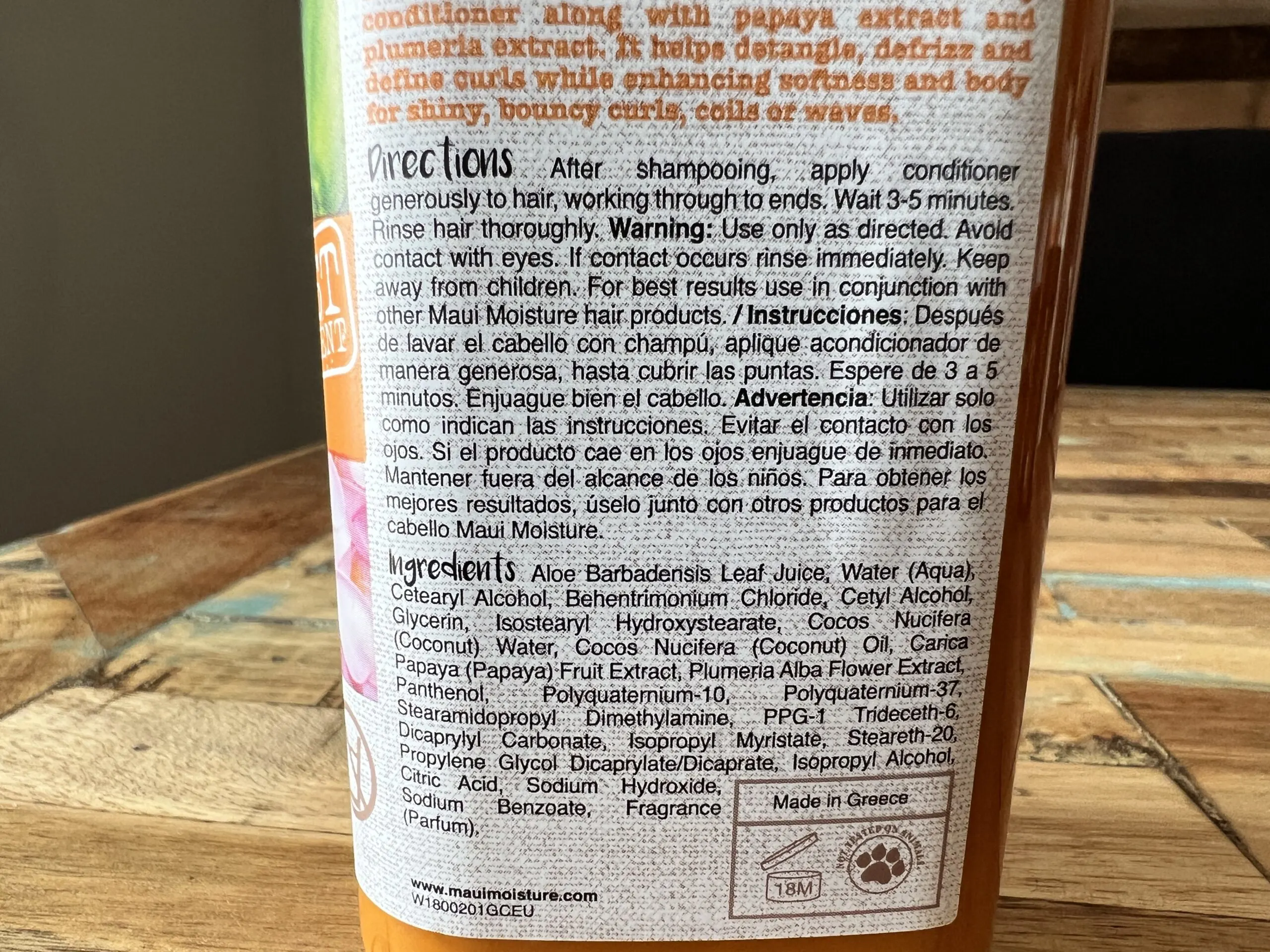 How to Use It
To use this Maui Moisture conditioner, hop in the shower and shampoo your hair. Then, dispense some of the conditioner into your hands from the jar and apply it to your hair, focusing mainly on the ends.
Use the pads of your fingers to work the conditioner into your roots and scalp. Grab your wide-tooth comb and begin detangling your hair from tips to roots. Once that's done, rinse the conditioner from your hair and continue with the rest of your wash day routine.
MAUI MOISTURE CURL QUENCH DEMO/REVIEW ON TYPE 4 HAIR
Pros and Cons
As you may have gathered by this point, Maui Moisture Curl Quench + Coconut Oil Conditioner has a ton of benefits for the hair. However, the product is not without its faults. Keep reading for the pros and cons you should know about.
Pros
Maui Moisture conditioner is ideal for thick curly hair that's in need of a moisture boost.
The conditioner helps tame frizz and smooth the hair cuticle, making detangling easier and styling less arduous.
The formula contains aloe vera, which is a humectant that acts to draw moisture into the hair.
The conditioner leaves out a lot of ingredients that curly-haired people try to avoid, including sulfates, mineral oil, parabens, and synthetic dyes.
Cons
For some people, the conditioner may not be moisturizing enough to tackle their dryness.
The container is relatively small, and those with thick curly hair will likely need to purchase more right away.
Our Review
Maui Moisture Curl Quench + Coconut Oil Conditioner has earned a 4.5 out of 5-star rating on Curl Centric. We were overjoyed with this conditioner when we tried it on our natural curls. It smells wonderful and actually leaves our hair feeling moisturized.
It's definitely one of the best conditioners we've ever used.
During our research, we found a few negative reviews that state the conditioner is not moisturizing enough and leaves your hair tangled or matted. However, these negative reviews comprise less than 10% of the total reviews we found online, indicating that the majority of users have had positive experiences with the product.
4. Kinky Curly Knot Today Detangler/Leave-In

One of the biggest issues we deal with as people with natural hair is tangling. Our strands have the tendency to marry with existing strands, creating knots quicker than you can imagine.
Once those knots are there, they only get worse the longer you leave them there. So it's important to have a good detangler on hand – and if you can find one that you can also use as a leave-in conditioner, you've struck gold. Kinky Curly Knot Today Natural Leave-In Conditioner and Detangler is all of that and more.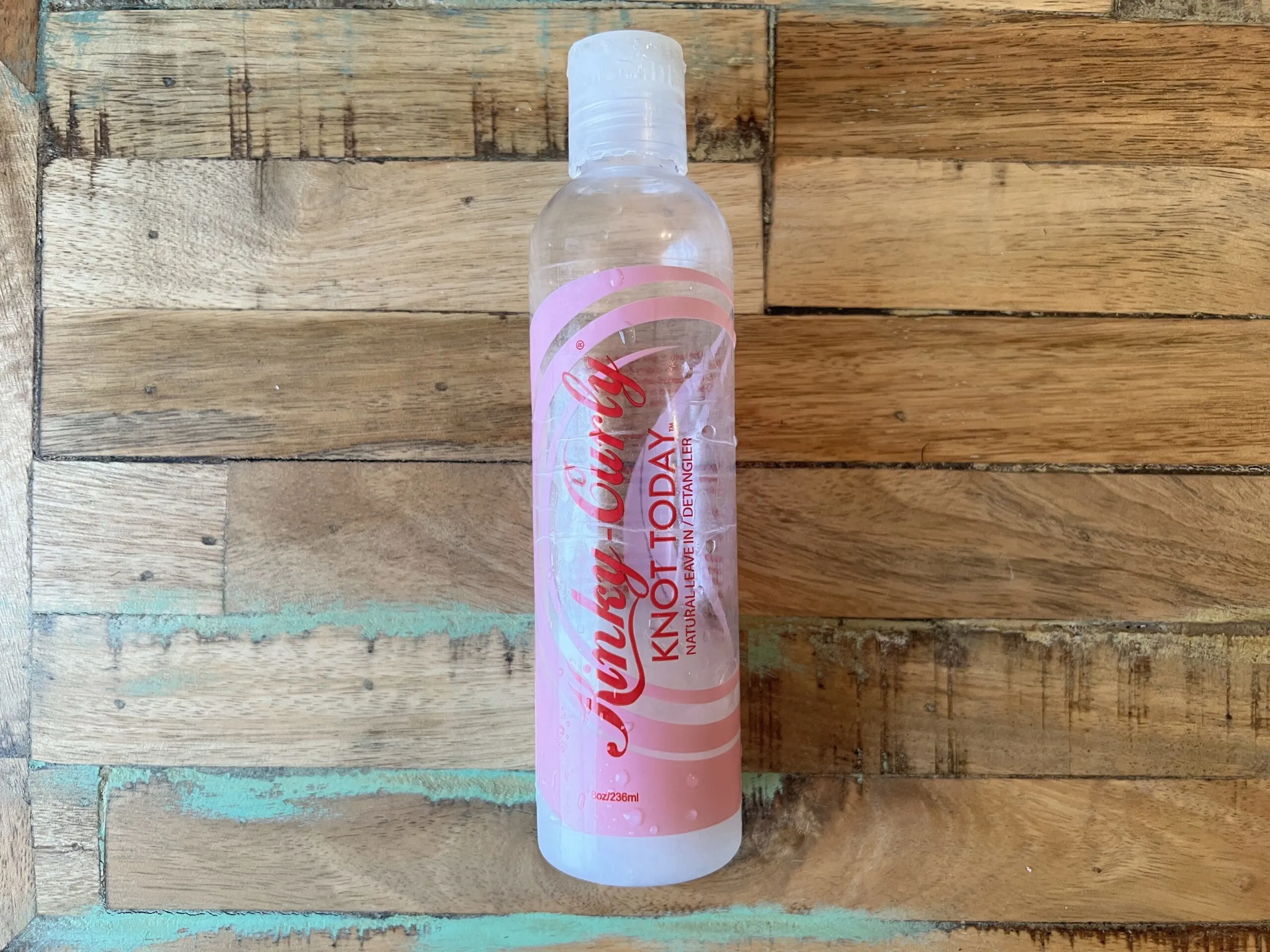 Overview
Kinky Curly Knot Today is a double-threat product that can transform your hair care routine. It doubles as both a detangler and a leave-in conditioner. As a detangler, it makes your hair incredibly slippery so that your comb will glide through your hair rather than snag on knots and tangles.
In addition to that, the formula boasts herbal ingredients that condition the hair in between washes. What's more, the product smooths your hair cuticles and helps control frizz.
Key Ingredients
The main ingredients in Kinky Curly Knot Today are fruit extracts, marshmallow root, lemongrass, fatty alcohols, and more. All of these ingredients help support your hair's health and appearance.
Mango fruit extract, for example, contains vitamins A, C, and E, which support healthy hair growth and help maintain a healthy scalp. Fatty alcohols lubricate your hair to make it softer and smoother. And the benefits don't stop there.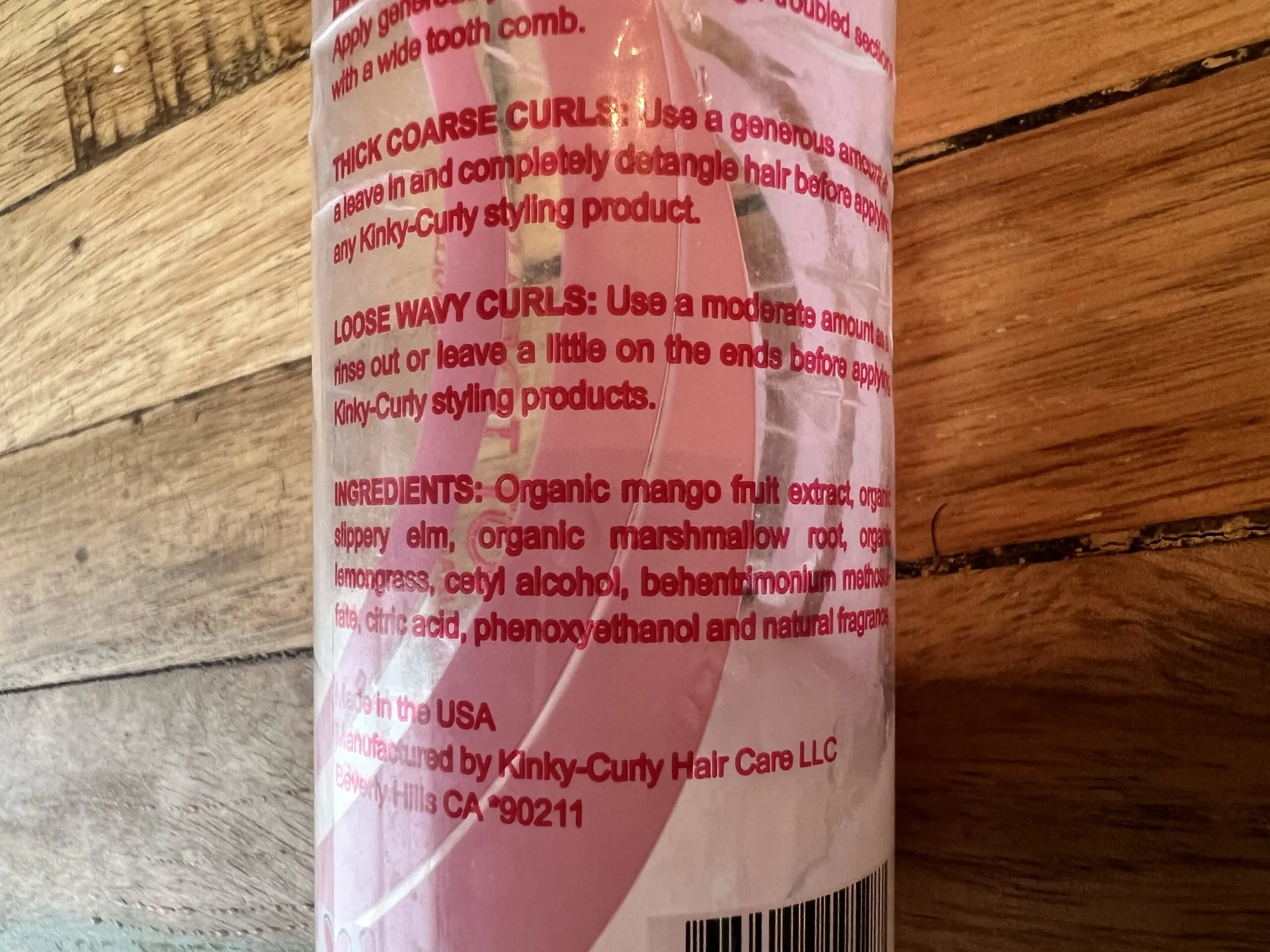 How to Use It
To use Kinky Curly Knot Today, simply apply it to your damp hair and then comb through it with a wide-tooth comb. If you find that you're not getting enough slip, add more product and continue your detangling process. You can also leave the product in after detangling for some lasting hydration and protection.
TWA ROUTINE | KINKY-CURLY KNOT TODAY NATURAL LEAVE IN/DETANGLER TUTORIAL & REVIEW
Pros and Cons
Kinky Curly Knot Today is a fantastic detangler and leave-in conditioner for anyone who needs a little help in removing knots and tangles or keeping their hair moisturized in between wash days. But it's not perfect, just like all the other products on our list. Let's go over the pros and cons below.
Pros
The detangler is very slippery on the hair for painless and efficient detangling sessions.
The product makes your hair smoother, which could aid in styling and reduce tangling.
The ingredients in the product help promote a healthy scalp environment and reduce your hair's chances of breakage through moisturization.
Cons
The smell of the product can be polarizing, with many loving it and some totally hating it.
Our Review
We loved Kinky Curly Knot Today when we tried it; the leave-in and detangler earned a rating of 4.5 out of 5 stars on Curl Centric. This product was able to easily help my son detangle his afro, which was filled with knots and tangles after rolling around on the floor playing video games.
It's a lifesaver as a detangler and leave-in. Those who don't like the product state that it simply didn't work for them or they didn't like the smell. Remember, though, that the vast majority of reviews that we found online were overwhelmingly positive for this product. Chances are you'll love it too.
Do You Need All of These Hair Products?
At a bare minimum, you usually need a shampoo, conditioner, and a leave-in for a normal wash day. If your hair is on the drier side, As I Am Coconut Co-Wash is a great fit for your wash days. You'll need a product that helps your hair retain moisture so it won't get dry, brittle, and break off.
But if your hair is in relatively good condition and you don't experience extreme dryness, you can just go with the shampoo from Shea Moisture – our first pick.
It will cleanse your hair with a little more power than As I Am Coconut Co-Wash, though it won't leave your hair as moisturized as the co-wash would.
As far as the leave-in and detangler go, if you find that you're struggling to handle your tangles, a detangler can really make the process a whole lot more bearable. With a dedicated detangler, you can stop wrestling through your detangling sessions and get through the process much quicker.
Other Products to Consider: Deep Conditioning Treatment
In addition to the above mentioned products in this article, it's a good idea to get your hands on a deep conditioner. This is especially true if you deal with chronic dryness and your products aren't able to keep your hair moisturized in between wash days.
A deep conditioner has much more potency than a rinse-out conditioner or leave-in conditioner. It is chock-full of potent ingredients that penetrate your hair and inject moisture, nutrients, and nourishment right where your hair needs it.
So there you have it, the products you need in your curly hair product stash. We hope you found all the information you were looking for, and we wish you the best with your hair.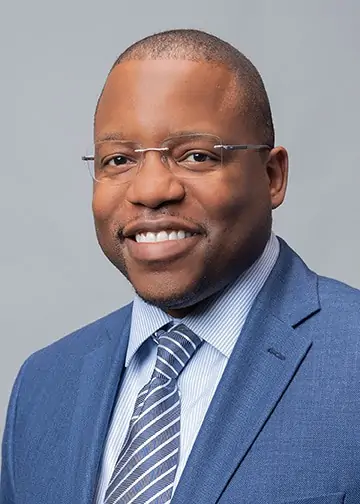 Kenneth Byrd holds a BS in Accounting and Management Information Systems and an MBA from the University of Alabama at Birmingham. With over 15 years of experience, Kenneth has been dedicated to hair care since 2008, when he co-founded Curl Centric® and Natural Hair Box alongside his wife. As a team, they promote healthy hair care practices through their comprehensive platform, Curl Centric. Curl Centric is a website operated by a husband and wife team that encourages healthy hair care. At Curl Centric, we aim to help our readers take control of their hair care journey and make good decisions about products, hairstyles, and maintenance techniques. We also have strict editorial integrity; here's an explanation of our editorial guidelines and how we make money.