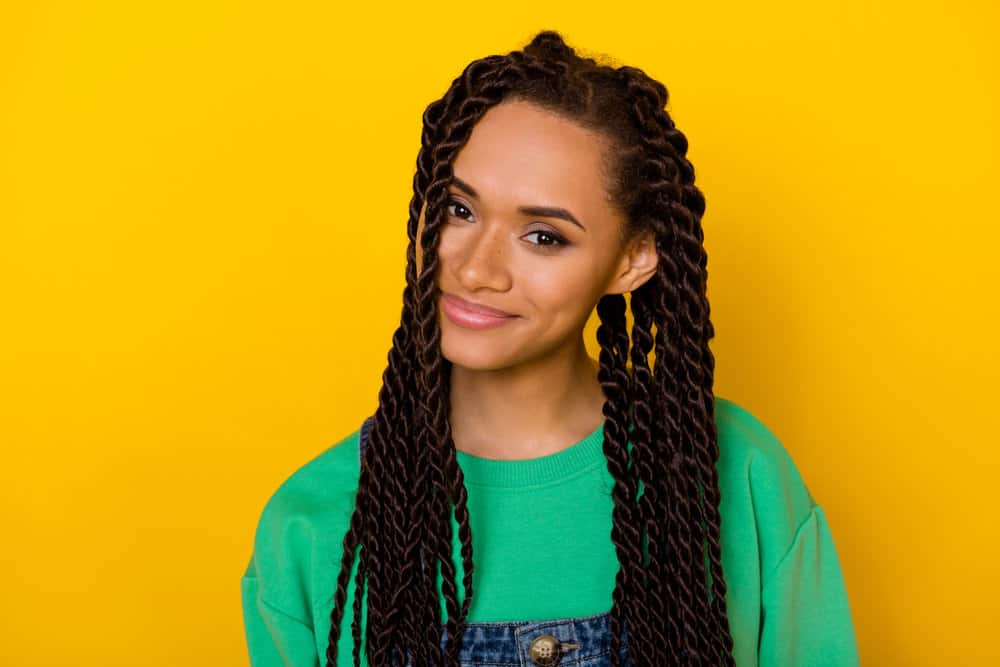 Whether you should blow dry your hair before getting braids is one of the most controversial subjects in the natural hair community. While some naturals swear by it, others swear it off completely.
If you're wondering which side is correct, you've come to the right place!
In this article, we'll explain what happens when you blow dry your hair before braiding it. We'll also weigh the pros and the cons, so you can decide if this is the best method for you.
Should I Blow Dry My Hair Before Braiding?
Whether or not you blow dry your hair before braiding is a matter of personal preference. However, you should know that blow drying your hair comes with significant risks. We'll take a look at those below.
Note: All of the risks below apply to ladies with straight, curly, and wavy hair types.
Heat Damage
The main downside of blowdrying your hair is that it can cause heat damage. Heat damage is caused by using excessive heat on your strands, usually through hot tools like blow dryers, flat irons, and curling wands (i.e., heat styling).
Heat damage will leave your hair feeling dry, thin, and brittle (e.g., weak hair) and may even result in hair loss.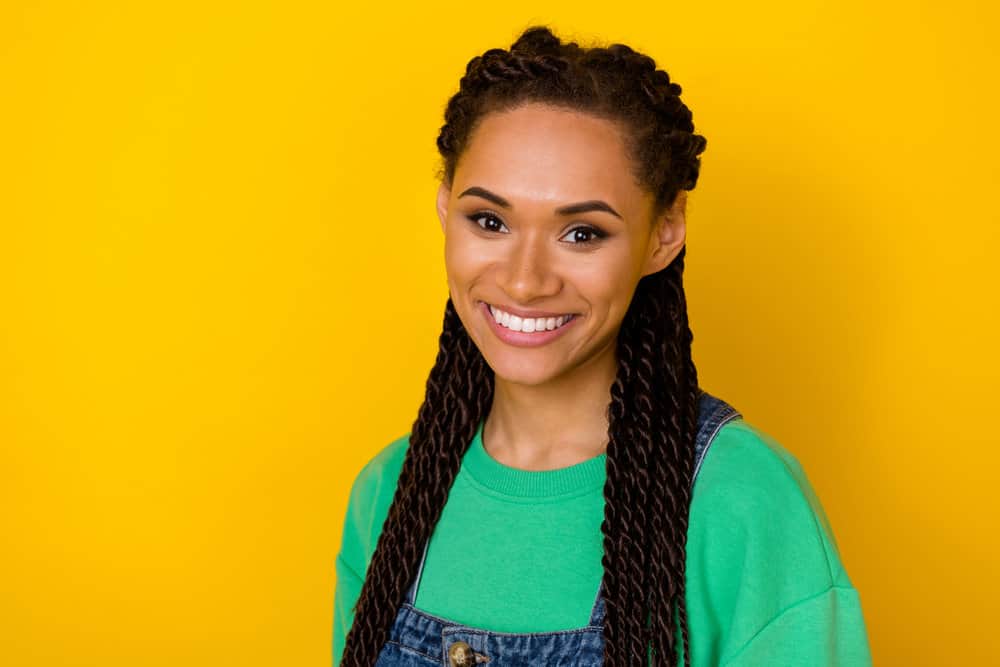 Dryness
Another downside to using hot tools is that they dry out your strands. The hot air can strip your hair of its natural oils, which dries out your hair's cuticles and leaves it looking dull and frizzy. So, your finished braids might not feel as soft and hydrated as they would have if you skipped the blowdryer.
Increased Breakage
Heat isn't the only thing damaging about blowdrying your hair. As you comb through your locks to dry them, you can cause breakage and hair loss.
Also, braiding straightened hair can be more challenging than braiding your natural curls. You might have more difficulty maintaining a grip on your strands. And as a result, you'll have to put more tension on your hair to get your desired style.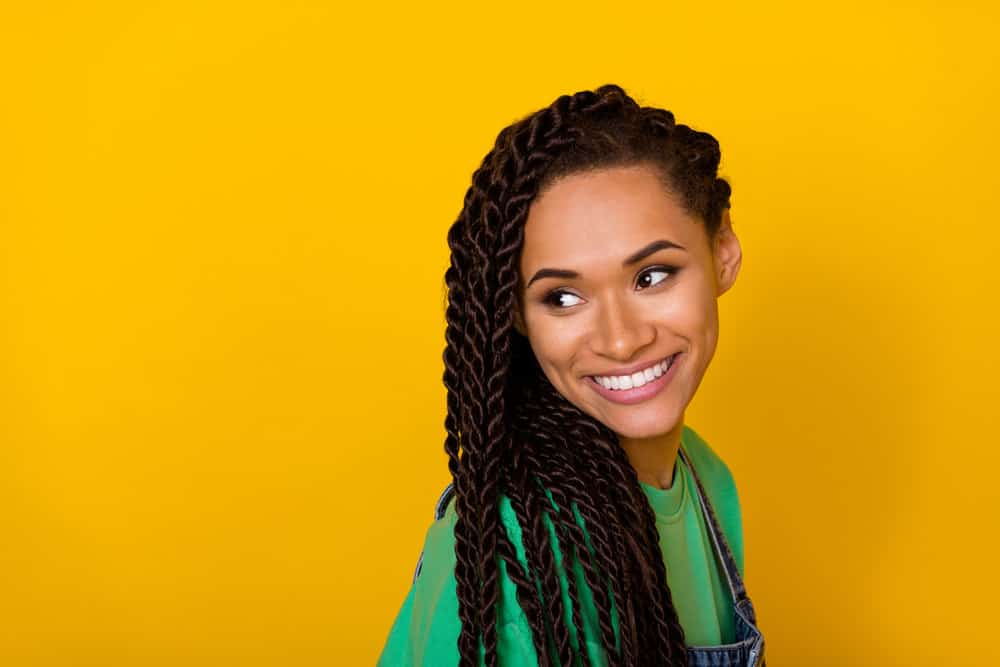 Benefits of Blow Drying Your Hair Before Braiding It
Although blow drying your hair before you braid it can cause damage, it does have some upsides. Understanding both the pros and the cons is crucial if you want to make an informed decision. So to help you do that, we'll take a look at the benefits of blow drying before braids below.
It Can Make Braiding Your Hair Faster
One of the main benefits of blowdrying your hair before braiding is that it can help speed up the process. There will be fewer tangles slowing you down while you braid. You'll also have an easier time parting your hair and getting everything to lay the way you want it to.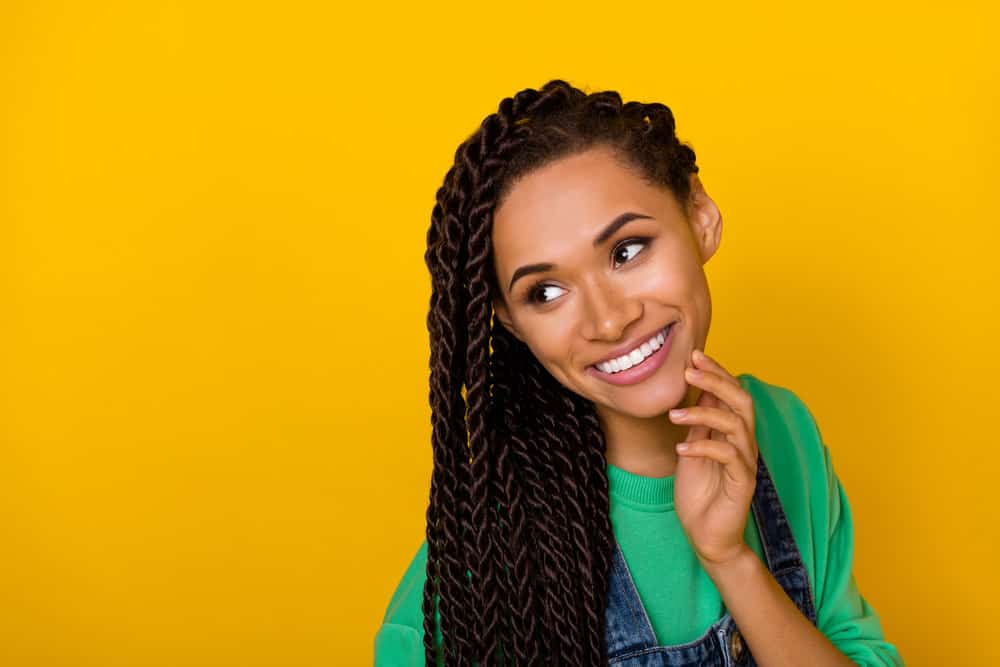 Your Braids May Look Smoother
Depending on your hair texture and the type of braids you install, styling your natural curls can leave your braids looking rough or fuzzy. However, blowdrying your hair loosens your curl pattern. That means your finished braids may come out smoother and shinier.
It Might Cut Down on Damage
Hair is extremely fragile when it's wet, so braiding dry hair might be able to reduce damage. This largely depends on how you go about drying your hair. If you're using cool air rather than hot or warm, blow-drying your hair before braids may reduce damage.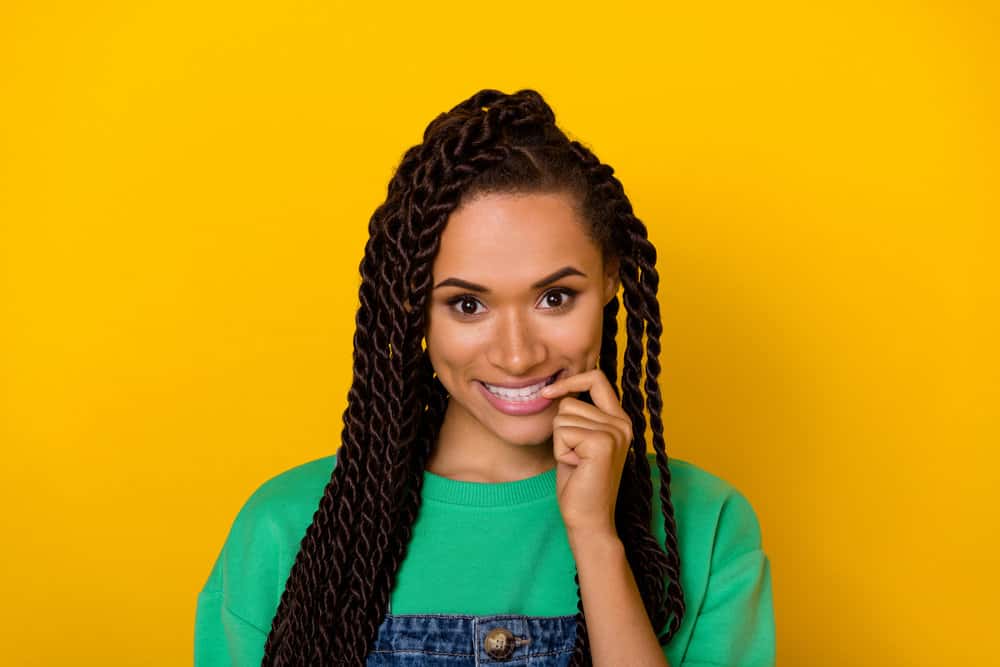 How to Prepare Your Hair for Braids
Prepping your hair for braids can help the process go more smoothly and leave you with more beautiful results. So, in this section, we'll give you a quick rundown on preparing your hair for braids.
Do a deep conditioning treatment – Although braids are a protective style, installing them puts a lot of stress on your hair. The healthier and better hydrated your hair is, the more it will be able to withstand the stress. Deep conditioners give your strands a much-needed hydration boost and help prepare your hair for the upcoming tension.
Apply a protein treatment – Hair needs two things to thrive: moisture and protein. So, in addition to deep conditioning, use protein treatments on your hair monthly. Protein treatments fill in the weak spots along your hair's cuticles. That strengthens your strands and fortifies them before your braids.
Blow dry the right way – While blow drying your hair before braiding isn't really recommended, there is a way to get the benefits without exposing your strands to the risks. Just keep your blow dryer on a cool or cold heat setting and avoid placing too much tension on your strands.
Use a scalp treatment – While it tends to get overlooked, scalp care is just as crucial as hair care. Additionally, getting braids means there's a good chance you won't have access to your full scalp for a while. So, take the time to pamper your scalp before your installation. Use a scalp treatment that soothes and hydrates your skin.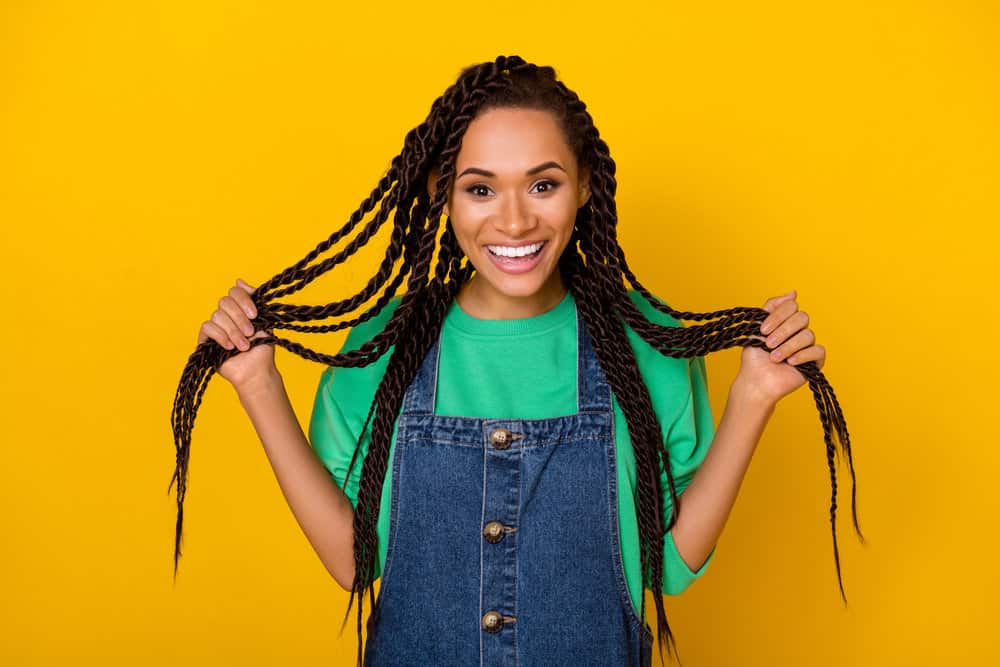 Is It Better to Braid Wet or Dry Hair?
There's a reason why braids and twists are usually installed on dry hair. Braids place a lot of tension on your strands, and your hair is at its most fragile state when wet.
And unfortunately, wet hair is significantly more likely to experience damage and breakage. To prevent this, avoid braiding your hair when it's wet. Instead, blow dry, or air dry your strands until they're only slightly damp.
How to Stretch Hair Before Braiding
Stretching your hair before braiding it will give you some of the same benefits as blow drying, but with none of the damage!
Like blow drying, stretching your hair loosens its natural curl pattern and helps ensure your braids are smooth and quick to install. Here are three of our favorite heat-free ways to stretch your hair.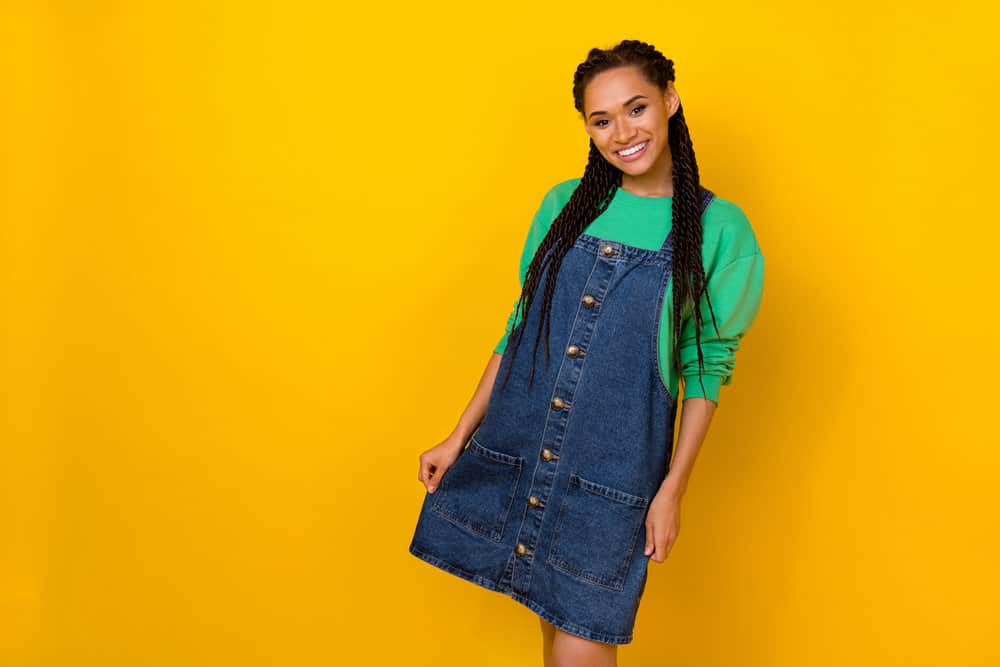 Banding
Banding is one of the most straightforward methods of stretching natural hair. When you band your hair, your damp curls are stretched into a looser position.
As your hair dries, it stays in its straightened state.
Simply gather your hair into one or more ponytails and secure each ponytail with a band. Then, place another band further down the ponytail.
Keep putting on elastics until you've worked your way to the ends of your hair. Once your hair has completely dried, carefully remove your hair ties, and your hair is ready to braid!
Two Strands Twists
Two-strand twists are one of the most popular ways to stretch out your hair. They're gentle and easy, and you can knock them out in a matter of minutes!
All you have to do is divide freshly washed hair into multiple sections, separate each section into two halves, and twist them from root to end.
Keep working your way through your hair until you've twisted all of it. Then, when your hair dries, unravel the twists and start working on your braided style.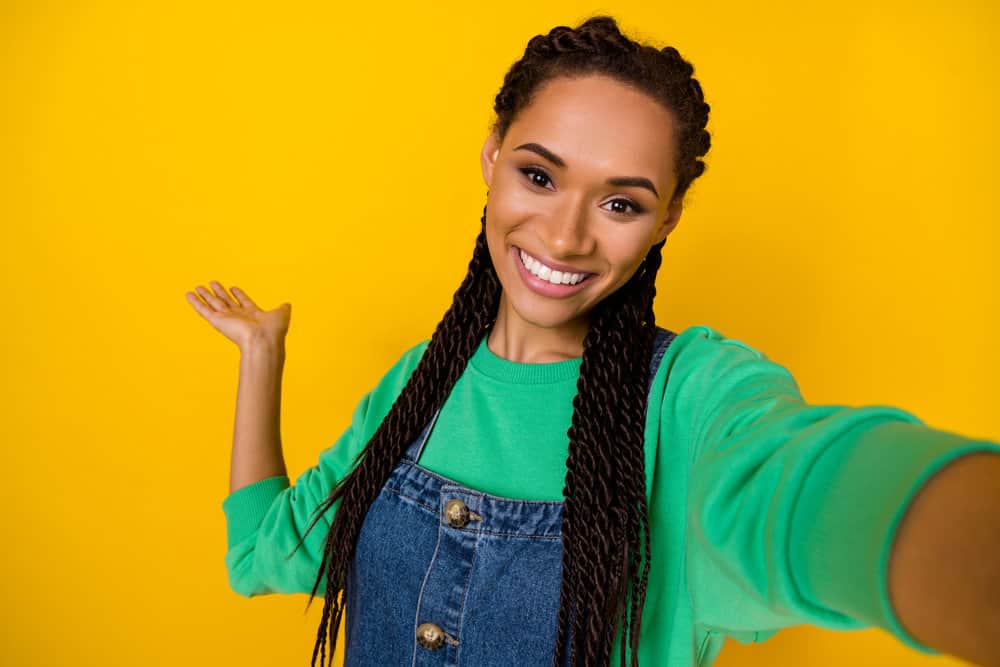 Bantu Knots
Bantu knots are essentially mini-buns placed all around the head. They can help stretch out your natural curls and leave you with a larger, more wave-like texture that's easier to braid.
To start, apply your favorite leave-in conditioner to freshly washed hair. Work out any knots or tangles, and part your hair into small, even sections.
Starting with one of the sections, twist it into a small bun.
If your Bantu knots are too loose, slide a bobby pin into the base to secure it. Once your buns are dry, unravel them and braid your hair as usual.
Blow drying your hair is a popular, although controversial, way to prepare your hair for braids. While it has benefits, it's probably not worth the risk.
If you decide to try it, take precautionary measures to reduce your chances of heat damage, and never forget your heat protectant. Good luck!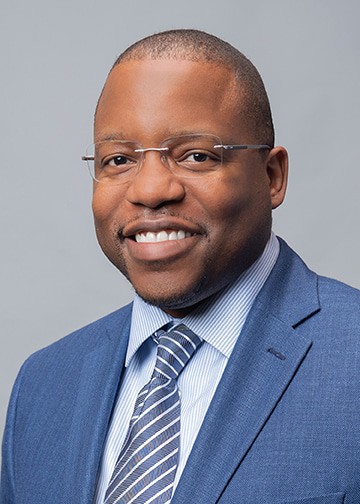 Kenneth Byrd holds a BS in Accounting and Management Information Systems and an MBA from the University of Alabama at Birmingham. He is a serial hair blogger that has been writing about hair care since 2008, when he co-founded Curl Centric and Natural Hair Box. Curl Centric is a website operated by a husband and wife team that encourages healthy hair care.