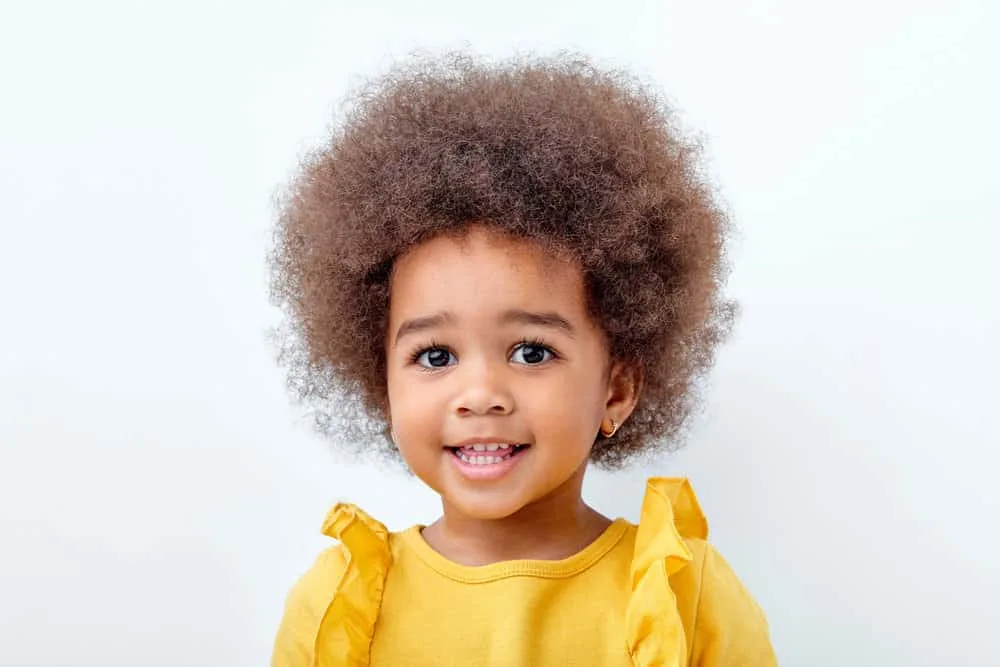 Whether your beautiful black baby girl was born with a few tufts of hair or a full head of thick curls, there comes a time when you've got to style her mane. But what exactly should you do with it?
Your options are a bit more limited than parents with older kids, but there are still several cute, low-manipulation styles you can try.
And we'll introduce you to 7 of them in this article. Keep reading for some of the absolute best black baby hairstyles for girls!
Our Favorite Infant Black Baby Girl Hairstyles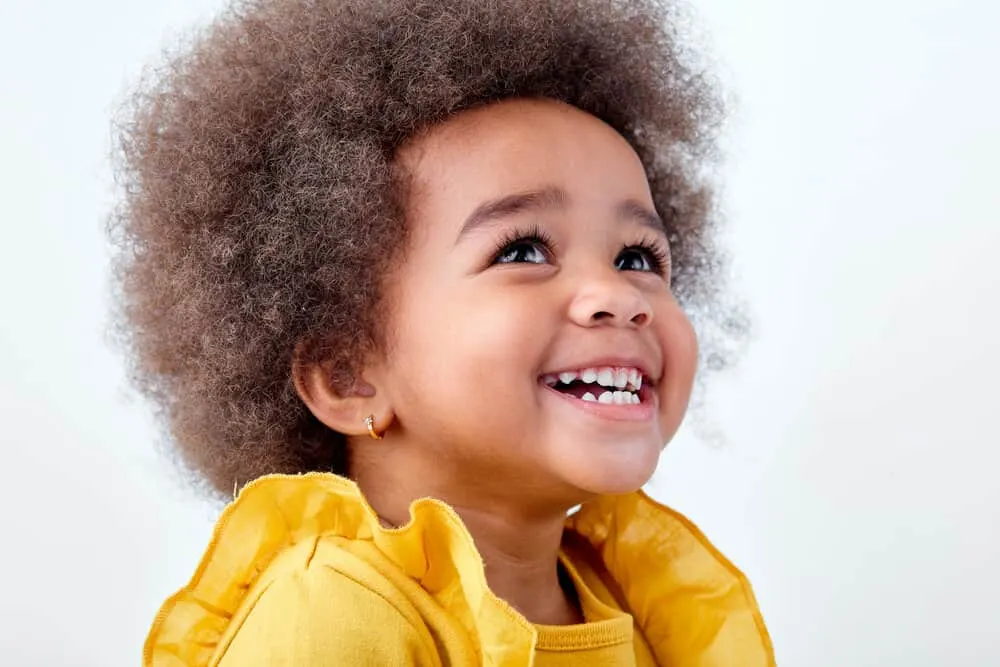 Every parent wants their baby girl to look adorable, and cute hairstyles play a significant role in achieving that.
We'll explore infant black baby girl hairstyles that are cute, stylish, and easy to maintain. Whether you're a new mom or a seasoned parent, these adorable hairstyles will help you keep your daughter's hair looking its best.
Cornrows in the Crown
If you're looking for something quick and super cute, this cornrow hairstyle is a great option to consider. It's got a few small cornrows situated in the crown of the head and nowhere else.
How to cornrow on a sleeping baby | Natural hair |Vlog 49
This style works really well for black baby girls who don't have enough hair to braid on the sides. But that's not all – another thing you'll love about this style is that it only takes a few minutes to complete from start to finish.
To get the look on your little one, you'll have to part her hair (at the crown only) in about 3 to 5 sections and cornrow each straight back. Here's a video showing you how to do cornrows on a sleeping baby. It should help a bit.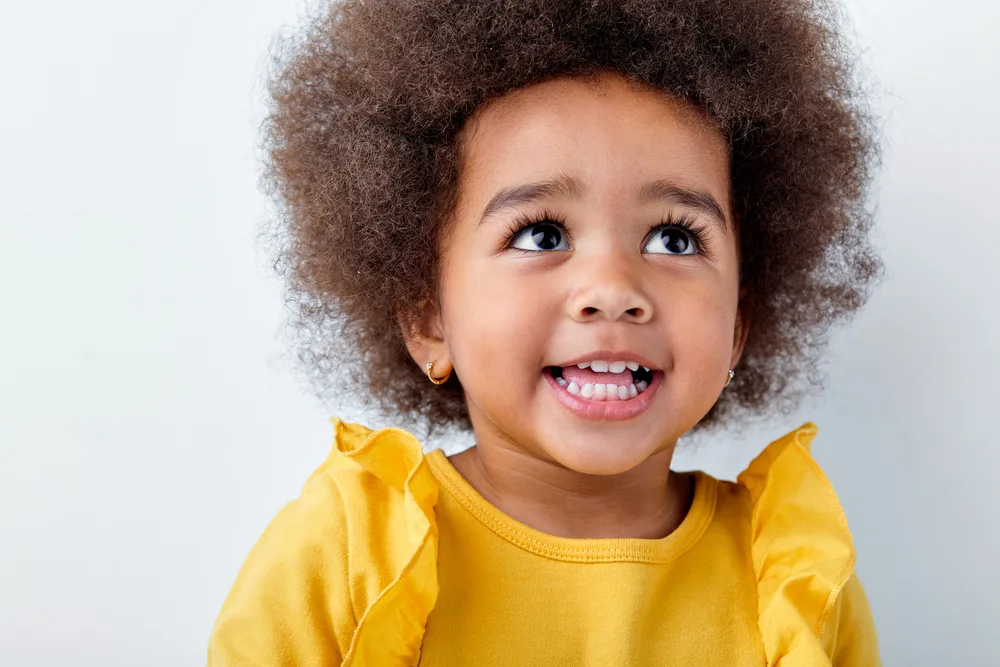 Tribal Side Braids
The best black baby girl hairstyles are those that look the part without being too complicated. This tribal hairstyle gives you and your little girl both. It features about a dozen cornrows, with one cornrow going down the middle of the head.
Little girls Tribal Braids
The style is more on the casual side (for school, play dates, etc.) but can be dressed up with the right accessories. We encourage you to watch this video to see how the style is done step by step.
For this style, your parting technique is just as important as your cornrowing technique. So, pay close attention to the parting after you refine your braiding skills.
As a note of caution: this style may be straightforward, but it won't be right for the youngest infants.
Being that there are quite a few braids, the braiding process might be a little too much for infants younger than 6 months. But if your baby is over that age and can sit still or sleep for a while as you work, you'll be fine.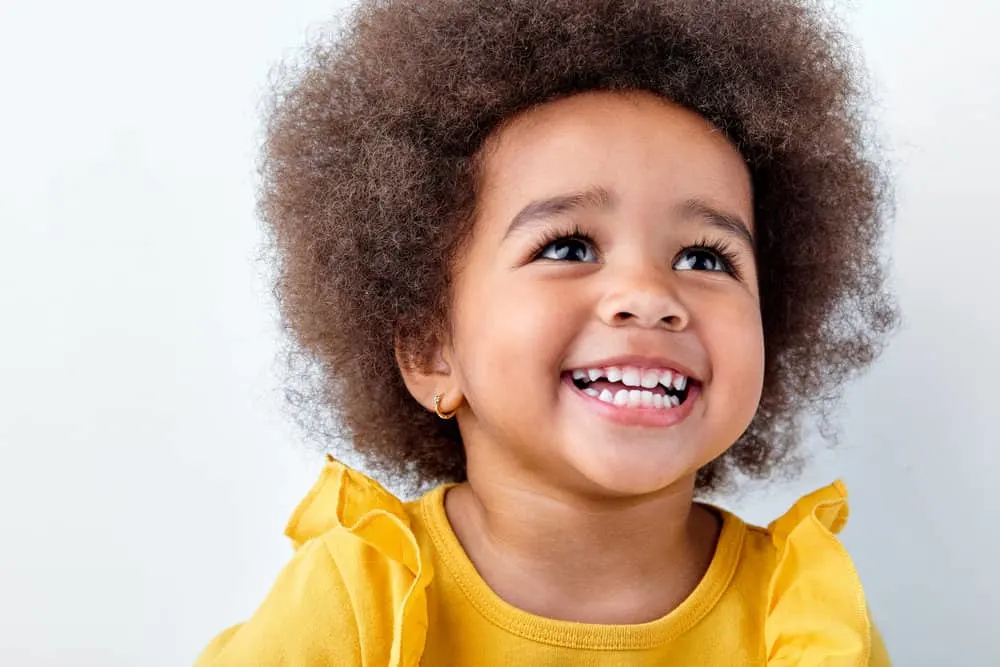 Straight Back Cornrows
When simplicity is what you need, straight-back cornrows are it. They don't require any complicated parting or braiding techniques, so you can get the style done in a matter of minutes.
Let's not forget that straight-back cornrows are as much of a girl style as they are a boy style. Use a comb to gently separate baby's hair into at least 5 sections, and then cornrow each one from the front of the head to the nape of the neck.
You can make the braids as small or as large as you'd like. To add some feminine vibes, you can lightly style her baby hair with a little bit of gel and a baby brush.
Depending on how long your baby's hair is, you can add beads or barrettes to the ends of the braids for some added interest.
Just remember that this style is widely considered to be informal, so you'll probably want to choose a different style if you want your baby to look the part at a formal event. Here's a demo video showing you how to get the look on a 10-month-old.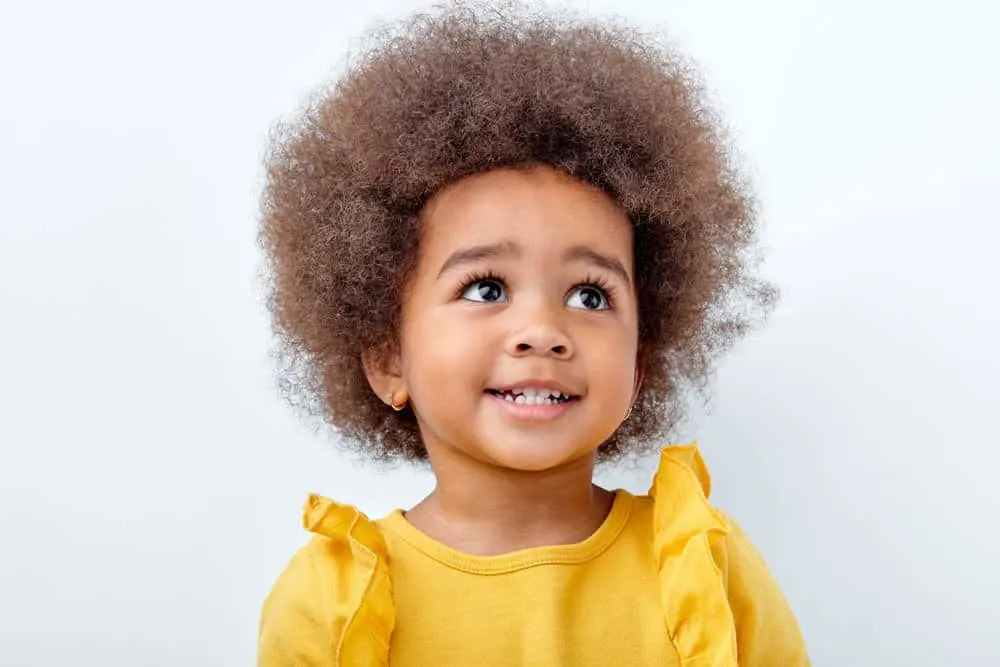 Mini Afro Puffs
When it comes to sheer cuteness, afro puffs are a definite winner. And they don't require any braiding skills whatsoever, which is great if you're not a braider.
EASY STYLING FOR BABIES| 9 months old
Puffs simply require you to part your baby girl's hair into several sections (6 or more) and wrap a ponytail or rubberband around the base of each one. This is a style you can personalize in several ways.
With some colorful ponytail holders or barrettes, you can make it as minimalistic or bold as you want. If your infant is closer to 12 months old, you can let her pick her ponytail holder colors! But before you get started, check out this video showing new moms how to create this style on a 9-month-old.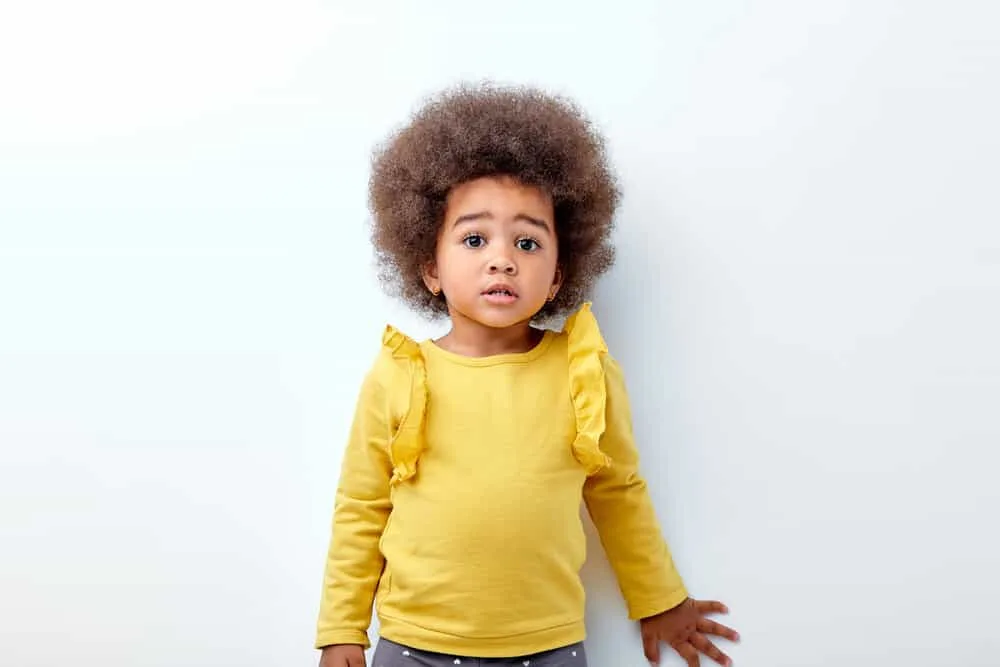 Rubber Band Rows
Here's another hairstyle pick for non-braiders. Rubber band rows give you the flexibility of cornrows with none of the braiding, they take virtually no time to create, and they look super cute!
Easy Hair Style For Babies|How to Quickly Style a 6 Months Old Hair|Tips On How To Style Babies Hair
Grab a comb, some rubber bands, and a moisturizer, and you're ready to make some magic. To create this style, you'll begin by sectioning your little one's hair off into rows.
At the beginning of each row, part out a small box and wrap a rubber band around the base of it. Starting with one of the rows, part out a box right behind that first box, incorporate the hair from the first box into the second box, and secure things with another rubber band.
Continue this down the first row and then for all the other rows. Want to see this style in action? Here's a video demonstration of the rubber band rows style on a 6-month-old.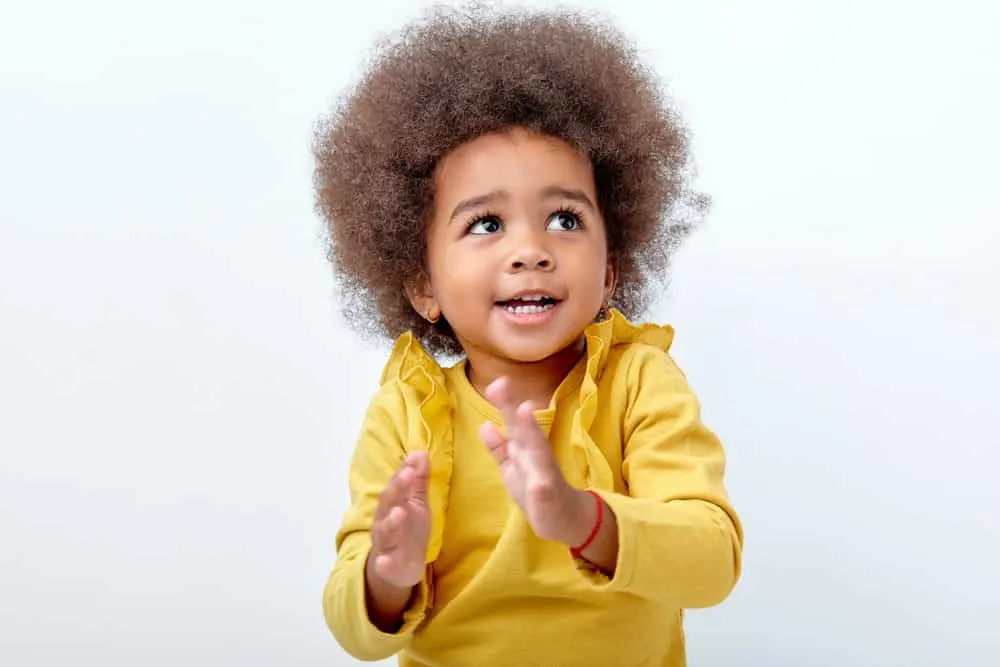 Two Layer Braids with Bangs and Beads
Most infant hairstyles don't last very long, but this one does! If your little one has at least 3-4 inches of hair, this is the protective style you've been looking for.
6 month old's protective hair style
It's made up of two layers of cornrows braided towards the back of the head, a few cornrows coming toward the front like bangs. And to throw the cuteness factor into overdrive, this talented mommy added colorful beads to the ends of the braids.
The good thing about this hairstyle is that it can be tailored to your baby. If she's only got hair at the very front of her head, you can do the braids only there.
The same applies for little cuties who only have hair in the crown.
This type of style takes more skill and time than some of the others on this list, but it can last for up to a week or more.
So, it's ideal for busy mommies who don't want to brush up or style their baby's hair every day or every other day. Watch this video to see the style from start to finish!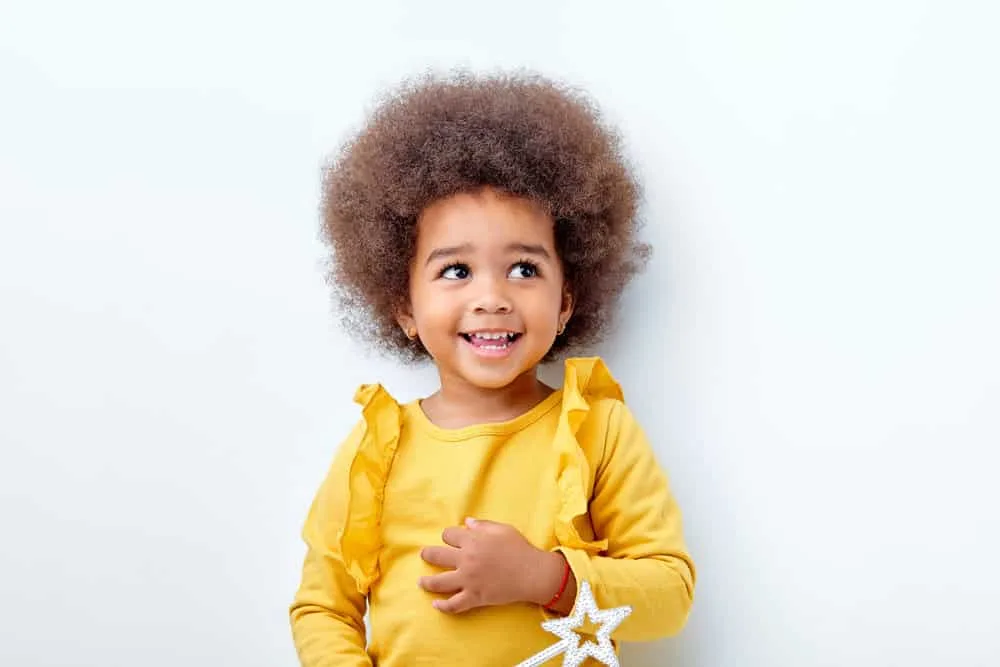 Cute Headband with Curls
Is your little one's hair too short for the above styles? That's not necessarily a bad thing. For kids with short hair, the trick is to accessorize. You'd be surprised at the difference a headband can make.
COCONUT OIL FOR BABY'S DRY HAIR | How to Moisturize and Grow Your Baby's Hair | Leann DuBois
For this headband with curls style, you'll wash, condition, and moisturize her hair. Then, you'll smooth down her little mane and put a headband around her head.
That's it! Before you start, watch this video for some additional tips and a visual demonstration.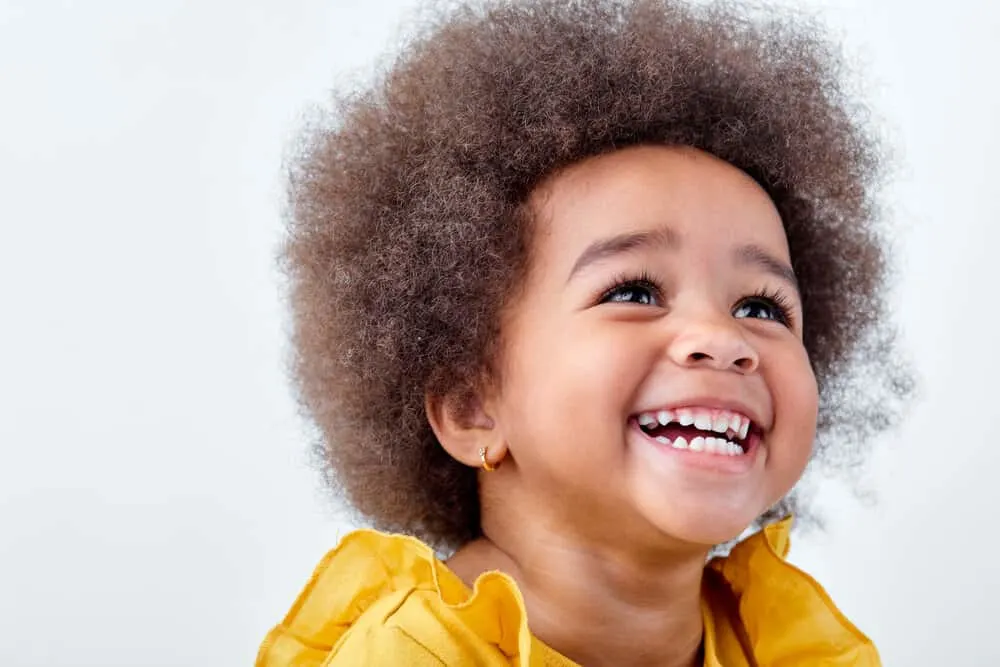 Dos and Don'ts of Infant Black Baby Girl Hairstyles
Most of the black infant girl hairstyles we've gone over are easy to achieve. And the videos lay just about everything out for you. But, still, there are things that can go wrong.
That's why we've formulated a list of dos and don'ts for you to keep in mind.
Do take your time with your baby's hair. Some of the styles are on the tedious side, but you still shouldn't rush through things. Rushing can result in accidental pulling, which could yank out some of her strands.
Do choose a style that complements your skill set. For example, if you don't know how to braid yet, it's not a good idea to choose an intricately braided style. You'll want to refine your skills first.
Don't braid her hair too tight. When you use too much tension throughout the braiding process, you could pull out your baby's hair. Of course, that would be painful for your little one. Also, long-term tension on your baby's hairline can result in hair loss from traction alopecia.
Don't be disappointed if the style doesn't come out perfectly. When you attempt to do your baby's hair, they'll be moving around, crying, or sleeping. This alone makes it difficult to achieve a perfect style. So, it's important to keep your expectations in check.
What Can I Put In My Black Newborn's Hair?
A black newborn's hair is delicate and prone to dryness and breakage. Keep your baby's hair moisturized by spraying it with water and using natural oils to keep it hydrated and prevents dryness. A small number of oils like coconut, olive, or jojoba help seal in moisture. Make sure whatever you use is safe for the baby's skin and won't cause irritation.
How Do You Take Care of Black Babies' Hair?
One of the most important things you can do for your baby's hair is to moisturize it with water and natural oils. Be very gentle when caring for your baby's hair, and avoid tugging on the hair and tight hairstyles. Choose products that are specifically designed for babies and are free of harsh chemicals and fragrances.
How Often Do You Wash Black Babies Hair?
Generally, it's recommended to wash black babies' hair once a week to every two weeks. Washing the hair too frequently can strip the hair of its natural oils. Wash their hair more frequently to prevent buildup and odor if they sweat a lot or if your baby has cradle cap (a common condition that causes scaly patches on the scalp).
So, there you have it – 7 beautiful styles for your baby girl. We hope that one of them is perfect for your little bundle of joy.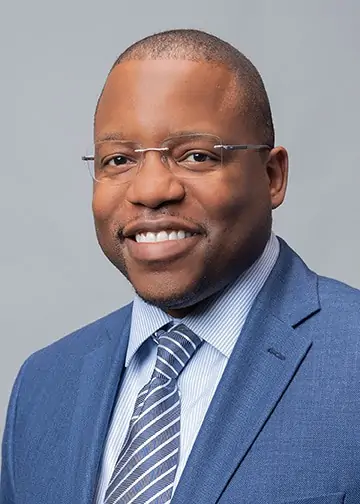 Kenneth Byrd, with a BS in Accounting and Management Information Systems and an MBA from the University of Alabama at Birmingham, has over 15 years of experience and is a recognized authority in hair care. Co-founder of Curl Centric® and Natural Hair Box, Kenneth has dedicated himself to promoting ethical and scientifically-backed hair care practices. Rigorous editorial guidelines, industry recognitions, and features in numerous media outlets evidence his expertise. Kenneth's commitment to transparency, quality, and empowerment has positioned him as a trusted voice in the field, empowering readers to confidently embrace their natural beauty.