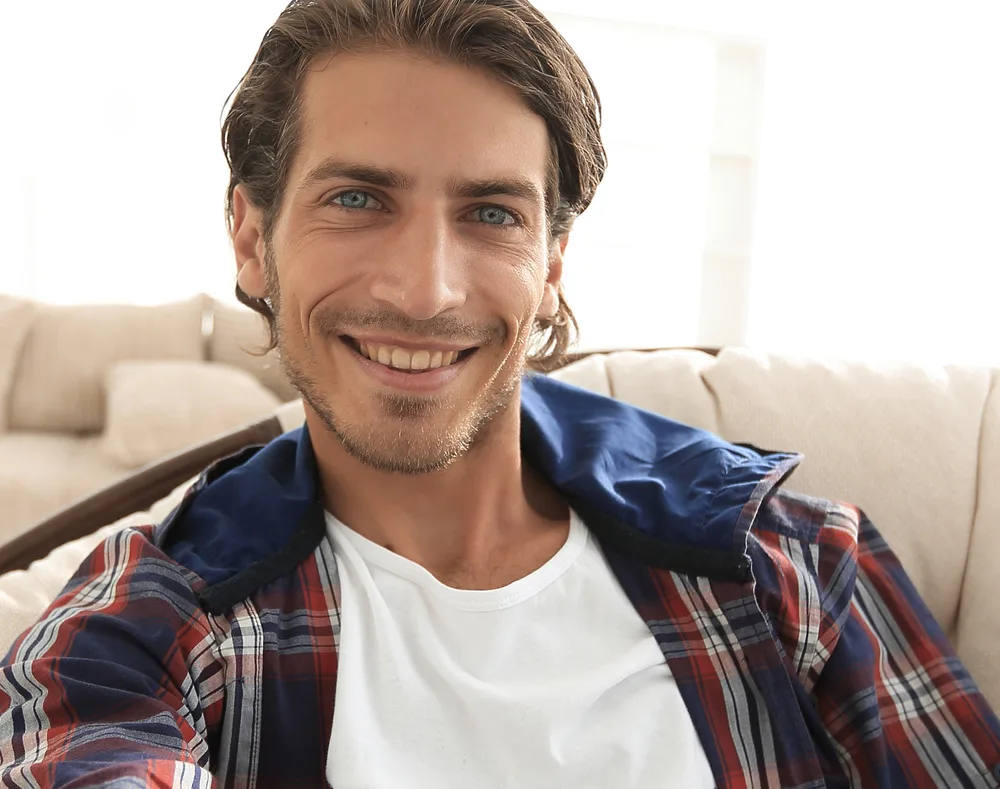 Straight hair can be both a blessing and a curse. While it offers a variety of styling options ranging from sleek and sophisticated to casual and messy, you may occasionally struggle with volume, fullness, or texture.
If you're here in search of straight hair-friendly men's hairstyles, we've got you covered! We'll walk you through a number of different options perfect for men, regardless of whether your hair is short, medium length, or long. So what are you waiting for? Read on to find your next favorite 'do.
Straight Hair Hairstyles: Men Styles & Tutorials
Straight hair comes with its own set of unique styles, advantages, and challenges, and men who are blessed with long hair have a myriad of exciting options to explore. From sleek pompadours to shaggy layers, straight hair can be a canvas for individuality and creative expression.
In the next section, we'll dive into the plethora of hairstyles that cater to straight hair, inspiring you to discover new ways to transform your look.
1. Disconnected Undercut
Disconnected Undercut - Haircut and Style (Actual Haircut Footage)
It's not easy to seamlessly blend elements of traditional and contemporary haircuts, but you wouldn't know that by looking at our first entry. A disconnected undercut is a men's haircut with a long top and shaved-down sides.
Unlike fades and tapers, disconnected haircuts feature an abrupt change in length.
They're dramatic and bold while lending a super slick edge to your cut. When it comes to styling, the disconnected undercut is one of the most low-maintenance hairstyles around.
Because your sides are cut super short, you'll only have to focus on the top. To style a disconnected undercut, simply apply your preferred styling product to your hair and brush. Wondering which product to use?
You can use a light hold gel or wax to add texture and definition or pomade for a sleek and polished look. Watch this video tutorial to learn how to do a disconnected undercut.
2. Mid-Fade
HOW TO FADE STRAIGHT HAIR | MID FADE HAIRCUT TUTORIAL
A classic mid-fade is one of the best haircuts for men with straight hair. The hair on top of your head is kept long so you can explore a variety of flattering hairstyles. However, the sides of your hair are cut short and gradually get closer to your scalp as you move down.
Mid-fades usually start right below your eyebrows, making them less severe than a high fade but more striking than a low fade. It's the perfect middle ground and gives your cut a subtle, professional edge.
If you want to try this look out for yourself, part your hair straight back at both temples and fade your back and sides. When you finish, use clippers to create a clean, well-defined line around your ears and neck to tie everything together.
That's all there is to it! Getting your mid-fade just right can be tricky, so here's a beginner-friendly tutorial to walk you through the steps in greater detail.
3. Braided Viking Bun
A Viking Bun? - Unique Looking French Braid Man Bun
Men with long straight hair: don't worry, we haven't forgotten about you! A braided Viking bun is an excellent choice for long hair. It's bold, stylish, and helps keep your hair from falling into your face.
The addition of a braid helps upgrade the simple bun and gives it a more masculine edge. To create a braided Viking bun, separate a thick section of hair in the center of your head. Starting with the portion closest to your hairline, loosely cornrow the section straight back.
Once you reach the center of your head, stop cornrowing and finish the braid straight down. After completing your braid, gather it and your loose hair into a high ponytail.
Wrap the length of the ponytail around its base, and tuck the ends into your hair tie.
As a finishing touch, pull out a few loose strands of hair to help soften your bun and give it a messier, more casual finish. You can learn more about creating a braided Viking bun with this video tutorial.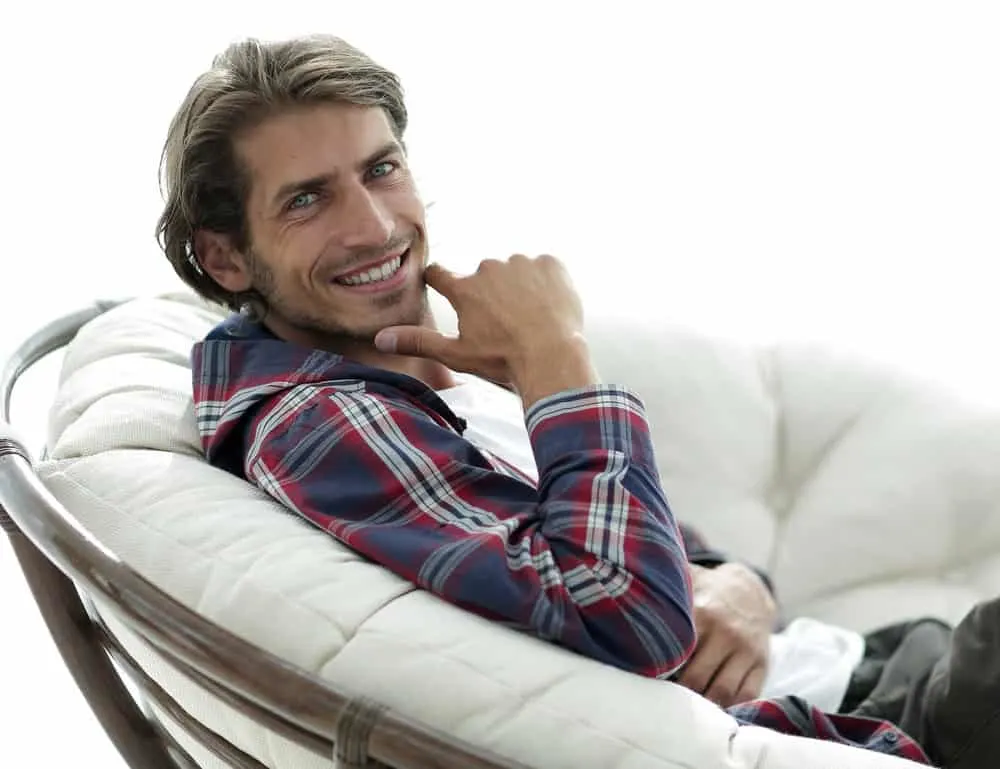 4. Side-Swept Pompadour with Taper
Men's Hairstyle Side Swept Tutorial | Men's Hairstyle 2018 | ALEX COSTA
A side-swept pompadour with a taper might sound like a mouthful, but it's actually a sleek and sophisticated style. It's the perfect style for men who want to add a touch of class to their hair while maintaining a classic and masculine silhouette.
To create a side-swept pompadour with taper, cut your hair to a medium length.
Then, make a deep side part and trim all the hair falling beneath that line. As you move down, gradually cut the hair shorter to create your taper.
Repeat the process on the opposite side and brush through your hair to get rid of any loose strands. After finishing your cut, brush your hair over to one side.
Rub a small amount of wax or pomade between your hands and smooth them over your pompadour to lock your style in place. That's all there is to it! If you still have questions, this YouTube video will give you everything you'll need to pull off this incredible look.
5. Curtain Haircut
Ruel Curtains Haircut Tutorial - TheSalonGuy
If you were around in the 1990s, you might remember our next look. A curtain haircut is a 90s style that has recently seen a resurgence in popularity after being rediscovered by social media stars and influencers.
Curtain cuts are equal parts retro and modern and are a great way to show off your more fashionable side. They're also a fantastic way to show off those straight strands!
One of the best things about curtain cuts is that they're medium-length, meaning there's a ton of room to switch up your hairstyle. Try throwing in a middle part to highlight facial symmetry and give your haircut a youthful vibe.
Or, opt for a side part to balance out your features and create an air of mystery. Have fun playing around with different styling techniques and products until you find what works for you. Here's a video tutorial to help get you started.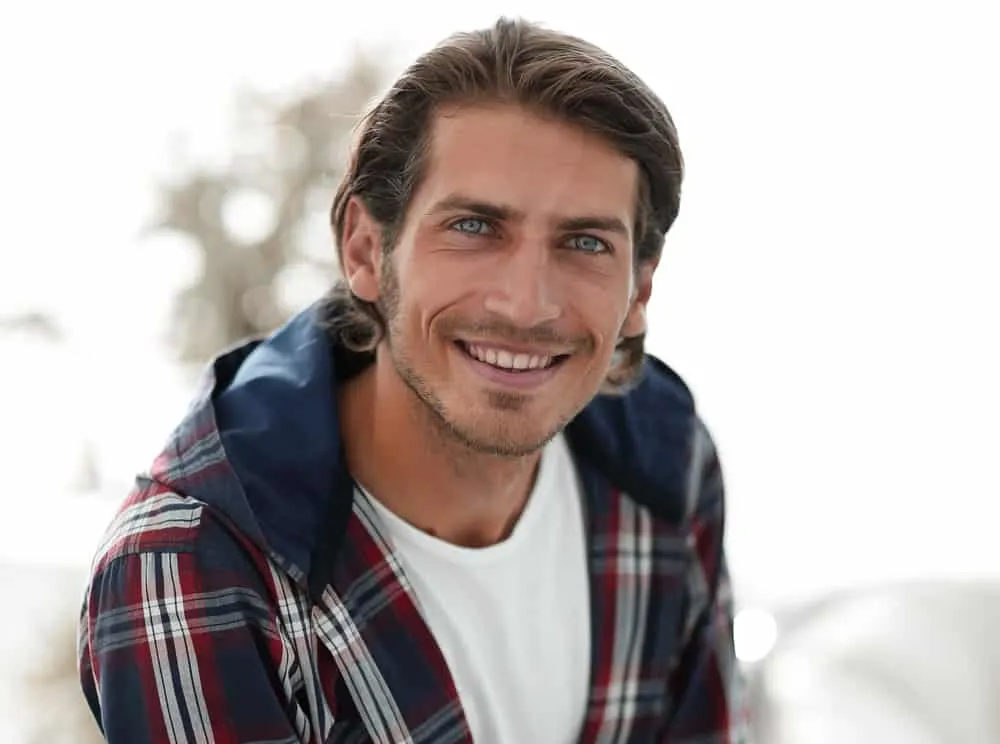 6. Comb-Over Bald Fade
COMB OVER / HARD PART/ BALDFADE : Tutorial
A comb-over bald fade is an ideal cut for men with short to medium-length straight hair. It's simple, classic, and creates a stunning contrast in shapes and textures.
The long, side-swept top pairs beautifully with short, slick sides, bringing a striking modernity to the cut. Despite being edgier, the classic silhouette means this cut works well for any occasion.
To create your comb-over bald fade, apply a medium hold gel or mousse to your hair.
Start with your roots and gradually work your way up the strand.
Once your strands are evenly coated, create a deep side part on your preferred side. Brush both halves to the side until you're satisfied with the shape.
Then, smooth a medium hold gel over your finished 'do to lock it in place. Want to make your comb-over even more polished? Try adding a hard part to it, just like this talented barber did.
7. Modern Side Sweep
Modern Side Sweep Hairstyle | Best Men's Hairstyles | Short Hair for Men
Classic and stylish, a modern side sweep is quickly becoming one of the most widely sought-after men's hairstyles. It pairs a voluminous, perfectly swept top with streamlined sides.
The result is a classic, timeless look that's anything but boring.
To achieve a modern sweep, trim your top down to your desired length. When you finish, it should be between three and six inches long to give you plenty of room to play around with styling, texture, and shape.
When you finish your top, cut the back and sides of your hair slightly shorter. For an even more striking look, add a fade or taper to the cut. The final step in creating a modern side sweep is to use your scissors to make a side part.
Then, sweep all of your hair to one side. Smooth a little gel onto your strands, and that's it! This YouTube video will give you more tips on creating the perfect modern side sweep.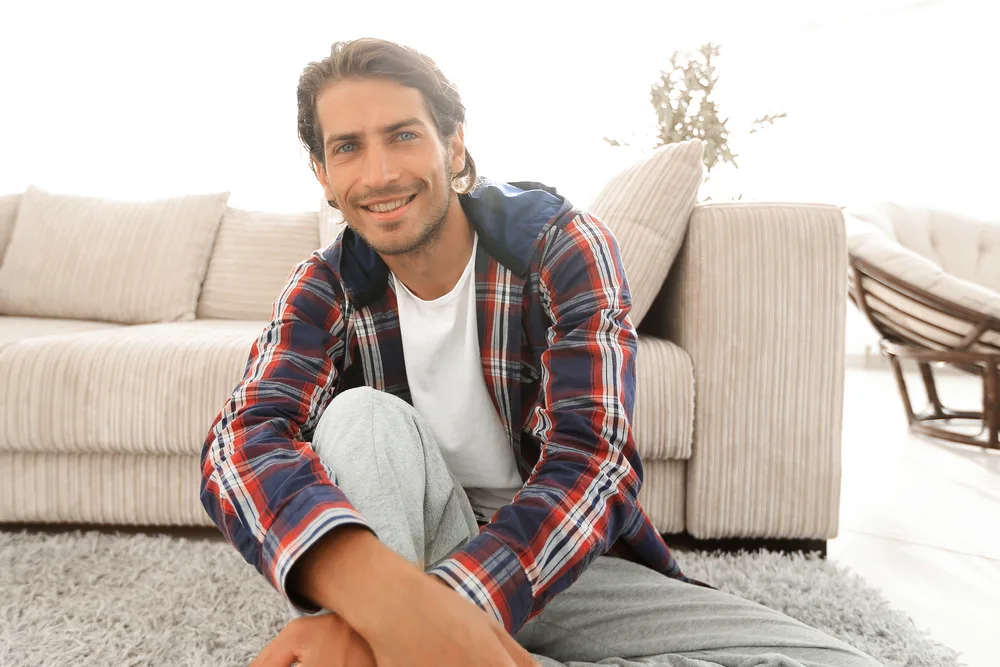 8. Caesar Cut with a Bald Fade
Caesar Cut Crop Haircut With High Skin Fade & Short Beard Trim
A Caesar cut is characterized by its short length and textured fringe. The fringe is typically cut straight across your forehead and can be styled in various ways. You can try sweeping your fringe to the side, slicking it back, or letting it fall naturally.
Caesar cuts are versatile and easy to maintain, making them a popular choice for men who prefer to keep things simple. This look manages to upgrade a simple Caesar cut by pairing it with a bald fade.
When you get a bald fade, the sides of your hair are cut short and gradually transition to bare skin. They bring more structure and edge to your cut and help modernize it.
If you want to try out the Caesar cut, trim the top of your hair to one or two inches long. Next, texturize your strands with hair shears to create a choppy texture.
To finish your cut off, create a skin fade on your back and sides. This Caesar cut with a bald fade tutorial is perfect for beginners, so make sure you check it out!
9. Textured Fringe
Mens Haircut - 2 Fall Hairstyles | Textured Fringe & Messy Quiff | BluMaan 2018
This simple and distinctive cut is exceptionally flattering on men of all ages, hair types, and face shapes. A textured fringe is a short to medium-length cut with a long, tousled bang and sleek sides.
The loose, casual shape accentuates your bone structure and brings a youthful flair to your look. Although it will look like your hair took ages to style, creating a textured fringe is super easy!
Simply spritz your bangs with a sea salt spray to create a messy texture. Then, work your fingers through the hair and shake it from side to side.
If you need a little bit more hold, follow up with a light application of gel, wax, or pomade. Keep finger-styling your hair until you're satisfied with how your fringe is lying. Looking for more styling inspiration? Check out this helpful YouTube video!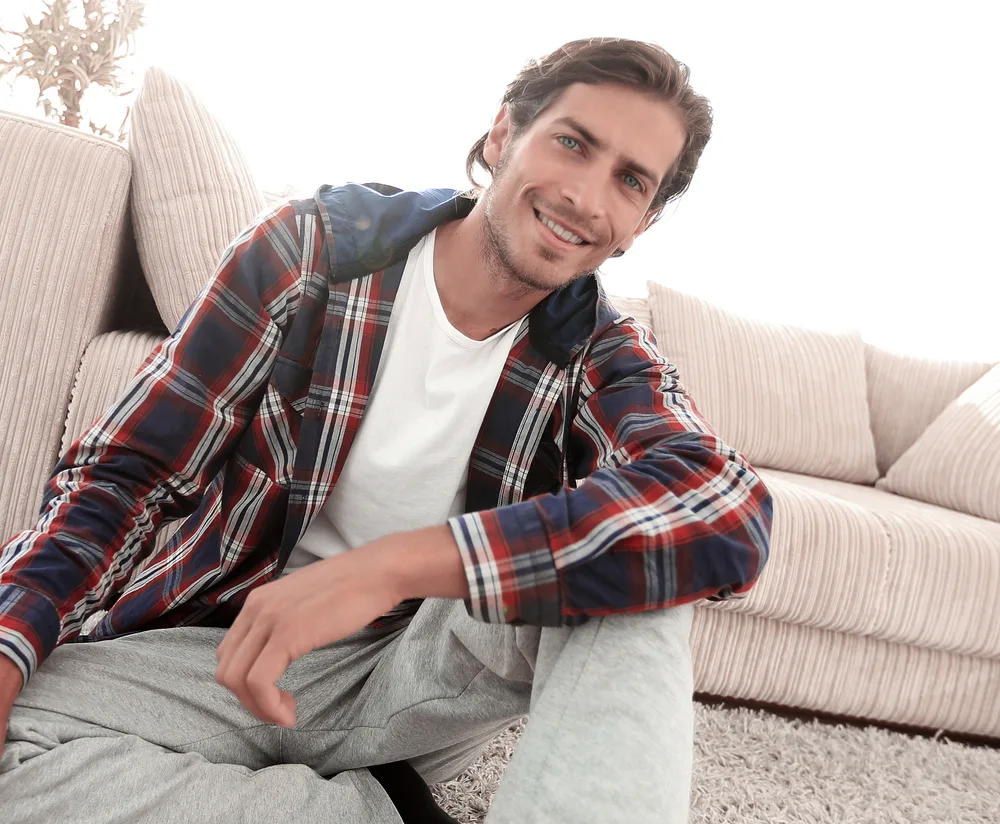 10. Faux-Hawk Fade
Men's Haircut Tutorial - Fohawk Haircut Fade - TheSalonGuy
Do you like hairstyles with a little more edge? A faux-hawk is a modern haircut that combines elements of a mohawk and low fade. Like a mohawk, a faux-hawk pairs short sides with a long, voluminous top.
Unlike a traditional mohawk, your sides aren't taken all the way down to your scalp.
Instead, they slowly get shorter as you make your way down your scalp. As a result, faux hawks are easier to wear and can even be dressed up for a professional environment.
Just keep the volume to a minimum and focus on texture rather than height. Begin your faux-hawk by working pomade or gel through your hair. You want your faux hawk to have plenty of hold, so make sure you use a product that gives you plenty of control.
Brush or comb both halves of your hair towards the center until you're happy with the shape. Here's a video showing how to create a faux-hawk fade in greater detail.
11. Blowout
Professional Men's Blowout Tutorial | Slikhaar Studio Salon Secret
Some men think that having naturally straight hair means they don't need styling tools like flat irons and blow dryers. However, our next look proves that couldn't be further from the truth!
A men's blowout is a popular hairstyle combining volume, texture, and movement in one great look. You never want to use a blow dryer on dirty hair, so start your style by washing your hair with a volumizing shampoo and conditioner.
Apply a small amount of styling product to your hair and blow dry it on medium heat. If you want a voluminous look, make sure you brush your hair up as well as out.
Once you're satisfied with your blowout's shape and volume, brush through it a few times to soften its texture. To finish the style, apply a lightweight wax or pomade to finger-style your hair and help everything fall in place. Here's a tutorial that provides a few more details.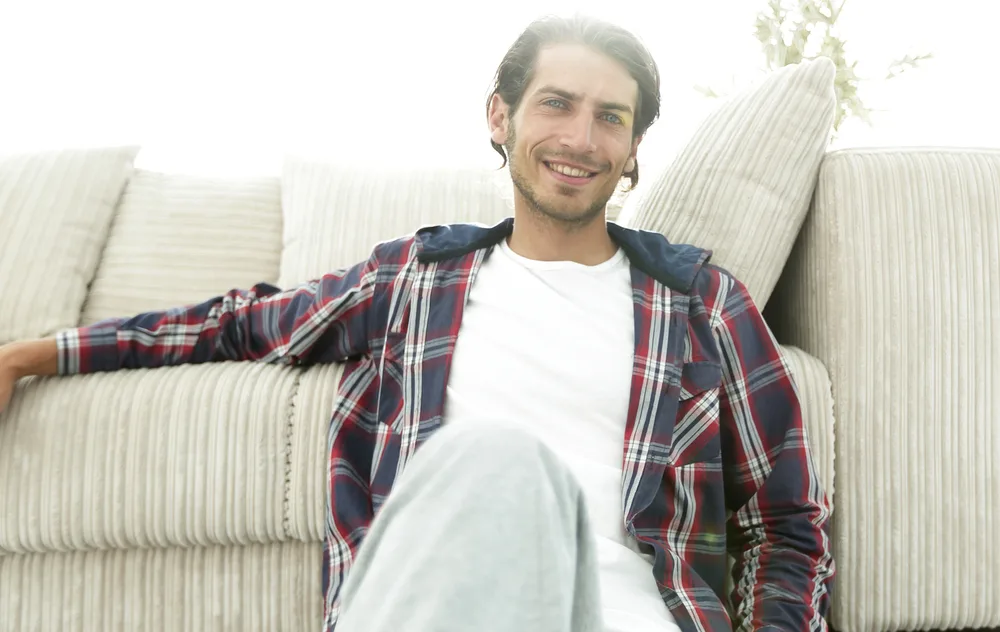 12. Crew Cut
The American Crew Cut: A Timeless Men's Hairstyle
Fans of military-inspired haircuts will want to pay attention to our next look. A crew cut is a classic, timeless look excellent for men with straight hair.
Although a crew cut is an extremely short haircut, they have a slightly longer top to provide more room to play around with styling and creating different shapes. If you've decided a crew cut is right for you, use a pair of clippers to take your back and sides down to half an inch to an inch long.
Once you've blocked out your basic cut, go back in and take a bit more length off the back and sides. To create a gradual transition in length, start at the bottom of your head and work your way up.
To finish, use a comb and clippers to blend your top and sides and create a seamless transition. This beginner-friendly tutorial will walk you through everything else you'll need to know.
13. Slicked Back Undercut
3 Different Ways I Style My Undercut + Hair Length Update! [1/19/18]
A sharp, well-dressed man needs a haircut that can hold up to his impressive wardrobe, and that's exactly where our next look comes in.
A slicked-back undercut is a popular style that combines the refinement of a slicked-back hairstyle with the edge and modernity of an undercut. The edge prevents it from looking too stiff and formal, while the slicked-back top gives it a professional quality.
In addition to working well for men of all ages, a slicked-back undercut is appropriate for virtually any occasion. The main benefit of a slicked-back undercut is that it's almost effortless to style!
Just apply a generous amount of gel or pomade to your hair and brush it straight back. It literally couldn't get any easier! As you can see in this video, a slicked-back hairstyle looks fantastic when you pull it straight back or slightly to the side.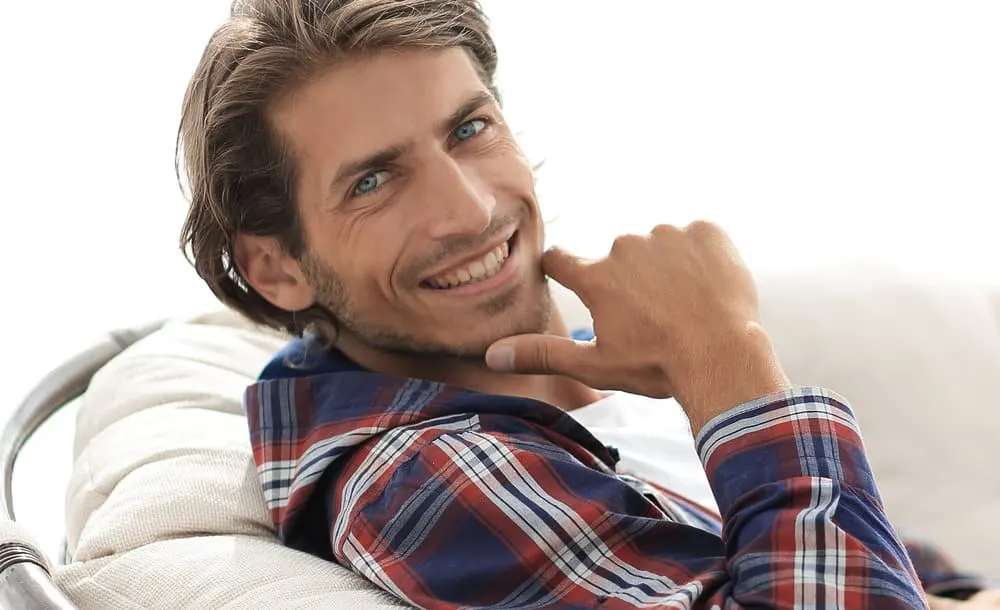 14. French Crop Skin Fade
French Crop Skin Fade with Jack & Francisco | ODPhadez
A lot of people consider French crops to be the quintessential men's haircut. They're similar to a Caesar cut, with a short overall length and longer bang.
However, French crops typically have a much more pronounced fringe that gives the cut more versatility and better shows off those straight strands. While French crops are great on their own, this look proves they're even better with a skin fade.
While other types of fades leave a little bit of length, skin fades take your hair all the way down to your scalp. That adds a classy edge to your French crop and helps modernize the simple cut.
With such a classic shape, it's easy to dress your French crop up or down. You can learn how to create a French crop skin fade by watching this YouTube video.
15. Textured Quiff
Super Easy Texture Quiff Hairstyle Tutorial 2018 | Mens New Year New Hair! | BluMaan 2018
Quiffs are one of the most popular hairstyles for men with straight hair, and it's easy to see why! Quiffs are a classic cut in which your hair is trimmed on the back and sides and left longer in the center.
They have a similar shape to a pompadour, but their short length makes them a much more wearable look. Whenever you're ready to style your quiff, start the process by washing and towel-drying your hair.
While it's still damp, work a texturizing wax, clay, or pomade through your strands. Brush or comb your hair forward at an upward angle. Use your fingers to pinch your hair and create volume at the front.
After you finish styling your quiff, mist it with a light-holding spray to keep everything in place. Here's a video demo that will make the styling process a piece of cake!
We aren't exaggerating when we say that there are a ton of different ways to rock straight hair. Just make sure you're taking time out to care for your strands in between styles. That means washing your hair regularly, avoiding tight or damaging styling methods, and using plenty of hydrating conditioners.
You should also try to avoid getting stuck in a rut, so be sure to change your hairstyle often. On that note, we hope the hairstyles we've gone over today are just what you need to shake up your routine!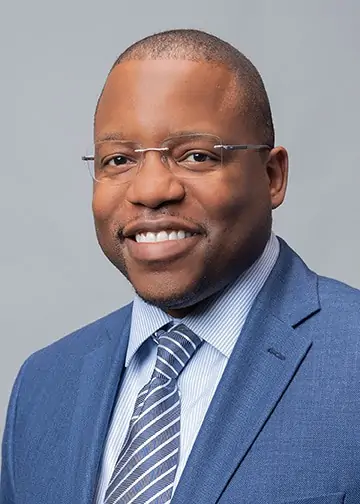 Kenneth Byrd holds a BS in Accounting and Management Information Systems and an MBA from the University of Alabama at Birmingham. With over 15 years of experience, Kenneth has been dedicated to hair care since 2008, when he co-founded Curl Centric® and Natural Hair Box alongside his wife. As a team, they promote healthy hair care practices through their comprehensive platform, Curl Centric. Curl Centric is a website operated by a husband and wife team that encourages healthy hair care. At Curl Centric, we aim to help our readers take control of their hair care journey and make good decisions about products, hairstyles, and maintenance techniques. We also have strict editorial integrity; here's an explanation of our editorial guidelines and how we make money.