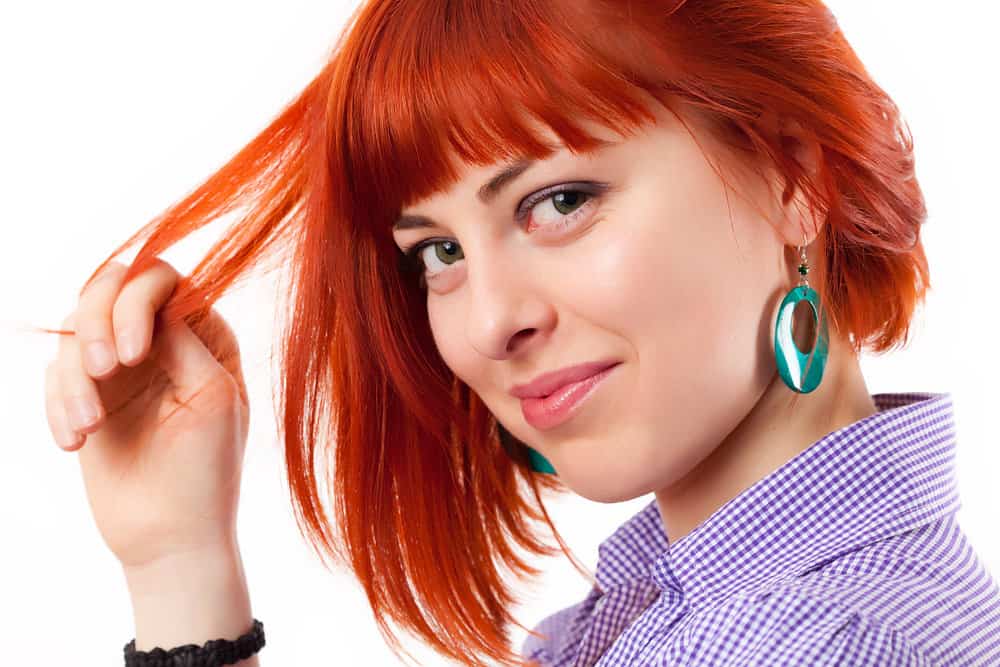 There are a lot of things to consider when it comes to hair dye. You want to ensure that the color is even, the results will last, and that it won't leave your hair in shambles.
The hair dye in question today is Splat. It's one of the most popular hair dye brands in existence. Despite its widespread use, many hesitate to use it because they're not sure whether it's good.
Is Splat hair dye good for your hair? Does it damage your hair? We'll answer that for you in this article. Let's get right into it!
Is Splat Hair Dye Good?
In general, we think that some Splat products are better than others – Splat's semi-permanent hair dyes and color kits with bleach are good and generally well-liked. Although, their 10-wash dyes and 30-wash dyes don't seem to perform as well.
Overall, we think that if you're looking for a good semi-permanent hair dye in a fun fashion color, Splat is a good choice.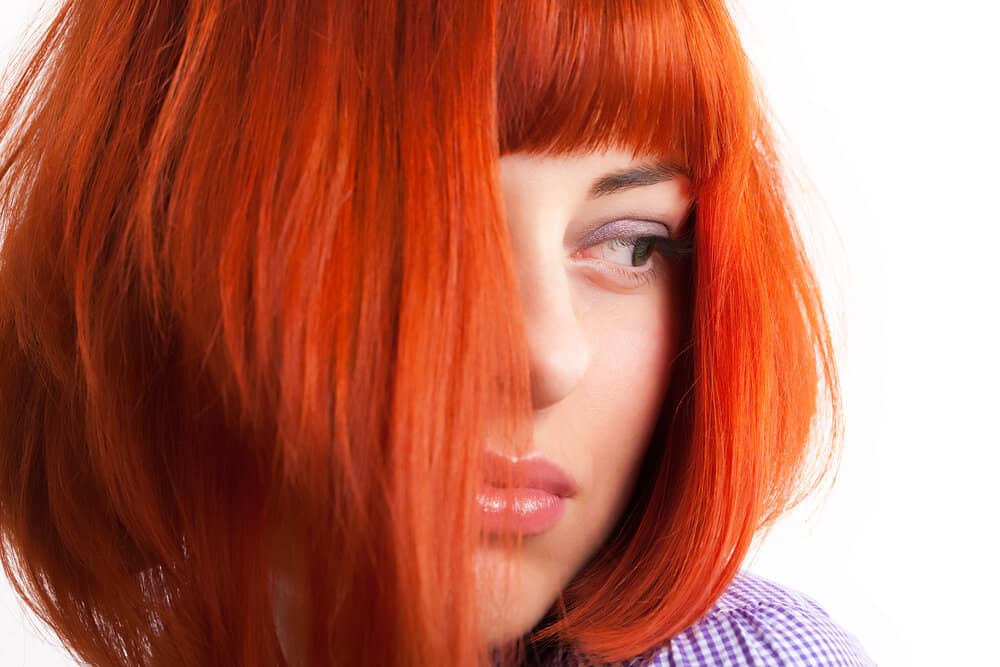 However, we caution against using their bleach kits on a regular basis – the ingredients they contain can be very harsh on your hair.
We also encourage you to take a good look at the ingredient list on any Splat product to see if the "bad" ingredients mentioned above are included. If you want to put the health of your hair first, Splat hair dyes are generally not the best option.
Other brands make healthier hair dyes without some of the harsh chemicals found in Splat products. We recommend doing some research to find a hair dye that's better for your hair before making a final decision.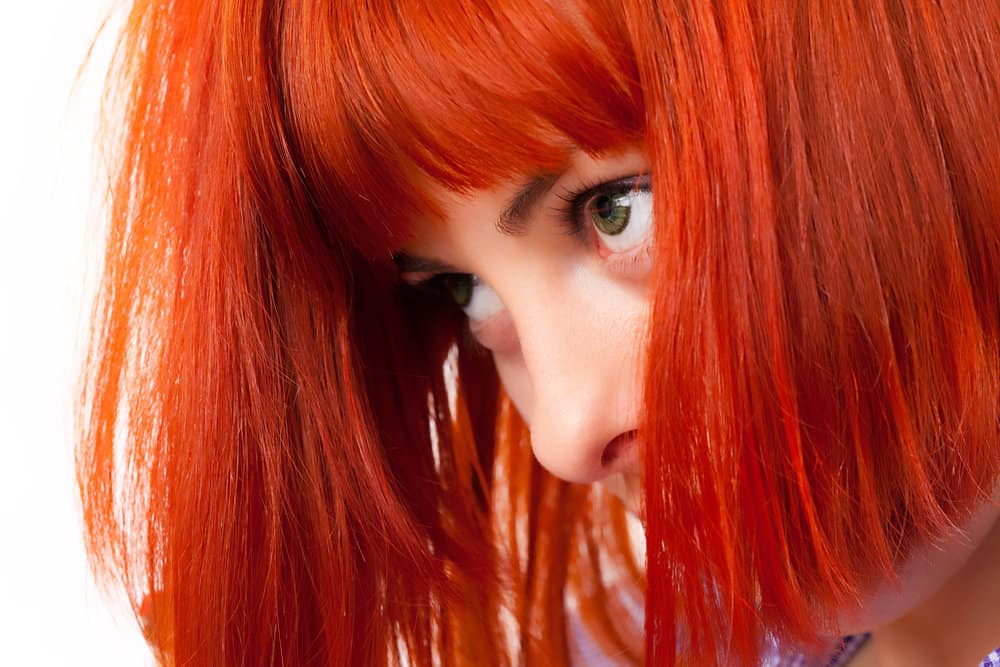 An Overview of Splat Hair Dye
Splat hair dye has been around for a while. It was first created in California in the early 1990s by creators Dave and Ann Agrey. They sought to develop a line of hair dye that was affordable, effective, and available in mass.
The dye was an instant hit, and Splat quickly became one of America's favorite dye brands. Why was Splat so popular?
It's all in the claims. The company promised vibrant, long-lasting colors that resist fading for weeks. It also claimed that its dye was gentle enough for all hair types.
Today, Splat is still one of the most popular hair dye brands on the market.
Though, its reputation has changed a bit since its early days. In the past few years, Splat's gotten a bad rap for being harsh on hair and not delivering on its promises.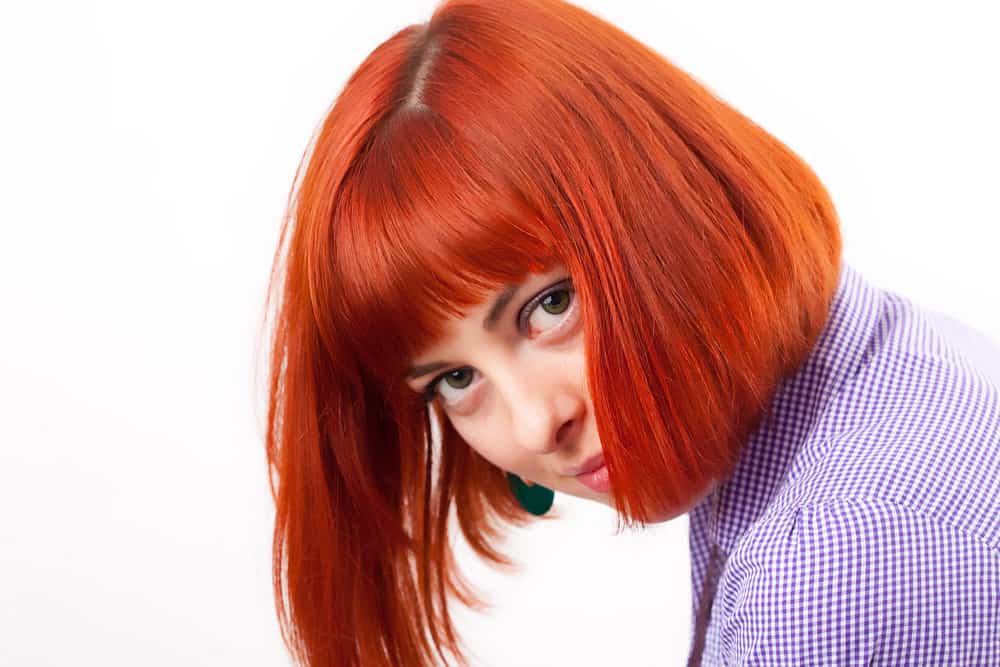 Splat's Line of Products
Splat has an extensive line of products aimed at providing individuals with an easy and efficient way to color their hair at home.
The line includes bleach kits, one-step semi-permanent dyes, conditioning color masques, and more. Below, we'll introduce you to some of Splat's products – this will be the start of our evaluation.
Splat Kit Aqua Rush
The Aqua Rush Kit from Splat promises a bright, vibrant hair color result. The kit comes with everything you need, including bleach, peroxide, instructions, gloves, and semi-permanent dye.
The dye washes out after 4 to 6 weeks but could last longer depending on how much you wash your hair and the shampoo you use.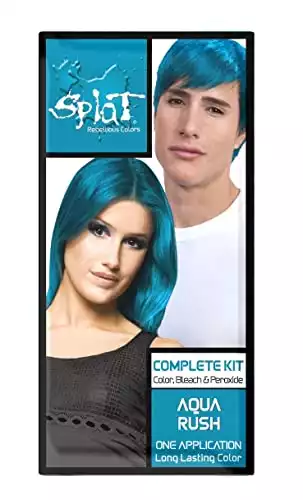 Splat Hair Color 10 Wash Temporary Hair Dye
The Splat 10 Wash dye is for those who want to experiment with color without making a long-term commitment. It takes just minutes to apply Splat hair dye, and it lasts 10 washes before it starts to fade.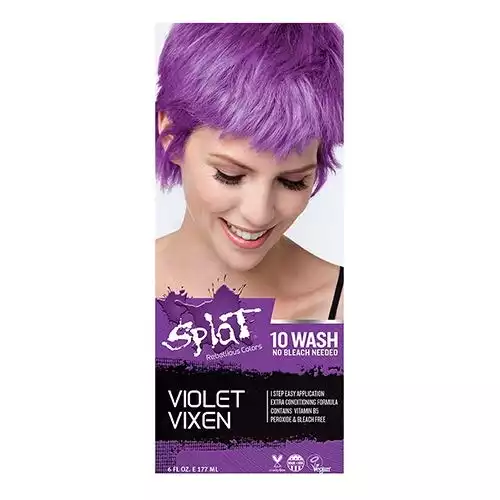 Splat Hair Color 30 Wash Semi-Perm Hair Dye for Blondes
The Splat 30 Wash is a semi-permanent dye that is specifically for blondes. It promises to add dimension and depth to your hair without bleaching it first. The color will last for 30 washes before it starts to fade.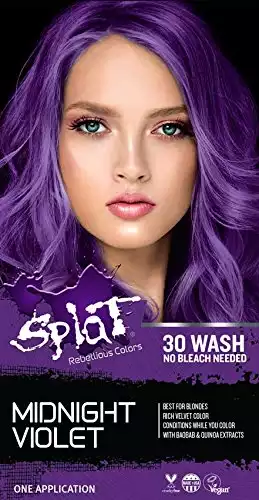 Splat Hair Color Conditioning Masque
The Splat Hair Color Conditioning Masque is designed to add color and shine to your hair while providing a deep conditioning treatment. The masque comes in various colors and can be used on all hair types.

Splat Double Lift Permanent Hair Dye for Brunettes
The Splat Double Lift Permanent Hair Dye is for brunettes who want to go bold. The dye has a gel-like no-drip consistency and comes in a kit with all the necessary supplies. This dye is not for hair that's been previously colored.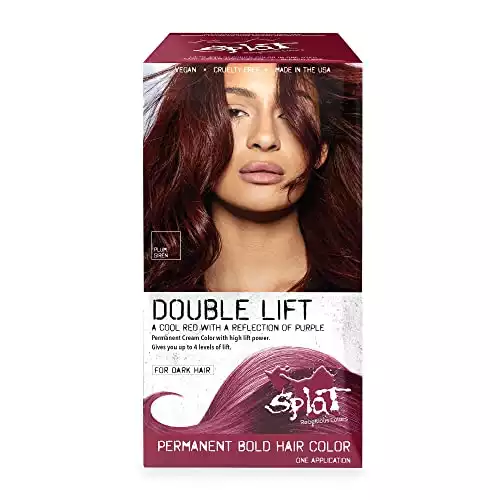 Splat Naturals Semi-Permanent Hair Dye
The Splat Naturals Semi-Permanent Hair Dye is made with 97% natural ingredients and is free of harsh chemicals. The dye is designed to provide you with a fantastic color payoff and add shine and depth to your hair. It's also vegan and cruelty-free.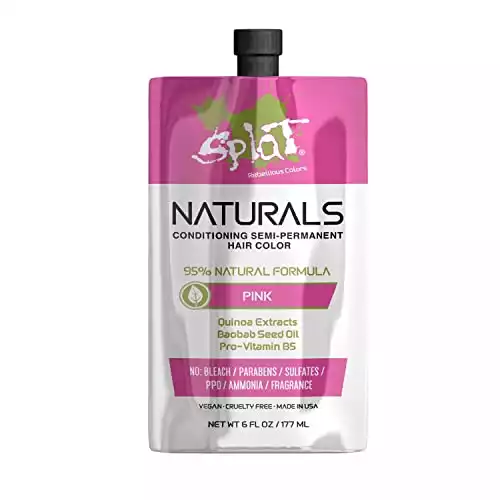 *This is not an exhaustive list of all of Splat's products but rather a starting point to get to know the company and its offerings.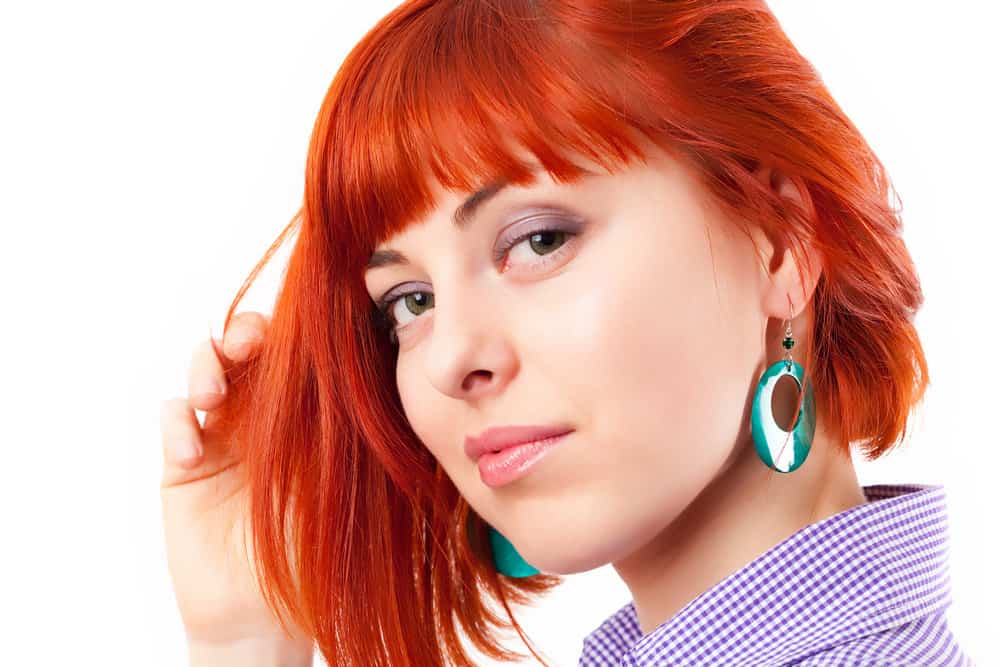 The Good Ingredients in Splat Hair Dye
Just like any other hair dye, Splat's products contain both good and harmful ingredients. However, we want to focus on the good here.
Splat hair dye kits contain several good ingredients that are beneficial for your hair.
For example, their conditioner (which you'll use after rinsing out the dye) includes argan oil and aloe vera, both of which nourish and protect your hair. The argan oil also contains UV filters, which help to protect your hair from the sun's harmful UV rays.
Splat natural hair dyes contain keratin, a protein that strengthens and rebuilds your hair. It's often used in hair products because it can help to restore damaged hair and make it look healthier.
Another hair-healthy ingredient you'll find in Splat dyes is glycerin.
Glycerin is a natural humectant, meaning it helps to keep your hair hydrated by drawing moisture from the air. This is important because dyed hair can often become dry and brittle.
Splat dyes contain many other good ingredients – these are just a few of them.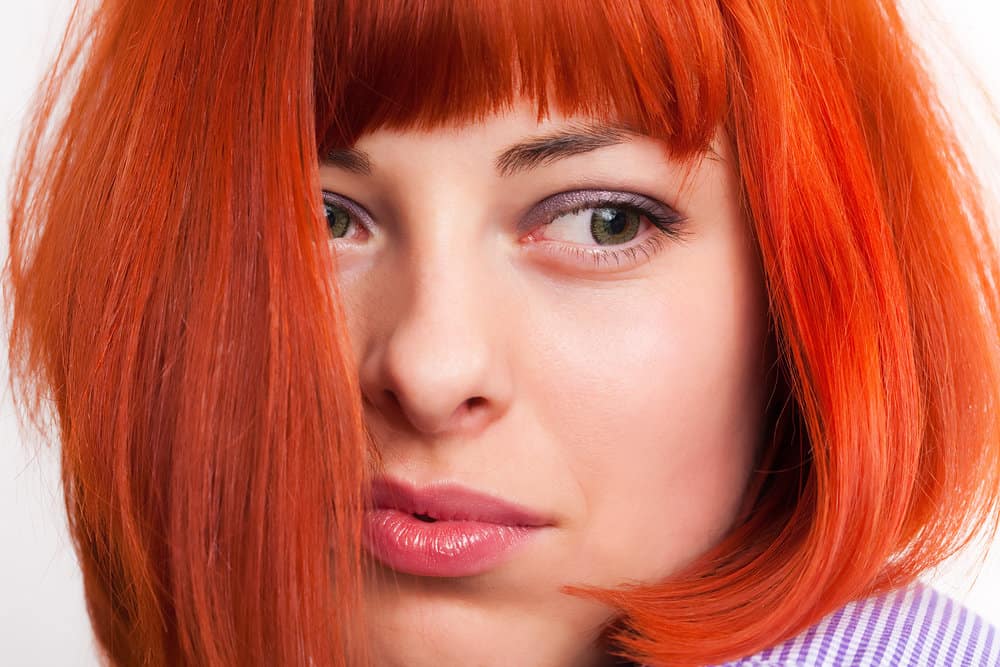 The Bad Ingredients in Splat Hair Dyes
It's no secret that Splat hair dyes contain some ingredients that are not good for your hair. For example, their bleach kits include sodium hydroxide, a harsh chemical that can damage your hair. The peroxide in their bleach kits can also dry out your hair and make it more prone to breakage.
Another harmful ingredient in Splat hair dye is ammonia.
Ammonia is a colorless gas used in many different products, including hair dye. When it's mixed with hydrogen peroxide, it creates a color change in your hair. However, ammonia can be very harsh on your hair and often leave it feeling brittle and dry.
Finally, one of the worst ingredients in some Splat hair dyes is PPD (para-phenylenediamine or p-Phenylenediamine). PPD is a coal tar derivative often used in dark hair dyes to cover grays.
Though it does enhance the effectiveness of hair dyes, it can also leave your scalp raw, itchy, and scaly.
In some, it can even cause an allergic reaction – people have unfortunately lost their lives after using PPD-containing hair dye (though effects like this are exceedingly rare).
If you'd rather not take the risk, you should avoid PPD-containing dyes altogether.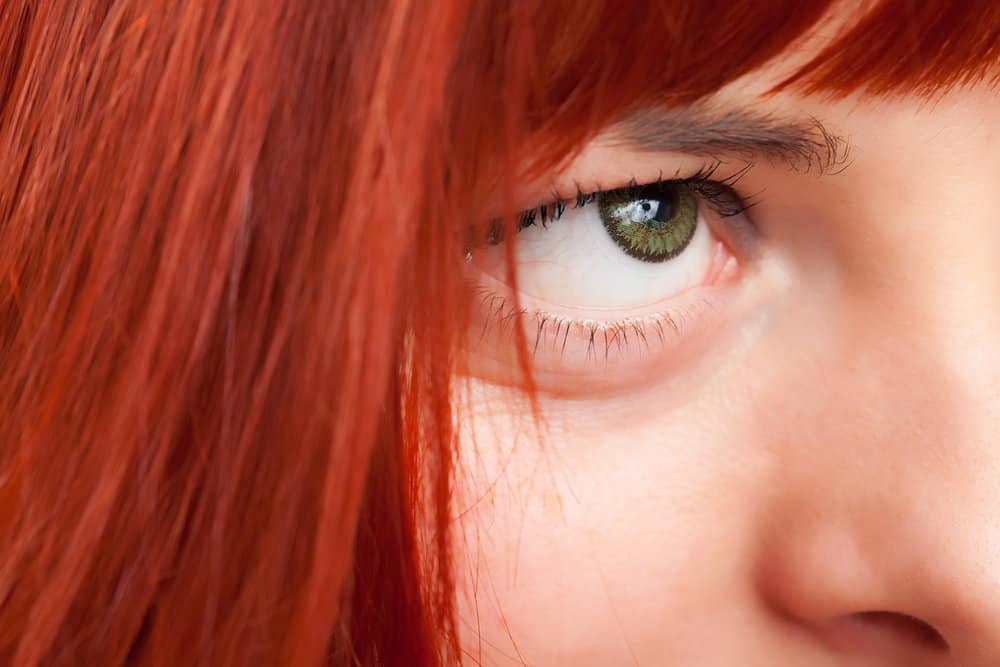 What Customers Think of Splat Hair Dyes
Customers have mixed reviews on Splat hair dyes- some absolutely love them, and others hate them with a passion.
If you look the Splat hair dye reviews up online, you'll find that some of the products, namely the 10 wash temporary dyes, have pretty low reviews – 3 stars out of 5 in most cases.
Other products, like the splat kits with semi-permanent dyes, regularly receive 4 out of 5 stars or more. For that reason, we think it's safe to say that customer opinion is pretty divided on Splat hair dyes.
Some of the most common complaints about Splat hair dyes are that they don't always provide satisfactory results and they leave the hair feeling dry and brittle. The good reviews state that the dyes are easy to use and produce excellent color payoff.
So, there you have it! That's our take on whether Splat hair dyes are suitable or not. We hope you found this helpful, and we wish you the best with your hair!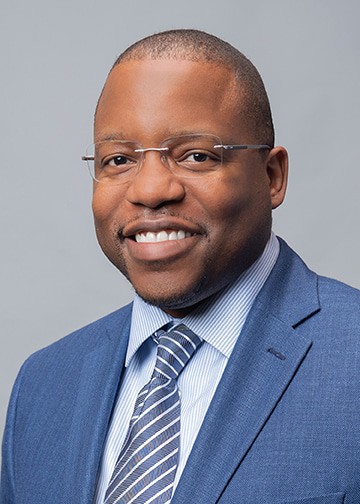 Kenneth Byrd holds a BS in Accounting and Management Information Systems and an MBA from the University of Alabama at Birmingham. He is a serial hair blogger that has been writing about hair care since 2008, when he co-founded Curl Centric and Natural Hair Box. Curl Centric is a website operated by a husband and wife team that encourages healthy hair care.