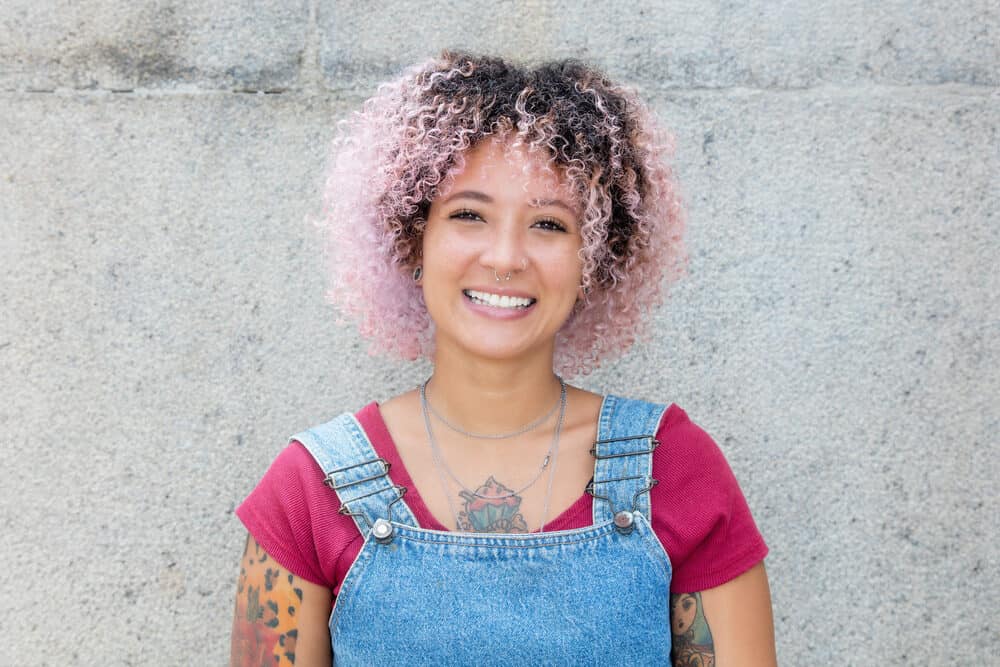 Dyeing your hair at home can be a fun and affordable way to change up your look. Unfortunately, many at-home hair dyeing escapades end in crunchy hair that breaks off when the wind blows.
If you want to learn how to get beautifully colored tresses without all of the damage, you've come to the right place! In this article, we'll take a look at some of the least damaging hair dye kits on the market.
What's the Least Damaging Box Hair Dye?
Before we get into the nitty-gritty of the least damaging box hair dyes, if you're in a hurry or simply want a list of suggested hair dyes that you can use, we've included our favorite hair dyes below:
During the remainder of the article, we go into detail on why we like each one of these hair dyes.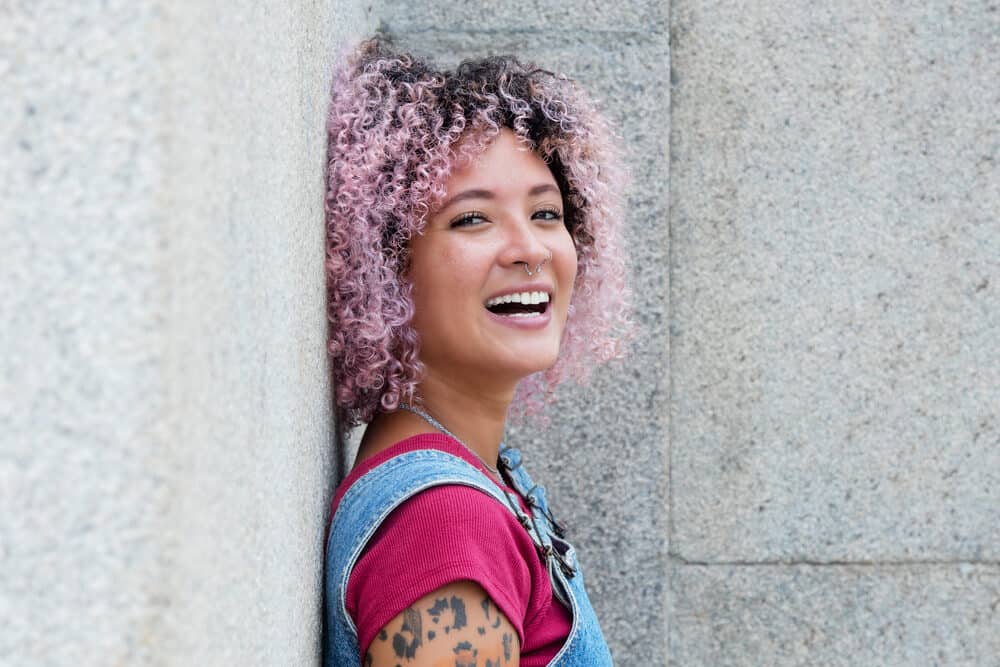 Clairol Natural Instincts Demi-Permanent Hair Dye
Clairol Natural Instincts is a line of semi-permanent and demi-permanent hair dyes. It comes in 38 natural-looking shades that promise to leave your hair just as healthy as it was before coloring.
Their gentle formula is made with 80% naturally derived, vegan ingredients. To use this dye, just squeeze the color cream into the color activator bottle and shake it thoroughly.
Apply the mixture to damp, freshly shampooed hair and massage it in. Wait for 10 to 15 minutes and rinse well. Follow up with the included shine-enhancing conditioner, and you're ready to dry and style as usual.
Why Natural Instincts Hair Dye Is Less Damaging
This ammonia and paraben-free natural hair dye is infused with conditioning ingredients like coconut oil and aloe vera.
The kit also comes with a 12-volume developer, which is much gentler than the 20 or 30-volume developers that you usually see in home coloring kits.
Demi-permanent dyes only slightly penetrate the outermost layer of your strands. This leaves you with non-damaging color that lasts.
Related Articles
Pros and Cons of Using Natural Instincts Hair Dye
Now that we've given you a general overview of this hair dye, it's time to dive into the good, the bad, and the ugly.
Pros
The gentle formula enhances your natural color – This dye is formulated to enhance and transform your natural hues. It can give you rich, natural-looking color in less than 20 minutes.
Color lasts for up to 28 washes – The low-level developer helps the color better adhere to your hair, which means the color stays put for longer.
Cons
The line only comes in natural shades – All of the shades in this line are inspired by natural hair colors, so you won't find any eclectic shades like blue, green, orange, or violet.
You can only go the same level of color or darker – Demi-permanent dyes can only deposit color, so you're limited in the range of shades you can achieve.
Customer Reviews for Natural Instincts
Satisfied customers state this easy-to-use dye had excellent gray coverage and gave them a deep, rich hue. Customers rave about how healthy their hair feels after coloring. The few unsatisfied reviewers say they prefer the formula before it was upgraded.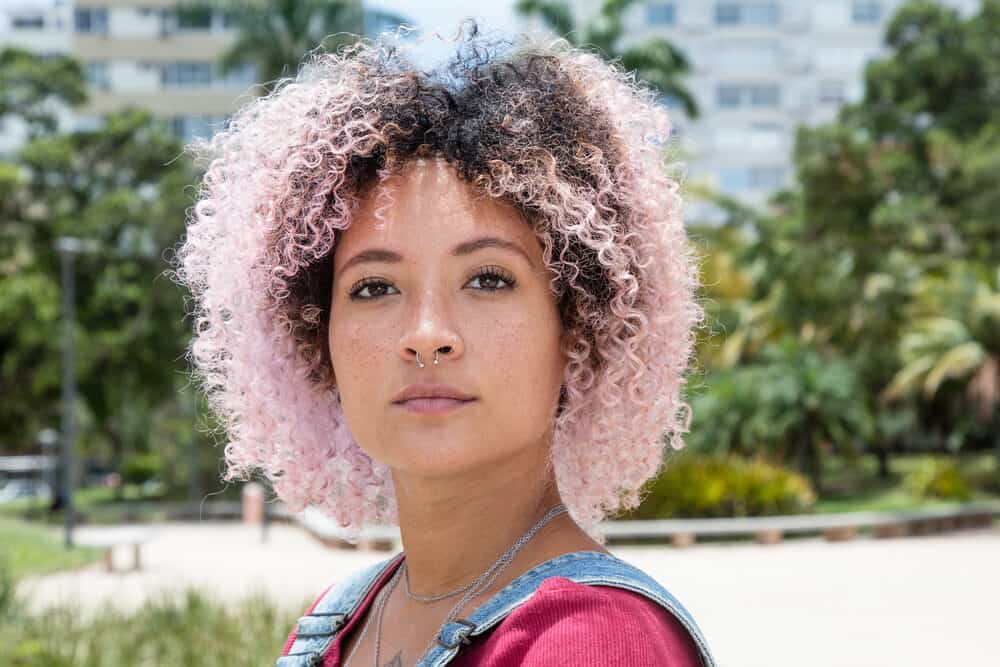 Garnier Nutrisse Permanent Hair Color
Garnier Nutrisse is one of the most famous lines of permanent hair dyes available. Their easy-to-use creme dye is powered by natural ingredients like oil and plant extracts.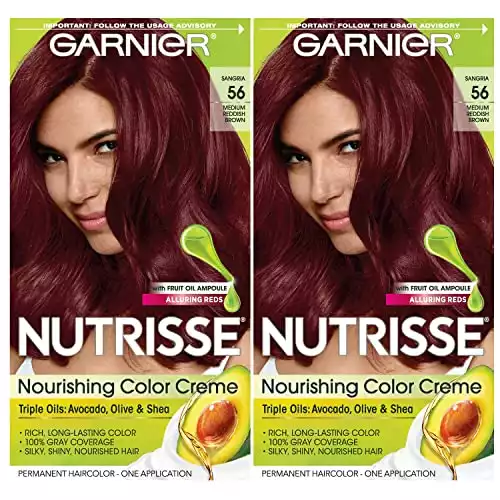 It comes in over 44 bold, fade-defying shades and offers up to 100% gray coverage. To use this dye, simply mix the color creme with the included developer and apply the mixture to your hair.
Let the hair dye process for up to 30 minutes and rinse well. Follow up with your preferred conditioner, rinse, and dry as usual.
Why Garnier Nutrisse Hair Dye Is Less Damaging
Garnier Nutrisse conditions and heals as it colors. The nourishing creme formula is packed with beneficial ingredients like tea seed, avocado, and olive oils.
The kit also includes a grapeseed oil ampoule that you can pour directly into your dye mix for even more enrichment. This kit comes with a 20-vol developer, which is easier on your hair than higher volume developers.
Furthermore, Garnier Nutrisse also has a lower percentage of ammonia than typical dyes. This helps you avoid some of the damage associated with permanent hair dyes.
Pros and Cons of Using Garnier Nutrisse Hair Dye
In order to give you a balanced look at this dye, here is a list of pros and cons.
Pros
Long-lasting, permanent color – The permanent dye lifts and enters your hair's cuticle to deposit dye pigments inside of your strands. This means your color stays vibrant and resists fading.
Up to 100% gray coverage – Gray hair has special dyeing needs, so not every box dye is able to cover them. Garnier Nutrisse is great at covering gray hair, including the most stubborn grays for beautiful, even coverage.
Its non-drip formula makes for an easy application process- This dyes' thick, creamy consistency makes application a breeze. It also cuts down on any unintended drips or spills and helps keep your surfaces safe from stains.
Cons
Contains harmful ingredients like ammonia and peroxide – Though this dye is more gentle than other permanent hair colors, it still contains both peroxide and ammonia. These can damage your hair, especially if the dye is misused.
The formula has a strong chemical smell – Many users report a strong chemical smell that is overpowering even with adequate ventilation.
Customer reviews for Garnier Nutrisse
Customers love that this dye is easy to use, long-lasting, and gentle on their hair. Critical comments say their results look different from the color that was described on the box and that their more stubborn grays remained uncovered.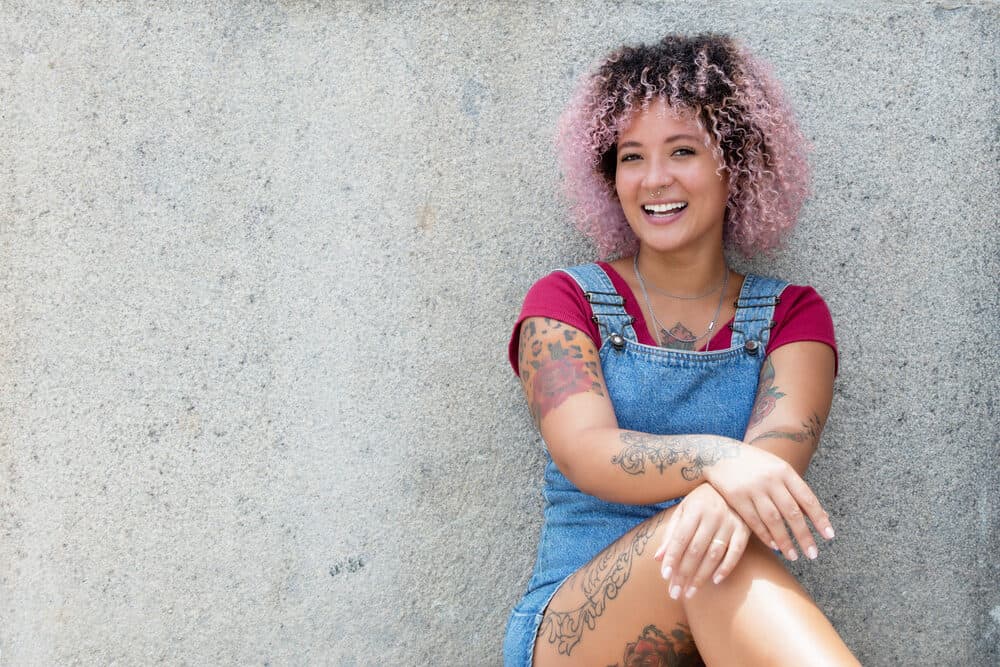 Pravana ChromaSilk Vivids Creme Hair Color
Pravana ChromaSilk is one of the most effective semi-permanent hair dyes available. This easy-to-use line comes in a variety of vivid, highly pigmented shades. Like other semi-permanent dyes, you'll get the best results if you lighten your hair before coloring.

This dye couldn't be simpler to use. All you have to do is apply it to freshly shampooed hair and wait for 20-30 minutes. Lightly wash with a color-protecting shampoo and a conditioner, and voila! Your hair is ready to show off.
Why Pravana Chromasilk Vivids Hair Dye Is Less Damaging
Pravana ChromaSilk is formulated with a unique blend of silk and keratin amino acids. The silk amino acids drive color deeper into the hair shaft, while the keratin keeps your hair strong and healthy. This dye gives you stronger, shinier locks and bold color that lasts and lasts.
Pros and Cons of Using Pravana Chromasilk Vivids Hair Dye
Here is a list of pros and cons that will help you decide if this is the right dye for you.
Pros
You can create custom colors – For soft pastels, simply mix conditioner into your dye before application. The more conditioner you add, the lighter the color will be. The dyes are also mixable, so you can create your own unique hue with ease.
Quick and easy to apply – This dye is ready to use straight out of the tube. You can have vibrant color in as little as 30 minutes!
Leaves you with intense, long-lasting color – The ChromaSilk formula is much more pigmented than other semi-permanent dyes, which means longer-lasting color.
Cons
Won't lighten dark hair – This dye will produce the most noticeable results on bleached or naturally light hair. It doesn't show well on darker shades and will only leave them with a slight colored tint that is most visible in bright light.
Semi-permanent dyes bleed more – Because this dye deposits pigment onto the outside of your strands, the color is more likely to run during washes.
Customer reviews for Pravana ChromaSilk Vivids
Customers love the intensely pigmented formula and are surprised by how long their color remains vibrant. Negative comments say the application was messy and the dye bleeds even when dry. Some reviewers also warn users that the green dye has a lot of blue tones and is more of a teal.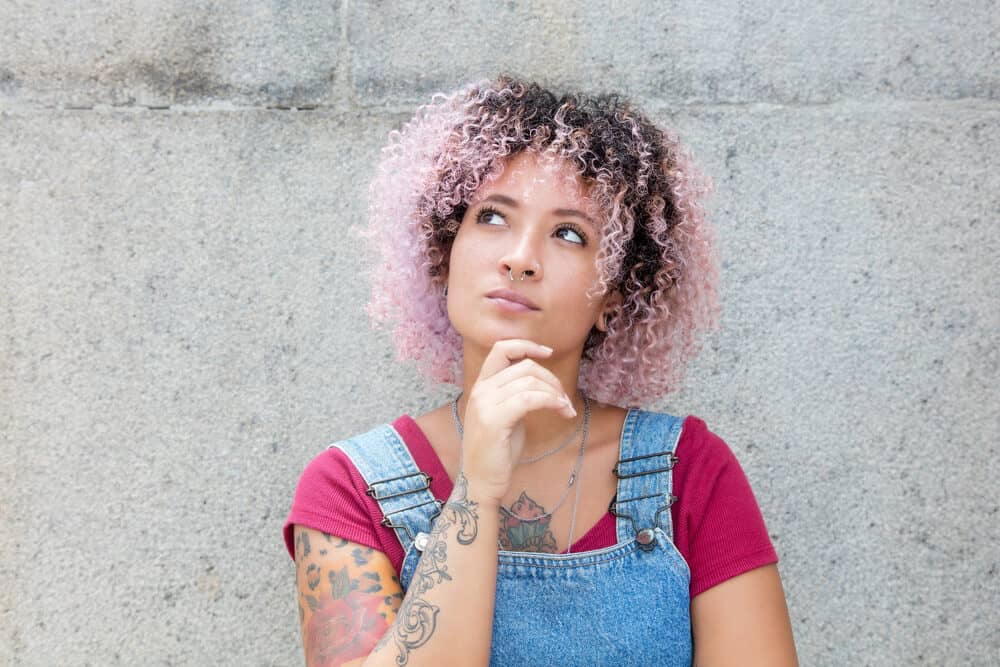 We hope that one of the hair dyes we've mentioned in this article will give you the beautifully colored mane you've been searching for.
Regardless of which dye you choose, make sure to follow a moisturizing post-color hair routine to keep your color bold and long-lasting.