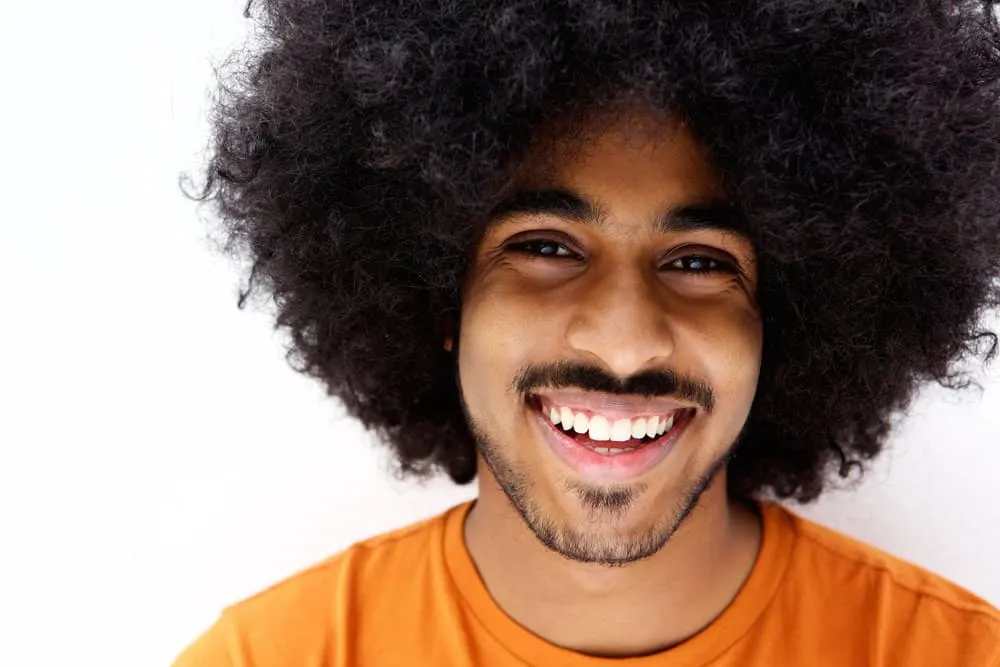 Growing out your hair is hard, especially if you don't know how to go about it. It certainly doesn't help that most of the hair care information on the internet is geared toward women.
Thankfully, you've found the right article. In it, we'll share some helpful tips on how to make your hair grow faster and thicker as a black man. Let's get right into it!
Shampoo Your Hair Less
Men often shampoo their hair whenever they shower. If you're one of these guys, your hair could be suffering. What you have to understand is that shampoos have the potential to dry out your hair.
Whenever your hair is lacking in moisture, it's more likely to break off than remain on your head. This applies especially to black men since naturally curly hair is more prone to dryness than other hair types.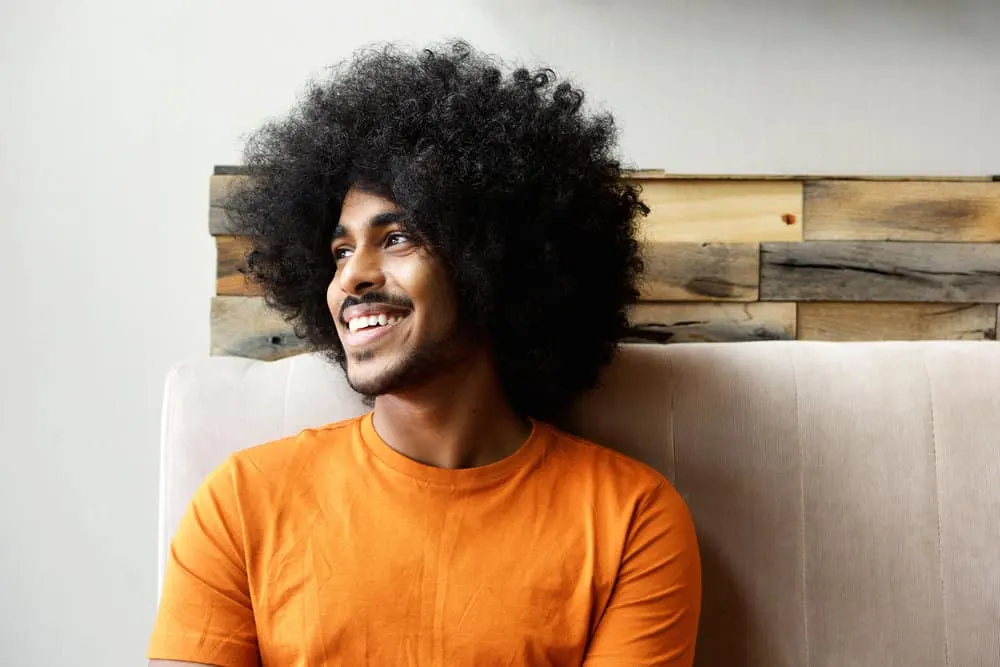 Our Recommendation for Shampoo Frequency
To give your hair the best chance of growing long and strong, you should limit shampoo sessions to an extent. Most black males can get away with washing their hair once every few days.
But if your scalp doesn't seem to be getting oily that often and your hair appears clean to the eyes, you can go longer between washes. You'll have to experiment with several wash frequencies to find what works for you.
Your Shampoo Matters
In addition, make sure you're using the right shampoo whenever you wash your hair. By the right shampoo, we mean one that won't strip your hair bone-dry.
There's an ingredient in most shampoos that's famous for drying out hair – it's called sodium lauryl sulfate. It, and any ingredients like it, can leave your hair super dry.
Stay away from shampoos like this or any others that make your hair feel like straw. There are shampoos out there with gentle surfactants that cleanse your hair without sucking the life out of it. Opt for those.
When you make the switch, you'll see an immediate difference in your hair – it won't be nearly as dry as you're used to. And since moisture is the foundation of hair health, you'll be doing what's right for healthy hair growth and length retention.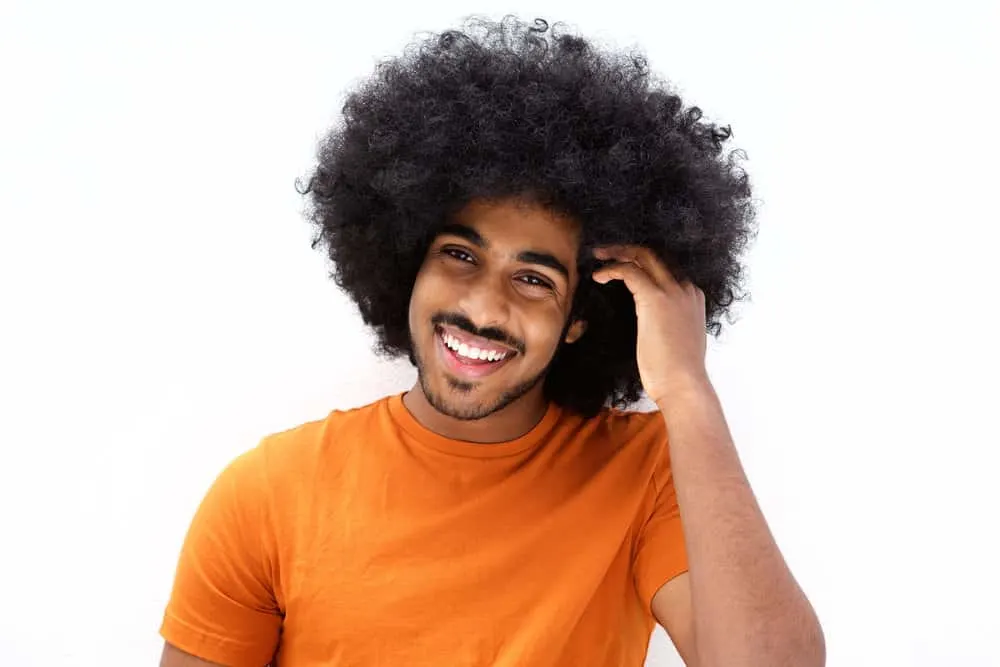 Use Conditioner Generously and Often
How you use conditioner can make a big difference in how quickly you can grow your hair out. Conditioners have nutrients, moisturizers, and other goodies that make your hair stronger and more hydrated.
If you're trying to grow your hair out, the healthier your hair is, the better.
How Often to Use Conditioner
Using a little bit of conditioner every now and again won't be enough, though. To get the benefits of your conditioner, you need to use conditioner every time you wash your hair. Even the gentlest shampoos can make your hair a bit dry.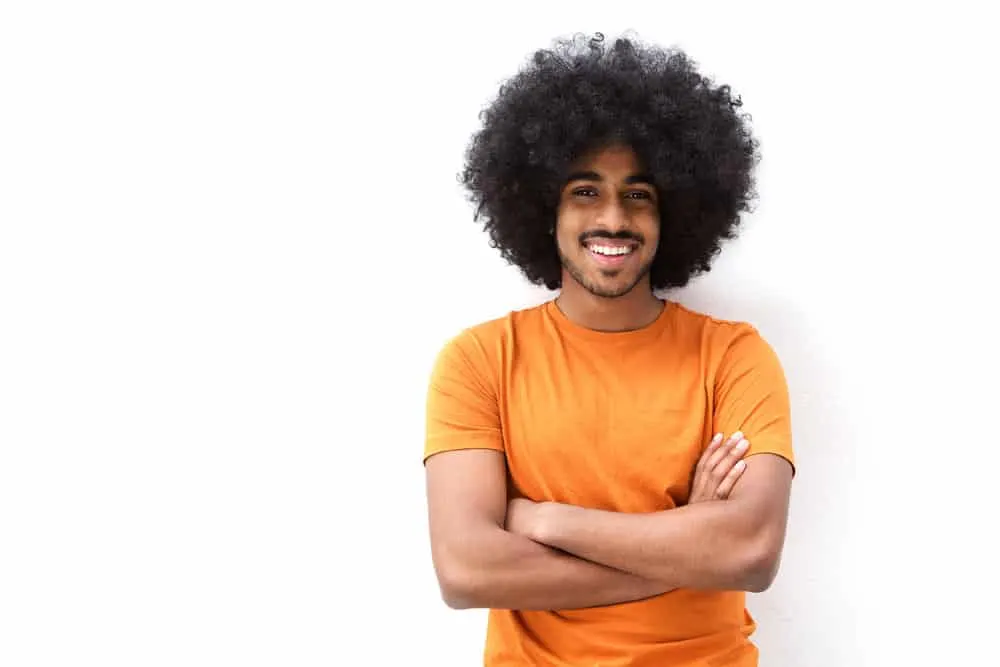 How Much Conditioner to Use for a Male
Whenever you use conditioner, don't be afraid to apply too much. Every single strand of hair should be covered for the best results. Any areas you miss will not get the treatment the rest of your hair received.
Do yourself a favor and be generous when applying your conditioner. Though you'll be applying the conditioner to all of your hair, you should focus especially on the ends.
The ends are the oldest portion of your hair, so they're the most fragile. After you get the conditioner on your hair, wait a few minutes to let it do its work. Then, rinse the conditioner out and continue with your styling routine.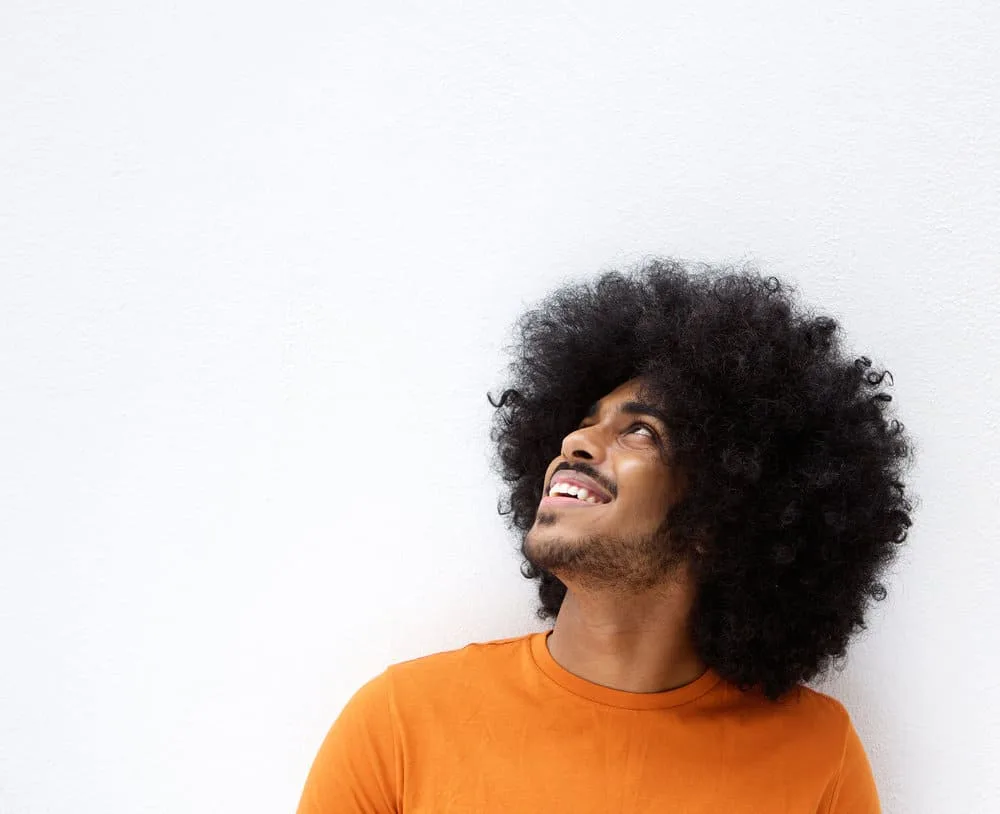 Don't Skimp on the Trims
Trimming your hair might be the last thing you want to do when trying to grow it out, but it's one of the most important things to keep your hair healthy and on your head.
When your ends aren't regularly trimmed, they become brittle, weak, and eventually split. And split ends are no joke! If they aren't addressed promptly, they'll continue to travel up your hair shaft toward your roots.
The higher they go, the more length you'll lose when the split ends break off. To prevent losing length from split ends, you should stay up-to-date on your trims.
When you get your hair trimmed for the first time in a while, you may lose a few inches, but that's necessary to keep split ends away.
Once you get into the groove of getting a trim every 6 to 8 weeks, you'll only need a quarter of an inch cut off each time. That's when you'll start to see some length.
Keep Your Hair Moisturized
As a black man, you most likely have curls that tend to get dry. Your scalp oils aren't able to move down your hair shaft very easily due to the twists and turns in your hair. So, you need to add that moisture to your hair manually with a moisturizer!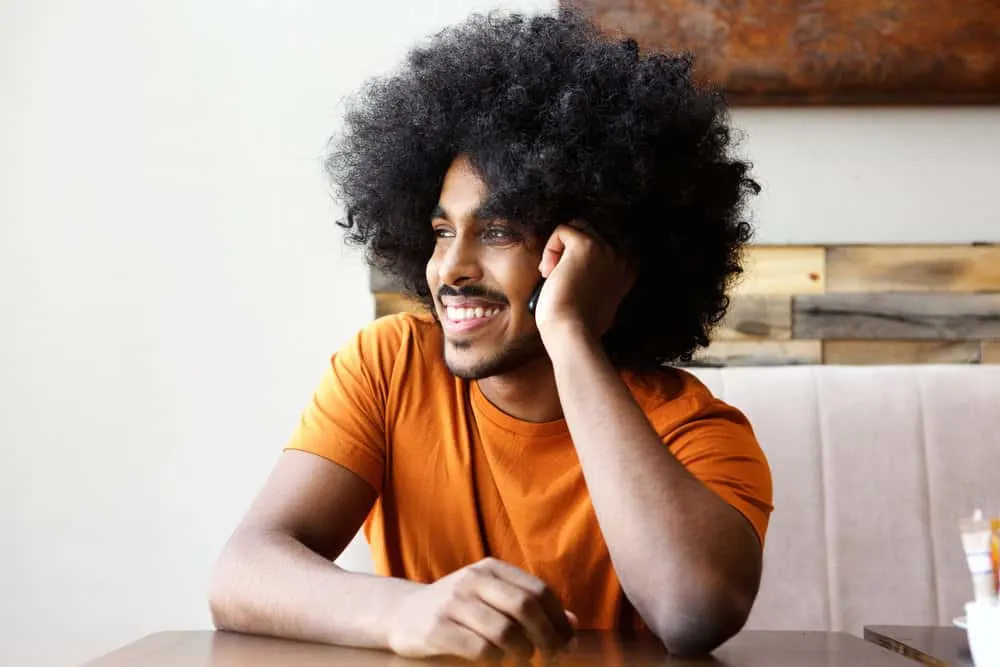 Types of Moisturizers and How to Use Them
Hair moisturizers come in many varieties, including sprays, creams, and oils. You can use any of these to give your hair a dose of moisture as needed. Spritz your hair in the morning, evening, or any other time it looks dull or in need.
Slather moisturizing cream on your damp, clean hair after washing and conditioning. You can do the same with your favorite oil. The aim is for your hair to absorb as much moisture as possible.
Do You Have Buildup?
If your hair still seems to be dry after washing, conditioning and applying your moisturizer, something could be sitting on your hair and preventing the product from being absorbed.
To remedy a buildup issue, you'll wash your hair with a clarifying shampoo–a shampoo with extra cleaning power. After your clarifying session, use a deep conditioner and apply your moisturizer again. Your hair should drink up the product this time.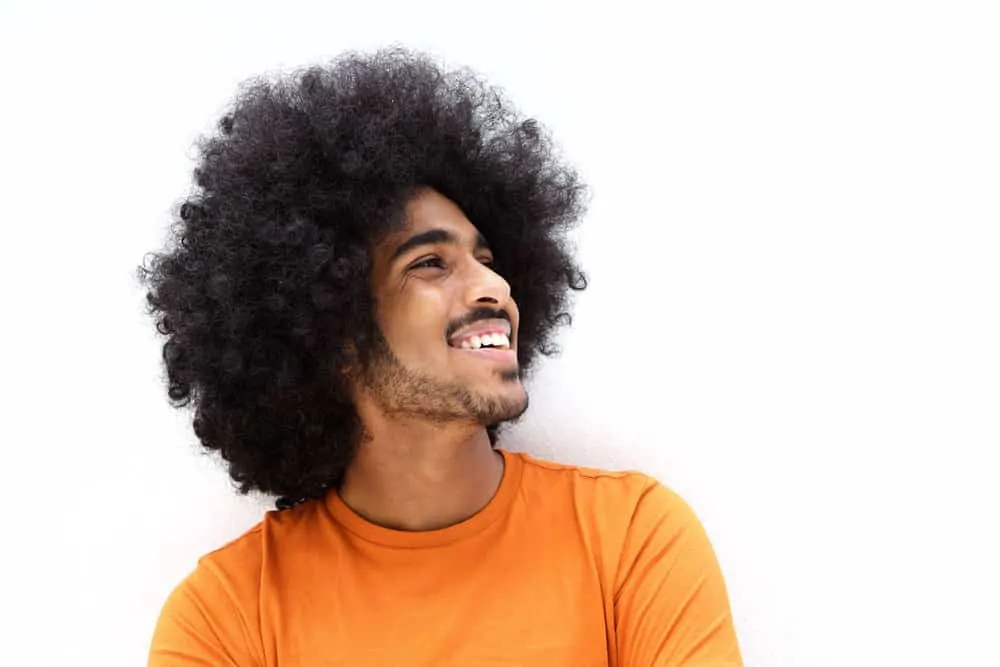 How Often to Moisturize
How often you moisturize your hair is completely up to you, but it's important not to neglect moisture if you want to grow your hair to new lengths.
Some people moisturize their hair every day and find success at that frequency, but you may be able to get away with moisturizing every few days. You'll have to experiment to see what works for you and your unique hair.
Use the Right Moisturizer
It's also important to know that your moisturizer plays a large role in your hair's health. We recommend staying away from products that don't list water as one of the first few ingredients.
A product must have water to moisturize your hair, so be on the lookout!
It also helps if you seek out natural products that aren't chock-full of man-made ingredients like artificial fragrances and silicones. Long-term use of products like these can stunt your hair growth. Choose moisturizers like this one instead.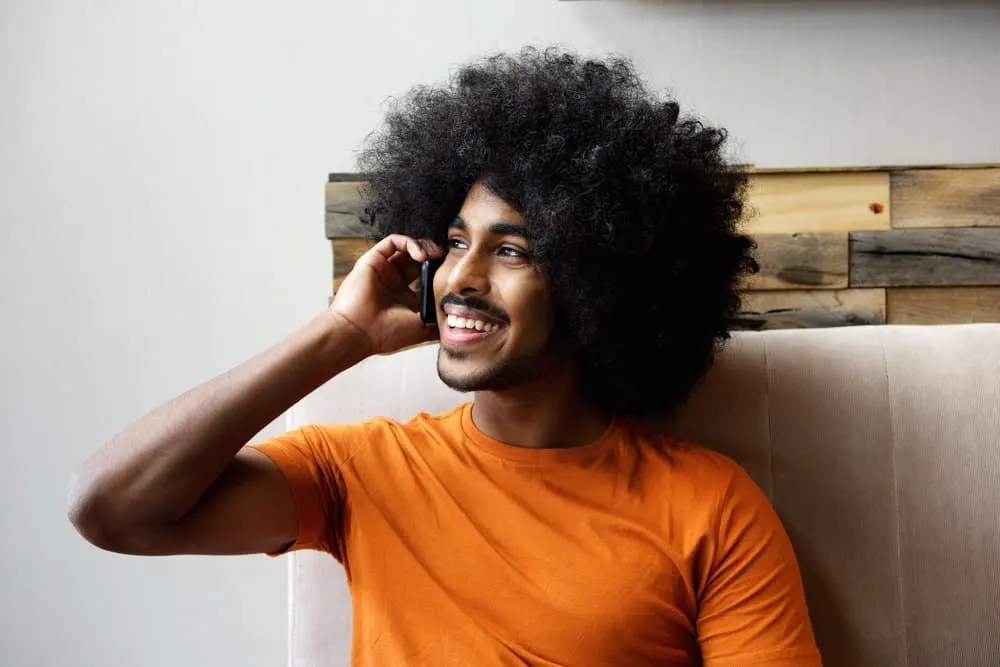 Eat a Healthy Diet and Drink Plenty of Water
You may have heard of this tip before and shrugged it off, but a healthy diet can go far in helping you achieve your hair growth goals.
It gives your body the raw materials it needs to nourish your scalp and hair follicles.
When your hair follicles are happy, they'll grow hair at the quickest possible rate based on your genetic makeup. So give your body what it needs to grow healthy hair!
Keep Your Hands out of Your Hair
As your hair begins to grow out, you may be tempted to run your hands through it, stretch curls out, and play with styles to showcase your new length.
While it's okay to experiment with your hair in moderation, it's not a good idea to always have your hands in your hair.
Too much manipulation is never good because every time you manipulate your hair, you remove protective oils and can even rough up your cuticles.
All of this makes your hair more vulnerable to damage and breakage.
Our advice is to avoid hands-in-hair syndrome and only touch or manipulate your hair when you need to. You'll see better growth results if you do!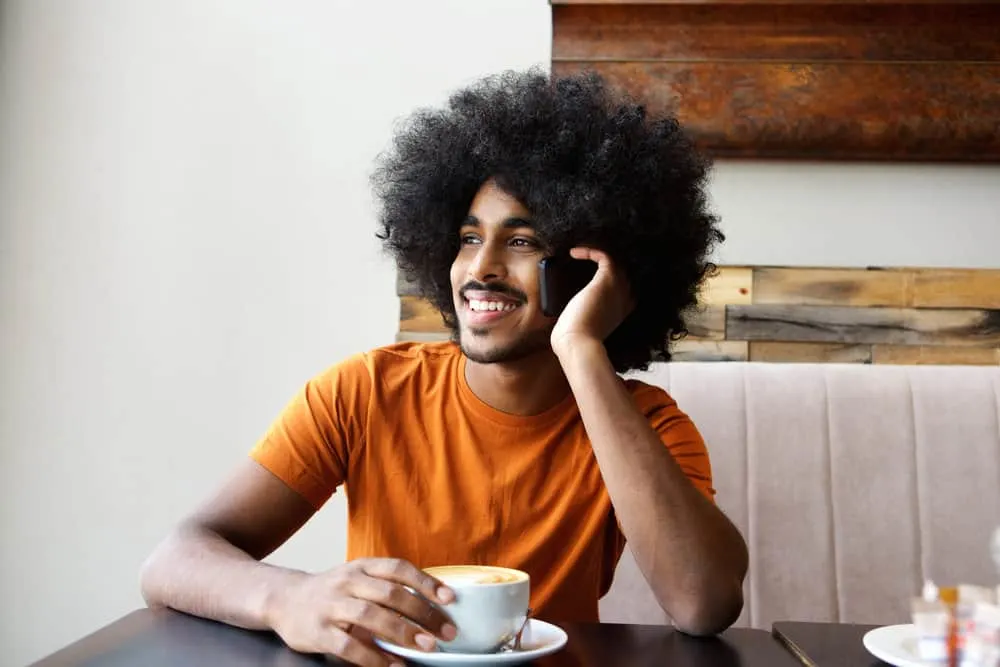 Be Gentle With Your Hair
When learning to navigate curls, it's not unheard of for people to get a little frustrated and even aggressive with haircare and styling.
Your hair isn't acting right, and you just want it to behave, but we're here to let you know you should always be gentle with your hair, especially if it's curly!
In case you weren't aware, curls are the most fragile hair type of all.
Every curl has multiple weak spots (where the strands bend or turn) in its structure. It almost goes without saying that yanking on your hair with a brush or comb, pulling your hair into tight styles, or otherwise abusing it is detrimental.
Just one instance of being too rough with your hair can lead to breakage. When you're styling, take your time and make sure you're not yanking or snapping hairs. Don't rip rubber bands or elastics out of your hair, either. Think gentle!
Protect Your Hair at Night
You may have thought hair care stops when you lie down for the night, but that's not the case. If you sleep on cotton bedding, that material can suck the life out of your strands.
Cotton is absorbent, so when you lay your head down on it (and maybe cover your hair with your comforter), your hair gets dry. That's what you want to avoid.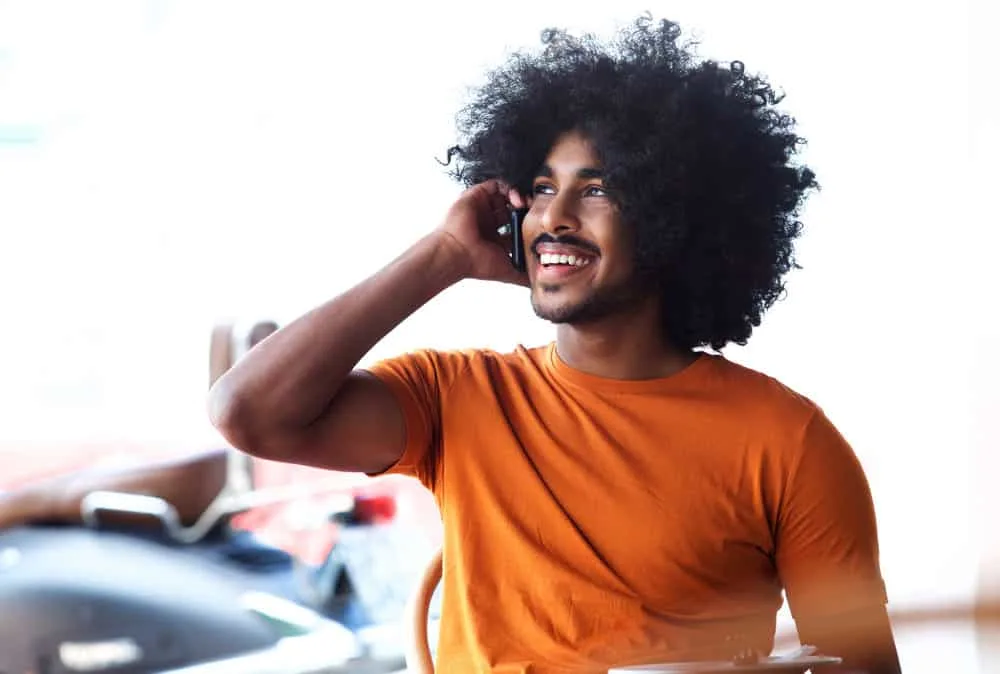 Your Nighttime Hair Protection Options
What should you do then? Cover your head with a fabric that's smooth and non-absorbent! You have a few options: a silk or satin scarf, bonnet, or durag. You can also lie down on a silk or satin pillowcase.
This comes in handy for those who don't like to sleep with something on their head. Test drive a few of these options before deciding on one. Satin is much cheaper than silk in most cases, so most people like to start there.
You'll want to cover your hair up before you go to sleep, but that's not the only time it would be beneficial to do so. Protect your hair whenever you come in contact with absorbent fabrics.
An added bonus of covering your hair at night is that it'll preserve whatever style you're wearing.
For instance, if you're wearing your hair in cornrows and don't cover your hair, the style may only last three days or so. If you take the step of covering your hair every night after getting that same style, you can make it last a week or even longer!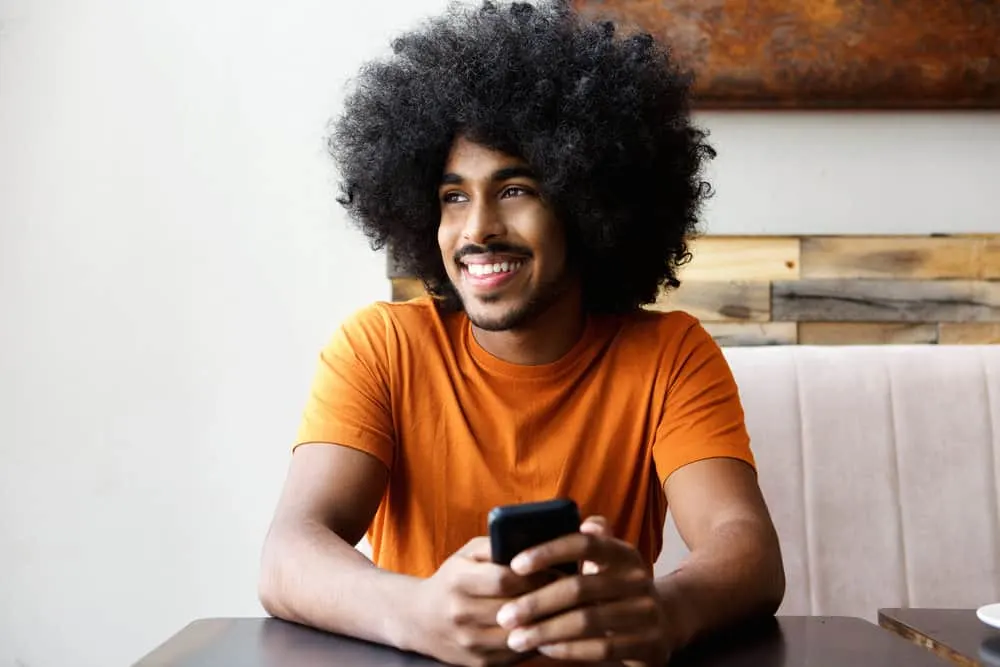 Use Protein Treatments for Chemically Damaged Hair
Chemical treatments like bleach, hair dye, perms, relaxers, Brazilian blowouts, and more can cause severe damage to your curls. They all alter the structure of the hair to enable it to change color or shape.
Whenever this happens, the hair doesn't go back to its previous state; it takes on a new state entirely, and more often than not, it's a drier, weaker, more brittle one.
If you're dealing with hair damage following a chemical hair treatment, a protein treatment can help reconstruct your hair and lend it the strength to be more resilient.
If you want any chance of growing your hair out, your hair has to be strong and as healthy as possible.
Protein treatments are hair products or DIY remedies containing protein. The protein in the treatment fills in hair cuticle gaps (which come from damage) and gives you stronger hair overall.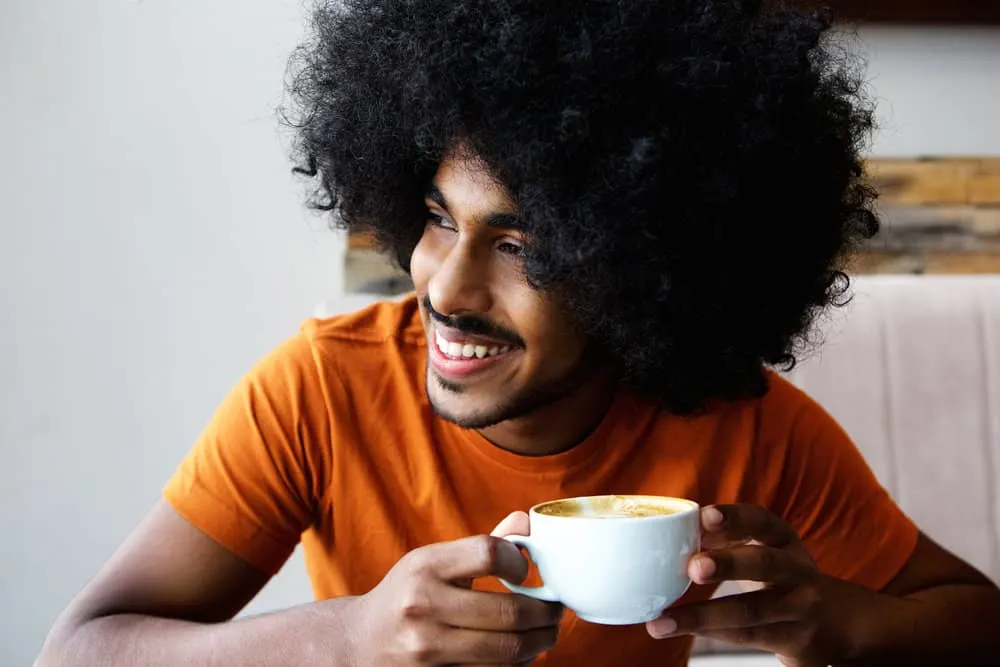 How to Do a Protein Treatment
There are several ways to do a protein treatment, but our best advice is to follow the instructions on whatever treatment you decide to buy. The most commonly used protein treatment in the natural hair community is Aphogee's Two-Step Protein Treatment.
How To:: ApHogee Two-Step Protein Treatment
If you'd rather make your own treatment, you can. Just know it can get messy, and the effectiveness of a DIY treatment may not compare to commercial treatments designed specifically for hair.
Eggs are full of protein, so many hair DIYers use them for at-home protein treatments. All it takes is cracking a couple of eggs in a bowl, whisking them together, and applying them to damp, clean hair.
Once that's done, put on a shower cap and place a towel around your neck (and hairline, if you prefer), and wait for up to half an hour. Once time is up, rinse the egg from your hair and wash and condition it as usual.
It could take several DIY protein treatments to get the results you're looking for, whereas commercial protein treatments tend to yield results sooner rather than later.
Note: Some hair products contain protein. If a protein treatment seems too involved for you, you can simply switch out your normal conditioner or leave-in conditioner for a protein-based one.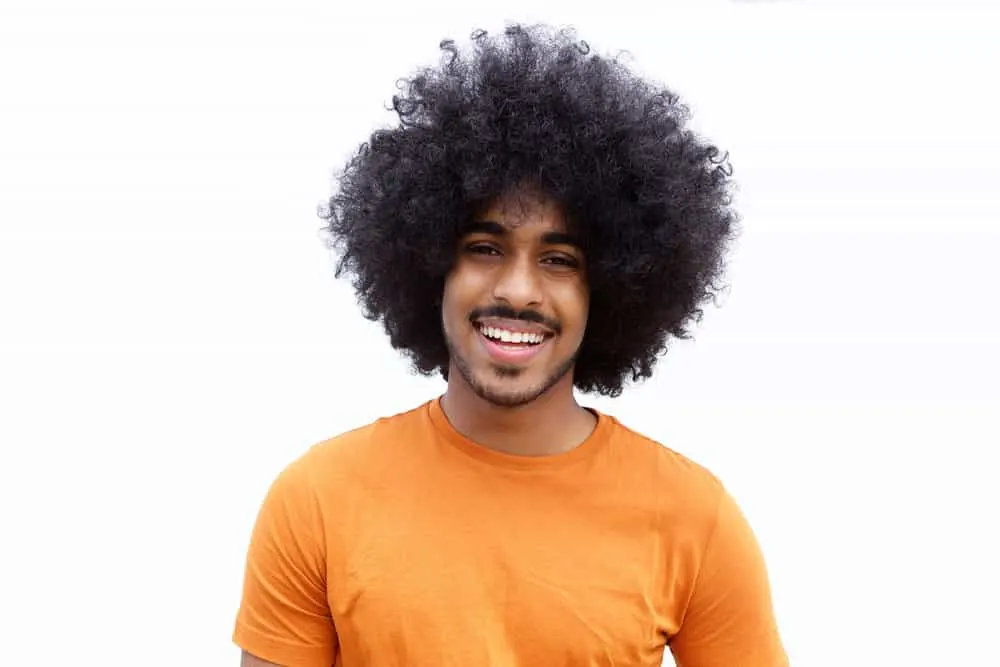 Use Products Formulated for Curls
Though more and more companies are taking notice of curly hair's unique needs, curl-centered hair products are still very much a minority. That means when you go to purchase hair care products, you'll often see products aimed at straight hair or "all hair types."
Some products can be used for all hair types, but most of these won't work on your curls as well as those specifically tailored to curly manes. A good place to start when purchasing hair care products is the ethnic aisle at your local department store.
You can also look online by searching for "curly hair products."
Some of the best natural haircare brands include SheaMoisture, Maui Moisture, Design Essentials, and Kinky Curly. There are many more brands to look into, but we suggest you start here.
Massage Your Scalp
Healthy hair starts with a nourished scalp! One of the best ways to feed your scalp is to massage it every so often with an oil of your choice (olive oil, coconut oil, etc.).
It'll make your scalp look and feel moisturized and will boost blood circulation so your follicles will get the nutrients they need to work at their full potential.
To start, apply any oil of your choice to your fingers and rub them together.
Once that's done, you'll pick a spot and massage your scalp. Use the pads of your fingers and use small circular motions. Within 5 minutes or so, you will have made it through your entire head.
You can massage your scalp as often as you'd like, but a frequency of once per week should suffice. The key here is consistency.
Taking several weeks or months off here and there will diminish your results, and that could make the entire effort a waste of time. So, if needed, set a weekly alarm and get to work.
So, there you have it! Everything you need to know about how to make your hair grow as a black man. It may seem like a lot, but we assure you that it's not as difficult as you might think it is.
Take a few minutes and formulate a hair care routine where you regularly wash, condition, moisturize, and style your hair. Then stick to that over time.
Soon, you'll know whether your routine is or isn't working, and you can go from there. We hope you found all the information you were looking for and are able to achieve your hair growth goals. Good luck!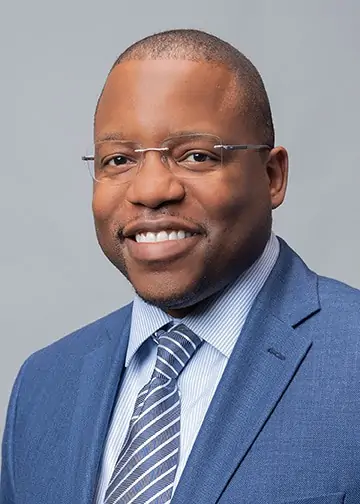 Kenneth Byrd holds a BS in Accounting and Management Information Systems and an MBA from the University of Alabama at Birmingham. With over 15 years of experience, Kenneth has been dedicated to hair care since 2008, when he co-founded Curl Centric® and Natural Hair Box alongside his wife. As a team, they promote healthy hair care practices through their comprehensive platform, Curl Centric. Curl Centric is a website operated by a husband and wife team that encourages healthy hair care. At Curl Centric, we aim to help our readers take control of their hair care journey and make good decisions about products, hairstyles, and maintenance techniques. We also have strict editorial integrity; here's an explanation of our editorial guidelines and how we make money.