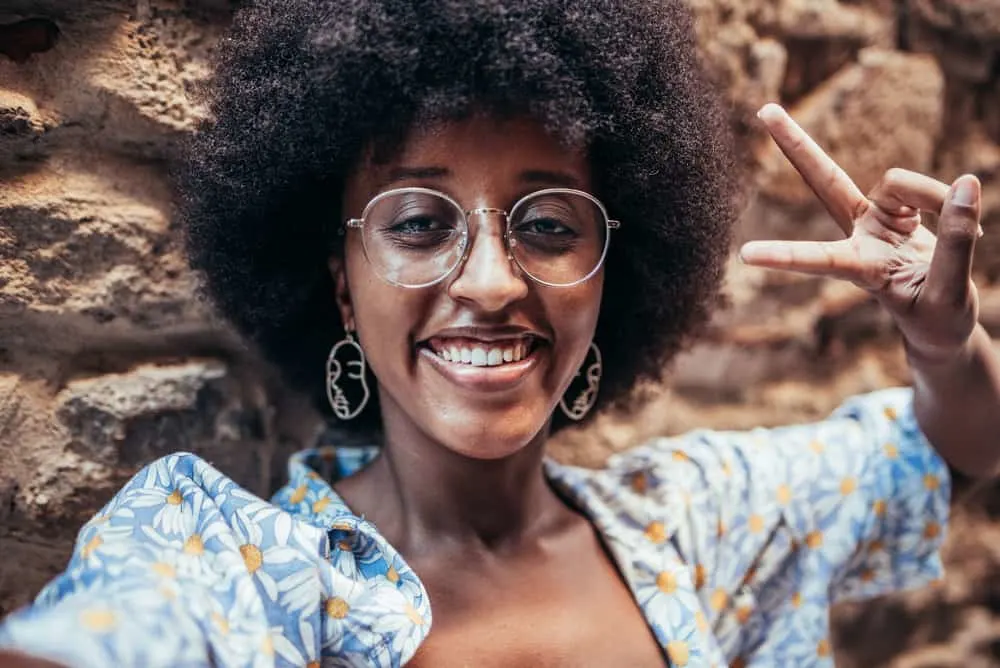 Length retention and hair breakage are common concerns in the African American community for women that want to grow long hair. That's because so many African Americans have type 4 hair strands that are more prone to dryness, leading to split-ends and breakage.
These problems are exacerbated when natural hair regimens include the use of heated styling tools and harsh chemicals.
If your hair has had enough and you're in hair repair mode, you need the right products in your arsenal. In this article, we'll introduce you to the best hair growth products for African American hair.
The Best Hair Growth Products For African American Hair
We'll not only give you the basic rundown on each product, but we'll also share pros, cons, and user feedback. By the end of this article, you'll be able to choose the right product(s) to help you reach your hair growth goals. Let's get into it!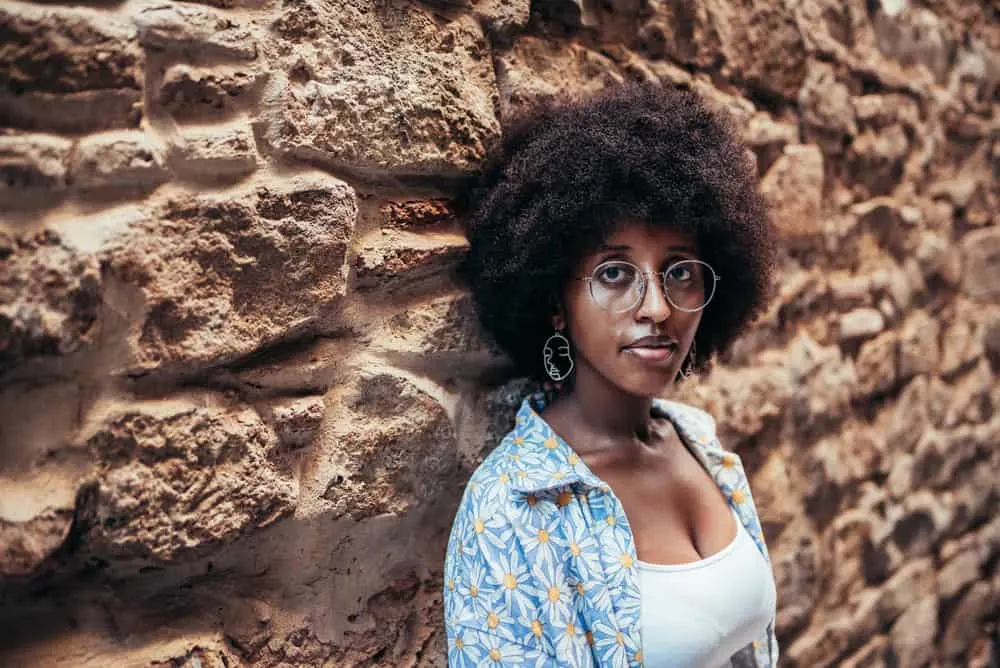 1. Nutrafol Hair Growth Serum
If you want to grow your hair, you've got to focus on your hair and scalp health, and Nutrafol Hair Growth Serum has many excellent ingredients that help both thrive.
It's a super lightweight, smooth serum that's been formulated by physicians to help restore your hair's thickness and strength and banish breakage.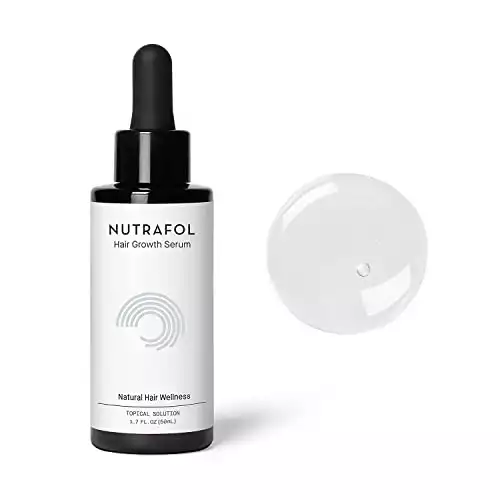 What's so good about this serum? It's all in the ingredients. This serum is infused with phytoactives like green tea, pea sprouts, melatonin, sea buckthorn, larix europaea, and moringa leaf. All of these ingredients help to nourish, hydrate and thicken the hair.
The serum also has a significant amount of glycerin in it, which means that it will attract moisture to your hair. These are not all of the ingredients in the serum, but trust us when we say that the makers of this serum packed it full of hair-loving ingredients.
According to Nutrafol, this serum is the #1 dermatologist-recommended serum for hair growth.
And this is not just an out-of-the-blue claim; real dermatologists do recommend the serum for hair growth, including Doctor Dina Strachan, Chicago Derm, and thousands of others.
This serum was made for all hair types and is very easy to use. To get results, all you need to do is fill the dropper with the amount of serum you need to cover your problem areas (thinning or broken edges, bald spots, etc.) and massage it into your scalp.
You can use the serum up to twice per day. The serum manufacturers state that you should expect results within 90 days.
Pros and Cons of Nutrafol Hair Growth Serum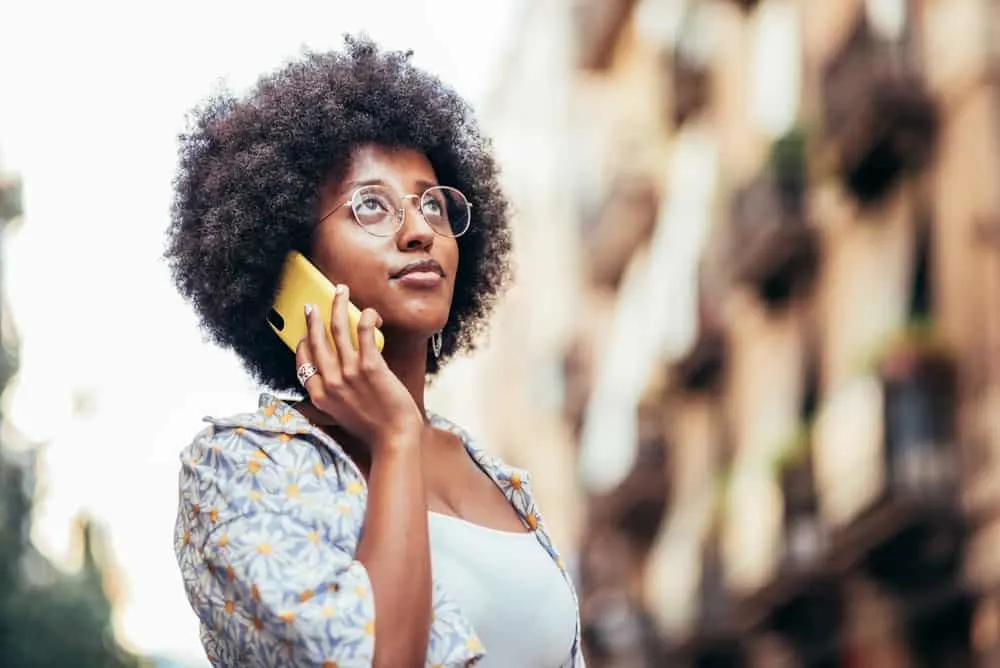 Every product comes with its fair share of pros and cons – Nutrafol Hair Growth Serum is no exception. Here are the benefits and drawbacks of this product:
Pros
Hundreds of thousands of people have used this product and enjoyed increased hair growth in problem areas.
The serum won't make your hair look or feel too oily.
It doesn't leave buildup on your hair.
The tea tree oil in the product gives a tingling, stimulating effect that most people enjoy.
The product is free of ingredients that Black people try to avoid, including parabens, sulfates, and mineral oil.
Cons
The serum is expensive and comes in a small bottle. Customers complain that they have to buy too much of the product.
Some of the ingredients in the product can cause skin and scalp irritation.
Most reviews are positive, although the unsatisfied customers (the vast minority) state that the product doesn't work as advertised. They also state that the product caused their skin to break out.
However, the happiest customers state that they noticed hair growth shortly after they started using this product. They also say that their hair felt smooth and not overly greasy, and their scalp felt refreshed after using the product.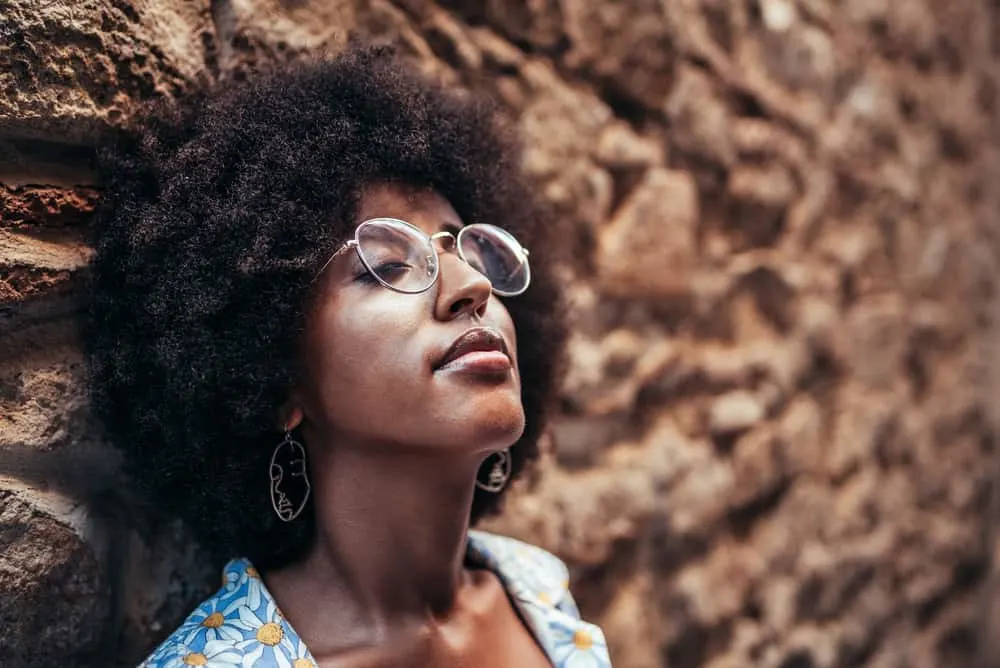 2. CB SMOOTHE Wild Jamaican Black Castor Oil Hair Growth Formula
The CB SMOOTH Hair Growth Formula is an oil that stimulates hair growth from the source: the scalp. It also helps to strengthen and nourish your hair so that it remains healthy and breakage-free.
This hair growth oil is full of nourishing oils like wild Jamaican black castor oil, soy oil, carrot oil, and more. Each of the oils has its own hair and scalp benefits.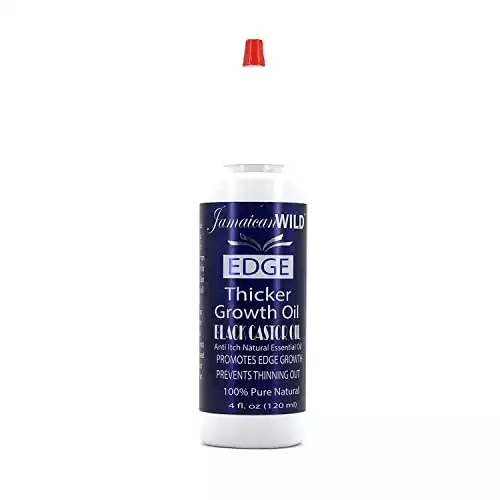 But that's not all; the formula also features scalp stimulants like rosemary, peppermint oil, and niacin, all of which nourish your scalp and promote healthy hair growth.
When your scalp has sufficient blood flow and is adequately stimulated, you'll see hair growth.
Here's a list of the oil's most notable ingredients and their benefits:
Rosemary, which is known to stimulate hair growth via improved scalp circulation.
Black castor oil, which stimulates circulation in the scalp to grow more hair.
Niacin, which increases blood circulation in the scalp and hair follicles.
Biotin, which helps to stimulate the production of keratin (the protein that your hair is made of). It also helps to speed up hair growth in problem areas.
This is not an exhaustive list of ingredients and their benefits.
The oil is free of no-no ingredients, like sulfates, parabens, formaldehyde, mineral oil, and petrolatum. So, you don't have to worry about the oil drying your hair out, building-up on your hair and scalp, or subjecting you to adverse health risks.
The oil is designed to be used every day. You can use it in a couple of ways: (1) apply it directly to your scalp and massage it in, or (2) add it to your regular moisturizer and spray it onto your hair and scalp. Either way, you'll reap the benefits of this oil.
The product is for all hair types, so you can feel confident using it on your natural hair.
Pros and Cons of CB SMOOTHE Hair Growth Formula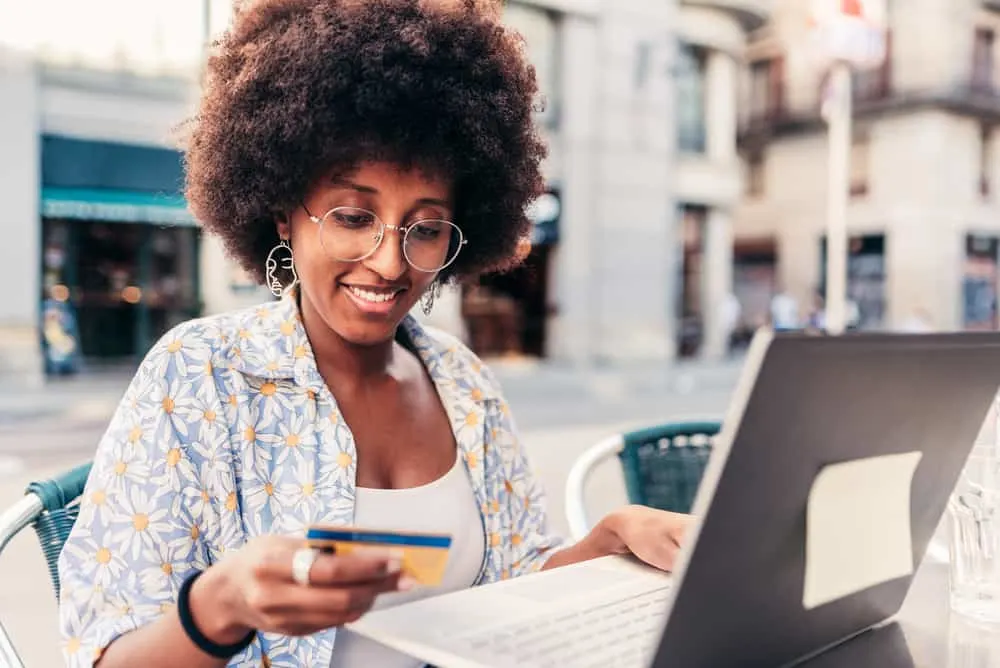 Now that you know the basics about this oil, we'd like to share the good, bad, and ugly about it. Once you find out about the pros and cons of the oil, you'll be able to decide whether it's worth a try.
Pros
This oil is packed with a ton of great oils and nutrients that support hair and scalp health. The stimulating ingredients help to kickstart or speed up hair growth to get it back to normal. Customers notice thicker, more luscious hair within months of using it.
The oil is easy to use. Just apply or spray it onto your scalp, massage, and go.
The formula is lightweight and won't leave your hair greasy.
The oil is inexpensive.
After applying the oil, you'll notice that your hair has a moisturized feel and a natural-looking shine.
Cons
Some of the ingredients in the oil can cause scalp or skin irritation. If you are allergic to any of the ingredients in the product, you should refrain from using it.
The oil has a scent that can be likened to peppermint (due to the peppermint oil). If you're not into that type of scent, it could be an issue for you.
Strong online reviews across multiple retailers suggest that this product has worked well for many ladies. Unsatisfied customers stated that the oil didn't make their hair grow.
Others say that the product irritated their scalp, though these reviews are, by far, the minority. Satisfied customers call this product a miracle worker and cite that their hair grows noticeably faster when using the product.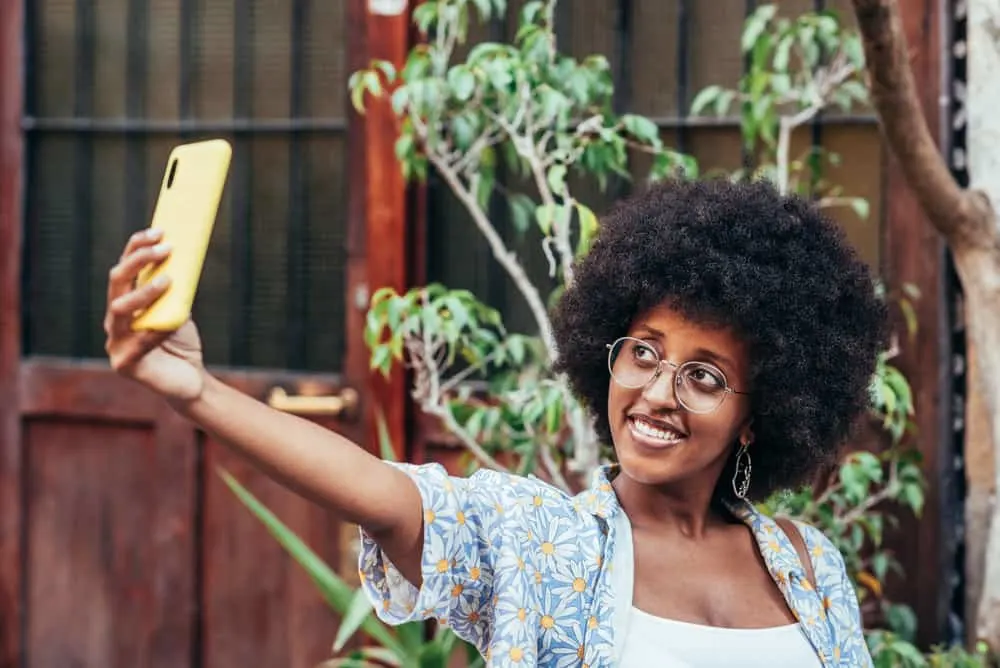 3. Hairfinity Botanical Hair Oil
You may have heard of Hairfinity products before, and that's because they are great for growing Black women's hair. This is a botanical hair oil that helps improve your hair's health so you can retain more length.
It's designed to be used on both the hair and the scalp to give you longer, stronger, healthier hair within a month.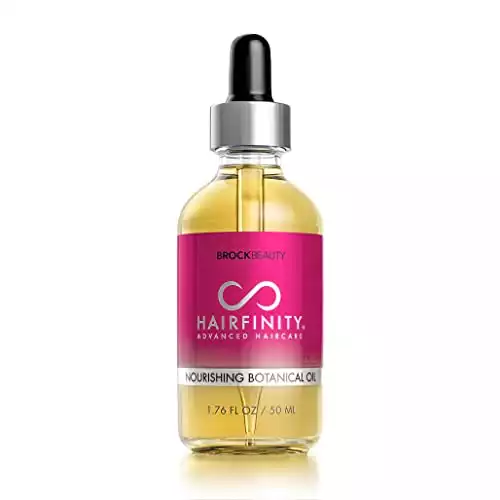 Like the other picks on this list, the goodness of this oil lies in the ingredient list. Here are some of the ingredients you'll find in this oil:
Collagen, which strengthens the hair so that it's less likely to break off.
Coconut oil, which provides your hair with moisture to reduce the chances of breakage.
Jojoba oil, which gives your hair deep hydration to stand up to regular styling and maintenance.
Moringa oil (composed of zinc), which helps to boost the production of keratin. This has two significant benefits: less breakage and stronger hair.
Apricot oil, which makes your hair baby soft and hydrates your scalp.
Grapeseed oil, which strengthens and hydrates your hair. It also boosts your hair's shine.
This is not an exhaustive list of ingredients in the oil. There are more nourishing ingredients that your hair and scalp will love.
There are a couple of ways that you can use this product, and we'll fill you in below:
Daily Treatment. Dispense one to three drops of the oil into your hands and apply it to your hair. Focus the product on the ends since this is primarily where breakage occurs. You can also apply it to your scalp.
Pre-poo treatment. Apply a few drops of the oil to your hair and leave it in for about a half-hour. If you'd like, you can apply heat to your hair for deeper penetration. If using heat to enhance the mask's penetration, reduce the processing time to 15 minutes. Gently comb through your hair for even distribution.
This oil is formulated for anyone with dry, overprocessed, or thinning hair. The makers of the product state that it will reduce breakage by up to 95%. And, judging by the customer feedback, we can infer that this claim has some merit (more on that later).
Pros and Cons of Hairfinity Botanical Growth Oil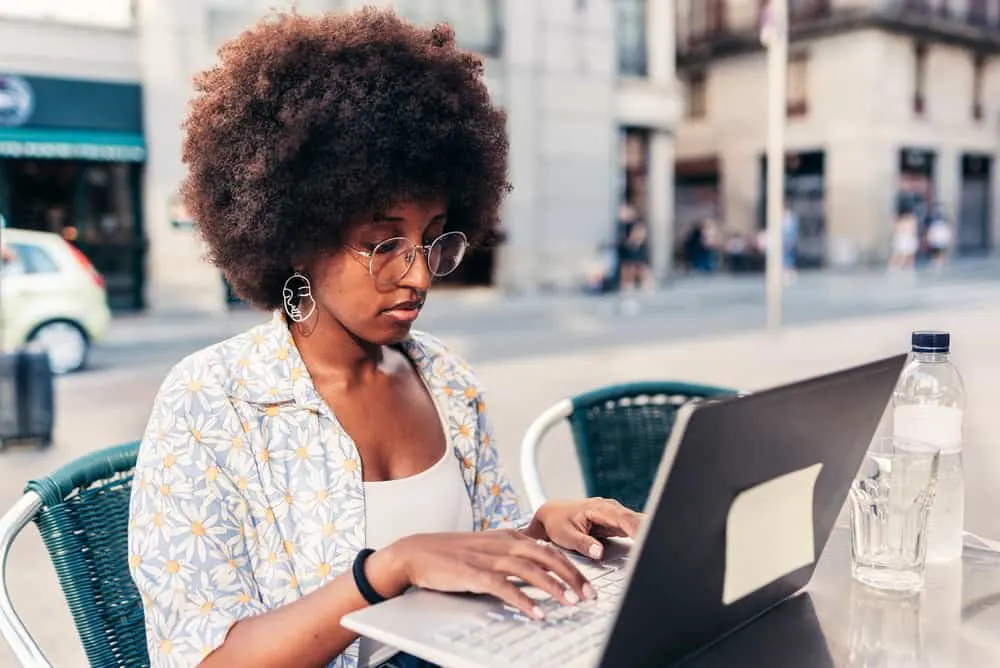 This oil, like the others, has both benefits and drawbacks. Let's get into them in this section.
Pros
The oil is full of great ingredients that nourish your hair and scalp. The ingredients work together to restore your hair's elasticity and strength. But not only that, the oil incorporates sealing ingredients to give your strands lasting moisture. And because it's also important for your hair to look good, Hairfinity also smooths your hair to keep frizz away all day.
The manufacturers of the product promise up to a 95% improvement in hair breakage. This is fantastic for anyone who's looking for a product that provides substantial results.
The oil is for all hair types (curly, straight, natural, chemically processed, etc.). Even if your hair is severely damaged, Hairfinity can help to bring it back to life. You can use it for alopecia, hair loss around your edges, and general hair thinning.
The oil is free of harmful ingredients like parabens, silicones, phthalates, petroleum, and mineral oil.
You don't have to worry about whether you'll like the scent since this product is fragrance-free.
Cons
The oil is costly. For just 1.76 ounces, you'll often have to fork over more than $25. We recommend searching the internet a bit to find this one at the best possible price.
The oil has earned strong customer reviews across the most popular online retailers. Some dissatisfied customers stated that the oil smelled bad and arrived without a proper seal.
Others noted that the product did not work for them. The happiest customers praised the product for its delightful scent and, of course, the excellent hair growth results they experienced.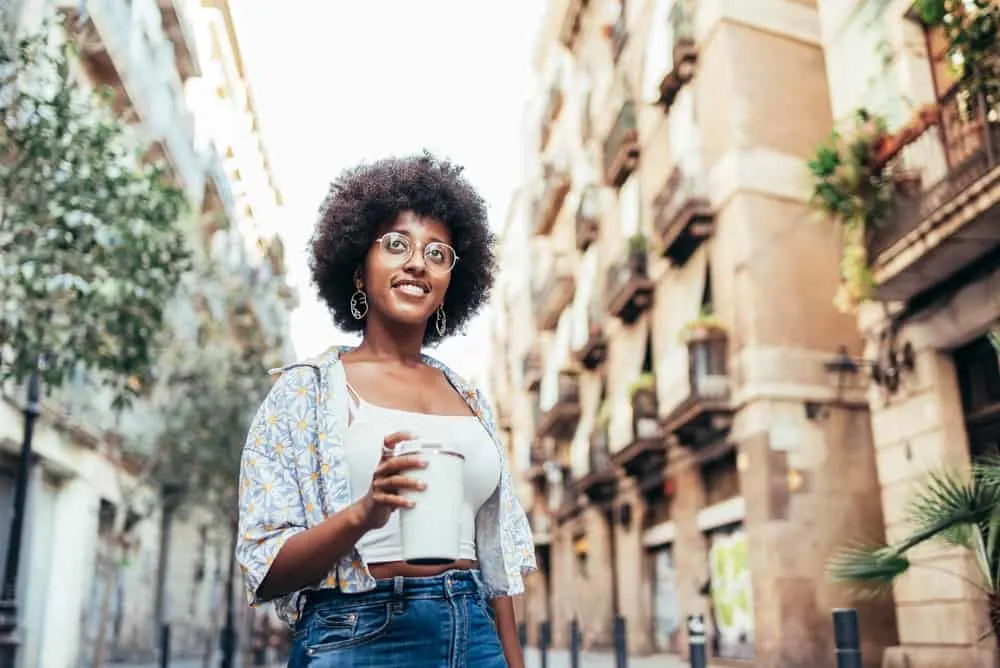 4. Marc Anthony Grow Long Hair Mask
We've covered some hair oils and serums, and now it's time to introduce you to a great hair growth mask. Marc Anthony Grow Long Hair Mask is a deep-conditioner specifically made to restore and protect your hair so that it won't break off. When your hair stops breaking, that's when you'll start to see some length.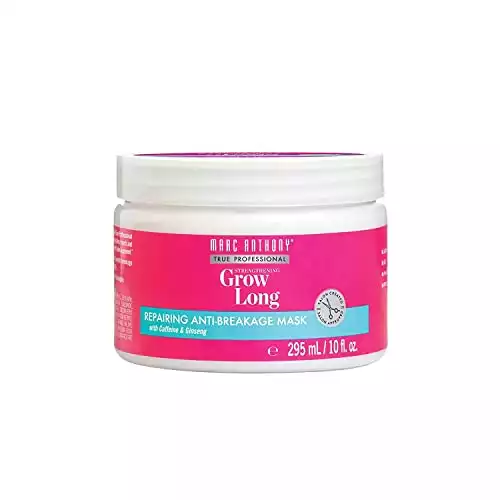 This mask is fortified with some of the most nourishing ingredients you can find anywhere. Here are some of them:
Caffeine, which targets the hair loss hormone, DHT, and stimulates hair follicles to grow more hair faster.
Ginseng, which increases the number of scalp cells you produce. This leads to stronger, healthier hair follicles and new hair growth.
Avocado Oil, which nourishes and moisturizes both your scalp and hair. It also reduces hair breakage and aids in detangling.
Argan Oil, which protects and moisturizes your hair so that it can resist damage from everyday styling and hair maintenance.
Keratin, which fills in broken and damaged areas along your hair shaft, making your hair stronger and more resistant to breakage.
As you can see, there are some very targeted ingredients in this mask, and with regular use, you can reap all of these benefits and more. Also, these ingredients don't care what hair type or texture you have – this mask is for all hair types.
The Grow Long mask was meticulously formulated by salon professionals who have experience caring for all hair types. The product is also free of ingredients that shouldn't come anywhere near your curls, like sulfates, phthalates, and parabens.
To get the benefits of this hair mask, all you need to do is apply it to your wet hair post-shampoo. You can comb it through for even distribution. Leave it on for up to 5 minutes, and then rinse it out.
Pros and Cons of Marc Anthony Grow Long Mask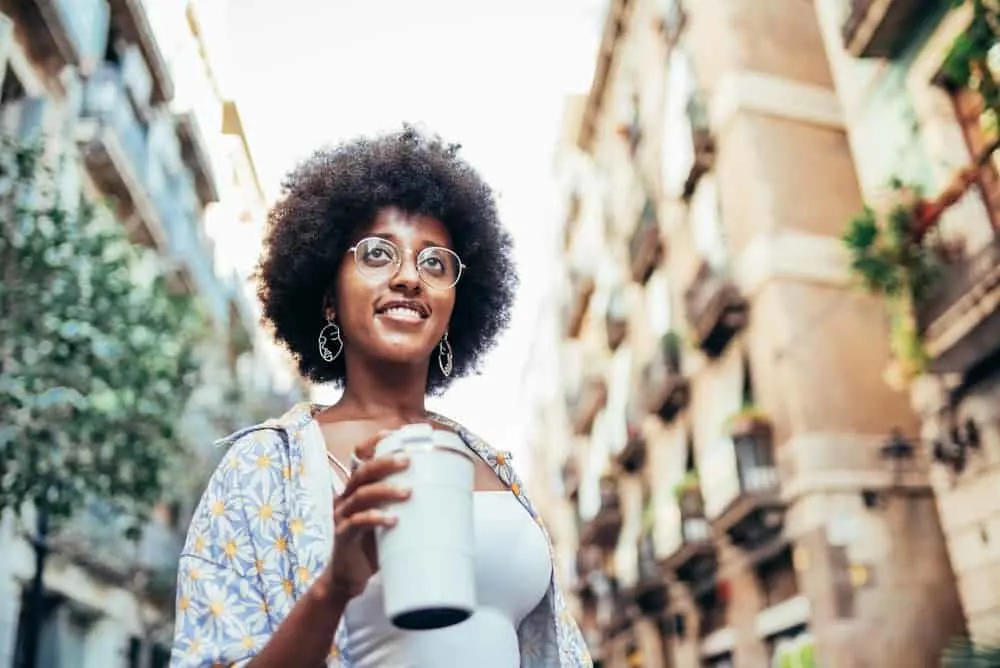 Here are some of the pros and cons you should know about before buying this mask.
Pros
This mask is packed with ingredients that specifically target hair weakness and breakage so that you can retain more of your hair length.
Caffeine and Ginseng work on your scalp to stimulate and enhance hair growth.
The mask will leave your hair shiny, soft, and hydrated. This makes it easier to style.
The mask is super affordable – you can often get 10 ounces of product for less than $10 if you search around online a bit.
Cons
Some customers received their hair masks without a seal. They suspect that someone else used the product before them.
The mask contains isopropyl alcohol, which can be drying to the hair. However, the product also contains fatty alcohols that moisturize the hair.
The mask has an artificial fragrance, which may turn some off since the components of the scent are not disclosed.
This product has received thousands of positive reviews from multiple online retailers. Still, some unhappy customers stated that the mask made their hair feel sticky or straw-like.
Satisfied customers noted that the product smelled amazing, left their hair super soft, and made a massive difference in the health of their hair. There are many testimonials praising the product for the hair growth results they experienced.
Frequently Asked Questions
Discover answers to frequently asked questions about hair growth for African American hair types. This section provides clear, concise insights on the best products and practices for healthy, thriving hair.
What Helps African American Hair Grow Faster?
Incorporating a blend of natural oils, essential oils, and organic ingredients into the hair care routine effectively enhances the growth rate of African-American hair. Utilizing products rich in fatty acids, amino acids, and vitamins, especially vitamin E, can nourish the scalp and hair follicles, promoting faster hair growth. Regular deep conditioning, sulfate-free shampoos, and maintaining protective styles contribute significantly to hair health and growth.
What Are the Best Hair Growth Vitamins for African American Hair?
The best hair growth vitamins for African American hair typically include biotin, vitamin E, and amino acids. These nutrients support hair strength and health, aiding in growth. Supplements containing these vitamins and a balanced diet rich in fatty acids and natural ingredients can effectively boost hair growth.
What Oil Helps African American Hair Grow?
Oils like castor oil, especially derived from castor beans or seeds, olive oil, and rosemary oil are highly beneficial for African American hair growth. These natural oils promote scalp health and improve blood circulation to the hair follicles, stimulating growth. Regular application of these oils can lead to healthier, faster-growing hair.
What Product Grows Hair the Fastest?
Products containing active ingredients like biotin, fatty acids, and natural oils such as castor and rosemary oil accelerate hair growth. Serums and treatments enriched with amino acids and vitamins, particularly vitamin E, have effectively promoted rapid hair growth.
What Products Thicken African American Hair?
Products designed for African American hair that include natural oils, shea butter, and essential fatty acids are effective in thickening hair. Deep conditioning treatments, leave-in conditioners, and specific thickening serums rich in organic ingredients and vitamins can significantly improve hair thickness.
How Can I Thicken and Grow My African American Hair?
To thicken and grow African American hair, incorporate natural hair care products rich in essential oils, fatty acids, and vitamins. Utilize deep conditioning treatments regularly, apply natural oils like castor oil for scalp care, and maintain protective hairstyles. A consistent hair care routine emphasizing hydration and nourishment is key to achieving thicker, healthier hair growth.
With the products mentioned in this article, you've got some great options to consider. You can't go wrong trying any of these products, being that they are all formulated with growth-stimulating and hair-nourishing ingredients. We wish you the best of luck in your quest for longer, healthier curls!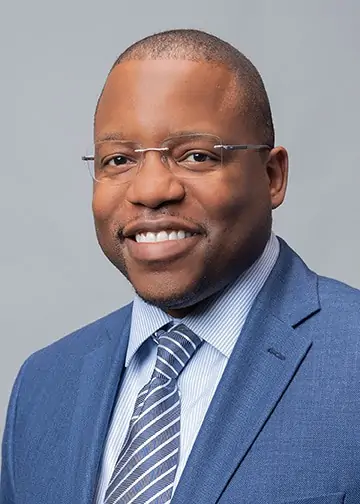 Kenneth Byrd, with a BS in Accounting and Management Information Systems and an MBA from the University of Alabama at Birmingham, has over 15 years of experience and is a recognized authority in hair care. Co-founder of Curl Centric® and Natural Hair Box, Kenneth has dedicated himself to promoting ethical and scientifically-backed hair care practices. Rigorous editorial guidelines, industry recognitions, and features in numerous media outlets evidence his expertise. Kenneth's commitment to transparency, quality, and empowerment has positioned him as a trusted voice in the field, empowering readers to confidently embrace their natural beauty.