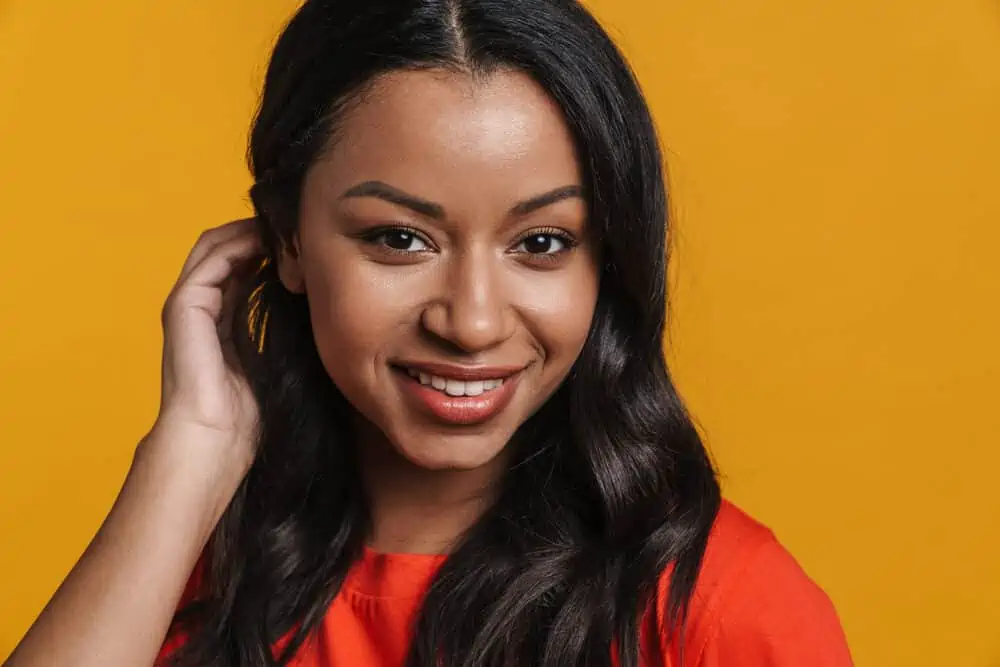 After coloring their hair, people with wavy or curly hair often break out the flat iron and play around with their new hairdo.
But inquisitive minds want to know whether there are consequences to flat ironing colored or dyed hair. Can you flat iron your hair after dyeing it?
That's exactly what we'll address in this article. We'll not only look at what happens to your hair when you flat iron it shortly after color processing, but we'll give you tips on how to get your color to last.
Can You Flat Iron Your Hair After Dyeing It?
You can flat iron your hair after dyeing it, but it's not recommended. So, you can flat iron freshly colored hair as long as it is in good condition. If you notice any significant signs of damage, you should hold off on straightening it until you give your strands time to recover.
Keep in mind that using hot tools on severely damaged hair will cause it to break off and lead to hair loss. We recommend that you limit the use of heat styling tools as much as possible.
Some signs of damage to look out for are:
Your hair is limp or lifeless when it's wet.
You notice more shedding than average.
You can see a lot of split ends and breakage.
Your locks are more tangled than usual.
Your strands are dry and brittle.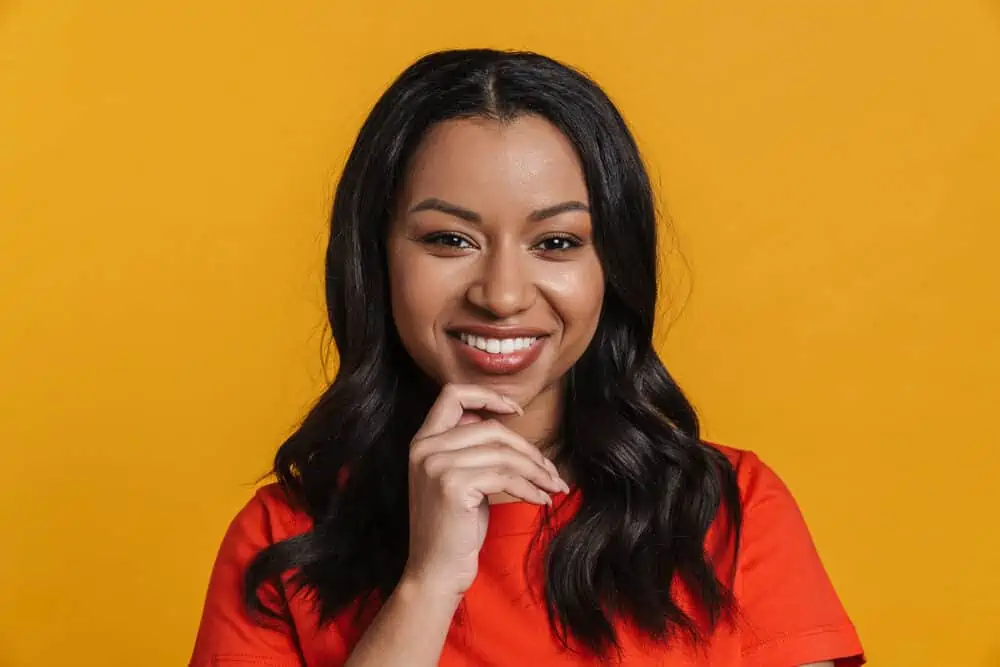 How Long Should You Wait To Flat Iron Your Hair After Dyeing It?
Ideally, you should wait for at least 72 hours to pass before flat ironing freshly colored hair. Your hair's cuticles are raised for the first few days after dyeing your hair.
During this time, it's critical not to do anything that will cause your color to bleed. Your flat iron's heat and pressure further chip away at your hair cuticles, making the color more likely to fade.
Waiting for three days gives your cuticles enough time to close and lock the dye pigments inside. If you want to be extra cautious, we recommend waiting for at least a week after coloring to use a flat iron.
Waiting that long will help preserve your color in the long run and give your strands a chance to recover after being chemically processed.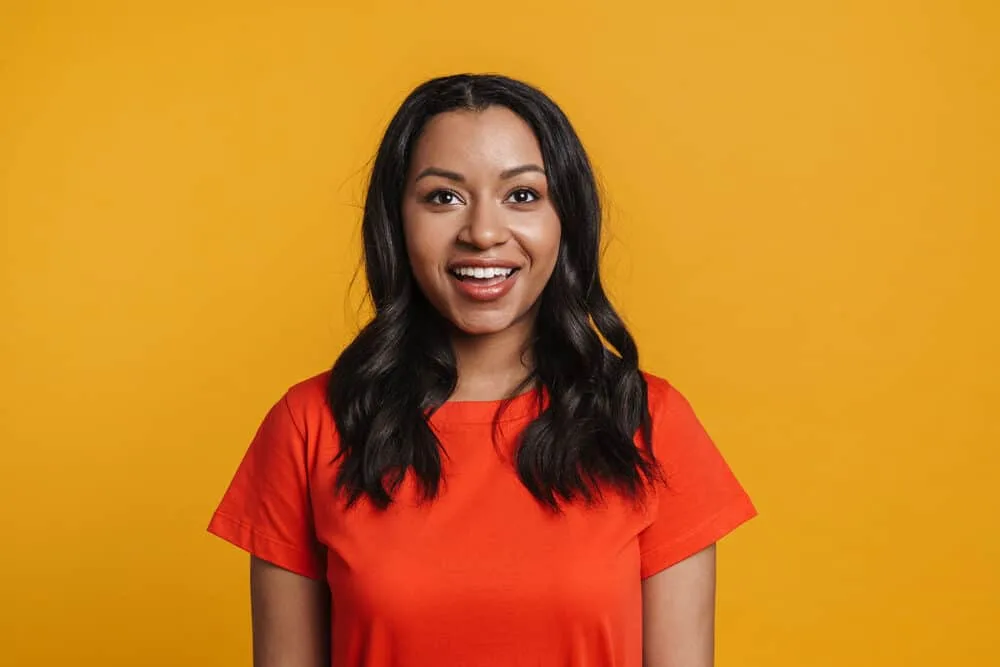 How to Flat Iron Your Hair After Dyeing It
No matter how long you wait to flat iron your hair after dyeing it, the proper tools and techniques will keep your hair healthy and your color vibrant. Here is a list of tips that will help you avoid some of the damage associated with flat ironing.
FLAT IRONING FRESHLY DYED HAIR?!?| How to Straighten Dyed Natural Hair
Make Sure Your Hair Is Completely Dry
Flat ironing your hair when it's wet is more damaging than straightening it when it's completely dry. If you want to mitigate damage, your hair should be 100% dry before you attempt to use a flat iron.
The only exception is using a wet to dry flat iron. Even then, your hair should be at least 80% dry (i.e., damp hair) before you attempt to straighten it.
Use the Proper Flat Ironing Technique
Using the proper flat ironing technique can cut the risks of heat damage down drastically. A lot of the harm associated with flat ironing is due to people misusing the tool and putting more stress than necessary on their strands.
Keep these tips in mind the next time you grab your iron.
Don't go over any section more than once.
Flat iron your hair in small sections.
Twist the iron at a 45-degree angle to create tension.
Don't let the flat iron sit on any area for too long.
Try the chase method of flat ironing (see video tutorial below).
The Brush Chasing Method: Easiest Way To Flat Iron Natural Hair
Apply a Heat Protectant
Before you grab your flat iron, you should use a heat protectant. Heat protectants create a barrier between your strands and the hot plates of your iron.
Using heat protectants correctly will help you avoid damage and protect the vibrancy of your hair color!
Heat protectants come in a variety of forms, and the one you'll need will depend on your unique hair. Try a lightweight heat protectant spray if you have fine or thin hair.
If your hair is coarse or thick, you can opt for a cream or serum instead. Either way, a heat protectant is an essential weapon in the fight against heat damage.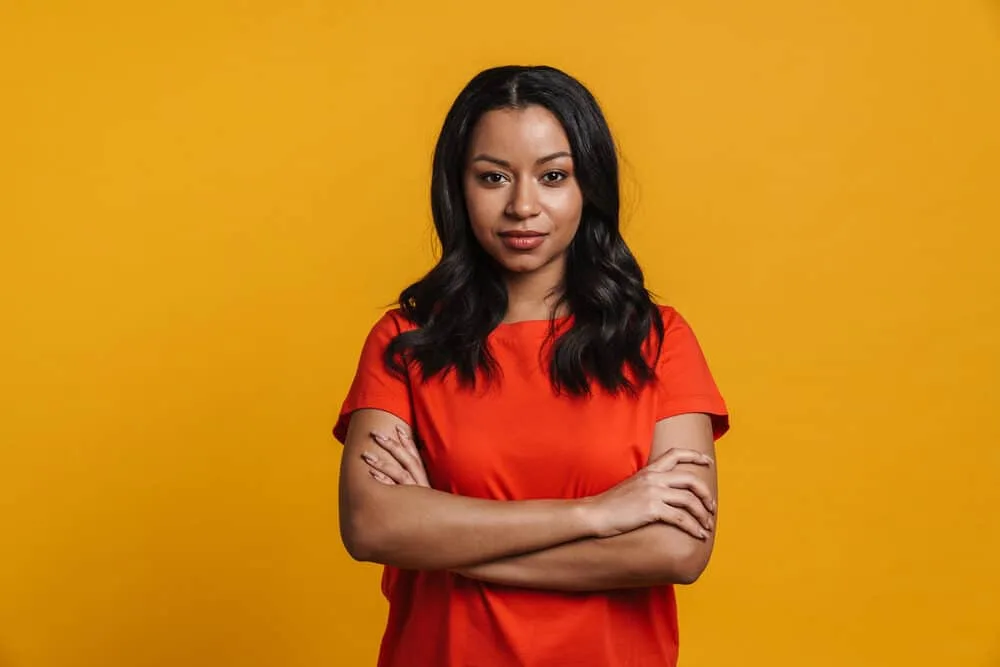 Purchase a High-Quality Flat Iron
When it comes to protecting your hair against damage, using a quality flat iron is the first step to ensuring your hair doesn't suffer heat damage.
Cheap irons don't always heat up evenly and can get way hotter than you intended.
They can also snag or burn your hair. We recommend selecting a high-quality flat iron with titanium, tourmaline, or ceramic plates.
Style Your Hair with Heatless Methods
When it comes to freshly colored locks, the less heat you use, the better. So, consider styling your hair with heatless methods instead of hot tools.
Your strands will appreciate a break from harsh styling tools like blow-dryers and flat irons. Try the following styles to give your recently-colored hair some time to recover:
Braid or twist out
Pin curls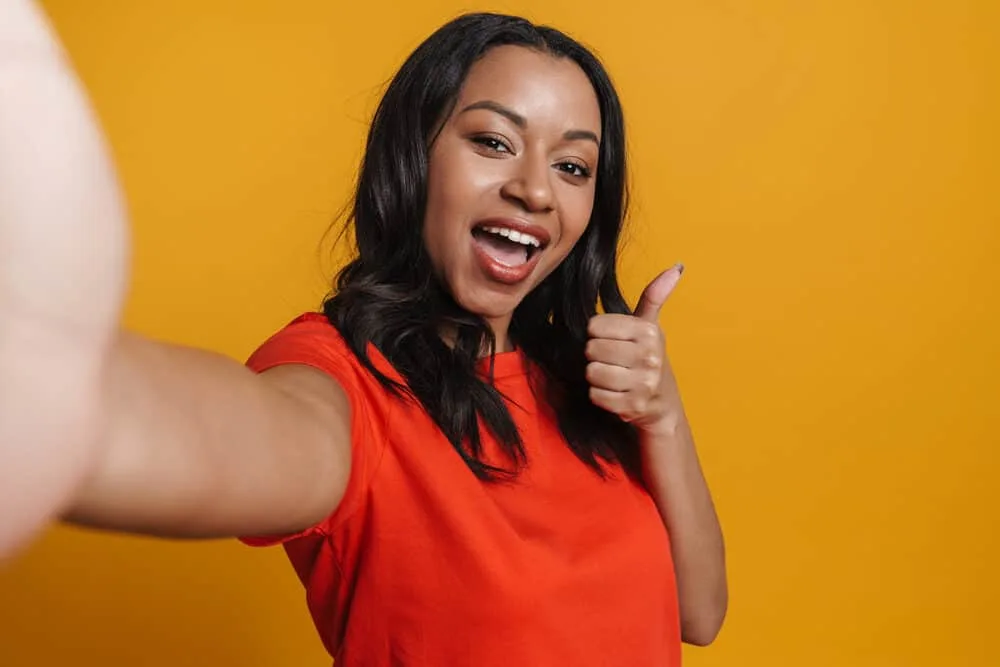 Keep Your Flat Iron Temperature Low
The higher the heat, the higher your risk of potential heat damage. Conversely, keeping the temperature low can dramatically cut your chances of getting heat damage.
People with fine and straight strands should generally stay within a temperature range of 350-375 degrees, while coarse and thick hair might need temperatures of up to 400-450 degrees.
If you're able to use lower temperature settings, go for it! You should always use the lowest setting possible. Color-treated hair can't tolerate as much heat as hair that hasn't been dyed.
Moisturize Your Hair
Both flat irons and hair dye can cause dryness and increased breakage. If you want to stop this damage in its tracks and prevent it from getting worse, moisture will be your best friend.
Here are some of our favorite recommendations for dyed locks.
The LOC or LCO moisturizing techniques
Using hydrating creams, lotions, oils, and leave-ins
How To Make Your Hair Color Last Longer
Even if you take all of the necessary precautions, heat will cause your hair to fade faster. That being said, you can take measures to slow down heat-related color fade. Here are some tips for longer-lasting color.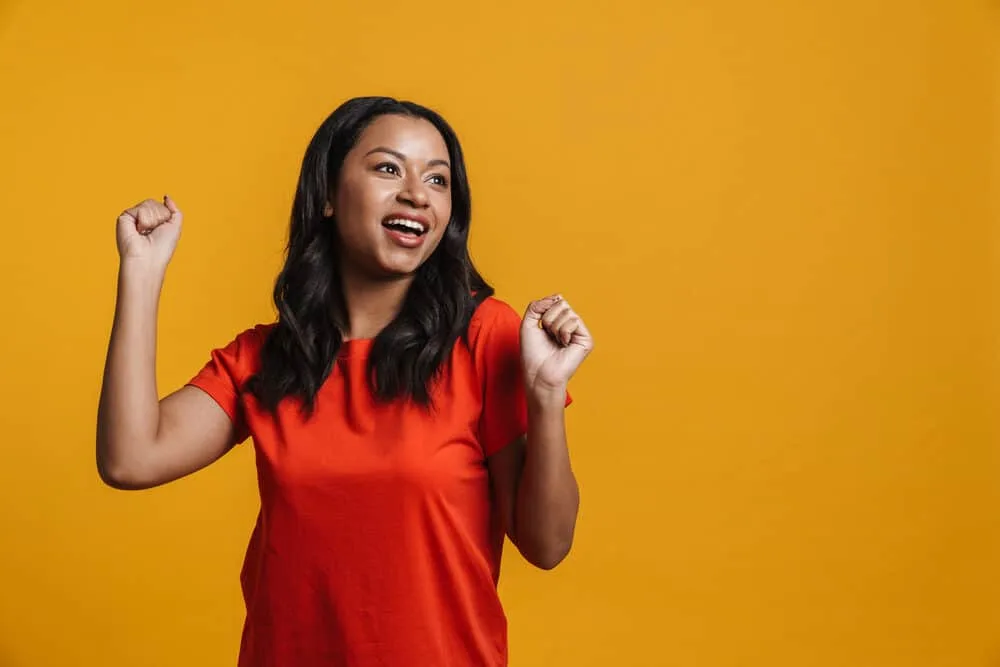 Use a Color-Depositing Shampoo and Conditioner
Although color-depositing shampoos and conditioners won't protect your hair from heat damage, they will help keep your color intact.
They deposit pigments onto your strands, which can undo the fading caused by your flat iron. And the best part? The results are noticeable after just one use!
Use Color-Safe Products
Whether you use heat or not, color-safe products are a must-have for anyone who's dyed their locks. Products that aren't labeled color-safe likely contain potent cleaning agents that strip away dye and leave your hair looking dull and lifeless.
Color-safe hair products leave these harsh ingredients out of their formulas.
They also contain a higher concentration of moisturizing and strengthening ingredients to fight the effects of chemical processing.
Avoid Hot Water
Flat irons aren't the only thing that can suck the color from your strands. Hot water has a similar effect and can cause your hair to fade well before its time.
Washing your hair in cool water closes your hair's cuticles and ensures your color stays put. And as a bonus, cold water will leave you with some serious shine!
As long as you take the proper precautions, straightening your hair after coloring it is okay. However, if you want to keep your hair healthy and your color vibrant, try to avoid it as much as possible.
We hope this article has been helpful to you, having communicated the risks of using a flat iron on colored hair and provided you with tips you can try at home to keep your color vibrant.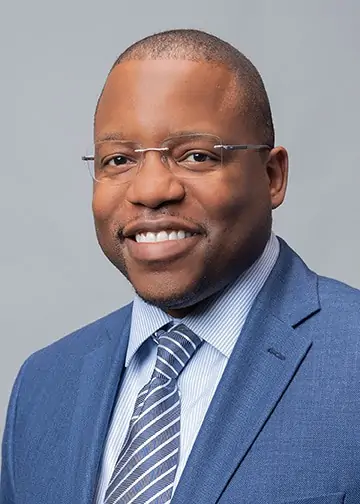 Kenneth Byrd, with a BS in Accounting and Management Information Systems and an MBA from the University of Alabama at Birmingham, has over 15 years of experience and is a recognized authority in hair care. Co-founder of Curl Centric® and Natural Hair Box, Kenneth has dedicated himself to promoting ethical and scientifically-backed hair care practices. Rigorous editorial guidelines, industry recognitions, and features in numerous media outlets evidence his expertise. Kenneth's commitment to transparency, quality, and empowerment has positioned him as a trusted voice in the field, empowering readers to confidently embrace their natural beauty.