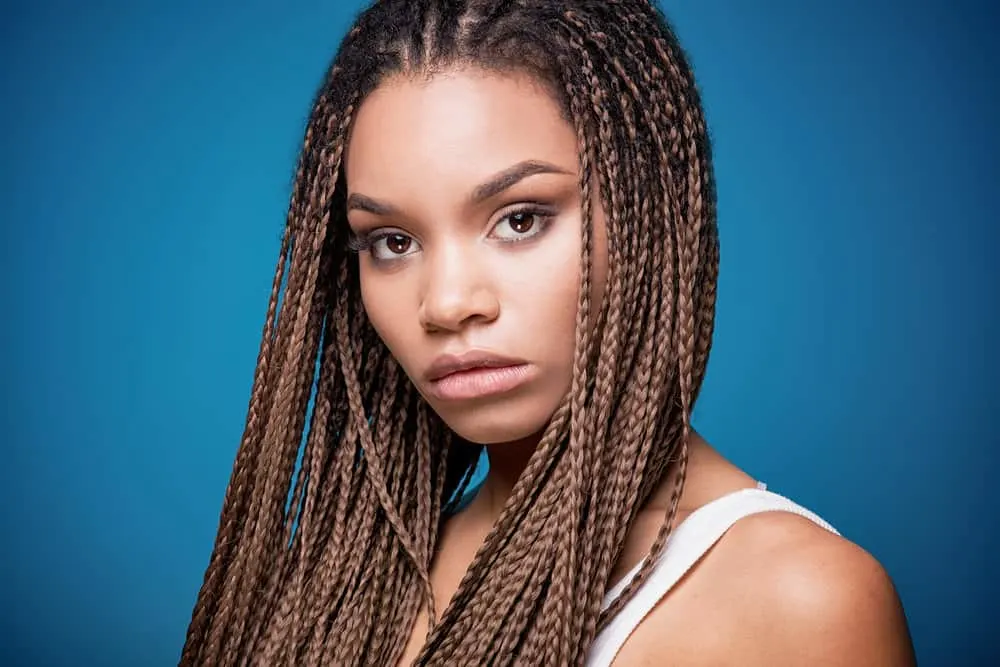 There's something alluring about side-part tribal braids – no doubt about it. And that's why these cute tribal braids have been so popular for so long.
If you thought that side-part tribal braids referred to a single style, you'd be mistaken.
There are various braiding patterns and styles creating many ways to rock tribal braids, and we'll share the best with you in this article. Let's get right into it!
The Best Deep Side Part Tribal Braids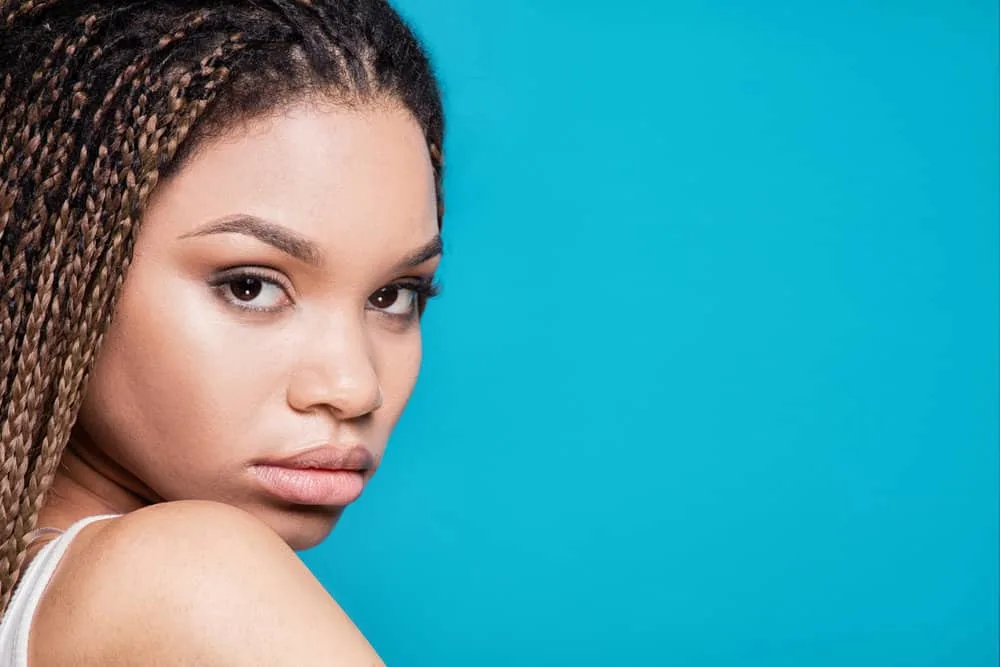 This article includes middle-part tribal braids, jumbo tribal braids, bohemian tribal braids, goddess tribal braids, and so much more. Regardless of your hair length or face shape, there are multiple styles for anyone that wants to create tribal braids hairstyles.
Classic Side Part Tribal Braids
2 layer feedin/tribal braids!! WATCH ME WORK!
For girls who like to keep things simple, classic side-part tribal braids will be your jam. This style features a layer of small vertical feed in cornrows in the back and horizontal ones in the front braided away from the side part.
If you were to go to the salon today and ask for side-part tribal braids, this is what your stylist would think you mean.
The beauty of this style is that it's simple enough to wear with all your outfits, no matter how formal or casual they are. But at the same time, they're intricate and draw attention everywhere you go.
Want to know how to get this look? Watch this video to see how it's done.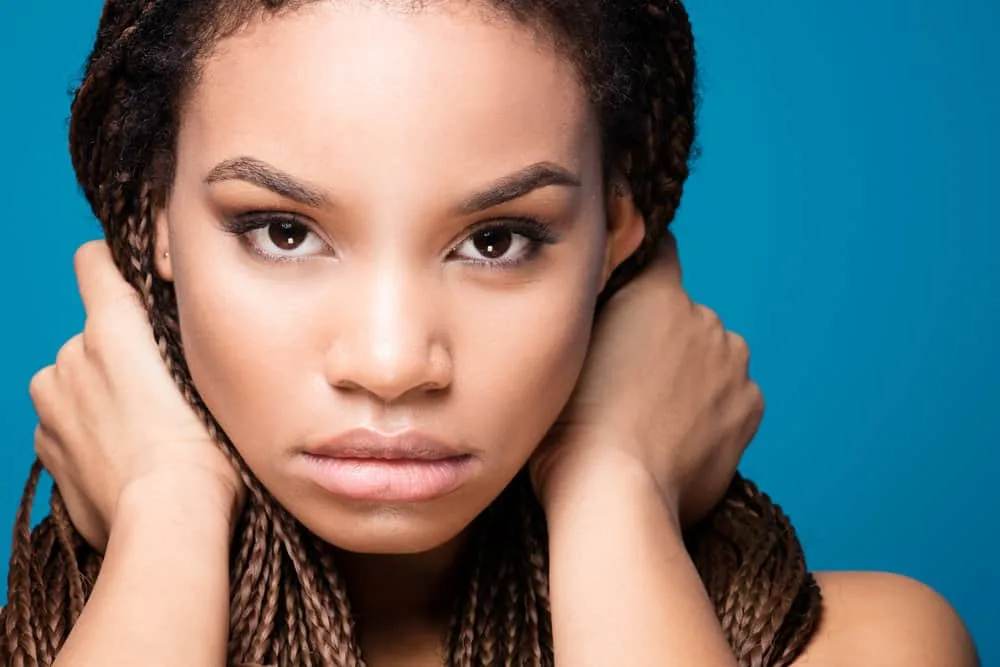 Red Side-Part Tribal Braids
TRIBAL BRAIDS SIDE PART|3 SMALL LAYERED| Detailed
Do you think color makes every hairstyle better? Then you'll love these red side-part tribal braids. They're similar to the braids mentioned above, but they're in a beautiful, vibrant red tone guaranteed to make others do a double take.
Just be aware that if your natural hair isn't the same color as the red extensions, it will peak through the extension hair and change the overall look. Some like the color variation, while others hate it.
Is this the look for you? Here's a video to show you exactly how to get the look.
Spiral Side Part Tribal Braids
Very Neat Side Part Tribal Feed In Cornrow with braids ||Clients hair transformation #01
We like classic side-part tribal feed in braids, but what if you want to take things up a notch? Try this style.
It features box braids at the nape of the neck and a couple of layers of feed-in braids that curve away from the deep side part.
As you can see above, the braids aren't in a complete spiral, but they give that illusion.
We recommend you go for this look if you want a look with extra flair. Though all the braids we mentioned so far can work for almost every occasion, you might argue this one can complement more formal outfits.
Check out this video if you want to know how one talented braider brought this look together.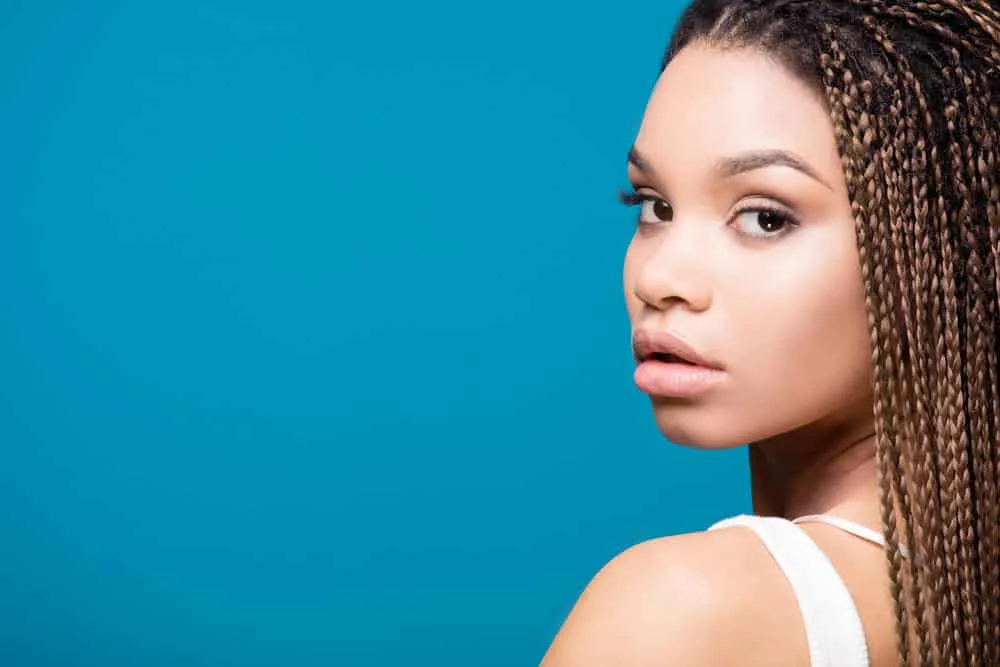 2 Layer Fulani Side Part Tribal Braids
3 Layer Tribal Feed In Braids | Tiffani Renae
This style represents Fulani braids done right! It's got two layers of feed in braids and a side part. But the difference is that it's also got two braids along the side part on the top layer.
This minor change gives the style Fulani vibes, given that the vertical braids are characteristic of that braiding style. You can ask your stylist to push the Fulani vibe a little further by including a braid or two on each side, going from the back to the front.
The braids will hang in front of your ears, adding a feminine touch and even more interest to the style. Watch this visual tutorial to see how these tribal braids are done.
3 Layer Side Part Tribal Braids
Braiding My Hair Into 3 Layered Side Part Feed-In Braids (Tribal Style)
When it comes to any braided style, the number of layers makes a difference. 2-layer variations are great in their own right.
But three layers result in more movement for big hair whips and more glam appeal.
But as a rule of thumb, you should know that the more layers you have, the more time you'll spend in the chair and the more money you'll end up paying your stylist.
Before you decide whether this style is for you, watch this demonstrative video to get an idea of what it takes to get this style.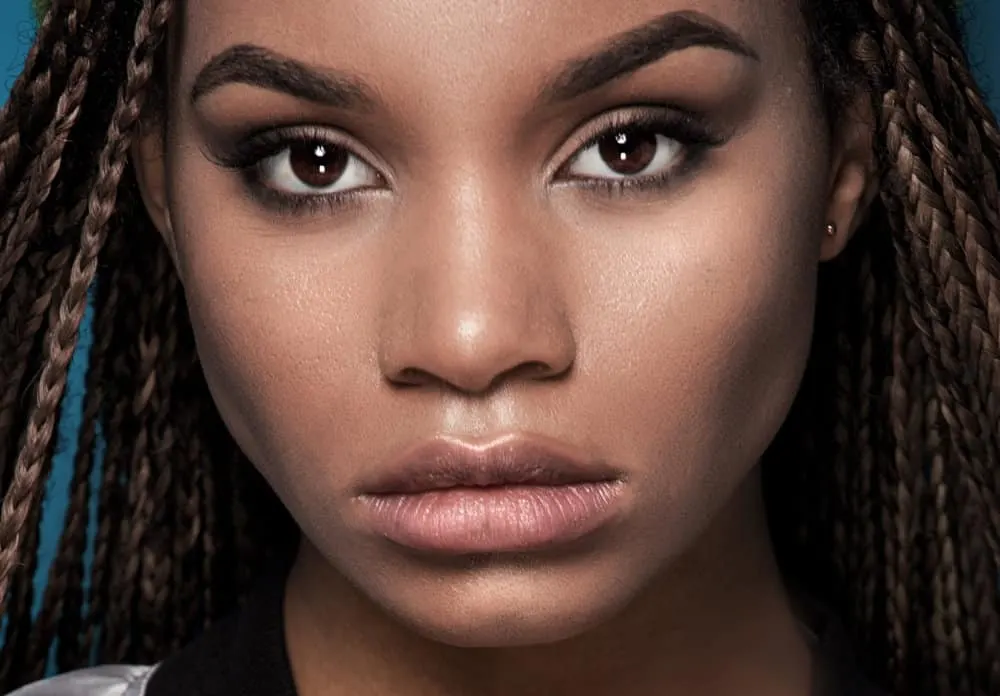 Jumbo Side Part Feed in Braids
Jumbo side part feed in braids
Do you like the thought of getting feed-in braids but don't want to do dozens of braids or sit for hours to get them done? Size up your braids!
Instead of getting small feed-in braids with a side part, go for jumbo feed-in braids instead. Since these braids are larger, they don't take as much time to complete.
If you decide to get them done professionally, you could be in and out in an hour or so instead of 4+ hours. You should be aware that larger braids are "less dense" than smaller braids, meaning that much of your scalp will show between the braids.
They also don't last as long as smaller braids.
If that's okay with you and you like this style regardless, give it a try. Take a peek at this video to see up close and personal how it's done.
Blonde Side Part Tribal Braids – Staggered
Three Layer Cornrow Braids in 4Hrs | Vlogmas Day 9
Does this look catch your eye? It catches ours! And we know why- it's the zigzagged/staggered formation of the braids on the right side of the side part.
It takes great skill to plan out and braid the hair in this way, so this is one look that we recommend seeing a skilled braider for. In addition to the intricacy of the style, it utilizes light honey-blonde braiding hair, giving strong Beyonce vibes.
Want to see how it's done? Watch this video to see more.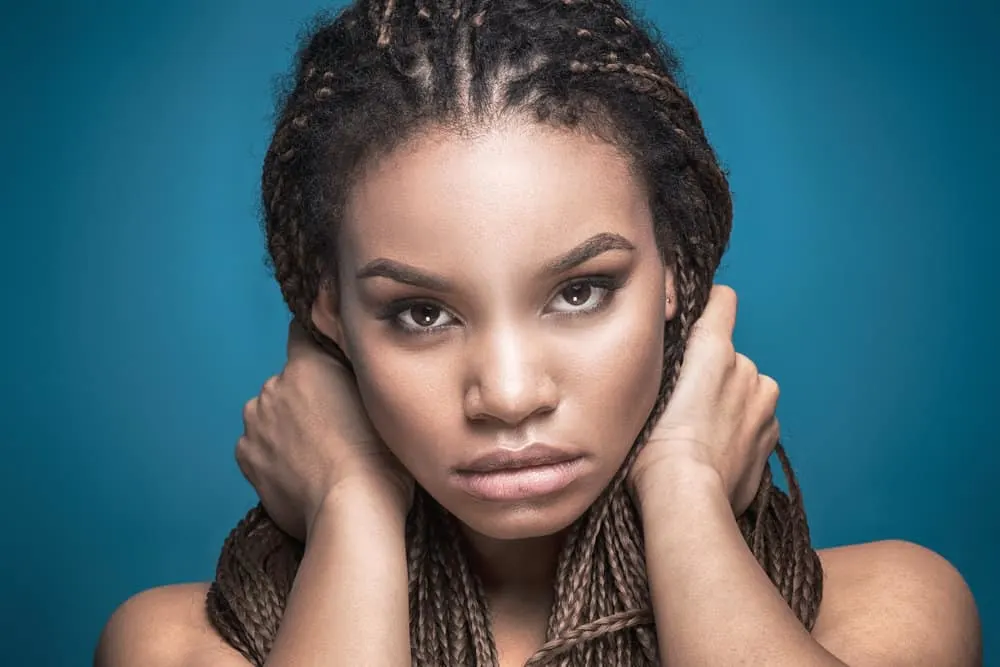 Are Tribal Braids a Good Protective Style?
Wondering whether tribal braids are a good protective style for you and your hair? The answer is that it depends. From a hair health standpoint, if the style isn't too tight, it can protect your hair from the outside elements for several weeks.
But if your hair is super damaged or braided too tightly, the style is no longer protective and can even ruin your hair.
When your hair is damaged, avoid any style that requires a lot of manipulation (lots of hands in your hair, small braids, constant combing, parting, etc.).
So, inspect your hair and determine if it's healthy. If not, skip the tribal braids until your hair is in a healthier state.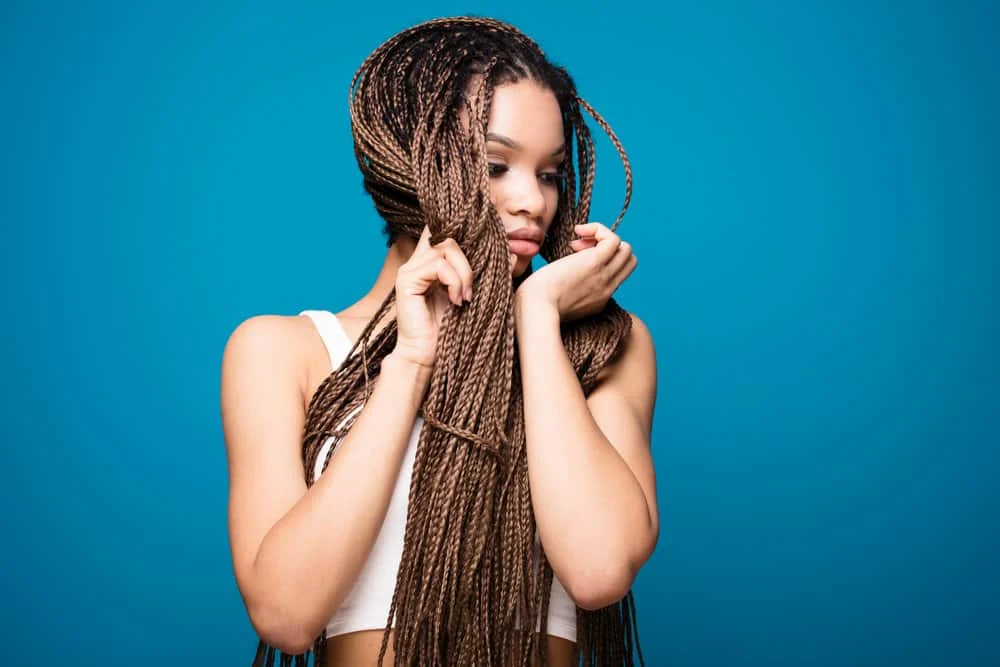 How Much Do Tribal Braids Cost?
The price of tribal braids ranges from a little over $100 to $300 or more. The price you'll be asked to pay depends on several things: the stylist you're considering, the salon you're considering, how small you want your braids, how many layers you want, etc.
Here are some bullet points to help you get an idea of how much you'll have to pay:
The more experienced your stylist is, the higher they may set their prices.
Boutique salon prices are almost always higher than mom-and-pop salons.
Smaller braids take longer to do than larger braids. So, if you want small braids, you'll have to pay a pretty penny. Conversely, larger braids will almost always be on the lower end of the price range.
The more layers you have, the more time the stylist will have to spend styling your hair, and the more you'll have to pay. So, if you're strapped for cash, consider getting 2 layers rather than 3 layers.
Which Tribal Braid Style Should You Choose?
You should choose whichever style speaks to you. If you like bold colors, go for the blonde or red tribal braids. If you want your braids to be super small or large, go for it.
Your hair will be on your head – not anyone else's- so your choice should align with what you want.
So, there you have it – some of the most beautiful side-part tribal braid styles and information to help you decide if these styles will work for you. We hope you found all the info you need to achieve the tribal hair transformation you've been eyeing!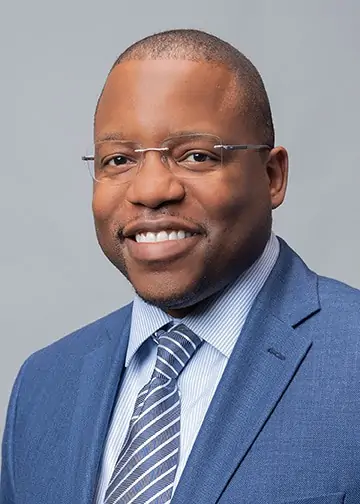 Kenneth Byrd holds a BS in Accounting and Management Information Systems and an MBA from the University of Alabama at Birmingham. With over 15 years of experience, Kenneth has been dedicated to hair care since 2008, when he co-founded Curl Centric® and Natural Hair Box alongside his wife. As a team, they promote healthy hair care practices through their comprehensive platform, Curl Centric. Curl Centric is a website operated by a husband and wife team that encourages healthy hair care. At Curl Centric, we aim to help our readers take control of their hair care journey and make good decisions about products, hairstyles, and maintenance techniques. We also have strict editorial integrity; here's an explanation of our editorial guidelines and how we make money.