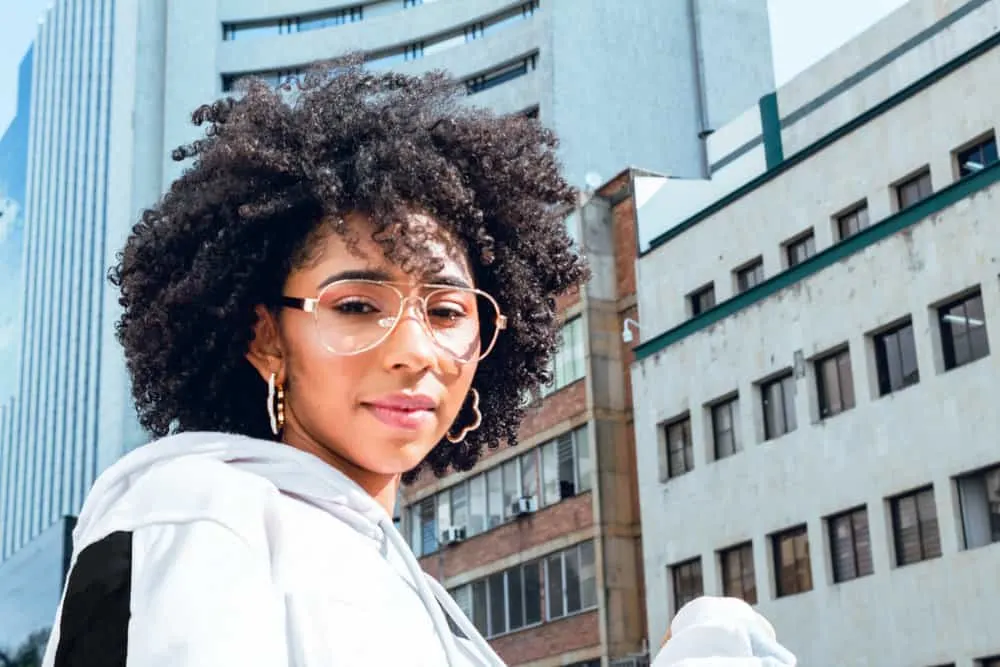 During your last trip down the haircare aisle, you may have come across a line of hair products called Maui Moisture. Between the tropical product names, affordable prices, and adorable packaging, Maui Moisture seems like a promising brand.
Is Maui Moisture good for your hair? If you're wondering whether or not you should give it a try, read on!
In this article, we'll dive into what Maui Moisture products have to offer and whether or not they're good for your hair. We'll look at the good, the bad, and everything in between so you can decide if this is the right line for you.
Is Maui Moisture Good for Your Hair?
Although it won't work for everyone, we think it's safe to say that many Maui Moisture products are great for your locks. They have relatively clean formulas, and their hydrating ingredients are great for dry, damaged, and curly hair.
Maui Moisture has reasonable prices, making it easy to experiment with different products. Formulas vary, so go over each ingredient list and stick with products containing wholesome, nourishing ingredients.
Stay away from products that contain isopropyl alcohol and DMDM hydantoin, and you'll be fine.
A Quick Overview of the Maui Brand
Maui Moisture is an affordable line of nature-inspired hair care and styling products brought to consumers by Johnson and Johnson.
One thing that sets Maui Moisture products apart from their competitors is that all of their formulas feature aloe vera as the first ingredient. They also contain a blend of nutrient-rich ingredients that you can find on tropical islands, hence the name Maui.
Maui Moisture prioritizes clean formulas, so all of its products are vegan and don't contain potentially harmful ingredients like sulfates, parabens, mineral oil, and silicones.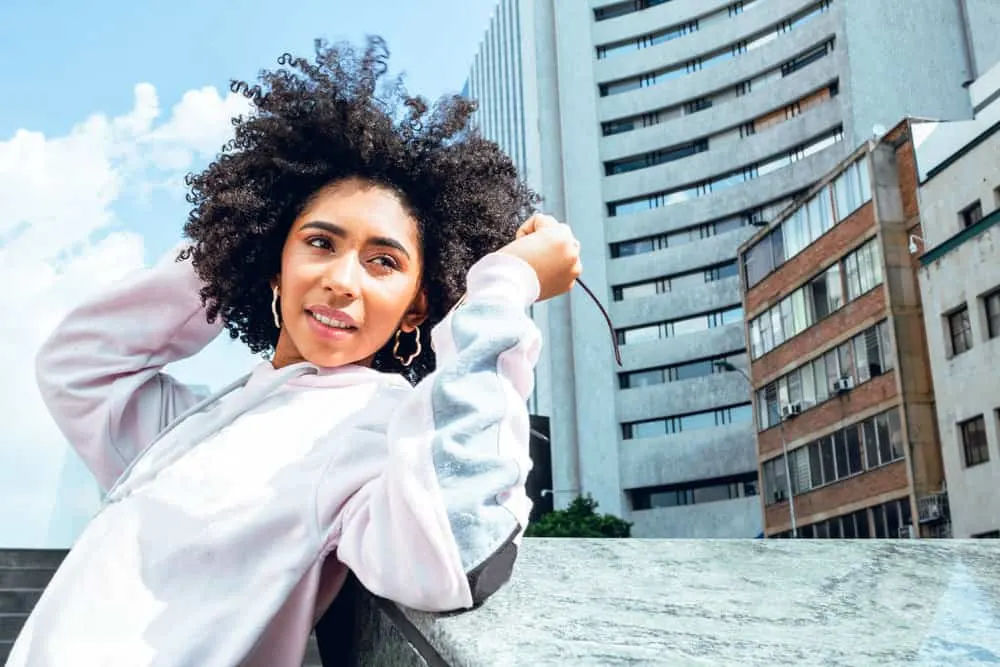 An Overview of Maui Hair Products
Maui Moisture offers an extensive selection of products for different hair types and styling concerns. We can't take a look at all of them, but here is a brief overview of the various products offered by Maui:
Thicken & Restore + Bamboo Fibers Strengthening Shampoo
Thicken & Restore + Bamboo Fibers Strengthening Shampoo – This thickening shampoo helps restore weak, brittle strands with fortifying bamboo, coconut, castor oil, and neem oil. It renews damaged curls and coils, leaving them rejuvenated and healthy.
For Weak, Brittle Hair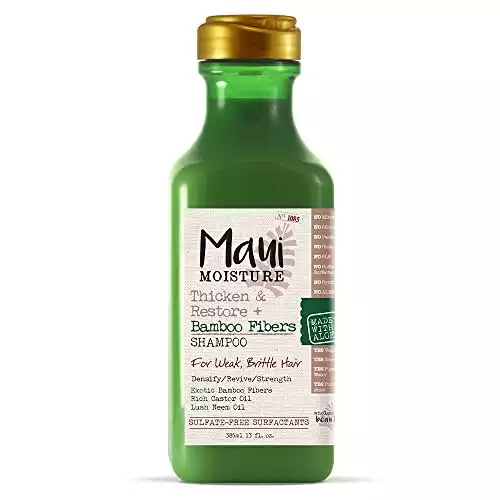 Strength & Length + Castor & Neem Oil Shampoo
Strength & Length + Castor & Neem Oil Shampoo – Maui's castor oil, peppermint, and neem-infused shampoo promises to leave your strands feeling strengthened, hydrated, and renewed. Its gentle formula is the perfect way to cleanse damaged and transitioning curls without stripping them of crucial moisture.
For Damaged & Transitioning Curls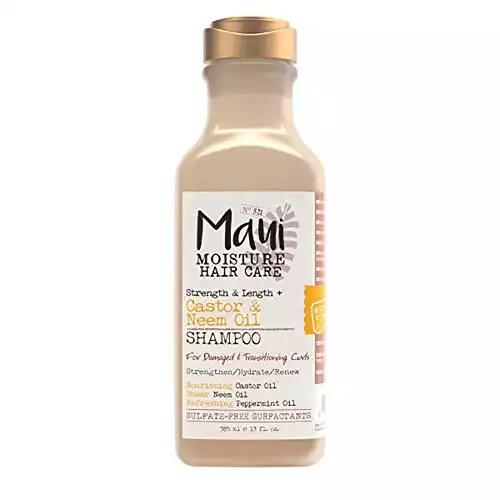 Shine + Awapuhi Moisturizing Vegan Conditioner
Shine + Awapuhi Moisturizing Vegan Conditioner – A combination of luscious, tropical-inspired ingredients work together in this conditioner to detangle, moisturize, and add shine to thirsty locks. Its lightweight formula won't overload your strands, and the sweet, gingery scent smells just as great as it makes your hair feel!
For Dull Hair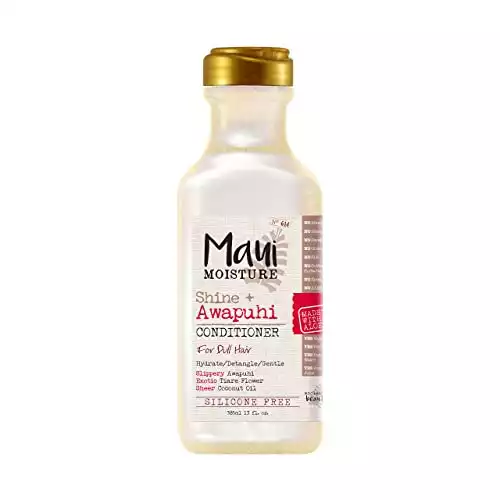 Nourish & Moisture + Coconut Milk Weightless Oil Mist
Nourish & Moisture + Coconut Milk Weightless Oil Mist – This lightweight leave-in treatment locks in moisture and shine without leaving your strands feeling weighed down or greasy. It also softens and smooths your hair for frizz-free curls and coils all day.
For Dry Hair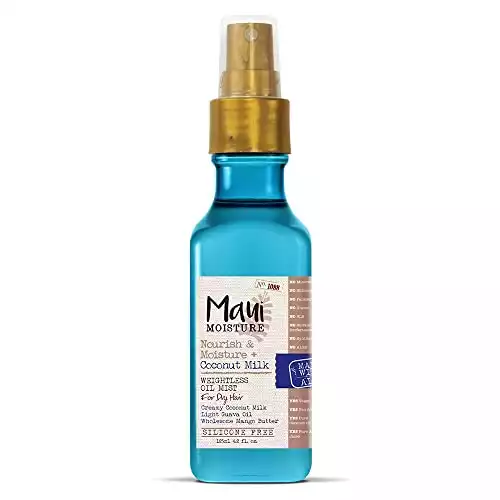 Frizz-Free + Shea Butter Elongating Gel
Frizz-Free + Shea Butter Elongating Gel – Are you tired of shrinkage? This curl elongating gel defines and lengthens your coils. The nourishing formula is enriched with shea butter and macadamia oil, leaving you with hydrated, frizz-free curls.
For Dry, Damaged Hair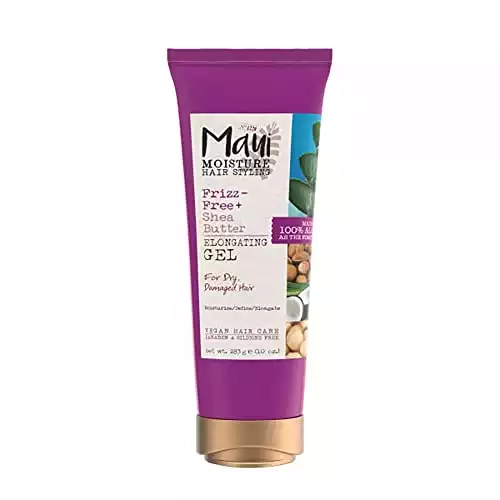 Flexible Hold + Coconut Milk Curl Foam Mousse
Flexible Hold + Coconut Milk Curl Foam Mousse – Maui Moisture's luxurious curl-enhancing mousse coaxes out your natural texture and defines your coils. It's infused with mango butter and coconut milk for crunch-free curls that last all day long.
Curl Quench Ultra-Hold Gel
Curl Quench Ultra-Hold Gel – A deeply hydrating blend of coconut, papaya, and plumeria quench and define thirsty curls. The rich formula gives you touchable hold all day long without getting dry, flaky, or crunchy.
Vegan Hair Care - Paraben & Silicone Free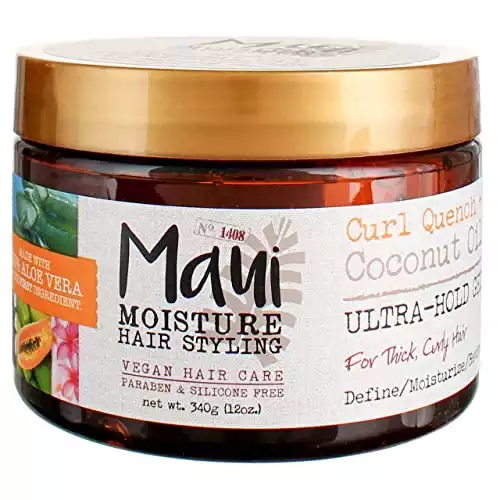 Maui Product Ingredients
All Maui products contain a lush blend of tropical ingredients, but that's not all by any means. In this section, we'd like to highlight some of the best and worst ingredients found in various Maui Moisture hair products.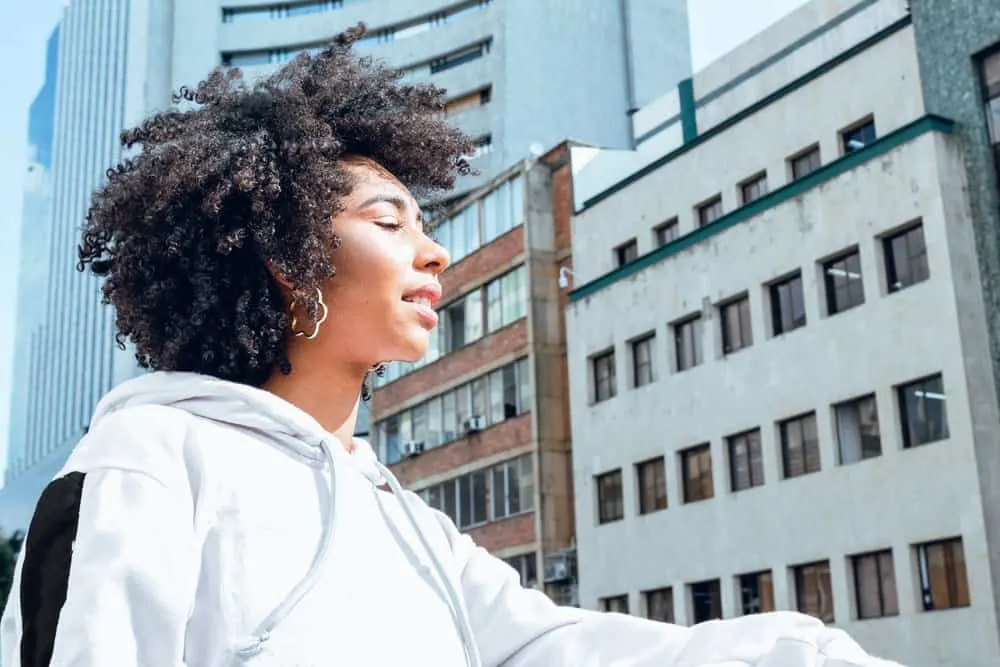 Keep in mind that the formulas vary depending on the individual product.
The Good Ones
There are a number of helpful, hair-healthy ingredients used in Maui Moisture products. In this section, we'll highlight some of the best.
Guava fruit extract – This tropical fruit is packed with nourishing antioxidants, phytochemicals, flavonoids, and vitamins A, C, and B. It is also rich in crucial minerals, like potassium, manganese, and copper, that help maintain a healthy scalp and promote healthy hair growth.
Hemp seed oil – Hemp seed oil is a deeply penetrating oil that's loaded with beneficial fatty and amino acids. Regular use of hemp seed oil will leave your strands feeling soft, hydrated, and much more resilient.
Zingiber zerumbet – Also known as shampoo ginger, Zingiber zerumbet is a gentle, reparative cleanser. Shampoo ginger is exceptionally nutrient-dense and can help repair dry and damaged strands. It can also help improve scalp blood circulation, which can help your hair grow thicker and faster.
Hibiscus seed oil – Hibiscus seed oil is rich in compounds like vitamins E and C, flavonoids, fatty acids, and hair-strengthening amino acids. It is an effective conditioning agent and is known for its ability to promote hair growth and fortify your strands. Hibiscus is excellent for your hair and scalp and has even been shown to reverse graying strands.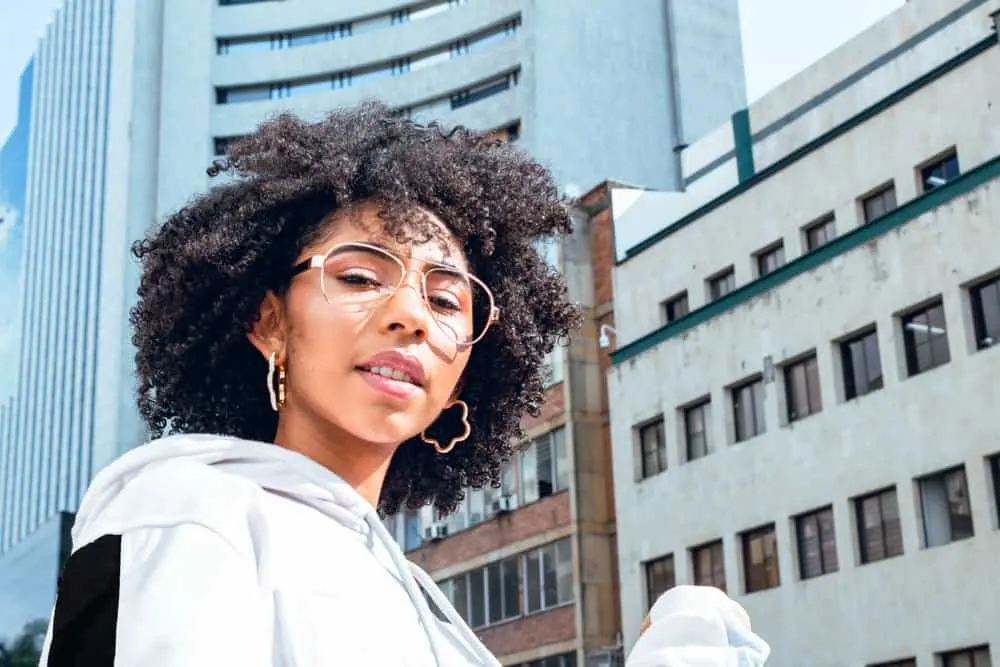 The Bad Ones
Maui Moisture products feature a lot of highly beneficial ingredients. However, some products contain additives that are harmful to your scalp, hair, or overall health.
Here are some of the not-so-good ingredients you'll find in Maui products.
DMDM hydantoin – DMDM hydantoin is a preservative and antimicrobial compound commonly used in cosmetics and personal care products to extend their shelf life. Unfortunately, DMDM hydantoin can occasionally cause allergic reactions that lead to skin irritation or hair loss. It also breaks down to release a well-known carcinogen – formaldehyde.
Isopropyl alcohol – This fast-drying alcohol strips your hair of crucial moisture. Regular use of isopropyl alcohol can leave you with frizzy, dry, and damaged hair. Additionally, inhaling isopropyl alcohol can cause respiratory irritation and damage your nervous system and circulatory system.
Sodium hydroxide – Although it's best known as a permanent hair straightener, sodium hydroxide is a common shampoo additive. It is used to neutralize the acidity of the shampoo and bring it into a range that is healthy for your hair. High levels of sodium hydroxide can cause texture changes, hair loss, and burns.
Customer Reviews on Maui Moisture
Since everyone's hair and scalp chemistry are different, Maui won't work for everyone who tries it. However, most of the reviews for Maui Moisture are positive.
Happy customers say that the Maui shampoos got their strands squeaky clean, and the conditioners were highly moisturizing. Maui is also one of the more reasonably priced product lines, particularly for the quality of its ingredients.
Although Maui Moisture has products for all hair types, most of their line is dedicated to hydrating dry, curly locks. As a result, some more critical reviews say Maui is too moisturizing for their hair.
They developed moisture overload, which damaged their strands and led to hair loss.
Another common complaint about Maui Moisture is that the conditioner packages are too small, and getting the last bit of product out is extremely difficult.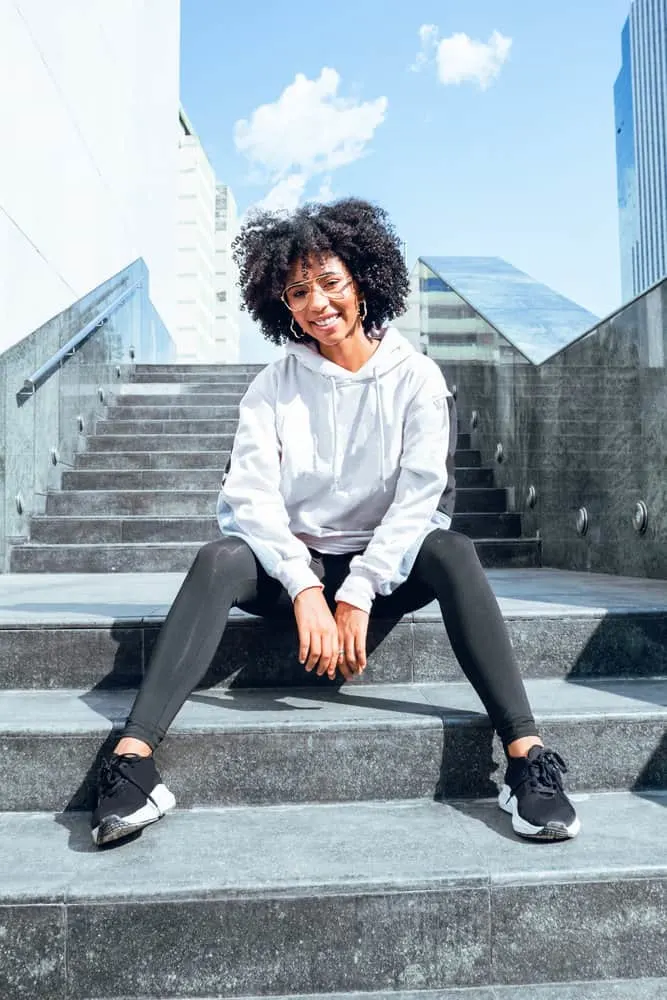 Ultimately, whether or not you want to give Maui a try is your decision. Depending on the product, it might be exactly what your hair needs to thrive!
Just make sure you pay attention to how your hair looks and responds, and stop using any product that leaves your locks dry, brittle, or tangled.
That said, we hope this article has answered all your questions about Maui Moisture products and helped you decide whether you should give them a try.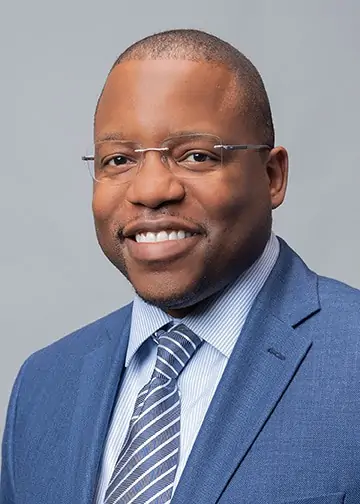 Kenneth Byrd holds a BS in Accounting and Management Information Systems and an MBA from the University of Alabama at Birmingham. With over 15 years of experience, Kenneth has been dedicated to hair care since 2008, when he co-founded Curl Centric® and Natural Hair Box alongside his wife. As a team, they promote healthy hair care practices through their comprehensive platform, Curl Centric. Curl Centric is a website operated by a husband and wife team that encourages healthy hair care. At Curl Centric, we aim to help our readers take control of their hair care journey and make good decisions about products, hairstyles, and maintenance techniques. We also have strict editorial integrity; here's an explanation of our editorial guidelines and how we make money.