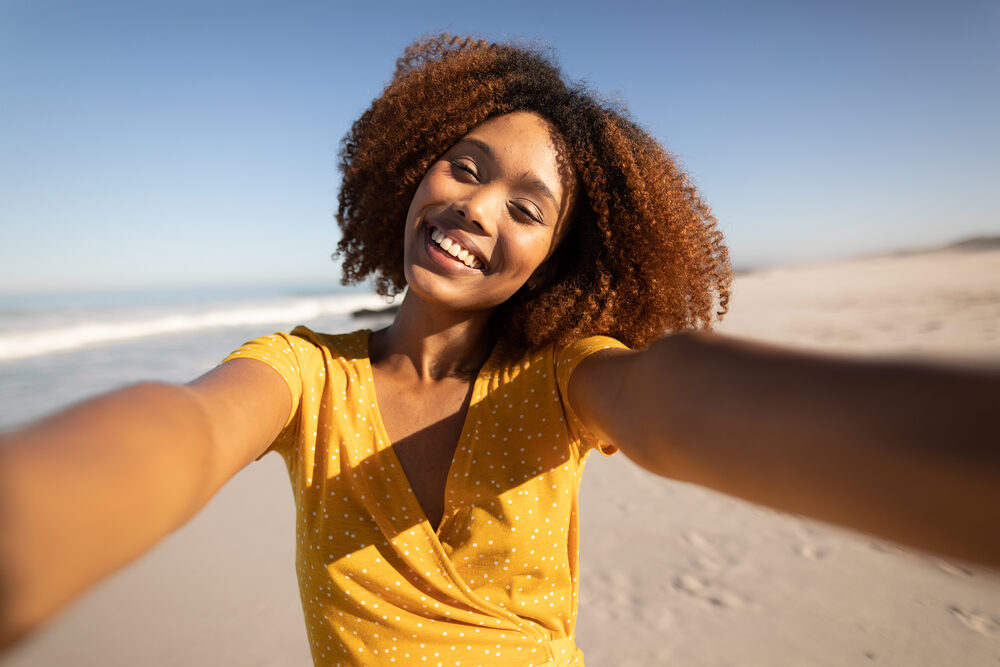 Got2b is a well-known hair brand known for its Glued spray and hair dyes. Many have trusted their manes to got2b, while others stay far away from their products to avoid ruining their hair. They wonder, "Is got2b bad for your hair?"
If you're a got2b doubter, then keep on reading. In this article, we'll tell you definitively whether the brand's products could ruin your tresses.
Is got2b Bad for Your Hair?
The truth is that some got2b products are worse than others. Some got2b products contain lots of concerning ingredients while others contain only a few. Our advice is to take a look at the ingredient list on any got2b product you're considering.
Make sure that it doesn't contain too many of the "bad" ingredients that we discuss further in the article. If you start using a product and notice an adverse reaction or hair issue (e.g., hair loss or hair fall), we encourage you to stop using the products immediately and switch to another product.
An Overview of got2b Products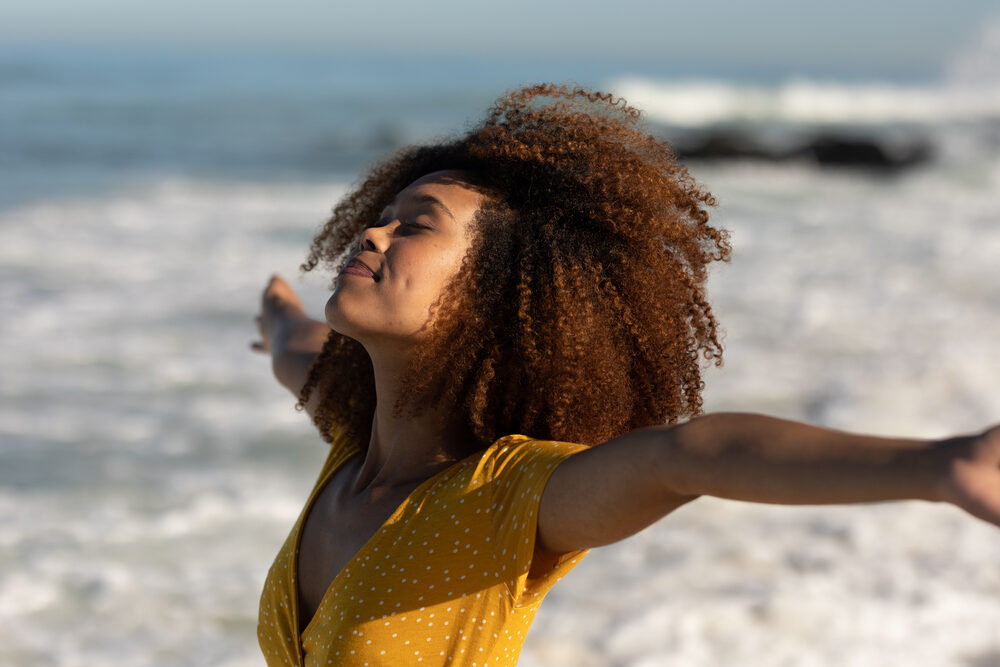 Got2b is an innovative brand created in 2001. The line is defined by its commitment to creativity, edginess, and cutting-edge fashion.
The brand sells everything from hair dye and bleaching kits to heat protectants and styling gels. If you want to transform your hair, got2b most likely has the product you need.
Below, we've selected some of got2b's most popular products and highlighted how they help you achieve your hairstyling goals.
got2b Glued Blasting Freeze Hairspray
Glued Blasting Freeze Spray: This spray is specifically formulated to hold up vertical hairstyles (like mohawks), so it's perfect for anyone looking for the most extreme hold.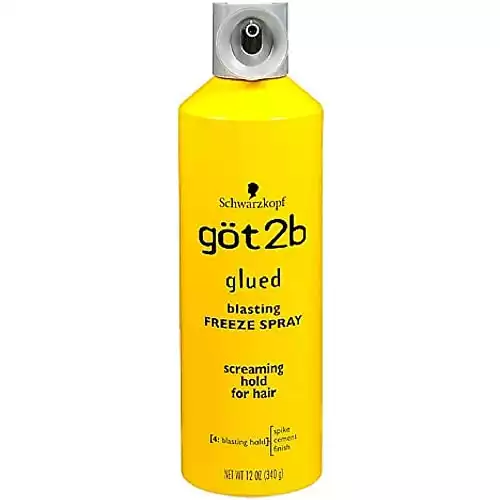 It'll hold your hair in place until your next shampoo and is suitable for all hair types. The got2b glued hairspray is also used (as lace front glue) to touch-up lace front wigs.
HOW I LAY MY LACE USING GOT2B GLUE HAIRSPRAY !! | ELLAIR HAIR
Note: You can watch the video tutorial to learn how to use got2b Glued to secure your lace wigs. The glue lasts all day and can easily be removed with shampoo and water.
However, it's important to mention that we don't recommend using super glue or other strong glues while wearing a lace wig. These glues could damage your scalp and potentially lead to bald spots. We also recommend sleeping in a satin scarf or bonnet to protect your curls at night.
Kinkier Gloss 'n Define Curling Mousse
Kinkier Gloss 'n Define Curling Mousse: This versatile mousse volumizes, eliminates frizz, defines curls, and leaves hair with an incredible shine. It has a lightweight formula that won't leave your hair crunchy or flaky.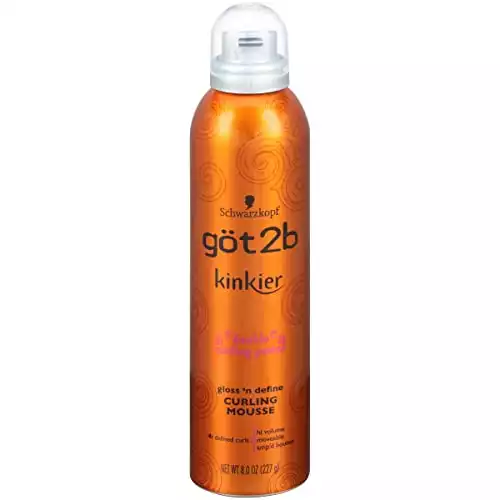 Playful Texturizing Creme Pomade
Playful Texturizing Creme Pomade: This creamy pomade helps you mold your hair into virtually any style you want. And even though it has a firm hold, you can still lift, separate, and define your hair further.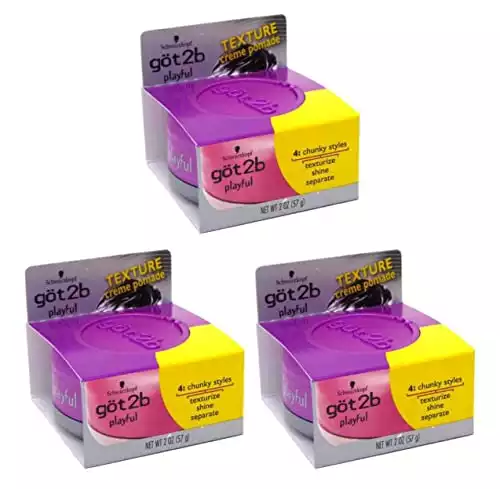 As an alternative to using pomade, some ladies like to use holding gel (like the got2b ultra glued gel), Vaseline, or emollient oil to style their hair edges. Read this article to learn more about styling hair edges.
Be En-lightened Permanent Hair Color Lift
Be En-lightened Permanent Hair Color Lift: This bleaching kit can lighten your hair by up to 8 levels. It even comes with an after-color treatment that moisturizes and rejuvenates your newly lightened hair.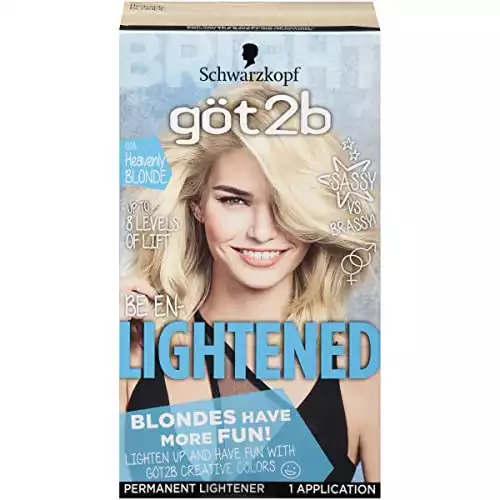 This kit can be used on its own for stunning platinum blonde curls, or you can use it to pre-lighten your hair for a bold hair dye transformation.
Metallic Permanent Hair Color
Metallic Permanent Hair Color: This range of metal-inspired hair dyes is formulated to give you multi-dimensional color and shine. The dye is suitable for all hair textures and gives you long-lasting, fade-resistant color.
Color Unlimited Sunburst Collection
Color Unlimited Sunburst Collection: This dye kit enables you to customize your color with three different color dyes in one box. This versatile kit even comes with a pastelizer that you can use to lighten up the shade.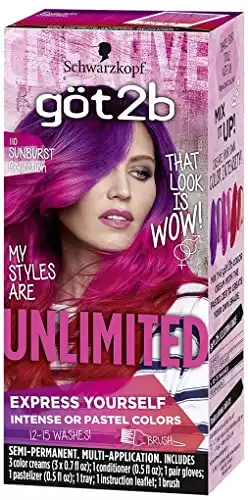 Use the dye as-is for intense color or use the pastelizer to achieve soft pastel tones. Create rainbow streaks, multicolored ombre, or pastel lowlights.
Be Twisted Curl Reviver Cream
Be Twisted Curl Reviver Cream: This versatile cream provides up to 96 hours of frizz control while defining and moisturizing your curls. The color-safe formula is sulfate-free and won't leave behind any stickiness or residue.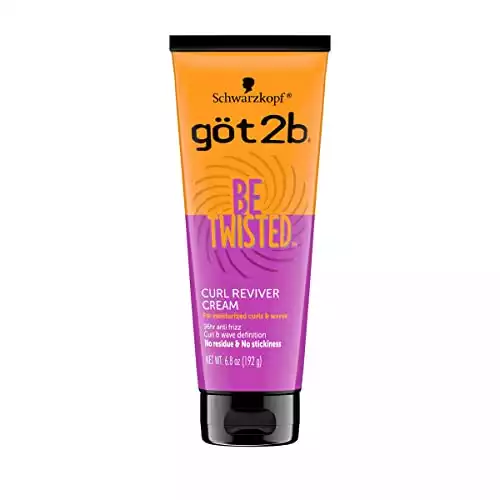 Be Twisted Air Dry Curl Foam
Be Twisted Air Dry Curl Foam: This long-lasting foam provides a flexible hold for curls and waves. It's specially formulated to let your hair air dry without frizz. It's paraben and sulfate-free and won't leave your hair sticky or crunchy.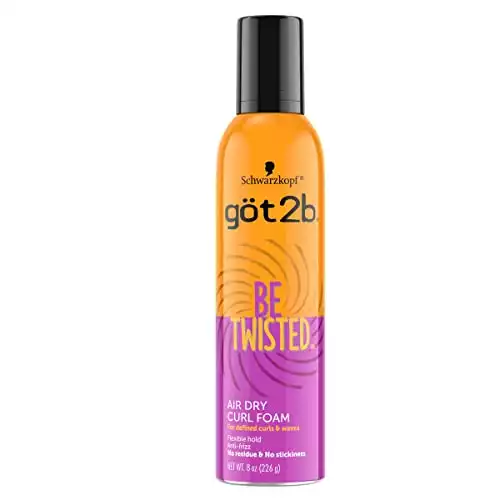 got2b Oil-Licious
Got2b Oil-Licious: This is a styling oil that tames frizz and finishes off styles like a dream. It contains moisturizing argan oil and leaves your hair looking shiny and feeling smooth.
*This is not an exhaustive list of got2b products. If you're interested in exploring got2b products further, you can do so here.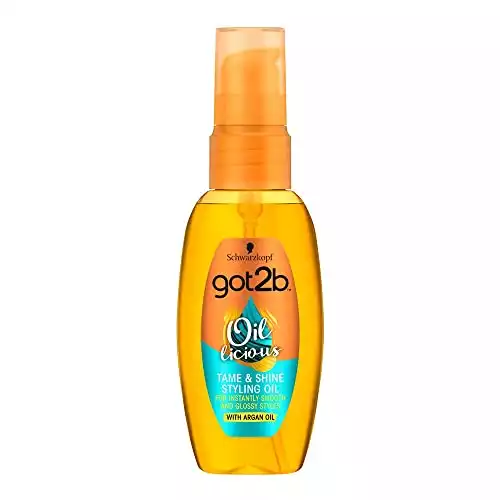 got2b Product Ingredients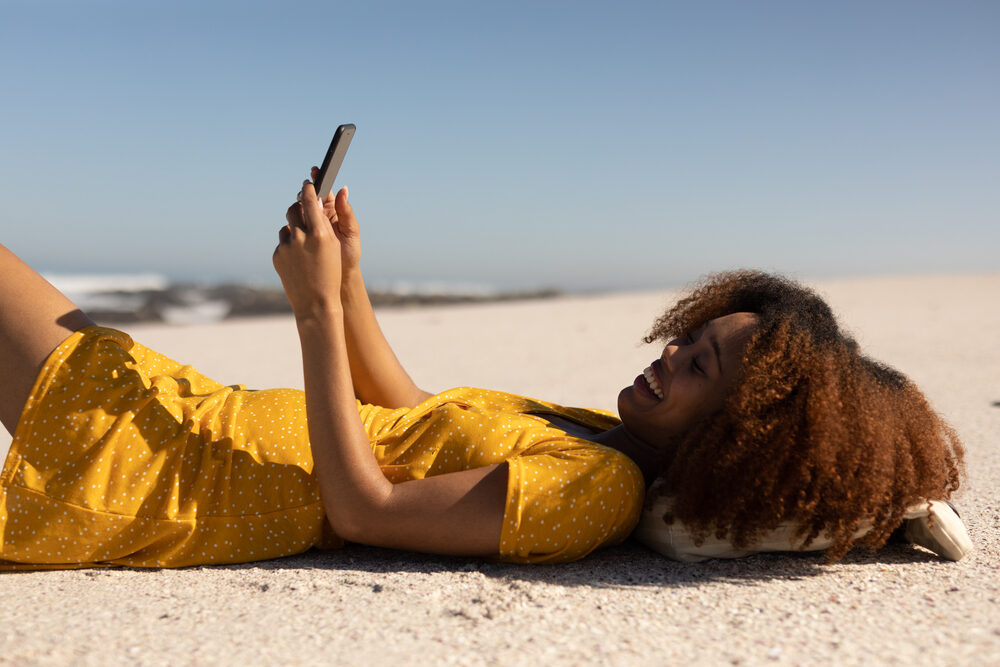 Now that you know a bit about got2b's product selection, let's move on to what's in the products. This section will cover the best and worst ingredients featured in various Got2b products. Keep in mind that the ingredients vary depending on the product.
The Good Ones
In got2b products, you can find ingredients that can improve the health of your hair, including:
Apricot Kernel Oil. Rich in fatty acids, apricot kernel oil combats scalp and hair dryness and promotes hair growth. Apricot oil also acts as a humectant and can pull small amounts of water from humid air into your hair. You'll find this ingredient in got2b's metallic hair dyes as well as other got2b products.
Beeswax. Beeswax is antimicrobial, moisturizing, and can even increase hair growth. It locks in moisture, smooths flyaways, and gives your hair a flexible hold. Just be sure that you use a clarifying shampoo to wash your hair after using products containing beeswax – if left on the hair for an extended time, beeswax can cause stubborn buildup. The curl reviver cream contains beeswax.
Hydrolyzed keratin. Hydrolyzed protein strengthens hair, increases shine and elasticity, and reduces breakage. It rebuilds your hair from the inside out, making it ideal for damaged and chemically treated hair. This ingredient is present in got2b's En-Lightened permanent hair color, metallic hair color, and more.
Argan Oil. Argan oil is extremely moisturizing. This lightweight oil is rich in antioxidants, fatty acids, and vitamins. It can even help protect against heat-related damage. Got2b Oilicious contains argan oil.
The Bad Ones
Now, it's time to jump into some of the not-so-good ingredients found in got2b products: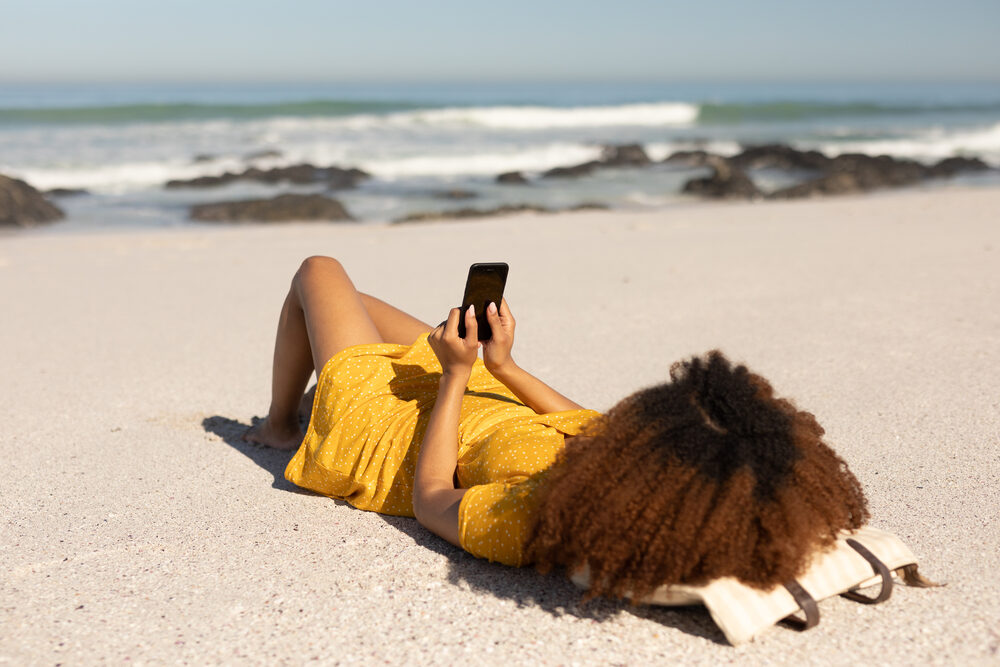 Parabens. Parabens are a group of chemicals that are often used as preservatives. While generally considered safe in small amounts, there is some concern that frequent exposure can harm your health. Parabens are known endocrine disruptors and can also cause skin irritation. You'll find parabens in the majority of got2b's hair dyeing products.
PVP. PVP, or VA copolymer, is a type of chemical that's derived from petroleum. While it's an effective styling aid, PVP can cause scalp irritation and lead to respiratory issues if inhaled in large quantities. The ingredient is in got2b's Curl Reviver Cream and other got2b products.
Methylchloroisothiazolinone. This widely used preservative helps keep cosmetic products free from microbial growth. However, it can cause skin, respiratory, and eye irritation. In high concentrations, higher than you'd find in a hair product, it can even cause chemical burns. This ingredient is found in several of got2b's products.
Silicones. Silicones can have a positive effect on your hair. They can protect against heat damage and leave your hair shiny and frizz-free. However, non-water-soluble silicones are notorious for leaving buildup on your hair. This buildup prevents water from penetrating your strands and can lead to dry, dull hair over time. You'll find water-insoluble silicones in the Curl Reviver Cream, En-Lightened permanent hair color cream, and many more of got2b's products.
Drying alcohols. Some of the alcohols featured in got2b products are extremely drying (e.g., alcohol denat). They strip your hair of its natural oils, making your hair dry, frizzy, and prone to breakage. Alcohols like these are found in the Be Twisted Air Dry Curl Foam, Be En-lightened Permanent Hair Color Lift, Playful Texturizing Creme Pomade, and more.
Sodium chloride. Better known as table salt, sodium chloride is commonly found in texturizing sprays. Salt can strip your hair of its natural oils, which increases dryness and the likelihood of breakage. Sodium chloride is in got2b's Metallic Permanent Hair Color, Be En-lightened Permanent Hair Color Lift and more.
Customer Reviews on got2b Products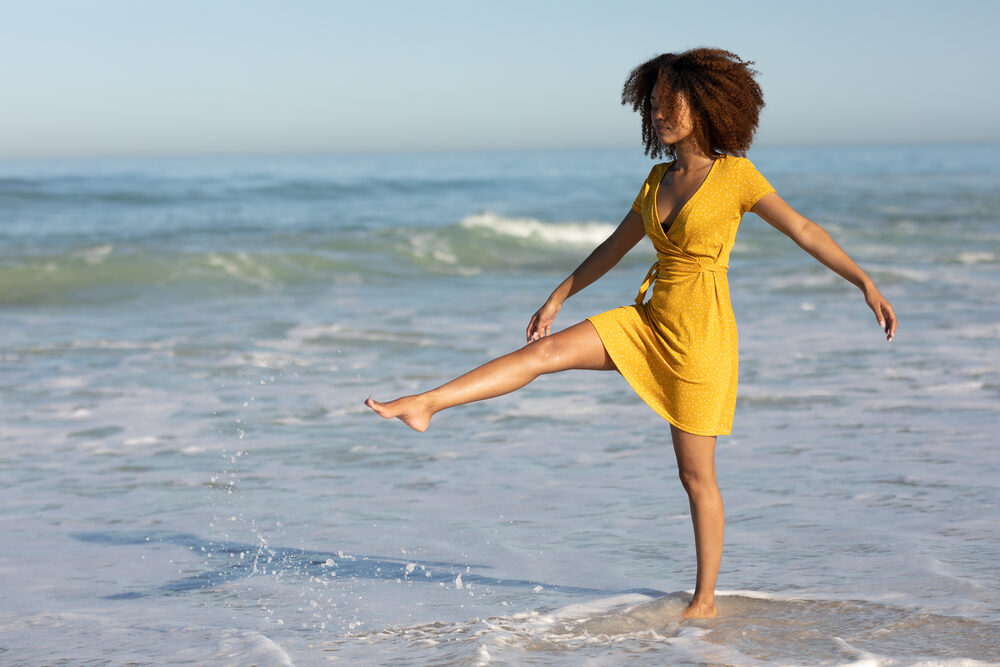 Customer reviews are helpful in evaluating whether you should try a product. Seeing other people's experiences can give you an idea of how the products may work on your hair.
So, what are customers saying about got2b products? Most are saying the products do exactly what they are supposed to do. Got2b consistently gets high reviews across all platforms.
Even so, there have been people who have experienced a plethora of issues with got2b products, ranging from hair dryness and irritation to brittleness and breakage.
If you experience any issues, we recommend that you completely remove the product from your hair care regimen.
We hope that this article was helpful to you and wish you the best in your hair styling endeavors.