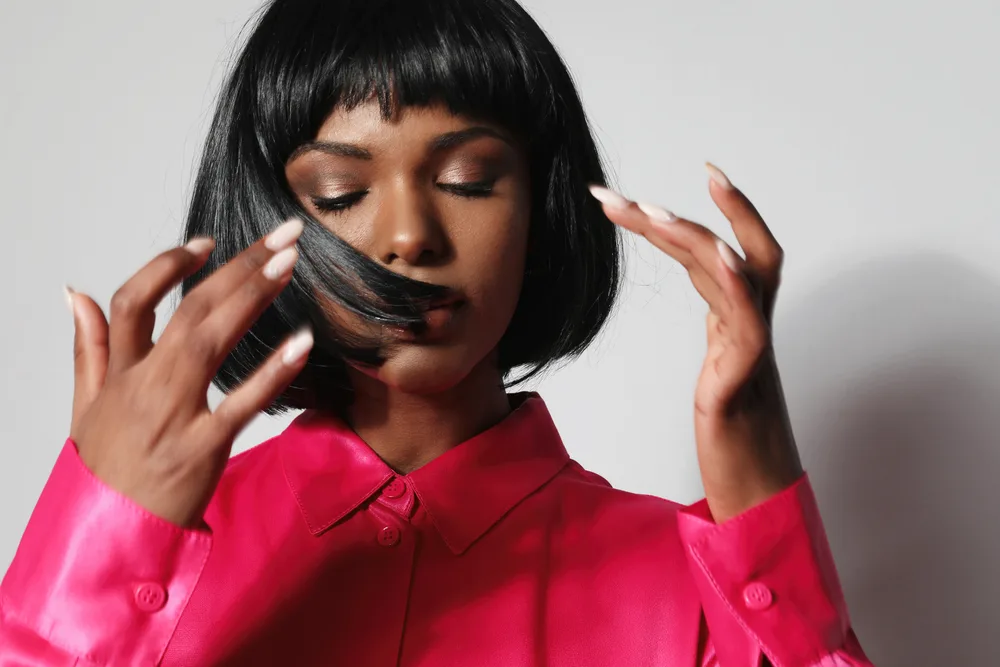 The bob is as hot as it ever was, and that's because it's versatile, flattering, and edgy. Anyone who wants a style that'll wow in everything they wear will love a bob. But how exactly do you get the look?
If you read this article to the end, you can make it happen at home. In this article, we'll tell you step-by-step how to cut a bob without stepping foot near a salon. Let's get right into it!
How to Cut a Bob Step-by-Step
Mastering a bob can be difficult if you don't have the right information. But with the step-by-step instructions in this section, you'll be well-equipped to get the bob of your dreams with no outside assistance.
Gather Your Materials
For the smoothest possible cutting process, you'll first need to gather all of your supplies beforehand. Doing so will ensure that you won't have to stop midway through the cutting process for a store run.
Get the following supplies to bring your bob to life:
The most important thing to remember about supplies is that you need the right scissors. Your typical kitchen or school scissors will not get you the results you're looking for. They may even leave your ends frayed and prone to splitting.
So, take the plunge and buy specialized cutting shears, which have been specifically designed to make clean, precise cuts on hair.
Note: Hair clippers and hair razors are optional but can help you achieve a look that appears more professional. A hair razor will help tremendously with shaping your bob, and the clippers will help you achieve a fade should you go that route.
You can also grab some thinning shears if you want a bob that gets dramatically thinner as you get to the ends of your hair.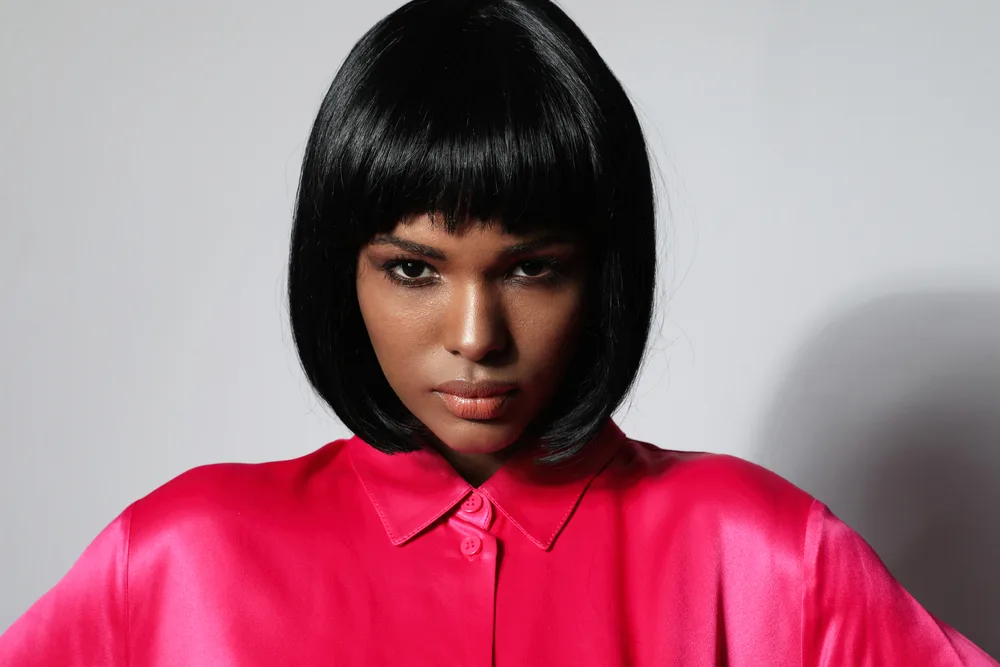 Cut Your Bob
With all of your supplies on hand, you're ready to cut your hair into a bob. We'll detail all the steps you need to follow below.
Do Some Research
Going in blindly is a bad idea if you want your bob to turn out well. So, start by looking up bobs on Google Images, Pinterest, or any other media you have access to.
Choose the bob style that speaks to you and set it as your goal. If someone else will be doing your bob, save a picture of the bob you've chosen and give it to them as a reference.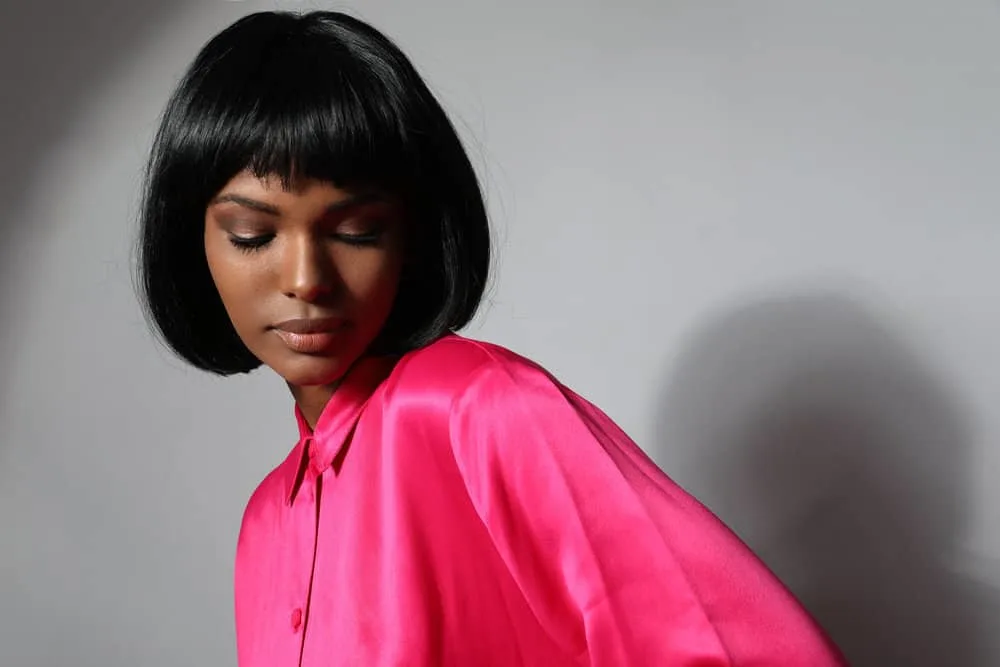 Cleanse Your Hair
Begin by washing your hair with your favorite shampoo. Apply the shampoo to your wet hair and then scrub your scalp using the pads of your fingers. As you rinse the shampoo out, it will move down to the mid-lengths and ends of your hair and get it clean.
Once your hair is shampoo-free, move on to the conditioner.
Apply a conditioner of your choice to your hair, keeping it away from your roots so as not to weigh them down. Leave the conditioner on your hair for as long as indicated on the packaging. Usually, it'll be for a few minutes.
And then, rinse your hair thoroughly and move on to the next step.
Dry and Style Your Hair
We don't recommend cutting your hair while it's wet because when it dries, your strands will draw up a bit and look noticeably shorter. You don't want to cut your bob just right and then realize that it's too short when it dries.
The way you dry your hair is up to you – you can blow dry it or allow it to air dry.
If you regularly wear your hair curly, we recommend allowing it to air dry so your natural hair texture is retained. It'll be easier to achieve the style you're going for if you cut it when it's styled how you'd normally wear it.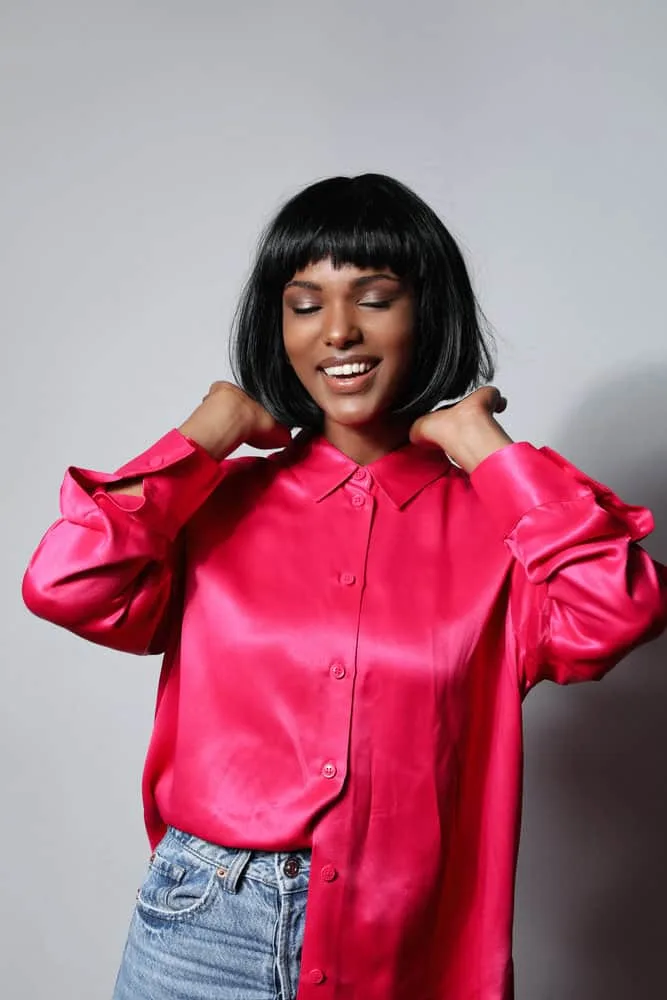 Section Off Your Hair
Grab your rattail comb and separate your hair into three sections. You'll have one section in the back and two side-by-side in the front. Secure each of the sections with an elastic band to ensure that they remain separate.
Cut the Back of Your Bob
Cut the back section of your hair just below the elastic. Before you cut, ensure that the elastic sits below the nape of your neck. If it's any higher, your bob's length in the back will turn out wonky.
You can move the ponytail up or down or redo the ponytail to ensure that the length will be just right. The neater your ponytail is, the cleaner the cut will come out.
Once you're done cutting the back, take off the elastic and look at your work. Clean things up with the cutting shears as needed. The back should be cut straight across.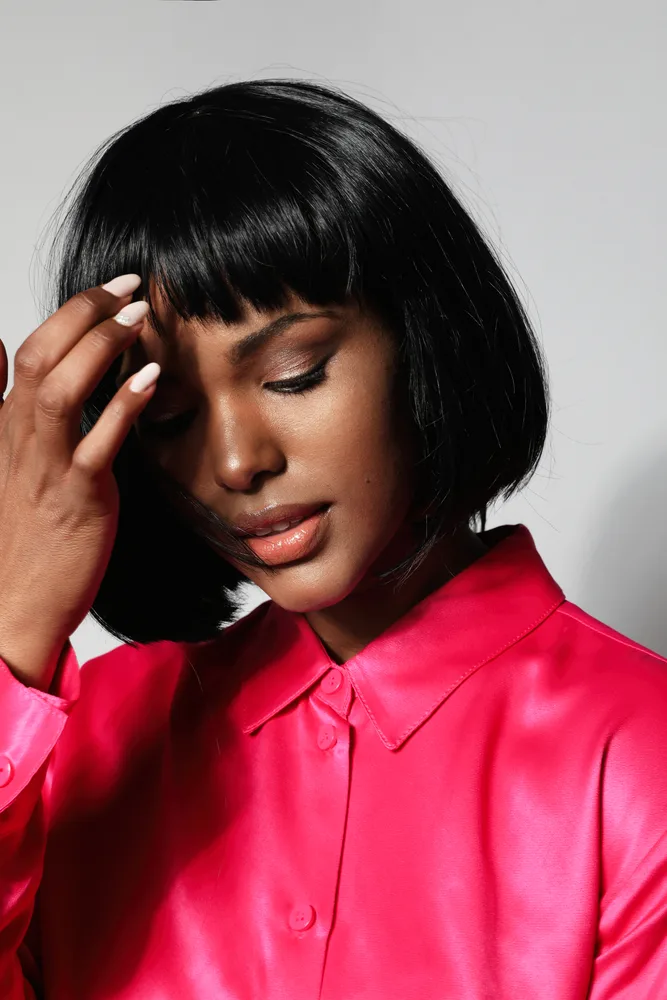 Cut the Front of the Bob
You can cut the front of your bob in one of two ways. You can cut it with your cutting shears, or you can use your hair razor. If you don't feel comfortable cutting your hair with a razor, opt for the cutting shears.
Release both of the sections on the sides of your head and follow the appropriate instructions below:
For Hair-Cutting Shears:
Use the back section as a guide and cut the sides along that same line in sections.
The only difference is that the closer you get to the front of your head, the longer the hair should get. Hold your scissors so that they are facing downwards and at an angle (the same way you want your hair to fall) to get the right cut.
For Razor:
You'll simply choose a small horizontal section of hair and run the razor across the bottom at a downward angle. Watch a few YouTube videos to get an idea of how to hold and use a hair razor if you don't feel comfortable.
How To Cut a Razored Bob - In Depth Tutorial
Remember that there are no rules when it comes to cutting your own hair. If you want a bob that doesn't get longer in the front, cut it that way. You are in charge.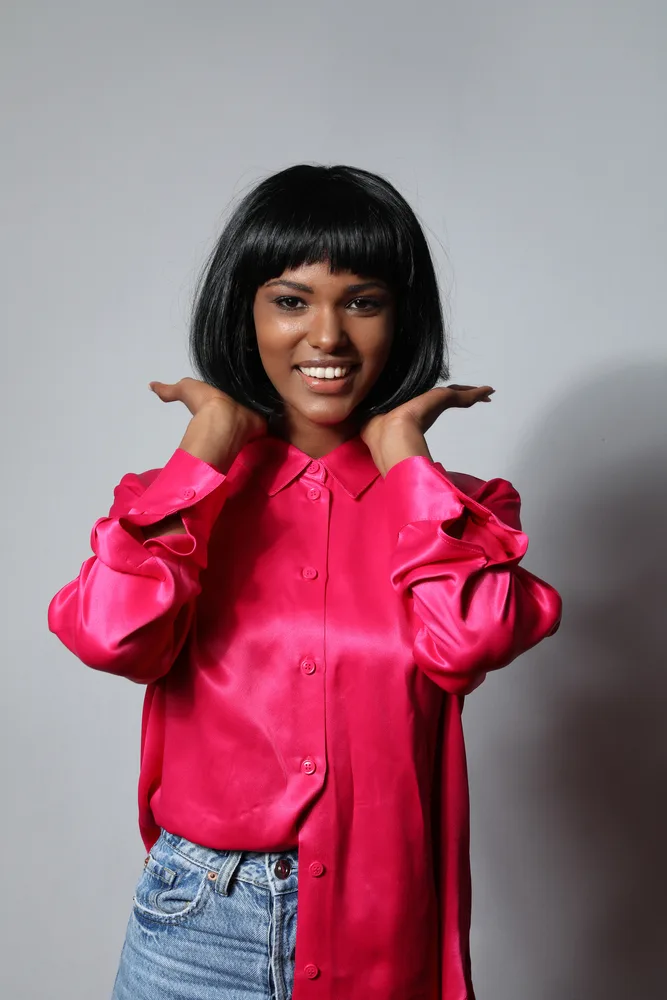 Add Some Personality
Take a look at your hair and see what you think. Does it look just right? Then, stop right there. But if your bob could use a little more oomph, add in some layers.
To create layers with your cutting shears, take vertical sections of hair and over direct them upward and cut straight across. Be careful how many layers you do, as too many can make your bob look too puffy or round. Use your judgment.
To do the layers with a razor, grab small sections of hair and decide how short you want the layer to be. Then, hold the section taut with your middle and forefingers and run the razor over the section repeatedly with the other hand. The razor should be moving up and down in the direction of the strands. It could take a dozen or more strokes to get through a single section of hair when layering with a razor.
You're all done with your bob. It's ready for styling. Upon styling your hair, you might find that you need to adjust the cut to better fit your aesthetic or clean up a few wayward hairs. Do so, and then you're ready to go.
So, there you have it, everything you need to know about how to cut a bob at home. We hope you found all the information you were looking for and that you achieve the style you envisioned. We wish you the best of luck with your new hair transformation.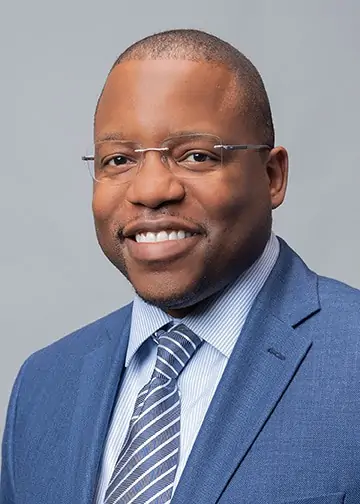 Kenneth Byrd holds a BS in Accounting and Management Information Systems and an MBA from the University of Alabama at Birmingham. With over 15 years of experience, Kenneth has been dedicated to hair care since 2008, when he co-founded Curl Centric® and Natural Hair Box alongside his wife. As a team, they promote healthy hair care practices through their comprehensive platform, Curl Centric. Curl Centric is a website operated by a husband and wife team that encourages healthy hair care. At Curl Centric, we aim to help our readers take control of their hair care journey and make good decisions about products, hairstyles, and maintenance techniques. We also have strict editorial integrity; here's an explanation of our editorial guidelines and how we make money.