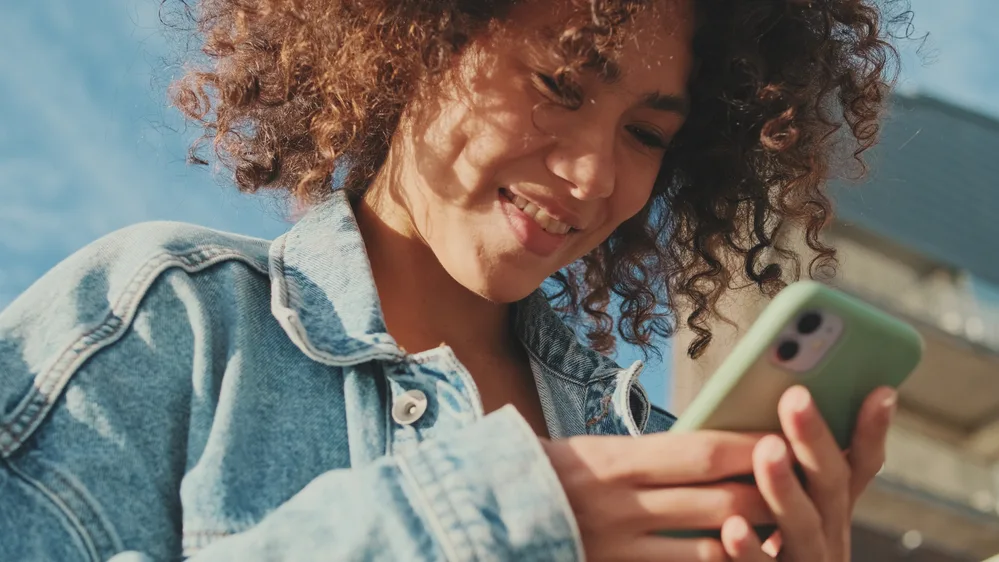 Hot curling brushes are a great way to make your hair appear fuller and more voluminous. Unfortunately, it can be hard to find one that won't fry your fine hair.
To help you achieve the styles you desire, we've put together a list of the best hot curling brushes online for fine hair. By the end of this guide, you'll have several great options to pump up the volume.
Best Curling Brush for Fine Hair
The best curling brush for fine hair is the Revlon One-Step hair dryer and volumizer. It has a very comfortable, ergonomic design with multiple heat settings. It's reasonably priced compared to other curling brush irons. It also works well on thick hair, wavy hair, and thin and fine hair.
1. REVLON One-Step Hair Dryer and Volumizer – Best Hot Curling Brush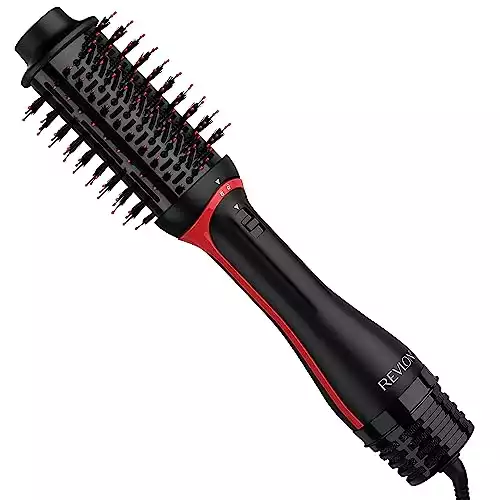 The Revlon One-Step Hair Dryer and Volumizer Hot Air Brush allows you to dry, volumize, and style your hair in one step. In general, your fine strands will be subjected to less manipulation when you take fewer steps, so this is a big plus.
The brush head is designed to make your styling sessions a breeze.
It features tangle-free combination bristles. The nylon pin bristles work to easily detangle your hair without causing mechanical damage, and the boar bristles smooth out your hair for a shiny, voluminous, frizz-free finish.
There are also three heat settings: high, low, and cool. High heat may not be ideal for your fine hair, so the option to use a lower heat setting is great to have.
Another innovative feature of this curling brush is its ionic technology. It gives you salon-quality results and reduces frizz by 30% compared to the leading brush and dryer on the market.
Easy to use and incredibly lightweight, the Revlon One-Step offers a no-fuss styling session every time. But that's not all – the hot brush has an oval shape specifically designed to give you more lift at your roots for extreme volume.
In addition to its specialized design, it also features a cool tip at the top of the device to protect your hands from the heat of the dryer.
Pros and Cons
Here are the pros and cons of this hot brush – they will help you decide whether it may work for you.
Pros
It has an ergonomic design that is very comfortable for your wrist and hand.
It features strategically placed airflow vents for consistent heating and quick drying.
It's got three different temperature settings.
It has advanced ionic technology to promote smoothness.
Cons
Some reviews say the product isn't durable.
Reviews warn of the extreme temperature of the heated settings.
Unhappy customers, which make up less than 5% of reviewers, stated that the brush did not work when it arrived or conked out after using it a few times.
The happiest customers noted that the brush is easy to use and produces fantastic results. If you're looking for a reliable curling brush that won't fry your fine hair, this brush is a great one to try.
2. INFINITI PRO Titanium Hot Air Brush by Conair 1 1/2- Inch Styling Brush – Runner Up for Best Overall Pick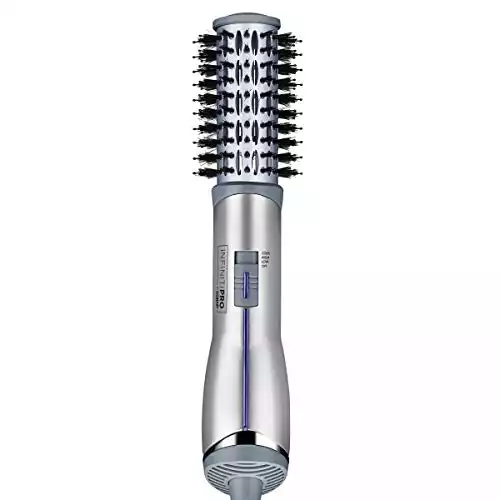 The INFINITIPRO Titanium Hot Air Brush from Conair has a 500-watt motor, strong airflow, and multiple heat settings to help you dry and style your fine hair quickly and effectively.
The barrel is perfect for adding volume and shine to your fine hair, and the bristles help smooth the hair and control frizz. This curling brush easily stands out as one of the best thanks to its ability to dry and style hair simultaneously, among other features.
The dryer sports a large titanium barrel that helps you achieve a voluminous look without frizz. It also has a heatless setting, which is excellent for fine hair, being that fine hair is naturally more susceptible to heat damage than coarse hair.
You'll notice that the bristles are soft, flexible, and impart a smooth and shiny finish to your hair. At the end of each bristle, you'll find a ball that reduces the chances of scalp damage, hair snagging, and breakage.
Conair has been manufacturing hair styling products for a long time – they have been responsible for many game-changing hair products, and this one is promising.
Pros & Cons
Let's explore the pros and cons of this brush below to discover whether it may be a good fit for you.
Pros
The brush is surprisingly easy to use. You can easily detangle and curl your hair even if you've never used a curling brush before.
The ionic technology in the brush helps to reduce frizz.
You can dry and style your hair in one step.
It has 500 watts of power.
The brush was designed to promote even heat distribution, preventing hot spots and damage.
Cons
You may need to make several passes through damp hair to get your hair dry, and this can make your arms tired.
Some complain that the brush doesn't dry as effectively as they expected.
The worst reviews state that the brush arrived damaged, defective, or didn't dry their hair quickly. Happy customers stated that the brush was everything they hoped for and left their hair looking and feeling fabulous.
3. VASARI Professional Heated Curling Brush 1 1/2 Inch Curling Brush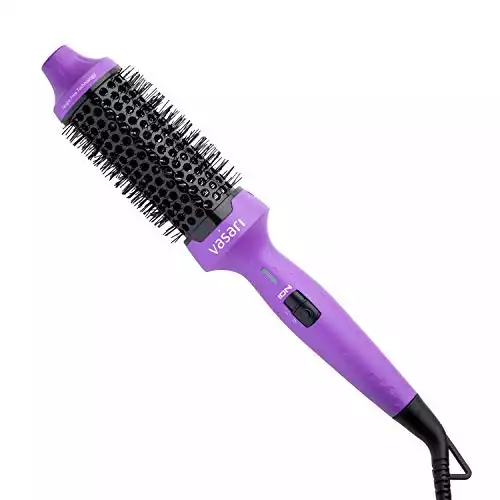 The VASARI professional curling brush can get your fine hair in shape in no time. This brush features a large ceramic barrel for creating loose, voluminous curls. The curling brush works as a detangler and curler, but it is not a hairdryer.
This brush has a 1 ½-inch barrel that helps you achieve bouncy curls and volume in only a few minutes. Though the curling brush can only be used on dry hair, the manufacturers advise against applying styling products before using the curling brush.
The curling brush is safe for daily use, and it does not generate a ton of heat.
There are two heat settings, an ion setting for fine hair and a regular setting for thicker hair. The temperature of the brush is 180 degrees, which makes it an ideal choice for people with fine hair since there is virtually no risk of heat damage.
Another feature that makes this curling brush ideal for fine hair is its super long, tangle-free bristles. Unlike some curling brushes that yank at your hair, the Vasari brush styles your hair without tugging or pulling.
The brush's professional ionic ceramic barrel helps to eliminate frizz during styling, resulting in glossy, healthy-looking hair.
And last but not least, the brush has burn protection that enables you to style your hair without burning your fingers. However, the ceramic barrels and bristles get really hot; it is crucial to keep your hands far away from them.
Pros & Cons
Now that you know the main features of this brush, let's dive into the pros and cons.
Pros
The brush is beginner-friendly and has a low heat level.
The ion setting is specially designed for fine or fragile hair, giving you a gentler styling experience.
The brush is designed in a way that discourages tangling, even when used on curly hair.
Cons
You cannot use it on wet hair.
The bristles are soft and flexible, so if your hair is thick and dense, you may have some trouble getting the results you desire.
The handle of the curling iron is slippery, which might make it difficult to grip.
Customers who didn't like the brush stated that the bristles were too soft to grip and curl their hair. Those who loved the product indicated that it made their hair smooth, voluminous, and shiny.
4. Sylkvia Curling Brush and Volumizer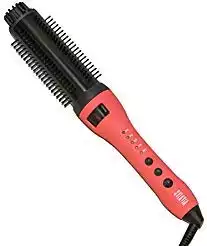 The Sylkvia curling brush is a curling and volumizing brush that features a unique design. It has combs that retract when you push a lever. The curling brush can be used as a curling wand, a volumizer, and a straightener.
It also has a range of temperatures to style fine hair without damaging it. With its 1.5″ barrel, you can create effortless beachy waves and big voluminous curls.
Fine hair is prone to heat damage. To combat that, the creators of this brush designed it with a tourmaline ceramic barrel, which locks in your hair's moisture, promoting hair health.
But, unlike some other brushes on this list, the heat settings range from 300°F to 410°F for styling different hair textures. If your hair is fine, you should avoid setting it at the highest temperature.
To keep your fingers safe, the curling brush has a cool touch feature. You don't have to worry about burns and scalds.
Pros & Cons
The pros and cons below can help you decide whether this is the curling brush for you.
Pros
The curling brush has several heat settings to choose from, making it ideal for different hair textures.
The brush has long bristles and a large barrel, enabling your hair to glide through without tangling.
You can watch YouTube videos for some tips and tricks to try with this brush.
Cons
The high heat settings could leave your fine curls heat damaged if you use it too often or on a heat setting that is too high.
You cannot use this brush on wet hair.
A few customers complained that the brush did not grab onto their fine strands. But, on the whole, people really loved this brush, stating that it is simple to use and gives them salon-quality results every time.
5. AmoVee Curling Iron Brush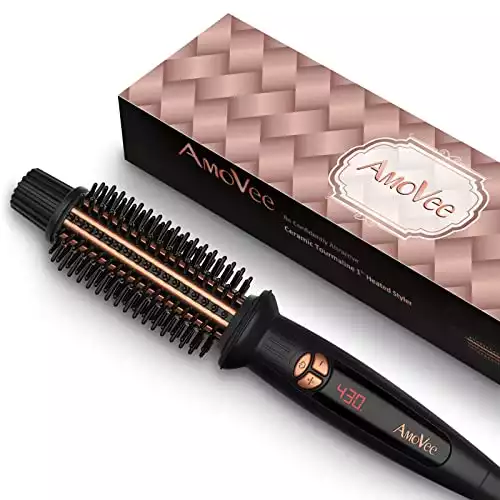 The AmoVee Curling Iron Brush is a ceramic volumizing hair wand with a 1-inch barrel and heat-protected bristles. This single tool functions as a 3-in-1 brush that serves as a curling iron, a comb, and a straightener.
This brush is easy to grip and maneuver, with a lightweight handle for precision and styling control. The extra-long cord enables you to style your hair at any angle necessary.
Also, the 360° swivel cord ensures that your cord is free of tangles while styling your hair. The brush's packaging is exclusive and includes a fancy carrying bag. The well-designed pouch makes for easy storage at home and on the go.
One of the best things about this brush is that it's suitable for all hair types.
The adjustable temperature of the curling brush ranges from 266°F – 320°F for thick and textured hair, colored hair, and delicate hair. For thick and curly hair, the temperature can be adjusted to 395°F – 430°F.
It also features a digital display that allows the temperature to be easily adjusted. If your hair is fine, you should use the brush at the lowest temperatures.
The brush delivers salon-worthy perfection with lasting curls, significant volume, and a natural shine. It also ensures that moisture remains locked in while circulating even heat for straightening and styling.
Pros & Cons
There are few things more telling than a product's pros and cons. Let's get into them below.
Pros
The brush is designed to handle all hair types without leaving them damaged.
It is versatile, being that it can be used as a comb, a straightener, and a curler. This means users can use this one device for multiple purposes.
You don't need gloves to use this device since it comes with anti-scald bristles.
Cons
The brush cannot be used for wet hair.
The brush movement is static; it does not spin like some other curling brushes.
Customers rated this product highly online. 69% of reviewers rated it a full 5 out of 5 stars. Unhappy customers said that their hair got tangled up in the brush. Satisfied customers state that the iron heats up quickly, works well, and doesn't burn their fingers.
6. ALLURE Curling Iron Brush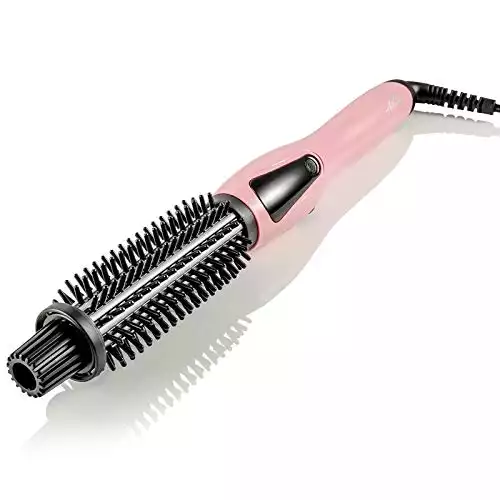 The Allure curling iron brush is another heated styling brush with a 3-in-1 function and soft bristles ideal for fine hair. This ionic curling brush leaves your hair looking smooth and shiny. It is suitable for all hair types, from fine to thick.
The 1-inch curling wand is a multi-purpose brush that functions as a curler, a normal comb, and a straightener all in one.
Thanks to the brush's versatile features, heat regulators, and anti-frizz ions, you can create a wide variety of looks. Typically, curlers can result in scalded scalps and burnt fingers if users are not very careful.
With this curling brush, however, the nylon anti-scald bristles and cool-touch handle help reduce the risk considerably. You can turn the heat up to the max without worrying about burns, though you shouldn't use it at max temperature if you have fine hair.
The Allure curling brush has a range of temperatures from 265°F to 430°F, allowing users to style all hair textures – for fine hair, keep the temperature as low as possible. It also has a super-fast heat-up time of about 30 seconds.
With this curling brush, you can achieve bouncy, glossy curls that'll last all day.
The barrel has a ceramic coating that releases anti-frizz negative ions that promote silkiness. The distinct bristles also function to ensure tangle-free styling and even distribution of heat. The heat level can be easily controlled by turning the knob clockwise or counterclockwise.
This curling iron brush is straightforward to use, enabling even the most inexperienced ladies to create beautiful styles with it.
Pros & Cons
Here are several pros and cons that you should know about prior to purchasing this brush:
Pros
The brush allows you to curl, straighten, and comb your hair with just one tool.
The brush's anti-scald bristles protect your fingers throughout the styling process.
It has an LED screen that allows you to set and monitor the temperature of the device.
The cord swivels an entire 360 degrees to prevent the cord from tangling.
Cons
It does not work with some power supplies, so we recommend that you confirm this with the seller before purchasing the device.
Some complain that their hair gets stuck in the bristles. This can lead to mechanical damage and breakage.
It arrived to some customers without operating instructions, which made the initial setup stressful.
Some of the most notable negative reviews cited hand burns and undesirable results. But the vast majority of reviewers were thrilled with the product – some even stated that it's the best curling brush they've ever used.
It's no exaggeration that fine hair requires constant delicate care. And that's why it's so important to choose the right curling brush for your fine strands – a brush that will minimize heat damage and breakage while giving you the results that you desire.
By reviewing some of the best curling brushes on the market that are suitable for fine hair, we hope to make the decision easier. Good luck!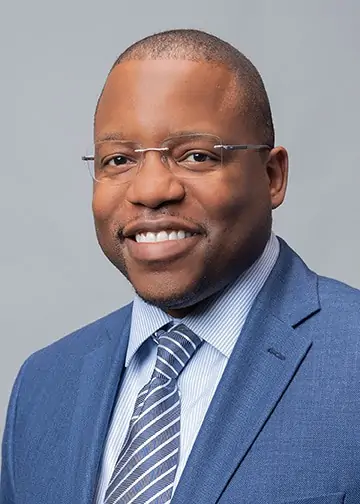 Kenneth Byrd holds a BS in Accounting and Management Information Systems and an MBA from the University of Alabama at Birmingham. With over 15 years of experience, Kenneth has been dedicated to hair care since 2008, when he co-founded Curl Centric® and Natural Hair Box alongside his wife. As a team, they promote healthy hair care practices through their comprehensive platform, Curl Centric. Curl Centric is a website operated by a husband and wife team that encourages healthy hair care. At Curl Centric, we aim to help our readers take control of their hair care journey and make good decisions about products, hairstyles, and maintenance techniques. We also have strict editorial integrity; here's an explanation of our editorial guidelines and how we make money.