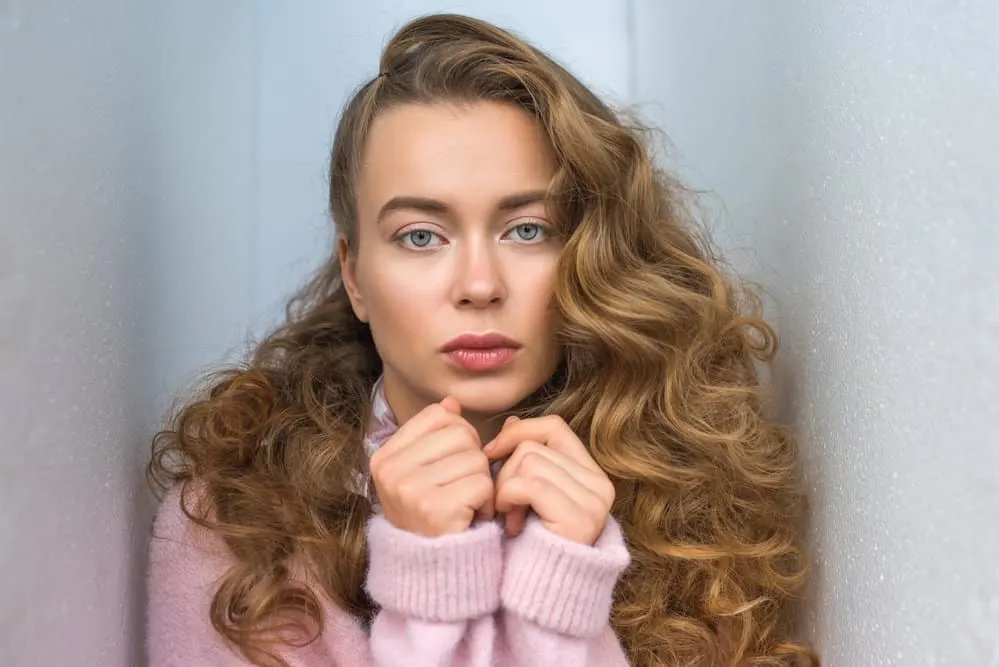 It's hard to think of a hairstyle that looks better than soft, gorgeous curls. And what better way to get them than with a curling iron?
If you're wondering how to use a curling iron, we're glad to be of service!
In this article, we'll explain how to use a curling iron with a detailed step-by-step guide. We'll cover all the ins and outs so you can curl your hair like a professional. Let's jump right in!
How to Use a Curling Iron: Step-by-Step
HOW TO CURL YOUR HAIR WITH A CLAMP CURLING IRON: Curling 101
A curling iron is a fundamental hair styling skill. It instantly expands your styling possibilities, allowing you to pull off a number of gorgeous styles.
Whether you want big juicy curls or tight, bouncy ringlets, the curling process is the same. Ready to give it a try? Here's a quick rundown on how to use a curling iron.
Wash and Condition Your Hair
Unlike flat irons, curling irons don't tend to work best on freshly washed hair. So, for the best results, curl your hair two or three days after your last wash.
However, if your hair has a lot of product, buildup, or dirt, you can wash it before you curl it. Just use a lightweight conditioner so your curls won't get weighed down.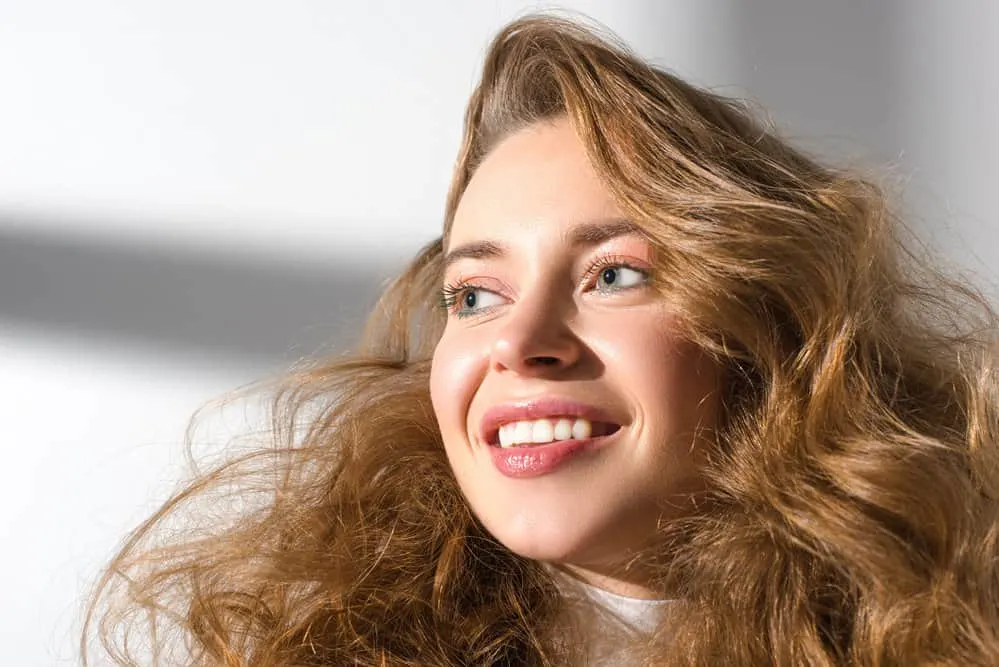 Prepare Your Hair
After rinsing the conditioner from your hair, towel dry your hair to remove the excess water. Next, air or blow dry your hair. Take your time, as your hair needs to be 100% dry before applying heat.
Once your hair is dry, divide it into four equal sections and secure each section with a hair clip or tie.
Before starting the curling process, select and heat up your curling iron.
Use a curling iron made from high-quality material, like ceramic, titanium, or tourmaline. You should also keep in mind that the larger your curling iron barrel is, the bigger and looser your curls will turn out.
If you're after tight ringlets, use a curling iron with a smaller barrel.
To create a natural-looking blend of curls, try switching back and forth between a few different curling irons. The combination of small, large, and medium-sized curls will give you a balanced look and prevent your curls from looking too uniform.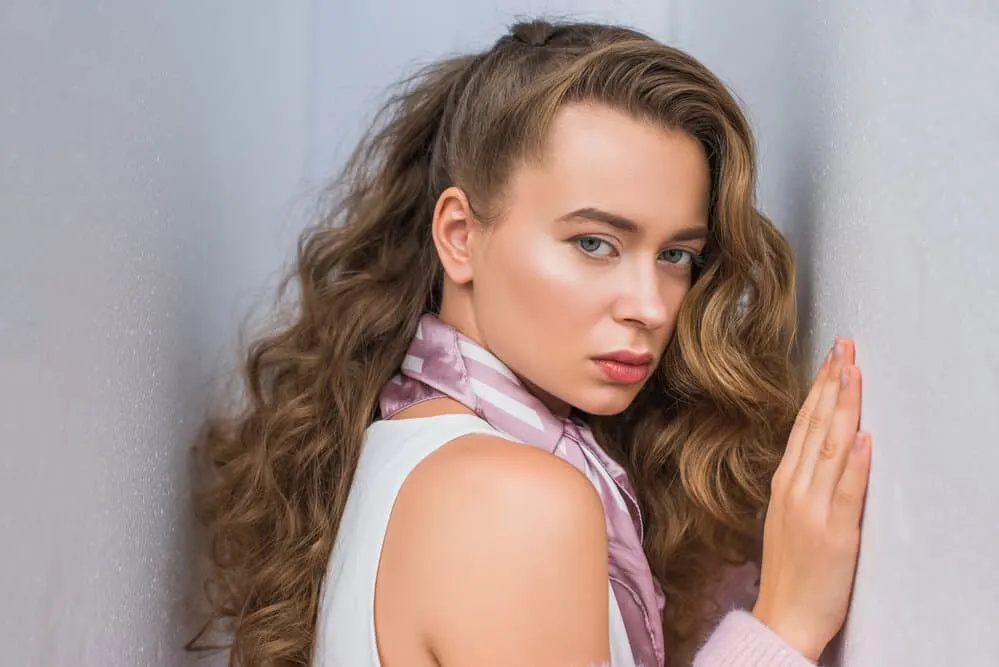 Start Curling
Take down one of the sections in the back, and separate a 2-inch section of hair. Hold your curling iron vertically, with the clamp pointing towards your face. Next, clamp down on the hair, one to two inches up from your ends.
Wrap your hair around the barrel until it's about half an inch away from your roots. Curl your hair away from your face if you're after a more natural look.
How I Curl My Hair | BIG CURLS TUTORIAL
Wait for 5 to 10 seconds before gently opening your curling iron and sliding it out of the new curl. Take a moment to look at the curl.
If it didn't set, try curling the section again. Then, as you continue curling, hold your hair for a few seconds longer. That way, you can avoid having to go over each section twice.
Make an effort not to disturb your hair while it cools. Your hair is still malleable when it's hot, so the more you jostle your curls, the more they'll fall.
Grab the next 2-inch section of hair and repeat the same process.
As you make the way through the rest of your hair, try switching up the angle and direction of your curls. The variety will help your curls look natural and create a softer, more elegant look.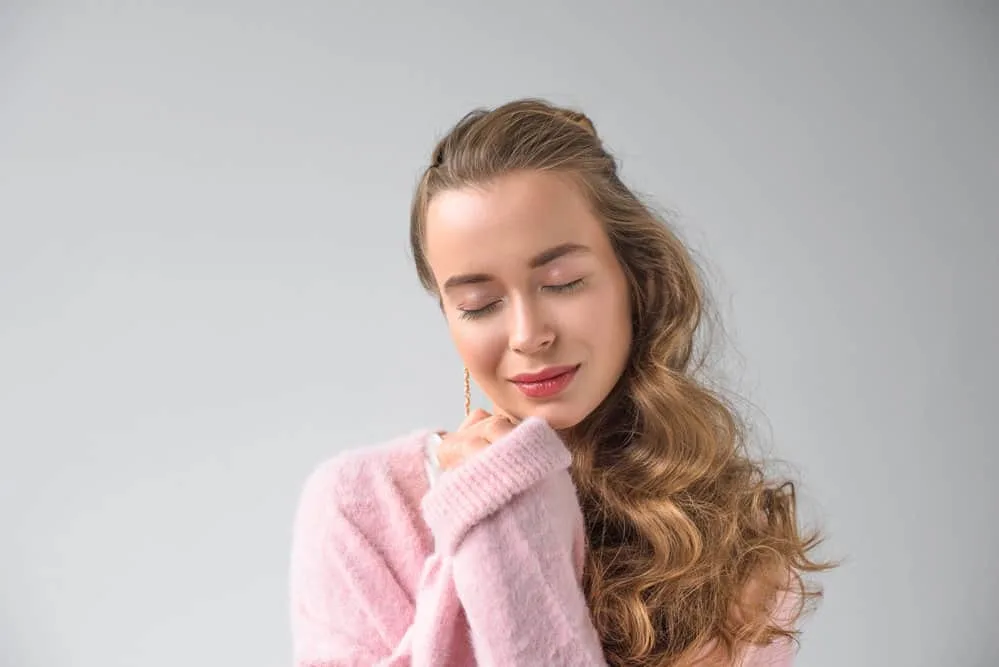 Finish Your Styling
After your hair falls to around room temperature, you can do the final touches. Comb or brush through the curls to soften them, or spritz them with holding spray to maintain the tightness of the curls.
You can work on styling your hair once your curls are finished and set. You can leave your hair down or gather it into a stunning updo or half updo.
How Long Do You Leave a Curling Iron on Your Hair?
One of the main questions people ask is how long they should leave a curling iron on their hair. If you don't leave the iron on your hair long enough, the curl will not take.
But if you hold the iron in place for too long, you'll end up burning your hair.
Most hair experts agree that once you wrap your hair around the iron's barrel, you should hold it for five to ten seconds.
The exact length of time will vary, depending on your hair texture.
Fine hair typically takes less time to curl, while thick, coarse, and kinky strands take a few seconds longer. Regardless of your hair type, you never want to leave a curling iron in one place for more than ten seconds.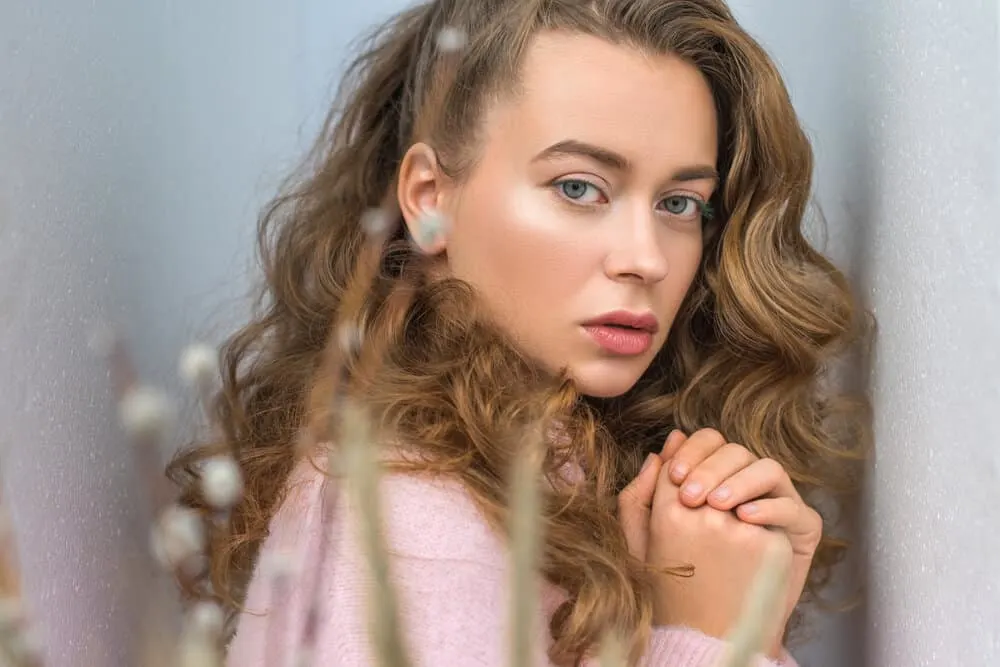 Is It Better to Have Freshly Washed Hair for Curling?
While you don't want to curl dirty hair, curling freshly washed hair won't yield the best results. Conditioners can weigh your hair down and leave your curls limp and greasy.
And as a result, your new curls won't last long.
For curls that last, try using a curling iron two or three days after your last wash. That way, your hair is still relatively clean. And if your hair feels oily, you can sprinkle a little dry shampoo into your roots.
Do You Use a Curling Iron When Your Hair Is Wet or Dry?
Hot tools, like curling irons, are designed to create gorgeous curls and waves. They reshape the hydrogen bonds in your hair, giving you complete control over your hair's shape and texture.
Unless you're using a wet-to-dry curling iron (which we don't recommend for damage reasons), starting with bone-dry hair is imperative.
Even the slightest bit of moisture makes your hair more susceptible to heat damage.
Stop curling your hair immediately if you're using a curling iron and begin to hear a sizzling sound. Then, go back over the area with a blow dryer.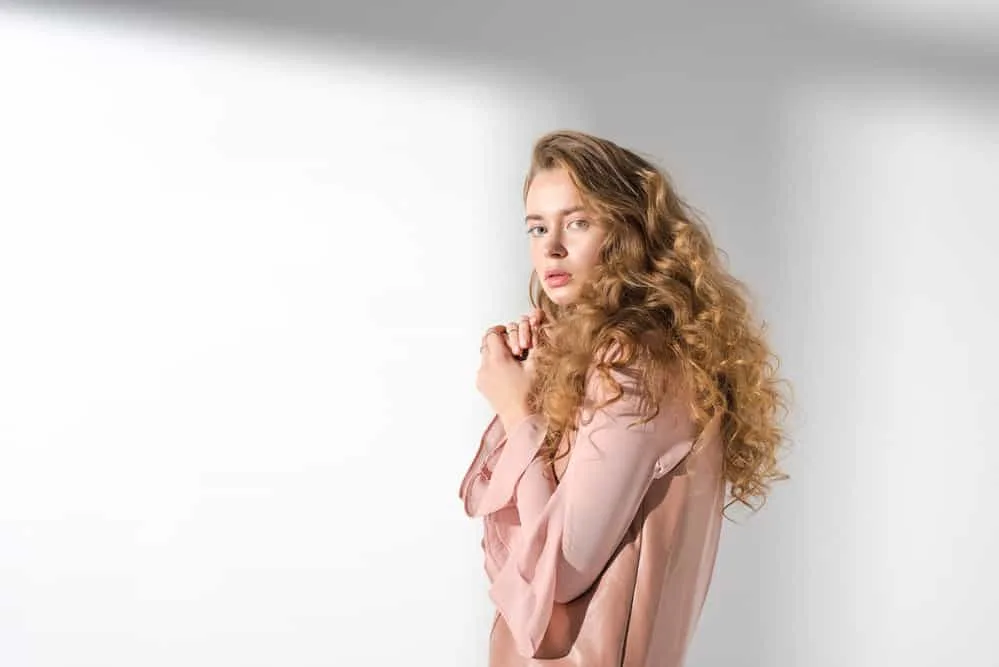 Dos and Don'ts of Using a Curling Iron
If you're having trouble keeping track of all the information we've gone over so far, this section is for you! We'll review a list of dos and don'ts of using a curling iron.
That way, you can ensure your hair looks great and stays perfectly healthy.
Do's
Do use the correct size barrel.
Do apply a heat protectant before curling your hair.
Do use a handheld mirror to keep an eye on the back and sides of your hair.
Do use a high-quality curling iron.
Do comb through your curls with a wide-tooth comb if you want soft curls.
Do curl your hair using heatless methods if you're experiencing signs of damage.
Do create curl diversity by using multiple-sized curling irons.
Do cut down on heat styling by preserving your curls overnight.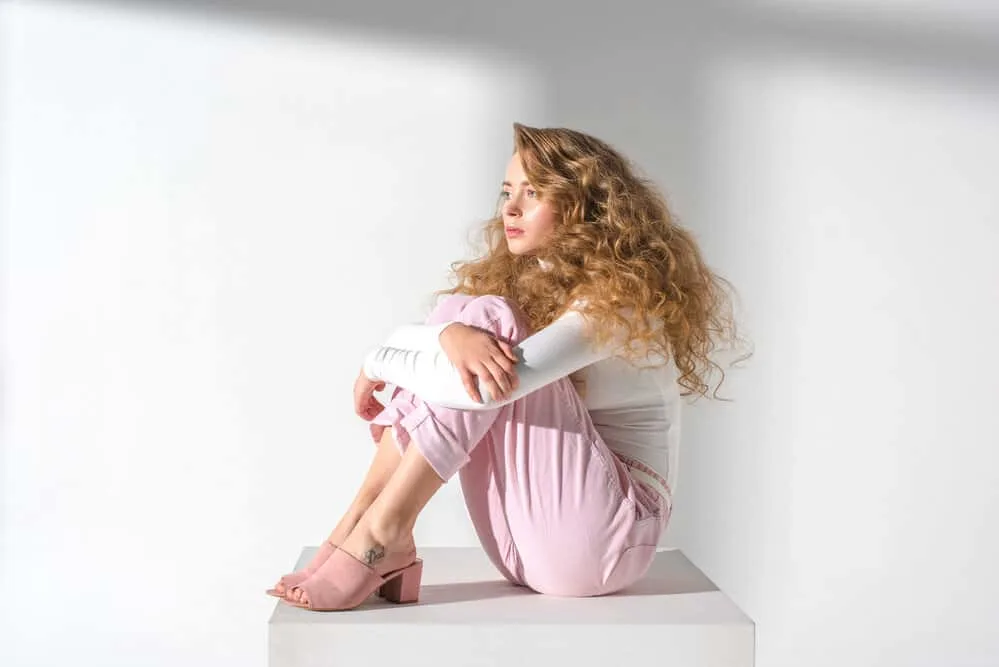 Don'ts
Don't use a curling iron on your hair if it's extremely dirty.
Don't clamp down on your ends.
Don't make multiple passes on the same section of hair if you can avoid it.
Don't crank up the heat to the highest setting.
Don't use a curling iron every day.
Don't use a curling iron on damp or wet hair.
Don't touch, handle, or manipulate your curls more than necessary.
Don't forget to clean your curling iron between uses.
There you have it! Using a curling iron is a relatively simple, straightforward process. So, it won't take too long for you to get the hang of things.
Just take your time, protect your hair against heat damage, and experiment with different techniques. We hope the information we've covered today has helped explain how to use a curling iron.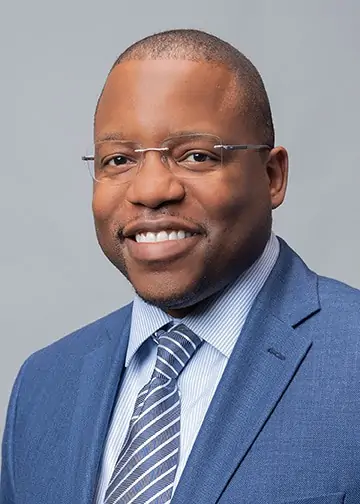 Kenneth Byrd holds a BS in Accounting and Management Information Systems and an MBA from the University of Alabama at Birmingham. With over 15 years of experience, Kenneth has been dedicated to hair care since 2008, when he co-founded Curl Centric® and Natural Hair Box alongside his wife. As a team, they promote healthy hair care practices through their comprehensive platform, Curl Centric. Curl Centric is a website operated by a husband and wife team that encourages healthy hair care. At Curl Centric, we aim to help our readers take control of their hair care journey and make good decisions about products, hairstyles, and maintenance techniques. We also have strict editorial integrity; here's an explanation of our editorial guidelines and how we make money.