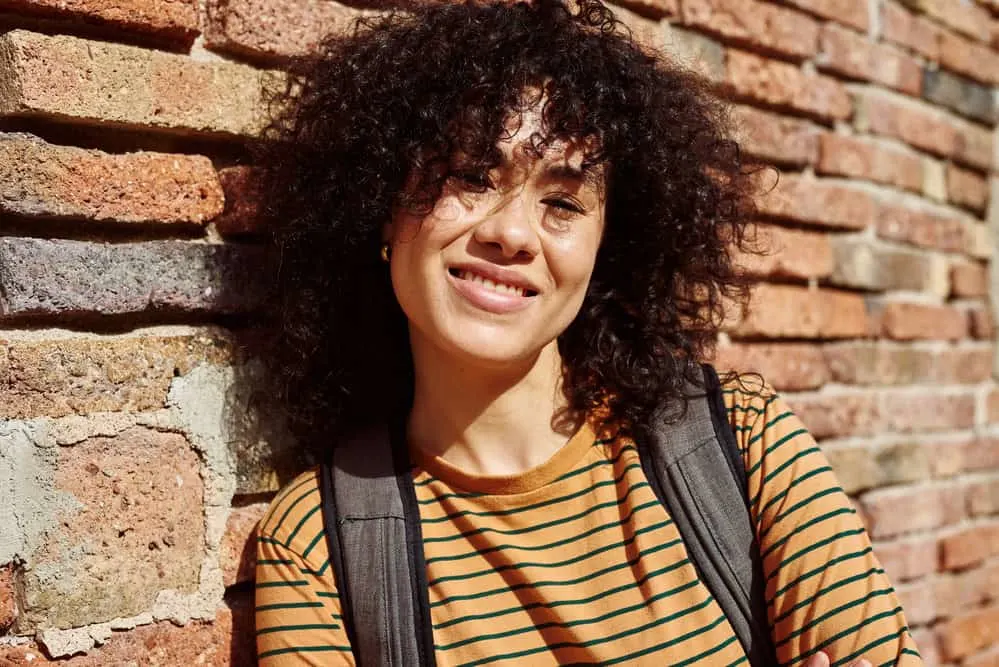 Are your curls just begging for a clean slate? Then, a hair clarifying treatment is in order. Hair clarifying treatments lift away all the dirt, debris, and buildup from your hair and scalp.
That way, your mane will be ready for whatever comes next, but it's very important to know that not every clarifying session is automatically effective.
You have to take very specific steps to get your curls as clean as possible without damaging them. In this article, we'll tell you everything you need to know about how to clarify curly hair – we won't leave anything out! Let's get right into it!
What Does It Mean to Clarify Hair?
When we talk about clarifying hair, we're referring to cleansing it with a specialized shampoo, paste, or clay that has mega-cleansing power. The goal of clarifying the hair is to remove excessive or built-up debris, oils, or product from the hair.
Everyone needs a good hair clarifying treatment every so often because certain hair products, and even the scalp's oils, have the tendency to build up on the hair and cause a plethora of problems.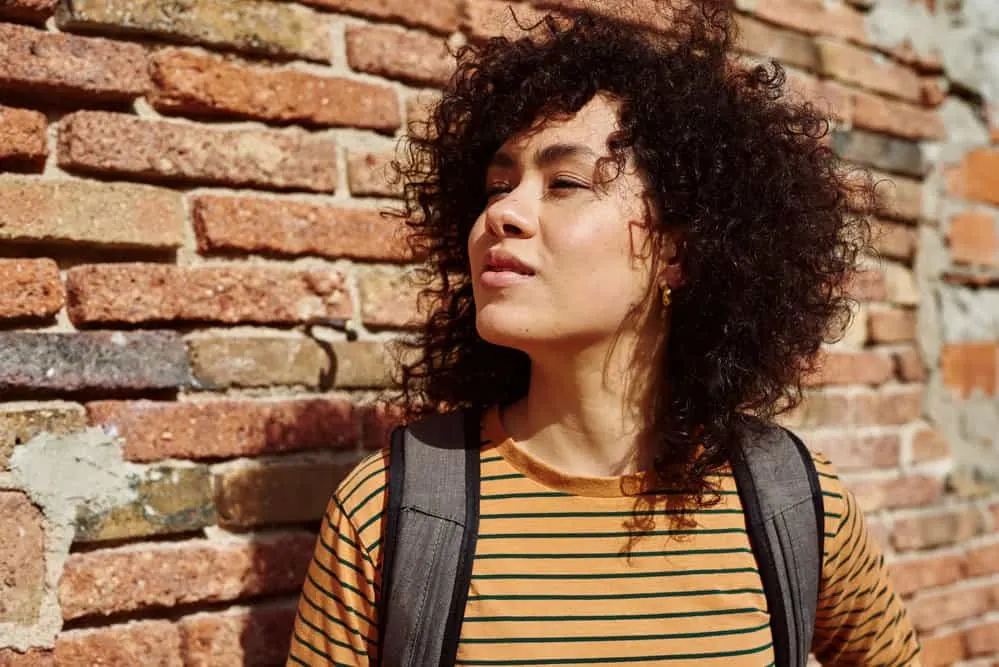 Why You Have to Be Careful Clarifying Curly Hair
Clarifying curly hair could definitely be beneficial, but it can also dry the hair out beyond belief and leave it prone to damage.
The most common issues people with curly hair experience with clarifying treatments are split ends and brittleness. But clarifying your hair is not inherently dangerous. You just have to go about it correctly, and we'll fill you in on how to do that below.
How To Clarify Curly Hair With Clarifying Shampoo
Now that we've got the previous topics out of the way, it's time to get down to the nitty gritty – how to clarify curly hair.
Clarifying shampoo, which is specially made for clarifying the hair, is often the first option for people looking to eliminate product buildup or give their hair a super deep clean.
HOW TO CLARIFY CURLY HAIR (MY WASH DAY ROUTINE + VERB RESET FIRST IMPRESSIONS)
Here's how to use clarifying shampoo on curly hair:
Separate your hair into at least 4 equal sections and secure each one with a clip. You can use your hands or a comb, but be as gentle as possible. If you hear any popping noises, that's a sign that you're breaking strands.
Release one section of hair and rinse it thoroughly. You may need to part your hair in a few sections to ensure that the entire section is drenched.
Dispense some shampoo into your hand, rub your palms together, and then apply some clarifying shampoo to your hair. Focus the shampoo on your roots, as this is where the majority of buildup, excess oils, and other nasties accumulate.
Massage your scalp and the first couple of inches of your roots with the pads of your fingers. Use tiny circular motions with gentle pressure to get the most thorough clean. As you massage your scalp with one hand, hold the ends of the hair taut with the other hand to reduce tangling.
Lather up the rest of your hair section by section according to the steps above.
Wait a few minutes – up to 5 – to allow the shampoo to continue to work.
Rinse the shampoo out of all of your hair. Depending on how thick your hair is, you may have to do so in sections.
Moisturize. After rinsing the clarifying shampoo out of your hair, you'll notice that your mane is on the parched side. To replenish the moisture after this, you should condition or deep condition your hair. Deep condition if your hair is feeling dry to the touch.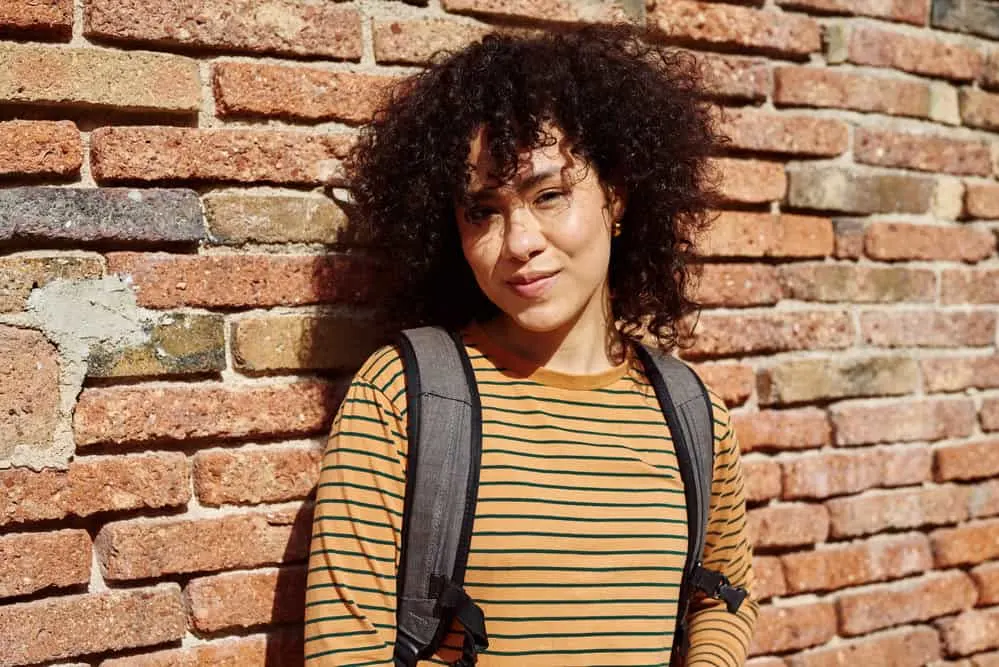 Pros and Cons of Clarifying Shampoo
Clarifying shampoo is specifically made for deep cleansing curls, but that doesn't mean it's perfect. There are both pros and cons to consider before taking the jump and using this method to clarify your curls, and here they are:
Pros
Simple process, given that you use clarifying shampoo just as you would a normal shampoo.
Clarifying shampoo is easy to find online and in-store.
Clarifying shampoo is incredibly effective at lifting away impurities, so you're sure to get a deep clean in 1 to 2 shampooing sessions.
Cons
Clarifying shampoos are drying to the hair, often leading to an increase in split ends and reduced manageability.
How to Clarify Curly Hair With Bentonite Clay
Looking for a more natural, less drying alternative to clarifying shampoo? Maybe bentonite clay is more your speed. Bentonite clay is lauded for its ability to draw out impurities and cleanse the hair and scalp.
As a bonus, you don't have to worry about the clay drying your hair out. Though the clay is great at cleansing the hair, it doesn't do so harshly.
DIY Bentonite Clay Hair Mask to Clarify & Define Curls | Low Porosity Natural Hair Tips
On top of all that, using bentonite clay is super easy. Here, we'll give you step-by-step instructions for how to get the most out of your bentonite clay mask:
Grab your supplies: You'll need bentonite clay, of course, along with some water, a plastic spoon, and a bowl.
Add equal parts water and bentonite clay to a bowl and mix. Use a plastic or wooden spoon for mixing.
Wash your hair with your normal shampoo. Any leftover product or scalp oil can lower the mask's effectiveness. Simply wet your hair down, apply a shampoo of your choice, massage it in, and then rinse thoroughly.
Part your hair into several sections, especially if it's thick or long. Doing so will make it much easier to get the mask on your strands without missing any spots.
Start applying the mask to your hair, starting at the roots and moving down toward the ends.
Use a wide tooth comb to distribute the clay throughout your hair. Be very gentle during this step; your hair structure is weaker when wet.
Allow the bentonite mask to sit on your hair for up to 15 minutes or so. Some people leave their bentonite clay masks in for several hours, but the consensus is that you don't need to leave them on for very long.
After the time is up, rinse the mask out of your hair with warm water. If the mask doesn't seem to budge, turn the temperature of the water up a bit.
Take a look at your hair to determine whether there's any bentonite clay left. If so, you can rinse some more, or you can shampoo your hair once more. The choice is yours.
Follow up the clarifying treatment with a conditioner or deep conditioner to rehydrate your tresses. Though a bentonite clay mask shouldn't leave your hair as dry as a clarifying shampoo would, your hair may still feel a little dry. Leave the conditioner or deep conditioner on for as long as the packaging suggests.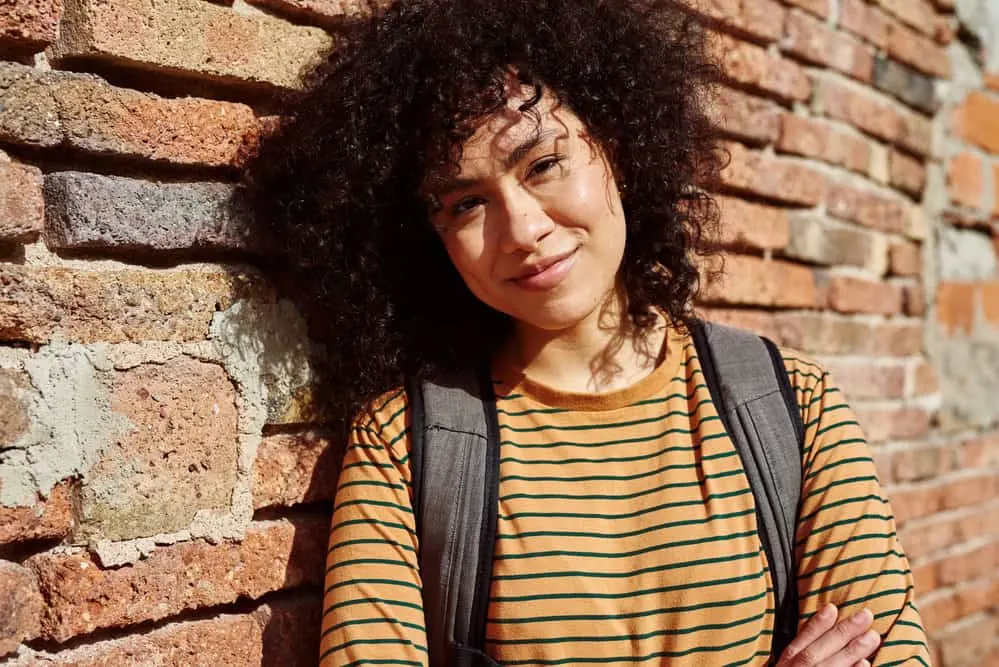 Pros and Cons of Bentonite Clay for Clarifying Curls
There's no doubt about it – bentonite clay has a lot going for it. But, just like everything else, it comes with both pros and cons. We'll share both with you below:
Pros
Bentonite clay is easy to use and unlikely to dry your hair out.
Bentonite clay is widely available, and it's affordable on almost every budget.
Bentonite clay has cleansing power that can lift away super stubborn residues and reveal shinier, cleaner, healthier hair.
Bentonite clay is gentle on the hair.
Cons
Bentonite clay gets everywhere, which most people will find super annoying.
How to Clarify Curly Hair with Baking Soda and Water
Another remedy for product buildup is baking soda paste. The baking soda has clarifying properties and an abrasive texture which works to remove impurities and buildup in just a few minutes.
How To Clarify Your Hair Using Baking Soda
If you want to try this curl clarification treatment, here are the steps you have to complete:
Gather your materials – for this clarifying treatment, you'll need baking soda, water, a bowl, and a plastic spoon.
Mix 2 cups of baking soda with 1 cup of water in a bowl and mix it thoroughly with your plastic spoon.
Use your hands to apply the baking soda paste to your hair in sections. For the deepest clean, we recommend applying the baking soda paste in very small sections with your hands. Don't brush or comb the paste through your curls- doing so could break your hair.
Allow the paste to sit on your hair for about a half hour.
Shampoo your hair to remove all of the baking soda paste.
Condition your hair to replenish its moisture levels.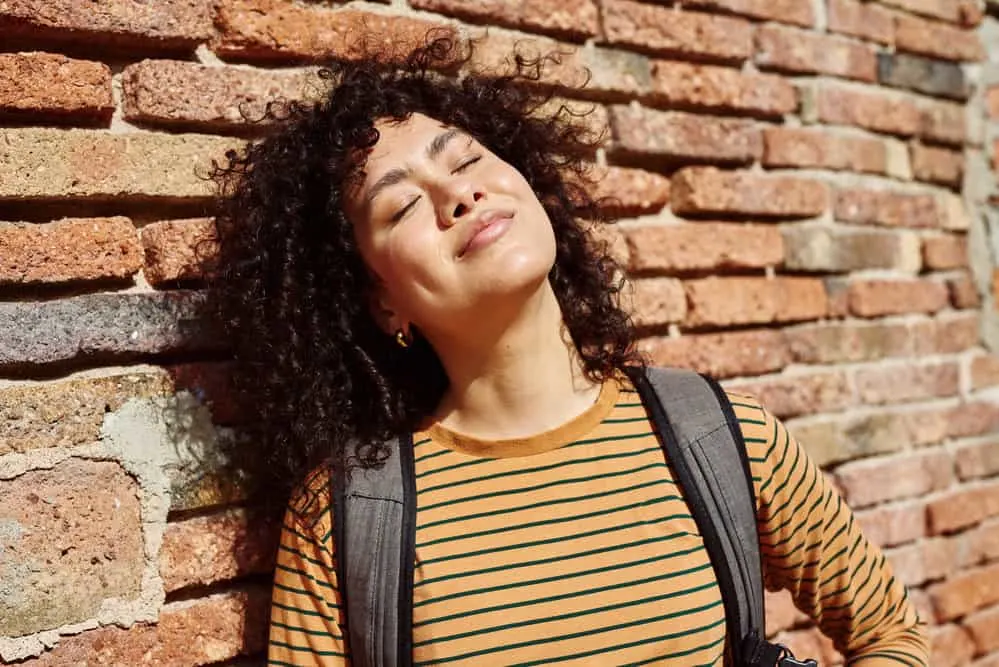 Pros and Cons of Baking Soda Paste
You might think that the baking soda paste clarifying method is the right choice for you. But before you purchase your baking soda and get to mixing, look at the below pros and cons to make sure that this is the right curl-clarifying method for you:
Pros
Baking soda is very easy to make. It only has two ingredients and takes less than a minute to mix up.
Baking soda isn't as harsh as some clarifying shampoos out there.
Baking soda is natural and well-suited to those who are against harsh chemicals.
Cons
Baking soda can be a headache to wash out of the hair. So, you'll have to be patient with that step and avoid being rough as you try to remove it.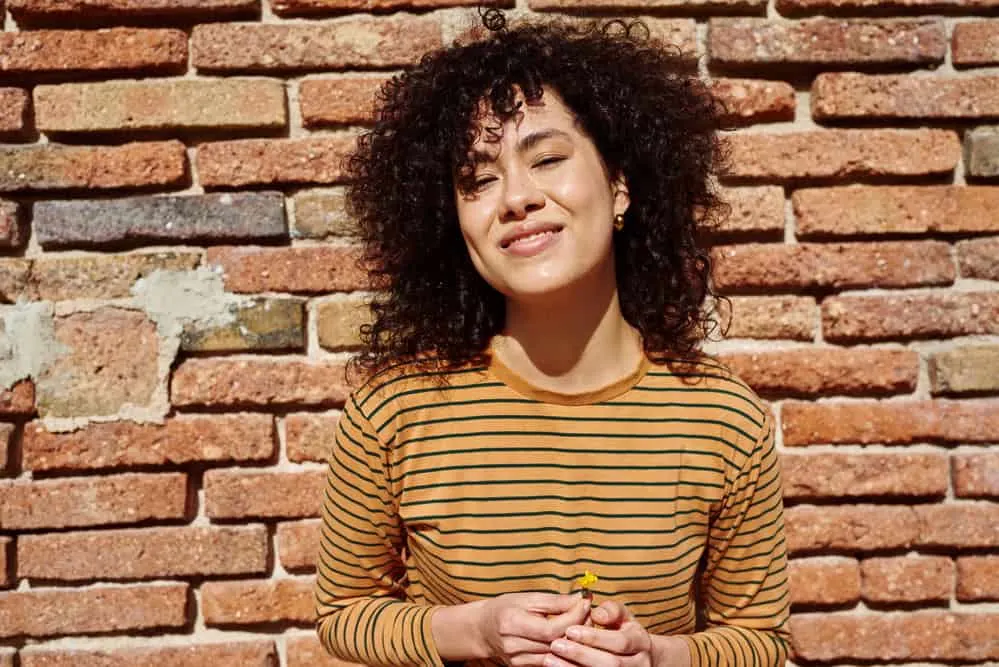 Signs Your Hair Needs to Be Clarified
Though there are many benefits to clarifying your hair, you shouldn't do it unless you actually need to. Clarifying already-clarified hair is a surefire way to jumpstart dry hair and all the negatives that come along with it.
So, before you clarify your hair, look at the below list to ensure that you really need to:
Your hair looks dull. Whenever you have product buildup or your hair is in need of a good wash, your hair will look dull or even dusty. This dusty cast directly results from the accumulation of product, scalp oils, pollution, and more. If your tresses have lost their shine and luster, you may be in need of a good clarifying session.
Your products don't seem to seep into your hair. If your hair is coated in buildup, it won't be receptive to any of the products you apply to your hair afterward. If your products aren't working like they used to, a clarifying shampoo can give your hair a clean slate so these products can be absorbed to a higher degree and work better overall.
Your hair is limp and weighed down. One thing that many people don't know about buildup is that it's physically heavy. So, the more buildup you have, the more it will weigh down your hair. As a result, your hair may not be as springy and bouncy as it once was. A good clarifying session should clear that problem right up.
You have gunk in your hair that's hard to remove. In situations where you've tried to remove a substance from your hair and it's not coming out with regular shampoo, a clarifying treatment can help.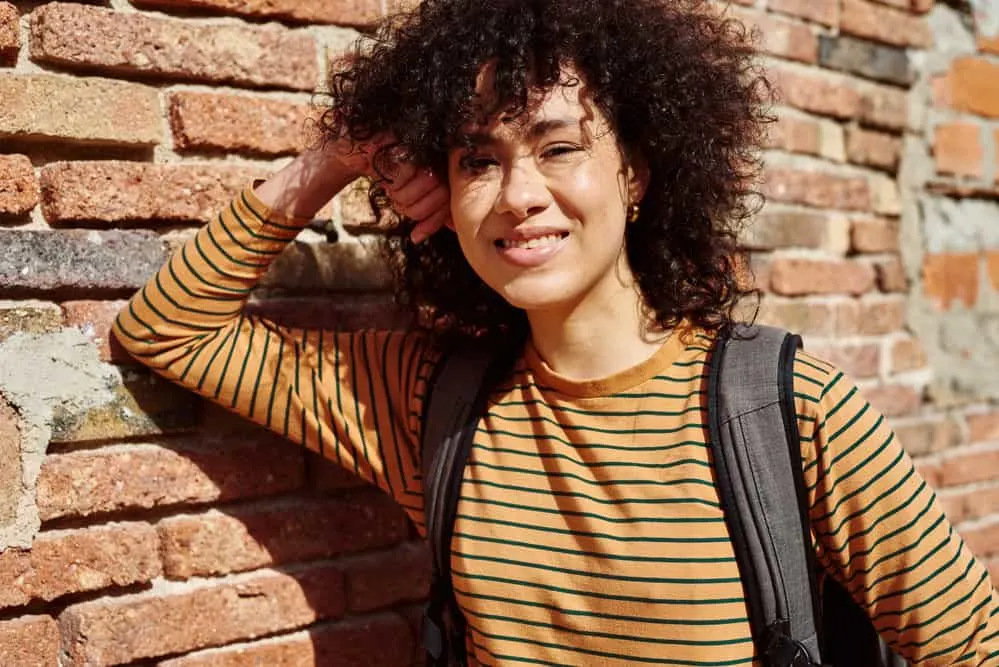 How Often to Clarify Curly Hair
Deciding whether to clarify your hair is easy – deciding how often to clarify can be a little more difficult. When it comes to curly hair, it's usually okay to clarify once or twice a month. For all your other shampoo sessions, use a co-wash or a sulfate-free shampoo to preserve your hair's moisture.
If you think you need to clarify your hair more often than that, you can do that. But take inventory of your hair's condition before doing additional clarifying sessions.
If your hair is already dry and compromised, a clarifying shampoo session could make that problem worse. Opt instead for a gentler clarifying treatment, like a bentonite clay mask, for more frequent clarifying.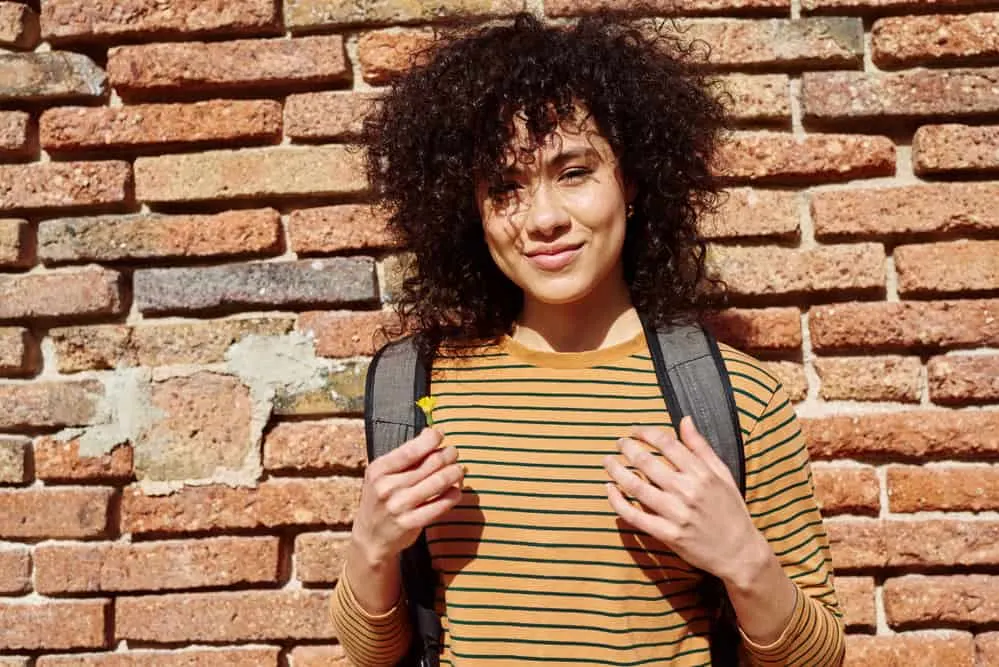 Mistakes People Make When Clarifying Their hair
We went over three clarifying treatments and gave you step-by-step instructions for each of them. You can feel confident that you know the basics for how to achieve a good clean for all of the methods.
Still, there are several mistakes that people make when clarifying their hair that can ruin the entire experience, and we'll focus on those in this section.
Leaving the Clarifier on Your Hair for Too Long
When clarifying your hair, you should leave the product on your hair for a conservative amount of time, or the amount of time indicated on the product's packaging.
If you leave a clarifying shampoo on your hair for a full hour, you're going to find that your hair is as arid as the Sahara desert. Then, you'll have a new problem to resolve. So, try your best to stick to the time recommendations we mentioned earlier.
Using a Sulfate-Laden Clarifying Shampoo
It's a mistake to use an unreasonably harsh clarifying shampoo on curly hair. Curly hair is extremely prone to dryness and breakage just because of its structure.
Luckily, there are many great sulfate-free clarifying shampoos out there (keep reading for our recommendations). And if you don't have access to one, we suggest one of the alternative clarifying methods we mentioned earlier.
Skipping the Conditioning Session Afterward
After any clarifying session, you may notice that your hair is starved of moisture. It's the nature of clarifying – it cleanses your hair at a very high level. So, as soon as you rinse the clarifying product out, give your hair a little TLC with a conditioner or deep conditioner.
And the one you choose should depend on what your hair looks and feels like. If your hair looks and feels like sandpaper, you need a deep conditioner vs. a regular rinse-out conditioner.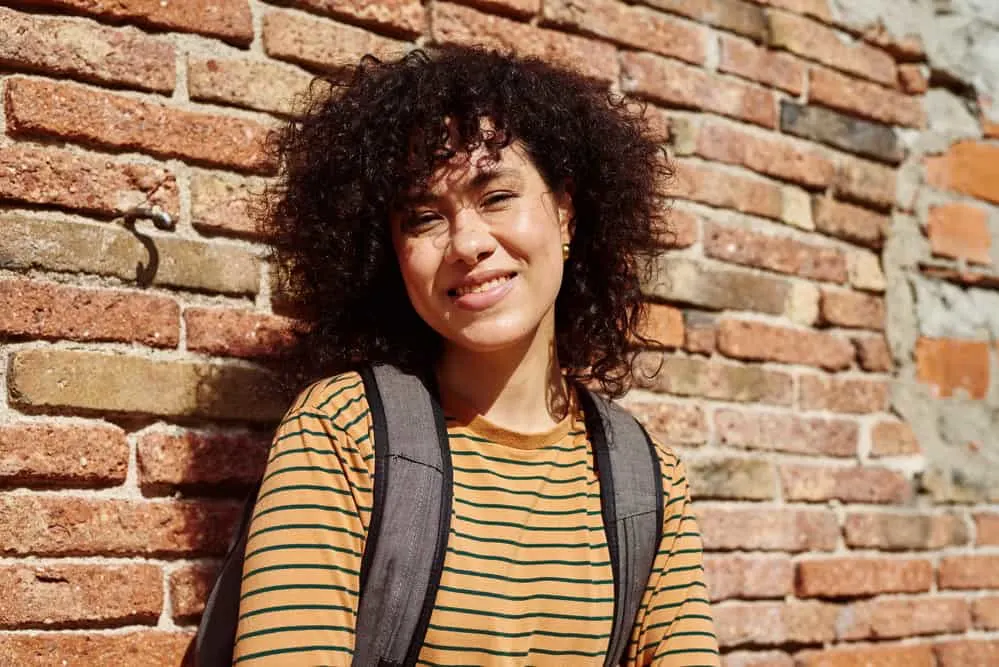 Who Should Not use Clarifying Shampoo?
Did you know that clarifying shampoo isn't for everyone? It's 100% true. Clarifying shampoos often contain harsh ingredients that can aggravate scalp conditions like psoriasis and dandruff.
If you have a sensitive, infected, or irritated scalp (or suffer from dandruff or another scalp condition), you should pass on typical clarifying shampoos. Natural, sulfate-free clarifying shampoos may work for you, but you should be very attentive to how your scalp reacts to each clarifying session.
The Best Clarifying Shampoos for Curly Hair
Clarifying shampoos are not all created equal, and some of them are absolutely terrible for curly hair. Instead of giving you a long list of ingredients to stay away from, here are a few of the best clarifying shampoos for curly hair:
Nothing But Clarifying Sulfate-free Clarifying Shampoo – This is a clarifying shampoo specifically formulated for those who want a gentle -yet-effective clarifying session. Not only is sulfate-free, but it's also fragrance-free and highly rated on Amazon.
OUAI Detox Shampoo – This shampoo is sulfate free and contains chelating agents to not only remove product buildup, but eliminate hard water deposits. In addition to that, it contains apple cider vinegar for exfoliation and hydrolyzed keratin to smooth the hair shaft.
My Black is Beautiful Clarifying Shampoo – This paraben and sulfate-free clarifying shampoo has blue ginger and tea tree oil, which promote a healthy scalp. This is a great option for those who have problematic scalps.
What Can I Use to Clarify My Curly Hair?
We recommend three main methods to clarify curly hair, each with pros and cons. First, you can use a clarifying shampoo specifically designed for deep cleansing and removing product buildup. Apply it like a regular shampoo, focusing on the roots, and then follow up with a conditioner or deep conditioner to replenish moisture.
Alternatively, a natural option, bentonite clay, can draw out impurities and cleanse hair without harshness. To use it, mix the clay with water, apply it to your hair, let it sit for up to 15 minutes, then rinse and condition.
Lastly, a paste made from baking soda and water can be applied to the hair in sections, left for about 30 minutes, and then removed with shampoo and conditioner. When choosing a clarifying treatment, consider your hair's specific needs and preferences to make the best decision.
Do I Need to Clarify My Curly Hair?
If you're considering clarifying your curly hair, look for key signs that indicate it may be necessary. These signs include dullness and loss of shine, products not being absorbed effectively, a limp and weighed-down appearance, and stubborn gunk that is difficult to remove with regular shampoo.
Observing any of these signs may suggest that a clarifying session would be beneficial in rejuvenating your curly hair and restoring its natural bounce and luster.
How Do You Naturally Clarify Curly Hair?
Naturally clarifying curly hair can be achieved through the use of bentonite clay or a baking soda and water paste. Bentonite clay is a gentle, natural option that effectively draws out impurities without causing dryness. To use it, mix equal parts clay and water, apply the mixture to your hair, leave it on for up to 15 minutes, and then rinse and condition.
Baking soda and water paste is another natural method for clarifying curly hair. To create the paste, mix 2 cups of baking soda with 1 cup of water, apply it to your hair in sections, let it sit for about 30 minutes, then shampoo and condition to remove the paste and restore moisture. Both of these natural methods can help you achieve cleaner, healthier curls without relying on harsh chemicals.
How Often Should I Clarify My Curly Hair?
You should clarify your curly hair once or twice a month. For your other shampoo sessions, it is recommended to use a co-wash or a sulfate-free shampoo to preserve your hair's moisture. If you feel the need to clarify more often, consider your hair's condition and opt for a gentler treatment like a bentonite clay mask to avoid exacerbating dryness or damage.
How Does Apple Cider Vinegar Clarify Curly Hair?
Apple cider vinegar (ACV) can be an effective cleansing treatment for curly hair due to its mildly acidic nature. It helps remove product buildup, excess oils, and impurities while restoring the hair's natural pH balance, enhancing shine, smoothness, and manageability.
To use ACV, mix equal parts ACV and water, then pour the solution onto your hair after shampooing. Gently massage it into your scalp and hair, rinse thoroughly, and follow up with a conditioner or deep conditioner. Limit ACV treatments to once or twice a month to prevent over-drying your hair, and adjust the frequency based on your hair's condition.
So, there you have it – everything you need to know about clarifying your curly hair. We hope that you found all the information you needed to give your hair the reset it needs to be great. Good luck!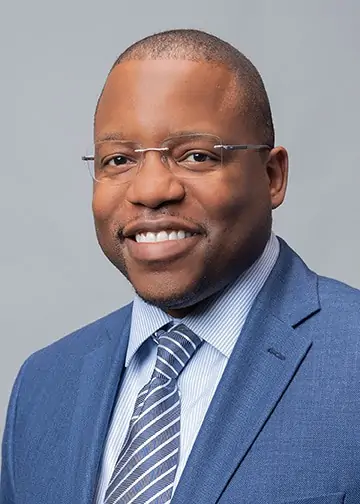 Kenneth Byrd, with a BS in Accounting and Management Information Systems and an MBA from the University of Alabama at Birmingham, has over 15 years of experience and is a recognized authority in hair care. Co-founder of Curl Centric® and Natural Hair Box, Kenneth has dedicated himself to promoting ethical and scientifically-backed hair care practices. Rigorous editorial guidelines, industry recognitions, and features in numerous media outlets evidence his expertise. Kenneth's commitment to transparency, quality, and empowerment has positioned him as a trusted voice in the field, empowering readers to confidently embrace their natural beauty.