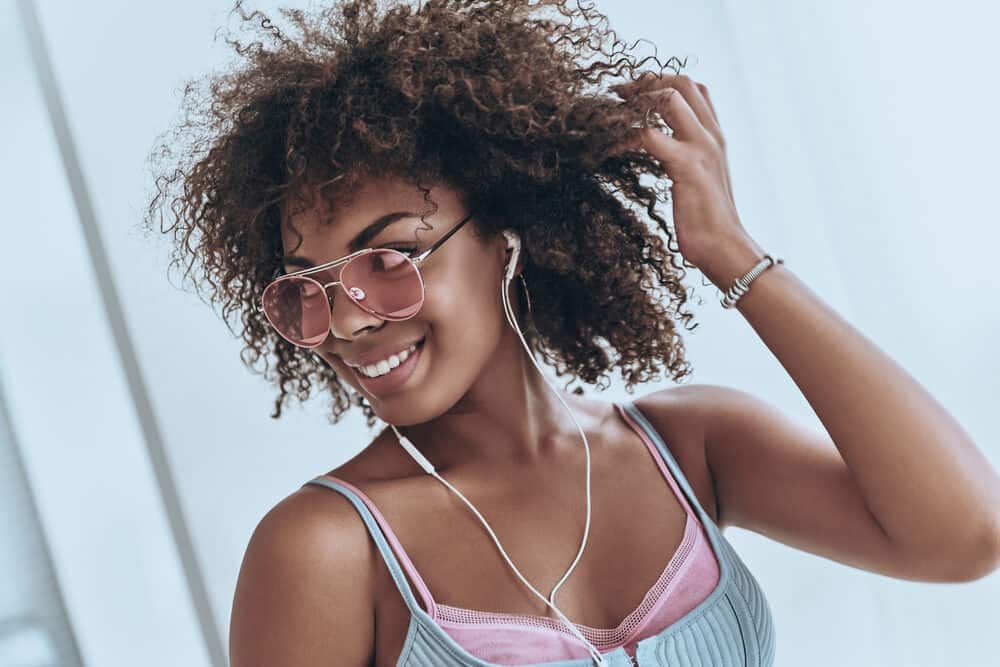 It's everyone's wish to grow beautiful and healthy hair, but the reality is that it takes hard work, discipline, and persistence to achieve your specific hair goals.
Lately, women have been raving about goat milk benefits for hair growth, dead skin cells, dry scalp, damaged hair, and more.
Before we dive into the benefits of goat's milk, it's important to note that eating healthy, regular shampooing, and conditioning are essentials of a good hair care regimen.
As far as hair care products are concerned, many people have been shying away from synthetic shampoos and conditioners made from harsh chemicals.
Nowadays, everyone wants to be associated with natural products, and there are several reasons why this is the case.
Most hair shampoos and conditioners in the market are advertised as natural and healthy, but the truth is that those 'natural ingredients' have been processed and potentially loaded with preservatives. Some of these chemicals can leave your hair brittle, split and may even lead to hair loss.
Using natural oils, soaps, and products is not only good for your body but also for your hair. Many naturally occurring products, both animal and plant-based, have been shown to boost hair growth, heal scalp problems, and stimulate blood circulation.
Goat milk is one of many animal products known to benefit the hair and the scalp in several ways.
Not only does goat milk, similar to cow's milk, contain minerals, but it also contains several vitamins, making it one of the best naturally occurring beauty products.
If you're in a rush, we recommend using Beekman 1802 goat milk products. For example, Beekman 1802's shampoo contains goat's milk, but it's free of parabens, alcohol, petroleum, phthalates, mineral oil, and synthetic colorants. It's also cruelty-free.
They have a complete line of goat milk products that allow you to take advantage of goat milk benefits for hair care, but they also have body creams, bar soap, deodorant, and more.
These products are great for people with sensitive skin. Goat's milk is also a common ingredient in skin care products; click here to see the full Beekman 1802 product line.
Jump to:
Does Goat Milk Make Your Hair Grow?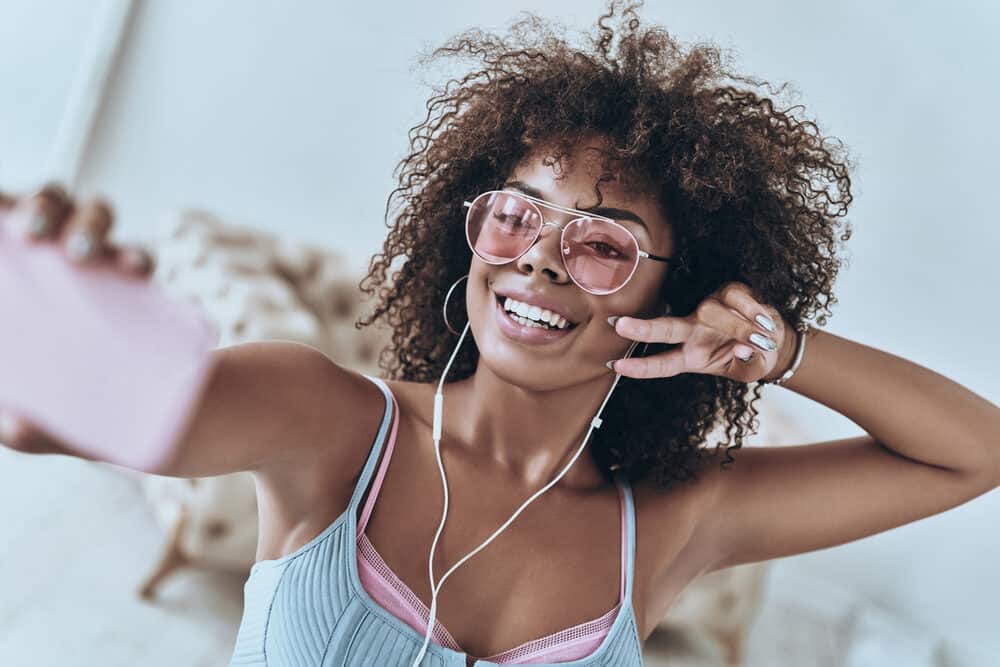 Goat milk as a beauty product has a long history, dating back to the ancient Romans and Egyptians.
Today, people use goat milk with other natural ingredients such as olive oil and honey to further enrich their hair care routine. The magic behind goat milk lies with its ingredients.
So, what exactly does goat milk contain that helps in hair growth?
It has proteins that help in the repair and growth of hair tissues. An example is Casein, which contains glutamine that provides sulfur, a critical component that directly contributes to hair strength, health, and elasticity.
Vitamin B found in goat milk is an essential component needed for healthy hair growth, and the lack of B-vitamins has been linked to hair loss, dull hair, and brittleness of the hair. Additionally, these vitamins help produce red blood cells responsible for carrying oxygen and nutrients to the scalp and hair follicles.
Vitamin A found in goat milk is necessary for the growth of hair cells. It aids in sebum production, an oily substance that helps moisturize the scalp (i.e., natural moisture), keeping it healthy and hydrated.
Both vitamin C and E act as antioxidants that protect against oxidative stress resulting from free radicals that can block hair growth and cause hair aging. Additionally, vitamin C helps create a protein compound called collagen, a critical part of the hair structure.
Iron in goat milk helps the red blood cells distribute oxygen to the hair cells, making it an essential mineral for hair growth. Iron deficiency can cause hair loss, a problem that affects both children and adults of all genders.
Based on the ingredients and the benefits highlighted above, it's evident that goat milk plays an essential role in nourishing, cleaning, and promoting healthy hair growth.
Goat Milk Benefits for Hair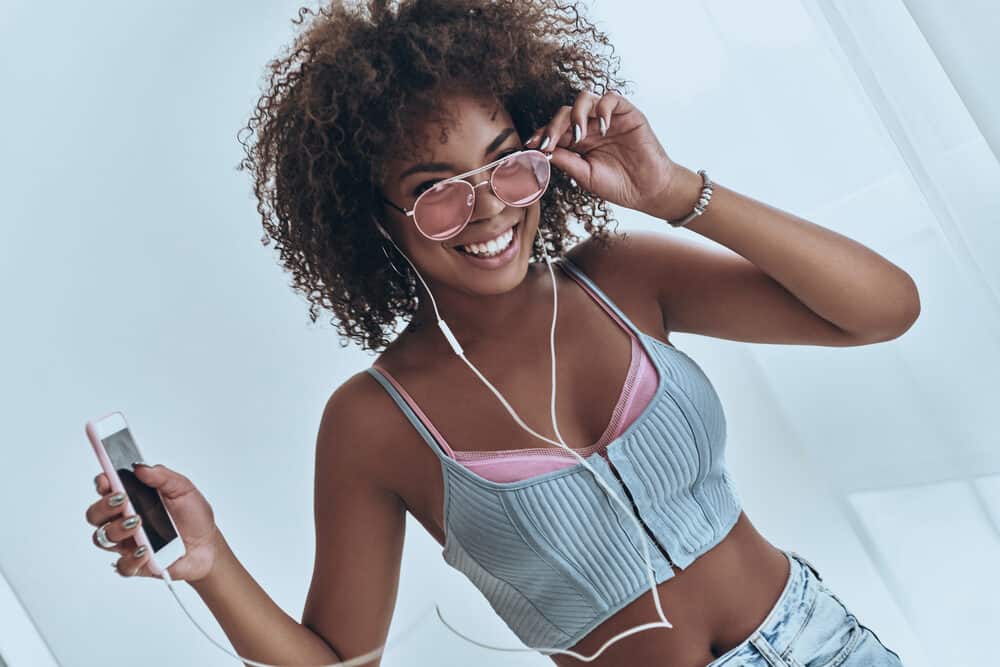 Goat milk is rich in calcium, protein, vitamins A, B2, and D, potassium, phosphorous, sodium, and magnesium. All these ingredients have a role to play in strengthening and maintaining healthy hair.
Regular use of goat milk as a hair care product comes with the following benefits:
1. It Nourishes the Scalp
Most scalp conditions are caused by genetics, malnutrition, or infection. The most common signs of scalp issues include rashes, itchiness, scalp tenderness, hair breakage, scalp patches, hair thinning, and hair loss.
Vitamins found in goat milk, such as vitamins A, B2, and D, and minerals such as iron, work by nourishing the scalp, repairing damage, and improving hair texture and appearance.
Due to its soothing and anti-inflammatory properties, goat milk is also used in alleviating itchiness and dandruff flakes commonly associated with dry hair and scalps.
2. Reduces Hair Breakage and Hair Loss
Hair breakage and hair loss are caused by various factors, from medical conditions, excessive heat styling, poor dieting to dehydration. Fixing hair breakage requires proper dieting and a good hair care routine.
This includes eating healthy food rich in minerals, vitamins, and proteins and sticking to the right shampoos, conditioners, and moisturizers. Goat milk, being a natural source of vitamins, minerals, and protein, offers much more benefits to your hair than the many generic products sold in the market.
There are different causes of hair loss, which ultimately dictates the right treatment. That said, some forms of hair loss are treatable while others aren't as treatable.
Most hair loss treatment options in the market work by suppressing certain hormones linked to hair loss, such as DTH (dihydrotestosterone).
Stopping these treatments means that hair loss will start to progress again. Goat milk, coupled with the other natural ingredients, can help alleviate some forms of hair loss, getting your hair growth pattern back on track.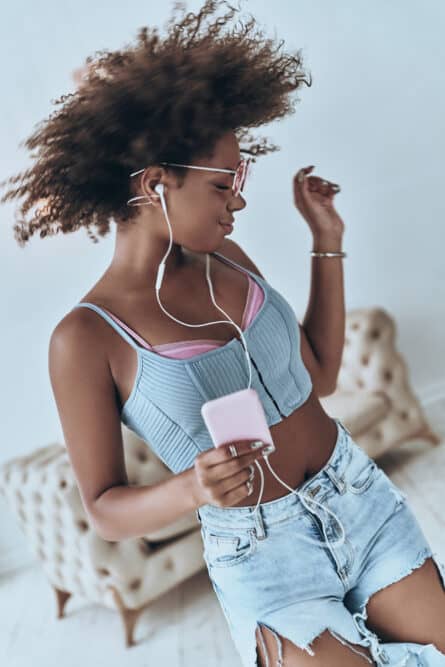 3. Boost the Growth of Stronger Hair
There are all sorts of things you can read about making your hair grow thicker and even faster. The reality is that there's no quick fix to hair growth concerns, and a majority of hair growth techniques do not deliver the results they claim.
Most hair growth vitamins require that you stick with the supplements for as long as you want to keep your hair growing. This makes these options expensive and unsustainable in the long run.
On the other hand, using goat milk with other natural ingredients allows you to maximize the hair care benefits of each ingredient. Similarly, goat milk directly delivers all the essential vitamins and minerals to individual hair strands, helping to grow stronger and healthier hair.
4. Help Make the Hair Soft and Easily Manageable
Goat milk is rich in natural saturated and unsaturated fats, which act as natural hair conditioners. Goat milk can also be mixed with other ingredients to make deep conditioners that leave the hair glowing.
Does Goat Milk Penetrate the Hair Shaft?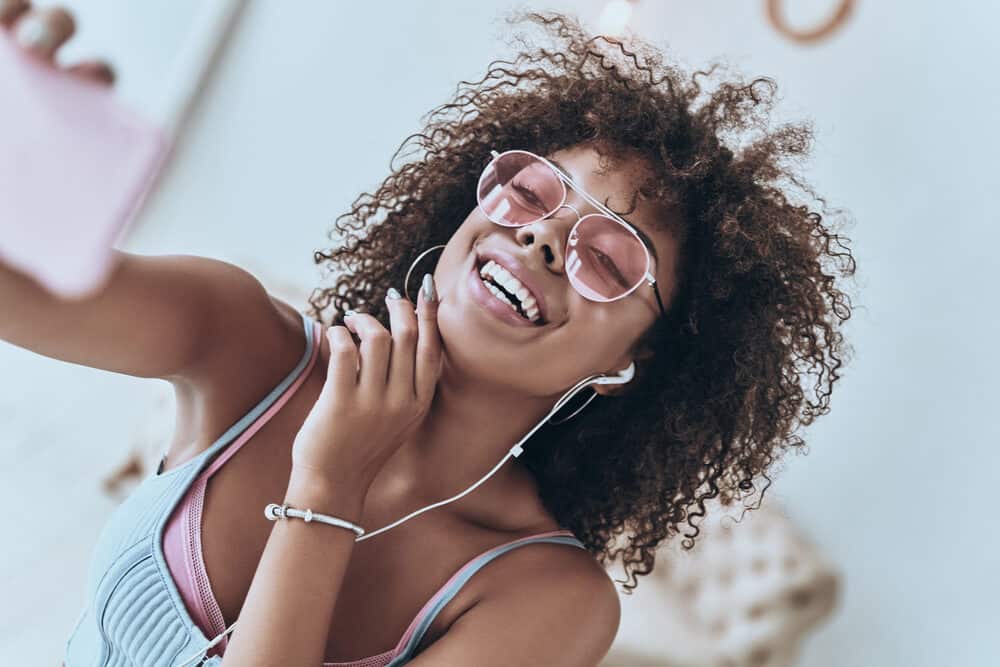 We are all familiar with oils such as olive, coconut, and avocado oil that penetrate the hair shaft nourishing our hair follicle and maintaining the hair from the inside out.
Maybe you are wondering whether or not goat milk penetrates the hair shaft. The simple answer is that goat milk penetrates the hair shaft replenishing the moisture in the scalp and adding luster, life, and nutrients to the hair follicle.
The complex answer is that milk contains fat molecules and proteins. Milk fats contain nearly 400 different fatty acids, making them one of the most complex natural fats.
These fatty acids are also available in oils that penetrate the hair shaft, such as coconut oil, and have been shown to affect the penetrability of oils. The other factors that affect penetrability include chain saturation, oil polarity, molecular weight, and more.
Additionally, goat milk contains amino acids, lactic acid, caprylic acid, and alpha hydroxy acid (AHA), known for its exfoliation and hydration properties.
This means that the scalp and hair shafts benefit directly from this acid, helping to restore moisture in dry locks of hair and stimulating healthy skin (i.e., on your scalp) and strong hair.
How to Use Goat Milk for Hair?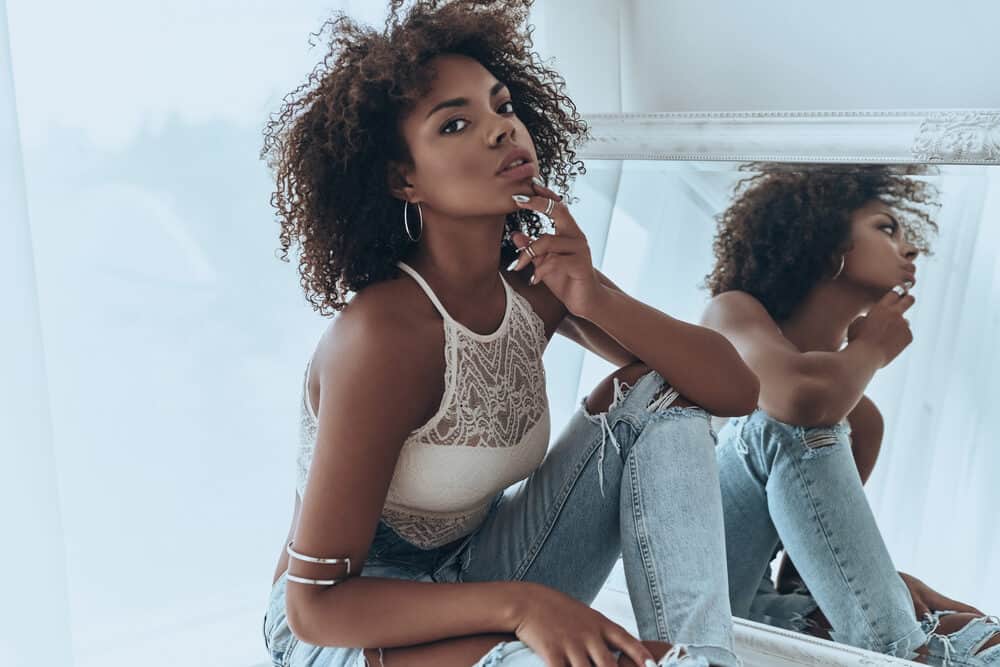 Goat milk with other natural ingredients and essential oils can make hair growth shampoos, hair loss mask recipes, or scalp nourishing sprays. You can also drink goat milk to enrich your diet with vitamins, proteins, and minerals, which will similarly benefit your hair.
If you are looking for ways to use goat milk to boost hair growth, alleviate scalp issues and reduce hair breakage and hair loss, below are some goat milk hair recipes you can try.
Goat's Milk Conditioner Recipe
Ingredients:
1/4 cup of goat milk
1/2 tablespoon of jojoba oil (organic)
1/2 tablespoon of olive, grapeseed, or avocado oil (feel free to use any of your favorite carrier oils).
1 full dropper of rosemary oil. You can also use tea tree oil or eucalyptus oil.
One-half tablespoon of organic honey
One-half teaspoon of guar gum
Directions:
Warm the goat milk to room temperature, then add all the ingredients (in no particular order).
Stir the mixture for 15 to 20 minutes until you get a fine consistency.
Wash your hair and scalp with a mild shampoo and rinse it off.
Apply the goat's milk conditioner to your hair and spread it evenly.
Run a wide-tooth comb or your fingers through the ends of your hair.
Style your hair as usual, and you are good to go.
Note: Do not use the conditioner on your scalp, as this will make the hair roots oilier. The work of the conditioner is to hydrate your hair, not the scalp, and it should be applied somewhere from the mid to the end of your strands.
Goat Milk Shampoo Bars (or Goat Milk Soap)
If you want to add a new addition to your usual hair care routine, you should try out a goat milk shampoo bar. Unlike the synthetic shampoos made of harsh chemicals that might irritate your scalp, this DIY goat milk shampoo bar is a gentle cleanser made of 100% natural products that will only work to benefit your hair.
Ingredients:
8 ounces (227 grams) of frozen goat's milk, approximately 1 cup of milk
0.5 ounces (14 grams) of distilled water
4 ounces (113 grams) of sodium hydroxide
10.5 ounces (298 grams) of coconut oil or olive oil
4 ounces (113 grams) of castor oil
7.5 ounces (213 grams) of coconut oil
3 ounces (85 grams) of sunflower or sweet almond oil
3 ounces (85 grams) of mango or shea butter
1.2 ounces (35 grams) of lavender oil (You can also substitute lavender with your favorite essential oil.)
Tips: From the ingredients list, you'll first need to freeze the goat's milk then weigh all the other ingredients. Where you'll need to make substitutions, always do proper research to make sure you are not impacting the quality of the end product.
If you are allergic to any ingredient, it's best to replace that ingredient with (an equal amount) a close substitute. For instance, people allergic to coconut oil can use the same amount of extra virgin olive oil.
Directions:
Put the frozen goat's milk and distilled water in a stainless bowl or heavy-duty plastic.
Sprinkle a small amount of sodium hydroxide over the frozen milk as you stir after each addition.
Melt shea butter and coconut oil before adding them to the bowl.
Add the other oils and continue to stir for about 10 minutes.
Using a stick or immersion blender, mix the soap until you achieve a thick consistency.
Add essential oils, and then stir for the next 5 minutes.
Put the soap into a mold and choose to either keep it at room temperature or inside a refrigerator for 24 hours.
Note: If keeping the mold at room temperature, cover it slightly with a towel or wax paper, and keep checking to ensure it doesn't develop any cracks. If it starts to crack, move it to a cooler place.
For the refrigerated mold, move it back to room temperature after 24 hours, and allow it to cool for another 24 to 48 hours before unmolding. You are then ready to slice the soap into bars for use.
Once you've cut the bar into sizable pieces, you can then use this homemade goat milk shampoo bar instead of commercial shampoo. The benefits are unlimited, from nourishing your scalp to leaving your hair shiny and stronger.
If you have curls, this shampoo bar will make your curls sculpted and help control frizz. Due to its gentle nature, it will further help moisturize the skin, relieving you of dandruff, rashes, and several other scalp and skin conditions.
Put on your protective eyewear and gloves while preparing this shampoo soap since sodium hydroxide is a potentially dangerous substance.
If you accidentally drop this chemical on your skin, flush it continuously with running water for at least 60 minutes. In case it splashes into your eyes, quickly consult your doctor as it can lead to severe burns.
Conclusion
Goat milk isn't only an ideal and nutritious drink for the entire family, but it's also an excellent addition to other natural hair care products for DIY recipes.
As an excellent source of vitamins and minerals, goat milk works perfectly with most organic ingredients and can be used on all hair types. Whether you want to make a goat milk conditioner, a shampoo, or a hair growth mask, the benefits of goat milk make it one of the most interesting dairy products.