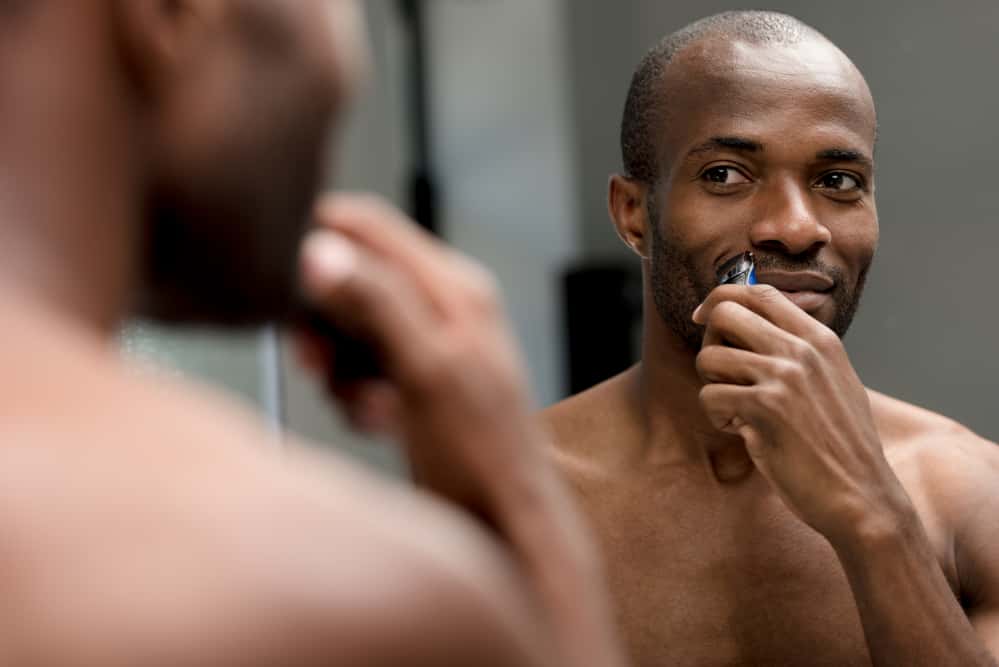 Are you having trouble finding trimmers that will work on your black hair? This is understandable, considering that black hair can be curly, coarse, kinky, and challenging to cut.
Add to that the fact that not all trimmers are sharp enough to cut through black hair. Regardless, finding the best trimmer is crucial regardless of whether you're a barber or someone who wants to attempt DIY haircuts.
The 7 Best Trimmers for Black Hair
In this article, we'll review the 7 best trimmers for black hair for edge-ups, facial hair, and much more!
1. Bread Trimmer by Bevel: Best Overall Trimmer
The Bread Trimmer by Bevel is an excellent option you should consider for your hair trimming needs. These highly-rated hair clippers feature a soft-touch grip, sharp blades, and a custom-faceted design that allows you to hold the trimmer comfortably when cutting your hair or grooming your beard.
As a black man, the CEO of this brand found it challenging to find a good trimmer for his beard, one that didn't cause him irritation and bumps.
If you're big on supporting black-owned businesses and you have sensitive skin, then the Bevel trimmer is a good choice for you.
It's the trimmer that I use multiple times per week, and it's easily one of the best clippers for black men on the market. Plus, it's a cordless trimmer.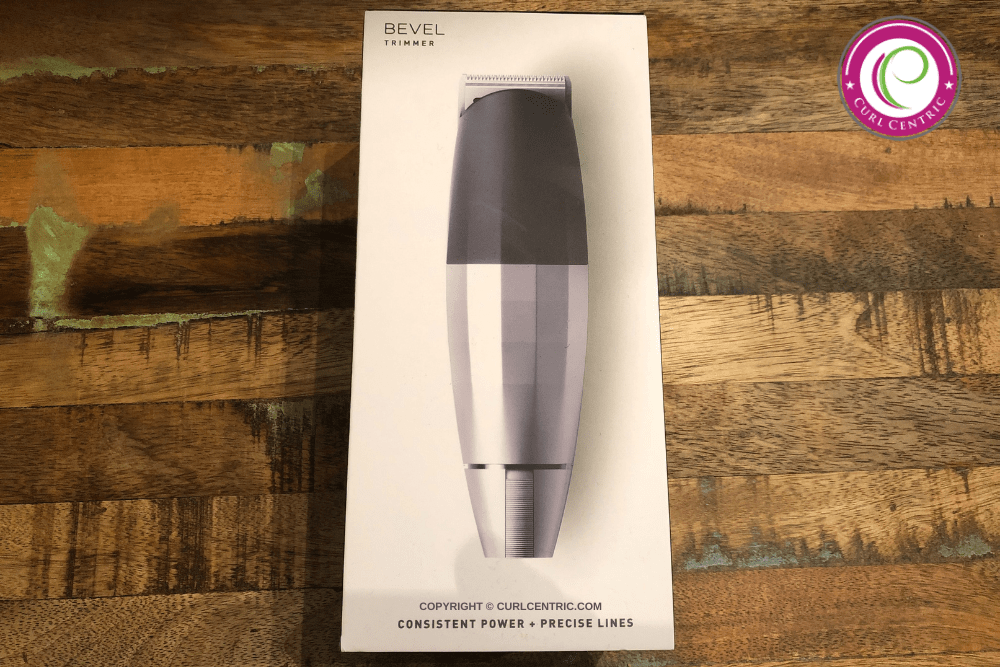 This trimmer features a fast, tool-free adjustment – you don't need a screwdriver to adjust the sharpness. Instead, you'd use the Bevel Dial.
This trimmer gives you a smooth shave with fewer bumps and ingrown hairs and less skin irritation due to its antimicrobial blade. It also helps reduce bumps and dark spots.
The blades are designed specifically for black hair, so you can rest assured that you'll get a grooming experience tailored especially for your skin and hair type.
The Bevel Trimmer is also rechargeable and cordless, boasting an impressive 8+ hours of cordless power. When it comes to cleaning the unit, the Bevel delivers.
It is easy to clean because the blades resist dirt, oil, and buildup. You can wipe the trimmer down with a moist towel for a quick clean or use a brush to thoroughly clean the blades.
Here are some of the pros and cons you should be aware of:
Pros
It stays cool to the touch.
Great for afro beard and black skin.
Long-lasting battery life.
It features a 360-degree non-slipping design for a better grip.
It has an antimicrobial blade.
Cons
It's priced on the higher-end of the market.
Although, this cordless clipper is worth the money and provides a smooth shave with its powerful motor that you don't get with lower-cost trimmers.
2. Manscaped Lawnmower 3.0: Best Waterproof Trimmer
The Manscaped Lawnmower has made it onto our list as the best waterproof trimmer. It might surprise you just how many accidents lead to your trimmer falling inside water, ruining it for good.
A waterproof design is what's lacking in most conventional modern trimmers, but that's not all that's good about the Manscaped Lawnmower.
This third-generation Manscaped Lawnmower trimmer features soft ceramic blades coupled with an advanced Skin Safe Technology that is supposed to make the trimming experience more comfortable.
The great thing about ceramic blades is that they can easily slice through coarse hair, making it a great pick for black hair. The trimmer was designed to keep your face and manhood looking trim, tidy, and clean.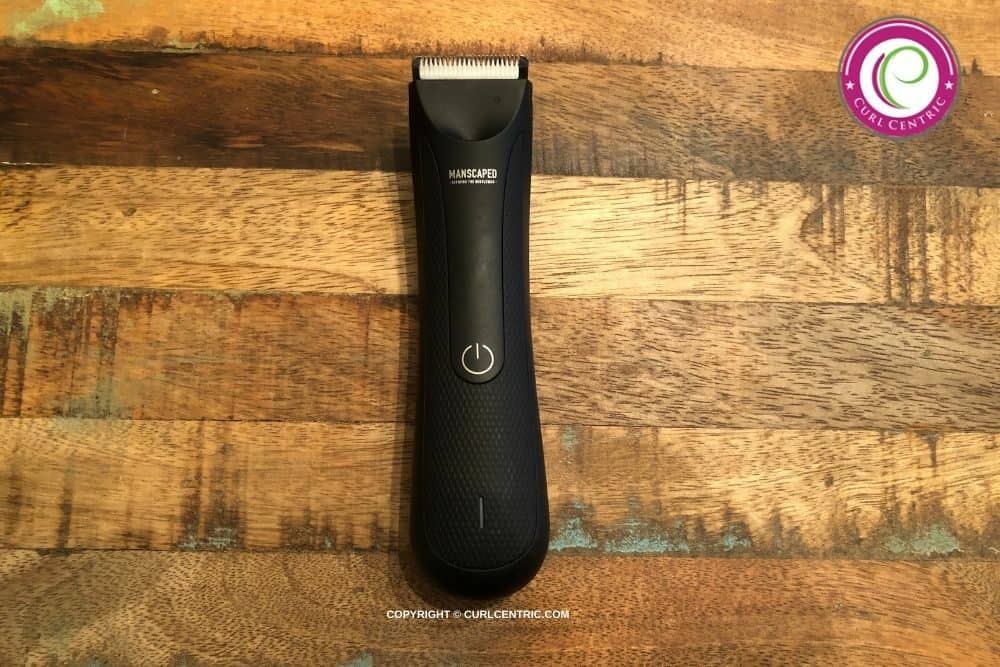 Apart from its waterproof feature, the Manscaped Lawnmower 3.0 is ergonomically designed with a curved shape and a secure grip that allows for no-slip operation.
The design will enable you to easily maneuver when you're trimming, even when your hands are wet. So, you can shave your legs, neck, chest, and other parts of your body without dropping the trimmer.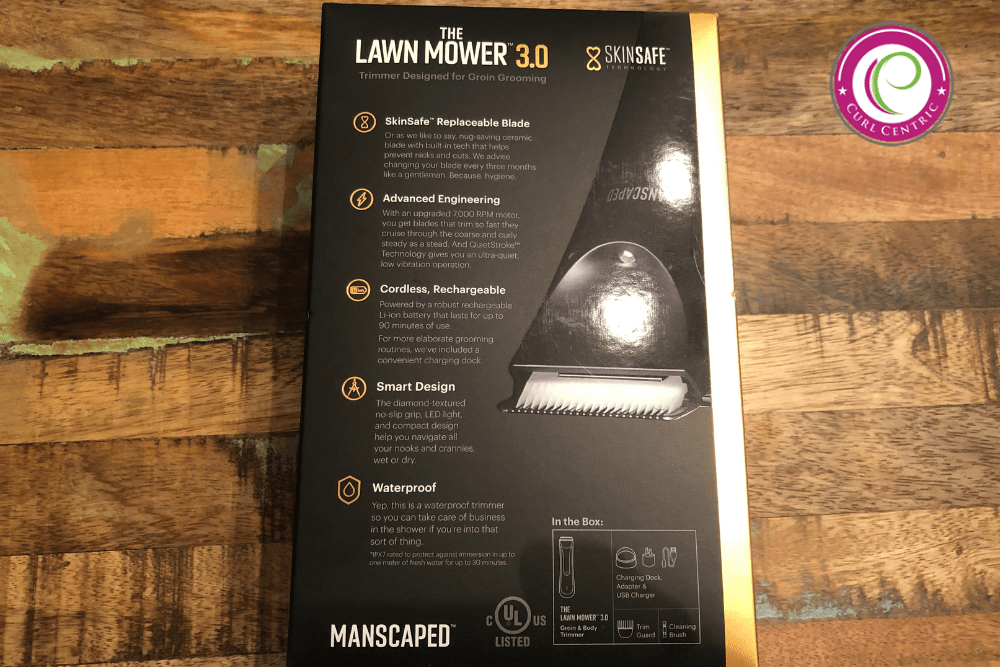 The Manscaped Lawnmower features a 7,000 RPM motor with QuietStroke Technology, so rest assured there's no annoying buzzing sound as you trim. Being that it's waterproof, it's cordless and rechargeable – it'll run continuously for 90 minutes on a full charge.
Because the product is waterproof, you can use it in the shower and use water to clean off your hair before continuing your shave.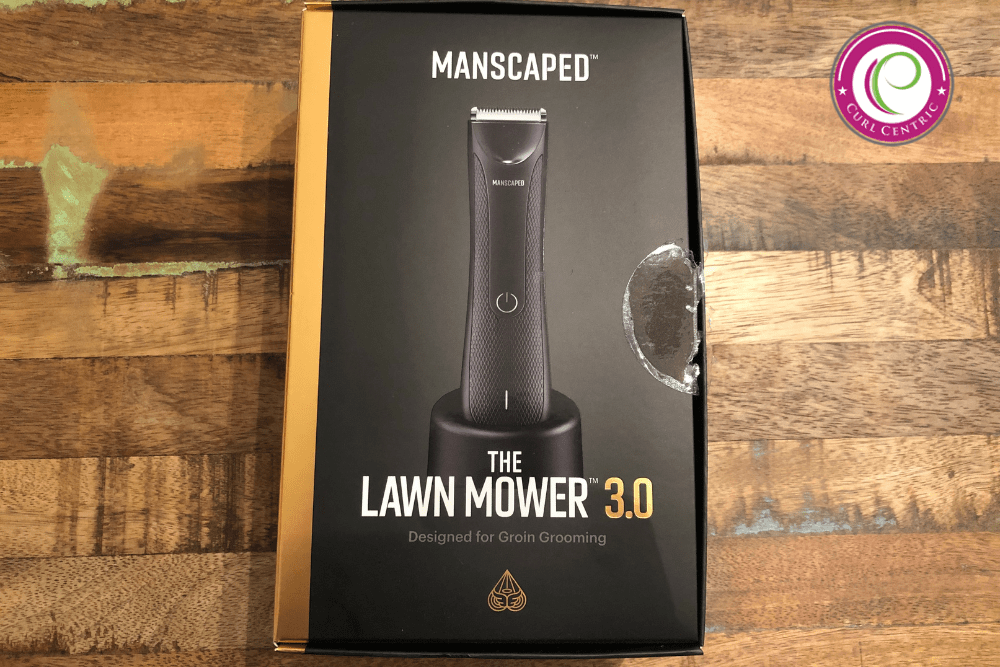 Here are some of the pros and cons you should be aware of:
Pros
You can use it in or outside of the shower.
Its design allows for a firm grip to minimize the chances of dropping it while it is in use.
The product includes a trimmer, guide comb, adapter & USB charger, charging dock, and a cleaning brush.
It can run for more than an hour on a full charge.
It has a cordless design that allows you to trim on a whim.
Cons
Some customers also state that it doesn't trim close enough to the skin. Keep this in mind as you choose your next trimmer.
3. WAHL Professional Magic Clip Hair Clippers
The Wahl Professional Magic Clip is a great option if you need a trimmer that can stand up to black hair. It will provide you with a clean and neat appearance for both DIY and professional cuts.
As you run these blades through your hair, the trimming speed does not decrease, and this means no snagging or pain during the trimming process.
The blade guards also help reduce the risk of injuries, staying put as they glide through thick hair. This makes them ideal for black guys who want to cut their hair at home or anyone with little black boys in their family.
Furthermore, the WAHL Professional Magic Clip is driven by a rotatory, electromagnetic motor that keeps the trimmer relatively quiet.
In addition, it has high-tech stagger-tooth blades – these incredible 2161 blades make a distinct sound when cutting hair, which makes it easier to know when you've got a perfect blend.
The WAHL Professional Magic Clip is lightweight and easy to use, weighing only about 10 ounces. The power switch is located on the side and can be activated with one hand.
This feature makes the trimmer easy to handle. It also comes with six combs, a brush, a lubricant, and a charger. It has corded and wireless capabilities and a lithium-ion battery that can run for 90 minutes straight when fully charged.
The Professional Magic Clip is our best overall pick because of its great features. It will deliver a crisp and efficient performance even for black hair, no matter how you plan to style it.
Here are some of the pros and cons you should be aware of:
Pros
Great battery life
Good fading ability
Low noise output
High-quality blades that don't require rigorous maintenance.
Six combs for a wide range of styling options.
Cons
Blades may rust quickly
Some state that the battery life diminishes after a while
Customers affectionately state that these trimmers are high-quality and great for DIYing. They also state that they can save money by skipping the barbershop.
A few not-so-happy customers stated that the trimmers are not powerful unless the unit is plugged in and has missing parts.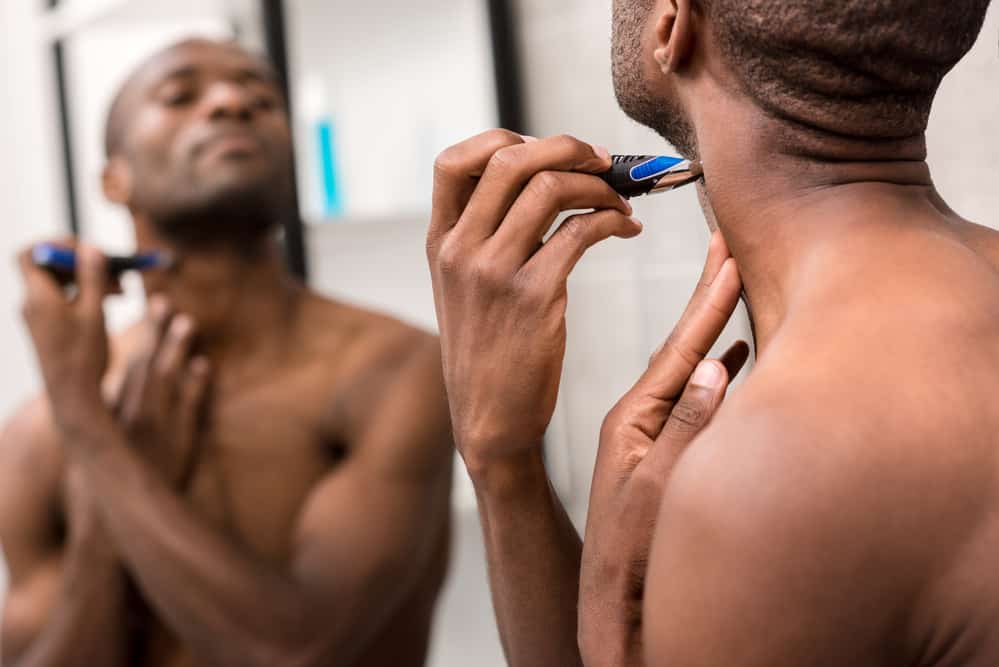 4. Wahl Color Pro Trimmer: Best for Black Kid's Hair
When it comes down to selecting a trimmer for black hair, the Wahl Color Pro Trimmer is another great option. This trimmer is popular among typical households because it's good for both children and men.
To start with, the WAHL COLOR PRO trimmer includes a barber's comb, scissors, and a styling comb. A polishing brush, blade oil, and a blade guard are also included. In addition, it comes with an ear trimmer and tapers for your left and right ears.
Each guard is color-coded, which isn't a must, but it makes it easier for newbies and youth to keep track of which guards they regularly use.
The trimmers are made with durable, sharp stainless steel blades that cut thick hair effectively and are easy on the scalp. They rarely leave knicks or injuries. These aspects make the trimmers good for kids.
The trimmers are a little heavy, as with other Wahl trimmers. Because of this, they can be difficult to handle with one hand.
However, the engine is relatively strong, and there shouldn't be any issues achieving any hairstyle you desire.
The Wahl Color Pro is intended to be used cordlessly; however, you can use it while it's on the charger. Its cordless capability gives you the freedom to cut your hair anywhere you want, without being constrained by cables or plug outlets.
After charging, it can run for up to one hour.
Here are some of the pros and cons you should be aware of:
Pros
The blades are made of stainless steel and cut thick hair easily.
It features worldwide voltage, so it can be used anywhere.
Great for kids' hair.
The blades are detachable, making them easy to clean.
Cons
They are heavy.
It tends to get hot during use.
Customers love these trimmers because they cut hair smoothly and easily. They also state that they love how the trimmers come with so many great attachments. But on the other hand, a tiny fraction of customers stated that the battery was weaker than expected.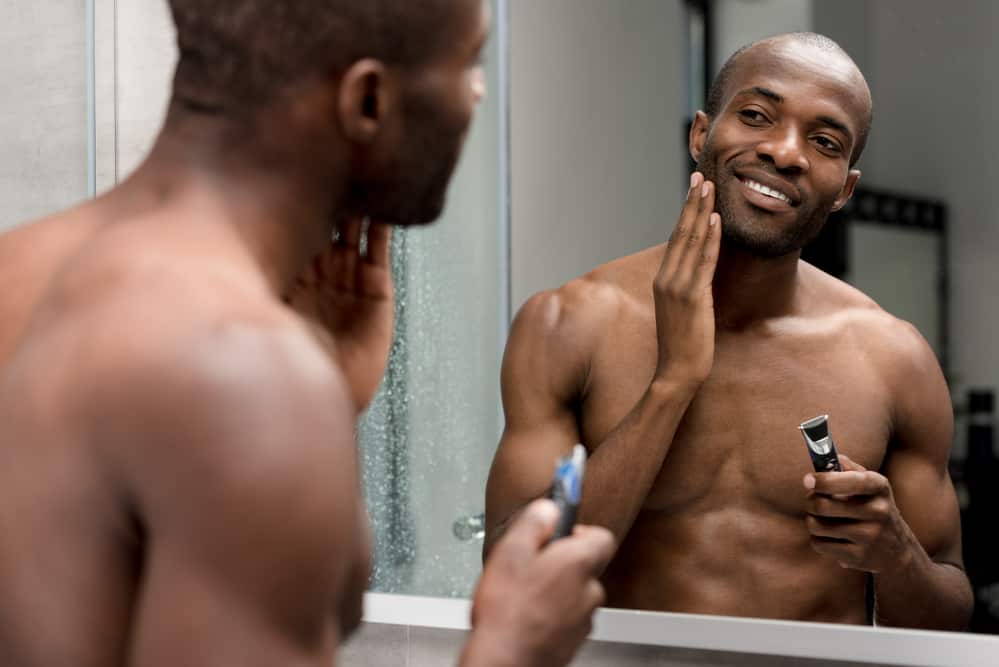 5. Andis Professional Master Trimmer: Best for Durability
This is the hallmark trimmer of a company that has been in business for over 80 years, Andis. The first thing you'll notice about this trimmer is its sleek appearance, but it's much more than a pretty piece of equipment – the metal body of the Master is virtually indestructible.
It's excellent for those who live with young people who tend to be a bit reckless. You don't have to be worried when the Andis Master falls on the floor because of its very sturdy build.
It is the sturdiest trimmer for black hair. If this gadget slips from your grasp, chances are it'll be perfectly fine.
This trimmer features quality blades that are a must for thick, coarse hair. The blades are constructed of unique, rugged, and robust carbon steel that can cut through both wet and dry hair. You get fast, high-quality haircuts without having to go over the same areas over and over.
The Andis Master's superior electromagnetic engine, which operates at a rate of 14,000 strokes per minute, packs a punch! The blades, which are precise in their cuts, should not cause unwanted irritations and bumps.
It's also one of the finest fading trimmers. The blades adjust from 000 to 1.
When you consider other modern trimmers, the adjustable side lever has an incredible range. You're sure to get a good fade from the adjustable blades.
The Andis Master isn't the most lightweight of trimmers, and it tends to get a bit hot after constant use. Of course, you can cool it down, but this is something to consider. It also has a cord/cordless feature.
Here are some of the pros and cons you should be aware of:
Pros
It has a durable design.
Its adjustable blades allow for the best possible fading.
Lithium-ion battery offers over 90 minutes of continuous run time and charges in just 1 hour.
High-speed rotary motor with blade speeds over 7,200 SPM.
Cons
It's not lightweight.

It tends to get a tad hot.
Some customers report that they are beautiful to look at, and they cut through hair like a dream. Others state that they are just way too expensive.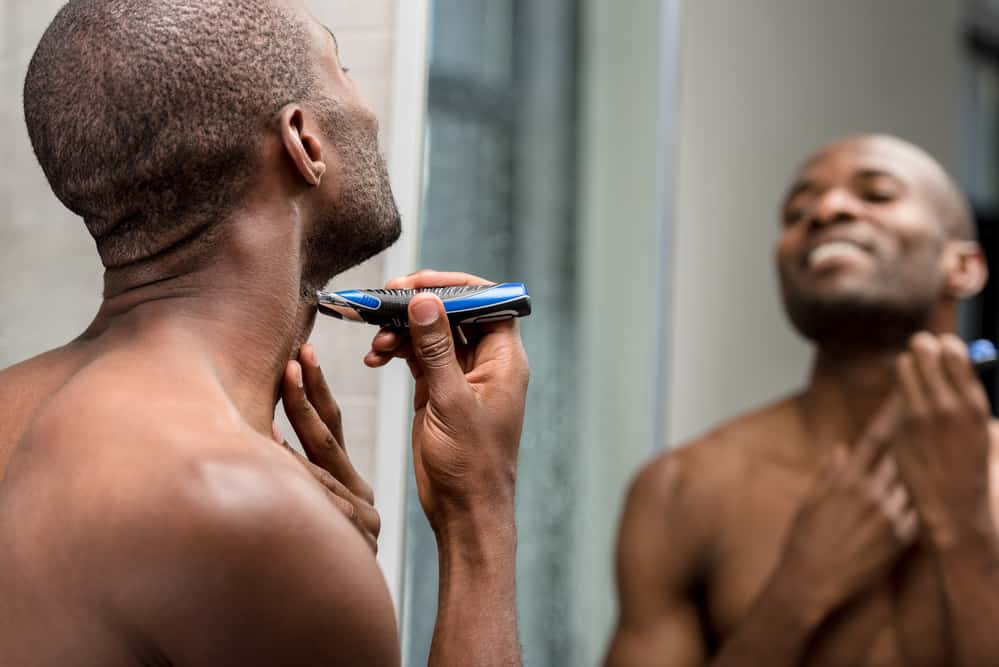 6. OSTER Fast Feed Adjustable Pivot Motor Clipper– Best Corded Trimmer
The Oster Fast Feed is another trimmer that is great for black hair. This one is different from the other trimmers on our list, as it has a Pivot Motor.
This motor is mainly intended to reduce noise and heat while still providing you with enough power to cut through even the thickest, coarsest hair. The trimmer blades are of typical Oster quality — they are long-lasting, robust, and sturdy.
The trimmer's design is retro with a brilliant burgundy casing. It just weighs one pound, which is great for one-handed trimming. Aesthetically, it is a well-designed piece of equipment.
This trimmer set comes with several items, including a blade guard, blade oil, and a brush. The trimmer also has four combs of varying lengths and a short blending comb to make it easy to fade and blend your black hair.
Here are some of the pros and cons you should be aware of:
Pros
Quality trimmer with durable blades and a strong motor.
Aesthetically pleasing look.
Ergonomic custom design.
Textured casing allows you to have a secure grip.
Cons
The blades aren't sturdy and could break easily.
The trimmer is not cordless; it has an eight-foot-long professional cable.
According to customer reviews, the main disadvantage of this trimmer is that its combs are not very durable (when compared to other types) and may break under rough use.
Aside from that, the Oster Fast Feed is a long-lasting and dependable trimmer that will work well no matter how thick or curly your hair is, making it one of the finest trimmers for black men's hair!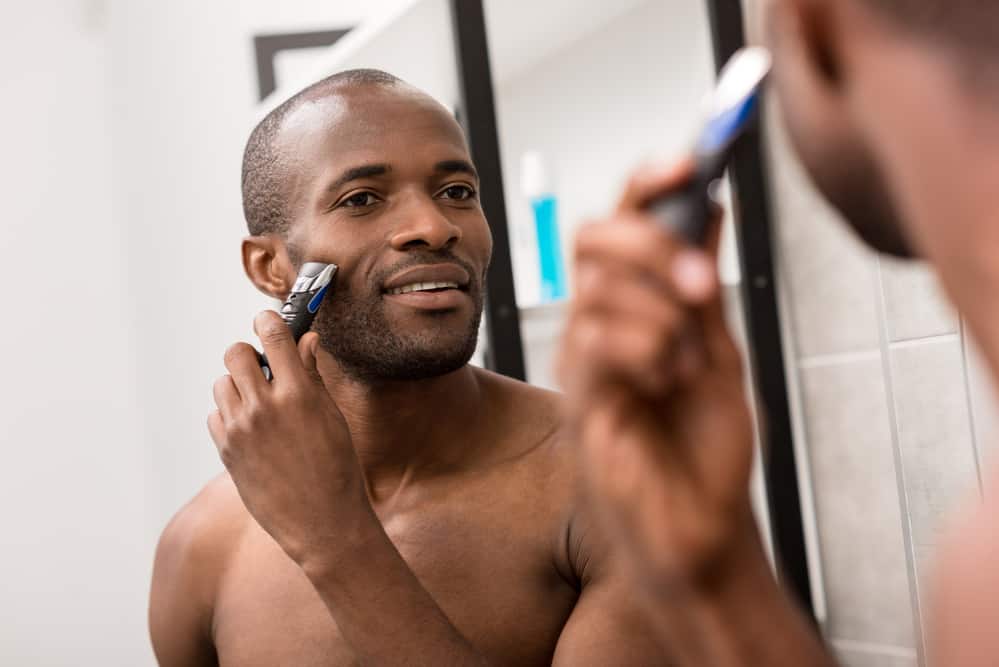 7. Wahl Chrome Pro Haircutting Kit- Best DIY Trimmer
The Wahl Chrome Pro Haircutting Kit is a great trimmer for black hair. It comes with an adjustable taper lever which guarantees perfect fading and blending for your hair.
Due to its self-sharpening carbon blades and a heavy-duty motor, you don't have to worry about pulling or snagging, even if you have extremely thick hair. This product is perfect for total body grooming, so use it wherever you please.
The Wahl Chrome Pro Complete Haircutting Kit includes 24 components along with the trimmer, including:
Trimmer blade cover
13 attachment guards
two hair combs
Scissors
two hair clips
a barber's cape
And more!
Here are some of the pros and cons you should be aware of:
Pros
It comes with a 5-year limited warranty.

It features a power drive heavy-duty motor.
It has an attachment guard that allows it to glide smoothly.
Cons
The blades tend to get a bit rusty.
It's not as durable as higher-priced trimmers.
According to customer reviews, the trimmers have a strong motor with an impressive amount of power. Dissatisfied customers, which make up about 5% of reviews, state that the trimmers rusted to the point that they couldn't be used.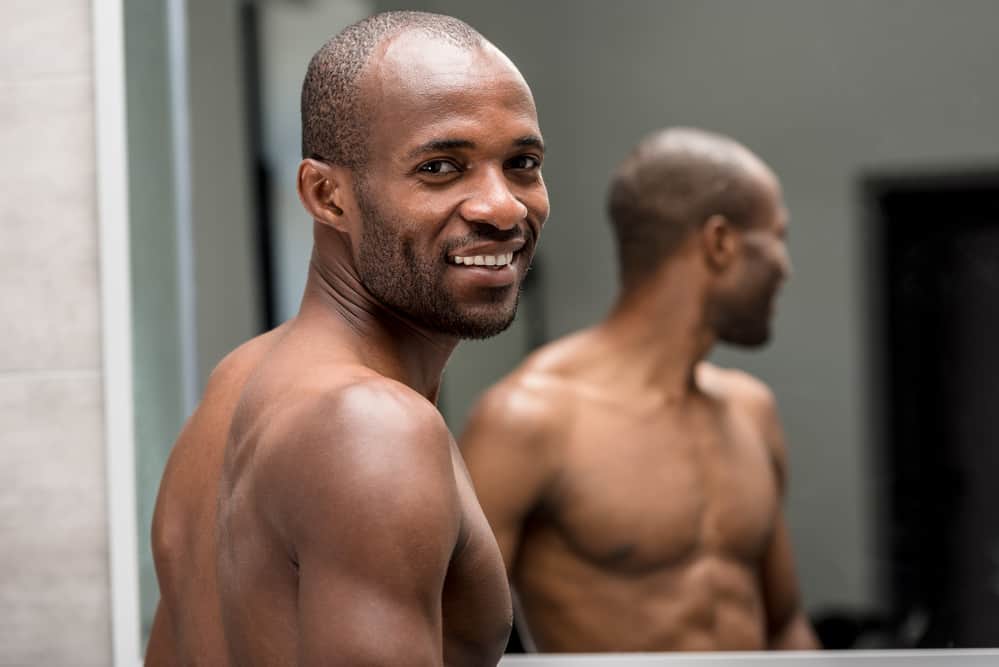 Conclusion
As a black man with textured hair, you need a proper trimmer. Whether your hair is kinky, curly, or coarse, you're going to have to make sure that your trimmer is up for the job – and you can't go wrong with any of the trimmers on our list. We hope that this buyer's guide makes your search for the perfect trimmer a little bit easier.