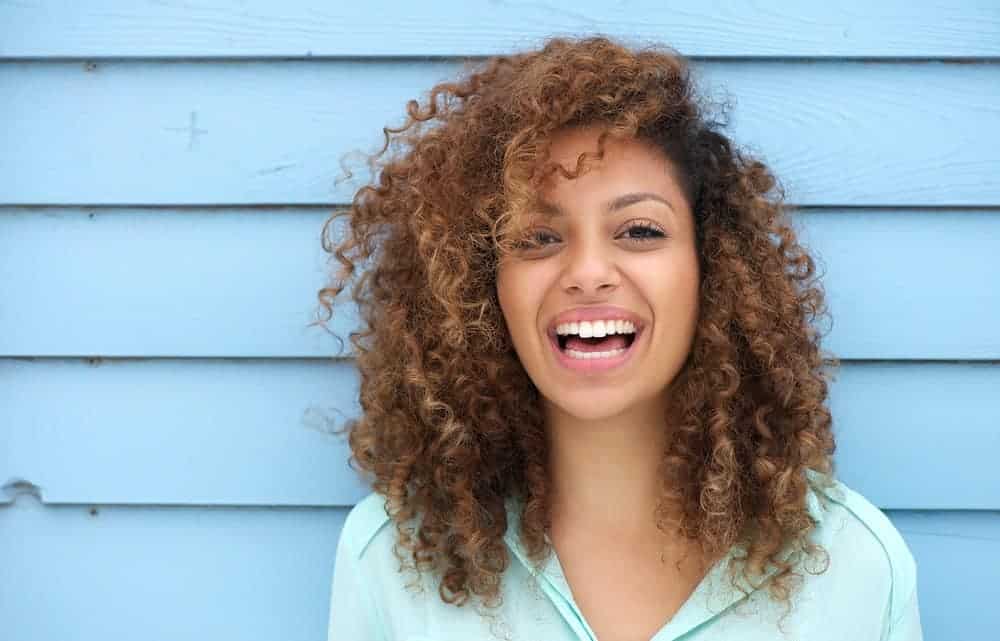 One common misconception about hair loss is that it's strictly a male disease. The fact is in the United States women make up 40% of hair loss sufferers.
Hair loss for a woman can be devastating because it can crush self-image and destroy well-being. The biggest problem here is that these women often suffer in silence.
When a man loses his hair, it is widely acceptable for him to go through the hair loss process. Hair loss in women is often ignored, like it does not exist.
Since hair loss isn't life threatening, some physicians won't even treat it. Some doctors tell their female patients, "you'll just have to live with it." Or, "it's not a big deal.
These physicians do not realize the psychological damage caused by hair loss. A female feeling unattractive is serious. Eventually, the emotional strain of hair loss can take a toll on your physical health.
The Best Shampoo For Hair Loss:
Curl Centric recommends
PURA D'OR
, a 100% natural, premium anti-hair loss shampoo that is an effective solution for thinning hair. The product is gluten-free and doesn't contain sodium lauryl sulfate or parabens.
Different Types of Hair Loss in Women
Hair loss can be short-term or permanent. Short-term hair loss can be corrected if the underlying cause is determined and fixed. When the cause of temporary hair loss is improperly diagnosed, the result could be permanent hair loss.
The most frustrating aspect of this process is the potential misdiagnosis. If some issues are caught early enough, they can be corrected.
The following information is designed to you identify potential hair loss causes. This information isn't intended to replace the proper diagnosis of a medical professional.
It simple means terms alopecia means abnormal or excessive hair loss. Whether you're a man or woman, alopecia is often a signal to the body that something is wrong.
Hair loss could be the result of you suffering from a disease or hormonal imbalance. It could also be the result of your body fighting off an attack of some sort.
The problem could be nothing more than you having a gene that makes you more susceptible to female pattern baldness. The problem could also be more complex resulting from other significant diseases.
Luckily for you, the hair loss could simply be a result of a temporary event. Some common hair loss triggers are pregnancy, hormonal medications, and high levels of stress.
In these type events, your hair will usually grow back in time once the concern has passed.
Hormones, diseases, and certain medications can interrupt hair growth patterns allowing synchronous shedding to occur.
Once you identify and deal with the event, your hair will usually return to the normal growing pattern in time. Unfortunately, hair loss can become a life-long struggle for many women.
Common Hair Loss Causes in Women
Androgenetic Alopecia – Women who suffer from androgenetic alopecia will notice thinning patches of hair on their scalp in several locations.
Unlike men who have distinct patterns of baldness, when this affects women, it is the result of excess androgens. These male hormones are usually present in very trace amounts so an increase can trigger the loss of hair.
Androgenetic Alopecia can be triggered due to some factors like ovarian cysts, pregnancy, menopause, or high-index androgen birth control pills. Heredity can also play a big part in this disease.
Telogen Effluvium – After the body goes through a traumatic event like a major surgery, malnutrition, childbirth, or severe infection, approximately 90% of the growing hair (anagen), or resting hair (catagen), can make a major shift to the shedding (telogen) phase.
Usually six to nine weeks after that stressful event the telogen phase starts. It is not uncommon to lose handfuls of hair at a time when telogen effluvium is at the peak.
Full remission is possible if these type events are not consistent. However, the telogen effluvium can also persist for years even without understanding what triggered the event.
Anagen Effluvium – The anagen effluvium will occur if something happens to the hair follicles preventing metabolic or mitotic activity. This particular hair loss in women is usually associated with chemotherapy.
The reason for this is because the process of chemotherapy attacks and divides cancer cells in your body, but a side-effect is the hair follicles can be significantly affected.
During your anagen phase after chemotherapy, it is not uncommon for women to lose up to ninety percent of their hair as a result.
The hair shafts become fractured, arising from damage to the matrix, and eventually, these hair shaft fractures cause the hair loss.
Traction Alopecia – Defined as trauma to the hair follicles, traction alopecia is a result of constant tight hairstyles like cornrows, tight braids, faux locs, and extensions. When this condition is detected early enough, your hair will begin to grow back.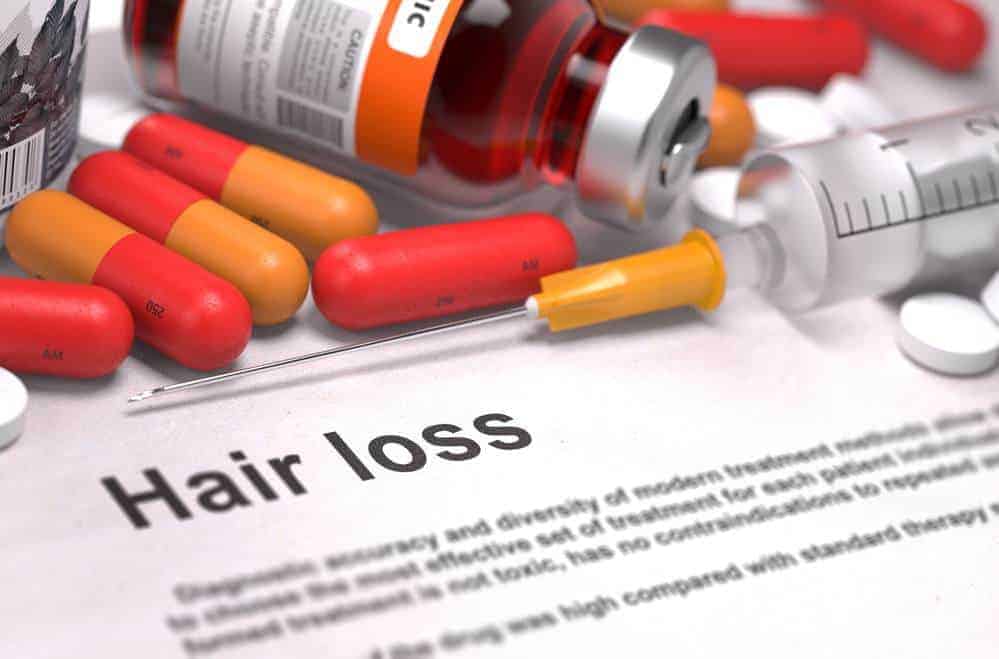 Oral Contraceptives – For over fifty years, oral contraceptives have widely become one of the most popular forms of birth control. Millions of women every year get prescribed the pill, yet very few women are aware that oral contraceptives can trigger hair loss.
The pill will suppress ovulation by combined actions of progestin and estrogen hormones, or in many cases just the hormone progestin by itself.
Women that are hypersensitive to hormonal changes or are predisposed to hormonal-related hair loss could lose their hair while on the pill, or for an extended time after they stop taking the medicine.
According to the American Hair Loss Association, oral contraceptives are an efficient and safe form of birth control.
They recognize that the pill does have many health benefits. However, the American Hair Loss Association believes it's important that all women be made aware of the potentially devastating side-effects associated with oral contraceptives and hair loss.
Treatments for Hair Loss in Women
When it comes to treatments for androgenetic alopecia, women are basically in a catch-22 position.
While many drugs and shampoos can help with hair loss for women, many medical professionals are reluctant to prescribe these products.
Some doctors are hesitant to prescribe a systemic treatment unless they know for sure that the hair loss is a result of excess androgen or a sensitized response to normal amounts of androgen in the body.
These systemic treatments are nothing more than a form of internal treatment that will affect the entire system as a whole.
These treatments can lower the body's androgen levels, so physicians usually opt for the safer topical treatments that are applied directly to the scalp.
While the FDA has not yet approved many drugs for treating hair loss, some drugs have been approved for other applications.
The FDA has been adamant that consumers need to conduct the necessary due diligence required prior to purchasing potentially misleading hair growth products.
The following list of hair growth shampoos are products that are currently being marketed to help treat hair loss in women.
Instead of declaring one product as the best shampoo for hair loss, we understand that the results you experience with a particular product may vary widely from the results experienced by someone else.
While results will vary, these hair growth shampoos have helped many women with their hair loss.
What's the Best Shampoo for Hair Loss?
With the vast number of hair loss shampoos on the market, it's very difficult for us to appropriately test all of them and declare one product as the best shampoo for hair loss.
Instead, we've compiled a list that includes our 10 hair loss shampoos based on a number of factors, including price, social proof, and ease of use. Note that the shampoos included in the list are not listed in any particular order.
1. PhytoWorx Organic Shampoo – Hair Loss Shampoo for Recovery and Regrowth (Contains Grape Seed Extract)
The Phytoworx Organic Hair Growth Shampoo utilizes plant-based ingredients like tea tree leaves, peppermint, and eucalyptus, to stimulate your scalp and reverse the effects of hair loss and baldness.
Reportedly, consumers have seen positive results in only a few weeks. This daily shampoo has been effective at relieving dryness. It also claims to prevent hair loss in clumps and promote thicker and stronger hair growth.
2. Ultrax Labs Shampoo – Hair Surge Caffeine Hair Loss Hair Growth Stimulating Shampoo
This hair growth shampoo uses caffeine to stimulate the follicles of your hair. It claims to improve both the health and texture of the hair. Note that Ultra Labs Shampoo contains ketoconazole, an anti-inflammatory molecule responsible for aiding in the prevention of hair loss.
Ketoconazole is a Palmetto ingredient that some claim to have the ability to block biochemical pathways leading to the loss of the hair.
It is recommended that this shampoo is used five times per week, left in the hair five minutes per session. Most users claim the shampoo stimulated hair growth, noticing a difference in less than a month. This product has received numerous positive reviews from buyers.
3. Lipogaine Big 3 Premium Hair Loss Prevention Shampoo
This shampoo contains three ingredients utilized to promote healthier hair follicles. This makes Lipogaine Big 3 effective at reducing hair loss.
This hair growth shampoo contains moisturizers, biotin, and ketoconazole. These ingredients are used to stimulate the hair follicle and prevent any dryness.
There are zero parabens or sulfates in the shampoo. Also, it should only be used three times per week for optimal results according to the directions.
This hair loss shampoo claims to increase the thickness of the hair and smells like peppermint. For those who like good smelling shampoos, this might be an excellent choice.
This shampoo is also thought to be perfect for maintaining a balance between oily and dry hair.
4. Pura d'or Premium Organic Argan Oil Anti-Hair Loss Shampoo
This shampoo contains niacin and biotin. These are effective ingredients for strengthening your hair and increasing circulation around the hair follicles.
The other active ingredient is saw palmetto for blocking chemical pathways leading to hair loss. The shampoo also includes argan oil and vitamin B for promoting silky shinier hair.
Many consumers noticed a decrease in their hair loss in as little as a few weeks. It's recommended that the shampoo be left on the hair for two minutes to get the desired results.
To mitigate dryness of the scalp many users recommended utilizing a conditioner too. This shampoo was once rated the best hair loss shampoo on market for two years in a row.
5. Bosley Bos Revive Nourishing Shampoo for Visibly Thinning Non-Color-Treated Hair
The Bosley Bos Revive Shampoo utilizes saw palmetto and other organic ingredients to prevent hair loss.
This shampoo lathers well and contains zero sulfates. The ingredients help to thicken the hair without causing dandruff or dryness.
The product should not be used for color-treated hair. It's ideal for women with thinning hair conditions. When the shampoo is used daily, your hair will feel softer, look healthier, and decrease any further hair loss.
6. D.S. Laboratories Revita Hair Stimulating Shampoo
The ingredients in the Revita hair growth shampoo are biotin, caffeine, taurine, and moisturizers.
Recommended use is, at least, five times per week to see optimal results. This shampoo works to stop hair loss while stimulating your hair growth.
If dryness or itchy scalp conditions result, simply use a hair conditioner to reduce the problem. The shampoo not only strengthens your hair, but it also gets to work at the source of the problem at the roots.
7. Just Natural Organic Hair Loss Shampoo
The main ingredients in the Just Natural Organic Hair Loss Shampoo are Aloe Vera, silk proteins, and saw palmetto.
The nutrients provided to the hair follicles stimulate growth and cleanses at the same time. After using the product a few times users have gone on to notice cleaner, healthier, and stronger-feeling hair.
The product is effective at reducing hair loss in clumps.
8. Nexxus VitaTress Biotin (ONE) Shampoo

The natural ingredients in the Nexxus Vita Tress shampoo treat hair loss, provide nutrients to the hair follicle, and reduces excessive oil production.
The unique blending of ginseng, amino acids, niacin, and biotin, work together to thicken the hair and mitigate hair loss.
Use for three minutes per session, three times per week for maximum results. However, if you are prone to dryness in the scalp, it is recommended to use a conditioner after shampooing.
9. Avalon Organics Biotin B-Complex Thickening Shampoo
This shampoo contains wheat protein, vitamins, biotin, and saw palmetto. These ingredients promote hair growth, reduce oily hair, and eliminates dandruff.
Many users claim they noticed thicker hair shortly after using the shampoo. For those users who have a dry scalp, it is recommended to use a conditioner in conjunction with the thickening shampoo.
10. Regenepure – Dr. Doctor Recommended Hair Loss Shampoo for Hair Growth and Scalp Treatment
The Regenepure Dr. Hair Loss Shampoo can help relieve conditions of excessive oil, dandruff, itchy scalp, and dry scalp.
The main ingredients in this hair loss shampoo are caffeine, saw palmetto, ketoconazole, moisturizers, and vitamins.
The shampoo is effective at restoring any imbalances on the scalp. It leaves the hair feeling smooth and clean, and smells nice too. Considered a great shampoo by consumers, highly effective for eliminating dandruff.
Does Chaz Dean's WEN Hair Care Cause Hair Loss?
Popular Hair Product Makes Women Go Bald?
Some Final On Hair Loss Prevention Products
There are many options available to women suffering from hair loss. Likewise, there are many over the counter treatments. Remember that it's always best to visit a medical professional when you're dealing with prolonged hair loss issues.
Regardless of your budget, there are hair loss shampoos available in nearly every price range. Once you commit to one hair loss shampoo, stick with it for the recommended time to see optimal results.
If you begin to see dandruff or dryness on the scalp, just use your hair conditioner in conjunction with the shampoo, and you will mitigate any discomfort. Also, some products might take slightly longer to show results because your body reacts differently to certain ingredients.